The Most Romantic Movies on Netflix
There will come a time when you need the perfect romantic movie to set ~the mood~.
Whether you're looking for a chill night spent Netflixing or a serious "Netflix and chill" session, there will come a time when you need the perfect romantic movie to set the mood. We're here for you, having scoured the streaming service for the best in meet-cute rom-coms, feel-good dramas, and no-holds-barred weepies. A little something for everyone.
Universal Pictures
About Time (2013)
If you had the chance to orchestrate the perfect meet-cute between you and the one missed connection you've never forgotten about, would you? This fantastical rom-com from Love Actually director Richard Curtis explores that concept and the ramifications that could come as a result, focusing on a time-traveling young man (Domhnall Gleeson) who uses his ability to find the love of his life. Together with Rachel McAdams, the pair is incredibly charming navigating the space-time continuum to be together, and like Curtis' other works, About Time is about a lot more than just love—it's a meditation on family and what permanence means in a world where time rolls on unabated.
Ed Araquel/Netflix
This Netflix original movie stars Randall Park and Ali Wong as two close friends everyone else expected to end up together romantically, but who've only ever been friends. When the two reconnect later in life, of course they have the opportunity to rekindle their relationship as something more, but not without a few missteps—one of which comes in the form of a scene-stealing appearance by Keanu Reeves. The two comedic stars bring the kind of chemistry that makes famous rom-coms of yesteryear work, and the result is an exciting new entry to the canon of a tried-and-true genre.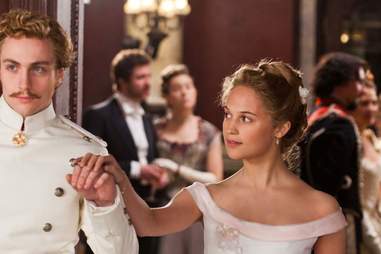 Universal Pictures/Focus Features
Anna Karenina (2012)
Adapted by renowned playwright Tom Stoppard, this take on Leo Tolstoy's classic Russian novel is anything but stuffy, historical drama. Keira Knightley, Jude Law, Aaron Taylor-Johnson, Domhnall Gleeson, Alicia Vikander are all overflowing with passion and desire, heating up the chilly backdrop of St. Petersburg. But it's director Joe Wright's unique staging—full of dance, lush costuming, fourth-wall-breaking antics, and other theatrical touches—that reinvent the story for more daring audiences.
Warner Bros. France
The Artist (2011)
Ever since Hollywood got its hands on technicolor, black and white has merely been a rare stylistic choice for filmmakers, and directors have moved even further away from silent films ever since "the talkies" made their debut in the late 1920s. That doesn't mean film aficionados have fallen out of love with silent films or lost respect for them—and no better movie in recent history has immortalized their staying power as The Artist. The French film is both an Old Hollywood style movie and an homage to the craft, telling the love story between a rising young starlet (Bérénice Bejo) looking forward to the modernization of movies and a silent film veteran (Jean Dujardin). The Best Picture winner is playful in its choices, meaning any lover of cinema should fall head over heels for it.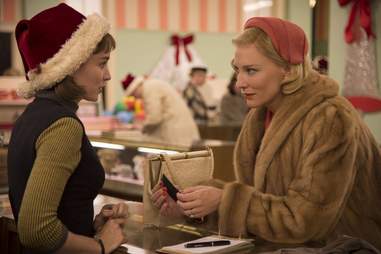 The Weinstein Company
Carol (2015)
Todd Haynes' story about lesbian love in the 1950s is a gorgeous film from start to finish: from the direction (every frame is as lush as a painting) to the awards-worthy performances (Rooney Mara as the gawky, vulnerable Therese and Cate Blanchett as the alluring, perfectly coiffed Carol—seriously, give this woman's hair-swoop its own award). No matter which way you swing, Carol is one of the most tender cinematic depictions ever of what it feels like to be in love—how the quality of light changes, how time slows, how every fleeting gesture takes on the deliberateness of sign language—and why two people would be willing to go against everything society expects of them in order to hold on to it.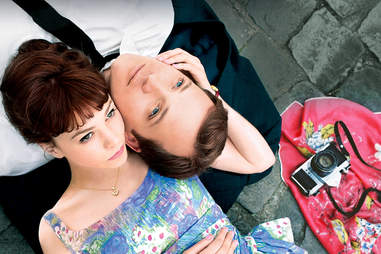 Sony Picture Classics
An Education (2009)
Sixteen-year-old Jenny (Carey Mulligan) wants a different life. She feels more mature than the boys from school and is over the blasé pace of '60s UK suburbia. Then she meets David, a much older man who miraculously shares all the same interests in high-brow culture that she does. In An Education, a film based on a memoir by Lynn Barber, a defiant Jenny ends up getting swept away by David, who proves to be more of a projected fantasy than a genuine man. It's difficult as a viewer not be swept up in their whirlwind relationship of weekend trips to Paris, too, while simultaneously feeling sick watching David's creepy seduction of a much younger girl. But beneath the mask of this romance is Mulligan's dynamite, Oscar-nominated performance of a teenager unraveling, trying to find her own footing in womanhood—which, while messy, is even more powerful than the love story.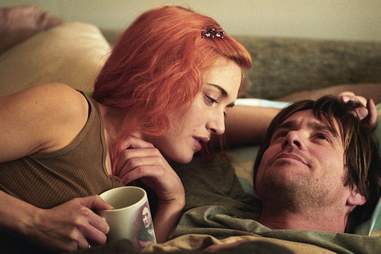 Focus Features
Eternal Sunshine of the Spotless Mind (2004)
Romance and love are nothing without the potential for loss and pain, but most of us would probably still consider cutting away all the worst memories of the latter. Given the option to eradicate memories of their busted relationship, Jim Carrey's Joel and Kate Winslet's Clementine go through with the procedure, only to find themselves unable to totally let go. Science fiction naturally lends itself to clockwork mechanisms, but director Michel Gondry and screenwriter Charlie Kaufman never lose the human touch as they toy with the kaleidoscope of their characters' hearts and minds.
Warner Bros. Pictures/Sony Pictures Releasing
Her (2013)
Spike Jonze's Oscar-winning script throws a lonely greeting-card writer and a fancy Siri-like operating system into a questionable romance. The result, anchored by Joaquin Phoenix and Scarlett Johansson (yes, the latter kills it as the OS), is at once poignant and thought-provoking, especially for a generation that leans more and more on personalized handheld devices.
Focus Features
Loving (2016)
Loving brings one of the most pivotal love stories in history to the screen. The biographical drama from Jeff Nichols tells the story of Mildred and Richard Loving, the couple who challenged state laws banning interracial marriage all the way to the supreme court with the landmark case Loving v. Virginia. For being such a sweeping romance with so many groundbreaking implications, it's the gentle, muted way it's told in this historical film nestles into your heart. From Joel Edgerton's hushed performance as the distant but caring Richard and Ruth Negga's thoughtful simplicity to Mildred to Nichols' warm direction, it finds a quiet profoundness that makes it all the more beautiful.
New Line Cinema
The Notebook (2004)
"If you're a bird, I'm a bird." It's a simple statement and a declaration of devotion that captures the staying power of this Nicholas Sparks classic. The film made Ryan Gosling a certified heartthrob, charting his working class character Noah's lovelorn romance with Rachel McAdam's wealthy character Allie. The star-crossed lovers narrative is enough to make even the most cynical among us swoon, but given that their story is told through an elderly man reading (you guessed it!) a notebook to a woman with dementia, it hits all of the tragic romance benchmarks to make you melt. Noah's commitment to following his heart—and that passionate kiss in the rain—make this a love story for the ages.
Netflix
Our Souls at Night (2017)
It's not the most romantic setup in the world—an older man and woman have each lost their respective spouses, and agree to start sleeping together platonically to get over their loneliness—but the result is a sweet, if traditional, love story. Robert Redford and Jane Fonda buttress a script based on a Kent Haruf novel that's much less YA than you'd expect given the somewhat cloying adaptation. Still, if it's a love story you want, check it out!
United International Pictures/Focus Features
Pride & Prejudice (2005)
Forget the recent zombie mash-up—this is the modern cinematic retelling of Pride and Prejudice that you need in your life. Taking Jane Austen's literary classic and tricking it out with gorgeous long takes, director Joe Wright turns this tale of manners into a visceral, luminescent portrait of passion and desire. While Matthew MacFadyen doesn't quite make you forget Colin Firth from 1995's BBC adaptation, Keira Knightley is a revelation as the tough, nervy Lizzie Bennett. With fun supporting turns from Donald Sutherland, Rosamund Pike, and Judi Dench, it's a sumptuous period romance that transports you from the couch to the ballroom of your dreams—without changing out of sweatpants.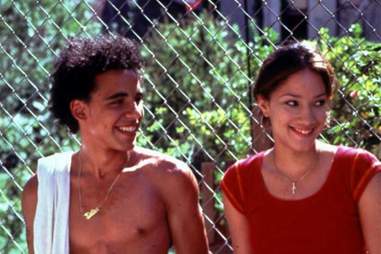 Samuel Goldwyn Films/Fireworks
Raising Victor Vargas (2001)
Sometimes the greatest romances don't need a cinematic meet-cute or some grand feeling of sparks flying. Sometimes they happen on your own block, and maybe aren't forever, but you're better for it. That's how it is in Peter Sollett's gem of an indie about a teenage boy coming of age in a lower income community in NYC's Lower East Side. Desperate to redeem his reputation amongst his friends, he sees young women as conquests and sets out to pursue one of the prettiest girls in the neighborhood—a relationship that turns out to be much more special than he ever expected it to be. Pulsating with the beat of the city and the palpitations of first love, it's a slice-of-life film that shows young love at its purest and most earnest, and about a community of young people seldom represented on screen.
Summit Entertainment
Remember Me (2010)
Back when Robert Pattinson was still a hot teenage vampire, he solidified his standing as a swoon-worthy romantic lead with his performance in this dark love story before taking the auteur star-turn he's embarked on in recent years. Here, he stars opposite Emilie de Ravin (Lost) as a young couple in New York who meet serendipitously and fall for one another, while helping the other cope with their own tragedies. While sounding like a cliched, sappy romance on paper, Remember Me is actually a somber film about the support it takes to overcome loss. But fair warning: The ending is a doozy—don't say we didn't warn you.
Netflix
Set It Up (2018)
Set It Up is by no means the most important movie Netflix has produced, nor is it the most ambitious. But it's probably the one you're going to want to watch again and again. The streaming behemoth has been on a rom-com kick in 2018, and this film from director Claire Scanlon is one of its most delightful entries into the genre. It starts with a meet-cute that would play as well in 1948 or 1998 as it does in 2018: Two eager assistants (Zoey Deutch and Glen Powell) plot to set up their horror-show bosses to free up their own social lives. Naturally, our two underlings find their friendship of convenience blossom into something more. As with any good romantic comedy, the trick is all in the casting; Deutch and Powell are captivating. Meanwhile, Lucy Liu and Taye Diggs—playing the big, bad boss people—are old pros. It's the perfect film to watch late night, drunk, with some pizza.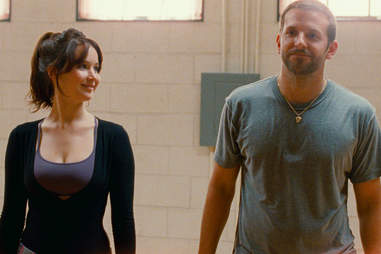 The Weinstein Company
Silver Linings Playbook (2012)
Jennifer Lawrence, Bradley Cooper, and David O. Russell's first collaboration—and the film that turned J-Law into a bona fide golden girl—is a romantic comedy/dramedy/dance-flick that bounces across its tonal shifts. A love story between Pat (Cooper), a man struggling with bipolar disease and a history of violent outbursts, and Tiffany (Lawrence), a widow grappling with depression, who come together while rehearsing for an amateur dance competition, Silver Linings balances an emotionally realistic depiction of mental illness with some of the best twirls and dips this side of Step Up. Even if you're allergic to rom-coms, Lawrence and Cooper's winning chemistry will win you over, as will this sweet little gem of a film: a feel-good, affecting love story that doesn't feel contrived or treacly.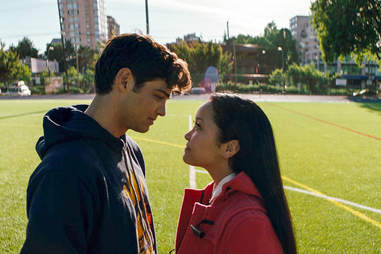 Netflix
To All the Boys I've Loved Before (2018)
In case you haven't heard, rom-coms are back, baby, and Netflix is helping lead the revival. This adaptation of Jenny Han's best-selling YA novel quickly earned plaudits from critics and fans (including our own) thanks to an endearing story and standout performances from young leads Lana Condor and Noah Centineo. The angst of repressed and misunderstood teen passions will come flooding back to you as Lara Jean (Condor) finds out that her secret love letters to five crushes have been discovered and mailed out to those crushes. A high schooler's world-ending nightmare.
Focus Features
The Theory of Everything (2014)
In his Oscar-winning performance, Eddie Redmayne portrays famed physicist Stephen Hawking—though The Theory of Everything is less of a biopic than it is a beautiful, sweet film about his relationship with his wife, Jane (Felicity Jones). Covering his days as a young cosmology student ahead of his diagnosis of ALS at 21, through his struggle with the illness and rise as a theoretical scientist, this film illustrates the trying romance through it all. While it may be written in the cosmos, this James Marsh-directed film that weaves in and out of love will have you experience everything there is to feel.
Warner Bros. Pictures
A Walk to Remember (2002)
Adapted from a Nicholas Sparks' novel—which, as the same guy who wrote The Notebook and Dear John, should tell you enough already—A Walk To Remember is a classic star-crossed lovers tale of a high school bad boy who falls for the local preacher's daughter , who (brace yourself) is battling leukemia. Yes, it checks about every box of YA sad movie fodder, but you'd be amiss not to let yourself wallow in the hopeless romance that unfolds between Mandy Moore, in her first major film role, and Shane West. Just keep a tissue box at the ready because as soon as you hear the original music sung by Moore or witness the walk in question, you'll be a weepy mess.
Sony Pictures Releasing
The Wedding Planner (2001)
The Wedding Planner is a rom-com conundrum for the ages: What happens when the person a couple puts their trust in to make their big day perfect falls head-over-heels for the groom? No bit of the plot is unpredictable, but sometimes all you need is a simple, sweet movie to pair with a hot date on the couch. Starring Jennifer Lopez in the midst of her transition to movie star prime and Matthew McConaughey in his typical laidback, charming romantic lead ways, there's not much to dislike about this very pleasant movie, even if you can tell the formula it's bound to follow as soon as the wedding bells start to chime.
Need help finding something to watch? Sign up here for our weekly Streamail newsletter to get streaming recommendations delivered straight to your inbox.
Follow the Thrillist Entertainment editors on Twitter: @ThrillistEnt.