The Most Romantic Movies on Netflix
When you feel like swooning.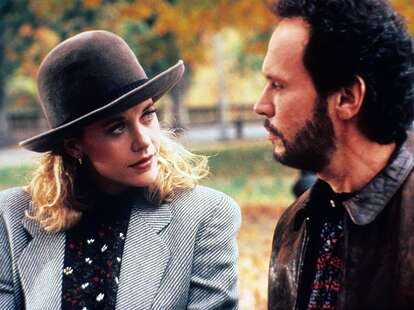 'When Harry Met Sally...'

| Columbia Pictures
'When Harry Met Sally...'

| Columbia Pictures
Whether you're looking for a chill night spent Netflixing or a serious "Netflix and chill" session, there will come a time when you need the perfect romantic movie to set the mood. We're here for you, having scoured the streaming service for the best in meet-cute rom-coms, feel-good dramas, and no-holds-barred weepies. A little something for everyone.
ALSO READ: The best romantic comedies on Netflix and the best teen movies on Netflix
This Netflix original movie stars Randall Park and Ali Wong as two close friends everyone else expected to end up together romantically, but who've only ever been friends. When the two reconnect later in life, of course they have the opportunity to rekindle their relationship as something more, but not without a few missteps—one of which comes in the form of a scene-stealing appearance by Keanu Reeves. The two comedic stars bring the kind of chemistry that makes famous rom-coms of yesteryear work, and the result is an exciting new entry to the canon of a tried-and-true genre.
Atlantics (2019)
In Atlantics, the entrancing debut feature from Senegalese-French filmmaker Mati Diop, a debt must be paid. To construct a large glass tower in the coastal city of Dakar, an unscrupulous construction manager leans on his employees and refuses to provide the backpay they are owed. One of the workers, a young man named Souleiman (Ibrahima Traoré), is in love with Ada (Mama Bineta Sané), a young woman engaged to a rich family's obnoxious, preening son. After establishing the tricky dynamics of this relationship, Diop's story takes a number of startling turns, introducing supernatural elements and a noir-like detective subplot. As the events unfold, often in engrossingly shot and exquisitely paced night sequences, the movie retains an ethereal quality that unsettles the imagination. Rather than providing conventional dramatic catharsis, Atlantics mimics the rhythms of the ocean, drawing in the viewer with each new wave of tension.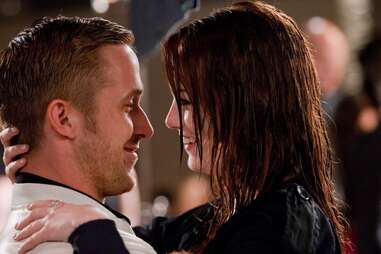 Crazy, Stupid, Love. (2011)
Many of us could probably learn a thing or two about romance and seduction from the ultra-charming Ryan Gosling. Steve Carell takes his advice (to some success) in this lovable comedy about a middle-aged man separated from his wife (Julianne Moore) and trying to get his game back with the help of a young playboy (Gosling). It's the interconnected kind of rom-com that actually works, largely because of the all-star cast and the transfixing chemistry between Gosling and frequent co-star Emma Stone. The movie may ultimately have more heart than it does sex appeal (although, Gosling's Dirty Dancing-inspired trick to get girls into bed is interesting), but even as it proves how tough love can be, it's an easy flick to fall for.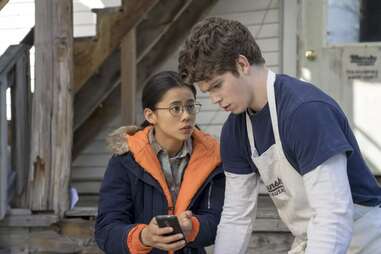 The Half of It (2020)
"This is not a love story," the heroine, Ellie Chu (Leah Lewis), says at the outset of The Half of It, Alice Wu's coming-of-age film. It's one of those witty lines that the lead in teen movies tends to say, but this Netflix original is a lot smarter than that opening line—and it's more endearing for it. The film follows Ellie, the only person of Chinese descent in a tiny town called Squahamish who writes her high school classmates' papers for money. One of those offers comes from a boy named Paul Munsky (Daniel Diemer) who wants her help to write a love letter for a girl named Aster Flores (Alexxis Lemire). A conflicted Ellie, who also has a crush on Aster, at first declines but ultimately succumbs to help her family get by with her side hustle. It sounds like the making of a classic rom-com, but The Half of It is truly not a love story as it plays out, which makes it one of Netflix's more mature teen originals.
Loving (2016)
Loving brings one of the most pivotal love stories in history to the screen. The biographical drama from Jeff Nichols tells the story of Mildred and Richard Loving, the couple who challenged state laws banning interracial marriage all the way to the supreme court with the landmark case Loving v. Virginia. For being such a sweeping romance with so many groundbreaking implications, it's the gentle, muted way it's told in this historical film that nestles into your heart. From Joel Edgerton's hushed performance as the distant but caring Richard and Ruth Negga's thoughtful simplicity to Mildred to Nichols' warm direction, it finds a quiet profoundness that makes it all the more beautiful.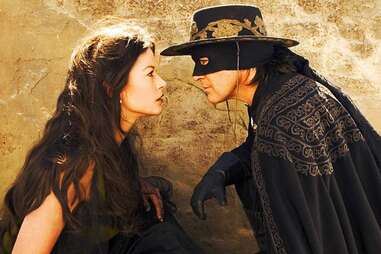 The Mask of Zorro (1998)
After he launched the Pierce Brosnan era of the James Bond franchise with 1995's GoldenEye, director Martin Campbell turned his attention to another iconic character in need of an update: the vigilante swordsman Zorro. With Antonio Banderas donning the mask (and the cool hat) to play the dashing hero and Catherine Zeta-Jones battling on his side as the striking love interest Elena, the movie blends old-fashioned swashbuckling spectacle with pulse-pounding blockbuster craft and a dash of romance. It's one of the most purely pleasurable action movies of the '90s.
Our Souls at Night (2017)
It's not the most romantic setup in the world—an older man and woman have each lost their respective spouses, and agree to start sleeping together platonically to get over their loneliness—but the result is a sweet, if traditional, love story. Robert Redford and Jane Fonda buttress a script based on a Kent Haruf novel that's much less YA than you'd expect given the somewhat cloying adaptation. Still, if it's a love story you want, check it out!
Phantom Thread (2017)
Reynolds Woodcock (the now-retired Daniel Day-Lewis) is the premier fashion designer of the era, a genius playboy who detects the contours of women, dresses, and life itself like Neo sees The Matrix. And though his sister Cyril (Lesley Manville) manages every second of his every day, a new muse, Alma (Vicky Krieps), slips by the alarms and disrupts his understanding of success with a simple trick: love. In Phantom Thread, everything from Woodcock's mansion to the draping gowns to pans of sautéed mushrooms are fashion-shoot-worthy (the Oscar voters noticed, too), but there's also a devilish comedic streak to the movie, like a prestige version of Curb Your Enthusiasm. Early on, Woodcock reveals that he sews secret messages into his garment; director Paul Thomas Anderson does the same in Phantom Thread, a drama rich with details and personal admissions.
Set It Up (2018)
Set It Up is by no means the most important movie Netflix has produced, nor is it the most ambitious. But it's probably the one you're going to want to watch again and again. This film from director Claire Scanlon is one of its most delightful, recent entries into the rom-com genre. It starts with a meet-cute that would play as well in 1948 or 1998 as it does in 2018: Two eager assistants (Zoey Deutch and Glen Powell) plot to set up their horror-show bosses to free up their own social lives. Naturally, our two underlings find their friendship of convenience blossom into something more. As with any good romantic comedy, the trick is all in the casting; Deutch and Powell are captivating. Meanwhile, Lucy Liu and Taye Diggs—playing the big, bad boss people—are old pros. It's the perfect film to watch late night, drunk, with some pizza.
Silver Linings Playbook (2012)
Jennifer Lawrence, Bradley Cooper, and David O. Russell's first collaboration—and the film that turned J-Law into a bona fide golden girl—is a romantic comedy/dramedy/dance-flick that bounces across its tonal shifts. A love story between Pat (Cooper), a man struggling with bipolar disease and a history of violent outbursts, and Tiffany (Lawrence), a widow grappling with depression, who come together while rehearsing for an amateur dance competition, Silver Linings balances an emotionally realistic depiction of mental illness with some of the best twirls and dips this side of Step Up. Even if you're allergic to rom-coms, Lawrence and Cooper's winning chemistry will win you over, as will this sweet little gem of a film: a feel-good, affecting love story that doesn't feel contrived or treacly.
Stardust (2007)
There's a heart-swelling epicness to Matthew Vaughn's adaptation of Neil Gaiman's novel, wherein Claire Danes plays Yvaine, a literal fallen star, who is first captured by, but eventually falls for, a lovesick young man, Tristan (Charlie Cox, pre-Daredevil). There's an evil witch (Michelle Pfeiffer) pursuing them because she wants to eat Yvaine's heart to regain her youth, as well as a gay pirate, portrayed by none other than Robert De Niro. This spin on a fairy tale has some actual magic to it.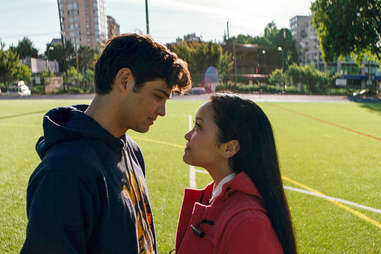 To All the Boys I've Loved Before (2018)
What if your private letters to your crushes weren't private, but wound up in the hands of aforementioned crushes? It's a teen nightmare! That's what happens to leading lady Lara Jean (Lana Condor) in this Netflix original based on Jenny Han's best-selling YA novel. To brush over the embarrassment of one letter ending up in the mailbox of her neighbor, best friend, and sister's ex-boyfriend Josh, Lara Jean pretends to date another former crush, Peter Kavinsky—and it turns out fake-dating can inadvertently lead to a lot of real feelings. To All the Boys has been hailed as a near perfect rom-com for its diversity, sincerity, and undeniable chemistry between Lara Jean and Peter. If you've felt the genre has been lacking recently—and need a perfect gentlemanly heartthrob to crush on—To All the Boys I've Loved Before is for you.
When Harry Met Sally... (1989)
There are many reasons why we remember this classic as one of the best rom-coms of all time (if not the best). We all know the big scenes in this movie: the "Can men and women be friends?" conversation in the car, the fake orgasm, the run through the streets of New York on New Year's Eve. But our favorite scene of this Nora Ephron-penned movie, just ahead of all the adorable old couples who tie for second, is a small one: Harry, upset because he saw his ex, picks a fight with Sally in their friends' apartment. Sally calls him on it, and midway through her recitation of how he's an asshole, you see his face change. He waits for her to finish, then says, "I'm sorry." A little scene that makes you care about and believe in these two people, and makes the final payoff, which When Harry Met Sally... nurtures from beginning to end, all the more rewarding.
You've Got Mail (1998)
Remade from Ernst Lubitsch's 1940 movie The Shop Around the Corner, best of the best rom-com filmmaker Norah Ephron's adaptation of the story about a couple falling for one-another via anonymous messages lets Tom Hanks and Meg Ryan amp the charm up to full force, thanks to a screenplay rich with kitschy banter. While the instant messaging premise and chatroom jokes may now be outdated, this is a certified classic and one of the best rom-coms of all time.