Scarlett Johansson's 15 Best Movies, Ranked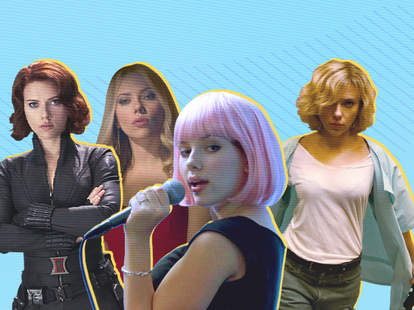 Scarlett Johansson is unusual. She is beautiful, she is mysterious, and at just 32-years-old, she has a filmography that's impressive both in its prolificness and its variety. Though she hit blockbuster status as Black Widow in the Marvel movies, and has followed up with action turns in Lucy and Ghost in the Shell (to varying box office returns), she isn't locked into any one genre, and isn't afraid to shake up audience expectations. This week, she'll do just that with the raunchy dark comedy Rough Night, about a bachelorette party gone wrong.
In preparation for her first big comedy role, we're looking back at the varied work she's done in the past with this sampling of her 15 best roles.
Lionsgate
15. The Girl with a Pearl Earring (2003)
A 19-year-old Johansson had the not-so-easy task of bringing one of the world's most famous paintings to life. As the assistant to painter Johannes Vermeer (Colin Firth), her role as Griet meant evoking his doe-eyed subject without betraying her interiority. She was nominated for a Golden Globe for the performance, the same year that she was also nominated for Lost in Translation (in a different category). Together, the films were a package-deal big break for the actress.
EuropaCorp
14. Lucy (2014)
Lucy
feels more like a heads up to Marvel that Scarlett Johansson is a viable, bankable action star than a good, standalone film in its own right, but its impact should not be downplayed: The film, about a woman who evolves into a merciless warrior, earned $463 million at the global box office and helped Johansson become the
highest-grossing actress
of all time. Where's that Black Widow movie, again?
Marvel Studios/Walt Disney Pictures
13. The Avengers (2012)
Speaking of. Though Johansson first appeared as Black Widow in Iron Man 2, The Avengers saw the first major onscreen arc for the character that would become perhaps her most iconic and beloved. As the alter ego of Natasha Romanoff, a Russian spy trained from childhood to fight, Black Widow -- along with her best pal, Hawkeye (Jeremy Renner) -- doesn't have superpowers but instead uses wit, combat skills, and the prowess of her body to assist her comrades and ward off the super villain Loki (Tom Hiddleston). The true loveliness of the character is not her physical strength, but her binding loyalties. Johansson and Renner make a great team; their friendship is the subtle beating heart of the splashy shared universe and is most evident in this film, their first together.
Touchstone Pictures
12. The Horse Whisperer (1998)
Johansson started acting in films at age 10, but The Horse Whisperer -- at 13 -- was the star-making performance that launched her career. Director Robert Redford's film, about a man who helps a young girl recover after a brutal accident involving her best friend and horse, was a critical success, and Johansson its standout star. Her work as the damaged teen made her a hot property -- her next project was in the Coen brothers' The Man Who Wasn't There.
The Weinstein Company
11. Vicky Cristina Barcelona (2008)
Woody Allen's career saw a rekindling in the early aughts starting with the critically exalted Match Point in 2005, his first outing with new muse Scarlett Johansson. This 2008 film, about two American best friends on vacation in Spain, was a real showcase for its female leads. Rebecca Hall hit the scene, Penelope Cruz won the Oscar, and Johansson continued her critical, seductive cakewalk to star status. Vicky Cristina plays up the most stereotypical Johansson attributes – her sexuality, her curves, her sultry voice – but she's so fun and enigmatic in the role that it never feels like a cheap leer.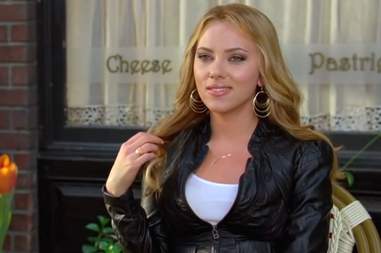 Relativity Media
10. Don Jon (2013)
For his directorial debut, Joseph Gordon-Levitt tapped real-life friend Johansson to play the love interest of his porn-and-fitness-obsessed Lothario, Jon Martello, a New Jersey family man so caught up in image that he struggles with intimacy. Johansson is excellent as Barbara, the Jewish girl who catches Jon's eye and heart. The whole cast -- which also includes Tony Danza, Julianne Moore, and Brie Larson -- has a blast with their larger-than-life characters, but none so much as Johansson, who milks every scene with her gum-chewing Jersey purr.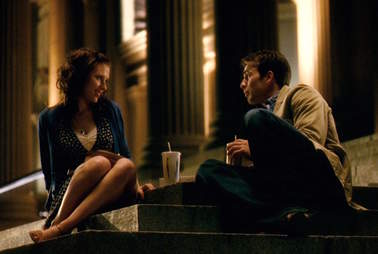 The Weinstein Company
9. The Nanny Diaries (2007)
As a bookish brunette, Johansson plays against type in this 2007 rom-com that would mark her second onscreen appearance with future Avengers co-star Chris Evans (after 2004's The Perfect Score). As a nanny to a spoiled Manhattan child, she does the mandatory physical gags that the genre requires, but has an inherent intelligence that elevates the material above its would-be basicness. It's Johansson at her most lovable and sunny. She and Evans make a terrific pair, and she's excellent with Nicholas Art who plays the young boy she cares for.
Buena Vista Pictures
8. The Prestige (2006)
Christopher Nolan's underrated film about rival stage magicians is more a show for its male leads -- Christian Bale and Hugh Jackman -- but as a flimsily aligned assistant, Johansson representations something of a physical manifestation of their duality. Her British accent is one of the better efforts done by Americans in recent years, and what's more, she fully inhabits the part of English rose without succumbing to weepiness.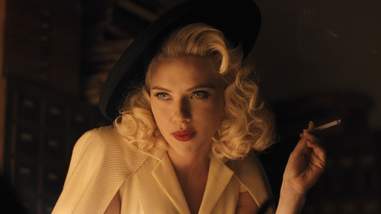 Universal Pictures
7. Hail, Caesar! (2016)
Though she's barely in this excellent madcap Coen Bros. flick, she leaves a lasting impression by laying into her natural New York accent, being feisty with the men who try to wrangle her, and splitting from the sea in that shiny mermaid ensemble. This was her second time working with the Coens, after The Man Who Wasn't There.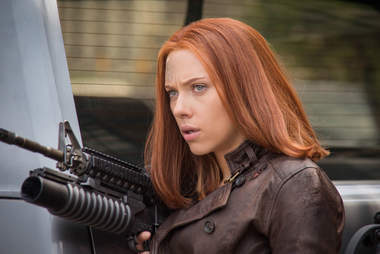 Marvel Studios/Walt Disney Pictures
6. Captain America: The Winter Soldier (2014)
While The Avengers put her on the map, The Winter Soldier is Black Widow's best movie. As both a foil and friend to Cap, the film sets in motion what would come to a head in the next Captain America film, Civil War. But it's here that Widow's viability comes through. The Winter Soldier is as much a conspiracy thriller as it is a superhero movie, and Widow is the sleek, modern spy with the smarts and strength to get the job done -- sometimes more so than the hero she assists.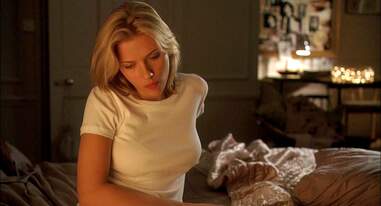 DreamWorks
5. Match Point (2005)
Woody Allen's aforementioned return to form came with this sexy, opera-scored ghost story, a tale of casual but monstrous deceit and a crude examination of marriage. The movie certainly capitalizes on Johansson's allure – there are many close-ups of her lips and batting eyelashes – but it also exposes the pain in that husky voice. As a vulnerable wannabe actress who finds herself swept up in a wealthy British family's drama, Allen reveals the lonely interior life that accompanies great beauty. Her tragic affair with her brother-in-law, played by Jonathan Rhys Meyers, would be far less depressing without a magnetic Johansson occupying the part.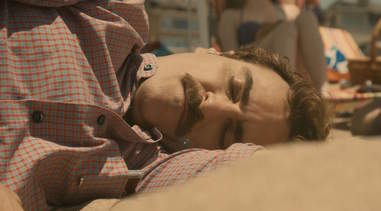 Warner Bros. Pictures
4. Her (2013)
Though she never appears onscreen in the film, Johansson managed to conjure awards seasons whispers with her turn as an operating system named Samantha in this Spike Jonze meditation on the future of romance. She didn't manage any nominations, but it's not without effort, since her work as Samantha ranks among her greatest performances. Perhaps it's ironic that an actress with such a famous face and body is so notable in their absence, but it feels like a conscious choice on the part of Johansson, who is no less seductive and lovely in her relationship with Joaquin Phoenix's Theodore -- a down-on-his-luck writer who finds comfort in Samantha's companionship.
Warner Bros. Pictures
3. Ghost World (2001)
Johansson won indie cred for life with this adaptation of Daniel Clowes beloved graphic novel of the same name. Thora Birch as Enid Coleslaw -- a perennially unimpressed sort-of high school graduate who's something of a live-action Daria -- is the more memorable role, but Johansson's Rebecca is just as important to the chemistry of the thing. Rebecca's waning interest in the life of an outcast spurns Enid's development. Theirs is the true heartbreak at the center of Ghost World, and Johansson is an excellent anchor for the girls' shared social anxiety.
A24
2. Under the Skin (2013)
It's not exactly a role that screams "Scarlett Johansson" on paper, but as an alien who lures men into her inky black web, and looks a little like Isabella Rossellini in Blue Velvet, she's somehow so effortlessly creepy you can't imagine anyone else in the part. Beyond her physical form -- she spends much of the movie either buried under a fur coat or completely nude -- her role in this Jonathan Glazer-directed sci-fi film that is an intelligent move for the actress, who varies superhero work with these more cerebral studies on humanity. As with Her, the part also feels like an indictment. For a person so defined by her beauty, she fits well into a role that shows the danger in considering women only for their body, and not for what's inside.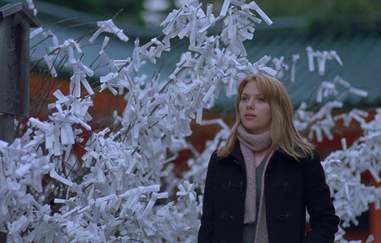 Focus Features
1. Lost in Translation (2003)
It's hard to believe that Johansson was just 19-years-old in this transformative, aching role as a forgotten wife on vacation in Tokyo who befriends a fellow lonely American, played by Bill Murray. Writer and director Sofia Coppola is known for her dreamy, faraway examinations of isolation, and
Lost in Translation
remains her masterpiece -- a collision of those ideas, with an inspired stroke of humor. Murray got the awards attention, but Johansson has never been better. She's subtle, sweet, funny, headstrong, innocent, intelligent -- as with the movie itself, it feels like a collage of her strengths as a performer.
Sign up here for our daily Thrillist email and subscribe here for our YouTube channel to get your fix of the best in food/drink/fun.
Lindsey Romain is a writer and editor living in Chicago. She covers politics for Teen Vogue and has also appeared in Vulture, Birth.Movies.Death, and more. Follow her on Twitter @lindseyromain.