The Best Sci-Fi Movies of 2017
Walt Disney Pictures/Marvel Studios
Walt Disney Pictures/Marvel Studios
In space, no one can hear you scream or laugh or gasp or whisper, "What the hell is THAT?" to the person next to you. In a movie theater watching a science-fiction epic set in space, they can hear you, so be mindful of your volume, OK?
That said, we forgive you in advance for any and all excited squealing; 2017 was full of sci-fi movies with the kind of twists that would send fans into fits. Between adrenaline-pumping action, pithy comedy, and occasional brushes with thoughtful futurism, there was something for everyone. Before they come to Netflix, here are our picks for the very best of the year.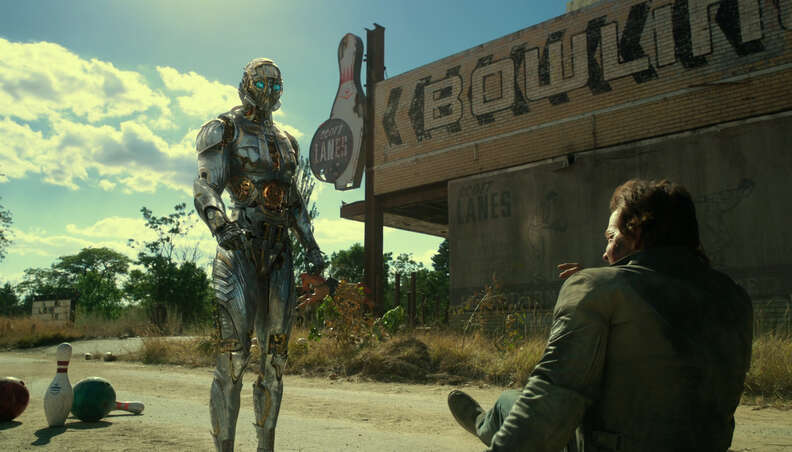 10. Transformers: The Last Knight
Released: June 21
Cast: Mark Wahlberg, Anthony Hopkins, Laura Haddock, Isabela Moner
Director: Michael Bay (Pain & Gain)
Why it's great: Since Bay's 2008 Transformers, a Spielberg-inspired, boy-and-his-car adventure starring Shia LaBeouf and 8 bazillion CG pixels, the robotic franchise has devolved into a monotone string of horn-blaring, metal-ripping, problematic pieces of blockbuster blah (to put it... bluntly). The movies egregiously clock in over two-and-a-half hours and disavow human behavior for action cliché, military porn, and Bay's least coherent instincts. Considering all of this, we recommend The Last Knight, an IMAX-sized experiment in nonsense. Every idea is thrown at the screen as Bay his army of writers tether the "mythos" of the series to King Arthur's medieval quests, WWII Nazi hunting, a secret society of Autobot protectors (prime for spinoffs!), and pop culture references of the moment -- ouroboros is Transformers ripping off the ripped off Stranger Things. With unfathomable amounts of money thrown at the screen, and Bay delivering intelligible action for the first time since the original, The Last Knight is a so-bad-it's-good achievement that will have us quoting "Cogman," Anthony Hopkins' robot butler, for the end of time -- or at least until the next installment. -- Matt Patches
Where to see it right now: Rent on iTunes, Amazon, and YouTube (watch the trailer)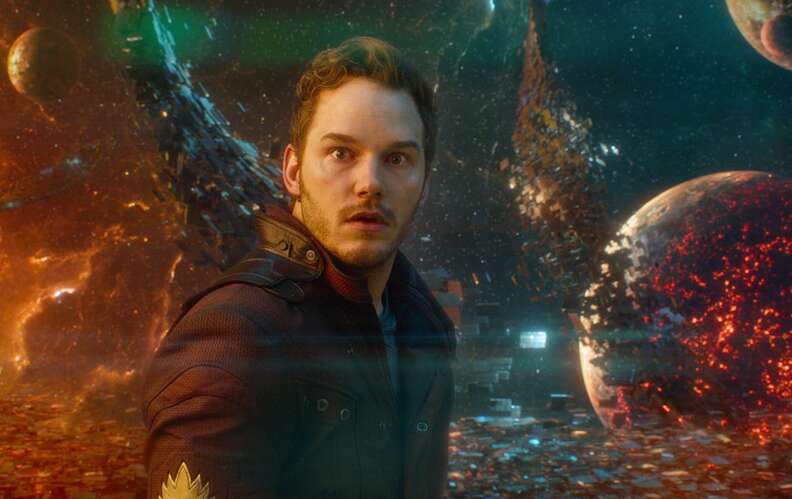 9. Guardians of the Galaxy, Vol. 2
Released: May 5
Cast: Chris Pratt, Zoe Saldana, Dave Bautista, Michael Rooker
Director: James Gunn (Slither)
Why it's great: Not much happens in the snappy, solarized sequel to Marvel's surprise 2014 hit, but that's exactly what Star-Lord, Gamora, Drax, Rocket Raccoon, and Baby Groot needed to come to life and become more than pawns in a game of Infinity Stone chess. In Vol. 2, Gunn splits up the gang and drops them in increasingly manic situations, like an intergalactic version of a '70s-era Looney Tunes compilations. Even more than the wall-to-wall vintage tunes, it's the rhythmic banter that whisks around the galaxy. Drax and Star-Lord's uncomfortable backroom chats; Star-Lord and Gamora's Sam-and-Diane banter; Gamora and Nebula's sibling war; Yondu and Rocket's prickly bonding; and Rocket parenting Baby Groot back to adulthood. Great characters can take you anywhere, and in their second go at blockbusterdom, the Guardians take us everywhere. -- MP
Where to see it right now: Rent on iTunes, Amazon, and YouTube (watch the trailer)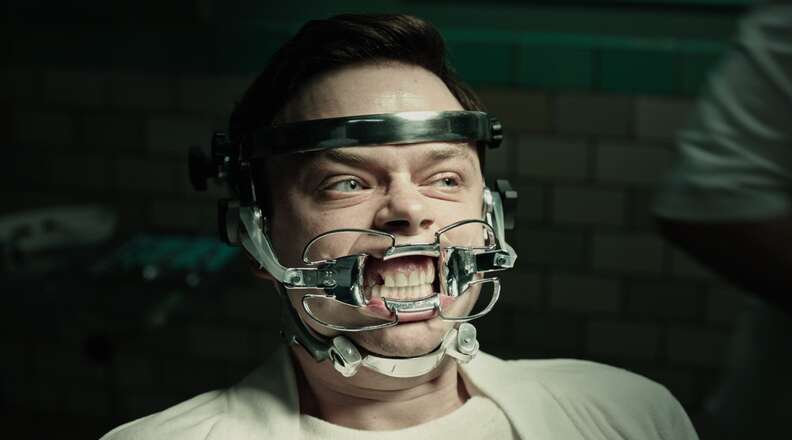 8. A Cure for Wellness
Released: February 17
Cast: Dane DeHaan, Jason Isaacs, Mia Goth, Celia Imrie
Director: Gore Verbinski (Pirates of the Caribbean)
Why it's great: Once upon a time, Verbinski was set to bring the steampunk-with-an-objectivist-twist video game Bioshock to the screen. Didn't happen, but A Cure for Wellness' mix of art deco scenery and Universal Monster scratches the itch. DeHaan plays a cutthroat Wall Streeter sent to retrieve his company's CEO at a luxurious spa resort in the Swiss Alps. What he finds is a mystery intertwining water purification, eels, teeth extraction, a 200-year-old murder, beer-guzzling deviants, and one creepy-ass doctor. At nearly three hours long, and with enough turns to do the resort's mountain road justice, A Cure for Wellness plays more like a turn-of-the-century serial than a Friday-filler slasher. Think of it as your new favorite HBO series in movie form -- too majestic, too mesmerizing, and too bizarre to write off. -- MP
Where to see it right now: Rent on iTunes, Amazon Video, YouTube, and VUDU (watch the trailer)
7. Thor: Ragnarok
Released: November 3
Cast: Chris Hemsworth, Tom Hiddleston, Cate Blanchett, Tessa Thompson
Director: Taika Waititi (Hunt for the Wilderpeople)
Why it's great: The Thor series, with its occasionally leaden mix of earnest mythology, frantic action, and hokey jokes, was the Marvel property most in need of an upgrade. Ragnarok doesn't abandon the core elements of Thor -- Chris Hemsworth still stars as the hunk-ish, Hammer-throwing God -- but Taika Waititi, fresh off the success of his wiseass adventure film Hunt for the Wilderpeople, optimizes the comedic potential of the character, turning the third chapter into an absurd, Technicolor zing-fest. The plot, which centers around the hero's battles with Cate Blanchett's Hela and his quest to stop the titular apocalypse, is mostly nonsense, and the action (particularly in the film's final busy third) isn't that distinguishable from other Marvel throwdowns. But new characters like Tessa Thompson's Valkyrie, Jeff Goldblum's Grandmaster, and Korg, a friendly rock monster voiced by Waititi himself, make this a wacky sci-fi universe you'd actually want to hang out in. -- Dan Jackson
Where to see it right now: Rent on iTunes, Amazon, and YouTube (watch the trailer)
6. Valerian and the City of a Thousand Planets
Released: July 21
Cast: Dane DeHaan, Cara Delevingne, Clive Owen, Rihanna
Director: Luc Besson (Lucy)
Why it's great: Yes, Dane DeHaan starred in two of the year's best science-fiction movies, but we can't stress this enough: the world needs films like Besson's Valerian and the City of a Thousand Planets. As the director did over a decade ago with The Fifth Element, the French filmmaker imagines a universe filled with wonderful and absurd sights: little critters that poop out marbles, aliens that fish for humans with giant hooks, heroes that dress like they got lost at a Tiësto concert, and a military commander played by jazz fusion legend Herbie Hancock. Unsurprisingly, this adaptation of a 1960s comic couldn't compete with super-hero juggernauts like Spider-Man: Homecoming, Wonder Woman, or Guardians of the Galaxy Vol. 2, and it was quickly branded a box-office bomb. That's fine. Like The Wachowskis' Jupiter Ascending or Alex Proyas's Gods of Egypt, it's an expensive disaster that will inevitably find a cult willing to worship it as the bizarre little marble excreted from a porcupine's butt that it is. -- DJ
Where to see it right now: Rent on iTunes, Amazon, and YouTube (watch the trailer)
5. Marjorie Prime
Released: August 18
Cast: Jon Hamm, Geena Davis, Lois Smith, Tim Robbins
Director: Michael Almereyda (Hamlet, 2000)
Why it's great: Can you replace a loved one with a carbon copy? In the world of Marjorie Prime, an adaptation of Jordan Harrison's off-Broadway play, the dead return in hologram form, absorbing history through conversation, and reminding the living what's lost and found over the course of one mortal relationship. Marjorie (Smith), whose mind is slipping away in old age, finds comfort in the digital, youthful refraction of her late husband (Hamm); the technology allows Tess (Davis), her daughter, to see motherhood in a new light; grieving is given new definition as Tess' husband Jon (Robbins) boots up a new "prime" model. Matching the mannerisms of theater with the clarity of a close-up, the heart-aching Marjorie Prime raises essential questions about memory, loss, and technology while keeping the sci-fi and drama as delicate as possible. -- MP
Where to see it right now: Rent on iTunes, Amazon, and YouTube (watch the trailer)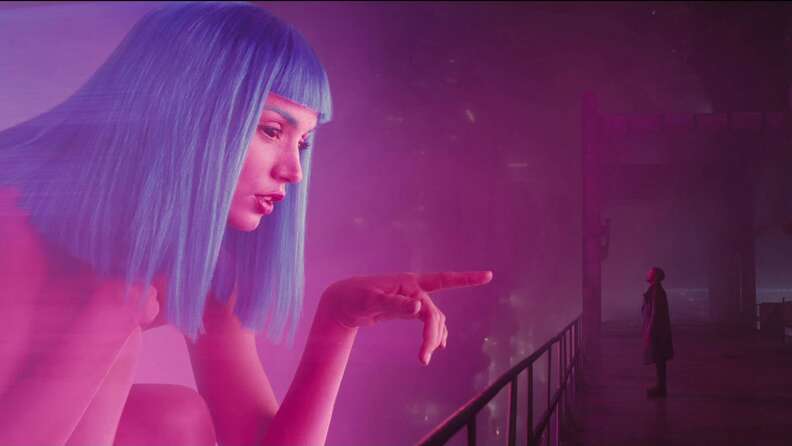 4. Blade Runner 2049
Released: October 6
Cast: Ryan Gosling, Harrison Ford, Ana de Armas, Sylvia Hoeks
Director: Denis Villeneuve (Arrival)
Why it's great: Thirty-five years after Blade Runner hit theaters (and about 25 years after anyone recognized the movie as a seminal science-fiction text), one of Hollywood's premier directors returns to the futuristic world to tell an inverted story -- about a Replicant grappling with his humanity -- that's even more poignant. A detective noir wash makes 2049 unnecessarily murky at times, but between stunning vistas of dystopian Los Angeles, the contemplative extrapolation of everyday technology, and Gosling's blood-boiling performance, where hero tropes go out the window left and right, Villeneuve sets a bar for sci-fi sequels. -- MP
Where to see it right now: In theaters (watch the trailer)
3. Alien: Covenant
Released: May 22
Cast: Michael Fassbender, Katherine Waterston, Billy Crudup, Danny McBride
Director: Ridley Scott (Alien)
Why it's great: Scott, who unknowingly kicked off a franchise with his original 1979 space horror, is not on this planet to service fans. He has issues to work out with men, machines, and the tangible universe, and Alien: Covenant (a direct sequel to 2012's Prometheus), will disappoint anyone looking for wall-to-wall Xenomorph carnage. With big ideas on his mind, Scott recasts Fassbender as his idea engine, the actor's diligent, lifeless android Walter pit against David, the defiant robot from Prometheus. His baroque bravado sets the tone for the entire movie, while his humanoid costars exist so Scott can rip them apart in excessively giddy and gruesome displays of violence. Alien: Covenant echoes Jurassic Park, The Evil Dead, and a movie Scott didn't make, James Cameron's Aliens, but the science fiction fueling its engines, and the science fate that steers the ending, amounts to a sadistic "fuck you" to humanity that's basically unheard of in modern blockbusters. -- MP
Where to see it right now: Rent on iTunes, Amazon, Vudu, and YouTube (watch the trailer)
2. War for the Planet of the Apes
Released: July 14
Cast: Andy Serkis, Woody Harrelson, Steve Zahn, Amiah Miller
Director: Matt Reeves (Cloverfield)
Why it's great:War for the Planet of the Apes employs breathtaking special effects to realize Caesar (Serkis) and his embattled ape followers, but it's still molded from Hollywood's golden age of popcorn entertainment. Kicked off like a war drama, ignited by social satire -- Harrelson, as subtly as possible, plays an anarchical white nationalist obsessed with walling off his weapons compound from both primate and his fellow man -- and concluded like a Biblical epic, Reeves sizes up our humanity through the eyes of a inhuman-yet-compassionate leader tasked with saving a civilization without sacrificing his moral code: "ape not kill ape." Every second of the movie looks and sounds amazing (Star Trek composer Michael Giacchino outdoes himself while aping Jerry Goldsmith and Ennio Morricone), but it's Serkis under digital, weary eyes that proves Apes is the most underrated franchise of the decade. -- MP
Where to see it right now: Rent on iTunes, Amazon, and YouTube (watch the trailer)
1. Okja
Released: June 28
Cast: Ahn Seo-hyun, Tilda Swinton, Paul Dano, Jake Gyllenhaal
Director: Bong Joon-ho (Snowpiercer)
Why it's great: This wild ride, part action heist, part Miyazaki-like travelogue, and part scathing satire, is fueled by fairy tale whimsy -- but the Grimm kind, where there are smiles and spilled blood. Ahn Seo-hyun plays Mija, the young keeper of a "super-pig," bred by a food manufacturer to be the next step in human-consumption evolution. When the corporate overlords come for her roly-poly pal, Mija hightails it from the farm to the big city to break him out, crossing environmental terrorists, a zany Steve Irwin-type (Gyllenhaal), and the icy psychos at the top of the food chain (including Swinton's childlike CEO) along the way. Okja won't pluck your heartstrings like E.T, but there's grandeur in its frenzy, and the film's cross-species friendship will strike up every other emotion with its empathetic, eco-friendly, and eccentric observations. -- MP
Where to see it right now: Streaming on Netflix (watch the trailer)
Sign up here for our daily Thrillist email and subscribe here for our YouTube channel to get your fix of the best in food/drink/fun.
Matt Patches is the Executive Entertainment Editor of Thrillist. He previously wrote for
Grantland
, Esquire.com, and
Vulture
. Find him on Twitter @misterpatches.