The Best Sci-Fi Movies on Amazon Prime Right Now
We got yer aliens, dragons, and immortals right here.
If you're looking for an escape from reality, both science fiction and fantasy are worthy options, full as they are with fantastical creatures, out of this world settings, and stories so richly imagined you almost believe they're real. Or at least, you wish they were. If you're a Prime-hound and you're looking for something weird, outlandish, or even creepy to watch, look no further than our Amazon Prime streaming picks below.
ALSO READ: Our curated guides to the Best Sci-Fi and Fantasy Movies of 2021 (So Far) and the Best Horror Movies on Amazon Prime
Attack the Block (2011)
When gorilla-bear aliens with glowing teeth descend on a London borough late one night, it's up to a group of inner city kids to fight them off and defeat the oncoming alien invasion. Often credited as the movie that brought star John Boyega onto the scene, Attack the Block is hilarious, fast-paced, and endlessly quotable, as director Joe Cornish proves that Britain is not to be overlooked when it comes to great sci-fi cinema.
Watch it now on Amazon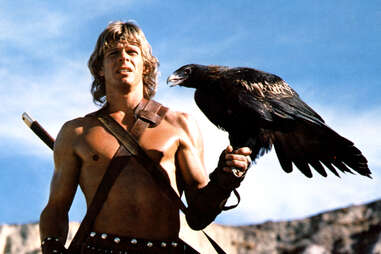 The Beastmaster (1982)
Don Coscarelli's movie about a himbo who can talk to animals and gathers an army of fur and feathers to fight against an evil wizard was shockingly not a box office success upon its initial release, but it got so much attention when it was broadcast on cable channels that it received two more sequels and a syndicated TV show. It's exactly the kind of pulpy, imaginative entertainment fans of Heavy Metal and John Carter of Mars would vibe with.
Beowulf (2007)
An action-movie-flavored adaptation of the ancient story of the world's most famous Geat using motion-capture technology to make Ray Winstone look like Chris Hemsworth and give Angelina Jolie a pointy devil tale must be seen to be believed. It's not great, but it is absolutely great-looking, a visually arresting, deeply shadowed, rain-drenched fantasy movie that'll make you want to carouse with your boys at the nearest mead hall.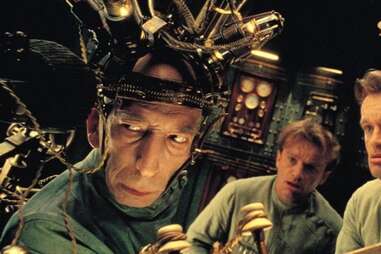 The City of Lost Children (1995)
Jean-Pierre Jeunet's film Amélie was a huge hit internationally, but you might have missed his even more fantastical previous film, which he co-directed with Marc Caro. A strange being lives in an abandoned oil rig and, aging fast due to his inability to dream, kidnaps children from the nearby port city on the coast and steals their dreams to prolong his life. Starring Ron Perlman and assisted by a chilling, atmospheric score from Twin Peaks' Angelo Badalamenti, The City of Lost Children is a singular fantasy that will stick in your brain long after you've finished watching it.
Coherence (2014)
Eight longtime friends gather for a dinner party in a neighborhood in Northern California on the night a comet is predicted to pass visibly overhead. When the power on the street goes out, they find themselves in the middle of a coherence of parallel universes, with strange and unsettling things happening all around them. If you're a fan of The Invitation or Primer, you won't want to miss this.
Highlander (1986)
THERE CAN BE ONLY ONE! If you've ever heard that phrase, this is where it comes from: an '80s British action-fantasy movie about a bunch of immortal warriors waging battle across time, culminating in the magical Gathering during which the last man standing claims a mystical Prize, and which just so happens to be occurring in the middle of NYC! Where else!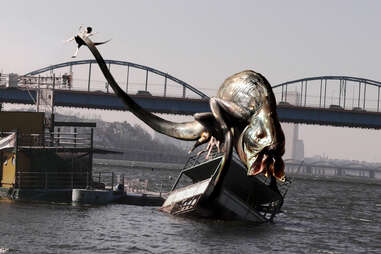 The Host (2006)
This monster movie from Bong Joon-ho, the gifted director behind Snowpiercer and Parasite, was a huge hit in South Korea, and it's easy to see why: thrilling action scenes, incredible effects, and slapstick humor make it the perfect antidote to Hollywood's self-serious blockbusters. Switching tones, moods, and even genres between scenes, it's a movie that defies easy categorization, and flits adeptly between the sentimental, the political, and the horrific. You'll never believe that a movie about a mutated killer fish can make you feel so many complicated emotions.
Invasion of the Body Snatchers (1956)
Even if you haven't seen it, you've heard all the references and jokes many times before. The original Invasion of the Body Snatchers, half sci-fi horror and half film noir mystery movie, tells the tale of a small town that finds itself in the epicenter of an alien invasion, with people disappearing and being replaced with near-exact, but not quite perfect copies of themselves. Its age has done nothing to temper its fear factor, as the driving force behind the story—that the people around you could be sinister copies of themselves—remains terrifying to this day.
The Man Who Fell to Earth (1976)
David Bowie (who else?) plays Thomas Jerome Newton, a humanoid alien who lands on Earth searching for a way to bring water back to his planet, which is beset by drought. During his stay, he becomes privy to human vice and greed, and the film's abstract, lyrical imagery have made this a famously under-seen cult classic.
Minority Report (2002)
When Steven Spielberg's Minority Report came out, the technology looked cool as hell. Luckily that's still kind of the case. Tom Cruise stars here as a police chief running a futuristic pre-crime unit that arrests murderers before they kill. Based on the Philip K. Dick short story of the same name, the film takes an unsettling turn when the prophetic system Cruise's character endorses turns against him. If you're thinking this premise sounds a little Black Mirror-ish, that's because it is.
Pinocchio (2019)
Remember watching the Oscars in early 2021 and discovering that a Pinocchio adaptation came out in 2019 and it wasn't the long-awaited Guillermo del Toro version, wasn't the long-in-development Disney version, but was nominated for the costume and makeup Academy Awards? This Italian version is directed by Matteo Garrone, and is worth watching for the snail-woman and tuna-man alone.
Phantasm (1979)
A mortician known as the Tall Man works in a cemetery and secretly murders people, transforming their corpses into horrifying dwarf creatures he sends to work as slaves on his home planet. Don Coscarelli's independent horror-fantasy film wasn't a big hit in theaters, but has since become a cult classic, the Tall Man's stature and his floating spherical weapons now considered nothing short of iconic in the realm of horror cinema.
Prometheus (2012)
As both a prequel to Alien and a film existing in its own Alien-adjacent universe, Prometheus has a lot of ground to cover. We're still in the future, but going back in time a few decades in the Alien-verse, to when the milk-androids were only just discovering how to act convincingly human and a creepy corporation sends a team of astronauts to investigate what may or may not be humanity's five-head origins. (Thanks, Engineer.)
Resident Evil: Retribution (2012)
The third movie in the Resident Evil film franchise to be written and directed by Paul W.S. Anderson, Retribution finds Milla Jovovich's Alice trapped in an enormous underwater facility in the frigid Far North, fighting for her life and the lives of her team against the victims and engineers of the deadly T-virus, encountering old friends, new and familiar characters from the video games, and plenty of simulations to keep us guessing about what is real and what is fiction.
Sky Captain and the World of Tomorrow (2004)
Ah, the early 2000s, when large-concept movies could be whatever they wanted, and vibes mattered more than plot. Sky Captain and the World of Tomorrow only flopped in theaters because audiences of the time simply weren't ready for its art deco dieselpunk aesthetic and turn-of-the-century-style adventure story of war, spycraft, giant robots, and flying zeppelins captained by statuesque, fast-talking women. The good news is it's developed a well-deserved cult status in the years since.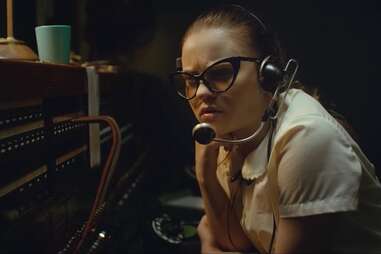 The Vast of Night (2019)
Equal parts would-be Twilight Zone episode and old-fashioned sci-fi radio drama, Andrew Patterson's debut feature takes us back in time to Cayuga, New Mexico in the late 1950s, where two high school youngsters, switchboard operator Fay and late-night radio host Everett, stumble upon a strange interference one night that doesn't seem to be coming from any known source. When Everett asks his listeners to call in if they recognize the sound, the two uncover a global conspiracy involving the military, disappearances, and alien abduction.