The Best Sci-Fi Movies on Amazon Prime Right Now
We got yer aliens, dragons, and robots right here.
'The Fly'

| 20th Century Fox
'The Fly'

| 20th Century Fox
If you're looking for an escape from reality, both science fiction and fantasy are worthy options, full as they are with fantastical creatures, out of this world settings, and stories so richly imagined you almost believe they're real. Or at least, you wish they were. If you're a Prime-hound and you're looking for something weird, outlandish, or even creepy to watch, look no further than our Amazon Prime streaming picks below.
ALSO READ: Our curated guides to the best sci-fi movies on Netflix and the best horror movies on Amazon Prime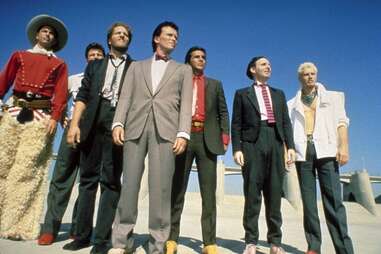 The Adventures of Buckaroo Banzai Across the 8th Dimension (1984)
This cult classic stars Peter Weller as polymath Buckaroo Banzai, a brilliant physicist, neurosurgeon, test pilot, and rockstar, who has to save the world from a band of invading aliens from the faraway Planet 10. The hilarious genre mashup wasn't a hit at the box office, but appreciation for it has grown in the ensuing decades, making it a cult classic with a loyal, rabid following.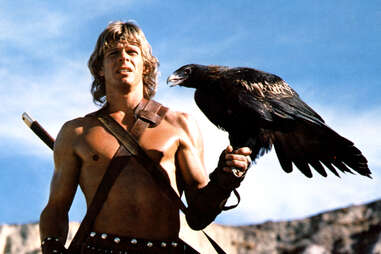 The Beastmaster (1982)
Don Coscarelli's movie about a himbo who can talk to animals and gathers an army of fur and feathers to fight against an evil wizard was shockingly not a box office success upon its initial release, but it got so much attention when it was broadcast on cable channels that it received two more sequels and a syndicated TV show. It's exactly the kind of pulpy, imaginative entertainment fans of Heavy Metal and John Carter of Mars would vibe with.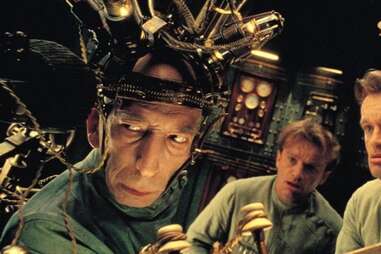 The City of Lost Children (1995)
Jean-Pierre Jeunet's film Amélie was a huge hit internationally, but you might have missed his even more fantastical previous film, which he co-directed with Marc Caro. A strange being lives in an abandoned oil rig and, aging fast due to his inability to dream, kidnaps children from the nearby port city on the coast and steals their dreams to prolong his life. Starring Ron Perlman and assisted by a chilling, atmospheric score from Twin Peaks' Angelo Badalamenti, The City of Lost Children is a singular fantasy that will stick in your brain long after you've finished watching it.
Coherence (2014)
Eight longtime friends gather for a dinner party in a neighborhood in Northern California on the night a comet is predicted to pass visibly overhead. When the power on the street goes out, they find themselves in the middle of a coherence of parallel universes, with strange and unsettling things happening all around them. If you're a fan of The Invitation or Primer, you won't want to miss this.
The Fly (1986)
One of David Cronenberg's best and grossest horror movies, The Fly (a remake of the 1958 classic) stars Jeff Goldblum as an eccentric scientist who accidentally turns himself into a half-man-half-fly hybrid when one of his experiments goes awry. Complete with a great supporting cast including Geena Davis and a cameo from Cronenberg himself, and showcasing some of the most iconic and horrifying special effects makeup ever seen onscreen, The Fly is a movie you won't soon forget.
Highlander (1986)
THERE CAN BE ONLY ONE! If you've ever heard that phrase, this is where it comes from: an '80s British action-fantasy movie about a bunch of immortal warriors waging battle across time, culminating in the magical Gathering during which the last man standing claims a mystical Prize, and which just so happens to be occurring in the middle of NYC! Where else!
Judge Dredd (1995)
"I AM THE LAW!!!" Sylvester Stallone is judge, jury, and executioner in this comic book adaptation, set on a dystopian post-apocalyptic Earth where Street Judges roam the crime-ridden cities prosecuting criminals where they stand. But when Judge Dredd is framed for murder by his psycho half-brother, he needs all the help he can get to clear his name.
Pinocchio (2019)
Remember watching the Oscars in early 2021 and discovering that a Pinocchio adaptation came out in 2019 and it wasn't the long-awaited Guillermo del Toro version, wasn't the long-in-development Disney version, but was nominated for the costume and makeup Academy Awards? This Italian version is directed by Matteo Garrone, and is worth watching for the snail-woman and tuna-man alone.
Phantasm (1979)
A mortician known as the Tall Man works in a cemetery and secretly murders people, transforming their corpses into horrifying dwarf creatures he sends to work as slaves on his home planet. Don Coscarelli's independent horror-fantasy film wasn't a big hit in theaters, but has since become a cult classic, the Tall Man's stature and his floating spherical weapons now considered nothing short of iconic in the realm of horror cinema.
Predator (1987)
When Earth's jungles are menaced by an extraterrestrial big game hunter planning to add a human of two to his trophy collection, the only person to call is '80s Arnold Schwarzenegger and his band of elite paramilitary warriors, who run afoul of the alien on a rescue mission in guerrilla-occupied Central American rainforest. Predator was an instant classic, spawned an entire franchise of films, and is one of those movies that anyone is always down to watch.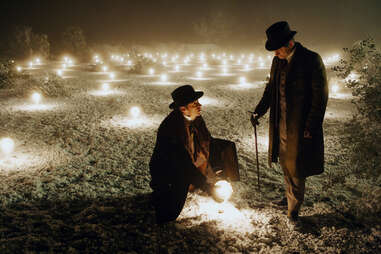 The Prestige (2006)
The pledge, the turn, the prestige. Hugh Jackman and Christian Bale star as Robert Angier and Alfred Borden, professional magician colleagues-turned-rivals whose determination to stunt audiences into a state of wonder turns deadly. Angier is the showman, while Borden is the craftsman, but they are both obsessives, constantly pressuring themselves to come up with newer, better tricks that will leave people mesmerized, until the tricks themselves start to get the better of them.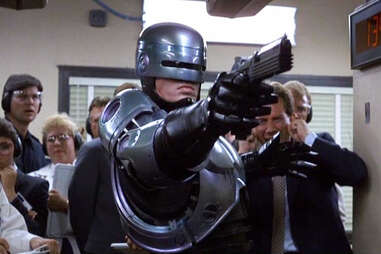 RoboCop (1987)
Paul Verhoeven's savvy indictment of the police industrial complex is as prescient as it is thrilling, with Peter Weller as a near-future police officer in crime-ridden Detroit, whose body is remade into a patrolling cyborg after he's murdered by a bunch of criminals. Heralded as the perfect police officer, RoboCop's computerized programming wars with the remnants of his humanity.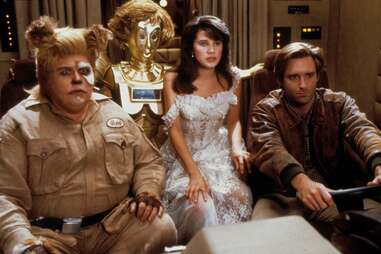 Spaceballs (1987)
May the Schwartz be with us. Mel Brooks' parody of Star Wars and nearly every other classic sci-fi is almost as iconic as the original. Lone Starr and his alien sidekick Barf are on a mission to rescue the princess of a distant planet and keep the villains from stealing her homeworld's air for themselves. When they're marooned on a desert moon, Lone Starr learns about a mysterious power while the bad guys, led by Dark Helmet, bumble around in search of the fugitives.
The Terminator (1984)
You know it, even if you haven't seen it. Arnold Schwarzenegger's most iconic role debuts in The Terminator, James Cameron's epic time travel/cyborg sci-fi hit in which a murderous robot disguised as a big dude is sent back in time to kill the future liberator of all humans in the upcoming humans-vs-robots war before he has a chance to be born. Both timeless and ahead of its time, the special effects alone remain unmatched even at nearly 40 years old.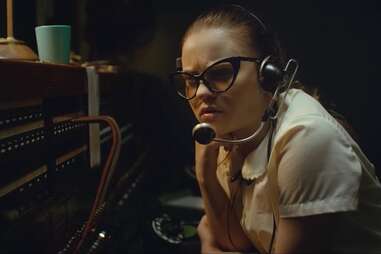 The Vast of Night (2019)
Equal parts would-be Twilight Zone episode and old-fashioned sci-fi radio drama, Andrew Patterson's debut feature takes us back in time to Cayuga, New Mexico in the late 1950s, where two high school youngsters, switchboard operator Fay and late-night radio host Everett, stumble upon a strange interference one night that doesn't seem to be coming from any known source. When Everett asks his listeners to call in if they recognize the sound, the two uncover a global conspiracy involving the military, disappearances, and alien abduction.
Vivarium (2020)
A young couple finds themselves drawn into and trapped inside a 21st century suburban nightmare: a neighborhood populated by an endless sprawl of homes of the exact same size and shape, isolated from the world and crushed by the brutal sameness of their surroundings. Unlike your typical 21st century suburban nightmare, the couple also finds themselves enslaved to a race of interdimensional humanoids, forced to nurture one of their kind as it grows, with unnatural swiftness, from infant to adult.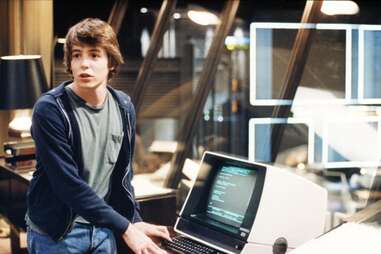 WarGames (1983)
The template for all Hollywood hacker movies (and the inspiration for a scene in Captain America: The Winter Soldier) stars Matthew Broderick as a teen computer hacker who unwittingly accesses a top-secret government supercomputer designed to simulate the outcome of a nuclear war. Just one problem: This time, the war game isn't a simulation. Set during the peak of worldwide Cold War paranoia, the movie was a massive hit and spawned a sequel and countless imitators, but nothing comes close to the thrills of the original.