Netflix can often seem like something out of a science-fiction movie -- seriously, can you imagine telling yourself 15 years ago that you'd be able to stream all 88 episodes of Sliders on your phone? So, it's only fitting that genre junkies now use the streaming service to catch up on forgotten gems, beloved classics, and adventurous new curiosities. Watch these movies and boldly go where no Netflix user has gone before.
Recommended Video
This New Gadget Charges Your Devices Using Your Bare Hands
Advantageous (2015)
This isn't the kind of movie that will blow you away with its special effects, but the near-futuristic story of motherly dedication, objectification of women, and what the future of consciousness looks like will hook you with its heart. You'll recognize the pervasive contemporary sci-fi trope of consciousness uploading (hello, Black Mirror), but the depth of story prevents Advantageous from becoming another trite retread.
April and the Extraordinary World (2015)
This French animated film might be the one good thing to ever come from steampunk. Set in a 1930s where the world's greatest scientists have disappeared, leaving society to smolder in a coal-burning dystopia, April (Marion Cotillard) is on the run from the state police, who believe she holds the secrets to her late parents' anti-aging serum (which has also gifted her pet cat the ability to speak). With the imagination of Studio Ghibli and the action-pacing of a Guillermo del Toro movie, April and the Extraordinary World is a sci-fi thriller that manages to be whimsical through gunfire and clouds of black smoke.
Armageddon (1998)
The Criterion Collection, reserved for baroque Swedish films and the deep cuts of '70s auteurship, embraced Michael Bay's jump to sci-fi spectacle. Little explanation is required. Armageddon is lean, expertly crafted, and rowdy. Scenes of meteoric destruction channel Irwin Allen and Michelangelo. The final ludicrous mission to blow up the plummeting space rock is the closest we'll come to a Bay-directed opera. But it's the cast -- Bruce Willis, Ben Affleck, Owen Wilson, Steve Buscemi, and so many more -- that makes Armageddon a ride. Bay's drill-team heroes add red and white to their blue collars for a fist-pumping display of patriotism, no international enemy required. For those of us who weren't born early enough for the Space Race, there's Armageddon.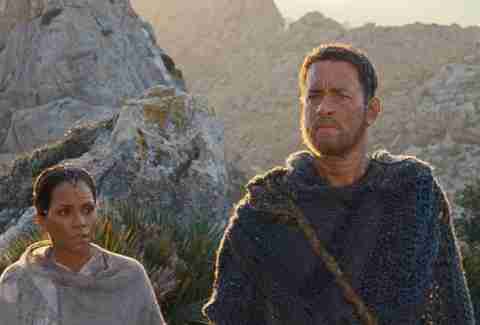 Cloud Atlas (2012)
The Matrix directors Lily and Lana Wachowski were likely the only filmmakers with the ambition, and daredevil instincts to take on David Mitchell's pyramidal, generation-jumping novel. Tracking a set of familiar faces through the distant past, pulpy present, and hyper-future, Cloud Atlas is a as epic as they come, a movie about love, life, loss, and all the little moments in-between.
Europa Report (2013)
The key to funding space-travel expeditions? Reality television, probably. Europa Report imagines our first-manned mission to Jupiter's moon -- oft-speculated to contain frozen and liquid H₂O -- as a television event, with onboard shuttle cameras streaming the crew's activity like Big Brother in space. The inventive approach, which allows the movie to bounce from angular perspectives and simultaneous, four-quadrant action, is especially effective when all hell breaks loose. Because where there's water, there's life.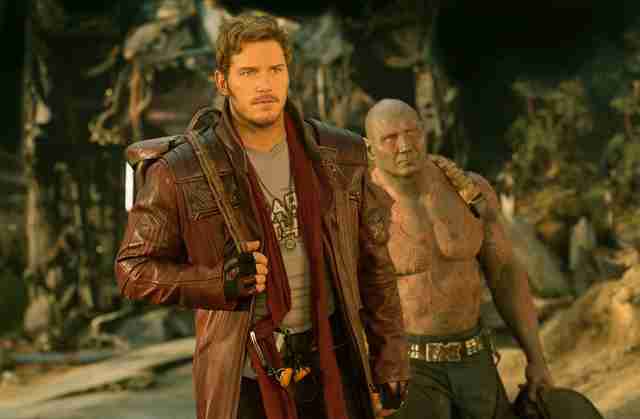 Guardians of the Galaxy, Vol. 2 (2017)
Not much happens in the snappy, solarized sequel to Marvel's surprise 2014 hit, but that's exactly what Star-Lord, Gamora, Drax, Rocket Raccoon, and Baby Groot needed to come to life and become more than pawns in a game of Infinity Stone chess. In Vol. 2, Gunn splits up the gang and drops them in increasingly manic situations, like an intergalactic version of a '70s-era Looney Tunes compilations. Even more than the wall-to-wall vintage tunes, it's the rhythmic banter that whisks around the galaxy. Drax and Star-Lord's uncomfortable backroom chats; Star-Lord and Gamora's Sam-and-Diane banter; Gamora and Nebula's sibling war; Yondu and Rocket's prickly bonding; and Rocket parenting Baby Groot back to adulthood. Great characters can take you anywhere, and in their second go at blockbusterdom, the Guardians take us everywhere.
Metropolis (1927)
Silent film alert! Fritz Lang's epic follows the son of a wealthy industrialist, as he falls in love with a working-class woman and tries to unite his big city's vastly unequal social strata. (And then there's the issue of the mayhem-inducing robot, but we don't want to spoil too much.) The movie remains one of the great sci-fi classics of all time, thanks to its jaw-dropping sets, ambitious symbolism, and techno-paranoia horror. Timeless and worth a watch -- do it.
Mr. Nobody (2009)
If you can stomach Jared Leto, you might enjoy this solid story about the last mortal human, the titular Mr. Nobody. As he approaches death, he becomes a spectacle for the immortals around him, who want to know the details of his life. What follows is a touching life story told through multiple potential realities and a mind-bending ending that will keep you up at night trying to figure out what the hell just happened.
Okja (2017)
From the mind of The Host and Snowpiercer director Bong Joon-ho comes this environmental tale about a little girl from the mountains who adventures into the big city to rescue her pal, a genetically mutated superpig named Okja. The movie debuted at the prestigious Cannes Film Festival, where our man on the ground said it whips between "lovable, scary, silly, morbidly depressing, back to silly" and might just be this generation's E.T.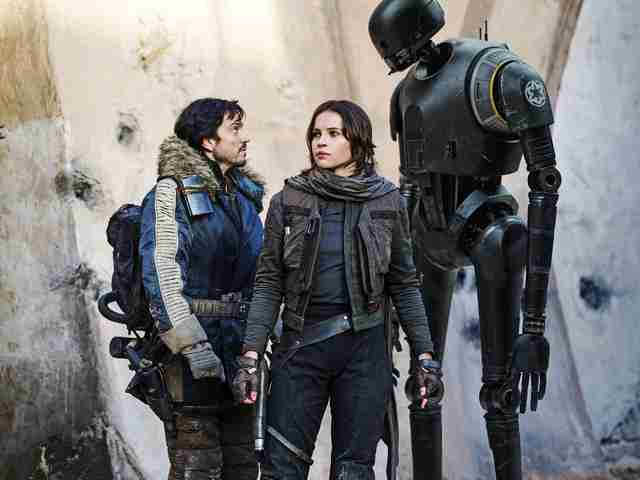 Rogue One: A Star Wars Story (2016)
The first official Star Wars spinoff movie polarized audiences by departing from the usual dashing heroism and Jedi maneuvers. The "mid-quel" -- taking place between Revenge of the Sith and 1977 original -- instead put the "war" in Star Wars, featuring black-ops operations in seedier parts of the galaxy, scout missions across rainy terrain, resistance sneak attacks that brushed close to terrorism, and the pièce de résistance, an epic battle across ground, sea, and air that pushed the new hero, Jyn Erso (Felicity Jones), and the special effects team at Industiral Light & Magic to new the edge. With the Death Star nearly operational, Rogue One is a ticking time bomb of a movie that fans of space-opera action will revel in time and time again.
Sky Captain and the World of Tomorrow (2004)
Notoriously executed on a low budget using massive amounts of green-screen (a practice that would revolutionize blockbusters), this retrofuturist blockbuster stars Gwyneth Paltrow as a sharp-witted reporter Polly Perkins and Jude Law as hotshot air force pilot Joe as they solve the mystery of a missing scientist. Sporting flying robots, underwater sea battles (led by an eye-patched Angelina Jolie), and the resurrected face of Laurence Olivier, the inventive action movie is all style over substance, but the style is glorious.
Spectral (2016)
The splashy horror-action movie was meant to play in theaters, but producers opted to bypass theatrical release and sell the movie to Netflix. Maybe Spectral would have bombed at the box office, but this genre mash-up, about a bunch of soldiers who are sent to destroy a mysteriously otherworldly enemy (ghosts, basically) and find themselves trapped behind enemy lines with an adversary they don't understand, is pretty damn entertaining on the home screen. Spectral plays a lot like a movie version of a video game, with one big difference: there's velocity and character and enough mystery to sustain the ride.
Sign up here for our daily Thrillist email and subscribe here for our YouTube channel to get your fix of the best in food/drink/fun.