Netflix can often seem like something out of a science-fiction movie -- seriously, can you imagine telling yourself 15 years ago that you'd be able to stream your favorite movies on your phone while you're on a cross-country flight? So, it's only fitting that genre junkies now use the streaming service to catch up on forgotten gems, beloved classics, and adventurous new curiosities. Watch these movies and boldly go where no Netflix user has gone before.
Recommended Video
The Most Relaxing Shows on Netflix (That Aren't 'Marie Kondo')
Advantageous (2015)
This isn't the kind of movie that will blow you away with its special effects, but the near-futuristic story of motherly dedication, objectification of women, and what the future of consciousness looks like will hook you with its heart. You'll recognize the pervasive contemporary sci-fi trope of consciousness uploading (hello, Black Mirror), but the depth of story prevents Advantageous from becoming another trite retread. 
April and the Extraordinary World (2015)
This French animated film might be the one good thing to ever come from steampunk. Set in a 1930s where the world's greatest scientists have disappeared, leaving society to smolder in a coal-burning dystopia, April (Marion Cotillard) is on the run from the state police, who believe she holds the secrets to her late parents' anti-aging serum (which has also gifted her pet cat the ability to speak). With the imagination of Studio Ghibli and the action-pacing of a Guillermo del Toro movie, April and the Extraordinary World is a sci-fi thriller that manages to be whimsical through gunfire and clouds of black smoke.
Armageddon (1998)
Michael Bay's jump to sci-fi spectacle, Armageddon, is lean, expertly crafted, and rowdy. Scenes of meteoric destruction channel Irwin Allen and Michelangelo. The final ludicrous mission to blow up the plummeting space rock is the closest we'll come to a Bay-directed opera. But it's the cast -- Bruce Willis, Ben Affleck, Owen Wilson, Steve Buscemi, and so many more -- that makes Armageddon a ride. Bay's drill-team heroes add red and white to their blue collars for a fist-pumping display of patriotism, no international enemy required. For those of us who weren't born early enough for the Space Race, there's Armageddon.
Blame! (2017)
Netflix pulled off the impossible with Blame! -- exclamation point not optional -- the cult-loved sci-fi/cyberpunk manga series by Tsutomu Nihei from 2000. Long chalked up to being unadaptable for the screen because of its hyper-detailed art, general oppressive sense of desolation, and scarce dialogue as the story of the super-powerful gunslinger Killy who doesn't need nobody, man, roving aimlessly through a dystopian underground futureworld full of fast killer robots, the creators of the made-for-Netflix anime series Knights of Sidonia hacked it with a rich, but not disorienting, 3D animation technique. By honing in on a defined arc that actually has people in it, Blame! the movie stakes humanity's very existence on a profoundly bleak narrative. If you enjoyed Ghost in the Shell and Akira, dig deeper into Blame!
Close Encounters of the Third Kind (1977)
See where the Duffer Brothers drew more than a dash of inspiration for Stranger Things -- like how to communicate with the supernatural -- in this Steven Spielberg alien epic. Unlike Spielberg's E.T., his Oscar-nominated 1977 film takes on a bit of a darker, albeit equally curious and fantastical, tone as a group of scientists and a family man electrician investigate UFO sightings and paranormal activity. It's a classic not just for the story, but for the stunning visuals that continue to have a wide-ranging impact on filmmakers today.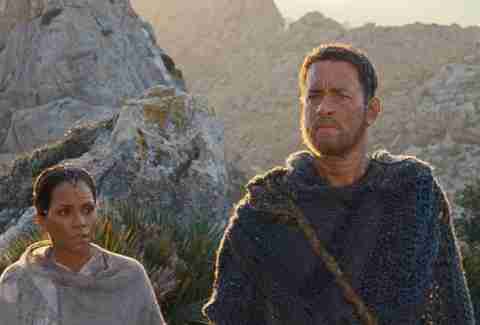 Cloud Atlas (2012)
The Matrix directors Lily and Lana Wachowski were likely the only filmmakers with the ambition, and daredevil instincts to take on David Mitchell's pyramidal, generation-jumping novel. Tracking a set of familiar faces through the distant past, pulpy present, and hyper-future, Cloud Atlas is a as epic as they come, a movie about love, life, loss, and all the little moments in-between.
District 9 (2009)
Inspired by the Apartheid in South Africa, District 9 imagines a future in which aliens are discovered on Earth and the South African government responds by placing them in an internment camp. But after years of confinement and neglect, the foreign population rises up to reclaim their autonomy to attempt to return to their home planet. It's a dystopian, extra-terrestrial film that's more about xenophobia than it is about a war between worlds. And hailing from sci-fi filmmaker Neill Blomkamp and produced by Peter Jackson, it's also surprise low-budget film ended up garnering four Oscar nominations including Best Picture, making it well worth the watch.
Ex Machina (2014)
Writer-director Alex Garland (28 Days Later, Never Let Me Go) made the movie we'll remember when Google and Tesla's self-driving cars rise against their masters. Immaculately designed and researched, Ex Machina builds a trifecta out of the ultimate Silicon Valley bro (Oscar Isaac); Ava, the ideal robo-woman he believes is under his control (Alicia Vikander); and the audience's proxy, a regular Joe computer junkie enamored by Ava's potential (Domhnall Gleeson). Over a weekend, they talk through philosophy, drink themselves stupid, and discover the ramifications of reckless innovations. Elegant, rambunctious, and terrifyingly prescient.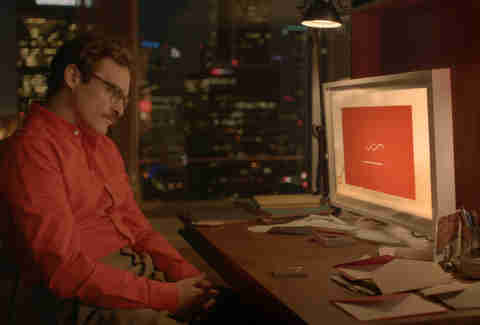 Her (2013)
Spike Jonze's Oscar-winning script throws a lonely greeting-card writer and a fancy Siri-like operating system into a questionable romance. The result, anchored by Joaquin Phoenix and Scarlett Johansson (yes, the latter kills it as the OS), is at once poignant and thought-provoking, especially for a generation that leans more and more on personalized handheld devices.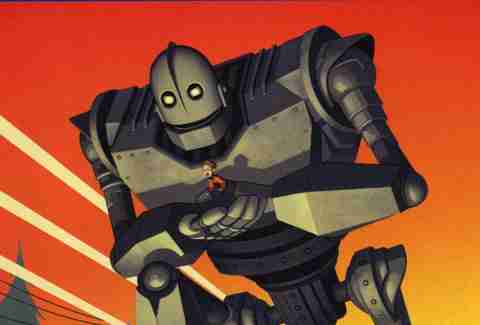 The Iron Giant (1999)
Brad Bird's jump from The Simpsons to feature filmmaking bombed at the box office. Apparently Americans hate tender boy-and-his-robot stories set during the Cold War and styled like 1950s pulp sci-fi. Geez, Americans -- get with it! With gorgeous animation and a hilarious script by Bird -- more beatnik culture jokes, please -- The Iron Giant would be a top-three Pixar... if Pixar had made it. Bring tissues. Tears will be shed.
Moon (2009)
The attention-getting debut from Warcraft director Duncan Jones is basically a one-man show for star Sam Rockwell, who plays the lone operator of a moon-based mining outpost. Nearing the end of his three-year shift, the guy starts to have problems. Not just the loneliness and stunning boredom you'd expect from solo life on the moon; more like big fractures in his life, which reveal far more troubling facts about his existence. The brilliant Rockwell is aided by the voice of Kevin Spacey as the outpost's AI helper, and by a minimal but effective score from Clint Mansell. Facing death alone on a cold rock in space shouldn't be this appealing.
Mr. Nobody (2009)
If you can stomach Jared Leto, you might enjoy this solid story about the last mortal human, the titular Mr. Nobody. As he approaches death, he becomes a spectacle for the immortals around him, who want to know the details of his life. What follows is a touching life story told through multiple potential realities and a mind-bending ending that will keep you up at night trying to figure out what the hell just happened. 
Okja (2017)
From the mind of The Host and Snowpiercer director Bong Joon-ho comes this environmental tale about a little girl from the mountains who adventures into the big city to rescue her pal, a genetically mutated superpig named Okja. The movie debuted at the prestigious Cannes Film Festival, where our man on the ground said it whips between "lovable, scary, silly, morbidly depressing, back to silly" and might just be this generation's E.T.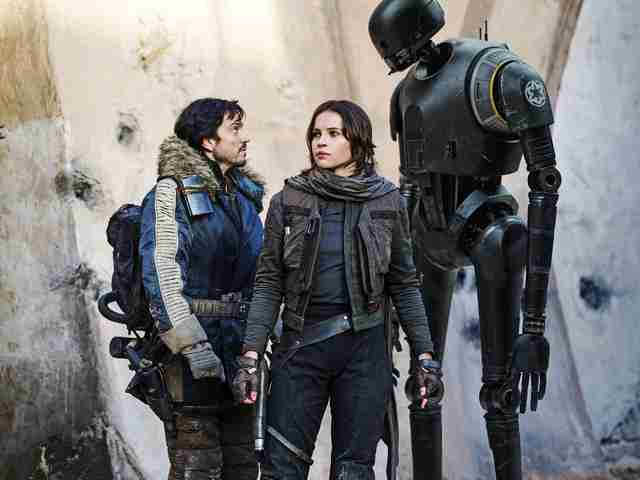 Rogue One: A Star Wars Story (2016)
The first official Star Wars spinoff movie polarized audiences by departing from the usual dashing heroism and Jedi maneuvers. The "mid-quel" -- taking place between Revenge of the Sith and 1977 original -- instead put the "war" in Star Wars, featuring black-ops operations in seedier parts of the galaxy, scout missions across rainy terrain, resistance sneak attacks that brushed close to terrorism, and the pièce de résistance, an epic battle across ground, sea, and air that pushed the new hero, Jyn Erso (Felicity Jones), and the special effects team at Industiral Light & Magic to new the edge. With the Death Star nearly operational, Rogue One is a ticking time bomb of a movie that fans of space-opera action will revel in time and time again.
Spectral (2016)
The splashy horror-action movie was meant to play in theaters, but producers opted to bypass theatrical release and sell the movie to Netflix. Maybe Spectral would have bombed at the box office, but this genre mash-up, about a bunch of soldiers who are sent to destroy a mysteriously otherworldly enemy (ghosts, basically) and find themselves trapped behind enemy lines with an adversary they don't understand, is pretty damn entertaining on the home screen. Spectral plays a lot like a movie version of a video game, with one big difference: there's velocity and character and enough mystery to sustain the ride.
Star Wars: Episode VIII -- The Last Jedi (2017)
The second film in Walt Disney's rebooted trilogy that leaves the original galaxy far, far away for the future was one of the most anticipated films of 2017, and it turned out to be maybe the most epic ever in the franchise. Following the death of Han Solo, this intergalactic odyssey follows the remaining members of the dwindling Resistance as they attempt to escape the death grips of the First Order, helmed by the gross General Hux and the conflicted but hot Ben Solo/Kylo Ren's (Adam Driver), and rebuild. Furthering her path of becoming a key fighter (and awakening Jedi), Rey (Daisy Ridley) goes in search of the now-reclusive Luke Skywalker to get him back to motivate and aid the rebel cause. With the large ensemble cast of classic stars like Mark Hamill and Carrie Fisher, as well as the new Star Wars A-team, including John Boyega and Oscar Isaac, its dynamic special effects give the film everything and more that you could want out of the franchise film. Plus: Porgs!!!
Sign up here for our daily Thrillist email and subscribe here for our YouTube channel to get your fix of the best in food/drink/fun.