Netflix can often seem like something out of a science-fiction movie -- seriously, can you imagine telling yourself 15 years ago that you'd be able to stream all 88 episodes of Sliders on your phone? So, it's only fitting that genre junkies now use the streaming service to catch up on forgotten gems, beloved classics, and adventurous new curiosities. Watch these movies and boldly go where no Netflix user has gone before.
Armageddon (1998)
The Criterion Collection, reserved for baroque Swedish films and the deep cuts of '70s auteurship, embraced Michael Bay's jump to sci-fi spectacle. Little explanation is required. Armageddon is lean, expertly crafted, and rowdy. Scenes of meteoric destruction channel Irwin Allen and Michelangelo. The final ludicrous mission to blow up the plummeting space rock is the closest we'll come to a Bay-directed opera. But it's the cast -- Bruce Willis, Ben Affleck, Owen Wilson, Steve Buscemi, and so many more -- that makes Armageddon a ride. Bay's drill-team heroes add red and white to their blue collars for a fist-pumping display of patriotism, no international enemy required. For those of us who weren't born early enough for the Space Race, there's Armageddon.
Galaxy Quest (1999)
Parodying nerd culture can be tricky -- just ask the guys who made Fanboys -- but when done correctly, the results can be divine. This witty comedy about the cast of a Star Trek-like cult television show that gets transported to a "real" alien planet is the perfect combination of warm, loving tribute and breezy, ribbing satire. Performances from a game Tim Allen, Tony Shalhoub, Sigourney Weaver, and the late Alan Rickman, as the cast's perpetually typecast Spock stand-in Alexander Dane, all help bring a sharp script to vibrant life. By Grabthar's hammer, please stream this movie.
Contact (1997)
The spiritual and scientific swirl through a space-time-breaching wormhole in this adaptation of Carl Sagan's best-selling novel. Contact stars Jodie Foster as a SETI scientist who discovers a signal from the star system Vega that, when decoded, translates into plans for a space-travel device. Director Robert Zemeckis (Back to the Future) takes a pensive approach when asking Sagan's existential, extraterrestrial "what ifs," and Contact is one of the very best "hard science" sci-fi movies for it.
Explorers (1985)
Wonder is contagious, and Joe Dante's underrated entry into the '80s-kids-on-a-mission genre is basically Patient Zero. Explorers didn't capture audiences like E.T. or Stand by Me, but its thrills and imagination are real. Little Ethan Hawke and Little River Phoenix star as nerdy buds who build a spaceship, then visit some goofy-looking aliens. Why? Because they can. Smart is cool in Explorers! And so are their alien cohorts, who look rippled from a sugary cereal brand's box. Nostalgia be damned -- this movie is legit family-friendly entertainment, 30 years later.
World of Tomorrow (2015)
Don Hertzfeldt's time-travel cartoon will only take you six minutes to watch... unless you find yourself looping it over and over and basking in its odd, stick-figured wonder. In the short, a little girl named Emily is contacted by her third-generation clone, speaking to her from 227 years in the future. Within their conversation, World of Tomorrow draws a line from vibrant, modern life to emotionless existence, where consciousness remains immortal in a closed loop of uploads and downloads, and love can only be remembered through a kind of Netflix for memories. Because it's from Hertzfeldt, World of Tomorrow is side-splittingly funny as well as a direct descendent of the works of both C.S. Lewis and Oscar Wilde.
Primer (2004)
A tiny-budget indie with a massive cult following (and a Sundance Grand Jury prize to boot), Shane Carruth's early-aughts mindfuck Primer is about two engineers who build a box that enables them to travel six hours back into the past, which they do over and over again, resulting in predictably messy consequences. Absent of the usual whimsy of time-travel narratives, Primer aims for verisimilitude -- much of the movie takes place in drab, mundane settings, such as a garage and a hotel room -- with a labyrinthine narrative structure designed intentionally to simulate the confusing time-travel process for viewers. One of the most complex science-fiction films ever, spawning reams of analysis from fans endlessly dissecting the movie's cryptic temporal trajectory, this film is a must-see for hardcore sci-fi junkies who love tumbling down Reddit rabbit holes. Also check out Carruth's follow-up feature, Upstream Color -- also on Netflix, also a mind-bender.
Magnolia Pictures/YouTube
Europa Report (2013)
The key to funding space-travel expeditions? Reality television, probably. Europa Report imagines our first-manned mission to Jupiter's moon -- oft-speculated to contain frozen and liquid H₂O -- as a television event, with onboard shuttle cameras streaming the crew's activity like Big Brother in space. The inventive approach, which allows the movie to bounce from angular perspectives and simultaneous, four-quadrant action, is especially effective when all hell breaks loose. Because where there's water, there's life.
Melancholia (2011)
Lars von Trier's Melancholia is one of those films that defies categorization, but Netflix lists it as sci-fi, so who are we to argue? At once a family melodrama, an apocalypse movie, a fantasy epic, and a symbolic meditation on mental illness, the film features a first act that focuses on Justine (played by Kirsten Dunst), a severely depressed bride-to-be struggling to make it through her nuptials, while part two shifts the focus to her sister Claire (Charlotte Gainsbourg), as both she and Justine react very differently to the discovery that a rogue planet is on a direct collision course with Earth. Overflowing with stunningly evocative imagery and devastating performances, Melancholia is one of the all-time best cinematic representations of depression, one that will haunt you long after the closing credits.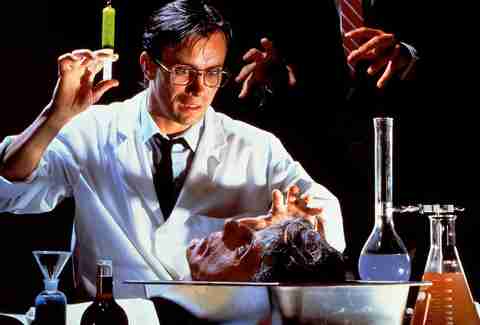 Re-Animator (1985)
Adapted from an H.P. Lovecraft short story, this mad scientist romp injects a B-movie corpse with gruesome, gushing special effects that should elicit more belly laughs than wailing screams. Jeffrey Combs plays Herbert West, inventor of the life-breathing reagent, like a lost Ed Wood character, which works when you spend most of a movie dancing around attacking zombies and chatty, disembodied heads.
Magnolia Pictures/YouTube
The Host (2006)
This monster movie from Bong Joon-ho, the gifted director behind Snowpiercer, was a huge hit in South Korea, and it's easy to see why: thrilling action scenes, incredible effects, and slapstick humor make it the perfect antidote to Hollywood's self-serious blockbusters. Switching tones, moods, and even genres between scenes, it's a movie that defies easy categorization, and flits adeptly between the sentimental, the political, and the horrific. You'll never believe that a movie about a mutated killer fish can make you feel so many complicated emotions.
Sign up here for our daily Thrillist email, and get your fix of the best in food/drink/fun.
Other Stuff You'll Like In Stream On