Netflix can often seem like something out of a science-fiction movie -- seriously, can you imagine telling yourself 15 years ago that you'd be able to stream your favorite movies on your phone while you're on a cross-country flight? So, it's only fitting that genre junkies now use the streaming service to catch up on forgotten gems, beloved classics, and adventurous new curiosities. Watch these movies and boldly go where no Netflix user has gone before.
Recommended Video
Thrillist's Best (and the Rest): The Truth Behind the Saddest Cookbook Ever
Advantageous (2015)
This isn't the kind of movie that will blow you away with its special effects, but the near-futuristic story of motherly dedication, objectification of women, and what the future of consciousness looks like will hook you with its heart. You'll recognize the pervasive contemporary sci-fi trope of consciousness uploading (hello, Black Mirror), but the depth of story prevents Advantageous from becoming another trite retread. 
April and the Extraordinary World (2015)
This French animated film might be the one good thing to ever come from steampunk. Set in a 1930s where the world's greatest scientists have disappeared, leaving society to smolder in a coal-burning dystopia, April (Marion Cotillard) is on the run from the state police, who believe she holds the secrets to her late parents' anti-aging serum (which has also gifted her pet cat the ability to speak). With the imagination of Studio Ghibli and the action-pacing of a Guillermo del Toro movie, April and the Extraordinary World is a sci-fi thriller that manages to be whimsical through gunfire and clouds of black smoke.
Bird Box (2018)
If you haven't watched Netflix's creepy horror movie Bird Box by now, where have you been? Sandra Bullock's newest film took the Internet by storm the weekend it premiered in late December 2018, prompting what seemed like everyone in the entire world to watch and share their horrified reactions (and responses to a dangerous meme challenge). Bullock plays Malorie, a suburban single woman who finds herself, along with a hodgepodge of other people, trapped in an apocalyptic nightmare involving creatures who cause people to commit suicide on sight. If you look at them, you die, so everyone has to run around outside wearing blindfolds -- and honestly, what horror movie trope is scarier than not being able to see? If you really dug A Quiet Place, but wish a different sense had been taken away from its main characters, Bird Box is for you.
Blade Runner (1982)
Director Ridley Scott went out of his way to imagine 2019 Los Angeles as a pretty terrible place to be, and yet the look, sound, and feel of the world are so seductive that we want to visit regardless. Same goes for the story: Blade Runner's plot is a barely warmed-over detective yarn with Harrison Ford in the role of the hard-boiled investigator, but we can feel glimmers of the pain and confusion of artificial humans who realize they are powerless against their pre-determined fate. The movie is a triumph of world-building that still makes a mark on viewers and filmmakers years later.
Blame! (2017)
Netflix pulled off the impossible with Blame! -- exclamation point not optional -- the cult-loved sci-fi/cyberpunk manga series by Tsutomu Nihei from 2000. Long chalked up to being unadaptable for the screen because of its hyper-detailed art, general oppressive sense of desolation, and scarce dialogue as the story of the super-powerful gunslinger Killy who doesn't need nobody, man, roving aimlessly through a dystopian underground futureworld full of fast killer robots, the creators of the made-for-Netflix anime series Knights of Sidonia hacked it with a rich, but not disorienting, 3D animation technique. By honing in on a defined arc that actually has people in it, Blame! the movie stakes humanity's very existence on a profoundly bleak narrative. If you enjoyed Ghost in the Shell and Akira, dig deeper into Blame!
Cloverfield (2008)
Here's your chance to experience running from a terrifying space creature from the comfort of your own couch. Before it was an unwieldy science-fiction anthology franchise, Cloverfield was just another "mystery box" project from super-producer J.J. Abrams, a found-footage disaster film with no big stars and no plot details. Luckily, director Matt Reeves (Dawn of the Planet of the Apes) delivered a cunning monster movie that builds momentum as it goes and finds inventive twists on its stock genre set-up. In classic Abrams fashion, it leaves you with more questions than answers, but the ride is worth it.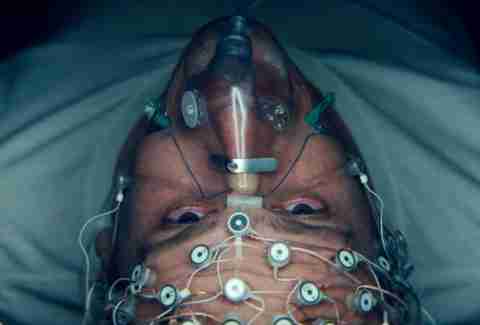 The Discovery (2017)
In The Discovery, the afterlife exists. When a scientist played by Robert Redford breaks through to the other side to confirm its existence, a suicide epidemic ensues, with millions killing themselves in hopes of seeing the light. At the center of the story is the scientist's son, Will (Jason Segel), and a woman he meets en route to his father's lab/isolated mansion where many who attempted suicide are sent to work. Looking at Heaven as another plane of existence, and the repercussions of knowing what happens following life on Earth, The Discovery may be bleak, but the romantic plot (and mind-boggling ending) about the human connections we form during this life make for an intriguing concept that occasionally falters, but ultimately proves worth a watch.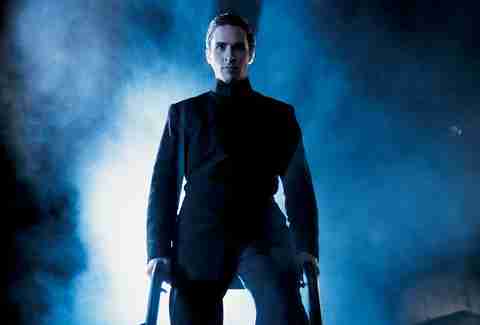 Equilibrium (2002)
Equilibrium came out smack dab in the middle of The Matrix trilogy hype, so the dystopian movie from action director Kurt Wimmer (Total Recall, Law Abiding Citizen) never really got a moment of its own. The Christian Bale feature may be a hodgepodge of Orwellian theory that pulls from iconic sci-fi works like Fahrenheit 451 about an oppressive society that doesn't let its citizens feel anything, but for a futuristic blockbuster, it's pumped with more emotion than your average action movie. Bale is at his best overthrowing a totalitarian regime, so let this philosophical sci-fi number help you feel something when society won't. 
Event Horizon (1997)
Paul W.S. Anderson, director of Mortal Kombat and the Resident Evil movies, stepped up his game for this 1997 men-on-a-mission sci-fi movie, finding hard-R glimpses of hell in the darkest corners of the universe. We've seen "where'd the crew go?" movies before -- Star Trek Beyond also took another crack at it -- but we've never seen it with Anderson's baroque bloodlust.
Ex Machina (2014)
Writer-director Alex Garland (28 Days Later, Never Let Me Go) made the movie we'll remember when Google and Tesla's self-driving cars rise against their masters. Immaculately designed and researched, Ex Machina builds a trifecta out of the ultimate Silicon Valley bro (Oscar Isaac); Ava, the ideal robo-woman he believes is under his control (Alicia Vikander); and the audience's proxy, a regular Joe computer junkie enamored by Ava's potential (Domhnall Gleeson). Over a weekend, they talk through philosophy, drink themselves stupid, and discover the ramifications of reckless innovations. Elegant, rambunctious, and terrifyingly prescient.
Freaks (2018)
You've seen movies about doomsday prepper parents who don't let their kids leave their house, and you've seen more than a few movies about creepy kids. Freaks puts the two together, starting out as one movie that slowly morphs into another, making one freaky flick about a little girl whose father (Emile Hirsh) locks her away until she figures out a way to escape and learns a great deal about herself, her own capabilities, and the dystopian society they live in. Freaks may not be the most high concept sci-fi feature, but it manages to be an intense vigilante mission even with its humble means. 
Hellboy (2004)
Even when he's not adapting a comic book, director Guillermo del Toro makes comic-book movies. Any random image from Crimson Peak, Pacific Rim, or Pan's Labyrinth looks like it was plucked from a graphic novel, so it only makes sense that Hellboy, the Mexican filmmaker's spin on writer Mike Mignola's idiosyncratic cult favorite, is a fire-roasted visual feast. As the titular wiseass demon with a right hand of stone, tough-guy Ron Perlman (Sons of Anarchy) grounds the action with his cigar-chomping charisma and keeps it from devolving into pure spooky spectacle. It's the rare haunted house you'd want to live in.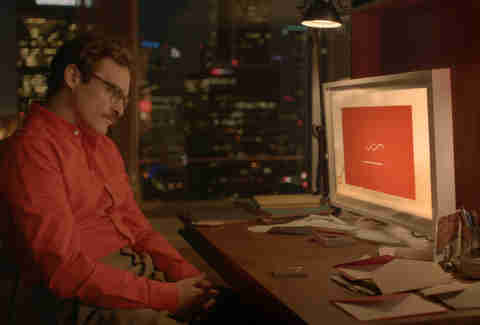 Her (2013)
Spike Jonze's Oscar-winning script throws a lonely greeting-card writer and a fancy Siri-like operating system into a questionable romance. The result, anchored by Joaquin Phoenix and Scarlett Johansson (yes, the latter kills it as the OS), is at once poignant and thought-provoking, especially for a generation that leans more and more on personalized handheld devices.
The Lobster (2016)
To examine modern love, this baroque sci-fi rom-com basically splits into two movies: The first is an evisceration of Bachelor-esque monogamy logic, where Colin Farrell's David must find love in 45 days or be turned into an animal (of his choice -- the overlords aren't monsters). The second boots our hero to savage woods, where escaped singles plot terrorist attacks against their romance-obsessed society. Shaded with cool hues and orchestrated like a minor symphony, Farrell and Rachel Weisz balance the off-kilter dystopia with vibrant, sexual heat. Outrunning tranquilizer darts never looked so good. Like Eternal Sunshine of the Spotless Mind, The Lobster is original, heartfelt, and would make an awful date movie. Luckily, that's not a factor for greatness.
Moon (2009)
The attention-getting debut from Warcraft director Duncan Jones is basically a one-man show for star Sam Rockwell, who plays the lone operator of a moon-based mining outpost. Nearing the end of his three-year shift, the guy starts to have problems. Not just the loneliness and stunning boredom you'd expect from solo life on the moon; more like big fractures in his life, which reveal far more troubling facts about his existence. The brilliant Rockwell is (unfortunately) aided by the voice of Kevin Spacey as the outpost's AI helper, and by a minimal but effective score from Clint Mansell. Facing death alone on a cold rock in space shouldn't be this appealing.
Okja (2017)
From the mind of The Host and Snowpiercer director Bong Joon-ho comes this environmental tale about a little girl from the mountains who adventures into the big city to rescue her pal, a genetically mutated superpig named Okja. The movie debuted at the prestigious Cannes Film Festival, where our critic said it whips between "lovable, scary, silly, morbidly depressing, back to silly" and might just be this generation's E.T.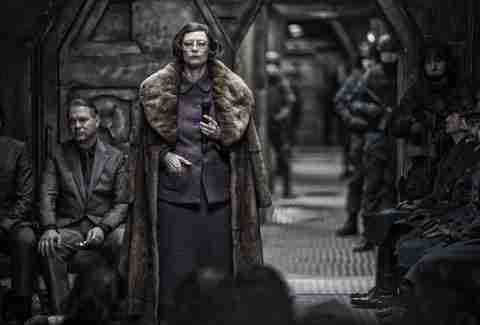 Snowpiercer (2013)
Did people go overboard in praising Snowpiercer when it came out? Maybe. But it's important to remember that the movie arrived in the sweaty dog days of summer, hitting critics and sci-fi lovers like a welcome blast of icy water from a hose. The film's simple, almost video game-like plot -- get to the front of the train, or die trying -- allowed visionary South Korean director Bong Joon-ho to fill the screen with excitement, absurdity, and radical politics. Chris Evans never looked more alive, Tilda Swinton never stole more scenes, and mainstream blockbuster filmmaking never felt so tepid in comparison. Come on, ride the train!
Spectral (2016)
The splashy horror-action movie was meant to play in theaters, but producers opted to bypass theatrical release and sell the movie to Netflix. Maybe Spectral would have bombed at the box office, but this genre mash-up, about a bunch of soldiers who are sent to destroy a mysteriously otherworldly enemy (ghosts, basically) and find themselves trapped behind enemy lines with an adversary they don't understand, is pretty damn entertaining on the home screen. Spectral plays a lot like a movie version of a video game, with one big difference: there's velocity and character and enough mystery to sustain the ride.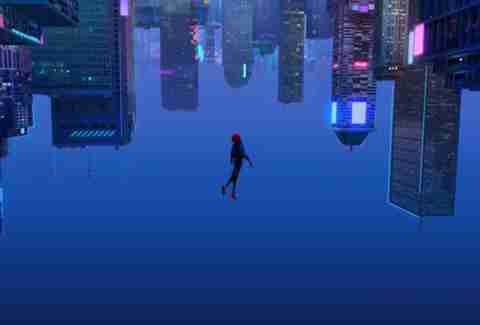 Spider-Man: Into the Spider-Verse (2018)
One of the best animated movies of the decade, the Academy Award-winning Spider-Man: Into the Spider-Verse is a mélange of Spider-Man's cheeky superhero charm and genre-bending, dimension-hopping action. It's also arguably the best Spider-Man movie in recent memory, eschewing Peter Parker's tried-and-true origin story in favor of Miles Morales (Shameik Moore), a Brooklyn teen who's just doing his best to manage everyone's expectations. The film is a visual marvel, mixing animation styles and indulging in comics-inspired overlay text, speech bubbles, and texturing that put it in an entirely different league than other contemporary animated works. At its most sci-fi moments, it's a euphoric dive into the multiverse, fielding dimensional jumps and interpersonal attachment with grace. 
V for Vendetta (2005)
Natalie Portman's dystopian thriller written by Lilly and Lana Wachowski has only increased in relevance since it came out, so you can have the joy of watching a buzzed Portman trying to fight the repressive forces of future governmental control and remember a time when the future seemed far away. Watch the spirit of Guy Fawkes live on before it's too late. 
Need help finding something to watch? Sign up here for our weekly Streamail newsletter to get streaming recommendations delivered straight to your inbox.