Netflix can often seem like something out of a science-fiction movie -- seriously, can you imagine telling yourself 15 years ago that you'd be able to stream all 88 episodes of Sliders on your phone? So, it's only fitting that genre junkies now use the streaming service to catch up on forgotten gems, beloved classics, and adventurous new curiosities. Watch these movies and boldly go where no Netflix user has gone before.
Armageddon (1998)
The Criterion Collection, reserved for baroque Swedish films and the deep cuts of '70s auteurship, embraced Michael Bay's jump to sci-fi spectacle. Little explanation is required. Armageddon is lean, expertly crafted, and rowdy. Scenes of meteoric destruction channel Irwin Allen and Michelangelo. The final ludicrous mission to blow up the plummeting space rock is the closest we'll come to a Bay-directed opera. But it's the cast -- Bruce Willis, Ben Affleck, Owen Wilson, Steve Buscemi, and so many more -- that makes Armageddon a ride. Bay's drill-team heroes add red and white to their blue collars for a fist-pumping display of patriotism, no international enemy required. For those of us who weren't born early enough for the Space Race, there's Armageddon.
The Day the Earth Stood Still (1951)
This science-fiction classic, about man's first encounter with an advanced alien species, spoke volumes about Cold War-era paranoia when it first hit theaters, and more than 50 years later, remains a poignant reflection of how the world deals with conflict. Designs like the flying saucer from which Klaatu, the intergalactic Jesus stand-in, descends, and Gort, his towering robot companion, are just as steadfast and striking as the movie's message. For fans of flashy sci-fi blockbusters, The Day the Earth Stood Still does more with less, thanks to the vision of West Side Story director Robert Wise.
E.T. the Extra-Terrestrial (1982)
In Steven Spielberg's best movies, a sense of wonder is rooted in the drab confines of reality. This story of a boy and his alien friend endures because the details surrounding that iconic moonlit bike ride are so specific: The Coors E.T. drinks, the Speak & Spell he uses, and the Reese's Pieces he loves. Like modern life, the world of E.T. is one defined by brands, consumer goods, and the need to escape. If only we all had another planet to phone home to.
Europa Report (2013)
The key to funding space-travel expeditions? Reality television, probably. Europa Report imagines our first-manned mission to Jupiter's moon -- oft-speculated to contain frozen and liquid H₂O -- as a television event, with onboard shuttle cameras streaming the crew's activity like Big Brother in space. The inventive approach, which allows the movie to bounce from angular perspectives and simultaneous, four-quadrant action, is especially effective when all hell breaks loose. Because where there's water, there's life.
The Fly (1958)
Yes, David Cronenberg's 1986 remake is the more famous version, but if you haven't seen the source material, here's your chance. Horror master Vincent Price plays confessor in this story of a scientist who botches the testing of a matter transporter, inadvertently giving himself the head and arm of a fly. Rather than being a stereotypical creature feature, however, The Fly weaves themes of mystery, hubris, and human folly throughout, giving it the sort of depth that attracted Cronenberg in the first place.
The Host (2006)
This monster movie from Bong Joon-ho, the gifted director behind Snowpiercer, was a huge hit in South Korea, and it's easy to see why: thrilling action scenes, incredible effects, and slapstick humor make it the perfect antidote to Hollywood's self-serious blockbusters. Switching tones, moods, and even genres between scenes, it's a movie that defies easy categorization, and flits adeptly between the sentimental, the political, and the horrific. You'll never believe that a movie about a mutated killer fish can make you feel so many complicated emotions.
The Iron Giant (1999)
Brad Bird's jump from The Simpsons to feature filmmaking bombed at the box office. Apparently Americans hate tender boy-and-his-robot stories set during the Cold War and styled like 1950s pulp sci-fi. Geez, Americans -- get with it! With gorgeous animation and a hilarious script by Bird -- more beatnik culture jokes, please -- The Iron Giant would be a top-three Pixar... if Pixar had made it. Bring tissues. Tears will be shed.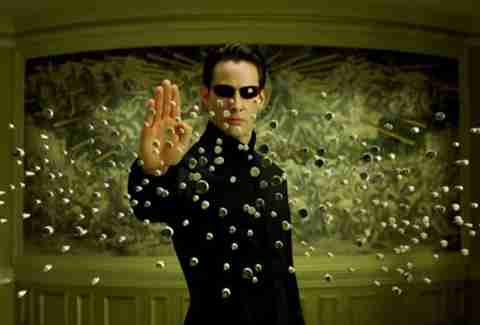 The Matrix (1999)
Action movie? Yes! But also science-fiction, especially considering that a futuristic world in which humans perform simulated lives in a computer-generated landscape while their actual bodies lie trapped in pods while machines sap their energy sounds... hauntingly familiar. The bullet time and fight scenes get their deserved credit, but the allegorical structure and striking images are what turned this Keanu-powered, Wachowski siblings-piloted film into the cultural touchstone it remains today. Red pill or blue pill? Are we in the Matrix? Try bending a spoon after (re)watching this classic to find out -- or just dive into the sequels, also available on Netflix.
Metropolis (1927)
Silent film alert! Fritz Lang's epic follows the son of a wealthy industrialist, as he falls in love with a working-class woman and tries to unite his big city's vastly unequal social strata. (And then there's the issue of the mayhem-inducing robot, but we don't want to spoil too much.) The movie remains one of the great sci-fi classics of all time, thanks to its jaw-dropping sets, ambitious symbolism, and techno-paranoia horror. Timeless and worth a watch -- do it.
Okja (2017)
From the mind of The Host and Snowpiercer director Bong Joon-ho comes this environmental tale about a little girl from the mountains who adventures into the big city to rescue her pal, a genetically mutated superpig named Okja. The movie debuted at the prestigious Cannes Film Festival, where our man on the ground said it whips between "lovable, scary, silly, morbidly depressing, back to silly" and might just be this generation's E.T.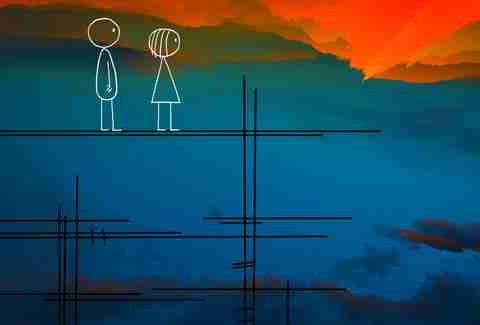 World of Tomorrow (2015)
Don Hertzfeldt's time-travel cartoon will only take you six minutes to watch... unless you find yourself looping it over and over and basking in its odd, stick-figured wonder. In the short, a little girl named Emily is contacted by her third-generation clone, speaking to her from 227 years in the future. Within their conversation, World of Tomorrow draws a line from vibrant, modern life to emotionless existence, where consciousness remains immortal in a closed loop of uploads and downloads, and love can only be remembered through a kind of Netflix for memories. Because it's from Hertzfeldt, World of Tomorrow is side-splittingly funny as well as a direct descendent of the works of both C.S. Lewis and Oscar Wilde.
Sign up here for our daily Thrillist email and subscribe here for our YouTube channel to get your fix of the best in food/drink/fun.