There's more happening on your television (or computer, or phone) screen now than there's ever been before. There is just too much TV for the average human brain to sift through at any given time! And with television budgets skyrocketing, genre TV looks and sounds better than ever -- especially in the realms of science fiction and fantasy. There are a ton of those shows out there too, some better than others, so we've taken it upon ourselves to curate the best, weirdest, and most creative stories out there about aliens, magic, robots, dragons, and everything in between. If you're looking for something totally new to watch, or need one last incentive to go ahead and start that one show you've been curious about, allow us to suggest some of our favorites. If you're in the market for the best sci-fi movies from this year instead, we've got that too.
Recommended Video
Everything We Know: 'Star Wars: The Rise of Skywalker'
9. The Order (Netflix)
Season 1. 10 episodes.
Magic schools have been in vogue since even before Harry Potter took the whole world by storm, and the fantasy subgenre isn't about to die out anytime soon. If you've already re-read and rewatched J.K. Rowling's series too many times to count and are looking for something new, you might want to give Netflix's The Order a shot. The show follows freshman college student Jack Morton while he navigates a world full of frightful creatures and hot-tempered bullies in his quest to join Belgrave University's secret society, unearthing dark powers and even darker family secrets along the way. Oh, and also werewolves. Lots of werewolves.
Season 1. 10 episodes.
If you're still hankering for more period-set weirdness, look no further than Syfy's Deadly Class, which is set in a heightened 1980s in which teen recruits join a prestigious crime school that houses and educates the offspring of some of the most lethal families in the world. After Marcus Lopez Arguello is accepted into the school, he has to choose between keeping his moral code intact and giving in to the darker instincts of his fellow classmates and their sinister teachers. Plus, Doctor Strange's Benedict Wong plays one of the professors, and Lana Condor of To All the Boys I've Loved Before gets to sink her teeth into a way more sinister role.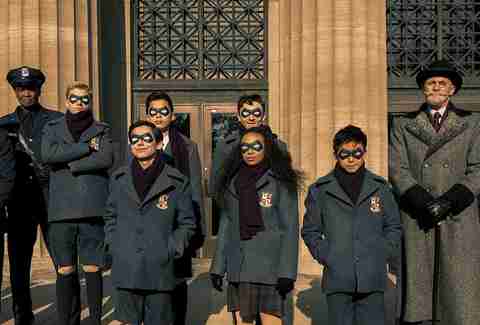 Season 1. 10 episodes.
A Netflix series based on an edgy comic written by My Chemical Romance frontman Gerard Way about a bunch of masked superheroes with weird powers who all grew up in a mansion and hate their dad sounds like a very elaborate, very specific joke. But we assure you, it's real, and it's actually pretty good once it finally hits its stride. You'll come for the explosions and time travel and chimpanzee butler, but you'll stay for the oddly affecting portrayal of how sibling relationships grow and powerfully shape each other, for better or for worse.
6. The Dragon Prince (Netflix)
Season 2. 9 episodes.
Amongst Netflix's huge stable of children's programming are a few shows that are surprisingly, genuinely great. The Dragon Prince is one of those, done in an anime-like computer animation style that might take some getting used to, but the story, created by Aaron Ehasz (the head writer for Nickelodeon's masterwork Avatar: The Last Airbender), is a fascinating dive into and rejection of the most familiar of fantasy tropes. A young elf warrior and two human boys are tasked with returning a dragon egg to its rightful parent in order to avoid all-out war between dark magic-wielding humans and the rest of the creatures on the magical continent of Xadia. The show is for kids, but it's also infused with a very Ehasz-influenced empathy for both sides of a conflict: Few of the show's antagonists are truly evil, while even the notion of "goodness" is realistically complicated.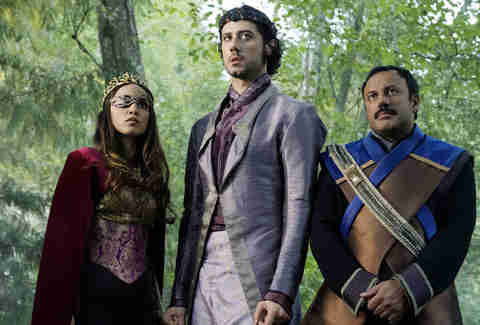 Season 4. 13 episodes.
The Magicians is one of those shows you don't know you're missing until you just say, "screw it," and dive in. If you're not familiar with the series, which is based on Lev Grossman's bestselling novel, it begins with our hero Quentin Coldwater joining Brakebills University to be trained as a magic man, discovering along the way that the fairytale world of his childhood is in fact very real -- and increasingly dangerous to the world of humanity. And that's only the starting point. In its fourth season, the show is more intricate and bizarre (and sexy) than ever, with magic finally restored to our heroes -- albeit in small bits at a time -- not to mention monster possessions, people dying and resurrecting themselves over and over, and split personalities for everybody! Also, Santa Claus is a major character.
Season 1. 18 episodes.
There's a certain artistry to making entertaining, effective, and imaginative short films, and Netflix's new animated series Love, Death + Robots blends all three of those strengths with some really crazy sci-fi stories. The title pretty much says it all: Every episode will have elements of love (read: sex -- the show is very rated R), death, and/or robots, and sometimes a combination of all three. From a tourist party of androids traipsing through a post-apocalyptic Earth, to a monster-fighting ring where the creatures are powered by human minds, to an ancient civilization thriving in a couple's refrigerator, to a beautiful fable about an artist in the future who only paints using one shade of blue, Love Death + Robots is a multifaceted collection of some of the most exhilarating and inventive storytelling out there.
3. The OA (Netflix)
Season 2. 8 episodes.
The OA was Netflix's first puzzle-box show, with a maddening flair for the bizarre and a poorly-timed finale episode that left a lot of viewers cold. Season 2 proves that The OA is still worth a shot -- more than that, it's close to a masterpiece. O.A. is back, tossed into another dimension where she must find out the secrets of her alternate self, moving ever closer to revealing the truth about her nature. Co-creator and star Brit Marling's ideas are allowed to blossom to their full extent, revealing a master plan more intricate and more thrilling than the first eight episodes of the show even cared to dream of, and the second season's finale is so bold it'll leave you questioning the nature of your own reality.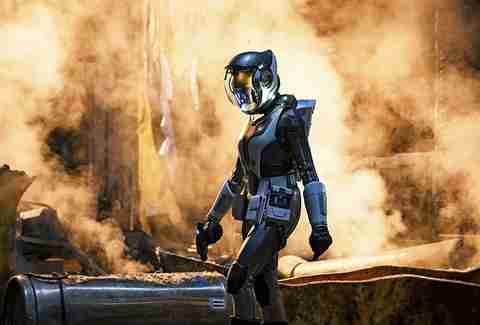 2. Star Trek: Discovery (CBS All Access)
Season 2. 14 episodes.
The first season of Star Trek: Discovery was a thrilling, fiery new addition to the Star Trek family, and pretty much reason number one for adding CBS All Access to your bevy of streaming service subscriptions. (Number two is The Good Fight.) Season 2 is even better, focusing lots of its energy on a plot arc involving Spock himself, as well as a time-traveling angel dressed in a mechanical suit, and adding a new character, the particularly dashing Captain Pike (a character whom long-time fans are sure to recognize from the very first Star Trek episode). There's still plenty of room, though, for some classic Trek-style one-off episodes, including a particularly touching story early on that throws into sharp relief the strange hypocrisy of Starfleet's Prime Directive.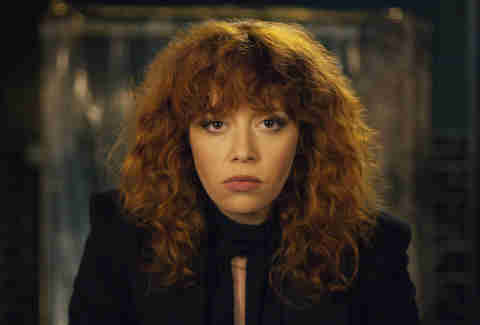 Season 1. 8 episodes.
With Natasha Lyonne's Russian Doll, Netflix might have actually invented the perfect show. It's eight episodes, each shorter than 30 minutes, and it's incredibly good. When Nadia keeps dying in horrifying ways and waking back up in the bathroom the night of her birthday party to the same Harry Nilsson song, she realizes that it's up to her to figure out why it's happening, why it's happening to her, and how she can stop it. What starts off as a weird, dingy Groundhog Day-inspired horror-comedy becomes an unexpectedly moving meditation on self-acceptance and our responsibility towards others in a world in which everyone only cares about themselves. As soon as you finish, you'll want to go back in time and rewatch it immediately.
Sign up here for our daily Thrillist email and subscribe here for our YouTube channel to get your fix of the best in food/drink/fun.