Science-fiction television has enjoyed a recent renaissance, with shows like Netflix's Stranger Things and HBO's Westworld becoming near-instant sensations. The addictive intrigue of sci-fi shows means that when you're finished with one, you're left wanting more, more, more. 
Fortunately, Netflix has built a robust catalog of sci-fi shows to satiate your appetite, so check out some of the titles below when you're craving fantastic stories of science-based speculation.
Recommended Video
The International Trailer for 'The Last Jedi' May Have Revealed Something Huge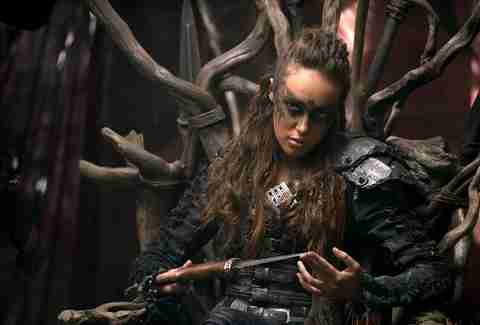 The 100 (2014-present)
How many post-apocalyptic shows starring attractive young people do we really need? Apparently, one more! The 100, which was adapted from a YA series by writer Kass Morgan, is about a team of teens sent down to bombed-out Earth from a colony floating in space. Inevitably, things go wrong: Warring factions emerge, hearts get broken, and, as is required by TV law, beloved characters are killed. Don't let the show's soapy veneer fool you; this is dark, thoughtful material in a slick, teen-friendly package.
3% (2016-present)
If you relish the dystopian drama of The 100, The Hunger Games, or other narratives about attractive people living under unattractive regimes, then this Brazilian Netflix original is for you. The hook of 3% is simple: The world is divided between a world of wealth called the Offshore and a world of poverty called the Inland. (Sounds familiar, right?) The Elysium-like premise is explored with real emotional depth, and director César Charlone, the cinematographer responsible for City of God's stunning visuals, shoots everything with a gritty glow.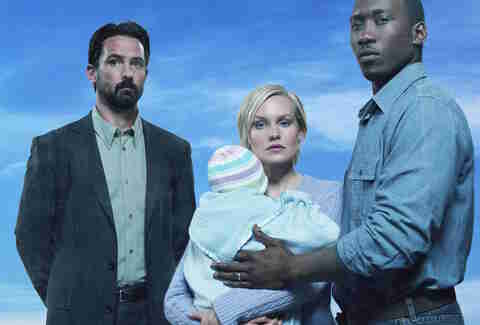 The 4400 (2004-2007)
If you want to make a good sci-fi show, put a number in the title, apparently. Produced by The Godfather director Francis Ford Coppola, this underrated series imagines what would happen if 4,400 people suddenly vanished from the face of the planet in the early 20th century... then flashed back into reality decades later. The mystery unfolds through the eyes of some superlative performances, including Oscar-winner Mahershala Ali as a US Air Force pilot who disappeared but somehow has a daughter in the present.
Altered Carbon (2018-present)
Adapted from the 2002 Richard K. Morgan novel of the same name, Altered Carbon is a flashy, jargon-y, and, at times, dizzying descent into sci-fi decadence. The show follows a 22nd-century mercenary (Joel Kinnaman) who's hired to solve the murder of a highly influential aristocrat. The catch? Said aristocrat is still alive, because in this version of the future, the wealthy can't really die -- instead, their consciousness is essentially uploaded to the cloud and downloaded into new bodies. In a world without death, the ensuing caper boasts the same jaw-dropping visuals and world-building as Blade Runner and the same thought-provoking intrigue as HBO's Westworld. And over the course of 10 episodes, what looks like a complicated murder mystery detours as a complicated love story and a complicated look at social stratification. In other words, showrunner Laeta Kalogridis packs A LOT to digest in here, but that means there's A LOT to appreciate if you're patient. Though it takes a few episodes for Altered Carbon's dense story to really take off, it's an ambitious ride that's well worth sticking around for. In fact, we can't wait to see more.
Black Mirror (2011-present)
Each installment of Charlie Brooker's addictive anthology takes a current techno-social phenomenon -- topics that range from hashtags to five-star ratings -- to its extreme and asks whether human nature can coexist with it. Part satire and part (unintentional) prophecy, the series presents an appropriately grim view of the future, one that will definitely make you worry for the next generation and maybe even galvanize you into action. Binge this delicious platter of paranoia cautiously.
Dark (2017-present)
The mesmerizing and relatively new series from the streaming platform is quite the mindbender -- but that's not to say that it isn't still worth the watch. Dark is a German time-travel thriller that centers on four families whose dark pasts begin to rapidly unfurl when a handful of children in their small town begin disappearing. Netflix has already green-lit a second season of the show, and it's been in production since the beginning of 2018. So, in case you haven't already marathoned through Season 1, now is as good a time as any to get caught up.
Futurama (1999-2003; 2008-2013)
Understandably, Futurama looks and feels like a little sibling to Matt Groening's Simpsons. The sci-fi toon imitates its big bro with a similar penchant for wordplay, pop-culture parody, political satire, and visual gags. But after a seven-season run, the story of Fry, a New York City pizza guy who becomes an interplanetary delivery worker after he's transported from 1999 to 2999, has come to boast an immersive, outrageously fun universe all its own.
Lost (2004-2010)
Long before Damon Lindelof's The Leftovers bludgeoned viewers with its bracing emotional intensity, or J.J. Abrams became the crown prince of Wookieepedia, there was a show called Lost. While it has become increasingly hip to condemn the show's later seasons for any number of faults ranging from mawkish sentimentality to an over-dependence on wonky sci-fi tropes to gooey Touched by an Angel spirituality, the show itself retains all its brilliant power when viewed in a Netflix hatch, free of recaps, fan theories, and backlash. If you've never seen it, there's no better time to get wrapped up in its mysteries. And if you have -- well, as Jack would say, we have to go back!
The OA (2016-present)
If Stranger Things was a little too basic for you, give this wonky sci-fi series from co-creators Brit Marling and Zal Batmanglij a shot. The otherworldly Marling stars as Prairie, a blind woman who returns to society after years in captivity and quickly starts a youth group with some troubled teens. It gets crazier from there. Yes, there's interpretive dance. Yes, there are weird flashbacks to Russia. Yes, it will leave you scratching your head and searching the internet for clues. But sometimes the crazy shows are the ones you love the most.
Star Trek: The Next Generation (1987-1994)
After a string of The Original Series-inspired movies and miscalculations on how to revive the sci-fi franchise for television, Gene Roddenberry's Star Trek boldly went where no concept had gone before with The Next Generation, a shinier, headier, all-around better (yeah, we said it) saga in the United Federation of Planets' history. Led by Patrick Stewart and helped by an iconic supporting cast, The Next Generation followed the TOS mission to speculate about and empathize with social issues of the day, filtered through a lens of A-grade sci-fi writing that stands the test of time.
Stranger Things (2016-present)
If you haven't binged Netflix's '80s paranormal throwback... what gives? It's all your friends talked about when the show made its debut in 2016, and the second season, which premiered in October, was absolutely bonkers. If you've already done your time in the Upside Down, bide your time with the time-jumping Travelers, the alien-invasion saga Colony, the goofy fantasy series Shannara, and the one-season mind-bender Awake.
The Twilight Zone (1959-1964)
Every lauded sci-fi movie or television show owes Rod Serling residuals. Over 156 episodes, Serling speculated and dreamed, refracting his present day through the trippiest scenarios to ever beam through mild-mannered American homes. The Twilight Zone's visual prose took us to jungles, to space, to 20,000 feet, and to the sunny block from every person's childhood, where the worst existential revelations tended to lurk. The Twilight Zone still speaks volumes. Buckle up and fly into a dimension not only of sight and sound, but of mind.
Sign up here for our daily Thrillist email and subscribe here for our YouTube channel to get your fix of the best in food/drink/fun.