It's that time of year when everybody looks back at the year that's passed and begins ranking everything, especially movies, either in preparation for awards season or just because folks love to rank. While we've already covered the year's best action movies and best comedies, 2018 also saw a sizable crop of science-fiction movies come out -- many of them bad, but some of them good!
So we sifted through all the duds (cough The Cloverfield Paradox cough), successes, and movies featuring Cheddar Goblins to create a running list of all the greatest, weirdest, and wildest sci-fi of 2018. For the purposes of this story, we considered superhero movies and Star Wars stories sci-fi, which you'll just have to deal with because it's our list. 
Recommended Video
This Restaurant Reinvented the McGriddle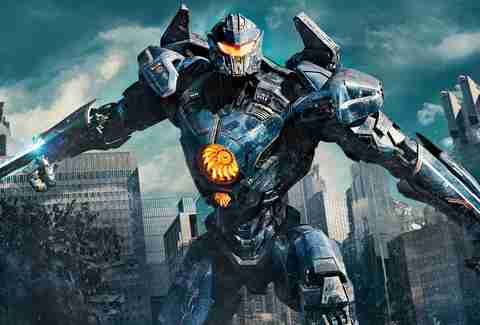 22. Pacific Rim: Uprising
Release date: March 23
Cast: John Boyega, Scott Eastwood, Cailee Spaeny, Rinko Kikuchi
Director: Steven S. DeKnight
Why it's great: Uprising is basically a totally stripped-down version of the first Pacific Rim. Where Guillermo del Toro's movie ultimately was an exploration of how nations and people could hypothetically work together to defeat an enemy bigger than themselves, Uprising instead chooses to focus on the noise and excitement of robots and beasts fighting each other. Which is, for most of its runtime, a ton of fun! It's no masterpiece, and also skews itself toward a younger audience, but the message of teamwork and friendship reads loud and clear.
Where to watch it: Rent on Amazon, iTunes, YouTube, etc.
21. The Meg
Release date: August 10
Cast: Jason Statham, Li Bingbing
Director: Jon Turteltaub
Why it's great: Everyone knows the dinosaurs died out 65 million years ago. What The Meg presupposes is: what if one honkin' big shark not only survived, but thrived in the depths of the deepest parts of Earth's oceans? What's great about The Meg is it could have been made in the '90s with a budget of $80 million, but instead it was made in 2018, with a budget of a gajillion dollars, and yet it's exactly as silly as all of those delightful mid-budget '90s action-adventures are. Picture Vertical Limit or The Rock with a giant shark, and you're halfway there.
Where to watch it: Rent on Amazon, iTunes, etc.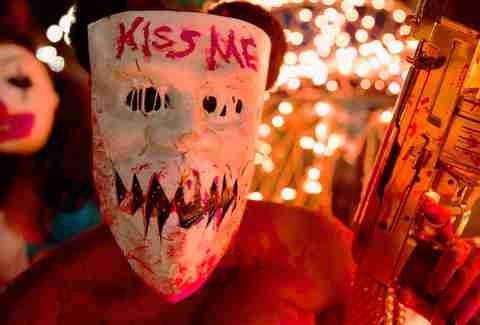 20. The First Purge
Release date: July 4
Cast: Y'lan Noel, Lex Scott Davis, Joivan Wade, Marisa Tomei
Director: Gerard McMurray
Why it's great: The latest in the Purge series -- a near-future prequel that was marketed with MAGA hats, and focuses on an almost entirely minority cast -- has a rudimentary, yet fascinating, interest in the kinds of class conflicts that can tear society apart, and how those in power will exploit those conflicts for their own gain. It's the final twist toward the end of this movie that makes it something more than just another film in a franchise that seems increasingly desperate to scream at us that it's all actually political, oooooh.
Where to watch it: Rent on Amazon, iTunes, YouTube, etc.
19. Maze Runner: The Death Cure
Release date: January 26
Cast: Dylan O'Brien, Kaya Scodelario, Patricia Clarkson
Director: Wes Ball
Why it's great: Running off of the same popularity that fueled the awful, doomed Divergent series, the Maze Runner movies are maybe the most pleasant surprise of the wave of young adult novel adaptations that came after Harry Potter's success. In the finale of the Maze Runner series, The Death Cure sees our Glader heroes, who have been poked, prodded, and experimented on just for being immune to a deadly zombie virus, take power into their own hands and bring the fight to the evil scientists trying to turn their bodies into medicine. This year saw our fair share of bad YA adaptations (looking at you, The Darkest Minds) but The Death Cure is a fun, exciting rush that starts with a Mad Max-like train chase and never relents. It's almost worth that whole Native American burial ground controversy.
Where to watch it: HBO
Release date: June 22
Cast: Chris Pratt, Bryce Dallas Howard, Justice Smith, James Cromwell
Director: J. A. Bayona (The Orphanage)
Why it's great: I haven't been super thrilled about the Jurassic World movies and their cynical take on nostalgia culture, but at least Fallen Kingdom manages to have some fun with it. After a slog to get there, the movie swiftly becomes a riotous monster-in-the-house feature in its final third, complete with rampaging beasts and a bunch of scientists saying, "What have we done!?" It's a fun concept that would have worked much better on its own and not bogged down by all of Jurassic World's baggage.
Where to watch it: Rent on Amazon, iTunes, etc.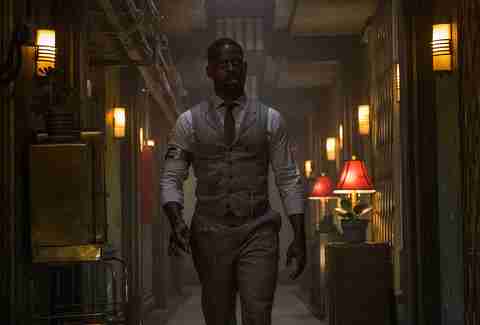 17. Hotel Artemis
Release date: May 19
Cast: Jodie Foster, Sterling K. Brown, Sofia Boutella, Jeff Goldblum
Director: Drew Pearce
Why it's great: This movie is very hit or miss for most people, mostly because there are so many incredible actors in the cast that it's impossible for each not to get the short-shrift in favor of the others. It feels like a pipe dream kind of movie, where someone writes a cool script and assembles a list of the greatest cast members they could never get -- except Drew Pearce did get them, and actually made the movie, and set it inside a hotel with a stylish aesthetic in the middle of a dark, dim, industrialized future prone to wild nights of violence.
Where to watch it: Rent on Amazon, iTunes, YouTube, etc.
16. Prospect
Release date: November 2
Cast: Sophie Thatcher, Pedro Pascal, Jay Duplass
Director: Zeek Earl, Chris Caldwell
Why it's great: Sometimes the best genre films are the most low-budget. Such is the case with Prospect, which started life as a short film before morphing into a feature and quietly becoming one of the most interesting sci-fi movies of the year. When a girl's father is killed in a last-ditch attempt to steal precious material from a violent prospector, she finds herself helping her father's killer traverse an alien planet in a bid for survival. The film trades special effects for a moody jungle atmosphere and helmeted costumes that make a planet-hopping future look utterly believable.
Where to watch it: Preorder
Release date: October 5
Cast: Tom Hardy, Michelle Williams, Riz Ahmed
Director: Ruben Fleischer
Why it's great: I really went back and forth on whether or not to include Venom in this list, since it is, objectively, not a good movie. What it is, though, is possibly the greatest time you'll have in a theater this year laughing your whole head off at a movie that is maybe supposed to be funny? Unclear. If you haven't seen it yet, know that Venom is incredible, as in, I can't believe it exists -- but I'm so happy that it does.
Where to watch it: In theaters
Release date: July 6
Cast: Paul Rudd, Evangeline Lilly, Michael Douglas, Michelle Pfeiffer
Director: Peyton Reed
Why it's great: Where Guardians of the Galaxy gets to have its edgy, gross fun, Ant Man and the Wasp is wholesome fun that makes you feel good and takes away a little of the stress and despair of Infinity War. This movie features a toddler-sized Paul Rudd hopping around a school in a giant blue sweatshirt while Michael Douglas and Evangeline Lilly ask him if he'd like a juice box or some apple slices. It's maybe the first downright cute movie Marvel has made, and I hope it's the start of a trend.
Where to watch it: Rent on Amazon, iTunes, YouTube, etc.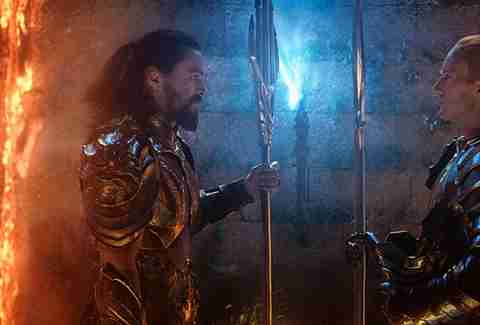 13. Aquaman
Release date: December 21
Cast: Jason Momoa, Patrick Wilson, Amber Heard, Willem Dafoe
Director: James Wan
Why it's great: Could you imagine, ten years ago, that the butt of everyone's Justice League jokes would get his own movie? And could you also imagine that that movie would be, if not the best of the DC live-action joints, then definitely the most innovative and exciting of the bunch? Aquaman is better than a late-season surprise: it goes beyond the boundaries of what live-action superhero movies can look like and simply has a ton of fun with the Aquaman mythos. Also, there are crab-people, knights who ride giant sea dragons, and an octopus that plays the drums.
Where to watch it: In theaters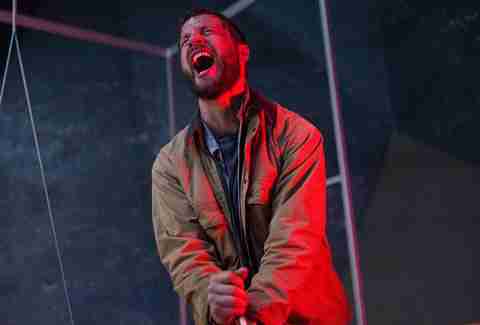 Release date: June 1
Cast: Logan Marshall-Green, Betty Gabriel, Melanie Vallejo
Director: Leigh Whannell
Why it's great: Even if you can guess immediately what's going on after the first fifteen-or-so minutes of Upgrade, nothing will prepare you for how funny it is, how violent, or how hilariously cruel the ending turns out to be. The film takes our fear of technology to extremes, introducing a future in which the only hope is to bow to the primacy and perfection of computers. The fight scenes are handsomely, creatively directed, and the story nimbly avoids falling into the traps of a more traditional tale. You might think you know where the movie is going, but you aren't prepared for how it gets there.
Where to watch it: Rent on Amazon, iTunes, etc.
Release date: May 10
Cast: Alden Ehrenreich, Emilia Clarke, Donald Glover, Woody Harrelson
Director: Ron Howard
Why it's great: There were a ton of takes about Solo: A Star Wars Story before, during, and after it opened, mostly because Lucasfilm's new crop of "Star Wars Stories" don't really have a crucial reason for existing. They're prequels to a story in which legend is more important than fact, so who cares how Han Solo got his spaceship, as long as he got it somehow? Solo, though, is less of a throwaway than its predecessor, Rogue One, in that it sets up an arc that's genuinely entertaining and suspenseful. Though no one is certain whether Solo is going to be the beginning of a series, I kind of hope it is.
Where to watch it: Rent on Amazon, iTunes, YouTube, etc.
Release date: November 9
Cast: Wyatt Russell, Jovan Adepo, Pilou Asbaek
Director: Julius Avery
Why it's great: A bloody, violent, Nazi-killing action-horror-sci-fi hybrid sounds like a pretty fantastic idea on paper -- and it is. While it's not the Cloverfield movie we were teased with (and, uhh, given how bad The Cloverfield Paradox was, at this point that's a huge relief), and it never really does anything profound or inspired with the material it's given, Overlord is a strikingly bloody, nutty, sci-fi-mutant-Nazi-monster flick that's a great option if you've been really jonesing for some horror ultraviolence. Maybe not a fun time for the whole family, but if you find yourself with a few empty hours on vacation, a World War II-set zombie alternate history might be just what the mad scientist ordered.
Where to watch it: Preorder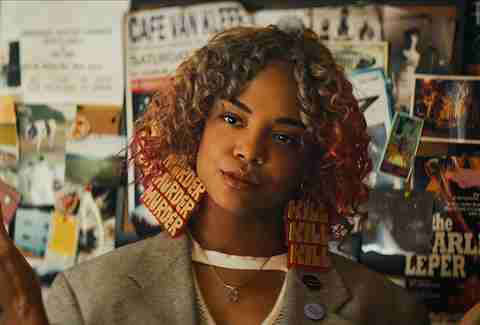 Release date: July 6
Cast: Lakeith Stanfield, Tessa Thompson, Armie Hammer, Steven Yeun
Director: Boots Riley
Why it's great: Boots Riley's feature debut is the loudest, most audacious and bizarre social satire of the year, if not the decade, in which every party is culpable and no one gets a pat on the back for refusing to pick a side. Even before Sorry to Bother You gets to its big reveal, the paranoid worldbuilding that comes before it unfurls a totally original corporate dystopia run by media conglomerates, greed, and an insidious form of slavery that's all the more horrific for how trivial everyone thinks it is.
Where to watch it: Rent on Amazon, iTunes, etc.
8. The Endless
Release date: June 20
Cast: Justin Benson, Aaron Moorehead
Directors: Justin Benson, Aaron Moorehead (Spring)
Why it's great: You don't have to have seen Benson and Moorehead's previous work to get what's going on in The Endless, but it helps to understand some of the subtle callbacks their newest film has to one of their first joint projects: 2012's Lovecraftian cult horror Resolution. The Endless returns to the same cult being menaced by a mysterious monster, except this time our heroes find themselves trapped in bubbles of time that are getting smaller and smaller, and must escape before they become lost to the rest of the continuum forever.
Where to watch it: Netflix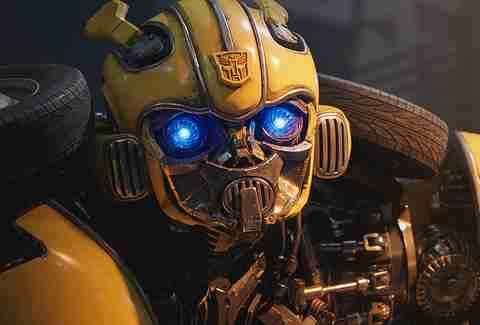 7. Bumblebee
Release date: December 21
Cast: Hailee Steinfeld, John Cena
Director: Travis Knight
Why it's great: Imagine E.T., except the alien is actually a giant robot that can transform into a car. Imagine The Iron Giant, but whatever war the Giant was a part of is front and center. Bumblebee is better than any of your expectations of it: this is no longer Michael Bay's operatic, bloated Transformers. This is something totally new, with a refreshed, retro vibe and a kind of youthful sense of fun that doesn't shy away from danger -- or from fitting in a few nostalgic callbacks to the original era of the Autobots. Who knew that the best way to make a truly great Transformers movie was to appeal to its target audience?
Where to watch it: In theaters
Release date: June 15
Cast: Holly Hunter, Craig T. Nelson, Samuel L. Jackson, Bob Odenkirk
Director: Brad Bird
Why it's great: We waited more than a decade for the follow-up to Pixar's best movie (fight me, you'll lose), and it was so much better than we could have hoped. Rather than spring forward and age up the characters, the movie begins right where we left off, the Parrs facing a brand-new challenge: how to cope with being an entire family of supers -- especially when Elastigirl gets a new job as a superhero ambassador. The villain in this one is much more insidious and surprising, and the animation is fluid and dynamic Pixar at its very best. Plus, yet another unbeatable Michael Giacchino score.
Where to watch it: Rent on Amazon, iTunes, etc.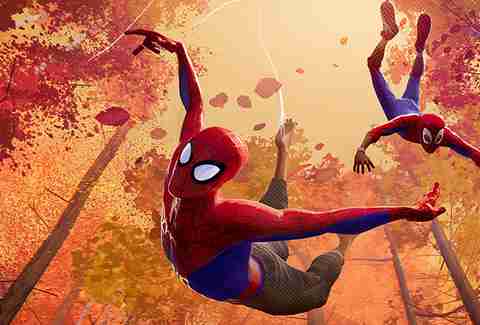 Release date: December 14
Cast: Shameik Moore, Nicolas Cage, Haliee Steinfeld, Liev Shreiber
Directors: Bob Persichetti, Peter Ramsey, Rodney Rothman
Why it's great: Spider-Man: Into the Spider-Verse is the best Spider-Man movie in a long time -- and I'd even go so far as to say that it's the best-looking superhero movie ever made. Not only does Spider-Verse embrace the color and vibrant imagination that goes into making comic books come to life, it's deeply emotional, hilarious, and understands exactly what makes superheroes so great: underneath the masks, they're just like us.
Where to watch it: In theaters
Release date: February 16
Cast: Chadwick Boseman, Michael B. Jordan, Lupita Nyong'o, Danai Gurira
Director: Ryan Coogler
Why it's great: Black Panther isn't just the best Marvel movie ever, it's a damn good movie, period. Because Wakanda didn't yet have a ton of MCU mythology weighing it down, the movie was allowed to tell a simpler, more powerful story that had almost nothing to do with the Avengers at all, introducing us to a new superhero who has enough mythology behind him to sustain his own cinematic universe. Plus, it's the first Marvel movie where every (so badass) female character finally, finally gets to wear sensible shoes.
Where to watch it: Netflix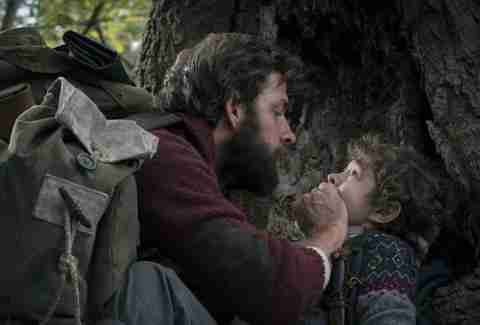 3. A Quiet Place
Release date: April 6
Cast: John Krasinski, Emily Blunt, Millicent Simmonds
Director: John Krasinski
Why it's great: A Quiet Place is almost shockingly good. You really don't think of sci-fi or horror when you think of Jim from The Office, but some of the best genre fare doesn't necessarily come from people who have worked in that genre before. Krasinski crafts a tense, fascinating story with clearly a ton of thought put into the smallest details of his world -- that scene where the string lights switch from white to red still haunts me.
Where to watch it: Rent on Amazon, iTunes, etc.
Release date: February 23
Cast: Natalie Portman, Tessa Thompson, Gina Rodriguez, Jennifer Jason Leigh
Director: Alex Garland
Why it's great: I can't say I was looking forward to the movie adaptation of Annihilation, particularly because the book(s) on which it's based are a) good as hell, and b) practically written so that they're impossible to adapt. And yet here we are, gifted with a bizarre and beautiful movie that embraces the wealth of possibility that science fiction offers, becoming a weird, unsettling examination of what identity means or if it's even real.
Where to watch it: Rent on Amazon, iTunes, etc.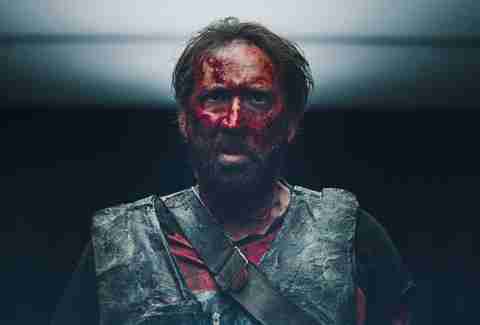 Release date: September 14
Cast: Nic Cage, Andrea Riseborough, Linus Roache, Bill Duke
Director: Panos Cosmatos
Why it's great: The blood and guts and chainsaws and supernatural worlds of Panos Cosmatos' gory, fantastical odyssey are merely the set dressing that tricks you into the theater for what's really one of the most visceral portraits of love and grief of this year. The visuals and Jóhann Jóhannsson's score are beautiful and simple foils for Nic Cage giving all he has to his shrieking, sobbing, roaring performance. The night has never looked more beautiful, or more terrible.
Where to watch it: Rent on Amazon, iTunes, YouTube, etc.
Sign up here for our daily Thrillist email and subscribe here for our YouTube channel to get your fix of the best in food/drink/fun.