The Creepiest Movies About Serial Killers You Can Watch Right Now
Serial killers prey on the imagination's worst fears. In real life, these murderers paralyze entire communities with their combination of ruthlessness, antisocial behavior, and the public's belief that they can and will kill again without warning. In art, however, they provide nearly endless pathways to explore the darkest corners of the human psyche.
So it's no surprise that serial killers have inspired filmmakers for decades, usually (though not always) in the horror genre. The next time you want to add fuel to your nightmares, fire up one of these movies about psychopaths, real and imagined.
Columbia Tristar
Aileen: Life and Death of a Serial Killer (2003)
Nick Broomfield, the original faux-naïve first-person investigative filmmaker, made (with co-director Joan Churchill) this documentary on death-row inmate Aileen Wuornos after being subpoenaed as a witness because of his 1992 feature about her, Aileen Wuornos: The Selling of a Serial Killer. It's a deeply fascinating follow-up because of how much of Wuornos' story is changed from one film to the next, as well as for its moving consideration of the complex and often unbalanced relationship between documentarian and subject.
Where to watch: Stream on Netflix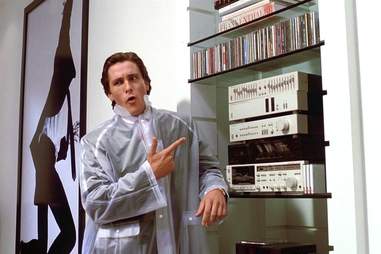 Lionsgate Films
American Psycho (2000)
Capitalism breeds cold-blooded killers. That's one of the themes of this dark comedy, in which Bret Easton Ellis's frenzied finance bro Patrick Bateman becomes all too real in the hands of Christian Bale and director Mary Harron, who push the surreal nightmare of American Psycho to its highest highs. From pop-infused acts of murder to hyper-designed business cards that send chills down the spine, this is a horror movie that reminds us to fear the 1%.
Where to watch: Stream on Cinemax Max Go; rent on Amazon and iTunes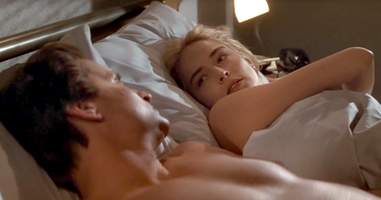 Lionsgate
Basic Instinct (1992)
Has any movie ever done more for ice-based weapons? Nineties bad-boy director Paul Verhoeven gave us this lurid tale of a damaged cop, played with real scumbag glee by Michael Douglas, investigating an icepick-wielding serial killer, but Sharon Stone is the real star of this show. Unlike the late-night premium-cable schlock that attempted to steal its sleazy style, this pulp classic has a sense of humor and a Hitchcockian playfulness to go along with all the nudity, violence, and cheesy one-liners.
Where to watch: Stream on Netflix
Columbia Pictures
The Girl With the Dragon Tattoo (2011)
As anyone who has watched Seven, Zodiac, Gone Girl, or Mindhunter can attest, director David Fincher clearly has an obsession with the psychological underpinnings of people who commit violent acts -- and the sleuths who hunt them down. The Girl with the Dragon Tattoo, his big-budget adaptation of Swedish writer Stieg Larsson's best-selling novel starring Rooney Mara and Daniel Craig, might be his most overlooked work on the subject. A process-oriented cyber-thriller for the internet age, the movie turns the "hunt" for a killer into a moving digital parable about the way information can be wielded as a weapon against the forces of evil. (Also, you can catch the Swedish adaptation of Larsson's full Millennium trilogy on Netflix at the moment.)
Where to watch: Rent on Amazon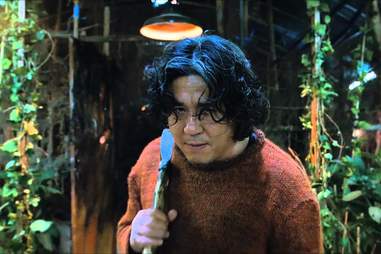 Showbox/Mediaplex
I Saw the Devil (2010)
At nearly two-and-a-half hours, director Kim Jee-woon's serial killer epic I Saw The Devil can feel a little bit unwieldy at times, particularly as it careens wildly between old-fashioned melodrama and stomach-churning horror. Oldboy's Choi Min-sik stars as Jang Kyung-chul, a bus driver who moonlights as a sadistic murderer, and Lee Byung-hun (recently seen in The Magnificent Seven remake) plays a revenge seeking secret service agent on his trail. Like the films in Park Chan-wook's celebrated Vengeance Trilogy, the movie finds new insights in well-worn genre themes and bathes each disturbing image with a startling beauty.
Where to watch: Rent on Amazon and iTunes
Nero-Film A.G.
M (1931)
The public fascination with violent crime is hardly a new feature of our modern media environment. For proof, look no further than director Fritz Lang's M, a German film that critic Roger Ebert pointed out helped invent two different genre staples: the serial killer film and the police procedural. Lang's sharp black-and-white compositions and impressionistic approach to the material, along with actor Peter Lorre's startling performance, elevate this story of a child murderer above your standard Law and Order episode. It's a film that haunts you, both with its chilling themes and its surprising empathy.
Where to watch: Stream on YouTube; rent on Amazon and iTunes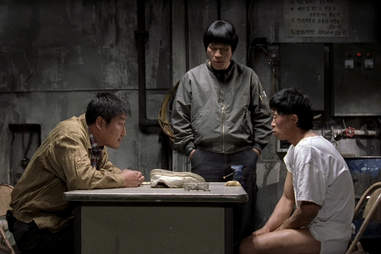 Palm Pictures
Memories of Murder (2003)
Before he wowed American audiences with the dystopian train thriller Snowpiercer and the animal-rights fable Okja, South Korean director Bong Joon-ho kept things a bit more grounded with Memories of Murder, his ripped-from-the-headlines crime drama about the hunt for one of the first serial killers in Korean history. The film follows two detectives with very different temperaments and methods as they attempt to make sense of murders across months and years. Like David Fincher's Zodiac, this is a procedural that focuses on the granular aspects of police work while still examining profound questions about truth, memory, and the search for meaning.
Where to watch: Rent on Amazon and iTunes
United Artists
The Night of the Hunter (1955)
This 1955 thriller is best remembered for the image of Robert Mitchum's Reverend Harry Powell exposing the tattoos on his knuckles that read "L-O-V-E" and "H-A-T-E," the twin pillars of his tortured worldview. But this dream-like film, the only movie directed by celebrated English actor Charles Laughton, is packed with moments of terror, suspense, and wonder that linger long after the credits roll. As the scheming Reverend Powell, who was inspired by real-life killer Harry Powers, chases two children with money hidden in a doll down a river, the seemingly simple tale transforms into a combination of noir and Mark Twain. It's a crafty, beguiling piece of Southern myth-making.
Where to watch: Stream on YouTube; rent on Amazon and iTunes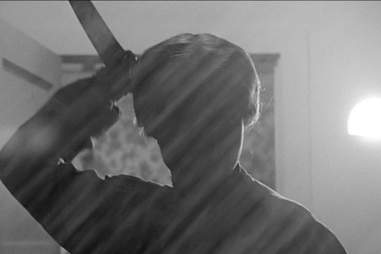 Universal Pictures
Psycho (1960)
The creepy motel. The screeching violins. The disturbing shower scene. What audiences now recognize as stock horror movie tropes were canonized by Alfred Hitchcock, who by the time Psycho came out in 1960 had enough accolades to cover several careers. The Master of Suspense proved that he hadn't run out of innovative steam, though, producing one of the best horror movies of all time and launching the slasher subgenre in the process. 
Where to watch: Rent on Amazon and iTunes
Lionsgate Films
Saw (2004)
With the recent release of Jigsaw, the eighth chapter in the long-running horror franchise, there's never been a better time to revisit Saw, director James Wan's 2004 original. While many rightly associate the series with the the "torture porn" genre and all the grisly baggage that phrase carries, it's important to remember that the first film was really more of a clever Seven ripoff than an unhinged gore-fest. Wan and his frequent collaborator Leigh Whannell (Insidious) cooked up a low-budget, ticking-clock thriller about a doctor (Cary Elwes) and a photographer (Whannell) who find themselves chained up in a room with a corpse on the floor. Things get more convoluted from there -- and the many sequels, which are all on Netflix, get even more complex -- but the original still works as a blood-spattered brain-teaser with a killer twist.
Where to watch: Netflix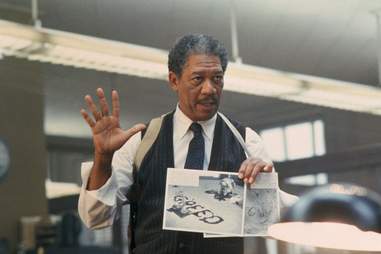 New Line Cinema
Se7en (1995)
Director David Fincher has a thing for serial killers. The man who helmed Zodiac and The Girl With the Dragon Tattoo, and who's executive producing Netflix's Mindhunter, got his first taste with Se7en, about two detectives (Brad Pitt and Morgan Freeman) on the hunt for a murderer obsessed with punishing those he perceives to embody the seven deadly sins. The famous final murder scene ("What's in the box?!") grabs all the attention, but it's a payoff that's earned by the dark, brooding character studies that Fincher builds over the course of the film, a style that would become a hallmark of his later work. 
Where to watch: Rent on Amazon and iTunes 
Orion Pictures
The Silence of the Lambs (1991)
The late director Jonathan Demme's 1991 film is the touchstone for virtually every serial killer film and television show that came after. The iconic closeup shots of an icy, confident Hannibal Lecter (Anthony Hopkins) as he and FBI newbie Clarice Starling (Jodie Foster) engage in their "quid pro quo" interrogation sessions create almost unbearable tension as Buffalo Bill (Ted Levine) remains on the loose, killing more victims. Hopkins delivers the more memorable lines, and Buffalo Bill's dance is the stuff of nerve-wracking anxiety nightmares, but it's Foster's nuanced performance as a scared, determined, smart-yet-hesitant agent that sets Silence of the Lambs apart from the rest of the serial killer pack.
Where to watch: Stream on Hulu; rent on Amazon and iTunes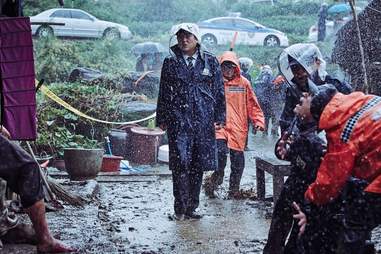 20th Century Fox Korea
The Wailing (2016)
Hollywood horror movies rarely shoot for "epic," content with scaring up a storm with micro-budgets and single locations. South Korean director Na Hong-jin does not suffer from the same apprehension. The Wailing is a masterpiece of mood, 156 minutes of every horror trope imaginable, drenched in mythology we foreigners may not entirely understand. That's fine: the movie's plot, a streak of murders that may or may not have been perpetrated by demons, tows the viewer through the foggiest moments with one visceral pleasure after another. 
Where to watch: Stream on Netflix
Paramount Pictures
Zodiac (2007)
David Fincher's movie is for obsessives. In telling the story of the Zodiac Killer, a serial murderer who captured the public imagination by sending letters and puzzles to the Bay Area press, the famously meticulous director zeroes in on the cops, journalists, and amateur code-breakers who made identifying the criminal their life's work. With Jake Gyllenhaal's cartoonist-turned-gumshoe Robert Graysmith at the center, and Robert Downey Jr.'s barfly reporter Paul Avery stumbling around the margins, the film stretches across time and space, becoming a rich study of how people search for meaning in life. Zodiac is a procedural thriller that makes digging through old manilla folders feel like a cosmic quest.
Where to watch: Stream on Netflix
Sign up here for our daily Thrillist email and subscribe here for our YouTube channel to get your fix of the best in food/drink/fun.
Follow the Thrillist Entertainment editors on Twitter: @ThrillistEnt.