The Best Movies on Netflix That Are Also Super Short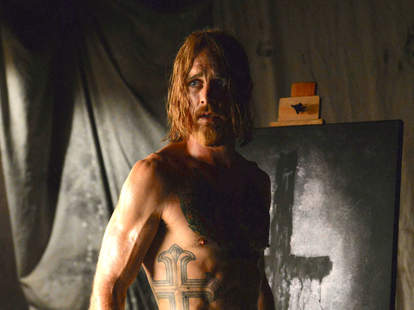 Sometimes when you sit down to watch a movie, your brain isn't ready for the three-hour investment films like Titanic or Schindler's List require. Thankfully, Netflix has plenty of shorter options for just those times.
And since you probably don't want to watch the clock tick as you rummage around Netflix for short films you'll actually like, below you'll find the best movies clocking in at right around 90 minutes or less. The best things in life do occasionally come in small packages.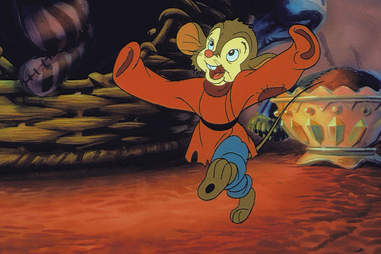 Universal Pictures
An American Tail (1986; 80 minutes)
Renowned animator Don Bluth (The Secret of NIMH, Anastasia) used the eyes of a mouse to tell a classic story of immigrants trying to live the American Dream. Fievel Mousekewitz leaves Ukraine with his family to settle in the United States, but he gets separated and struggles to reunite with them in hardscrabble New York City, which is not, as was promised, devoid of cats. An American Tail isn't exactly your typical, happy-go-lucky children's movie, but the difficulties of being an immigrant in America receive novel treatment in a beautifully styled adventure.
Warner Bros. Pictures
Corpse Bride (2005; 77 minutes)
Director Tim Burton revisited stop-motion animation with Corpse Bride, a macabre folktale about a flighty groom-to-be and the zombie bride whom he accidentally proposes to. Even with Danny Elfman's songs, the movie doesn't have the light-footed whimsy that made Nightmare Before Christmas a crossover classic, though you can also catch the latter on Netflix (and it's only 76 minutes long). Corpse Bride is one of the few modern movies to do gothic horror, and the Hammer Film Productions legacy, justice.
IFC Midnight
The Devil's Candy (2017; 79 minutes)
The Devil's Candy had to wait almost two years after its 2015 premiere to get a wide release, but it landed on our best horror movies of 2017 list, so all's well that ends well. The same (maybe, no spoilers!) cannot be said for the new owners of a Texas farmhouse, who must contend with a disturbed previous owner in a tightly wound narrative that builds tension to nearly unbearable levels in less than an hour and a half.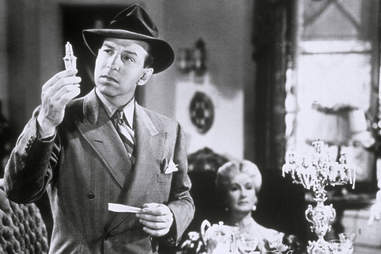 20th Century Fox
Dressed to Kill (1941; 80 minutes)
If you're a fan of old-school, B-movie crime thrillers, check out Dressed to Kill, which offers a breezy take on the genre. The events kick off when two murder victims -- one a producer, the other an actress -- are discovered wearing medieval garb. A complex investigation follows, filled with hidden motives, lies, and a dogged pursuit of the truth by private investigator Michael Shayne. And you won't even have to wait a full hour and a half for the brutal twist at the end!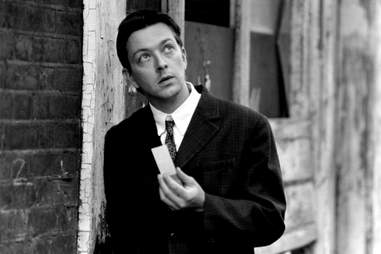 Momentum Pictures
Following (1998; 70 minutes)
In 1998, powerhouse director Christopher Nolan (The Dark Knight, Memento) was just another guy trying to make it in the movie business. His debut feature, Following, was shot with a meager $6,000 budget, and Nolan wrote, directed, and produced this neo-noir about a struggling writer who decides to start following (GET IT?) strangers around London. As a crime narrative unfolds, Nolan showcases the psychological twists and turns that would become hallmarks of his big-budget Batman movies years later. A must-watch for Nolan completists.
Netflix
Joshua: Teenager vs. Superpower (2017; 79 minutes)
Fourteen-year-old Joshua Wong took a stand against the China's pro-Communist education program by staging a protest outside the territory's government headquarters. What started as a group of 20 grew to a crowd of over 100,000. If you ever feel incapable, you have Joshua Wong to inspire you with the click of a button.
Miramax Films
Paris Is Burning (1990; 78 minutes)
How much do you know about the drag ball scene in late-1980s New York City? After watching the classic Paris Is Burning, the answer will be "more than you used to." The relatively short running time belies the depth and nuance given to complicated subjects like sex, gender, race, identity, family, the AIDS crisis, and more, with director Jennie Livingston having dedicated six years to compiling footage of the drag balls and interviews with the participants. The result is a gripping examination of a subculture that was marginalized, stigmatized, and often flat-out ignored. 
Buena Vista Pictures
Spy Hard (1996; 81 minutes)
The world is a worse place without Leslie Nielsen in it. With his signature shock-white hair, über-dry delivery, and punny sense of humor on full display, Nielsen does his best with Spy Hard, which admittedly does not live up to classics like Airplane! or the Naked Gun franchise. Still, if you're a Nielsen fan, or if you giggle at the mention of Special Agent WD-40 Dick Steele, you'll want to breeze through this parodic take on action-spy adventures. If you're really strapped for time, just watch the opening title sequence, a Bond parody courtesy of "Weird" Al Yankovic.
Bitter Films
World of Tomorrow (2015; 17 minutes)
Don Hertzfeldt's time-travel cartoon will take no more than 20 minutes to watch... unless you find yourself looping it over and over and basking in its odd, stick-figured wonder. In the short, a little girl named Emily is contacted by her third-generation clone, speaking to her from 227 years in the future. Within their conversation, World of Tomorrow draws a line from vibrant, modern life to emotionless existence, where consciousness remains immortal in a closed loop of uploads and downloads, and love can only be remembered through a kind of Netflix for memories. Because it's from Hertzfeldt, World of Tomorrow is side-splittingly funny as well as a direct descendant of the works of C.S. Lewis and Oscar Wilde.
Netflix
The White Helmets (2016; 40 minutes)
Winner of the Oscar for Best Documentary Short, this powerful film profiles the titular team of first responders operating in war-torn Aleppo and other parts of Syria, endangering their own lives to save as many others as they can. And the filmmakers follow along, also under great duress. Even more tense, though, are scenes in a White Helmets training camp in Turkey, where recruits are away from their families, worrying for their loved ones' safety in their absence.
Sign up here for our daily Thrillist email and subscribe here for our YouTube channel to get your fix of the best in food/drink/fun.
Follow the Thrillist Entertainment editors on Twitter: @ThrillistEnt.