Netflix might not have invented binge-watching, but it certainly perfected it. Everything the streaming service does, from its ever-increasing slate of original series to the algorithm it uses to select the perfect image for each user, is designed to keep you watching more, more, more. You don't even have to do anything: Netflix autoplays the next program for you.
But what about the times you actually need to be somewhere, but still have half an hour or more to kill before getting on with life in the cold, cruel world? If you suspected the answer lies somewhere deep in the bowels of the Netflix archives, you're awfully good at reading headlines. These are the best shows -- a mix of procedurals, sitcoms, travelogues, and other non-serialized programming -- to watch when you don't want to fall into a binge.
Recommended Video
This New Gadget Charges Your Devices Using Your Bare Hands
Chef's Table & Chef's Table: France
Over the years, the histrionic formula for the Chef's Table series has become such a caricature of itself that it earned its very own Documentary Now! parody. That's not to say the series isn't worth your time -- it's the standard bearer for profiling fine dining chefs and their often Michelin-starred restaurants on camera, treating the dishes that glide across the table (or sometimes that are the table) as if it were a famous piece of art. Chef's Table is the pinnacle of food porn pretension and snobbery, but who among us is above indulging in a beautifully shot, interesting, and well-told story every now and then? And because each episode is self-contained, you can get in and out in about an hour.
Comedians in Cars Getting Coffee
Jerry Seinfeld has a shitload of expensive cars lying around, so he decided to film himself giving other funny people rides in them. It's pretty entertaining, even if you hate the kind of society that can create such extreme, superfluous wealth. And at less than a half hour each episode, it's super-easy to fire up as you're getting ready for work. After a run as Crackle's only viable original program, Seinfeld decided to take his talents to the king of the streaming game (for now), with new episodes arriving later this year.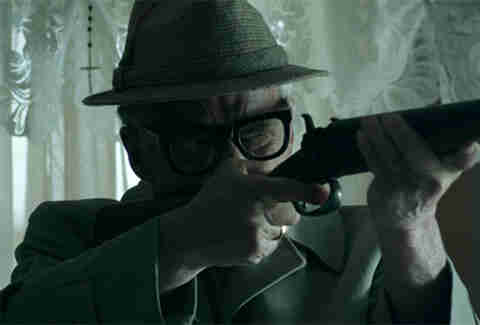 Curious and Unusual Deaths
"Why did this sweatbox become a death trap? How did the convict go from repairing this electric chair to being executed by it? What unplugged the amateur repairman? How did these DIYers end up dead?" So goes the beginning of your typical Curious and Unusual Deaths episode. This docuseries seeks to explain the strangest deaths you've never heard of with a mix of interviews and ridiculously campy re-enactments. Meaning: it's surprisingly informative and oddly entertaining, with a lesson hidden somewhere between. It's one of those shows you can't believe exists, but you're kind of glad it does.
Dirty Money
White collar crime is still crime! From Alex Gibney (Going Clear), this docuseries investigates the world's biggest and baddest businesses -- including Donald Trump's. Other subjects include a maple syrup heist (the most Canadian crime ever), the exploitative payday loan industry, and the VW emissions scandal. The six episodes will surely have you shaking your fist at the global corporatocracy.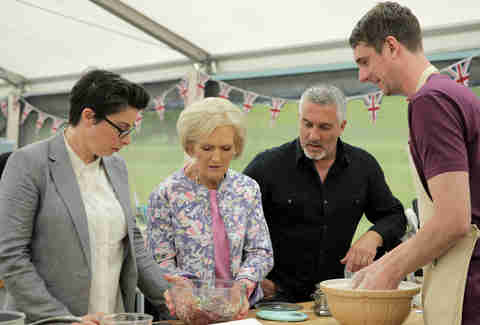 The Great British Baking Show
Of the culinary competition shows out there, GBBS (known as The Great British Bake Off across the pond) is the least cutthroat, most lowkey you will ever have the pleasure of watching. Between the banter of hosts Mel and Sue (literally the name of their comedy duo) and interplay of the delightful Mary Berry and the notoriously hard-to-impress Paul Hollywood, contestants are put through the ringer of three bakes that, aside from the secret technical challenge, they have plenty of time to prepare for. The bakers develop such camaraderie over the season that when one of their pals leaves, everyone else cries for that person. Imagine that! It's like a warm blanket you can cuddle up in for just an hour or two.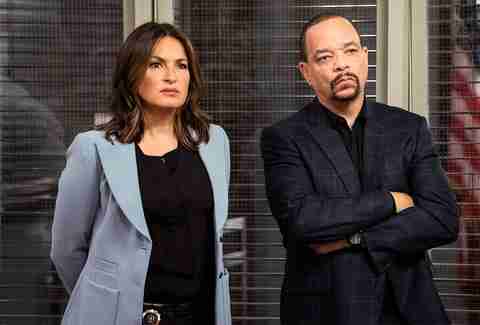 Law & Order: SVU
The rhythms of the police procedural can in a certain sense provide ideal binge material, but the true beauty of SVU is the arc of justice that bends toward finality each hourlong episode. With SVU on Netflix, you don't have to surf cable for a late-night insomnia salve or a hungover Sunday time-killer before you get yourself off the couch and into the world. You can drop in on Detectives Elliot Stabler and Olivia Benson whenever you desire the simple satisfaction of fighting for justice in an unjust world.
Nailed It!
The most insufferable part of nearly every half-hour cooking competition show is its haughty attitude. Very Serious Celebrity Chef Judges evaluate dishes made from the dregs of a pantry with the straight face of a restaurant critic, not before wincing in a huddle as, inevitably, a frenzied contestant desperately chucks raw pieces of an unsavory ingredient onto their plate in the clock's final seconds. The outcome doesn't feel as authoritative as it does condescending to the competing chefs who also tend to take their losses hard. Nailed It! breathes starkly opposite vibes into the formula by requiring its competitors to embrace their fuck-ups, and the sweet satisfaction of failure is refreshing whether you stay for 30 minutes or binge straight through the six-episode first season.
New Girl
Zooey Deschanel's sitcom has been plugging away since 2011, and Fox decided to give the show a nice sendoff with a seventh season set to appear in spring 2018. The show feels like it came from an earlier era of sitcoms, when the characters felt like friends you could drop in on whenever you were in a down mood. While there are season-long arcs and personal histories that develop throughout New Girl, you can easily check in and out for an episode or two at a time to get your daily dose of Deschanel quirkiness and be on your way.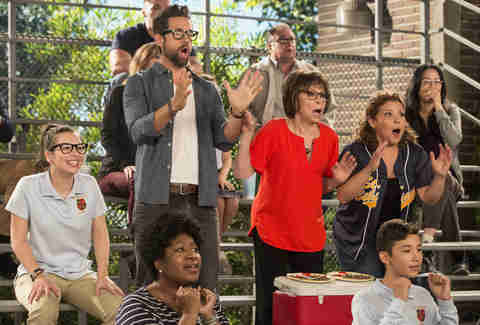 One Day at a Time
Like The Ranch, its red state cousin, One Day at a Time is a throwback family sitcom in a world that can be unkind to audience laughter, big comedic performances, and that stage-bound multi-camera look. But single-camera purists should get over their hang-ups. This clever remake of Norman Lear's '70s hit about a single mother raising two teenage daughters is more charming and funny than many of its seemingly "edgier" peers. Anchored by a lived-in performance from Justina Machado (Six Feet Under), the show finds familiar laughs in the way generations clash and families wage war, but it's also culturally specific, socially engaged, and leisurely paced in a way that makes it stand out from your average CBS family show -- or Netflix's own dire Fuller House.
Parts Unknown
Now in its 10th season, Parts Unknown could have been forgiven for kicking back and cashing CNN checks with a tried-and-true routine, but it most certainly has not. If anything, the show has gotten better with time. Anchored by food-entertainment polymath Anthony Bourdain, Parts Unknown remains true to the showman's sleight-of-hand that probably got its predecessor, No Reservations, greenlit in the first place. This is a show about food in the same way that The Shining is a movie about hotel management, which is to say: nominally, if at all. Sure, Bourdain eats, but you can find better food porn littered across the streamosphere. Parts Unknown's truer focus is telling stories about the ways communities build, nurture, and examine themselves. The episodes themselves are like little vacations, and their titles are simple, direct ways to inform you of your destination; where do you want to go for an hour? Myanmar, Peru, Madagascar, Vietnam... the choices are nearly endless.
Shooter
The main character of Shooter is named "Bob Lee Swagger," which pretty much tells you all you need to know. If the idea of watching a dude named Bob Lee Swagger kill bad guys with expert precision puts a goofy smile on your face, this is the show for you. If not, stay out of its sniper scope. Like the 2007 action movie of the same name, the series is based on a series of novels by writer Stephen Hunter, and it has a vaguely anti-authority conspiracy vibe that connects it to classics like First Blood and Three Days of the Condor. Only with way more guns and Ryan Phillippe instead of Mark Wahlberg. Like I said: Bob Lee Swagger. You're either on board or you're not.
Ugly Delicious
In the absence of Lucky Peach, the spirit and vision of the shuttered food magazine lives on in the Netflix-produced Ugly Delicious, where David Chang and Peter Meehan, the magazine's editor-in-chief, offer their take on a food-travel show. Each single-topic episode -- pizza, home cooking, fried rice -- divvies up exploratory duties between Chang and Meehan, whether that means running around locales from Tokyo to Coney Island with famous pals or making a fool of themselves trying their hand at a cooking skill that takes a lifetime to master, to find the heart and soul of a dish, "authenticity" be damned. Ugly Delicious is imperfect, but in a space where there are enough Bourdain knock-offs to go around, it's a fresh perspective lifted straight from the pages of a dead magazine that's come back to life.
Sign up here for our daily Thrillist email and subscribe here for our YouTube channel to get your fix of the best in food/drink/fun.