As the range of options available on Netflix, Amazon, Hulu, and other streaming services expands toward infinity, it's becoming increasingly difficult to decide what deserves your time. Do you invest time in a drama that spans five seasons and will invariably suck up months of your life? Or do you seek a series that will entertain you just as much, but without nearly the same time demands? 
To help those of you who still have hobbies and/or jobs that require you to spend at least some of your time away from the couch, we compiled a list of the best shows on the major streaming platforms you can binge in a single sitting. "Single sitting" varies, of course, but we looked for shows that took up less time than an average work day, or shows that you can drop in and out of without becoming irrevocably hooked. After all, there's still some nature left in the world -- get outside and enjoy it while you can! 
Recommended Video
Feelreal Multisensory VR Lets You Smell Movies!
The Bisexual
A Hulu original series about a woman who, as the name suggests, is bisexual, The Bisexual nevertheless spends its six half-hour episodes attacking and dismantling stereotypes about human sexuality. Set in the milieu of privileged London society, the series from Desiree Akhavan doesn't shy away from making viewers uncomfortable, and by the end you'll find yourself confronting with a new perspective your own views about relationships.
Where to watch it: Hulu
Black Mirror
Each installment of Charlie Brooker's addictive anthology takes a current techno-social phenomenon -- topics that range from hashtags to five-star ratings -- to its extreme and asks whether human nature can coexist with it. Part satire and part (unintentional) prophecy, the series presents an appropriately grim view of the future, one that will definitely make you worry for the next generation and maybe even galvanize you into action. You can take in one episode at a time, or digest an entire six-episode season without batting an eye. The latest season from Netflix takes the series episode count up to 20, but we still think you can swing this in one (somewhat miserable) day.
Where to watch it: Netflix
Bodyguard
As one might expect, the Royalty and Specialist Protection Branch of London's police service handles a number of dangerous missions. Following officer David Budd, portrayed by Richard Madden of Games of Thrones fame, Bodyguard documents this high-risk job, specifically in the protection of the U.K.'s Home Secretary (Keeley Hawes). In the Netflix original, although Budd must devote himself to the politician's protection, he is still reeling from PTSD after serving in Afghanistan, and feels conflicted working for a major proponent of the war. A political thriller at its finest, Bodyguard illustrates the various costs at play in Budd's role, from his personal views to potential attacks and developing attraction for a woman whose policies he cannot stand -- never failing to leave out the drama over the course of six easily bingeable episodes.
Where to watch it: Netflix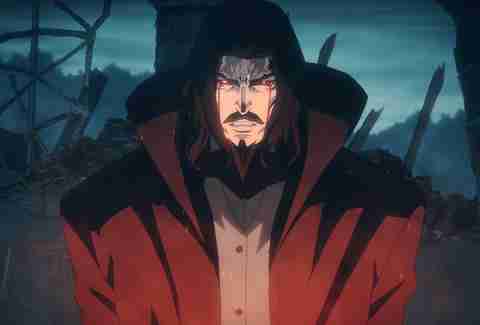 Castlevania
Adapted from Konami's 30-year-old video game franchise by revered comic writer Warren Ellis, Castlevania is Netflix's first, vicious stab at adult action animation. With visuals lifted from eons of anime (not to mention the series' own PlayStation sequel Symphony of the Night), instincts that err on the side of disembodiment, and a dramatic triangle that positions Dracula, our drunken, ex-monster-hunter hero Trevor Belmont, and a church of merciless clergymen in a battle royale for ideological domination, Castlevania is a fine excuse to watch illustrated swordsmen cut each other's throats and dark magicians disintegrate victims with the flick of the fireball. Ellis can't give the 2-D characters the dimensionality of Game of Thrones, but he can crank out four deliriously sadistic half-hour cartoons -- even Season 2 is a mere eight episodes, each around 24 minutes, so you can binge guilt-free. 
Where to watch it: Netflix
The Characters
Eight comedians, one episode each. Such talents as Lauren Lapkus, Natasha Rothwell, and Tim Robinson all get a shot to unveil their best -- you guessed it! -- characters in 30ish minutes. Each episode is a different flavor, making for a nice blend of weird, fucked up, and side-splitting. There's something in here for everyone, and you'll have a good time passionately arguing with your friends about the MVP. (Spoiler alert: It's obviously John Early.) [Editor's Note: No, it's definitely Robinson.] [Other Editor's Note: No way. It's Kate Berlant, you idiots.]
Where to watch it: Netflix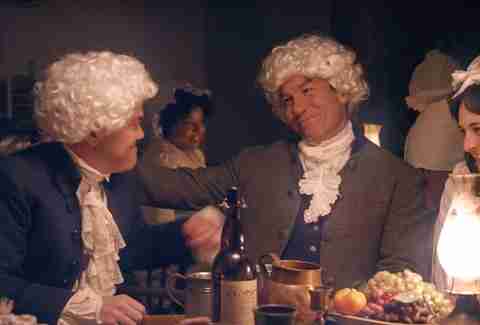 Drunk History
Since its inception a decade ago, Jeremy Konner and Derek Waters' Emmy-winning web series-turned-TV hit has paired blasted comedian narrators with top-tier actors to recreate our country's most iconic moments, making for one of the smartest dumb shows in recent memory. While there are more episodes available than you can reasonably consume in a single sitting, each one stands on its own, so you can drop in and out as you please. If you're unsure where to start, take a look at our favorite segments, all of which are available on YouTube and Hulu for your bingeing pleasure.
Where to watch it: Hulu
The End of the F***ing World
This isn't your average teen drama. The show, adapted from the popular Charles Forsman graphic novel of the same name, follows a 17-year-old named James as he tries to become the psychopath he thinks he is. Though it sounds a little bit like Dexter Jr., it's really more of a fucked-up love story sans the cliché six-packs and twee romances -- something somewhere between Juno and Twin Peaks. In this series' twisted world, to murder means to mature. It's dark and creepy, but it also offers enough humor and tenderness to make what turns into a chaotic road trip endearing. Or, as showrunner Jonathan Entwistle told us, "It's an angsty teen story, but with an adult execution" -- the word "execution," in this case, carrying particular weight. Binge it.
Where to watch it: Netflix
Fleabag
Phoebe Waller-Bridge's one-woman play-turned-six-part-comedy follows the titular character as she wrestles with intimacy and recovers from a tragedy. The Brit import comes packed with dark surprises, Francis Underwood-esque asides, and side-splitting laughs. It's kind of like watching an Annie Hall character trying to survive in London. Catch up now, so you're ready for Season 2. 
Where to watch it: Amazon Prime
Ghoul
This supernatural Indian horror miniseries, a co-production with Blumhouse, unfolds in three episodes that run around 45 minutes each. Think of it as a movie you watch in three parts. Focusing on trainee interrogator Nida Rahim (Radhika Apte), Ghoul takes place in a dystopian version of India, where the government has instituted harsh crackdowns on dissidents. The twist is that a terrorist Rahim interrogates wants to summon the titular ghoul, which is not good, folks! The metaphors may be a bit heavy-handed, but it remains a fun and spooky way to kill a little more than two hours.
Where to watch it: Netflix
Homecoming
Adapted from the popular podcast of the same name, Homecoming tracks Heidi Bergman (Julia Roberts) as she tries to piece together her work as a therapist at a treatment center for veterans with PTSD. Over 10 fast-paced episodes (each one clocks in at around half an hour), the mystery of what a government contractor actually intends to do with the veterans unfolds in lockstep with Bergman's own investigation into the missing memories of her previous job. It's the rare streaming show that doesn't feel bloated, and leaves plenty of room for new storylines to develop in season 2. 
Where to watch it: Amazon Prime
 
House of Cards
No, not the Netflix original, but the British original from 1990. You'll get to digest the source material in four one-hour-long episodes, so there's no risk of watching the show go completely off the rails by adding absurd twist after absurd twist. Instead, you'll watch coldblooded Francis Urquhart manipulate the British political system in the wake of Margaret Thatcher's resignation as prime minister -- and yes, this Francis also talks directly to the camera. 
Where to watch it: Netflix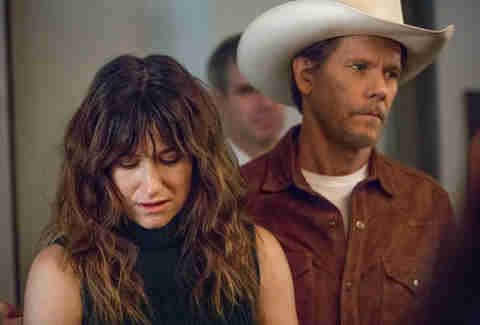 I Love Dick
Transparent creator Jill Soloway's second Amazon series is like screen-printed Warhol take on the fire emoji: syncopated, artful, and satisfyingly vicious. Based on Chris Kraus's 1997 art-world-dominating memoir of the same name, the show stars Kathryn Hahn (Bad Moms) as Chris, a failing New York City filmmaker who follows her writer husband, Sylvère (Griffin Dunne), to Marfa, Texas, where he's earned a research fellowship academic sensation Dick (Kevin Bacon). His aura turns the community into a hotbed of intelligentsia and psycho-sexuality, which cracks Chris's world in half. The crass and poetic collide as she pieces it back together, giving Soloway, along with playwright Sarah Gubbins, the opportunity to throw convention out the window over the course of eight briskly paced episodes that clock under a half-hour each. From Louise Bourgeois references to episodes devoted to fourth-wall-breaking flashbacks, I Love Dick does everything it can to pierce the esoteric-yet-essential idea of art and its inseparable companion: sex.
Where to watch it: Amazon Prime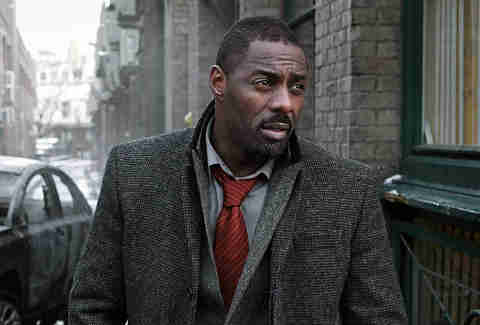 Luther
Idris Elba looks really good in a suit. There are plenty of reasons to watch Luther, but The Wire actor's calming sartorial presence has to be what draws most fans into this psychologically rich British detective drama -- the first season is six hourlong episodes, followed by two seasons with four episodes, and a mini-season of two episodes. The Affair's Ruth Wilson also impresses as Alice Morgan, a manipulative murderer who becomes an obsession for Elba's weary cop John Luther. It's a cat-and-mouse game worthy of Hannibal Lecter and Clarice Starling. Plus, the whole Idris Elba-in-suits thing.
Where to watch it: Netflix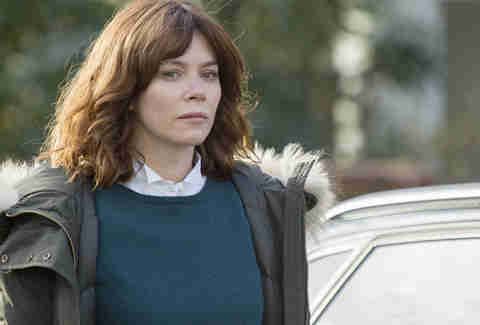 Marcella
Do you like British mystery shows that wrap up over the course of eight tightly wound, 45-minute episodes? This one is for you. Starring Anna Friel (Pushing Daisies) as a London detective bouncing back from a nasty split and a turbulent entry into single motherhood, the hard-nosed series pairs serial killer investigation with familial struggle, which only intensifies when the main mystery connects to Marcella's husband's current employers. If this summer sun is too much for you, enter the overcast, grim world of Marcella.
Where to watch it: Netflix
The Night Manager
If you've always wondered what it would be like to see Dr. House transplanted into a John le Carré novel, The Night Manager scratches your bizarrely specific itch. Hugh Laurie stars as a wealthy businessman and "philanthropist," while Tom Hiddleston plays a -- yep -- night manager at an upscale British hotel in Cairo. Hiddleston's character somewhat unwittingly gets caught up in the back-room espionage of the Arab Spring, and, like in most of le Carré's work, the tension arises from the personal and bureaucratic mundanities of the international spy game. It's less 007 and more Mad Men, in other words, and in six one-hour episodes, you'll be finished with it in less than a workday.
Where to watch it: Amazon Prime
Planet Earth (2006)
Five years in the making, and at the time in 2006, ranking as the most expensive nature documentary ever commissioned by the BBC, Planet Earth changed the way we look at the world around us. From microscopic observations of insect mandibles to underwater vistas most of us would never have seen in our earthbound existences, the high-definition miniseries turned scenes from the animal kingdom into Lord of the Rings. The years have seen sequels and spinoffs (The Blue Planet, The Hunt, Life, Africa, Frozen Planet, Planet Earth II, and Blue Planet II, all on Netflix, too), but the original, backed by David Attenborough's studious narration, holds up -- and you can watch it all in six hours.
Where to watch it: Netflix
Sherlock
Benedict Cumberbatch stars as Sherlock Holmes, albeit in the present day, solving crimes with the refined intelligence characteristic of Arthur Conan Doyle's hero, and accompanied by his sidekick, Dr. Watson. With three hour-and-a-half-long installments in each series, you can solve a single mystery in the course of a single night -- or, if you're more ambitious, you may find yourself glued to the couch for an entire weekend, trying to catch up with the rapid wit and near-impossible intellect of one of fiction's legendary characters.
Where to watch it: Netflix
Wormwood
Netflix wooed perhaps the greatest living documentarian, Errol Morris, to the streaming platform to tell the story of Frank Olson, a government scientist who supposedly committed suicide in the 1950s. His son, Frank, has made it his life's mission to find out the truth, which was substantially muddied when the CIA in 1975 claimed Olson had been a victim of the MK Ultra program, which slipped LSD to unwitting civilians. The answers clearly don't end there, but what unravels over the course of six easily digestible episodes (clocking in around 40 minutes each) is more about human knowledge and how we make meaning than it is about secret government programs -- though there's plenty of the latter to fuel conspiracy theorist dreams for years to come. 
Where to watch it: Netflix
Sign up here for our daily Thrillist email and subscribe here for our YouTube channel to get your fix of the best in food/drink/fun.