Every 'Do They Know It's Christmas?' Performer, Ranked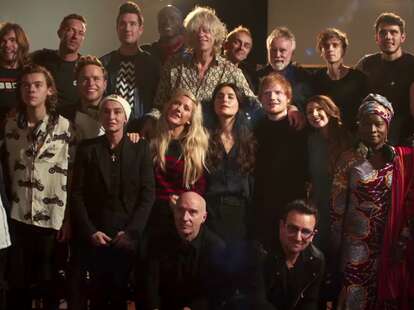 In Party of One: A Memoir in 21 Songs (available now wherever books are sold!), writer and former MTV VJ Dave Holmes chronicles the ups and downs of his life through the radio hits that provided a soundtrack. To celebrate the book's release, the anniversary of Bob Geldof's LIVE AID concert, and to indulge in our favorite fabricated holiday, Christmas in July, Holmes gifted us an homage to a tune he can't help but love: "Do They Know It's Christmas?"
The massive success of the 1984 UK charity single "Do They Know It's Christmas?" directly inspired Michael Jackson and Lionel Richie to collaborate on the 1985 mega-hit "We Are the World." It also inspired me to become obsessed with the star-studded track and its three subsequent star-studded recordings: the 1989 Stock Aitken Waterman remake; 2004's Darfur-related Band Aid 20 offering; and 2014's Ebola-themed Band Aid 30 version. Because the holiday-season earworm has infected my brain and is commanding me to do so, I've put together the definitive ranking of every vocalist from every version of the song. Tonight, thank God it's them instead of you.
78. Joe & Zoe Sugg, Alfie Deyes (2014)
You keep your YouTube stars out of my Band Aid.
77. Dido (2004)
I liked Dido the first time she came around, when she was called "a nap."
76. Those three guys from Kool & the Gang (1984)
Seen, not heard. But still quite a coup.
75. Lemar (2004)
Finalist from Fame Academy. At the Band Aid 20 session at the behest of Beverley Knight, who apparently had that kind of clout in 2004. Not a clue where he is in the song or video.
74. Cliff Richard (1989)
The UK's answer to Elvis, it is often said. Except with the danger or sex appeal swapped out for a pair of Transitions lenses. Mugs to the camera more than the situation warrants. Not my cup of tea, thank you. (But Rik from The Young Ones sure loved him.)
73. Joss Stone (2004)
In 2004, we heard Joss Stone, noticed her age and talent, and said, "Well, I'll be darned." That was pretty much that.
72. Big Fun (1989)
Neither the St. Louis prom-circuit band of the late 1980s, nor the fictional act behind "Teenage Suicide (Don't Do It)" from Heathers, this is a Stock Aitken Waterman boy band that made a tiny dent in the charts in the moment just before New Kids on the Block made the world safe for such things. They hate Take That, this much I know. While Band Aid II and its video lack the overall togetherness of the 1984 original, Big Fun appears especially checked-out; it seems like they taped their bit from a mall kiosk and hoped for the best.
71. Adam Clayton (1984)
Also at the session, apparently.
70. Katie Melua (2004)
The UK's answer to Norah Jones.
69. Technotronic (1989)
Technotronic gets invited to the party and doesn't bring Ya Kid K? Unforgivable.
68. Jamelia (2004)
The UK's answer to Ashanti.
67. Bono (2014)
Reprising his big line from the original, but here the lyric has morphed into "Tonight we're reaching out and touching you," which even he is not buying.
66. Olly Murs (2014)
The guy you're looking at when you're thinking "Jonathan Groff was in Band Aid?"
65. Busted (2004)
The UK's attempt at a boy band in the Blink-182, mall-punk style. There was another one called McFly at around the same time. They eventually merged into one: McBusted. No, really.
64. Jimmy Somerville (1989)
I'm conflicted here. Somerville is one of the all-time great voices (get yourself through "Smalltown Boy" without chills) but his performance in Band Aid II is meandering and soulless. It's like he was shown the lyrics one word at a time.
63. Róisín Murphy (2014)
The singer from Moloko, purveyors of weird disco music. Too edgy for this production.
62. Chris Rea (1989)
One line and he's out. He's better on his song "On the Beach," which you have heard on a smooth-jazz radio station in the back of a taxi at least once in your life.
61. Paul Weller (1984)
Doesn't do much here. Is still a legend. Leave work early and go down a Jam rabbit hole. Here, I'll start you off.
60. Beverley Knight (2004)
Just played Grizabella in the West End production of Cats. I'm into it.
59. Clean Bandit (2014)
I don't know if this means Clean Bandit's vocal collaborator Jess Glynne was involved in Band Aid 30 because I don't know what Jess Glynne or Clean Bandit looks or sounds like.
58. Bananarama (1989)
In '89, Jacquie took Siobhan's place, plus the band discovered Stock Aitken Waterman and hair conditioner. It's a healthier, much less fun Bananarama. (But the side-eye Sara serves whichever Bros bro is dancing at 3:16 is epic.)
57. Sugababes (2004)
Already in their second, post-Siobhan iteration by 2004. (Siobhans tend to leave girl groups first; discuss.) Literally nothing has ever been cooler than their video for "Overload."
56. Midge Ure (1984)
His contributions were more in the songwriting/production areas, but his voice is in there, too. I'm told Ultravox's "Oh Vienna" was the UK version of "Stairway to Heaven," in that it was always played last at high school dances. Whatever floats your boat, teenagers of Great Britain.
55. The Pasadenas (1989)
Don't really make an impact here, but "Tribute (Right On)" deserves a place alongside Londonbeat's "I've Been Thinking About You" on a list of turn-of-the-'90s, post-Fine Young Cannibals jams.
54. Rachel Stevens (2004)
Fresh out of S Club 7! Fresh off the success of "Sweet Dreams My L.A. Ex"! Totally indistinguishable from Joss Stone and the new Sugababe!
53. Angelique Kidjo (2014)
A name I am familiar with from brainy music writers' year-end top-10 lists. So this is what she sounds like! I look forward to continuing to intend to listen to her.
52. Bono (2004)
Sounds ill. Is in a separate studio. Need not have bothered.
51. Sonia (1989)
One UK hit, then four years later she's representing the UK in the Eurovision Song Contest. Also she doesn't seem to know that "Do They Know It's Christmas?" isn't a happy song.
50. Rick Parfitt and Francis Rossi of Status Quo (1984)
Toward the end of the video, Paul Young leans over to talk to someone, the camera pans over, and every teenager in America goes, "Yikes." That rock dinosaur (who at the time was 36) is Rick Parfitt of Status Quo, who I guess was the 20th-century Nickelback of the UK.
49. Jessie Ware (2014)
I am rooting for Jessie Ware, but in this pop landscape (as in Band Aid 30) she keeps getting lost.
48. Turin Brakes/Feeder/Snow Patrol/The Thrills [tie] (2004)
2004 should have been a new morning for Britpop. A whole new wave of bands hit the scene, and their music was supposed to set the world on fire, but it mostly just ended up on episodes of Grey's Anatomy.
47. Duran Duran (1984)
I must dock the band points here for Simon Le Bon's first note, which I can only call a honk. Since the band is all here together, I will rank them in ascending order: 5) Andy Taylor, 4) Simon Le Bon, 3) Roger Taylor, 2) Nick Rhodes, 1) John Taylor (who gets the top spot for his song from the 9 1/2 Weeks soundtrack, which aims for Avalon-era Roxy Music and misses delightfully).
46. Ed Sheeran/Dan Smith (from Bastille) [tie] (2014)
Is Ed Sheeran the new Paul Young, or is Dan Smith?
45. Glen Goldsmith (1989)
Doesn't make much of an impression here, but check out the performance of his hit "Dreaming" on Top of the Pops, where he also doesn't make much of an impression.
44. Ms. Dynamite (2004)
Went on to be confused with Lady Sovereign inside my head ever since. She deserves better.
43. Marilyn (1984)
The wild card of the first Band Aid. Marilyn was the ultimate frenemy to Boy George; Boy kept him at his side, bought him a recording career, almost certainly pulled the strings that got him into this session, and in return Marilyn introduced him to drugs, stole boyfriends and money, and dated Gavin Rossdale. A real pot-stirrer, this one. Steer well clear.
42. Jason Donovan (1989)
The Andrew Shue to Kylie Minogue's Courtney Thorne-Smith. They were the mid-'80s super-couple on Australian soap Neighbours, and achieved massive worldwide fame. Then he had a cocaine-induced seizure at Kate Moss' 21st birthday party at the Viper Room.
41. Emeli Sandé (2014)
A distinctive voice who comes off like an X Factor contestant here.
40. Kylie Minogue (1989)
Together with Jason Donovan, she sings Bono's "Thank God, it's them" line. And Kylie, I love you, but you lack gravitas.
39. Sam Smith (2014)
Looks shockingly like Boy George, down to the wardrobe, though a Boy George who sounds like he's underwater.
38. Dizzee Rascal (2004)
This is the one thing I've learned from listening to a lot of BBC1 on SiriusXM, and now listening to Beats1: there will always be a Dizzee Rascal. It's like the Dalai Lama. I think Skepta is this year's Dizzee Rascal.
37. Kevin Godley (1989)
Not sure where he is or what he does in Band Aid II, but he's a legend. Here's why he's so low: if you have a partner named Lol Creme, you bring Lol Creme with you wherever you go. People want an opportunity to say "Lol Creme." Shame on you.
36. Shaznay (2004)
Not much to do here, but she earns points for 1) being the best one in All Saints, and 2) having a rock-solid stage name. (Real name: Trish Lewis.)
35. Martyn Ware and Glenn Gregory of Heaven 17 (1984)
We only catch a moment of Glenn in a group shot with Paul Young, George Michael, and Bono, in which he successfully pulls focus with some smooth arm dancing. Heaven 17 didn't stick around much longer, but they gave us "We Live So Fast," so they will be remembered fondly.
34. Fran Healy (of Travis) (2004)
Kicks off the Band Aid 20 video by "bigging up" the project, which I guess was still a thing people said in 2004. Has to be furious at Chris Martin for eating his lunch.
33. Spandau Ballet (1984)
As ever, Tony Hadley serves up some cruise-ship pop-singer realness in his few lines; you find yourself craving shrimp cocktail (which people in Africa don't even have). Spandau Ballet is individually ranked thusly: 5) Martin Kemp, 4) Tony Hadley, 3) John Keeble, 2) Gary Kemp, 1) Steve Norman (see the Spandau documentary Soul Boys of the Western World if you haven't, as you'll just want to hang out with Steve Norman; Tony Hadley would have ranked higher if he hadn't turned into k.d. lang seven years ago).
32. Estelle (2004)
Yes, "American Boy" was a great song, but "1980" is a stone classic. Recognize.
31. One Direction (2014)
They kick Band Aid 30 off decently. No harmonies, no individual standout moments. Zayn looks high as fuck. For the record, the correct 1D ranking, in ascending order, is: 5) Louis, 4) Zayn, 3) Liam, 2) Harry, 1) Niall.
30. Skye Edwards (of Morcheeba) (2004)
Morcheeba was what you listened to in lounges in the '90s. In 2004, they tried for a pop breakthrough. A spot on a Band Aid means you made it, I guess.
29. Lisa Stansfield (1989)
One of our most underrated singers of soul music, sporters of viciously lacquered spit curls, and wearers of unfortunate headgear.
28. Rita Ora (2014)
Rita Ora is our new Jessie J. Like, we acknowledge that she is talented, yet we refuse to accept her into our hearts. I don't know why. She handles herself well here. She was also in Fifty Shades of Grey for some reason.
27. Daniel & Natasha Bedingfield (2004)
"Gotta Get Through This" is arguably a better song than anything Natasha managed, but she held on longer than he did, and way longer than I expected. Last I saw her, she was presenting an award at one of the monthly country music awards shows. I get the feeling Natasha just kind of goes where you tell her.
26. Wet Wet Wet (1989)
Blue-eyed soul dreamboats who never quite caught on in the States. Singer Marti Pellow has a face as adorable has his name is creepy. (Very.)
25. Will Young (2004)
The first winner of Pop Idol, who swiftly came out of the closet, which was not a thing people were doing much back then. Good on you, Will Young.
24. Jody Watley (1984)
A real surprise, given that her solo career wouldn't start for a couple more years. Who is her publicist? I would like to hire her publicist. Also: great hair, great earrings, great bouncing. Jody was laying groundwork here, and I respect it.
23. Tim Wheeler of Ash (2004)
Young, talented, CW handsome. Better in "Girl From Mars" than here.
22. The non-Bob Geldof members of Boomtown Rats (1984)
Along for the ride. Can't blame them.
21. Cathy Dennis & D-Mob (1989)
Barely makes an appearance in the video, but the group's spot in the pop firmament is secure. If nothing else, Dennis made a bundle off the American Idol theme song.
20. Bob Geldof (1984)
The reason for the season, a legend, a saint, a knight. He has dealt with too much personal heartbreak in the years since. And he should have had a bigger solo career.
19. Sinead O'Connor (2014)
Why she was not placed in protective care immediately following her nervous breakdown, I will never know. Let's remember the happy times, in particular her screen debut in the video for World Party's "Private Revolution." Look how happy! Hang on to this moment, Sinead!
18. Bananarama (1984)
Messy, giddy, disheveled from a long night out, as the legend goes. I don't know whether I'd kill Baby Hitler, but I'm pretty sure I'd use a time machine to go drinking with 1984 Bananarama.
17. Paloma Faith (2014)
Band Aid 30 was a much fancier affair than the informal original session, and nobody drives that point home like Paloma Faith, hair and lips all done up like the fanciest barista in your local steampunk coffee shop. What a voice, though!
16. Bros (1989)
Brothers Matt and Luke Goss, two Gaultier perfume bottles come to life. "When Will I Be Famous" is a jam and a half, and now Luke makes martial arts/video game films and Matt has a residency singing standards at Caesars Palace in Las Vegas. You never know where life will take you.
15. Justin Hawkins (from The Darkness) (2004)
Come back, The Darkness. We need you more than ever. Wait -- you returned and no one told me!?
14. Seal (2014)
Seal does what Seal does. Either you love it or you don't. (I do.) Incidentally, he's just reunited with his old producer Trevor Horn for his latest album 7, if you want to feel like you're in the elevator of a loungey hotel.
13. Sting (1984)
It's not his fault that they cut to him for the "bitter sting of tears" line. Plus, this is the best his hair ever looked. "Do They Know It's Christmas?" is Sting in his prime, and I would hit it, if he could promise to keep it to three hours or less.
12. Neil Hannon (of The Divine Comedy) (2004)
There should be a benefit single to raise awareness for The Divine Comedy.
11. Bono (1984)
That "thank God it's them instead of you" line has proven controversial over the years, but it's pretty simple to me: acknowledge your good fortune, donate some cash, repeat. More troubling to me are Bono's shoulders as he makes his first appearance in the video. What's going on there? Not since the lady in the blue sweater in M's "Pop Musik" have I seen such snakeliness.
10. Ellie Goulding (2014)
Ellie's voice has never sounded more like a series of clicks and beeps, but no group of 2014 UK chart-toppers would be complete without her. The most recent album is great, too.
9. Chris Martin (2014)
You can see in his eyes that he has climbed the mountaintop and also spent long periods of time in an enclosed space with Gwyneth Paltrow. Whatever humility might have existed in 2004 is long gone.
8. Chris Martin (2004)
The Paul Young of Band Aid 20. I will not jump on the Coldplay hate train, and neither should you. We need earnestness now, and they're the only ones giving it to us.
7. Boy George and Jon Moss (of Culture Club) (1984)
Culture Club is fresh off "The War Song" here. (War is stupid, folks: how many times must he say it?) Boy George's dazzling crimson hair is a bit subdued and there's just a hint of a smoky eye; he means business. Bonus points for bringing drummer/lover Jon Moss along and allowing us to imagine how many screaming quarrels they had throughout the day. (Read Boy's memoir Take It Like a Man if you haven't.)
6. Phil Collins (1984)
Surely the hardest-working man in the charity-performance business; by the next summer, he'd be on the Concorde to play both stages in Live Aid. I'm grateful Phil is coming out of retirement, I'm glad I revisited his catalog because of it, and I think I hear the seeds of LCD Soundsystem in "Take Me Home."
5. Guy Garvey (2014)
The Elbow lead singer has my favorite voice in modern British music. An odd selection, but a perfect one.
4. Robbie Williams (2004)
One of the greatest live acts I've ever seen. It kills me that he didn't make it in the US.
3. George Michael (1984)
A stubble-free, poufy-haired George Michael is startling, so thorough was his "Faith"-era image transformation. Incidentally, where's the thinkpiece on Wham!'s "Choose Life" T-shirts in the "Wake Me Up Before You Go-Go" video?
2. Keane (2004)
The plaintive "feed the world" that kicks in two and a half minutes into the '04 rendition could only come from wee Tom Chaplin of Keane. Nobody else but him could sound as innocent, as pleading, or as hungry.
1. Paul Young (1984)
Gets credit for having the first line in the first big song of the Age of the Benefit Single. Gets extra credit for looking hungover; the gravity of the situation hits you right away when a Paul Young doesn't comb his hair.
Sign up here for our daily Thrillist email, and get your fix of the best in food/drink/fun.
Dave Holmes is a writer and television personality who lives in Los Angeles, CA, where the only water flowing is the bitter sting of tears. Follow him @DaveHolmes.