The 30 Funniest 'SNL' Sketches of 2018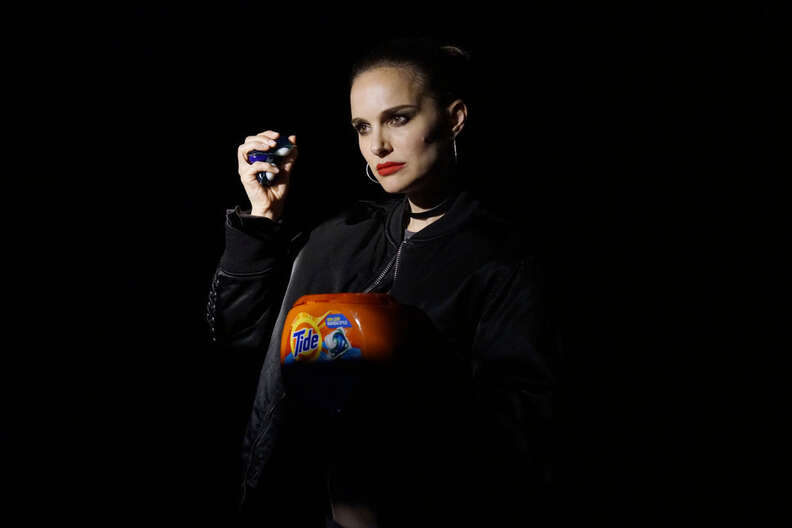 NBC
NBC
Over the past two seasons, Saturday Night Live has focused heavily on politics and it's leading to a ratings bump, some now iconic impressions, and a quite a bit of Trump-impression fatigue. Chances are pretty good that politics will remain front and center as Season 44 gets underway Saturday, September 28, with Adam Driver hosting, but the show also still slays in non-political sketches as well. Before the premiere, revisit some of the best moments from 2018 episodes so far (and if you've seen them all, check out the funniest SNL sketches from 2017).
30. "Jurassic Park Auditions"
Episode date: March 17
To commemorate Jurassic Park's 25th anniversary, SNL unspooled their favorite discarded "screen tests" from 1992. So, yeah... really, just an excuse for a bunch of great celebrity impressions. Pete Davidson, as Adam Sandler, was an especially nice surprise.
28. "House Hunters"
Episode date: November 10
Anyone who has watched HGTV's House Hunters knows exactly where this sketch is going to go as soon as it starts. The show prides itself on finding common ground between couples who want wildly dissimilar things for their new home -- he wants a water view while she loves the downtown, etc. -- but what if the homes themselves were nightmares of non-Euclidean geometry? Marriage is compromise.
27. "Chantix Commercial"
Episode date: January 13
The commercials for Chantix, the popular prescription drug used to treat nicotine addiction, often pride themselves on not using actors. Enter Kelly (Cecily Strong), someone who's not technically a professional actor, but used to be -- and still really wants to be -- one. In other words, the perfect candidate for a testimony that has no chance of staying on track.
26. "Teacher Fell Down"
Episode date: November 3
SNL really shines when it takes a trip back to everyone's school days: The high school theater shows, in which the students are well meaning but tragically misinformed about timely issues, are always a delight. "Teacher Fell Down" gets at the very heart of those uncomfortable moments in class where something weird happens and you're reminded that your instructors are human too.
25. "Tucci Gang"
Episode date: January 13
Lil Pump's mind-numbingly repetitive "Gucci Gang" hit has spawned several worthy edits, but none quite as weirdly touching as SNL's "Tucci Gang," both a pitch-perfect parody and a hilarious homage to character actor Stanley Tucci. "Thirty-two years in the biz, I'm a big fan of his. I got mad respect for his range. He should've been Dr. Strange," spat Pete Davidson, mimicking Pump. "The Devil Wears Prada was sick. If you don't like Stan, you're a dick!" Fair.
24. "Dinner Discussion"
Episode date: January 27
Living in a post-Babe-dot-net universe means having hard conversations with your friends about things like Aziz Ansari and the #MeToo movement. ("Waaaaaaaatch it.") Sure, none of that sounds fun, but strong writing and acting made this tightrope act a success.
23. "Dirty Talk"
Episode date: May 5
Not quite as fun as Melissa Villaseñor's last dirty talk sketch, which showcased a little more of her masterly impressions, but still damn good.
22. "GE Big Boys"
Episode date: December 8
There's something about "GE Big Boys," which riffs on the ever-present dichotomy between how products are marketed to men and to women, that is just so endearing. Because ads think men can't even buy body wash unless the product comes in a bottle that looks like it was forged out of an iron meteorite by Thor himself (in this case, Jason Momoa), the home appliances in this sketch come equipped with 70-pound steel dishwasher doors and jackhammer spot removers for those pesky carpet stains that just won't come out.
21. "Bachelor Finale Cold Open"
Episode date: March 10
This near shot-for-shot parody of the Bachelor's recent bombshell finale sent 27-year-old publicist Becca Kufrin (Cecily Strong) to face someone she thought she could trust: 73-year-old special counsel Robert Mueller (Kate McKinnon). What followed wasn't just a breakup, but a political breakup. For Mueller, America's disappointing sweetheart, was falling more for obstruction than collusion. Coming in a slot that's usually reserved for sketches that play like a string of quippy Trump headlines, this was a refreshingly creative cold open.
20. "Weezer"
Episode date: December 15
There's a wonderful rhythm to this sketch that was woefully absent from most of SNL's offerings towards the later half of the year. Maybe it was Damon's presence, maybe it was the writing of the sketch itself, but this dinner party's dissolution into abject chaos just because of a band is a joy to watch. Also, it was written by the same people and matched to the same template of that already legendary Shrek sketch.
19. "Chicago Improv"
Episode date: May 19
Oh man, if you love the work of TV producer and No. 1 Chicago fan Dick Wolf, you'll love his latest project. Maybe. Beamed in from an alternate dimension, this tightly crafted trailer parody shows you what a show about The Second City's improv scene would be like. It's a little misleading (so many fire trucks!), jargon-y (oh baby, look at those sick, sick sweep edits), and hard to follow (who's the bad guy here???), but it's got all the hallmarks of a great Chicago show (so many fire trucks!!!). So.
18. "The Game of Life: DACA Edition"
Episode date: April 7
The Game of Life has always been a classic, but given the mess that is our current White House administration and political climate, it could probably use some timely updates. Presenting: the DACA edition, which includes tiny Western Unions, U.S. border troops, and Presidential tweet cards that are definitely not about Roseanne.
17. "Reality Stars"
Episode date: January 27
Awful one second, more awful the next. As the stars of Kings and Queens of Santa Clarita, Will Ferrell and Cecily Strong were supposed to be enjoying a "sweet, back-home moment" with their old friends in Flagstaff. As you might have guessed, things went real bad once the cameras surfaced. The ambush recalled the best Ferrell, the one whose goal during his tenure on SNL was to make his castmates break character -- and mission accomplished.
16. "Fresh Prince"
Episode date: January 20
If you grew up in the '90s, you're probably familiar with The Fresh Prince of Bel-Air theme. But have you ever stopped and wondered what happened to those guys who were up to no good? "Turns out, the guys I fought weren't regular thugs, they were a powerful gang, running guns and drugs. And because of our fight, one went to jail, so they followed me out to Bel-Air," Chris Redd explained in this parody, which co-starred Method Man and Jessica Chastain. An FBI twist, some Uncle Phil heroics, and the birth of someone named Jasper Mitchell made this the fan fiction we didn't know we needed.
15. "The Day You Were Born"
Episode date: May 12
SNL's Mother's Day episode was a charming blast -- especially the part when Melissa McCarthy surprised everyone as Michael Che's stepmom -- but the highlight was easily this short. (OK, "Lil' Rent" deserves a shout-out, too.) Host Amy Schumer stars as the ever-familiar mom who tells her child how amazing it was when they were born, only to then witness the flashbacks of what the day was really like. The juxtaposition and editing make for something that's at once touching and terrifying. Just like the miracle of life!
14. "Graduation Commercial"
Episode date: May 12
A real treat for fans of the "Best Kids Awards," this EXTREME commercial parody similarly took all the tropes of a familiar family event (high school graduation) and tried to turn them into the kind of eye-popping spectacles you might find at, I don't know, a monster-truck rally? Very goofy, but very fun -- all of it anchored by Beck Bennett's appropriately amped-up voice-over and punctuated by a flurry of freakin' dabs. (Note: Unfortunately, the sketch no longer plays on YouTube, but you might be able to catch it in a replay of the full episode, streamable here on Hulu.)
13. "Family Dinner - Shrek"
Episode date: March 10
Find someone who loves you as much as Justin (Sterling K. Brown) loves Shrek. Actually, on second thought...
12. "Undercover Office Potty"
Episode date: March 17
As Johnson (Beck Bennett) demonstrated, not all infomercial voiceovers have your back. Especially when the product they're selling is a not-at-all discreet toilet. This wasn't necessarily the weirdest Beck-and-Kyle sketch we'd ever seen, but it was definitely the grossest. In the best way.
11. "Science Show"
Episode date: January 13
Appearing as Mr. Science, a '90s PBS Kids host who was almost as bad with kids as that Ben Stiller character in Heavyweights, Sam Rockwell made a big boo-boo. He was supposed to show his junior scientists (Cecily Strong and Mikey Day) what happens when you add oil to water, but when one of his non-true-or-false questions yielded a true and a false, he erupted, saying, "You can't be this fucking stupid!" Strong and Day -- terrific throughout -- rolled with the slip-up, and Kristen Stewart welcomed Rockwell into SNL's F-Bombers Club with open arms.
10. "Sitcom Reboot"
Episode date: April 14
Hollywood has reboot fever so bad it'll reboot ANYTHING. Even if it's problematic? No worries! Reboots are so in, baby! Even a reboot of that one insane show about that one kid who magically switcheroo'd bodies and was forced to have sex with his mom. No regrets. NOT A ONE. Right? SOS. Send Hollywood help.
9. "Natalie's Rap 2"
Episode date: February 3
Wielding Tide Pods, a special Andy Samberg appearance, and lyrics like "Say somethin' 'bout the motherfuckin' prequels, bitch," Natalie Portman reclaimed her bad-gal image and struck fear in the hearts of a certain breed of Star Wars fans. Sure, the long-awaited -- 10 years! -- sequel to "Natalie's Rap" might not have been all that surprising, but it definitely didn't disappoint. A feat all the more impressive considering how quickly it had to come together.
8. "Career Day"
Episode date: September 29
Maybe the best thing SNL did this season, and definitely the best sketch of the last half, "Career Day" sees Adam Driver -- and the show itself -- at its very weirdest. As an aged oil baron, Driver attends his teenage son's career day and explains in great detail what it's like to work in oil. Mainly: crushing your enemies into dirt and getting your horrid revenge on that fiend H.R. Pickens.
7. "'80s Music Video"
Episode date: May 5
The whole Donald Glover episode came packed with highlights, but none more oddly specific than this riff on Oran "Juice" Jones' "The Rain." The song, released in 1986, details how the R&B singer follows and confronts his girlfriend about her infidelity. But what if... he followed the wrong person? That's the idea here, and everything that ensues -- from Glover's incredible reaction to all the strange revenge moves -- is beautiful.
6. "Diner Lobster"
Episode date: April 14
The seafood section of a diner's menu is just there as a joke, right? Nope, says reckless daredevil Pete Davidson, determined as hell here to figure out what actually happens when you request the lobster special. Spoiler: a crescendoing Les Mis parody that's punny perfection.
5. "Friendos (featuring A$AP Rocky)"
Episode date: May 5
The musical shorts have been especially strong this year, but none more so than this spot-on, expertly shot Migos parody -- a tale about strip clubs, ice cream Lambos (Lambo!), and therapy-fueled group hugs. Thank you, Dr. Angela.
4. "Girlfriends Game Night"
Episode date: March 17
An instant classic. As part of his hosting gig, Bill Hader played Horace, an elderly gentleman whose dying-giraffe groans and reckless wheelchair driving broke everyone onstage -- including himself. It was the kind of beautiful mayhem that really underlined the Live part of Saturday Night Live, as even the furniture had to put up a fight.
3. "George W. Bush Returns"
Episode date: January 27
With Trump in the White House, there's been a lot of misguided "I miss Dubya" sentiment. "Donnie Q. Trump came in and suddenly I'm lookin' pretty sweet by comparison. At this rate, I might even end up on Mount Rushmore, right next to Washington, Lincoln, and I wanna say, uh, Kensington," Will Ferrell said in this cold open, reviving his classic impression and reminding viewers that, uh, yeah, Bush wasn't good. "Don't forget we're still in two different wars that I started -- hey, what has two thumbs and created ISIS? This guy." This piece was depressingly good -- because it mostly made you miss Ferrell -- but it was nice of him to bring the American public back down to earth.
2. "Stefon on St. Patrick's Day"
Episode date: March 17
The magical thing about Bill Hader's old Stefon appearances on SNL was they were always failed attempts at self-control. Longtime collaborator John Mulaney famously messed with him by putting new jokes on the cue cards in between dress rehearsal and the live show, essentially guaranteeing Hader would break character. Fortunately, when the fan-favorite character returned to the Weekend Update desk earlier this year, along with Mulaney, to recommend bars for St. Patrick's Day, that very same magic was on display.
1. "Black Jeopardy With Chadwick Boseman"
Episode date: April 7
You might have thought it tough to top Tom Hanks' Black Jeopardy! appearance, but SNL found a way: Black Panther. Reprising his role as T'Challa, Chadwick Boseman joined Leslie Jones (Shanice), Chris Redd (Rashad), and Kenan Thompson (host Darnell Hayes) for a quick game of trivia -- one that triumphantly blended pop culture and timely social commentary with Thompson's stellar mugging to concoct, so far, the best sketch of the year. Though the Marvel superhero stumbled early on, falling victim to Wakanda's isolationism:
Hayes: "The policeman says there's been some robberies in your neighborhood and asks if you have any information."
T'Challa: "What is, not only do I tell this man what I know, but I also assist him in tracking down the offender. After all, our ministers of law enforcement are only here to protect us -- is this correct?"
Hayes: "I mean... it should be! But I'm thinking you haven't spent much time in America."
Eventually, thanks to Karen and her potato salad, he got the hang of things.
This post has been updated throughout.
Sign up here for our daily Thrillist email and subscribe here for our YouTube channel to get your fix of the best in food/drink/fun.