Sports fans can have a field day on Netflix, even though the streaming service seems to have DFA'd many of the genre superstars. So while a search for Rocky, Field of Dreams, Slap Shot, and Caddyshack will produce a big fat goose egg, you'll still find plenty of movies that will make you laugh, cry, and, of course, cheer. We're sorry about all the sports puns, but not sorry about our picks of Netflix's best sports movies: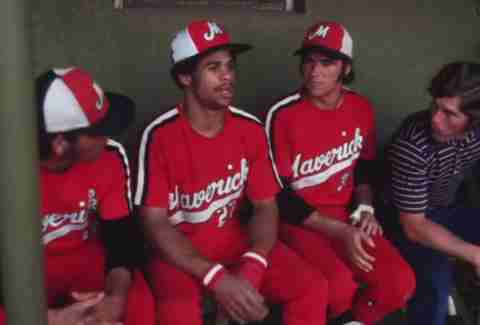 The Battered Bastards of Baseball (2014)
There's no better way to celebrate a baseball series sweep than waving around a flaming broom. Right? Such was how the zany Portland Mavericks, chronicled in this Netflix original documentary, did business for five years in the 1970s, when they operated as the only independent team in a minor league full of major-affiliated clubs. Founded by Bing Russell (father of Kurt Russell, who briefly played for the team), the aptly named Mavericks upset baseball's status quo and revived the sport by emphasizing individuality.
Goon (2011)
It's vulgar and bloody, but what else would you expect from a comedy about a fierce hockey fighter? Seann William Scott stars as Doug Glatt, a nice-guy bouncer from Massachusetts who punches his way onto a minor-league team in Halifax, Nova Scotia, where he's willing to do whatever it takes -- and lose as many teeth as necessary -- to help the team. (And if his rough on-ice antics help him win over his crush, too? That's all the better.)
June 17th, 1994 (2010)
You likely remember this day for O.J. Simpson's white Bronco chase. But this documentary stitches together news footage from a jam-packed day in the sports world, which included not just the drama in Southern California, but also an NBA Finals game at Madison Square Garden, the New York Rangers' Stanley Cup victory parade, the opening of the 1994 World Cup in Chicago, and more.
Knuckleball! (2012)
At first glance, throwing an erratic, low-speed pitch looks like one of the few things in sports the average fan could learn to do. In reality, it's a whole lot harder than it appears. This documentary looks at the dwindling number of pitchers who still have it in their arsenal.
No No: A Dockumentary (2014)
Dock Ellis is best remembered to baseball fans as the flashy, outspoken Pirates pitcher who threw a no-hitter in 1970 while high on LSD. This documentary tells the story of that game, as well as Ellis' battles with addiction and subsequent mission to counsel kids, urging them not to make his same mistakes.
The Two Escobars (2010)
This documentary is ESPN's "30 for 30" series at its best, telling the story of Colombian soccer player Andres Escobar, who was murdered in his home country shortly after scoring a costly own goal during the 1994 World Cup. But the film also chronicles the ties of notorious drug kingpin Pablo Escobar (no relation) to Colombian soccer, and shows how the rise of the sport in the South American country in advance of the '94 World Cup was linked to the influx of drug money.
I Hate Christian Laettner (2015)
Early in this documentary, a journalist describes former Duke star Christian Laettner as "one of the top 10 greatest players who ever played college basketball, and the number one asshole of all time." Indeed, Laettner was the player everyone loved to hate in the early 1990s: a cocky, elbow-throwing big man with good looks, serious game, and no shortage of swagger. The film, narrated by Rob Lowe, looks at why Laettner was such a villain, exploring issues of race, privilege, and athletic dominance.
Sign up here for our daily Thrillist email, and get your fix of the best in food/drink/fun.

Joe DeLessio is an associate editor at New York Magazine online and a contributor to Thrillist. He's still upset the Mighty Ducks movies were pulled from Netflix. Follow him on Twitter: @joedelessio.