The Best Sports Movies on Netflix
These titles hit a home run.
Good sports movies are tough to make. The most successful have to transcend the drama and excitement inherent in sports themselves; why watch a movie about basketball when you could simply watch a great basketball game?
But when done right, sports movies offer more depth than the average game, illuminating not just the sport depicted, but the deeper part of human nature that makes us love watching other people play games. The next time you fire up Netflix, hit play on one of these titles.
New Line Cinema
Above the Rim (1994)
Basketball dramas are plentiful, but only one has a scene-stealing performance from the late great Tupac Shakur. Many b-ball movies have since drawn from this understated classic, too, as a drama about high school sports star Leon torn between pursuing his professional sports dreams and feeling weighed down by the illegal activity and disadvantages of his community. And yet, despite the stacked cast (Bernie Mac, Marlon Wayans, etc.) and great soundtrack, Above the Rim has remained extremely underrated. Watch the '90s flick and see for yourself: It's a slam dunk.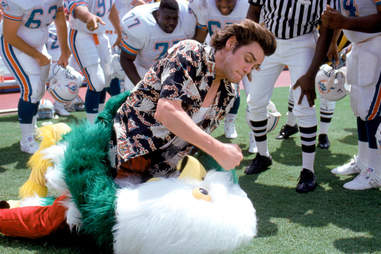 Warner Bros. Pictures
Ace Ventura: Pet Detective (1994)
Pet Detective is "problematic," putting it kindly, given that the plot hinges on an NFL kicker who goes so crazy that he transitions to a woman to exact revenge on Miami Dolphins quarterback Dan Marino for supposedly screwing up a game-winning kick in the Super Bowl. (Marino's return to the Super Bowl might actually be the most timeless joke in the whole movie.) And yet! This is the first feature film to announce from its opening scene that "Jim Carrey is a star," entering catchphrases like "Allllllrighty then" and "Loser... luh-HOO-zuh-HER" into the cultural lexicon, for better or worse. It was the remarkable controlled wackiness Carrey put on display during his In Living Color days that made a childish movie about a pet detective in search of the Miami Dolphins' stolen mascot work at all.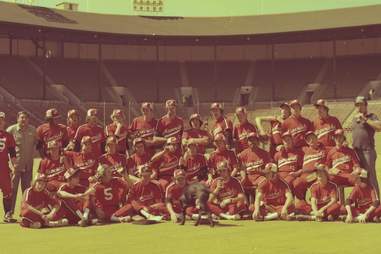 Netflix
The Battered Bastards of Baseball (2014)
Kurt Russell, who interrupted his acting career to play baseball professionally in the 1970s, is one of the highlights of this documentary about his father's legendary minor league team, the Portland Mavericks. But he's just one piece of a highly entertaining true story that chronicles the independent baseball club and its ragtag team of rejects, who seem more tailor-made for an underdog sports comedy than reality -- no surprise, there's a Hollywood remake in the works.
Universal Pictures
Beyond the Mat (1999)
Unsurprisingly, the athletes who go by names like "Mankind" and "The Snake" and devote their lives to wrestling are just as eccentric and intriguing as the sport itself. Lifelong wrestling fan and comedy writer Barry Blaustein explores the ins and outs of the World Wrestling Federation and Extreme Championship Wrestling in this sports doc, while primarily turning to the sport's personalities, like Mick Foley, Terry Funk, and Jake Roberts, to see what their lives are like beyond the ring. Even if you came for the rumbles and smackdowns, the behind-the-mask look at the pros' lives may change your perception of the sport altogether. Nevertheless, it is still fun to get a reminder of what extreme eyebrow raiser The Rock was like before he became action and Disney star Dwayne Johnson.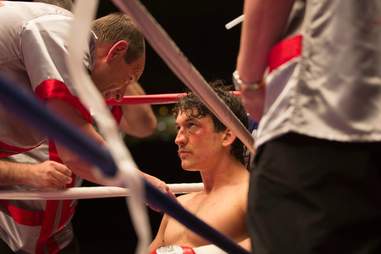 Open Road Films
Bleed For This (2016)
This biographical film features one of sports history's greatest comebacks. In the early '90s, world champion boxer Vinny Pazienza thought he was never going to get back in the ring again, let alone walk again, after surviving a car crash with a broken neck. Miraculously, that didn't stop him, and the excellent Miles Teller brings Pazienza's tenacity and recovery to life in this flashy boxing drama. Of course, the movie pulls from the boxing classics like Rocky and Raging Bull, trying to reach that unparalleled level of oomph and rawness, but this true story stands on its own with the way the cast brings the soul of the family to the screen.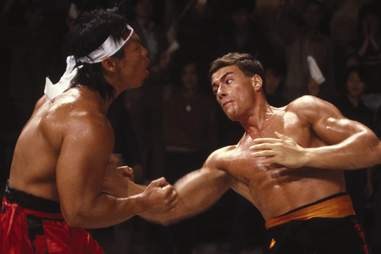 Warner Bros. Pictures/U.G.C. Worldwide Distribution
Bloodsport (1988)
Jean-Claude Van Damme made a career out of good-not-great fluff. Universal Soldier is serviceable spectacle, Hard Target is a living cartoon, Lionheart is his half-baked take on On the Waterfront. Bloodsport, which owes everything to the legacy of Bruce Lee, edges out his Die Hard riff Sudden Death for his best effort, thanks to muscles-on-top-of-muscles-on-top-of-muscles fighting and Stan Bush's "Fight to Survive." Magic Mike has nothing on Van Damme's chiseled backside in Bloodsport, which flexes its way through a slow-motion karate-chop gauntlet. In his final face-off, Van Damme, blinded by arena dust, rage-screams his way to victory. The amount of adrenaline bursting out of Bloodsport demands a splash zone.
Magnet Releasing
Goon (2011)
It's vulgar and bloody, but what else would you expect from a comedy about a fierce hockey fighter? Seann William Scott stars as Doug Glatt, a nice-guy bouncer from Massachusetts who punches his way onto a minor-league team in Halifax, Nova Scotia, where he's willing to do whatever it takes -- and lose as many teeth as necessary -- to help the team. (And if his rough on-ice antics help him win over his crush, too? That's all the better.)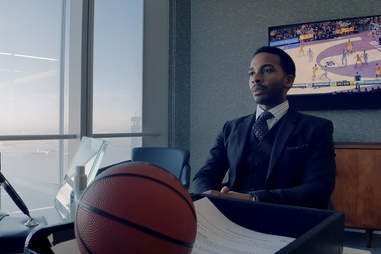 Peter Andrews/Netflix
High Flying Bird (2019)
High Flying Bird is a basketball film that has little to do with the sport itself, instead focusing on the behind-the-scenes power dynamics playing out during a lockout. At the center of the Steven Soderbergh movie -- shot on an iPhone, because that's what he does now -- is André Holland's Ray Burke, a sports agent trying to protect his client's interests while also disrupting a corrupt system. It's not an easy tightrope to walk, and, as you might expect, the conditions of the labor stoppage constantly change the playing field. With his iPhone mirroring the NBA's social media-heavy culture, and appearances from actual NBA stars lending the narrative heft, Soderbergh experiments with Netflix's carte blanche and produces a unique film that adds to the streaming service's growing list of critical hits. 
Paramount Pictures
Hot Rod (2007)
This OG Lonely Island movie is still a triumph, responsible for shooting the careers of the cast off into the stratosphere and, eventually, for reaching classic cult comedy level. Featuring then virtual nobodies Andy Samberg, Jorma Taccone, Isla Fisher, and Bill Hader as a ragtag team of dirtbags cooking up wild stunts to get Samberg's wannabe-Evel Knievel career off the ground, Hot Rod is a ridiculous slapstick delight. Rev up your bike's engine and let this humble comedy ride until your belly aches. 
Netflix
Icarus (2017)
Fascinated by doping scandals and Lance Armstrong's fall from grace, Brian Fogel, a playwright and amateur cyclist, fell deeper into the chemical trend than he could have possibly imagined after connecting with Dr. Grigory Rodchenkov, who would reveal himself to be the director of the Russian laboratory in charge of aiding Olympic athletes. Icarus traces a line through a history of doping and Rodchenkov's whistleblowing, which ignited fury in Russia and turned him into a political target. Fogel's film is the rare science-minded doc that also plays like a Tom Clancy thriller.
Sony Pictures Releasing
Jerry Maguire (1996)
Cameron Crowe's endlessly quotable romantic comedy is more than just Cuba Gooding Jr. saying "show me the money" and Tom Petty songs. (Though, admittedly, it does have those things, and they are very, very good.) It's also an old-fashioned character study of the kind of man outpaced by his own ambition, ego, and emotional intensity. In other words, it's the perfect role for Tom Cruise, who brings the sports agent to life with each megawatt grin.  
Buena Vista Pictures
Miracle (2004)
Like everything else, sports were elevated to another level of competition during the Cold War, and the Olympics were like the final showdown between the U.S. and the Soviet Union in the percolating nuclear fallout. The 1980 Olympic hockey tournament between the favored-to-win, four-time gold medalists Soviets and America's hodgepodge team was no different. The real-life underdog story is documented in 2004's Miracle, chronicling the Americans' preparation for the games, lead by the unorthodox, inspired coaching of college hockey coach Herb Brooks (Kurt Russell), culminating in the "Miracle on Ice" during the semi-final match. Miracle is a remarkable, triumphant look at one team's determination in a particularly contested period in history.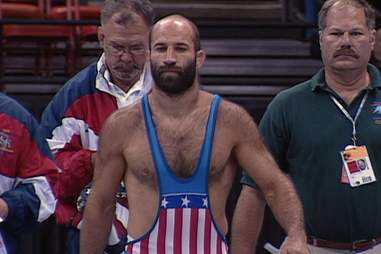 Netflix
Team Foxcatcher (2016)
In the '80s, millionaire John du Pont was determined to help the USA Olympic Wrestling Team come home with the gold. He pumped funds into the team and even convinced world-class wrestlers Mark and Dave Schultz to join what he called "Team Foxcatcher" and live on his expansive property, which featured its own state-of-the-art training facility. In the Netflix original doc Team Foxcatcher, director Jon Greenhalgh chronicles this eccentric story, primarily through the life of Dave Schultz, and how his association with du Pont eventually cost him his life. This unsettling film features rare, original home footage that adds a chilling depth to the story told in the 2014 film Foxcatcher, starring Steve Carrell, Channing Tatum, and Mark Ruffalo as Dave Schultz.
The Weinstein Company
Undefeated (2011)
Winner of the Academy Award for Best Documentary Feature, Undefeated tells the remarkable story of Memphis, Tennessee's Manassas Tigers, who have a storied tradition of losing. When a new coach turns the program around and the team is on the verge of actually winning something, the tension builds as everyone wonders: Do they actually have what it takes?
Need help finding something to watch? Sign up here for our weekly Streamail newsletter to get streaming recommendations delivered straight to your inbox.
Follow the Thrillist Entertainment editors on Twitter: @ThrillistEnt.