Good sports movies are tough to make. The most successful have to transcend the drama and excitement inherent in sports themselves; why watch a movie about basketball when you could simply watch a great basketball game?
But when done right, sports movies offer more depth than the average game, illuminating not just the sport depicted, but the deeper part of human nature that makes us love watching other people play games. The next time you fire up Netflix, hit play on one of these titles.
Recommended Video
The Best New Shows and Movies on Netflix This February
The Battered Bastards of Baseball (2014)
Kurt Russell, who interrupted his acting career to play baseball professionally in the 1970s, is one of the highlights of this documentary about his father's legendary minor league team, the Portland Mavericks. But he's just one piece of a highly entertaining true story that chronicles the independent baseball club and its ragtag team of rejects, who seem more tailor-made for an underdog sports comedy than reality -- no surprise, there's a Hollywood remake in the works.
Becoming Zlatan (2016)
Zlatan Ibrahimović proves that genius requires a touch of madness. Becoming Zlatan digs deep to find rarely seen interviews and archival footage of a young superstar in the making, painting a full picture of a star who's won championships in virtually every country he's played. Eccentricities can be forgiven in a player with such competitive drive, and who can do this.
The Endless Summer (1966)
What happens when you spend your days traveling around the globe, hunting warm weather and big waves? An endless summer, as chronicled in this seminal documentary that set the standard for surfing films and sports documentaries in the decades to come.
GLOW: The Story of the Gorgeous Ladies of Wrestling (2012)
Now that Netflix has its own fictionalized series about the short-lived women's professional wrestling league and television show in the late 1980s, GLOW has achieved more widespread recognition. But the 2012 documentary look at the league has everything you could want in a sports movie: inspiration, humor, tragedy, heartbreak, redemption, and the feeling that you could never, ever do what they did.
Goon (2011)
It's vulgar and bloody, but what else would you expect from a comedy about a fierce hockey fighter? Seann William Scott stars as Doug Glatt, a nice-guy bouncer from Massachusetts who punches his way onto a minor-league team in Halifax, Nova Scotia, where he's willing to do whatever it takes -- and lose as many teeth as necessary -- to help the team. (And if his rough on-ice antics help him win over his crush, too? That's all the better.)
Icarus (2017)
Fascinated by doping scandals and Lance Armstrong's fall from grace, Brian Fogel, a playwright and amateur cyclist, fell deeper into the chemical trend than he could have possibly imagined after connecting with Dr. Grigory Rodchenkov, who would reveal himself to be the director of the Russian laboratory in charge of aiding Olympic athletes. Icarus traces a line through a history of doping and Rodchenkov's whistleblowing, which ignited fury in Russia and turned him into a political target. Fogel's film is the rare science-minded doc that also plays like a Tom Clancy thriller.
Million Dollar Baby (2004)
Maggie Fitzgerald is determined to become a successful boxer. And despite her broken home life and low-income background, she knows that as long as she has the right trainer, she can make it. In Million Dollar Baby, one woman's rise and eventual fall in the boxing ring is dynamically illustrated, seeing incredible performances from Hilary Swank, Morgan Freeman, and Clint Eastwood (who also directed the film), garnering it a Best Picture win. The gritty film never holds back, while showing the humanity and perseverance of two hardened individuals, despite all odds. 
Miracle (2004)
Like everything else, sports were elevated to another level of competition during the Cold War, and the Olympics were like the final showdown between the U.S. and the Soviet Union in the percolating nuclear fallout. The 1980 Olympic hockey tournament between the favored-to-win, four-time gold medalists Soviets and America's hodgepodge team was no different. The real-life underdog story is documented in 2004's Miracle, chronicling the Americans' preparation for the games, lead by the unorthodox, inspired coaching of college hockey coach Herb Brooks (Kurt Russell), culminating in the "Miracle on Ice" during the semi-final match. Miracle is a remarkable, triumphant look at one team's determination in a particularly contested period in history.
Southpaw (2015)
In this brutal boxing film, Jake Gyllenhaal plays undefeated champion Billy "The Great" Hope who finds his life plagued with tragedy, forcing himself to go back into the ring in order to get his life back on track. After the accidental death of his wife at the hands of another boxer who provokes Billy for a match, then suffers a breakdown and loses custody of his daughter, he's determined to win back what matters most to him -- meaning another fight is inevitable. Even in its darkest moments, Gyllenhaal carries the champion revenge tale with a knockout performance. 
Stop at Nothing: The Lance Armstrong Story (2014)
You may have heard of Lance Armstrong -- he was the cancer survivor who won seven Tour de France races in a row, and was a god among American athletes. This documentary traces his rise from a poor Texas background to the most dominant competitor in his sport, and uses his own words during investigations into his alleged drug use to show Armstrong's nasty, deceptive side. It's difficult to describe the shock and depth of Armstrong's fall to anyone who didn't experience it in real time, but this documentary pulls no punches in exposing Lance and the doping culture of professional cycling.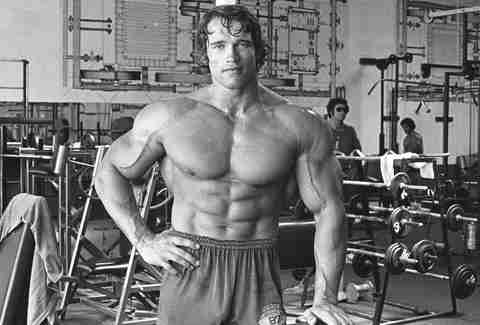 Pumping Iron (1977)
Like a nice cognac propped up by the bulging biceps of a bodybuilder, or the career of a renaissance man turned scandal-ridden former politician, Pumping Iron gets better with age. It's still unbelievable that this is Arnold Schwarzenegger -- THE Arnold Schwarzenegger! -- joking around, talking shit, smoking pot, winning bodybuilding competitions. Tracking the training of Schwarzenegger and his competition as they prepare for the 1975 Mr. Universe and Mr. Olympia competitions, Pumping Iron is simply a must watch no matter your interest in bodybuilding or Schwarzenegger.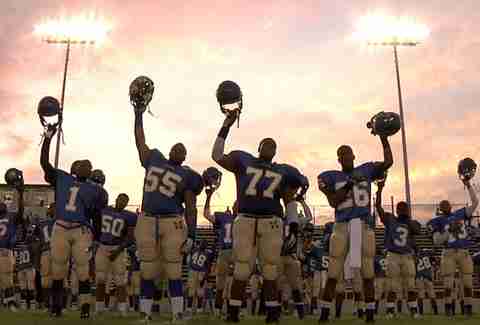 Undefeated (2011)
Winner of the Academy Award for Best Documentary Feature, Undefeated tells the remarkable story of Memphis, Tennessee's Manassas Tigers, who have a storied tradition of losing. When a new coach turns the program around and the team is on the verge of actually winning something, the tension builds as everyone wonders: Do they actually have what it takes?
The Waterboy (1998)
"Now that's what I call high-quality H2O." With those words, a thousand GIFs were born, but before the internet turned Bobby Boucher into a meme, he was just a goofy movie character partially based on "The Excited Southerner" from Adam Sandler's early comedy album. Boucher is one of Sandler's most iconic creations -- part innocent simpleton, part raging psychopath -- and this was his first massive hit, grossing over $185 million worldwide, but the film surrounding him isn't quite as memorable as the catchphrases. It's the type of movie that's more fun to quote than actually watch. Of course, that doesn't matter to superfans like Kanye West: they're too busy going Bobby Boucher to care.
42 (2013)
Jackie Robinson is a true American hero: He singlehandedly desegregated the nation's pastime, enduring with dignity the attendant abuse along the way, and continued to be an advocate for justice after his playing career finished. This biopic is mostly straightforward and conventional fare, but Robinson's story is so inspirational that it's worth a watch when you need to a reminder that some people can be heroes after all. 
Sign up here for our daily Thrillist email and subscribe here for our YouTube channel to get your fix of the best in food/drink/fun.