The Best Sports Movies on Netflix
These titles hit a home run.
Good sports movies are tough to make. The most successful have to transcend the drama and excitement inherent in sports themselves; why watch a movie about basketball when you could simply watch a great basketball game?
But when done right, sports movies offer more depth than the average game, illuminating not just the sport depicted, but the deeper part of human nature that makes us love watching other people play games. The next time you fire up Netflix, hit play on one of these titles.
Athlete A (2020)
Not to be confused with HBO's At the Heart of Gold, Athlete A is Netflix's original documentary about the US gymnastics team scandal that shook the sports world when it was uncovered in 2017. It focuses on the heinous sexual crimes committed by former team doctor Larry Nassar, who abused the young athletes for years, and dives into the work of the investigative journalists at the Indianapolis Star who first broke the story. It's unforgiving, but allows these young women a catharsis for healing.
The Battered Bastards of Baseball (2014)
Kurt Russell, who interrupted his acting career to play baseball professionally in the 1970s, is one of the highlights of this documentary about his father's legendary minor league team, the Portland Mavericks. But he's just one piece of a highly entertaining true story that chronicles the independent baseball club and its ragtag team of rejects, who seem more tailor-made for an underdog sports comedy than reality—no surprise, there's a Hollywood remake in the works.
High Flying Bird (2019)
High Flying Bird is a basketball film that has little to do with the sport itself, instead focusing on the behind-the-scenes power dynamics playing out during a lockout. At the center of the Steven Soderbergh movie—shot on an iPhone, because that's what he does now—is André Holland's Ray Burke, a sports agent trying to protect his client's interests while also disrupting a corrupt system. It's not an easy tightrope to walk, and, as you might expect, the conditions of the labor stoppage constantly change the playing field. With his iPhone mirroring the NBA's social media-heavy culture, and appearances from actual NBA stars lending the narrative heft, Soderbergh experiments with Netflix's carte blanche and produces a unique film that adds to the streaming service's growing list of critical hits.
Icarus (2017)
Fascinated by doping scandals and Lance Armstrong's fall from grace, Brian Fogel, a playwright and amateur cyclist, fell deeper into the chemical trend than he could have possibly imagined after connecting with Dr. Grigory Rodchenkov, who would reveal himself to be the director of the Russian laboratory in charge of aiding Olympic athletes. Icarus traces a line through a history of doping and Rodchenkov's whistleblowing, which ignited fury in Russia and turned him into a political target. Fogel's film is the rare science-minded doc that also plays like a Tom Clancy thriller.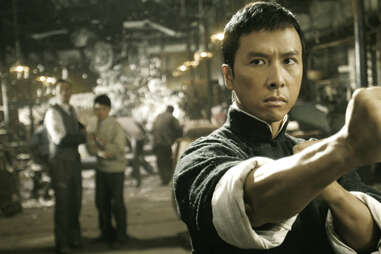 The Ip Man movies (2008, 2010, 2015, 2018, 2019)
There aren't many biopics that also pass for decent action movies. Somehow, Hong Kong action star Donnie Yen and director Wilson Yip have made three separate movies based on the life of Chinese martial arts master Yip Kai-man, who famously trained Bruce Lee—all of those are on Netflix, plus an unrelated Herman Yau entry (Ip Man: The Final Fight) and a spin-off (Master Z: Ip Man Legacy) directed by Yuen Woo-ping and produced in part by Donnie Yen. What's their trick to keeping this series fresh? Play fast and loose with the facts, up the melodrama with each film, and, when in doubt, cast Mike Tyson as an evil property developer. The third movie in the series isn't necessarily the best—that's probably still the first film—but the fights are incredible, and Yen's portrayal of the aging master still has the power to draw a few tears from even the most grizzled tough guy.
The Karate Kid (1984)
Finally looking to get into that show Cobra Kai people keep telling you about? Well, if you somehow didn't know, this is where it all starts. The saga of The Karate Kid has stretched on far longer than probably anyone could have imagined back in the 1980s when it was just one charming sports movie starring young Ralph Macchio as sensitive teenager Daniel LaRusso and the great Pat Morita as the wise trainer Mr. Miyagi. If you need a reminder that you're the best and nothing's gonna ever keep you down, here's the movie to watch. (Then fire up the three sequels, which are also currently available on Netflix.)

The Last Dance (2020)
Even if you couldn't care less about basketball, you'll be captivated by this lengthy ESPN documentary about Michael Jordan and his legacy. Yes, it's worth watching for the memes alone, but Jason Hehir also crafted an incisive portrait that examines the intensity (and, in some cases, the insanity) of a person who is deemed "the greatest," framed by the Chicago Bulls' 1997-98 season with a team full of all stars (Scottie Pippin, Dennis Rodman, etc.) in their run for the NBA title. There's a pizza conspiracy, sick dunks, and, of course, Space Jam.
Million Dollar Baby (2004)
Maggie Fitzgerald is determined to become a successful boxer. And despite her broken home life and low-income background, she knows that as long as she has the right trainer, she can make it. In Million Dollar Baby, one woman's rise and eventual fall in the boxing ring is dynamically illustrated, seeing incredible performances from Hilary Swank, Morgan Freeman, and Clint Eastwood (who also directed the film), garnering it a Best Picture win. The gritty film never holds back, while showing the humanity and perseverance of two hardened individuals, despite all odds.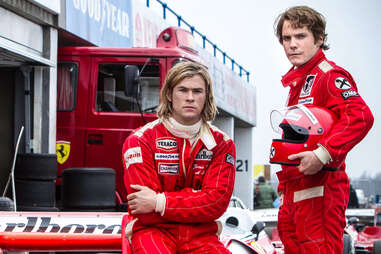 Rush (2013)
There simply aren't many really good movies about race car driving. But Rush, directed with nerve and wit by Ron Howard, is one that understands the appeal of the sport, specifically the idea of the driver as daredevil celebrity, and captures the intensity of sitting behind the wheel of a machine that might explode at any moment. Starring Chris Hemsworth and Daniel Brühl as rival Formula One drivers in the '70s, Rush boasts a sharp script from The Crown creator Peter Morgan, a vivid sense of place, and a pleasing swagger that makes it stand out in Howard's filmography.
Talladega Nights: The Ballad of Ricky Bobby (2006)
Anchorman gets most of the credit and praise as the pinnacle of Will Ferrell's blockbuster movie career, but Talladega Nights is worthy of comparison. As Ricky Bobby, the loud-mouthed, Coke-swigging, Southern-fried NASCAR driver, Ferrell critiques and celebrates a certain sector of American life. You might not want the world to be like Talladega Nights, but given where things currently stand, the Ricky Bobby version of America might be a (slight) improvement.
Team Foxcatcher (2016)
In the '80s, millionaire John du Pont was determined to help the USA Olympic Wrestling Team come home with the gold. He pumped funds into the team and even convinced world-class wrestlers Mark and Dave Schultz to join what he called "Team Foxcatcher" and live on his expansive property, which featured its own state-of-the-art training facility. In the Netflix original doc Team Foxcatcher, director Jon Greenhalgh chronicles this eccentric story, primarily through the life of Dave Schultz, and how his association with du Pont eventually cost him his life. This unsettling film features rare, original home footage that adds a chilling depth to the story told in the 2014 film Foxcatcher, starring Steve Carrell, Channing Tatum, and Mark Ruffalo as Dave Schultz.
The Unauthorized Bash Brothers Experience (2019)
This really is the unauthorized Bash Brothers experience. Famed home-run hitters Jose Canseco and Mark McGwire, who buddied up on the Oakland Athletics in the '80s, never released a rap album together—and it's totally nonsensical to imagine they might've. So The Lonely Island turned that fantasy into a short film that's everything fans of the group could want and more. Andy Samberg is Canseco, Akiva Schaffer is McGwire, and for 30 minutes they deliver a bitchin', extremely '80s visual album with songs that are actually kind of a grand slam. Just watch it: It's a home run.
Undefeated (2011)
Winner of the Academy Award for Best Documentary Feature, Undefeated tells the remarkable story of Memphis, Tennessee's Manassas Tigers, who have a storied tradition of losing. When a new coach turns the program around and the team is on the verge of actually winning something, the tension builds as everyone wonders: Do they actually have what it takes?