Watch the Late-Night Debuts of 15 Hilarious Comedians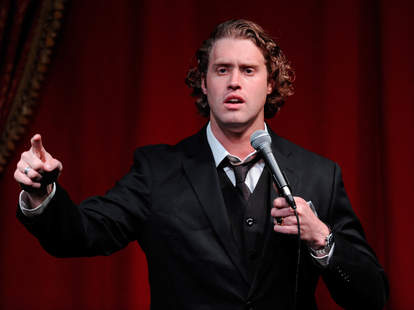 Ethan Miller/Getty Images Entertainment/Getty Images
Earlier this summer, New York comedian Joe Pera performed a set on Late Night with Seth Meyers that introduced the idiosyncratic, leisurely paced performer to a national-TV audience and quickly made the rounds on social media. His surprising, successful debut was a reminder that late-night talk shows -- even in an era in which they're increasingly reliant on celebrity-heavy segments like Carpool Karaoke to drive the conversation -- still play an important role in creating the next generation of stand-up stars.
To demonstrate how powerful a simple five-minute appearance on a popular late-night talk show has been to comedians over the years, we tracked down clips featuring the impressive debuts of Norm Macdonald, Ellen DeGeneres, T.J. Miller, and other famous and up-and-coming comedians. None of them end with someone doing that mic-drop joke, but they might as well have.
Josh Gondelman on Conan
When: 2016
Gondelman is a writer for Last Week Tonight with John Oliver, but his sweet observational comedy isn't driven by the same heated, indignant energy that makes his boss's show light up your Facebook feed every week. Instead, the 31-year-old comedian is comfortable explaining "ghosting" or making fun of his dad's retirement clothes in the voice of a neurotic, kind-hearted friend, and this clip from Conan is the perfect introduction. 
Aparna Nancherla on Conan
When: 2013
You probably already follow Aparna Nancherla on Twitter, but this set shows you should look up from your phone every once in a while, if only to catch her dry observations on depression, dog poop, and more. (The above clip is from her second appearance in 2016, check out her 2013 Conandebut here.)
Ron Funches on Conan
When: 2011
Funches wrote for Kroll Show and was a frequent guest on Chelsea Lately, but many insomniacs first got a taste for his dry wit when they caught him dispersing wisdom on Conan, which has become the go-to late-night show for great stand-up as the network shows rely on it less and less. 
T.J. Miller on Conan
When: 2010
You might not recognize the fresh-faced Silicon Valley star without his Erlich Bachman facial hair, but you'll know his voice. Bits about vomiting in public and making goofy faces at the DMV confirm Miller is just as out there as many of the bizarre characters he plays on TV.
Hannibal Buress on The Late Late Show
When: 2007
The scene-stealer from Broad City and Neighbors has been one of stand-up's funniest personalities ever since his first album My Name is Hannibal dropped in 2010, but back in 2007 he was a young comedian from Chicago looking to make a name for himself on Craig Ferguson's late-night show with jokes about checkbooks, job interviews, and buying guns at Walmart. 
Maria Bamford on The Martin Short Show
When: 1999
Yes, Martin Short had a short-lived talk show. And, yes, that's Lady Dynamite herself doing some of the voices and characters that would soon make her one of comedy's most beloved cult artists. 
Dave Chappelle on The Arsenio Hall Show
When: 1993
Watching the reclusive Chappelle's Show creator talk about superheroes in the early '90s makes me wish he was still making the rounds on late-night shows to break-down Suicide Squad -- or any other ridiculous aspect of modern American culture -- but, unless he ever makes a big mainstream comeback, I'll have to make do with funny routines like this one. (Suggestion: stick around for the McDonald's commercial in the clip above.)
Norm Macdonald on Late Night
When: 1990
Last year, Norm Macdonald performed the final stand-up set on David Letterman's Late Show, leaving many viewers at home with tears in their eyes, but his debut on the show is just as sharp and funny. 
Ellen DeGeneres on The Tonight Show
When: 1986
Even before she was the dancing god of daytime television, Degeneres had the spark of positivity to her, killing Johnny Carson's loyal audience with kindness and absurd one-liners like, "A lot of people ask me, 'Was I funny as a chid?' No, I was an accountant."
Sam Kinison on Late Night
When: 1985
If you listen to Marc Maron's WTF podcast, you've heard comedians wax poetic about the prophetic power of this preacher-turned-stand-up, but if you've never checked him out for yourself, you should really watch this clip. It's got everything: crazy voices, yelling, audience participation, and a direct address to the camera that probably scared the crap out of anyone channel-surfing in the '80s. 
Steven Wright on The Tonight Show
When: 1982
Wright's deadpan delivery is one of the most imitated voices in comedy, but, as his Carson debut shows, he always had the perfect jokes to go with his monotone. Gems like, "It's a small world, but I wouldn't want to paint it" send this crowd into hysterics with a zen-like simplicity. 
Eddie Murphy on The Tonight Show
When: 1982
Watch the way Murphy tells the crowd to "shut up" when he gets out on stage. That's the swagger that would make the break-out SNL cast member one of the biggest movie stars on the planet in only a couple years.
Garry Shandling on The Tonight Show
When: 1981
Before he was deconstructing the talk show with his innovative behind-the-scenes sitcom The Larry Sanders Show, Shandling was a favorite guest on Carson's show, even going on to guest host on occasion, and you can see why from this clever, acerbic debut. He even makes a joke about bank pens feel fresh! 
David Letterman on The Tonight Show
When: 1978
Now, David Letterman feels like the lovable, bearded grandpa of late night. But in his first appearance on Carson, a show he would later follow as the host of Late Night, he's more of the mischievous, hilarious older brother you never had.
Richard Pryor on The Ed Sullivan Show
When: 1966
You can't have a list of incredible stand-up clips without a little Richard Pryor, right? While this 1966 set finds Pryor working in a more family-friendly register than he became known for, much like George Carlin did at the beginning of his career, it still delivers big laughs and gives you a taste of his comedic voice -- just like all great debuts should. 
Sign up here for our daily Thrillist email, and get your fix of the best in food/drink/fun.