The 50 Best Netflix Original Stand-Up Comedy Specials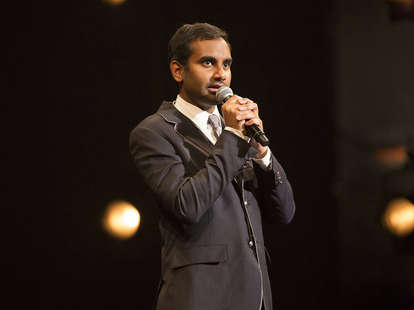 Netflix
Netflix
Comedy is a clear priority for Netflix. Since 2012, the streaming service has premiered more than 50 original stand-up shows from big-name comedians, with the likes of Amy Schumer and Trevor Noah debuting specials, plus Chris Rock and Dave Chappelle set to arrive soon.
So which Netflix originals promise comedy gold? There are some you can add to the bottom of the queue, while the majority are guaranteed to deliver an hour of laughs.
50. Theo Von, No Offense (February 26, 2016)
Good news is, Von has a Netflix original stand-up special. Bad news is that it's very poorly rated and there isn't a whole lot entertaining or redeeming about it, though it does rank higher than Ralphie May's Unruly and Mike Epps' Don't Take It Personal, which fall in at No. 51 and 52 on this top 50 rundown. Don't take it personal?
49. Anjelah Johnson, Not Fancy (October 1, 2015)
The crowd seems to enjoy her and maybe she's your cup of coffee, but this show went down like decaf. She covers Liam Neeson, Starbucks, and European travel, but like decaf, it's a poor substitute for the real thing and will leave you ready for bed.
48. Jeff Foxworthy and Larry the Cable Guy, We've Been Thinking (August 26, 2016)
Foxworthy is still solid as he delivers a dosage of redneck humor and decries America's culture of lawsuits, but Larry, who goes second, must have forgotten to take his Prilosec. It's pretty much what you'd expect from the pair, which is great if that's what you want; otherwise, not much you haven't seen before.
47. Russell Peters, Almost Famous (October 7, 2016)
Peters is a seriously funny dude and talented accent artist, but his material in this special does a disservice to his capacity as a performer. He opens by dishing some racial barbs at audience members and goes back to that well throughout. Not mad, just disappointed.
46. David Cross, Making America Great Again (August 5, 2016)
As the show's title suggests, the heavily bearded and bespectacled Cross focuses on the 2016 US presidential campaign, the rise of "ostentatious billionaire" Donald Trump, and the now-president's fantastical policy proposals. The show has its moments, but overall Cross meanders, and some of his darkness doesn't quite land with the audience.
45. Doug Benson, Doug Dynasty (November 6, 2014)
The perpetually stoned comic has some funny thoughts on dueling piano bars, the mystery of Stanley Steemer, and weed, of course. Some fan interaction: Benson reads actual audience member tweets he's received during the show and provides some funny commentary on comments on his own performance.
44. Chris Tucker, Chris Tucker Live (July 10, 2015)
This special is the stand-up equivalent of a bucket of popcorn: fun to consume but ultimately not memorable and a bit lacking in nutritional value. Points for stamina as the tireless Tucker performs for a full 90 minutes, hitting some high notes (figuratively and literally) along the way.
43. Russell Peters, Notorious (October 14, 2013)
Peters' accents and delivery are great, but this special feels unnecessarily heavy on dick jokes and audience interaction. Most of the set you'll want to see his fastball; instead, he keeps throwing junk.
42. John Hodgman, Ragnarok (June 20, 2013)
Hodgman is probably best recognized as the lowly PC in Apple's "Get a Mac" campaign, which he points out right away. In this show, Hodgman plays a deranged millionaire, and things get a bit weird in what feels less like stand-up and more like a one-man play. A really weird, amusing one-man play with musical interludes.
41. Chelsea Handler, Uganda Be Kidding Me (October 10, 2014)
Handler shows that her comedic chops are still on point in this special, which coincided with her book of the same name. She shares pictures and problems from traveling to Africa, and vents about weird ejaculation faces and unoriginal dirty talk.
40. Jimmy Carr, Funny Business (March 18, 2016)
He's vulgar, lean, and British -- basically the anti-Jim Gaffigan. It's mostly funny, but occasionally the vulgarity seems designed only to be vulgar, rather than to draw laughs. The one-liner artist shares a detailed account of his sexual proclivities and describes a condition he calls "joke Tourette's."
39. Reggie Watts, Spatial (December 6, 2016)
Wow. This one isn't your typical comedy special, and that's a good thing. The leader of James Corden's Late Late Show has a range of talents, from beatboxing to an uncanny ability to spin nonsense into art. Watt spoofs hardcore singers and sings a bit himself with some backup as the show alternates between his stand-up and sideshows, including a goofy sitcom called "Crowe's Nest." This show is probably best consumed in a states that have approved marijuana for recreational use.
38. Chris D'Elia, Incorrigible (April 17, 2015)
D'Elia has a good crowd, but probably no one has more fun than the giggly D'Elia himself. The former star of NBC's Undateable dishes on sad gigs early in his stand-up career, man's insatiable desire for sex, and malcontented Russians (with a great impersonation).
37. Cedric the Entertainer, Live from the Ville (September 16, 2016)
This is the only Netflix special to open with a 25-member marching band. Overall, it's an entertaining (get it?!) hour as the veteran comic/actor twirls riffs on Hollywood weight loss, attempting to decipher Snapchat, and Barack Obama's last days in office.
36. Bo Burnham, Make Happy (June 3, 2016)
Bo Burnham is a talented performer, and his special has, perhaps thanks to his age (he was 25 when Make Happy taped), glowing reviews on Netflix. But it's not for everyone. Heavy on the song shtick, it's a "very planned, to the word, to the gesture" show, as Burnham puts it.
35. Amy Schumer, The Leather Special (March 7, 2017)
Schumer has attracted a lot of haters as she's ascended into the upper echelon of Hollywood, which isn't surprising since she's outspoken and unfiltered. She also rose to fame because she can be really funny. This one contains the standard Schumer comedy buffet: sex, blow jobs, some bathroom jokes, and the scent of her vagina. It has its moments, but is mostly redundant.
34. Dana Carvey, Straight White Male, 60 (November 4, 2016)
The Saturday Night Live alum looks a lot like Shaggy and is just as funny as when you saw him last, whenever that was. Carvey spends a good chunk of time on fatherhood, riffing on teenagers' typically ill-conceived plans and the way they dismiss what they don't like as a "bunch of fucking bullshit."
33. Iliza Shlesinger, Confirmed Kills (September 23, 2016)
In the more recent of Shlesinger's two Netflix specials, she revisits her hilarious "party goblin" bit and dips back into dating horrors and binge-drinking tales. She finds a better stride later with material on millennials interacting with the Greatest Generation. Her earlier Freezing Hot reached a higher level.
32. Aziz Ansari, Live at Madison Square Garden (March 6, 2015)
Maybe it's the lack of intimacy that comes with playing an arena filled with 12,000 people, but this Ansari show just isn't as strong as his other Netflix special, Buried Alive. Even with B material he's an A performer on subjects like the failures of salad and vegetables, being single, and text messaging.
31. Nick Offerman, American Ham (December 12, 2014)
Offerman styled and structured his special a bit differently than the rest of the lot here. The full title of the woodworking enthusiast's show is American Ham: 10 Tips for a Prosperous Life. It's slower-paced but still entertaining, like an old wooden roller coaster.
30. Jen Kirkman, I'm Gonna Die Alone (And I Feel Fine) (May 22, 2015)
The longtime writer and on-air contributor for Chelsea Lately combines solid material and impeccable timing to explain how families ruin weddings. It's a convincing case. Kirkman also shares a story about the time she impressed a 20-year-old with her bachelorette cougar pad, and pokes fun at parents who practice toddler empowerment.
29. Jen Kirkman, Just Keep Livin'? (January 2, 2017)
Another Kirkman! One special isn't discernibly better than the other, so it made sense to stack them -- either you'll like both or neither. In this 2017 dispatch, she dissects the benefits and limitations of meditation, explores human reproduction, and reveals the inspiration for her unironic ankle tattoo.
28. Chelsea Peretti, One of the Greats (November 14, 2014)
The Brooklyn Nine-Nine star brings her act to San Francisco to discuss thwarting unwanted hugs, the difference between "vomit" and "shit" families, and encountering negative material about yourself on the internet. Peretti delivers solid observational humor punctuated with even better timing.
27. Brent Morin, I'm Brent Morin (December 1, 2015)
Absurd and entertaining material helps us forgive the Undateable actor for cracking himself up on stage. This is self-deprecating comedy at its best. Morin lays it on thick with the penis jokes, so come ready.
26. Gabriel Iglesias, I'm Sorry for What I Said When I Was Hungry (December 20, 2016)
Folks who like the cynical or blue acts may not take to Iglesias, but entertaining the entire family requires skills. Using a range of sounds and expressions, the comedian is like a one-man, live version of a Simpsons episode. His hour-and-a-half-long special is fully loaded, and reveals Arnold Schwarzenegger's secret for efficiently meeting and greeting scores of fans.
25. Craig Ferguson, I'm Here to Help (March 15, 2013)
Toward the end of a decade as the (somewhat underappreciated) host of CBS' The Late Late Show, the Scottish comic turned in a high-energy set on subjects as diverse as aura massages and Dr. Phil's medical credentials.
24. Katherine Ryan, In Trouble (February 14, 2017)
The Canada-born, UK-based comic makes being funny look effortless as she jokes about parenting, pets, what US immigration to Canada might look like, and casually flirts with an audience member.
23. Jim Gaffigan, Cinco (January 10, 2017)
Cinco might be Gaffigan's fifth-funniest special. He dials back his trademark Church Lady-like inner voice for a solid round of PG-rated comedy. But for a veteran, "fifth-funniest" is still a must-watch -- Gaffigan has set the bar very high for himself.
22. Hannibal Buress, Comedy Camisado (February 5, 2016)
Like Gaffigan's Cinco, Comedy Camisado isn't Buress at his finest (he can't take down an alleged serial rapist in every set), but a misplaced jab from Hannibal still delivers a good punch.
21. Cristela Alonzo, Lower Classy (January 24, 2017)
Netflix unveiled this special shortly after Donald Trump's inauguration so the Texas-born Mexican comic's barbs about the new president's impending wall (or fence) along the US-Mexico border stung even harder. Alonzo goes beyond politics and talks about growing up with an immigrant mother raising a family too poor to have allergies. She also hilariously hits on some frustrating problems that are now obsolete, like having to buy a CD for just one song.
20. Bill Burr, Walk Your Way Out (January 31, 2017)
Coming from the wave of 2017 specials, the extra-cynical Burr trots out a fresh parade of horrible things, including a terrible but seemingly plausible method for population control and why Joseph Stalin gets overshadowed by Adolf Hitler. It's classic Burr, full of rage, exasperation, and that kind-of-deranged look on his face.
19. Colin Quinn, The New York Story (November 18, 2016)
The history-minded Quinn takes a (figurative) tour through the city's various inhabitants and vices. It's conversational, authentic, and funny, in Quinn's typical style. Now, from a former SNL "Weekend Update" anchor to a current one...
18. Michael Che, Matters (November 25, 2016)
It's not an original observation, but Che seems more in his element when riffing from his memory bank on stage than from cue cards set up in front of the "Weekend Update" desk on Saturday Night Live. In this November 2016 special, the comic cleverly covers a range of social and political issues, like gun control, homophobia, and President Trump.
17. Patton Oswalt, Talking for Clapping (April 22, 2016)
The veteran tells the tale of the worst set he ever had, in Roanoke, Virginia in 1990. It's mostly been up from there, as the jovial-while-enraged Oswalt explains with a gift for storytelling and relatable punch lines.
16. Aziz Ansari, Buried Alive (November 1, 2013)
The observational tactician nails it in this one, compared with the funny-but-not-quite-as-great 2015 follow-up, Live at Madison Square Garden. In his frenetic, giggling, eyes-wide-open style, Ansari riffs on parents of young children, marriage, and how incredibly excited people get when they witness magic tricks.
15. Anthony Jeselnik, Thoughts and Prayers (October 16, 2015)
On stage, Jeselnik is an unapologetically offensive jerk. Maybe in real life, too -- but on stage, the hostility is so offensive it's funny. If you're down for vulgar that borders on obnoxious, look no further.
14. Demetri Martin, Live (at the Time) (August 14, 2015)
Martin is like a comic IV with a steady drip of one-liners that bounce around topics. [Drip] fajitas! [Drip] No. 1 pencils! He goes everywhere. Soft-spoken and dry, he's like a young Steven Wright who can also whip out a guitar and harmonica before it's all said and done.
13. Ali Wong, Baby Cobra (May 6, 2016)
Wong turned a baby bump into a visual gag about pregnancy, conception, and alarming moments of womanhood in this one-of-a-kind special. The comic serves it up with two helpings of crass, hitting heavily on racial topics and bodily functions.
12. Joe Rogan, Triggered (October 21, 2016)
The UFC commentator, podcaster, and former NewsRadio co-star goes back to his comedian roots for a high-impact performance that covers marijuana edibles in the form of gummy bears, time-traveling selfie takers, and the necessity of lying to children. Rogan admits early that he's not sober, although he operates in a high gear for a guy who's altered his brain chemistry.
11. Jim Jefferies, Freedumb (July 1, 2016)
The big Australian's most recent special devotes some time to what made the other one so popular: his full-throated rant against guns and gun lovers' main argument in favor of firearms. Jefferies is firm in his delivery as he also dabbles in Bill Cosby's "methodology," anti-vaxxers, and his all-around bad behavior.
10. Trevor Noah, Afraid of the Dark (February 21, 2017)
The Daily Show host's voice and dialect game is on point for this show covering New York City dwellers' extraordinary faith in traffic lights, British colonialism, and the deeply misguided male admonishment "don't be a pussy." Noah is at his best when conversing between a pair of characters he's playing, like when Nelson Mandela trains a young Barack Obama on how to speak like a future black president.
9. Tom Segura, Mostly Stories (January 8, 2016)
The pot-bellied father-to-be jokes about obese people and his aversion to becoming the "fat dad." He's cynical, curious, and a bit twisted in this 75-minute installment of stories.
8. Bill Burr, You People Are All the Same (August 16, 2012)
Yes, another Burr special (he's that good), and Netflix's first dive into the format. In a packed house at the Lincoln Theatre in Washington, DC, Burr pushes the crowd's comfort levels with topics some comedians would consider untouchable. It's like an hour-plus therapy session, but with booze instead of a co-pay.
7. Mike Birbiglia, Thank God For Jokes (February 28, 2017)
A self-described "niche" brand, Birbiglia ambles around the stage and lands almost every joke (except a cat pun) while discussing "late people" versus "on-time people," the challenge of scratching an itch while handcuffed, and how he became a Muppets villain. Birbiglia also revisits the infamous David O. Russell rant from the taping of I Heart Huckabees; in case you don't remember, he performs a portion of it.
6. John Mulaney, The Comeback Kid (November 13, 2015)
The nonthreatening, paper-thin pushover (his own characterization) gave himself a tough act to follow after his fantastic 2012 special, New in Town. But Mulaney comes through in the hour-long Comeback, a largely self-deprecating set about relationships, training his disobedient dog, and life as an office temp.
5. Iliza Shlesinger, Freezing Hot (January 23, 2015)
Shlesinger is a burst of energy throughout this hour-and-15-minute show covering everything from Pinterest to party goblins (i.e., the inner monster that orders you to do horrible and dangerous things at parties). She's fast-paced, aggressive, and doesn't waste a line.
4. Mike Birbiglia, My Girlfriend's Boyfriend (August 23, 2013)
Birbiglia breaks through in the top 10 again. In My Girlfriend's Boyfriend, Birbiglia -- who looks a lot like at least one guy in your office -- makes his suffering palpable as he describes failed relationships, awkward moments, and seeking justice vigilante-style.
3. Neal Brennan, 3 Mics (January 17, 2017)
This special from the Chappelle's Show co-creator goes by 3 Mics because Brennan uses three different microphones for three distinct types of performance: 1) "one-liners," or monologue-type material, 2) confessional-style "emotional stuff" in which he talks about depression and his relationship with his abusive father, and 3) traditional stand-up observational-type material. Brennan nails it from all three sides. It's raw, different, and brave.
2. Jim Jefferies, BARE (August 29, 2014)
The comic devotes about 20 minutes to guns and gun ownership in this special, making his case against American "bullshit arguments" in favor of keeping them. While that's the segment you've probably seen before, Jefferies offers much more social commentary that makes this special one of the best Netflix has put out.
1. Bill Burr, I'm Sorry You Feel That Way (December 5, 2014)
This is the definitive Bill Burr Netflix special. Reaching peak cynicism in a black-and-white picture, Burr covers political correctness, violence, and letting go of religion… like a curling stone.
Sign up here for our daily Thrillist email, and get your fix of the best in food/drink/fun.