The Best New Streaming Shows to Binge Right Now
When you're sitting around wondering what to watch next, you're likely faced with the classic paradox of choice: There are so many options you become paralyzed. What to do? With all the new shows and movies that arrive on various streaming platforms each week, it's nearly impossible to sift through which are worth a good old-fashioned binge, and which you can skip.
So we're narrowing down your options for you, no matter what streaming service you prefer. When you're sitting at home with family or friends, and need something good to turn on and take the pressure off things like, you know, conversation and human interaction, consider the following options. There's something for everyone.
Barry (2018- )
Stefon is nowhere to be found in this dramedy created by Bill Hader and Silicon Valley showrunner Alec Berg in which the SNL alum plays an assassin who realizes he wants to be an actor. After a riveting first season, the second installment firmly establishes Barry as one of TV's best, most inventive shows.
Where to watch it: HBO Go and HBO NOW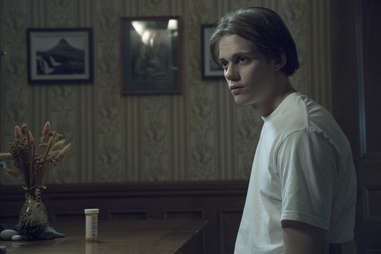 Castle Rock (2018- )
Hulu's original Stephen King-inspired series tells the story of Henry Deaver (Andre Holland), a lawyer who returns to his childhood home after a mysterious prisoner, named "The Kid" (Bill Skarsgård), is found trapped in a cage underground. His return to the city sets off a chain of events, unleashing clues to the town's sordid past, which also brings Deaver's own personal demons to the surface. Castle Rock is stuffed with King references galore, bringing his canon of work to a singular creep show. You can catch up on the first eight episodes of Season 2 before the finale airs December 11.
Where to watch it: Hulu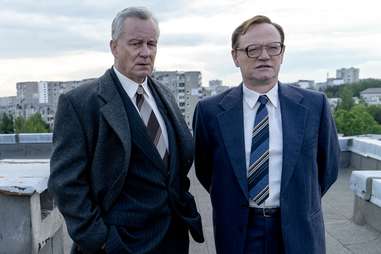 Chernobyl (2019)
Hangover Part II (and Part III!) writer Craig Mazin turned one of the most devastating man-made catastrophes in history into a disaster movie/crime-thriller hybrid. Fantastically grim performances from Jared Harris, Stellan Skarsgård, and Emily Watson amp up the drama of a show the Russians aren't too happy about. With just five riveting episodes to consume, you'll find it easy to plow through Chernobyl during a long weekend.
Where to watch it: HBO Go and HBO Now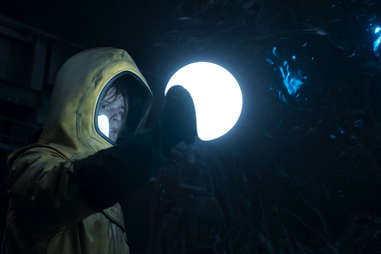 Dark (2017- )
Dark, which follows multiple characters from several families in the present, past and future after a teen named Jonas travels through time, will scratch any discerning sci-fi fan's continual need for philosophical and mind-bending time-travel narratives. The German-language program -- your future self implores you to turn off the horrible dubbing and watch with subtitles -- is even more addictive and convoluted in Season 2, essentially serving as the Back to the Future Part II to Season 1's Back to the Future, only without the hoverboards.
Where to watch it: Netflix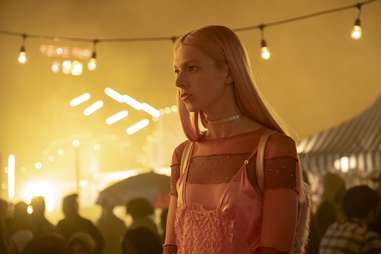 Euphoria (2019- )
The teens are at it again! HBO's shock-heavy show takes on everything you know and love about teenagers, from excessive emotions to drugs to relationships to blackmailing classmates with the copies of nudes you printed out. It's just like you remember. Sure, Euphoria is pulpy, but former Disney star Zendaya shows off her developing acting chops as Rue, a recovering addict struggling with sobriety, sexuality, and the over-the-top backstabbing machinations that apparently happen all the time in contemporary high school. It's addictive, but in a good way.
Where to watch it: HBO Go and HBO Now
Fleabag (2016-2019)
Phoebe Waller-Bridge's one-woman-play-turned-six-part-comedy follows the titular character as she wrestles with intimacy and recovers from a tragedy. The Brit import comes packed with dark surprises, Francis Underwood-esque asides, and side-splitting laughs. It's kind of like watching an Annie Hall character trying to survive in London, and its recent critically acclaimed second season builds on what made the initial run great while also finding new notes to hit. Like the Hot Priest, for example.
Where to watch it: Amazon Prime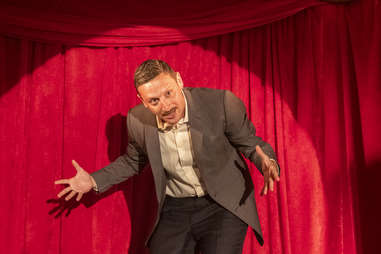 I Think You Should Leave with Tim Robinson (2019- )
I Think You Should Leave is easily the most bingeable series on this list, with just six sketch-based episodes clocking in at fewer than 20 minutes each. It's also really fucking funny. The brilliance of ITYSL comes from its ability to turn mundane, everyday situations -- like a birthday party or sitting on an airplane -- into absurdist masterpieces peppered with poop and fart jokes. It's a show you can complete in less time than it takes to watch a movie, but the sketches are so layered that you'll want to go back and watch again and again.
Where to watch it: Netflix
Killing Eve (2018- )
The spy-thriller-comedy-romance from Phoebe Waller-Bridge (Fleabag) was one of the best new tv shows of 2018, for good reason. Exploring themes of obsession in a cat-and-mouse pan-European setting, Sandra Oh's Eve is an American spy dead set on tracking down Villanelle, a sociopath assassin who develops an oddly touching relationship with Eve as they try to maybe kill each other, maybe fall in love. It's weird, messy, but most of all fun, and Season 2 continued to explore their relationship in surprising ways. All while making you wonder who's going to die next.
Where to watch it: Hulu (Season 1); BBCA streaming app (Season 2)

Mindhunter (2017- )
Mindhunter's core triad of self-assured FBI wunderkind Holden Ford (Jonathan Groff); Bill Tench (Holt McCallany), Holden's mentor and babysitter; and psychologist-turned-consultant Dr. Wendy Carr (Anna Torv) attempt to establish a division of the Bureau tasked with solving a "new kind of crime" that lacks what most law enforcers think of as rational motives. In short, they're inventing what will become the famous "FBI profiler" department, responsible for ferreting out criminal sociopaths. Over two seasons, director David Fincher has balanced tense jailhouse interview scenes with conventions of cop thrillers in a nuanced, tautly directed depiction of life at humanity's extreme fringes. It's the rare show that's both bingeable and deliberate, smart yet entertaining. With any luck, we'll get five whole seasons of it.
Where to watch it: Netflix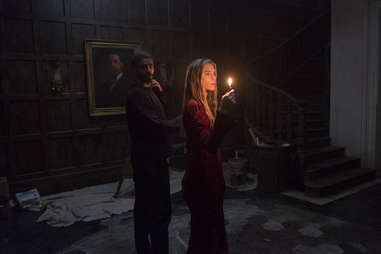 The OA (2016- )
Season 1 of The OA was a wild ride, alternating between hokiness and brilliance in nearly equal measure -- but it was clearly trying something, and that was what made it so bingeable. Season 2, however, is a revelation, and puts The OA in rare company of bonkers TV shows that somehow make sense on an emotional level. Created by Brit Marling and Zal Batmanglij, the filmmakers behind mind-bending thrillers like The Sound of My Voice and The East, the show follows a young blind woman named Prairie Johnson (Marling) who returns to her sleepy hometown with her eyesight mysteriously restored after she disappeared for seven years. Things only get stranger as we ping-pong between her story in the present, which finds her mentoring a group of rowdy teenagers, and flashbacks to her time away, which involves an underground prison run by Jason Isaacs's evil Dr. Hap. Yes, there's interpretive dancing, too. Most of this shouldn't work -- and some of it doesn't -- but Marling and Batmanglij attack this wonky material with so much passion and sincerity that it's hard not to get swept up in their brain-scrambling vision. Long live Old Night.
Where to watch it: Netflix
Russian Doll (2019- )
It sounds like an episodic spin on Groundhog Day: A cynical New Yorker (Natasha Lyonne) attempts to figure out why she keeps dying and being forced to relive her 36th birthday over and over. Co-executive producers Amy Poehler and Leslye Headland joined Lyonne to make a hit out of one of the sharpest dark comedies of 2019, finally answering the timeless question of what happens if you repeatedly die and repeatedly wake up in an Alphabet City bathroom with a strange door during a party with Harry Nilsson playing. Lyonne's a gas to watch, as she falls down stairwells and cracks wise about her dilemma, but what starts off seeming like a humorous episode of Black Mirror turns into a profound and affecting meditation on trauma.
Where to watch it: Netflix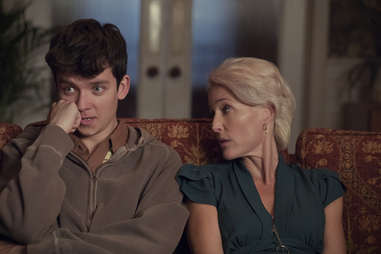 Creator Laurie Nunn's British teen dramedy about Otis (Asa Butterfield), the son of a sex therapist who somewhat unwittingly parlays his secondhand sexual knowledge into a successful business counseling fellow students, took Netflix subscribers by storm when it premiered in January 2019. A cast anchored by Butterfield, Emma Mackey (who plays Maeve), and Gillian Anderson (as Otis' mom, Jean) adds nuance to a story that could gone low and focused merely on the sex, but opted for a more thoughtful route. The incredible chemistry between all of the cast members and an undeniable John Hughes vibe (think Pretty in Pink) elevate this easily binged show above a sea of mediocre teen angst programs.
Where to watch it: Netflix
Succession (2018- )
Roystar Wayco is a Fox-analogous titan of the entertainment industry in Succession, and the moneyed family behind the media conglomerate is a fucking mess. Unlike the main players in Showtime's Billions, a roster stacked with Machiavellian geniuses, the Roys are mostly so, so bad at being in charge -- in just 20 episodes over two seasons, the Roy clan has become one of the most compelling, hilarious TV families ever, and can even rival the Bluths and the Lannisters for most brutally dysfunctional. After the aging patriarch Logan (Brian Cox) suffers from an incapacitating stroke, the siblings -- Kendall (Jeremy Strong), Shiv (Sarah Snook), Roman (Kieran Culkin), and Connor (Alan Ruck) -- conspire against each other, waging buffoonish internal allyship campaigns for control over the company. Among the constant infighting and callous mega-wealthy antics in the show is an innate comedic timing that makes, say, covering up grave corporate negligence one big goof. When our luminary of integrity is Greg (Nicholas Braun), the perpetually stoned cousin who pukes through a mascot's eyehole, it's safe to assume the moral compass is definitely off-kilter here.
Where to watch it: HBO Go and HBO NOW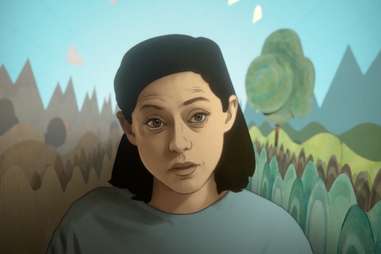 It's rare to see Rotoscope animation outside of a handful of Richard Linklater movies, and Amazon's Undone is the first episodic TV series to utilize the surreal and trippy technique. It's more than a technological feat, though; the Kate Purdy and Raphael Bob-Waksberg-created series also tells a wildly compelling, funny, and heartbreaking mystery-box, reality-questioning story. After a horrible car accident puts Alma Winograd-Diaz (Rosa Salazar) into a coma, she wakes with the ability to communicate with her quantum physicist father, Jacob (Bob Odenkirk), who says he was murdered because of his research into time travel. Alma's younger sister Becca (Angelique Cabral), mother Camila (Constance Marie), and boyfriend Sam (Siddharth Dhananjay) all think she's losing it while she secretly experiments with bending time and dimension under her dad's guidance. Each 20-something minute episode is stuffed with an emotional spectrum that's draining, but Undone is so good that it's hard to stop watching until the very end.
Where to watch it: Amazon Prime
Follow the Thrillist Entertainment editors on Twitter: @ThrillistEnt.