When you're sitting around wondering what to watch next, you're likely faced with the classic paradox of choice: There are so many options you become paralyzed. What to do? With all the new shows and movies that arrive on various streaming platforms each week, it's nearly impossible to sift through which are worth a good old-fashioned binge, and which you can skip. 
So we're narrowing down your options for you, no matter what streaming service you prefer. When you're sitting at home with family or friends, and need something good to turn on and take the pressure off things like, you know, conversation and human interaction, consider the following options. There's something for everyone. 
Recommended Video
Big Boi From OutKast Introduces Cliff to Atlanta's Food Scene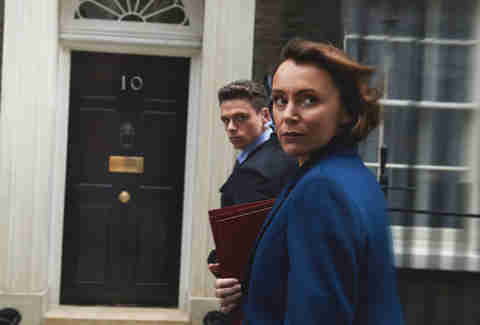 Bodyguard (2018- )
As one might expect, the Royalty and Specialist Protection Branch of London's police service handles a number of dangerous missions. Following officer David Budd, portrayed by Richard Madden of Games of Thrones fame, Bodyguard documents this high-risk job, specifically in the protection of the U.K.'s Home Secretary (Keeley Hawes). In the Netflix original, although Budd must devote himself to the politician's protection, he is still reeling from PTSD after serving in Afghanistan, and feels conflicted working for a major proponent of the war. A political thriller at its finest, Bodyguard illustrates the various costs at play in Budd's role, from his personal views to potential attacks and developing attraction for a woman whose policies he cannot stand -- never failing to leave out the drama over the course of six easily bingeable episodes.
Where to watch it: Netflix
Castle Rock (2018- )
Hulu's new original Stephen King-inspired series tells the story of Henry Deaver (Andre Holland), a lawyer who returns to his childhood home after a mysterious prisoner, named "The Kid" (Bill Skarsgård), is found trapped in a cage underground. His return to the city sets off a chain of events, unleashing clues to the town's sordid past, which also brings Deaver's own personal demons to the surface. Castle Rock is stuffed with King references galore, bringing his canon of work to a singular creep show.
Where to watch it: Hulu
The End of the F***ing World (2018- )
This isn't your average teen drama. The show, adapted from the popular Charles Forsman graphic novel of the same name, follows a 17-year-old named James as he tries to become the psychopath he thinks he is. Though it sounds a little bit like Dexter Jr., it's really more of a fucked-up love story sans the cliché six-packs and twee romances -- something somewhere between Juno and Twin Peaks. In this series' twisted world, to murder means to mature. It's dark and creepy, but it also offers enough humor and tenderness to make what turns into a chaotic road trip endearing. Or, as showrunner Jonathan Entwistle told us, "It's an angsty teen story, but with an adult execution" -- the word "execution," in this case, carrying particular weight. Binge it.
Where to watch it: Netflix
Hilda (2018- )
Is Netflix's Hilda meant for children? Technically yes, but in the same way that many of the best cartoons of the past decade, like Adventure Time, Steven Universe, and Over the Garden Wall, all are. The series, based on part of the Eisner Award-nominated comics by Luke Pearson, appeals to a multi-generational audience who gravitate to its marbling of humor and emotional depth as Hilda, her mother Johanna, and her incredibly cute deerfox Twig adjust to city life after their pastoral mountain cottage was accidentally razed by the unpredictable hazards of dwelling in solitude in a magical, whimsical Scandinavian-type forest. Hilda, in particular, has trouble with the change in pace at first, having grown up forming relationships with strange, fantastical woodland creatures -- like a rickety wooden guy who delivers... wood, and a society of small, invisible elves who are fond of bureaucracy and, especially, paperwork. It's maybe the twee-est cartoon of the year, yet despite a blip when the Grimes-written theme song emerged online, the hype, sadly, never seemed to swell into a real wave. 
Where to watch it: Netflix
Homecoming (2018- )
Adapted from the popular podcast of the same name, Homecoming tracks Heidi Bergman (Julia Roberts) as she tries to piece together her work as a therapist at a treatment center for veterans with PTSD. Over 10 fast-paced episodes (each one clocks in at around half an hour), the mystery of what a government contractor actually intends to do with the veterans unfolds in lockstep with Bergman's own investigation into the missing memories of her previous job. It's the rare streaming show that doesn't feel bloated, and leaves plenty of room for new storylines to develop in season 2. 
Where to watch it: Amazon Prime
 
The Innocent Man (2018)
Just when you thought there couldn't possibly be more true-crime docuseries to binge, along comes The Innocent Man as a reminder that American justice is profoundly fucked up, and will likely reproduce infinitely similar travesties in the years to come. Based on John Grisham's nonfiction novel of the same name, the six-episode series tracks the murders of two women in Ada, Oklahoma, a small, tightly knit community desperate to find the killers. When four men are convicted, it's far from the end of the story, and like Making a Murderer before it, The Innocent Man seems poised to be a breakout success over the holidays for Netflix. 
Where to watch it: Netflix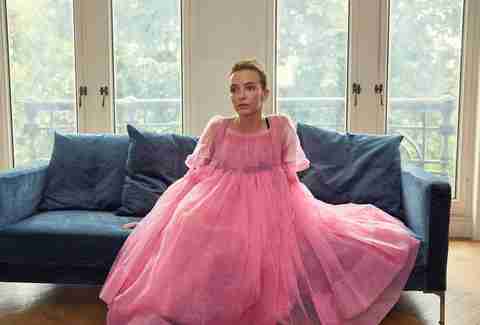 Killing Eve (2018- )
The spy-thriller-comedy-romance from Phoebe Waller-Bridge (Fleabag) is one of the best tv shows of 2018, for good reason. Exploring themes of obsession in a cat-and-mouse pan-European setting, Sandra Oh's Eve is an American spy dead set on tracking down Villanelle, a sociopath assassin who develops an oddly touching relationship with Eve as they try to maybe kill each other, maybe fall in love. It's weird, messy, but most of all fun, a combination that felt rare and refreshing in a year where weird and messy often portended bad results. 
Where to watch it: Hulu
 
My Brilliant Friend (2018- )
HBO's first foray into foreign language original television adapts the crazy-popular first novel in Elena Ferrante's Neapolitan series, and the result is a fairly faithful reproduction of the early friendship between Lila and Lenu. While it lacks some of the emotional punch of the novels, director Saverio Costanzo handled the daunting task of reproducing Ferrante's vivid language with enough success to make this an engaging watch. Whether you've read the novel or not, the television version My Brilliant Friend succeeds in recreating a sense of time and place that evoke the tension and larger forces ruling the residents of a working class Naples neighborhood. It's well worth a binge. 
Where to watch it: HBO Go and HBO NOW
Blue Planet 2 and its related shows (2017-2018)
Planet Earth changed the way we look at the world around us, but in the decade-plus since it originally aired, the BBC program has given life to numerous sequels and spinoffs. The most potent and immediate of these is Blue Planet 2, which explores an environment humans have little access to and less knowledge of, yet which regulates all kinds of essential environmental processes on earth. Whether you're in it for the dolphins or the disturbing images of plastics pollution, Blue Planet 2 offers an in-depth look at the depths below. The related series (Planet Earth, The Blue Planet, The Hunt, Life, Africa, Frozen Planet) are on Netflix too, but you'll want to catch the latest installment that tells the story of our remarkable home, backed by David Attenborough's studious narration.
Where to watch it: Netflix
The Romanoffs (2018)
Matthew Weiner's much anticipated follow-up to his near perfect Mad Men wasn't the frothy, fun exploration into why so many royal pretenders are running around that we expected. It partly is that, but more so it's a darkly mean study of the worst kind of people, the kind who lie and manipulate in their desperation to give their dull existences some impressive, esoteric meaning. The anthology series, with episodes rolling out weekly, rather than all at once like most streaming shows, isn't for everyone, and it's made more than a few missteps in attempting to tackle timely issues (e.g., one episode revolving around false harassment accusations left more than a few viewers with a sour taste in their mouths), but if you're ever in the mood to watch some stylish, horrible rich people make utter fools of themselves in court juries, on the sets of bad TV shows, and onboard a ridiculously ostentatious Russian Empire-themed cruise, this one's for you.
Where to watch it: Amazon Prime
Succession (2018- )
Roystar Wayco is a Fox-analogous titan of the entertainment industry in Succession, and the moneyed family behind the media conglomerate is a fucking mess. Unlike the main players in Showtime's Billions, a roster stacked with Machiavellian geniuses, the Roys are mostly so, so bad at being in charge. After the aging patriarch Logan (Brian Cox) suffers from an incapacitating stroke, the siblings -- Kendall (Jeremy Strong), Shiv (Sarah Snook), Roman (Kieran Culkin), and Connor (Alan Ruck) -- conspire against each other, waging buffoonish internal allyship campaigns for control over the company. Among the constant infighting and callous mega-wealthy antics in the show is an innate comedic timing that makes, say, covering up grave corporate negligence one big goof. Other things that happened in Succession's first and only season thus far: Shiv went to work for a leftist opposition presidential candidate, a relapsed Kendall did a Chappaquiddick, Roman basically OK'd the launch of a malfunctioning rocket ship into space, Shiv's fiancé Tom (a very funny Matthew Macfadyen) did a sex act at his bachelor party that may or may not exist in real life. When our luminary of integrity is Greg (Nicholas Braun), the perpetually stoned cousin who pukes through a mascot's eyehole, it's safe to assume the moral compass is definitely off-kilter here. (Love you tho, Greg.) Did the world really need another TV show about shitty rich white people? Probably not, but Succession creator Adam McKay (The Big Short) and showrunner Jesse Armstrong (Peep Show) made the case that there's room for one more.
Where to watch it: HBO Go and HBO NOW
A Very English Scandal (2018)
There's a chance you might have slept on it, but 2018 was secretly the year of Hugh Grant. His turn as a villainous, hammy actor in Paddington 2 is genuinely award-worthy, but he followed that performance up with arguably an even bigger triumph: A Very English Scandal. The miniseries, which is streamable on Amazon in the U.S., dramatizes a notorious event in British political history that's likely obscure to Yanks. Grant plays Jeremy Thorpe, a Member of Parliament whose affair with a young man named Norman Scott (Ben Whishaw) in the early 1960s spirals into acrimony when Norman refuses to keep quiet about their relationship after they break up. Increasingly feeling that his career might be threatened by Norman's persistence, Jeremy eventually considers murder. It's a scenario that would seem outlandish if it hadn't actually taken place, but Grant's and Whishaw's performances make this three-episode drama must-see viewing. Grant, especially, seems to have hit a new level -- the natural charm that allowed him to coast through so many rom-coms has curdled into something sinister. 
Where to watch it: Amazon Prime
Sign up here for our daily Thrillist email and subscribe here for our YouTube channel to get your fix of the best in food/drink/fun.