8 Movies That Made the Suburbs Look Terrifying As Hell
Netflix's latest streaming series, Santa Clarita Diet, features Drew Barrymore as a suburban housewife-turned-zombie cannibal and Timothy Olyphant as her loyal husband. We thought it was a fun, gory ride -- and an odd look at the underbelly of McMansion neighborhoods.
Santa Clarita Diet joins a long history of suburban horror stories. From Rod Serling to Wes Craven, horror maestros have long used the residential zones as a playground to toy with isolation, paranoia, and outright monstrosity. Here are some of the best times when the squeaky-clean setting was put to good use.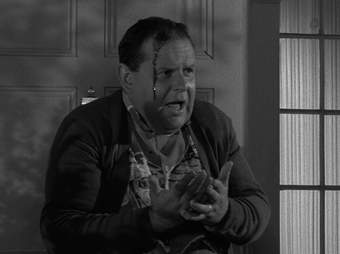 CBS
The Twilight Zone, "The Monsters Are Due on Maple Street"
Release date: March 4, 1960
Why it's terrifying: This iconic Season 1 episode, about the residents of a quiet suburban street who ignite panic during a power outage, marries the threat of alien invasion with real-world class issues. "Monsters," in classic Rod Serling form, is a parable for fear of one's neighbor and social disorder in the face of outside threat, otherwise known as the Cold War. Serling would mine similar themes in the Season 3 episode, "The Shelter."  
Where to watch it: Stream on Netflix
Columbia Pictures
The Stepford Wives
Release date: February 12, 1975
Why it's terrifying: This adaptation of an Ira Levin novel stars The Graduate's Katharine Ross as Joanna, a housewife who moves with her husband and kids to an idyllic Connecticut suburb. Picking up on the strange behavior of the neighborhood's housewives -- always happy, always shiny, always serviceable – Joanna discovers the community is swapping out wives for mindless robot duplicates, and she's next.
Feminists of the day deemed The Stepford Wives "anti-woman" thanks to a bleak conclusion to Joanna's investigation. Though the 2004 remake offers a more subversive ending, the 1975 original remains a relic of its time, with the suburban lifestyle as a prison and punishment for free-thinking women.   
Where to watch it: Stream on YouTube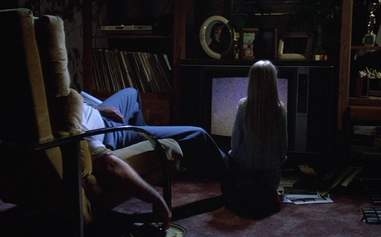 MGM
Poltergeist
Release date: June 4, 1982
Why it's terrifying: Steven Spielberg served up the spooks in the summer of 1982 with two very different movies about life in suburbia, released just one week apart: E.T.: The Extra-Terrestrial, examining the tender side of childhood isolation after divorce, and Poltergeist, which externalizes those themes (and adds a bunch of dead corpses and sticky red ectoplasm). JoBeth Williams and Craig T. Nelson play The Freelings aka The Couple You'd Most Like to Smoke Weed With, who live with their three children in Cuesta Verde, a planned community somewhere in California. All is well until their daughter Carol Anne is abducted by ghosts and stranded in a parallel realm.
Poltergeist expounds Reagan-era paranoia to great effect: Technology is a portal to darkness, smoking marijuana will curse your family, and the economic safety of suburban living is a reminder that your life is doomed to boring regularity from here on out.
Where to watch it: Rent on Amazon or iTunes
Universal Pictures
The 'Burbs  
Release date: February 17, 1989
Why it's terrifying: The late '80s and early '90s really ramped up the "literal horror in the suburbs" trend, with director Joe Dante at the forefront. 1984's Gremlins and 1989's The 'Burbs both center on idyllic communities torn open by something weird. In the case of Gremlins, it's furry little monsters. In The 'Burbs, it's a murderous cult that Tom Hanks and fellow neighbors attempt to unveil. The latter is an uproarious, underrated movie with a devilishly good performance by Hanks. It's also a linchpin movie in Dante's filmography, one that ties together his broad-stroke condemnation of suburbia and his trademark dark wit.
Where to watch it: Stream on Hulu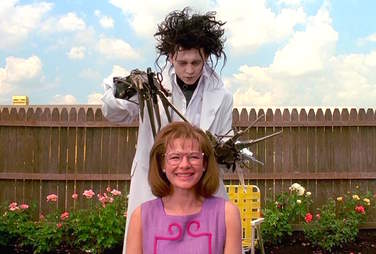 20th Century Fox
Edward Scissorhands
Release date: December 6, 1990
Why it's terrifying: Tim Burton's pastel fairytale is a classic for a reason. A breakout for Weird Johnny Depp (after years as a teen icon on 21 Jump Street), Scissorhands infused cookie-cutter Americana with a strong pour of German Expressionism. Depp is Edward, the solitary, Frankenstein-like creation of a mad scientist who has scissors in place of hands. He's salvaged from the depths of his dead master's castle by a sweet Avon lady (a great Dianne Wiest) and transplanted into a suburban lifestyle where he doesn't quite fit in. Though initially embraced, the neighborhood later turns on him, demonstrating that age-old "fear of the other" still apparent in white American communities.  
Where to watch it: Rent on Amazon or iTunes
Universal Pictures
The People Under the Stairs
Release date: November 1, 1991
Why it's terrifying: Wes Craven is the granddaddy of scary suburbia. His 1984 slasher flick A Nightmare on Elm Street is the classic example, but the far more interesting The People Under the Stairs deserves a shout-out for the ballsy way it confronts race relations and child abuse. When a young black man attempts to rob the home of a wealthy white couple (played by Twin Peaks' Everett McGill and Wendy Robie), he's instead initiated into their deranged lifestyle -- including a basement full of cannibal children and a daughter they regularly abuse into silence. Like other Craven works, The People Under the Stairs is about the deception of wealth and whiteness, and the evil things that lurk behind even the prettiest doors.
Where to watch it: Rent on Amazon or iTunes
Fox
The X-Files, "Arcadia"
Release date: March 7, 1999
Why it's terrifying: This beloved episode of The X-Files wrings comedy out of the trope it's parodying. Mulder and Scully go undercover as Rob and Laura Petrie – names they borrow from The Dick Van Dyke Show – and play house in a planned community called "The Falls of Arcadia." Yes, this is the episode the shippers love, and yes, it's one with the poop monster. It's a great little nugget of domesticity juxtaposed with the absolute fucked-upness of stringent community rules and Tibetan sewer demons. It doesn't add much to the genre, but it's a whole lot of fun. Plus, you see Scully in a face mask.
Where to watch it: Stream on Netflix or FOX NOW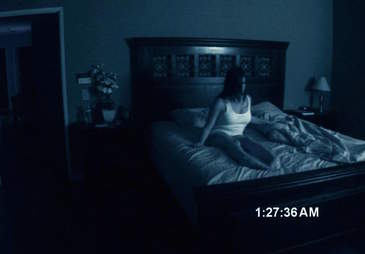 Paramount Pictures
Paranormal Activity
Release date: September 25, 2009
Why it's terrifying: After American Beauty and The Virgin Suicides in 1999, the early 2000s shifted to a cerebral take on haunted suburbia. The scares were less literal and more societal. But 2009's megahit Paranormal Activity was a return to the Poltergeist-like realm of horror in unexpected places. The film, about a demonic entity terrorizing a young couple, added a new layer to an old trend. Peeping Tom technology, suddenly everywhere, captures both raucous spirits and the corrosion of a relationship. A full decade after The Blair Witch Project, it breathed life into the found-footage genre, and restored suburban America to its rightful, frightful place.
Where to watch it: Rent on Amazon or iTunes
Sign up here for our daily Thrillist email, and get your fix of the best in food/drink/fun.
Lindsey Romain is a writer and editor living in Chicago. She covers politics for
Teen Vogue
, and has also appeared in Vulture, Birth.Movies.Death, and more. Follow her on Twitter @lindseyromain.