11 Summer Shows You May Have Missed But Need to Watch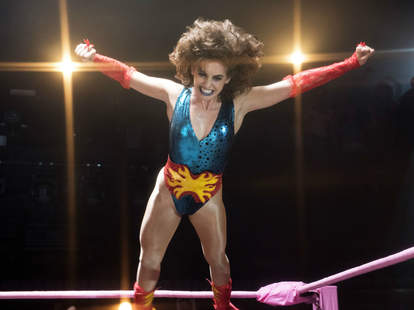 For many, "summer television" includes streaming old episodes of 30 Rock to kill some late-night hours, whatever local news you flip on before heading off to the beach or the almighty Game of Thrones -- time between Sunday episodes is spent wondering if, you know, Jon Snow and Daenerys are really gonna hook-up. It's all-consuming.
Our summer-hour TV habits aren't keeping the major networks and streaming services down. The past few months have seen a handful of quality, original programs hit the small screen that are worth your damn time. Here's what to catch up on if and when you're looking to beat the heat.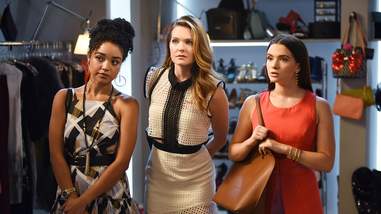 Freeform
The Bold Type
Anyone praying for the second coming of The O.C. needs to tune into Freeform's latest twenty-something melodrama. Following three young women as they enter the ferocious world of a fictitious, Cosmopolitan-like magazine, The Bold Type pairs the usual doses of sex, relationships, making-it hustling, and FML moments with recognizably 2017 anxiety, like fights for social media independence and struggling to have a political voice in a sea of Twitter-criers. Millennials, say hello to Gen X.
Where to watch it: Stream on Hulu or Freeform's app
NBC
The Carmichael Show
In this NBC show's first two seasons, comedian Jerrod Carmichael used the traditional multi-cam sitcom format to tackle topics that go unexplored on most shows: the Black Lives Matter movement, transgender issues, and more. The third and final season continued the trend this summer, with Carmichael and his writing team leaning on the deeply funny cast members (see: Get Out's Lil Rel Howery and Girl Trip's Tiffany Haddish to take aim at even more societal ills. But instead of feeling like an unwanted Facebook post from your crazy uncle, it's like a real conversation.
Where to watch it: Stream on Hulu
A24/Amazon Studios
Comrade Detective
Stoking political reactions from pundits on every side of the spectrum, Channing Tatum and Joseph Gordon-Levitt's new series lampoons the buddy cop format while throwing back to Romanian propaganda of the 1980s. The duo don't actually appear in the "recently unearthed" series; instead, they lend their voices to a dub track for a pair of Romanian actors doing the detective work. The result is wildly inventive and sporadically hilarious -- which is enough for us to endorse the first six episodes.
Where to watch it: Stream on Amazon Prime Video
Hulu
Difficult People
Billy Eichner and Julie Klausner are mean-spirited and petty, and live by the "no hugging, no learning" Seinfeld-ian code, which makes them our favorite kind of platonic power couple. But with every exploitative adventure anchored by their best friendship, the jokes they make at the expense of others (interns, New Jerseyans, Method Man) seem downright sympathetic. An episode in this new season, which began earlier in August, is the dismantlement of Woody Allen comedies that we need in these trying times. It's intellectual comedy for when you still want to veg out and dial down your brain activity.
Where to watch it: Stream on Hulu
Netflix
GLOW
It's odd that it took so long for someone to make a fun comedy about professional wrestling. Where Darren Aronofsky's The Wrestler turned the plight of a washed-up grappler into a Sisyphean struggle in spandex, GLOW, which was inspired by a real life wrestling women's wrestling promotion from the '80s, takes a sunnier but still no-holds-barred approach. Community's Alison Brie excels as an actress who gets cast by a washed-up filmmaker (Marc Maron) to play the villain in the rag-tag operation, but, like producer Jenji Kohan's Orange is the New Black, it's the side characters, like Britney Young's second-generation brawler Machu Picchu, who really help this show get over. It's one of the few pieces of pop culture that actually captures this "fake" sport's very real appeal.
Where to watch it: Stream on Netflix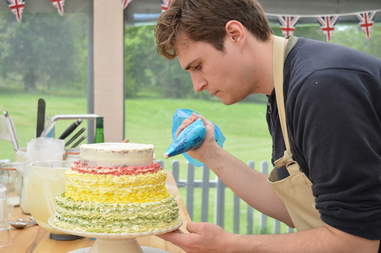 PBS/BBC
The Great British Bake Off
The show's seventh season -- and the final to feature hosts Mel Giedroyc, Sue Perkins, and judge Mary Berry thanks to well-documented, show-business hoopla -- gathers a new group of subdued, British personalities under the tent for another around of elaborate, knowledge-testing bakes. The season is cooked to perfection, pitting the contestants against classic dishes and sugary highlights from Berry's cookie-cutter childhood while allowing the diverse group to innovate from within (although it's clear the 82-year-old Berry does not have a palette for such "exotic" flavors as matcha). With Paul Hollywood as ruthless as ever, and the contestants upending expectations at every turn, The Great British Bake Off was one hell of a way to go out on the OG series.
Where to watch it: Stream on the PBS app
Netflix
Ozark
It's easy to see why early critics compared Ozark to Breaking Bad: Drug money and morally gray characters abound in both. But as Marty Byrde -- a brilliant Chicago-based financial advisor who moves his family to Missouri's Ozarks on a life-or-death deadline to wash truck loads of cash for Mexico's second biggest drug cartel -- Jason Bateman never goes full Heisenberg. In fact, his character's main motivation for doing anything is to protect his family. Along with Bateman, Laura Linney (Marty's wife), Jason Butler Harner (an undercover fed), and Julia Garner (one sketchy family's substitute don) deliver particularly memorable turns to help make this slow-burn work wonders over its tense 10-plus hour runtime. The Byrde saga might not yet be as good as its spiritual forefather, but it's better than a lot of its cousins (even Bloodline!). It'd be a mistake to not give it a shot.
Where to watch it: Stream on Netflix
The CW
Riverdale
While not technically a summer show, Riverdale fever hit a high when the series appeared on Netflix earlier this season -- so you need to get on it. A modern CW take on the yuk-yuk teen comic Archie may sound like a shot of arsenic to prestige TV binge-watchers, but with a murder mystery undercurrent, soap drama worthy of The O.C., and a sheen that looks like Twin Peaks by way of 300, Riverdale rises above everything you think you should be watching. Each young actor on the show is a discovery (OK, maybe not Arch himself, but this is why the comics always emphasized "& Friends") and the fully packed episodes earn all the twists and turns. Watch Riverdale and you'll be sifting through grocery store comic shelves in a week.
Where to watch it: Stream on Netflix and The CW app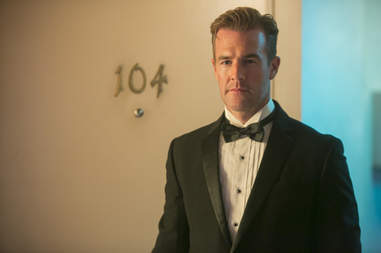 HBO
Room 104
Mark and Jay Duplass (Togetherness) have returned to HBO with something truly unexpected -- a mostly mysterious, sometimes disturbing, sometimes darkly funny anthology about a single hotel room. The visitors (a troubled babysitter, an odd couple, a strange cult) are unrelated, so the episodes play like 30-minute short films. The first three, out now on HBO, tap into the subversion of power and authority. The rug-pulls of each episode occasionally verge into cheap "gotcha" territory, but the stacked cast and magnetism of this room, which seems to draw people on the brink of life-altering moments, make this show damn hard to quit. 
Where to watch it: Stream on HBO Go/Now
USA
The Sinner
Jessica Biel returns to television in this kind of reverse murder mystery, about a woman who maliciously stabs a random man on the beach, and detectives find themselves working backwards to understand the true motive. Two episodes in, we're hooked on the show's religious overtones and cold-as-ice performances. Where is it going? We have no clue -- but we'll be there for the end.
Where to watch it: Stream on USA Network (with cable subscription)
Showtime
Twin Peaks: The Return
Mark Frost and David Lynch's beautiful, brain-bending revival of their iconic early '90s series about FBI Special Agent Dale Cooper's investigation of a supernatural slaying in a quirky Northwest town is like Secretariat's performance at the Belmont Stakes: it's so far out front of the pack, you almost can't believe how incredible it is.
Where to watch it: Stream on Showtime Anytime
Sign up here for our daily Thrillist email and subscribe here for our YouTube channel to get your fix of the best in food/drink/fun.