The Best Movies at the 2022 Sundance Film Festival
Highlights from this year's virtual event include 'After Yang,' an Emma Thompson sex dramedy, and a Kanye West documentary.
For the second consecutive year, the Sundance Film Festival happened virtually, foregoing its mountainous home of Park City, Utah, because of COVID-19 precautions. Without in-person events, the buzz from America's preeminent independent festival feels muted, which makes determining which movies will have an impact outside of the Sundance bubble hard.
Still, 2022's lineup produced a number of gems that could be decent-sized hits or perhaps factor into next year's Oscar race. After Yang seems poised to be a sci-fi indie breakout when it opens in March, while Emma Thompson (Good Luck to You, Leo Grande), Regina Hall (Honk for Jesus. Save Your Soul.), Elizabeth Banks (Call Jane), and John Boyega (892) are among the actors who submitted conversation-starting performances. As for the many documentary highlights, pay attention to Netflix's forthcoming Kanye West chronicle, a love story about fearless French volcanologists, a gripping look at 1960s political uprisings, and a profile of Sinead O'Connor.
Here are the Sundance 2022 movies we loved that you'll want to keep your eye on in the months to come.
892
Director: Abi Damaris Corbin
Cast: John Boyega, Michael K. Williams, Nicole Beharie, Connie Britton
Releasedate: TBA
John Boyega is astounding in this tense thriller based on the true story of Brian Brown Easley, an ex-Marine who holds up a Georgia bank in a desperate attempt to bring attention to the VA's negligence. The actor, best known for his turn in the latest Star Wars trilogy, anchors Abi Damaris Corbin's stylish feature, which also features a performance from the late Michael K. Williams as the police negotiator who tries to reason with and relate to Easley, hoping to protect him from an end that seems inevitable. It's really all the work of the fine actors here—among them Nicole Beharie as the bank manager trying to placate Easley and Connie Britton as a sympathetic reporter he calls—that elevates the drama co-written by playwright Kwame Kwei-Armah. Boyega, in some of his finest work to date, takes your breath away. —Esther Zuckerman
After Yang
Director: Kogonada
Cast: Colin Farrell, Jodie Turner-Smith, Justin H. Min, Haley Lu Richardson
Release date: March 2022
"What's so great about being human?" a character asks in After Yang, wondering why a clone like her would be deemed second-rate. She's raising a vital, endlessly human quandary: Why do people assign a higher value to some identities than others? After Yang is a futuristic sci-fi parable that poses big questions on an intimate scale. It is also, more than anything, the story of a family who happen to live in a world where cognizant robots known as techno-sapiens exist alongside everyday mortals. Jake (Colin Farrell) and Kyra (Jodie Turner-Smith) acquired one named Yang so their young Chinese daughter (Malea Emma Tjandrawidjaja) could have a sibling, and the pair have become the ultimate companions. When Yang's system malfunctions, it feels tantamount to a death, sending Jake on a path to restore Yang or at least better understand his reality. Directed by the Korean filmmaker Kogonada (Columbus), After Yang is an existential drama that manages to be both joyous and heartbreaking. —Matthew Jacobs
Brian and Charles
Director: Jim Archer
Cast: David Earl, Chris Hayward, Louise Brearley
Release date: TBA
Your mileage may vary with Brian and Charles depending on how much British quirk you can stand, because this is very British and very quirky, but it's also a delight. Written by its stars David Earl, who plays Brian, and Chris Hayward, who plays Charles, Brian and Charles tells the story of an inventor who decides one day to build a robot out of an old mannequin head and a washing machine. Miraculously the robot—who will come to be known as Charles—works, and he's a jolly fellow who loves spouting facts from the dictionary and wants to journey to Honolulu. Brian, however, wants him to stay inside to avoid the local bullies. Their relationship turns into a bickering parent-child conflict that's adorably whimsical and downright touching. —EZ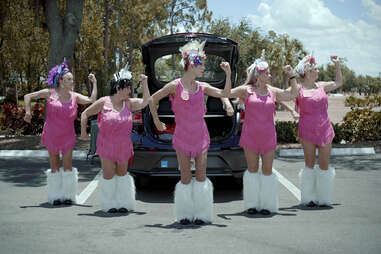 Calendar Girls
Directors: Maria Loohufvud and Love Martinsen
Release date: TBA
Not to be confused with the Helen Mirren comedy of the same name, Calendar Girls is a documentary about a glittery Florida dance troupe made up of women in their 60s who do elaborate routines set to songs as varied as "Everybody (Backstreet's Back)" and "O Come, All Ye Faithful." Could anything be more delightful? The care these sexagenarians put into their hobby is a wonder to witness, but what gives the film its true texture is the bond that connects the group. Some of them are retirees looking for community, while others make time for rehearsals despite holding down full-time jobs. One dancer recently left jail and has been embraced with open arms. Beneath all of that razzle dazzle runs a bittersweet current, as money, marriage, and health woes can't help but intervene. But Calendar Girls, which unfolds with brisk ease, is ultimately a joyous affair, contradicting a culture that wants to strip seniors of their vitality. —MJ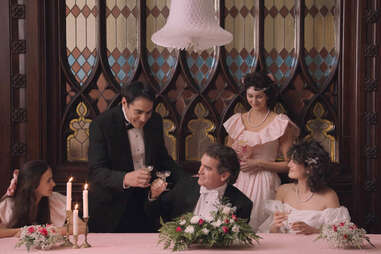 The Cathedral
Director: Ricky D'Ambrose
Cast: Brian d'Arcy James, Monica Barbaro, Geraldine Singer, Robert Levey II
Release date: TBA
There's a shot in The Cathedral, an often painful family drama told through exquisitely staged snapshots of human behavior, of crumbs getting swept off a dinner table at a social function. The meal is over, the dishes have been cleared, and now order must be restored. Drawing inspiration from his own childhood and adolescence in the '90s and early '00s, filmmaker Ricky D'Ambrose has made an emotionally deft movie that feels like it's been assembled from the crumbs of memory. Many of the scenes involve arguments over money and grievances relating to perceived slights, which often play out at weddings, funerals, and birthday parties. D'Ambrose finds humor and pathos in the peculiarities of male anger, particularly in the carefully modulated performance of Brian d'Arcy James as the main character's temperamental father. The Cathedral builds to a quietly devastating ending, one that rejects the tidy catharsis of so many coming-of-age tales for a more measured reckoning with the past. —Dan Jackson
Cha Cha Real Smooth
Director: Cooper Raiff
Cast: Cooper Raiff, Dakota Johnson, Leslie Mann, Raúl Castillo
Release: TBA
Is Cooper Raiff our next great rom-com director? His debut feature, Shithouse, was a surprisingly layered meet-cute set in a college dorm, and now the 23-year-old Duplass acolyte is following it up with an even more sophisticated crowd-pleaser. Raiff cast himself as an aimless postgrad who lives at home and has enough awkward charm to book gigs as an unlikely bar mitzvah "party-starter." At one such event, he meets a perceptive mother (a fantastic Dakota Johnson) and her oft-bullied autistic daughter (likable newcomer Vanessa Burghardt), striking up a flirty friendship that sends him on a path toward proper adulthood. You'll think you know where this movie is going, and you'll be mostly wrong. Cha Cha Real Smooth, which takes its name from the ubiquitous DJ Casper line dance, resists cliché, insisting that no person is defined by any single attribute or experience. It's funny, wise, winsome, and endearing. —MJ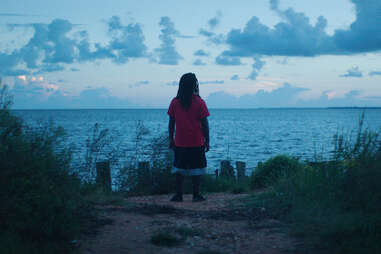 Descendant
Director: Margaret Brown
Release date: TBA
Margaret Brown's beautiful, haunting, and ultimately inspiring documentary charts living history just outside of Mobile, Alabama. The descendants of the last ship to bring enslaved people from Africa to the United States, 40 years after importing slaves was outlawed, still live in a place known as Africatown, where Brown trains her camera. She follows the excavation of the vessel called the Clotida through the eyes of the citizens whose ancestors were brought to this country aboard it. She uses Zora Neale Hurston's Barracoon—which recorded the voice of Cudjoe Lewis, who was on the Clotida—as a central text, allowing the words of the past to interact with those of the present. Brown documents how the cycles of history repeat themselves: Though she's never able to interview any residents who still hold the name of the man who illegally imported slaves on a bet, she reveals the hold that family has on the town and the crimes still being perpetrated. But Descendant is also a testament to the vitality of oral traditions even more than physical evidence. —EZ
Dual
Director: Riley Stearns
Cast: Karen Gillan, Aaron Paul, Beulah Koale
Release date: TBA
Director Riley Stearns follows up his 2019 sleeper hit The Art of Self-Defense with Dual, an aloof, darkly funny sci-fi treat that takes place in a dystopian future where the dying (whether by disease or suicide) can order a clone to take their place to comfort their relatives. Upon learning she has a rare disease, Sarah (Karen Gillan) decides to take that route despite her distaste for her mother and her unhappy relationship. Her clone immediately reveals herself to be the "better" version of Sarah, who turns out not to be dying after all. Instead of being decommissioned, her clone wants to continue to exist, which means she and the real Sarah have to battle to the death in a televised duel. In order to win her life, Sarah enlists the help of a combat expert played by Aaron Paul, who desensitizes her to violence in order to kill her double. Gillan is great in the dual—no pun intended—role, fierce and fearful at the same time. —EZ
Fire of Love
Director: Sara Dosa
Release date: TBA
Halfway through this stunning documentary by Sara Dosa (The Seer and the Unseen), you might be fooled into thinking that its subjects, Maurice and Katia Krafft, have been beamed in from a Wes Anderson movie. There's something unspeakably twee about these French volcanologists who are in love and travel the world getting dangerously close to molten lava, always by each other's side. Dosa pieces together the Kraffts' unbelievable footage of explosions and lava flows while at the same time weaving in a story of their romance, narrated by Miranda July. But, as delightful as the introduction to these wonderful eccentrics is, the dangerous nature of their work starts to creep into the narrative, and by the end, this adorable love story has become a meditation on humanity's smallness in the face of the Earth's tectonic plates. —EZ
Gentle
Directors: Anna Eszter Nemes and László Csuja
Cast: Eszter Csonka, György Turós, Csaba Krisztik
Release date: TBA
Where similar studies of ambition like The Wrestler and Whiplash have a percussive quality, the Hungarian bodybuilder drama Gentle has a softer, meditative touch. Edna (real-life bodybuilder Eszter Csonka) trains for an upcoming championship competition with her boyfriend Adam (György Turós), and there's a disarming sweetness to their simultaneously tense and tender dynamic. That doesn't mean filmmakers Anna Eszter Nemes and László Csuja shy away from the harsher details of the world: You feel every bicep curl, skipped meal, and chemical injection. But Edna's emotional and spiritual struggles are treated with the same careful attention as her physical challenges, making this an often moving entry in the ever-expanding genre of sports movies about the cost of greatness. —DJ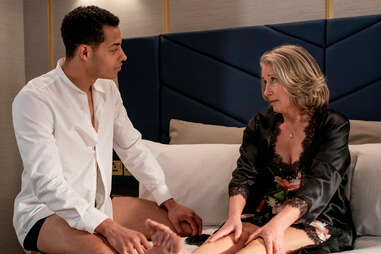 Good Luck to You, Leo Grande
Director: Sophie Hyde
Cast: Emma Thompson, Daryl McCormack, Isabella Laughland
Release: TBA on Hulu
Nancy Stokes (Emma Thompson) is a retired religion teacher who has never had an orgasm. She's chatty, anxious, charming, and filled with the wistfulness of someone who feels life has mostly passed her by. So she does what any self-respecting widow might do: hire a young, hunky sex worker (Daryl McCormack) off the internet. Over the course of several meetings in the same hotel room where Nancy slowly grows more comfortable with the arrangement, she and Leo bond, finding an unlikely commonality despite their vast age difference. (She is 55; he is in his 20s.) Thompson is fantastic in the role, blending her signature spikiness with a vulnerability that's often humorous and always humane. Good Luck to You, Leo Grande never gets quite as R-rated as you might think, but its gentle, sex-positive spirit makes it a winning dramedy. —MJ
Happening
Director: Audrey Diwan
Cast: Anamaria Vartolomei, Luàna Bajrami, Louise Orry-Diquéro
Release date: Spring 2022
Audrey Diwan's film was the surprising winner of the prestigious Golden Lion prize at the Venice Film Festival late last year, and it's an unflinching story of a young woman trying to get an abortion despite the draconian illegality of the procedure in 1960s France. Anamaria Vartolomei's intensity fills the screen as Anne, a focused and ambitious student who doesn't seem to care what others think of her. When she finds out she's pregnant, she's resolute in her decision to terminate despite the risks of death or prison. Diwan's camera stays focused on the most harrowing moments of Anne's experience, which makes Happening a difficult but often remarkable watch. —EZ
Director: Hanna Bergholm
Cast: Siiri Solalinna, Sophia Heikkilä, Jani Volanen, Reino Nordin
Release date: April 29
Get ready to fall in love with the decrepit half-bird, half-human creature that vomits slime in Hanna Bergholm's debut feature Hatching. In this creepy and wonderful Finnish fable, a young gymnast named Tinja finds an egg outside the home where her mommy-blogger mother pretends she's leading the perfect pastel life. The girl warms the egg inside her teddy bear until out pops a creature she calls Alli. Brought to life by animatronic wizards, Alli becomes Tinja's pet and protector, until it starts to morph into a mirror image of her. An alternately beautiful and disgusting metaphor for the grossness of girlhood, Hatching is somehow a mash-up of Eighth Grade, Gremlins, and E.T. —EZ
jeen-yuhs: A Kanye Trilogy
Directors: Clarence "Coodie" Simmons and Chike Ozah
Release date: February 16 on Netflix
The scale of the new Kanye West documentary jeen-yuhs, which premiered its first part at Sundance and will debut on Netflix across three weeks starting on February 16, conceals how limited its focus actually is. At over four hours, the film at first looks like a career-length chronicle of the increasingly troubled musician's turbulent run in the public eye, but most of the movie—the first two parts are subtitled "VISION" and "PURPOSE"—is more of a loosely shaped data dump in the vein of the recent Beatles documentary Get Back, with an emphasis placed on West's attempts to get the industry to take him seriously as a rapper. Those two sections have a fly-on-the-wall immediacy and provide a hyper-specific study of hip-hop's gatekeeping ecosystem in the early 2000s, within which West struggled to create his own lane. Many fans will be able to look past the repetitive and draining last section, with its Tucker Carlson videos and detours into West's passion for ceramics, because the first two-thirds provide such an unprecedented glimpse behind the curtain. —DJ
A Love Song
Director: Max Walker-Silverman
Cast: Dale Dickey, Wes Studi, Michelle Wilson, John Way
Release date: TBA
A sweet addition to the "two lonely souls unite" canon, A Love Song gives veteran character actress Dale Dickey—best known for My Name Is Earl, Winter's Bone, and Justified—a much-deserved lead role. She plays Faye, a widowed loner who lives out of a small RV on a Rocky Mountain campsite where she baits crawfish, watches birds, listens to folksy music on her analog radio, and receives mail (every now and then) from a postman on horseback. Dickey's distinctive face occupies nearly every frame of the movie, but the nucleus of A Love Song is the day she spends with a long-lost childhood admirer (Wes Studi from The Last of the Mohicans and Penny Dreadful) who pays her a visit. Their bond allows for a gentle, slightly quirky rumination on loss, companionship, and the passage of time. —MJ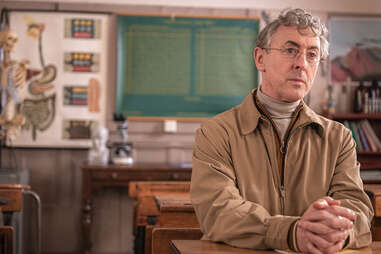 My Old School
Director: Jono McLeod
Cast: Alan Cumming
Release date: TBA
Where to start with Jono McLeod's wildly entertaining documentary My Old School? The story of Brandon Lee, a 30-something man who posed as a 16 year old and attended a secondary school for a second time in 1990s Scotland, is told in part as Daria-style animation. McLeod, who went to that school with Lee, does interview his subject, but the man refuses to appear on camera, so instead the actor Alan Cumming lip-syncs all of his dialogue in an uncanny performance. The execution is brash and busy, but McLeod manages to turn it all into a sly commentary on memory and ambition. —EZ
Nanny
Director: Nikyatu Jusu
Cast: Anna Diop, Michelle Monaghan, Sinqua Wells, Morgan Spector, Leslie Uggams
Release date: TBA
Nikyatu Jusu's debut feature remains unshakably tense as it chronicles the life of Aisha (the marvelous Anna Diop), a Senegalese immigrant who starts a job working as a nanny for a white family living in a pristinely fashionable loft. Aisha's time is casually taken advantage of by her charge's work-obsessed mother (Monaghan) and uninterested dad (Morgan Spector), a documentary photographer who chronicles the abuses of people on Aisha's home continent. As she spends more time with these people, Aisha grows threatened by premonitions involving African spirits, like the spider Anansi and the mermaid Mami Wata. These dreamlike, mythological images never quite hit as hard as the interactions happening between Diop and Monaghan, both operating at the peak of their talents. Still, Jusu digs into her heroine's psyche in a way that is unsettling and unforgettable. —EZ
Nothing Compares
Director: Kathryn Ferguson
Release date: TBA
When Sinead O'Connor tore up a photo of Pope John Paul II and threw the pieces at the camera at the end of her performance on SNL in 1992, telling the audience to "fight the real enemy," she entered a new phase of her career. There was no going back. Nothing Compares, a thoughtful new documentary about O'Connor's life and music, doesn't obsess over that controversial moment, but it does contextualize it, charting the singer's rise from restless Irish teenager to rebellious global pop star with enviable conviction. The performances, interviews, and video clips paint a portrait of an artist in an often painful search for her own truth. Though O'Connor's beautiful rendition of "Nothing Compares 2 U" is never heard in the movie as a result of a rights issue with Prince's estate, its absence serves as an eerie structural void, giving this fairly conventional bio-doc an admirable weight. —DJ
Director: Andrew Semans
Cast: Rebecca Hall, Tim Roth, Grace Kaufman
Release date: TBA
About midway through Andrew Semans horror-ish thriller Resurrection, he holds on Rebecca Hall's face as she delivers a monologue that turns increasingly outrageous. I'm not going to spoil just where this speech goes—because that would ruin the fun—but Hall's face remains steady as she reveals her character's backstory, which is far more wild and disturbing than you could possibly imagine. Hall gives a tour-de-force performance in this bananas ride of a film, which ends on a twist, if I dare call it that, so outlandish it might make you gasp. You will not guess where Semans' script is going from the initial paranoia, and it's the wild risks it takes that make it delirious fun. —EZ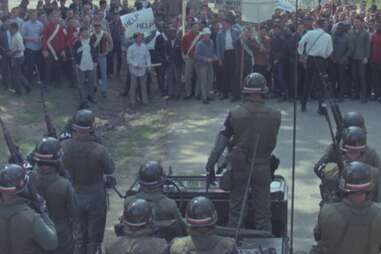 Riotsville, USA
Director: Sierra Pettengill
Release date: TBA
The most striking aspect of Riotsville, USA, an archival documentary about the U.S. government's response to the uprisings in major cities during the 1960s, is how rigorously director Sierra Pettengill moves between different modes of thought. Much of the film consists of occasionally terrifying, often absurd footage of the military staging fake riots as a means of preparing for the violent chaos many leaders deemed inevitable. The odd resonance of this material, the way it echoes with the present and also serves as a cracked mirror of reality, makes for gripping viewing. But Pettengill, working with narration written by cultural critic Tobi Haslett, also supplements those sections with additional television clips and quotations that put the shocking material in a larger historical context. It makes for one of the most bracing non-fiction films in recent memory. —DJ
Director: Lena Dunham
Cast: Kristine Froseth, Jon Bernthal, Jennifer Jason Leigh, Taylour Paige
Sharp Stick, like pretty much everything else Lena Dunham does, will make people angry. It's a deliberate provocation on the part of the Girls creator, an often messy, occasionally fascinating, frequently enraging coming-of-age story about a 26-year-old virgin. Kristine Froseth plays Sarah Jo, a caretaker for children with special needs, who lives with her wine-guzzling mom (Leigh) and her adopted sister (Paige) in a Hollywood complex that they manage. Longing for an experience she feels she lost when she had an emergency hysterectomy at the age of 15, she initiates an affair with the chill-dude stay-at-home father (Jon Bernthal) of the boy she's watching. But this is only the start of Sarah Jo's sexual journey, and Dunham takes her into an obsession with a sensitive porn star (Scott Speedman) that gets weirder and more distressing. Wherever you land on the film, it's a conversation piece that relishes in your discomfort. —EZ
Sirens
Director: Rita Baghdadi
Release date: TBA
It's hard not to be smitten with the awesome subjects of Rita Baghdadi's documentary about an all-female metal band in Lebanon. Their story is inherently dramatic: All the stresses and tensions of being in a band are compounded by being queer women in a conservative country amid protests against the government. On top of that, the band's guitarists are at odds and were once in a romantic relationship, which, while stressful, is hardly the only factor hindering their collaboration. Produced by Maya Rudolph and Natasha Lyonne, Sirens is as cool as you might expect when you read the logline "first all-female metal band from the Middle East." It's also a thoroughly unique take on familiar rock-star dreams. —EZ
Speak No Evil
Director: Christian Tafdrup
Cast: Sidsel Siem Koch, Morten Burian, Karina Smulders, Fedja van Huêt
Release date: TBA
An unsettling thriller about the lengths people will go to appease even the starkest of strangers, Speak No Evil is a vacation-gone-wrong movie done right. When a Danish couple (Sidsel Siem Koch and Morten Burian) meet two fellow tourists (Fedja van Huêt and Karina Smulders) while traveling in Italy, they are invited to spend a weekend at the latter pair's home in the Dutch countryside. Bring their daughter, they're told; it'll be great. Almost immediately upon arriving, the Danes find the experience worrisome. But they go along with everything, not wanting to seem impolite—a decision that leads to eerie consequences. Speak No Evil oozes with dread, slow-burning its way to a wicked third act that is shocking in its bleak simplicity. —MJ
We Met in Virtual Reality
Director: Joe Hunting
Release date: TBA
It takes a second to adjust yourself to the universe of Joe Hunting's documentary, which is filmed entirely in VR in the app called VRChat. Unless you frequent these spaces—and I do not—you have to train yourself to the glitches and the choppy movement of the avatars. Hunting started following his subjects in 2020 as COVID-19 was spreading across the globe and people were finding a haven in these digital worlds that provided warmth amid pervasive loneliness. He tracks couples and communities. There's the virtual exotic dancer from London who is in a relationship with a patron from Miami, as well as a couple that met at an ASL group. Without breaking from the avatars—who frequently look like anime figures and occasionally have tails—Hunting shows you the breadth of these spaces and allows voices to speak honestly and freely as they tell moving stories about how they have found a refuge. —EZ
When You Finish Saving the World
Director: Jesse Eisenberg
Cast: Julianne Moore, Finn Wolfhard, Alisha Boe, Billy Bryk
Release date: TBA
You can feel the nervous, motor-mouthed energy Jesse Eisenberg brings out of his best performances in his directorial debut, When You Finish Saving the World, which will open sometime this year from A24. The movie, which stars Julianne Moore and Finn Wolfhard as mother and child at odds, operates on pure uncomfortable tension with a dash of mid-2000s indie-throwback quirk for good measure. (Wolfhard speaks in slang that only exists in the context of this universe.) Wolfhard plays Ziggy Katz, a teen who has gained a following on social media playing alt-folk songs about his crushes. Moore is his mom, Evelyn, a serious lady who runs a women's shelter in their hometown of Bloomington, Indiana. Both are compulsively self-centered in their own way but cannot see eye to eye: Ziggy wears his own merch and is obsessed with the monetary value of his talent; Evelyn is bolstered by her good deeds. As they both desperately try to impress a new person in their lives—for Ziggy, a girl at school; for Evelyn, a teen at the shelter in whom she sees potential—they realize their versions of activism can only go so far. —EZ
The Worst Person in the World
Director: Joachim Trier
Cast: Renate Reinsve, Anders Danielsen Lie, Herbert Nordrum
Release date: February 4
Joachim Trier's The Worst Person in the World opens by announcing that it's a story told in 12 chapters with a prologue and an epilogue. That might initially sound intimidating, but this warm and inviting film about a young woman basically just trying to figure shit out is anything but. The revelatory Renate Reinsve plays Julie, who we learn in that opening section was a type-A student wanting to be a doctor until she got distracted and tried psychology, and then tried photography and then tried writing. She meets Aksel, an older comic book artist and they fall in love and move in together. Trier finds plenty to mine in Julie's uncertainty—about her future and her desire for children—and Reinsve is sensational playing all of her nerves and sensuality. It's a very funny film with jokes about farts and buttholes, but also an astoundingly creative one that will take your breath away as it moves through its structured narrative. —EZ