The Best Superhero Movies & Shows Currently on Netflix
When it comes to getting a superhero Netflix fix, the first things that come to mind are the Marvel TV shows -- the newest of which, Iron Fist, premieres this month, followed by team show The Defenders later in 2017 -- and big Disney movies like Captain America: Civil War. 
But once you've watched Oscar-winner Mahershala Ali's star turn in the early episodes of Marvel's Luke Cage and rewatched War's airport sequence about a thousand times, you'll need to dig a little deeper. Setting aside Netflix's deep bench of kiddie comic-book shows, here's the best of the adult-friendly cape-and-cowl material streaming there right now.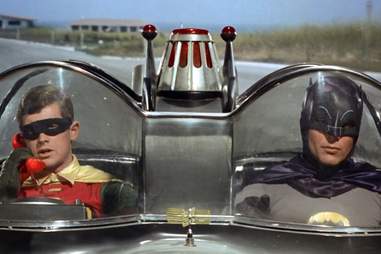 20th Century Fox
Batman (1966)
Exploiting the success of the cult-phenomenon Batman TV show of the mid-'60s, this film pits the dynamic duo of Batman (Adam West) and Robin (Burt Ward) against a team of the TV series' most notable villains, including a recast Catwoman (Lee Meriwether, whose undulations are… distracting to certain audiences) and the best-ever Riddler (Frank Gorshin). In addition to the iconic TV series' Batmobile, the movie's menace-free plot includes appearances by the Batboat, Batcycle, and Batcopter.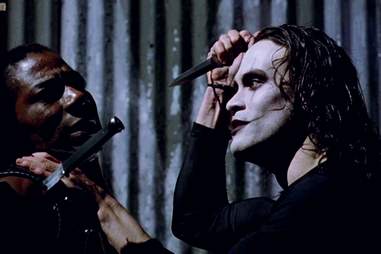 Miramax Films
The Crow (1994)
Remembered today for the accidental death of lead actor Brandon Lee (the son of Bruce Lee) during filming -- which added a chilling aspect to the story centered on a rockstar who returns from the dead to avenge his own murder -- this supernatural comic-book adaptation became a sleeper hit at least partly due to the publicity surrounding Lee's death.
Luckily the gritty, music video-inflected look of the movie holds up, as does Lee's charisma in the lead role. The soundtrack, which became a No. 1 hit at the time, doesn't age quite as well, with covers and originals from bands like Stone Temple Pilots and Pantera providing a snapshot of what fans would be abandoning just minutes later in the late '90s.
20th Century Fox
Fantastic Four (2005)
Risking immediate disqualification of this list in the eyes of comics (and movie) fans everywhere, we'll stipulate at the outset that Fantastic Four is, at times, a mess. Still! Scenes showcasing future Captain America Chris Evans as the womanizing, headstrong Human Torch are so good they could be from a different movie, and demonstrate a versatility fans who've only seen him as Captain America might not know he has.
CW
The Flash (2014-2016)
If you had to pick one DC Comics' current CW-airing superhero series (the early seasons of which are available on Netflix),The Flash wins in a walk. More likable than Arrow, more consistent than the first episodes of Supergirl, and less steeped in fan service than DC's Legends of Tomorrow, Flash quickly established an engaging mix of goofball pseudo-science and freak-of-the-week supervillains. It's all bolstered by a consistently solid cast, including Grant Gustin as the title character and Tom Cavanagh as multiple versions -- don't ask -- of Flash friend/foil/villain Harrison Wells.
Columbia Pictures
Hellboy (2004)
A near-perfect adaptation of the stylish supernatural superhero franchise of the same name, director Guillermo del Toro brought the source material's dark-fantasy elements to the foreground to critical and commercial success (the director had a good enough time to come back for a sequel, the only time he's done so to date).
Actor Ron Perlman turns in a performance that radiates real humanity through the prosthetics and makeup that turn him into the title character: a hulking, heroic demon who leads a band of superpowered misfits against an other-dimensional threat. The talented supporting cast includes Transparent's Jeffrey Tambor as a disapproving government agent.
Mandarin Films
Ip Man (2008)
Netflix has a few martial-arts movies that go right up to the edge of being superhero movies, and while some might favor the time-traveling comedy/action of Kung Fury or the wire-flying, Netflix-produced Crouching Tiger, Hidden Dragon sequel Sword of Destiny, the Ip Man trilogy -- every one of them a winner -- offers the most satisfying punch (and kick, and leap) on the service.
Starring Rogue One (and Sword of Destiny) scene-stealer Donnie Yen as Bruce Lee's real-life teacher, these '30s-, '40s, and '50s-set period pieces set in Southern China showcase beautiful sets, a surprising sense of humor, and dizzying action, all at play in this sequence from the first, which is a fine place to start.
Netflix
Jessica Jones (2015)
Most of Marvel's Netflix originals give you the sense that 13 episodes is at least a few installments too many, but this series, which goes darker than either season of Daredevil with its creepy-as-hell villain plot, largely avoids that trap.
Krysten Ritter's lead performance shows a grit only hinted at on Breaking Bad (and missing entirely from Don't Trust the B---- in Apartment 23), and Mike Colter's Luke Cage debuts here with charisma to spare. A second season of Jones is already underway, its already-considerable feminist cred boosted by the announcement that each of its 13 episodes will be helmed by a female director.
IFC Films
Super (2010)
Largely neglected when it came out, this extremely dark indie-superhero comedy earned some retroactive attention when its director, James Gunn, went on to direct Marvel's Guardians of the Galaxy.
Unlike Guardians, there's not much CGI (and not even a single talking tree) in this story of a short-order cook -- played by The Office's Rainn Wilson -- who becomes a pipe wrench-wielding vigilante. A cast full of familiar faces, among them Kevin Bacon, Ellen Page, Liv Tyler, and Michael Rooker, rounds out the almost-too-dark-to-be-funny proceedings.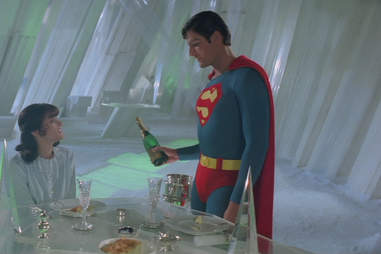 Warner Bros.
Superman II (1980)
While the first Christopher Reeve Superman convinced audience that they would "believe a man can fly" and the third and fourth Reeve Superman movies would convince them that, well, maybe they shouldn't, the movie that best conveyed the blend of action and warmth in comics' first superhero was Superman II. In the Avengers era it's hard to imagine there were ever movies that didn't feature high-flying battles with supervillains, but this was the first, set against a Times Square backdrop that was relocated to Metropolis without comment.
At II's core, of course, is Reeve's pitch-perfect performance in the lead role, which defined both him and the character for generations to come, despite the best efforts of Brandon Routh (whose Reeve-homaging Superman Returns, as well as all the original Reeve Super-films, is on Netflix as well) and Henry Cavill, whose portrayal of Superman in Man of Steel earned him second billing in its sequel, Batman v Superman: Dawn of Justice.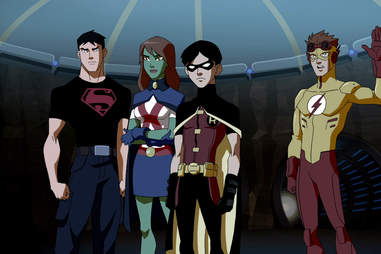 Cartoon Network
Young Justice (2011-2013)
Ostensibly a kids' animated series centered on a team of DC Comics sidekicks (led by Robin) and other next-generation heroes, Young Justice comes closer to being a teenage superhero soap opera than other Netflix-offered DC animated series Justice League and Justice LeagueUnlimited.
That older-skewing nature -- the second season, subtitled "Invasion," takes a five-year leap forward from the first and culminates in some very grown-up plot twists -- may account for the fan interest that resulted in the recent announcement that Netflix commissioned a third season of the short-lived show.
Sign up here for our daily Thrillist email, and get your fix of the best in food/drink/fun.
Ivan Cohen is a TV and comic-book writer and pop-culture journalist who has written for Vulture.com, Playboy.com, Esquire.com, and more. While his New York City neighborhood has doubled for Hell's Kitchen in
Daredevil
,
Luke Cage
, and
Iron Fist
, he is not currently a vigilante. But he is on Twitter @ivanmcohen.