The Best Teen Movies on Amazon Prime Right Now
Sometimes you just want to head back to high school.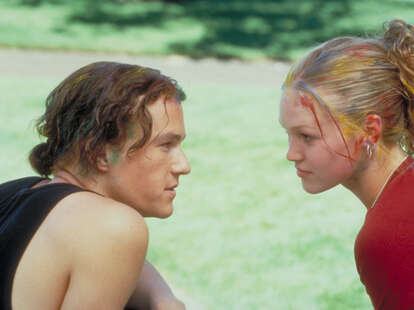 Sometimes you just want to regress back to high school where the drama is intense, but the stakes are often lower than they are in the adult world. Thank god for teen movies, then. The teen movie has become a genre unto itself, and we've searched through Amazon Prime to find the best offerings on that streaming service. There's a nice mix of everything from dumb comedies to intense tearjerkers. Start streaming.
ALSO RECOMMENDED: Our curated guides to the best teen movies on Netflix and the sexiest movies on Amazon Prime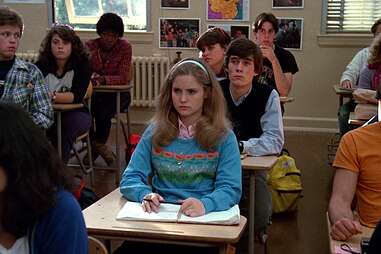 Fast Times at Ridgemont High (1982)
Amy Heckerling's brilliant high school movie, directed from a screenplay by a young Cameron Crowe based on his own book, is most remembered for Sean Penn's surfer dude Spicoli and that scene featuring Phoebe Cates and a red bikini. But look beyond the tropes it established and you'll find one of the most devastating portraits of young life around, one that was way ahead of its time when it came to depictions of sex and abortion. It's a raucous comedy, but it's also about how vulnerable teenagers really are.
Girls Just Want to Have Fun (1985)
Long before we knew her as Carrie Bradshaw, a young Sarah Jessica Parker played a sheepish high school gymnast named Janey in this film that pretty much set the tone for many popular dance flicks that have followed it. The film centers on sheltered teenagers Janey and Lynne (Helen Hunt), who make it their mission to audition for a chance to appear on the fictional DanceTV against Janey's conservative father's wishes.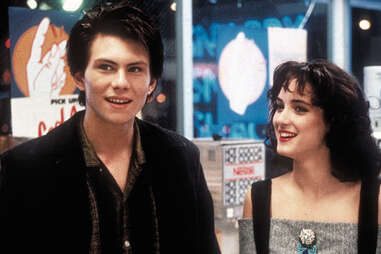 Heathers (1988)
The darkest of dark teen comedies is a cult classic for a reason. Winona Ryder plays Veronica Sawyer, a quasi member of her high school's most feared clique, the Heathers, who rule with nastiness. When Veronica meets the new student, the alluring bad boy J.D. (Christian Slater), well, to paraphrase Daniel Waters' endlessly quotable script: Her teen angst starts developing a body count. Heathers is meaner than most teen movies, and it benefits from how ruthless it is. Ultimately, it's the story of a girl learning to stand on her own, but the gruesome ride is what gets her there.
I Know What You Did Last Summer (1997)
Based on the novel by Lois Ducan, I Know What You Did Last Summer features the teen queens and kings of the 1990s at the height of their powers. Jennifer Love Hewitt, Sarah Michelle Gellar, Ryan Phillippe, and Freddie Prinze Jr. star as a group of pals in a waterside North Carolina town who accidentally kill someone the summer before they head off for college and then are stalked by a killer with a hook the following year. It's alternately goofy and bone chilling, so what are you waiting for? Start streaming.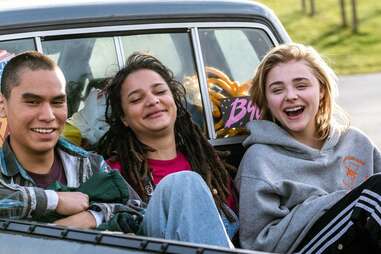 The Miseducation of Cameron Post (2018)
Desiree Akhavan uses understated direction to adapt Emily M. Danforth's novel about a teen in the 1990s, played by Chloë Grace Moretz, who is sent to a gay conversion facility after being caught having sex with another girl. Akhavan doesn't shy away from the horrors of her setting, but she is more interested in the bonds formed between the queer kids at the center of her story than the evil surrounding them. It's both an indictment of religious fundamentalism and a celebration of the connections that can arise in extreme circumstances.
Selah and the Spades (2019)
Tayarisha Poe's incredibly stylish directorial debut is a heightened look at a high school hierarchy. In her fictional boarding school, the halls are ruled by factions of the student body. The titular Selah runs the Spades, who are like drug dealers but more elite. Lovie Simone is captivating as Selah, who is worried about who is going to take over once she graduates, all the while dealing with encroaching animosity from the other leaders. It's got an eerie sensibility that echoes The Secret History, but with the highly welcome appearance of a young Black girl at its center.
10 Things I Hate About You (1999)
A hell of a lot of movies have tried to revive dusty old Shakespeare plays, but few do as effective a job of modernizing as this remake of The Taming of the Shrew. At the peak of his heartthrob powers, a pre-Joker Heath Ledger got paid by some horny teens (including a dweeby 3rd Rock from the Sun-era Joseph Gordon-Levitt) to seduce Julia Stiles's feisty Kat, an undateable feminist keeping her popular sister home from prom. It's a testament to the teen actors' charm, raucous party scenes, and philosophizing about Prada and Skechers that the Bard would hardly recognize it.