The Best Teen Movies on Amazon Prime Right Now
Sometimes you just want to head back to high school.
'Napoleon Dynamite'

| Paramount Pictures
'Napoleon Dynamite'

| Paramount Pictures
Sometimes you just want to regress back to high school where the drama is intense, but the stakes are often lower than they are in the adult world. Thank god for teen movies, then. The teen movie has become a genre unto itself, and we've searched through Amazon Prime to find the best offerings on that streaming service. There's a nice mix of everything from dumb comedies to intense tearjerkers. Start streaming.
ALSO RECOMMENDED: Our curated guides to the best teen movies on Netflix and the sexiest movies on Amazon Prime
Election (1999)
Yes, Election is a movie about high school. It's also probably one of the best movies ever about American politics. Alexander Payne's masterpiece based on the Tom Perrotta novels centers on a vicious race for student body president featuring Reese Witherspoon in a career defining role as overachiever Tracy Flick. As much about teen angst as it is about the ways in which the threat of a powerful woman drives men of all ages mad, Election remains ever relevant more than two decades later.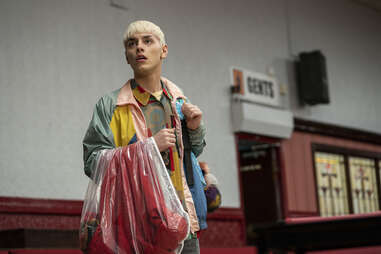 Everybody's Talking About Jamie (2021)
Based on the stage musical (which is itself based on a 2011 documentary), Everybody's Talking About Jamie is the real life story of British teenage schoolboy Jamie Campbell who fought back against bullying and prejudice to perform as a drag queen. The movie keeps the musical's songs and upbeat tone while also exploring the ramifications of gay and drag culture in the wake of the AIDS epidemic. Its release delayed by the COVID-19 pandemic, it had a limited theatrical run before dropping on Amazon Prime, but it was quietly one of the best movies of 2021 and nominated for the BAFTA Award for Outstanding British Film.
Girls Just Want to Have Fun (1985)
Long before we knew her as Carrie Bradshaw, a young Sarah Jessica Parker played a sheepish high school gymnast named Janey in this film that pretty much set the tone for many popular dance flicks that have followed it. The film centers on sheltered teenagers Janey and Lynne (Helen Hunt), who make it their mission to audition for a chance to appear on the fictional DanceTV against Janey's conservative father's wishes.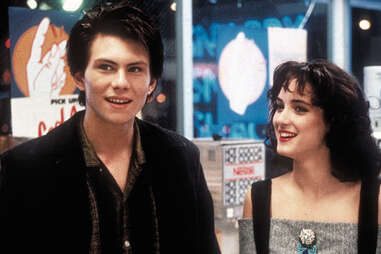 Heathers (1988)
The darkest of dark teen comedies is a cult classic for a reason. Winona Ryder plays Veronica Sawyer, a quasi member of her high school's most feared clique, the Heathers, who rule with nastiness. When Veronica meets the new student, the alluring bad boy J.D. (Christian Slater), well, to paraphrase Daniel Waters' endlessly quotable script: Her teen angst starts developing a body count. Heathers is meaner than most teen movies, and it benefits from how ruthless it is. Ultimately, it's the story of a girl learning to stand on her own, but the gruesome ride is what gets her there.
Juno (2007)
Diablo Cody created a new teen language with her screenplay for Juno, which stars Elliot Page as a pregnant teen. But Juno's significance goes beyond phrases like "honest to blog" entering the lexicon. The movie, directed by Jason Reitman, is the sensitive story about a teenager being thrust into an adult world she thinks she can manage because of her smarts. Page's performance is alternately hilarious and devastating, and the movie swings between teen romance and coming of age saga with aplomb.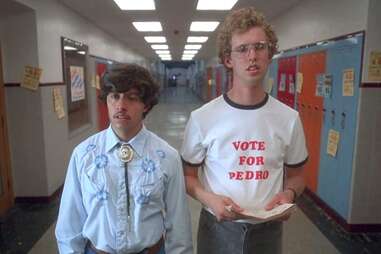 Napoleon Dynamite (2004)
Every generation has its ultimate "high school movie," and for many millennials, Napoleon Dynamite is this movie. Endlessly quotable, this teen comedy is practically Dadaist in its sense of humor and narrative pacing, following a socially awkward boy as he helps his immigrant friend Pedro campaign for class president, crushes on his classmate Deb, and navigates his own bizarre family: lisping brother Kip and their villainous Uncle Rico. You'll never listen to "Canned Heat" the same way again.
Selah and the Spades (2019)
Tayarisha Poe's incredibly stylish directorial debut is a heightened look at a high school hierarchy. In her fictional boarding school, the halls are ruled by factions of the student body. The titular Selah runs the Spades, who are like drug dealers but more elite. Lovie Simone is captivating as Selah, who is worried about who is going to take over once she graduates, all the while dealing with encroaching animosity from the other leaders. It's got an eerie sensibility that echoes The Secret History, but with the highly welcome appearance of a young Black girl at its center.
The Twilight Saga (2008–2012)
Was Twilight a massive, global phenomenon because it had cool vampires or because there was a lustful teenage undead-human romance at the center of it? Maybe both, but largely because of the latter. The dangerous love story between the innocent Bella Swan and the icy, mysterious Edward Cullen, and eventual triangle between them and a werewolf with abs for days, is what drew people into the franchise, and kept their pulses racing until the very end. The entire saga, featuring the sublimely attractive Kristen Stewart and Robert Pattinson, is available to stream on Amazon, and there's no shame in marathoning them. Just "hold on tight, spider monkey:" They're as hot as they are action-packed.
The Vast of Night (2020)
Equal parts would-be Twilight Zone episode and old-fashioned sci-fi radio drama, Andrew Patterson's debut feature takes us back in time to Cayuga, New Mexico in the late 1950s, where two high school youngsters, switchboard operator Fay and late-night radio host Everett, stumble upon a strange interference one night that doesn't seem to be coming from any known source. When Everett asks his listeners to call in if they recognize the sound, the two uncover a global conspiracy involving the military, disappearances, and alien abduction.