Ah, the teenage years, those glorious days when everyone is an immature, hormone-addled ball of energy trying to figure out how to be a person in the world, and also how to get to that party literally everyone will attend after homecoming. While many movies chronicling this period of human development are fun and lighthearted, even the bounciest offer a darkly comforting reminder: You survived.
Put on your varsity jacket, grab your Trapper Keeper, and stream these essential teen movies on Netflix. Remember, if you can't get enough of these teen dreams, check out the best teen TV shows on Netflix. 
Recommended Video
Here's Everything We Know About Pixar's Cinematic Universe
A Cinderella Story (2004)
The story of Cinderella is a formula that's been recycled countless times, but (thankfully) the early aughts thought it was necessary to update the fairy tale for the 21st century. The result is a magical family film led by Hilary Duff as Sam, a teen stuck in the Valley during a literal SoCal drought hoping to rush off to college to escape her step mother (Jennifer Coolidge). But, enter "Nomad," an anonymous classmate (Chad Michael Murray) she's been chatting with online and plans to meet at the school Halloween dance. There may not be any pumpkins-turned-into-carriages or fairy godmothers, but there is a really great kiss in the rain amid a high school football game. It's everything you could want out of an American high school version of a Cinderella story. 
Angus, Thongs and the Perfect Snogging (2008)
There are more than a handful of raunchy teen sex comedies out there, but none of them is as hysterical and excessive as this British movie -- and it's the rare teen sex film told from a female perspective. Focusing on 14-year-old Georgia, who's obsessed with learning how to get good at kissing (er, snogging) while navigating adolescence in all its horror, Angus takes you through Georgia's failed sexcapades and and undying crush on a young Aaron Taylor-Johnson, who's in a very cool band called Stiff Dylans. It's got everything you could ever hope for and more out of a teen movie (including a solid original song), all told with a heaping helping of dry British humor. You'll probably find a bit of yourself in Georgia in this underrated coming-of-age flick.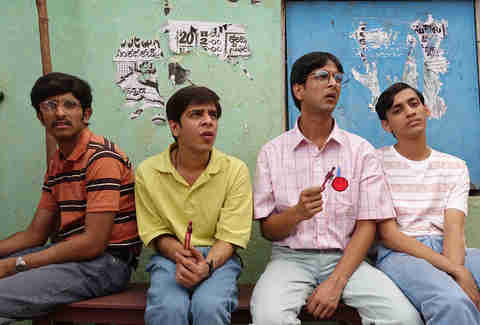 Brahman Naman (2016)
Truly, nothing can spice up a school quiz tournament like the quest to lose your virginity. This '80s-set Netflix original sends a Bangalore trio of high school horndogs to Calcutta to win on both counts.
The Edge of Seventeen (2016)
As romanticized as adolescence can be, it's hard being young. Following the high school experience of troubled, overdramatic Nadine (Hailee Steinfeld), The Edge of Seventeen portrays the woes of adolescence with a tender, yet appropriately cheeky tone. As if junior year isn't hellish enough, the universe essentially bursts into flames when Nadine finds out her best friend is dating her brother; their friendship begins to dissolve, and she finds the only return on young love is embarrassment and pain. That may all sound like a miserable premise for a young-adult movie, except it's all painfully accurate, making it endearingly hilarious -- and there's so much to love about Steinfeld's self-aware performance.
The Fundamentals of Caring (2016)
People love Paul Rudd! That belief alone probably motivated this paint-by-numbers mid-2000s indie ripoff, which stars Rudd as a retired writer (hah!) searching for his next chapter (get it?). After deciding to become a caregiver (yes, this plot is shaping up nicely), he gets a job from a woman whose teenage son, Trevor, has muscular dystrophy, but also a sarcastic sense of humor. When Rudd and the kid go on a road trip to see famous roadside attractions (it's one of Trevor's adorable character quirks that he's obsessed with roadside attractions), they learn plenty about each other, but -- spoiler -- just as much about themselves. Selena Gomez shows up as a love interest for good measure, so if you're in the mood for an undemanding, treacly teen road-trip flick, The Fundamentals of Caring is your Rudd-approved best bet.
Heathers (1988)
Like Mean Girls but with murder, this dark '80s cult classic features Winona Ryder and Christian Slater at their peak cool as two young lovers who start bumping off the popular kids in their high school (including a group of pre-Plastics mean girls all named Heather). While the film flopped at the time, the movie seemed pre-destined to be a cult classic, packed as it was with iconic images and lines: Veronica's monocle, the red power scrunchie, the croquet-playing, "What's your damage, Heather!?," and of course, "Fuck me gently with a chainsaw." Years ahead of its time, Heathers was a sharp satire of sickly sweet '80s teen movies, a lethal dose of cinematic Drano that we still can't believe ever got green-lit (and that certainly wouldn't pass muster in today's post-Columbine world).
Nick and Norah's Infinite Playlist (2008)
This major studio comedy plays like a time capsule, an ode to '00s indie culture. Appropriately starring awkward comedy poster child Michael Cera, this rom-com unfolds over one night in NYC as a pair of young acquaintances, Nick and Norah (Cera and Kat Dennings), cross paths and are thrown into an adventure to find both Norah's friend and the location of a secret show featuring Nick's favorite band. Traipsing around the Lower East Side in a dirty tour bus, this movie about the power of music bringing two lost kids together is peppered with snark, grit, and snappy humor. Like the iPod that unites them, the movie may feel a little dated, but you'll want to keep watching it like it's that favorite scratched mix CD you made a decade ago.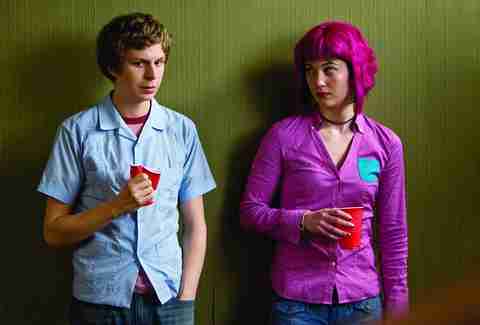 Scott Pilgrim vs. the World (2010)
Scott Pilgrim vs. the World isn't your average young adult romantic comedy. There's a lot of comic-inspired ass kicking and super villianous exes, as well as some not so great original garage band music. While ridiculous, these oddities in a movie about a bass player (Michael Cera) on a quest to win the heart of a special Ramona Flowers by defeating all seven of her evil exes give the genre some much needed action and edginess. From director Edgar Wright (Baby Driver, Shaun of the Dead), the film is uniquely stylized and has the right amount of teenage flair to make it a cult classic. What's dreamier than a boy fighting super-powered evil exes from hell for the sake of love?
Sierra Burgess Is a Loser (2018)
In this Netflix original movie, titular loser Sierra Burgess (Shannon Purser, AKA Barb from Stranger Things) enlists her high school's most popular girl Veronica (Kristine Froseth) after semi-accidentally falling into catfishing the hot jock Jamey (Noah Centineo, aka Peter Kavinsky from To All the Boys I've Loved Before) who mixed up his phone numbers. The Netflix rom-com is creepy-sweet in the way only awkward high school tales can get away with.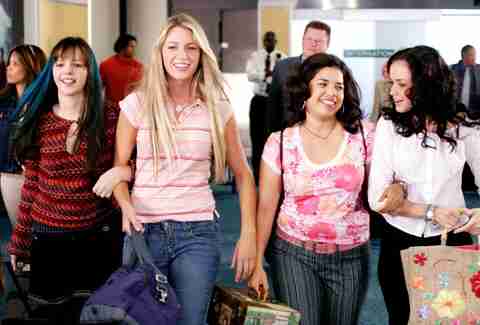 The Sisterhood of the Traveling Pants (2005)
"To the pants! And the sisterhood!" It may be a pretty cheesy premise to base an entire movie on a pair of magical jeans that fits four best friends of different sizes, but this aughts classic -- based on the book series of the same name -- is a genuinely heartwarming story about female friendship. Following Amber Tamblyn, Alexis Bledel, America Ferrera, and Blake Lively as teenagers spending their summers apart -- stuck at home working, in Greece (literally the only good option here), across the country with Dad's new family, and at soccer camp, respectively -- the girls keep in touch via letters and the titular pants. As each of them works through her own form of trauma, the thread of their shared support keeps them together.  
The Spectacular Now (2013)
This coming of age story focuses on Miles Teller's lovable but ill-fated Sutter, a teenage boy who lives in the now and sees little importance in looking beyond it, especially at the prospects of his future after graduation. Then, following one night of binge drinking, he wakes up on the lawn of Aimee (Shailene Woodley), an unsuspecting, studious classmate, and everything changes... for the both of them. Despite their differences, and Aimee's unrelenting desire to dream about the possibilities outside of their deadbeat hometown, there's something special that burgeons between them. Equal parts about the value and flaws in only focusing on the present, and an ode to dreams of tomorrow, The Spectacular Now is a near perfect young romance and story of personal growth.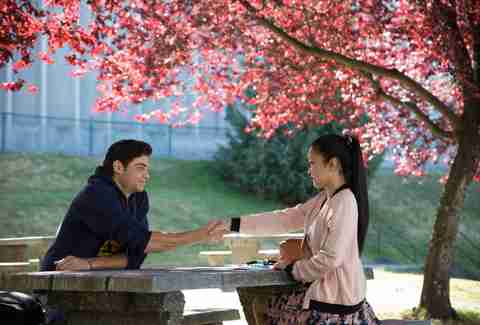 To All the Boys I've Loved Before (2018)
What if your private letters to your crushes weren't private, but wound up in the hands of aforementioned crushes? It's a teen's nightmare! But maybe -- just maybe! -- this story, which is based on Jenny Han's best-selling YA novel of the same name, will turn out to have a happy ending. With strong performances from young leads Lana Condor and Noah Centineo, To All the Boys I've Loved Before is the rare Netflix original movie with enough heart and sincerity to overcome its flaws.