The Best Teen Movies on Netflix
From classics to recent favorites.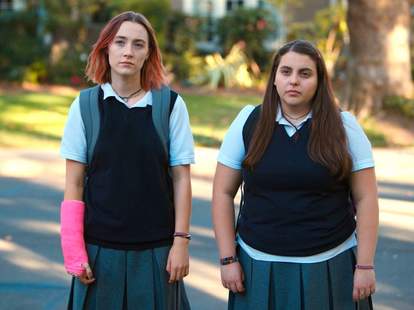 Ah, the teenage years, those glorious days when everyone is an immature, hormone-addled ball of energy trying to figure out how to be a person in the world, and also how to get to that party literally everyone will attend after homecoming. While many movies chronicling this period of human development are fun and lighthearted, even the bounciest offer a darkly comforting reminder: You survived.
Put on your varsity jacket, grab your Trapper Keeper, and stream these essential teen movies on Netflix. Remember, if you can't get enough of these teen dreams, check out the best teen TV shows on Netflix. 
Michele K. Short/Netflix
All the Bright Places (2020)
Based on the international bestselling young adult fiction novel by Jennifer Niven, All the Bright Places tells the story of high school students, Violet (Elle Fanning) and Theodore, who likes to go by his last name, Finch (Justice Smith), both of whom are suffering from mental illness caused by trauma in their pasts. It's a tender love story, growing from two broken people who, together, begin the process of healing. The film is both gentle and heartbreaking, and a rare entry in the excess of teen Netflix originals that truly tries to handle mental health with care.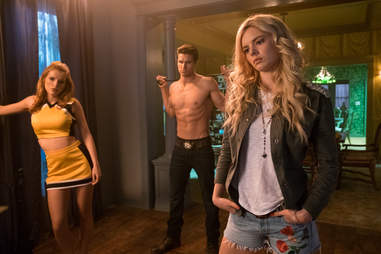 Tony Rivetti Jr./Netflix
The Babysitter (2017)
One pre-teen boy's (Judah Lewis) fantasy about his babysitter (Samara Weaving) turns into a nightmare when it's revealed she and her hot friends (which includes Bella Thorne as a cheerleader, Upload's Robbie Amell as a buff sociopath, and Vine star-turned-actor King Bach) dabble in human sacrifices. Director McG's self-aware spin on the babysitter slasher is more comedy than horror, delivering a bloody fun time in a stylish and dumb manner. Archetypes get turned on their heads, laugh lines punctuate almost every scene, and reality mostly ceases to exist while our hero tries to learn some sort of lesson. It's goofy mayhem in all the right ways. If you hit play, please don't ruin a good thing by taking it too seriously.
Netflix
Brahman Naman (2016)
Truly, nothing can spice up a school quiz tournament like the quest to lose your virginity. This '80s-set Netflix original sends a Bangalore trio of high school horndogs to Calcutta to win on both counts.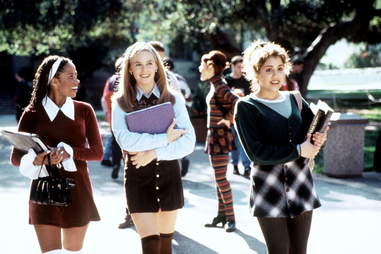 Paramount Pictures
Clueless (1995)
The seminal teen flick of the mid-'90s, Clueless gave us countless gifts that we've carried into adulthood, courtesy of iconic Beverly Hills heroine Cher Horowitz, with her giant phone, unparalleled bubblegum-pulling skills, Valley Girl slang, and matching plaid. If you've never seen it before, you'll be surprised at how many one-liners still work two decades later, from "It does not say RSVP on the Statue of Liberty" to "You're a virgin who can't drive." Do we recommend that you skip watching (or rewatching) Clueless? Ugh, as if!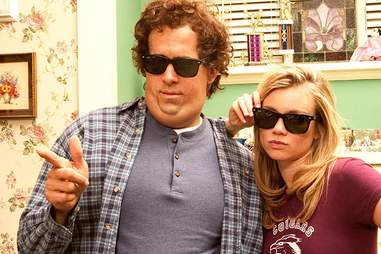 New Line Cinema
Just Friends (2005)
In the wake of There's Something About Mary and American Pie, the early-to-mid-'00s were filled with comedies that mixed crude humor with treacly sentimentality -- but Just Friends was the only one to throw Christmas cheer into the mix. This tale of a smart-ass LA record producer (Ryan Reynolds) returning home to New Jersey over the holidays and romancing his high school BFF (Amy Smart) doesn't go down easy -- some of the jokes have aged like your favorite Good Charlotte song -- but the leads do their best with tepid gags about retainers, The Notebook, and "friend-zoning." So why give this one a chance? A very funny turn from Anna Faris as a deranged Paris Hilton-style pop singer who makes Reynolds' life a living hell. If her character ever makes a Christmas special, we'll be there.
Netflix
The Fundamentals of Caring (2016)
People love Paul Rudd! That belief alone probably motivated this paint-by-numbers mid-2000s indie ripoff, which stars Rudd as a retired writer (hah!) searching for his next chapter (get it?). After deciding to become a caregiver (yes, this plot is shaping up nicely), he gets a job from a woman whose teenage son, Trevor, has muscular dystrophy, but also a sarcastic sense of humor. When Rudd and the kid go on a road trip to see famous roadside attractions (it's one of Trevor's adorable character quirks that he's obsessed with roadside attractions), they learn plenty about each other, but -- spoiler -- just as much about themselves. Selena Gomez shows up as a love interest for good measure, so if you're in the mood for an undemanding, treacly teen road-trip flick, The Fundamentals of Caring is your Rudd-approved best bet.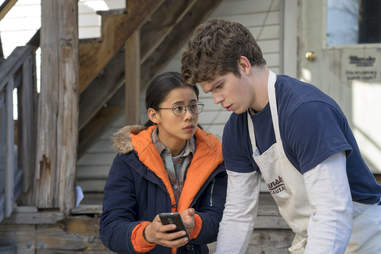 KC Bailey/Netflix
The Half Of It (2020)
"This is not a love story," the heroine, Ellie Chu (Leah Lewis), says at the outset of The Half of It, Alice Wu's coming-of-age film. It's one of those witty lines that the lead in teen movies tends to say, but this Netflix original is a lot smarter than that opening line -- and it's more endearing for it. The film follows Ellie, the only person of Chinese descent in a tiny town called Squahamish who writes her high school classmates' papers for money. One of those offers comes from a boy named Paul Munsky (Daniel Diemer) who wants her help to write a love letter for a girl named Aster Flores (Alexxis Lemire). A conflicted Ellie, who also has a crush on Aster, at first declines but ultimately succumbs to help her family get by with her side hustle. It sounds like the making of a classic rom-com, but The Half of It is truly not a love story as it plays out, which makes it one of Netflix's more mature teen originals. 
A24
Lady Bird (2017)
The dizzying, frustrating, exhilarating rite of passage that is senior year of high school is the focus of actress Greta Gerwig's first directorial effort, the story of girl named Lady Bird (her given name, in that "it's given to me, by me") who rebels against everyday Sacramento, California life to obtain whatever it is "freedom" turns out to be. Laurie Metcalf is an understated powerhouse as Lady Bird's mother, a constant source of contention who doggedly pushes her daughter to be successful in the face of the family's dwindling economic resources. It's a tragic note in total complement to Gerwig's hysterical love letter to home, high school, and the history of ourselves.
Summit Entertainment
The Perks of Being a Wallflower (2012)
Stephen Chbosky's adaptation of his beloved novel will take you back to adolescence in a way many coming-of-age films aim to capture but not all can. The film, about an introverted high school freshman named Charlie (Logan Lerman) discovering where he fits in for the first time when he befriends a group of outsider seniors (Ezra Miller, Emma Watson), while he feels forced to cope with his best friend's suicide and mental illness in private, will take you back to all of the feelings you felt at 16. Lerman's endearing portrayal, as well as each character's own delicate experience, the heartwarming dialogue ripped from the text, and that tender soundtrack, are more than enough to have you nostalgic for drives around your hometown and desperate to put on an 8-track and have a good cry. If you let it, it'll make you "feel infinite."
Dimension Films
Scary Movie (2000)
There are so many teen slasher movies that they're basically their own genre -- so much so that they're a ripe opportunity for a spoof. These, plus several other horror classics, are parodied in Scary Movie to a ridiculous extent. Starring early 2000s regulars like Shawn and Marlon Wayans, Anna Farris, Carmen Electra, and others, the sex-ed up ensemble comedy probably would've been way too crude for audiences today, were it released now, but it's remained a teen cult movie, likely for its very shameless form of hilarity. It's obviously a little better to be able to catch the references, but really, it's just an unhinged, late-night favorite.
Universal Pictures
Scott Pilgrim vs. the World (2010)
Scott Pilgrim vs. the World isn't your average young adult romantic comedy. There's a lot of comic-inspired ass kicking and super villianous exes, as well as some not so great original garage band music. While ridiculous, these oddities in a movie about a bass player (Michael Cera) on a quest to win the heart of a special Ramona Flowers by defeating all seven of her evil exes give the genre some much needed action and edginess. From director Edgar Wright (Baby Driver, Shaun of the Dead), the film is uniquely stylized and has the right amount of teenage flair to make it a cult classic. What's dreamier than a boy fighting super-powered evil exes from hell for the sake of love?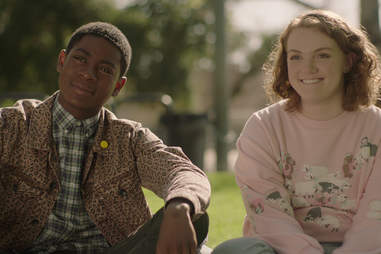 Netflix
Sierra Burgess Is a Loser (2018)
In this Netflix original movie, titular loser Sierra Burgess (Shannon Purser, AKA Barb from Stranger Things) enlists her high school's most popular girl Veronica (Kristine Froseth) after semi-accidentally falling into catfishing the hot jock Jamey (Noah Centineo, aka Peter Kavinsky from To All the Boys I've Loved Before) who mixed up his phone numbers. The Netflix rom-com is creepy-sweet in the way only awkward high school tales can get away with.
MGM Distribution Co.
Sleepover (2004)
Ah, sleepovers: Where tea is spilled, junk food is eaten, and flicks are watched. Basically, they encapsulate the joyful side of what being a tween is all about! And no other tween movie than this mid-aughts staple represents that junior high rite of passage more. (It's in the name!) Except, Sleepover brings it to the next level as two groups of rising freshman compete in an epic, night-long scavenger hunt. Everything about it is extremely 2004, including a then not-so-famous Steve Carell as a curmudgeonly mall cop after one group of galavanting girls. It's definitely a very silly PG movie, but come on, it was meant to be watched on Friday nights in!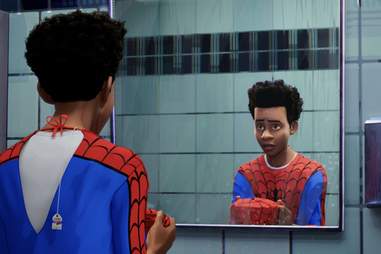 Sony Pictures Releasing
Spider-Man: Into the Spider-Verse (2018)
In this shrewd twist on the superhero genre, the audience's familiarity with the origin story of your friendly neighborhood web-slinger -- the character has already starred in three different blockbuster franchises, in addition to countless comics and cartoon TV adaptations -- is used as an asset instead of a liability. The relatively straightforward coming-of-age tale of Miles Morales (Shameik Moore), a Brooklyn teenager who takes on the powers and responsibilities of Spider-Man following the death of Peter Parker, gets a remix built around an increasingly absurd parallel dimension plotline that introduces a cast of other Spider-Heroes like Spider-Woman (Hailee Steinfeld), Spider-Man Noir (Nicolas Cage), Peni Parker (Kimiko Glen), and, most ridiculously, Spider-Ham (John Mulaney), a talking pig in a Spider-Suit. The convoluted set-up is mostly an excuse to cram the movie with rapid-fire jokes, comic book allusions, and dream-like imagery that puts the rubbery CGI of most contemporary animated films to shame.
Netflix
To All the Boys I've Loved Before (2018)
What if your private letters to your crushes weren't private, but wound up in the hands of aforementioned crushes? It's a teen's nightmare! But maybe -- just maybe! -- this story, which is based on Jenny Han's best-selling YA novel of the same name, will turn out to have a happy ending. With strong performances from young leads Lana Condor and Noah Centineo, To All the Boys I've Loved Before is the rare Netflix original movie with enough heart and sincerity to overcome its flaws.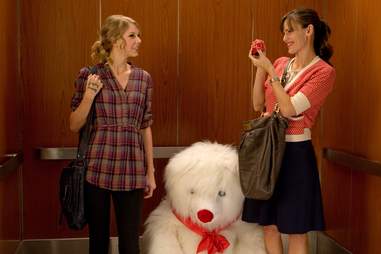 Warner Bros. Pictures
Valentine's Day (2010)
Valentine's Day is the kind of movie that shoves as many famous people (including Ashton Kutcher, Bradley Cooper, Jessica Alba, and Taylor Swift) as possible into one cast so you have bountiful opportunities to yell, "I know them!" It's also the cheesy, multi-story kind of rom-com that's full sweet, easy-to-watch vignettes as it follows a number of beautiful people who all happen to know each other as they break up, make up, and fall in love over the course of one Valentine's Day in LA. The movie is as treacly as Valentine's Day marketing schemes, but it's a go-to date movie that hits all of the sappy marks and romantic tropes a PG-13 movie can handle.
Warner Bros. Pictures
A Walk to Remember (2002)
Adapted from a Nicholas Sparks' novel -- which, as the same guy who wrote The Notebook and Dear John, should tell you enough already -- A Walk To Remember is a classic star-crossed lovers tale of a high school bad boy who falls for the local preacher's daughter , who (brace yourself) is battling leukemia. Yes, it checks about every box of YA sad movie fodder, but you'd be amiss not to let yourself wallow in the hopeless romance that unfolds between Mandy Moore, in her first major film role, and Shane West. Just keep a tissue box at the ready because as soon as you hear the original music sung by Moore or witness the walk in question, you'll be a weepy mess. 
Warner Bros. Pictures
What a Girl Wants (2003)
Amanda Bynes was a Nickelodeon star with her very own series by the time she was 13, but this title is what made her a movie star. She brings the charm as a 17-year-old eccentric vagabond from New York who sets off to London to meet her wealthy father, who happens to be a Lord (Colin Firth) and has no idea that she exists. This is no Princess Diaries, though. Bynes' Daphne fumbles through her new life, refusing to compromise who she is, making for a very funny, sweet romp of an aughts tween favorite. What a Girl Wants is exactly what you want out of a teen movie, hitting all of the unrealistic yet extremely satisfying marks. 
Need help finding something to watch? Sign up here for our weekly Streamail newsletter to get streaming recommendations delivered straight to your inbox.
Follow the Thrillist Entertainment editors on Twitter @ThrillistEnt.