The Best Teen Movies on Netflix Right Now
From classics to recent favorites.
Ah, the teenage years, those glorious days when everyone is an immature, hormone-addled ball of energy trying to figure out how to be a person in the world, and also how to get to that party literally everyone will attend after homecoming. While many movies chronicling this period of human development are fun and lighthearted, even the bounciest offer a darkly comforting reminder: You survived.
Put on your varsity jacket, grab your Trapper Keeper, and stream these essential teen movies on Netflix. Remember, if you can't get enough of these teen dreams, check out the best teen TV shows on Netflix.
Accepted (2006)
Can't get into college? Make your own! That's the premise behind Steve Pink's Justin Long-starring comedy, and it's just as difficult as it sounds. Blake Lively, Lewis Black, and a very young, very funny Jonah Hill round out the cast for a whole course load full of shenanigans. The coed comedy has its fair share of partying and crude jokes—it is a slacker's dream to get a degree in skateboarding or psychokinesis—but somewhat surprisingly, this one's really one for the stick it to the system underdogs out there.
All the Bright Places (2020)
Based on the international bestselling young adult fiction novel by Jennifer Niven, All the Bright Places tells the story of high school students, Violet (Elle Fanning) and Theodore, who likes to go by his last name, Finch (Justice Smith), both of whom are suffering from mental illness caused by trauma in their pasts. It's a tender love story, growing from two broken people who, together, begin the process of healing. The film is both gentle and heartbreaking, and a rare entry in the excess of teen Netflix originals that truly tries to handle mental health with care.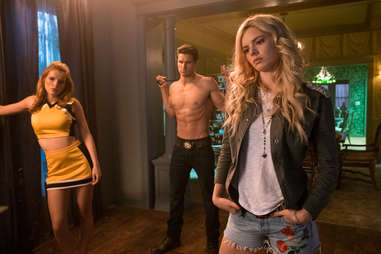 The Babysitter (2017) & The Babysitter: Killer Queen (2020)
One pre-teen boy's (Judah Lewis) fantasy about his babysitter (Samara Weaving) turns into a nightmare when it's revealed she and her hot friends (which includes Bella Thorne as a cheerleader, Upload's Robbie Amell as a buff sociopath, and Vine star-turned-actor King Bach) dabble in human sacrifices. Director McG's self-aware spin on the babysitter slasher is more comedy than horror, delivering a bloody fun time in a stylish and dumb manner. Archetypes get turned on their heads, laugh lines punctuate almost every scene, and reality mostly ceases to exist while our hero tries to learn some sort of lesson. It's goofy mayhem in all the right ways, and finds its voice in the 2020 follow-up. If you hit play, please don't ruin a good thing by taking it too seriously.
The Bling Ring (2013)
"Lets go to Paris'. I wanna rob." Read in a campy SoCal accent by post-Harry Potter Emma Watson, that line defines this glitzy satire from Sofia Coppola, and inherently the '00s obsession with excess, status, and tabloid culture that it's about. This ripped-from-the-headlines crime movie tells the true story of a group of rebellious teenagers who went from party fiends to wanted burglars when they got the idea to use paparazzi reports of A-list stars' whereabouts in order to break into their mansions and steal whatever the hell they want. The Bling Ring is one of Coppola's films evaluating teenage boredom—and what happens when it's corrupted by privilege and questionable morality—but with banging needle drops galore, a logo mania wardrobe, and truly outrageous performances, it's a drive in the fast lane into Hollywood, full of early 2010s whiplash.
Brahman Naman (2016)
Truly, nothing can spice up a school quiz tournament like the quest to lose your virginity. This '80s-set Netflix original sends a Bangalore trio of high school horndogs to Calcutta to win on both counts. Directed by Qaushiq Mukherjee and starring Shashank Arora as our protagonist, Brahman Naman is a hilarious, international festival hit of a teen film.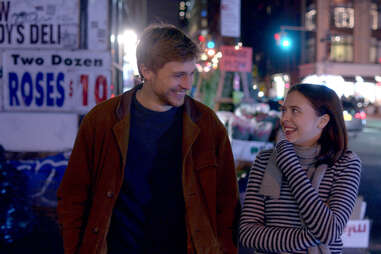 Carrie Pilby (2016)
At first, it's not so easy to like the titular character (played by Diary of a Teenaged Girl's Bel Powley) in this quaint indie. She's only 19 and highly intelligent, having already graduated from Harvard at her age and is privileged enough to already live alone in NYC. She's also quite scared to leave her apartment, though, doesn't know how to socialize with others, and is rather lonely, even if she doesn't know it. Based on a to-do list that her therapist (Nathan Lane) gives her, the movie adapted from Caren Lissner's novel follows her assignment to become as socially intelligent as she is brainy, and in turn, a much happier person. It's a sweet rom-com helmed by To All the Boys I've Loved Before director Susan Johnson with its strength lying in subtly being a more somber coming-of-age film than it makes itself out to be.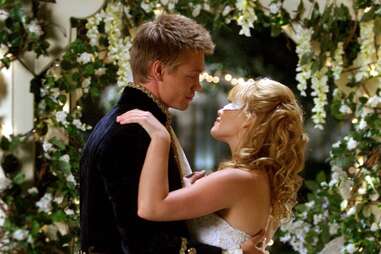 A Cinderella Story (2004)
The story of Cinderella is a formula that's been recycled countless times, but (thankfully) the early aughts thought it was necessary to update the fairy tale for the 21st century. The result is a magical family film led by Hilary Duff as Sam, a teen stuck in the Valley during a literal SoCal drought hoping to rush off to college to escape her step mother (Jennifer Coolidge). But, enter "Nomad," an anonymous classmate (Chad Michael Murray) she's been chatting with online and plans to meet at the school Halloween dance. There may not be any pumpkins-turned-into-carriages or fairy godmothers, but there is a really great kiss in the rain amid a high school football game. It's everything you could want out of an American high school version of a Cinderella story.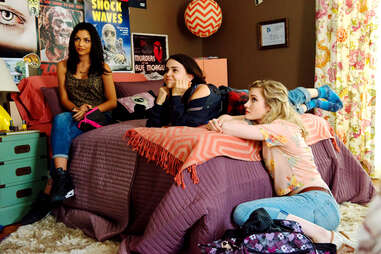 The DUFF (2015)
If you weren't already aware, DUFF stands for "designated ugly fat friend." You might think that a movie about such a mean, juvenile term would make it superficial, but this is actually quite a gem of a teen movie. The always charming Mae Whitman leads the cast as Bianca, who, yes, is the titular DUFF—although it's only because she's less popular than the others in her friend group. When she comes to this realization, she strikes a deal with her friend (Robbie Arnell) to help him study in exchange for tips on changing her social status. It may be a predictable story about learning a thing or two about self-acceptance and owning it, but it's a genuinely sweet comedy with a sense of humor resonant of Easy A. Current and former teens alike cans always use its message of positivity.
Edge of Seventeen (1998)
A suburban '80s nostalgia trip, Edge of Seventeen is like a John Hughes movie if a John Hughes movie were to have ever focused on one of the gay kids hidden in the background of those teen classics. The coming-of-age story set in 1984 Ohio focuses on the teenaged Eric Hunter, who's obsessed with androgynous stars like Annie Lennox and Boy George and still figuring out his identity. A bit racier than your average teen dramedy as it delves into how easy it is to confuse sex with true feelings, it's an essential film about coming out and the dizzying feeling of sexual firsts.
The Edge of Seventeen (2016)
As romanticized as adolescence can be, it's hard being young. Following the high school experience of troubled, overdramatic Nadine (Hailee Steinfeld), The Edge of Seventeen portrays the woes of adolescence with a tender, yet appropriately cheeky tone. As if junior year isn't hellish enough, the universe essentially bursts into flames when Nadine finds out her best friend is dating her brother; their friendship begins to dissolve, and she finds the only return on young love is embarrassment and pain. That may all sound like a miserable premise for a young-adult movie, except it's all painfully accurate, making it endearingly hilarious—and there's so much to love about Steinfeld's self-aware performance.
Fear Street trilogy (2021)
Netflix's ambitious series of three interconnected movies based on the classic R.L. Stine books are a gory good time. All are directed by Leigh Janiak and Part One: 1994, introduces audiences to the cursed town of Shadyside and the teens who have been afflicted. The second jumps back in time to 1978 where a killer is stalking a camp, and the third, set in 1666, explains how this all started. Drawing from horror classics like Scream, the Fear Street movies mix gruesome kills with tongue-in-cheek laughs, and feature a refreshingly queer point of view.
The Fundamentals of Caring (2016)
People love Paul Rudd! That belief alone probably motivated this paint-by-numbers mid-2000s indie ripoff, which stars Rudd as a retired writer (hah!) searching for his next chapter (get it?). After deciding to become a caregiver (yes, this plot is shaping up nicely), he gets a job from a woman whose teenage son, Trevor, has muscular dystrophy, but also a sarcastic sense of humor. When Rudd and the kid go on a road trip to see famous roadside attractions (it's one of Trevor's adorable character quirks that he's obsessed with roadside attractions), they learn plenty about each other, but—spoiler—just as much about themselves. Selena Gomez shows up as a love interest for good measure, so if you're in the mood for an undemanding, treacly teen road-trip flick, The Fundamentals of Caring is your Rudd-approved best bet.
Good Burger (1997)
Welcome to Netflix, home of Good Burger, which you should watch in short order. Kenan Thompson and Kel Mitchell spun off a popular sketch from Nickelodeon's All That to make this rowdy comedy about teens who spend the summer working at their friendly neighborhood fast-food stand and the Nick slime-worthy gaffes that result from a foul burger-chain rivalry. With cameos from Shaq and Sinbad, French-fry gags, and a brawl over an insanely tasty secret sauce, you'll be snort-laughing milkshake out your nose in the first 10 minutes.
Hairspray (2007)
Welcome to the '60s, baby! Movie musicals aren't always great, but this adaptation of the stage show based on John Waters' cult classic is like a genuinely enjoyable 20th century variety show shot in technicolor. It's campy and ridiculous seeing "pleasantly plump" Tracy Turnblad experience discrimination first-hand and decide to help lead a fight for racial justice to stick it to the so-called "Nicest Kids in Town" on the all-white Corny Collins Show, and all of the bubblegum pop and Motown-inspired songs will get you grooving. While John Travolta is no Divine, the star-studded cast is delightful (and makes a case for Zac Efron leading more musicals).
The Half of It (2020)
"This is not a love story," the heroine, Ellie Chu (Leah Lewis), says at the outset of The Half of It, Alice Wu's coming-of-age film. It's one of those witty lines that the lead in teen movies tends to say, but this Netflix original is a lot smarter than that opening line—and it's more endearing for it. The film follows Ellie, the only person of Chinese descent in a tiny town called Squahamish who writes her high school classmates' papers for money. One of those offers comes from a boy named Paul Munsky (Daniel Diemer) who wants her help to write a love letter for a girl named Aster Flores (Alexxis Lemire). A conflicted Ellie, who also has a crush on Aster, at first declines but ultimately succumbs to help her family get by with her side hustle. It sounds like the making of a classic rom-com, but The Half of It is truly not a love story as it plays out, which makes it one of Netflix's more mature teen originals.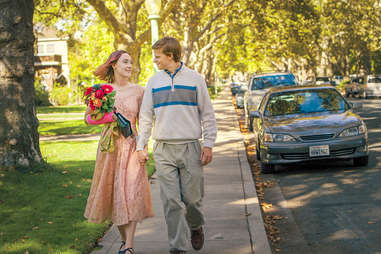 Lady Bird (2017)
The dizzying, frustrating, exhilarating rite of passage that is senior year of high school is the focus of actress Greta Gerwig's first directorial effort, the story of girl named Lady Bird (her given name, in that "it's given to me, by me") who rebels against everyday Sacramento, California life to obtain whatever it is "freedom" turns out to be. Laurie Metcalf is an understated powerhouse as Lady Bird's mother, a constant source of contention who doggedly pushes her daughter to be successful in the face of the family's dwindling economic resources. It's a tragic note in total complement to Gerwig's hysterical love letter to home, high school, and the history of ourselves.
Moxie (2021)
Based on a novel by Jennifer Mathieu, Moxie follows Vivian (Hadley Robinson), a quiet teen, who, upon seeing the gender-based injustices going on at her school, decides to start a zine after learning about her mom's (Amy Poehler, who also directed the film) riot grrrl past. After surreptitiously placing her photocopied creation in the girls' bathroom, she starts a movement aimed at stopping the rampant harassment on campus led by a football star (Patrick Schwarzenegger). Moxie is definitely flawed with its perfunctory nods to intersectionality—that especially can't be ignored considering the underused supporting cast. But, hey, it is an admirable, stirring film with a great Bikini Kill-infused soundtrack—so if it gets a generation of casual Netflix viewers into riot grrrl, that's a net positive.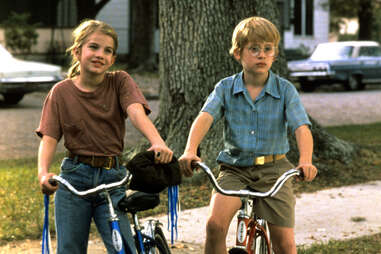 My Girl (1991)
It's been 30 years since My Girl, and if you don't already know what happens: Our sincerest apologies, your heart is about to be destroyed. The movie about a girl (Anna Chlumsky) growing up in a funeral home with her widowed father (Dan Aykroyd) is as sweet as a popsicle on a hot summer day, and a compelling story about the throes of adolescence. Chlumsky and a teeny, tiny Macaulay Culkin are adorable as Vada Sultenfuss and Thomas J., and their chemistry as best friends from down the block only makes the inevitable tragedy that much more painful. (Unless you're heartless, it's impossible not to cry when Vada shouts, "He can't see without his glasses!") My Girl will bring you back to those raw, 12-year-old feelings.
Not Another Teen Movie (2000)
When it comes to parody movies, Not Another Teen Movie is not at the Scary Movie levels of excellence, but it's better than most, largely thanks to its great cast, including a pre-Captain America Chris Evans, Jaime Pressly, and Ron Lester essentially reprising his role from Varsity Blues to... make fun of Varsity Blues. Evans really is the all-star here as the smarmy jock, and it's the gender-flipped whipped cream sequence that will keep you rewatching again and again.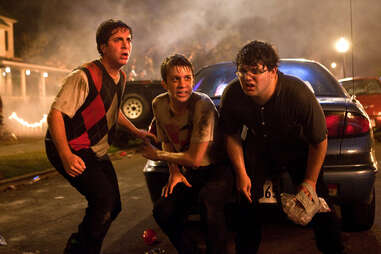 Project X (2012)
There's party movies, and then there's Project X. Nima Nourizadeh's Animal House of the 2010s exists on a sliding scale of the absolute freaking sickest party ever and a nightmare that's no short of hell unleashed—all dependent on what hour of the night it is, how tolerant of heinous behavior you are, and whether you have any pyrophobia. The movie is definitely a time capsule of early 2010s Tumblr aesthetics and sleaziness, but it remains an experience as it pieces together footage from phones and camcorders to document one teenager's houseparty as it gets out of hand.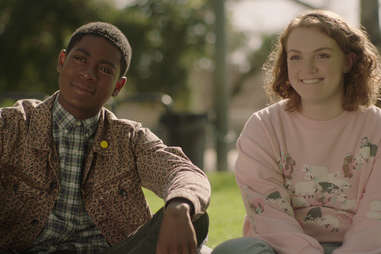 Sierra Burgess Is a Loser (2018)
In this Netflix original movie, titular loser Sierra Burgess (Shannon Purser, AKA Barb from Stranger Things) enlists her high school's most popular girl Veronica (Kristine Froseth) after semi-accidentally falling into catfishing the hot jock Jamey (Noah Centineo, aka Peter Kavinsky from To All the Boys I've Loved Before) who mixed up his phone numbers. The Netflix rom-com is creepy-sweet in the way only awkward high school tales can get away with.
To All the Boys I've Loved Before (2018)
What if your private letters to your crushes weren't private, but wound up in the hands of aforementioned crushes? It's a teen's nightmare! But maybe—just maybe!—this story, which is based on Jenny Han's best-selling YA novel of the same name, will turn out to have a happy ending. With strong performances from young leads Lana Condor and Noah Centineo, To All the Boys I've Loved Before is the rare Netflix original movie with enough heart and sincerity to overcome its flaws.
21 Jump Street (2012)
This reboot of the '80s procedural of the same name solely recycles the concept of young cops going undercover to investigate crimes in high school and college. It adds a lot more crude humor, a blockbuster scale, and self-referential jokes that parody teen movie tropes—and it mother-f-ing rules. Channing Tatum and John Hill are a match made in buddy cop movie Heaven, playing Schmidt and Jenko who don't look young at all but are sent back to high school nevertheless to track down a mysterious new drug. It's a big-budget action-comedy that remains very funny and quotable—and it'll remind you to always two-strap it, no matter what you do.
The Twilight Saga (2008–2012)
Was Twilight a massive, global phenomenon because it had cool vampires or because there was a lustful teenage undead-human romance at the center of it? Maybe both, but largely because of the latter. The dangerous love story between the innocent Bella Swan and the icy, mysterious Edward Cullen, and eventual triangle between them and a werewolf with abs for days, is what drew people into the franchise, and kept their pulses racing until the very end. The entire saga, featuring the sublimely attractive Kristen Stewart and Robert Pattinson, is available to stream on Netflix, and there's no shame in marathoning them. Just "hold on tight, spider monkey:" They're as hot as they are action-packed.
Unfriended (2014)
The Blair Witch Project popularized the found-footage genre, and Unfriended was the first to tap into the even more niche subset of the horror style—social media/computer screen found-footage. The first of its kind, the movie from Blumhouse isn't always a master of its craft and can feel more like being forced into peering at a screen from over someone's shoulder like you're waiting for your sibling's allotted screen time to wrap up, and is sometimes flat-out silly, but since we're addicted to being online, it is hard to look away. It follows a group of teenagers whose chatroom appears to be haunted by their friend who was recently bullied and died by suicide. Even when the scares are cheap, it's an interesting experiment that's worth logging into.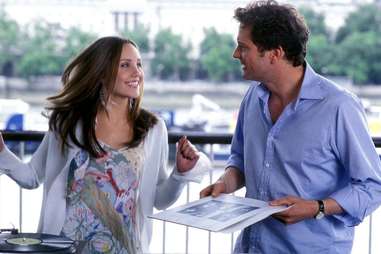 What a Girl Wants (2003)
Amanda Bynes was a Nickelodeon star with her very own series by the time she was 13, but this title is what made her a movie star. She brings the charm as a 17-year-old eccentric vagabond from New York who sets off to London to meet her wealthy father, who happens to be a Lord (Colin Firth) and has no idea that she exists. This is no Princess Diaries, though. Bynes' Daphne fumbles through her new life, refusing to compromise who she is, making for a very funny, sweet romp of an aughts tween favorite. What a Girl Wants is exactly what you want out of a teen movie, hitting all of the unrealistic yet extremely satisfying marks.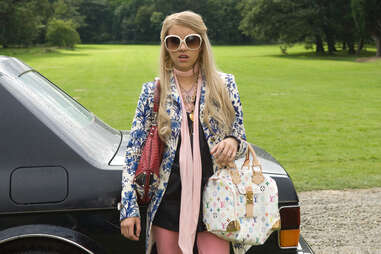 Wild Child (2008)
Wild Child was never a massive teen hit. After a marginally successful UK theatrical release, it went straight to DVD in the US, but has since maintained somewhat of a cult status for being not a not-so-great-but-very-fun-to-watch, extremely '00s teen comedy. Fronted by Emma Roberts in what was the first of her many iconic roles as a spoiled rich kid, she plays Poppy Moore, a Malibu party girl who gets shipped off by daddy to an all-girls boarding school in the UK. Given that it's called Wild Child, you can guess that she shakes things up on her cliched, stuffy English campus, making it a jolly good time of a flick.
Yes, God, Yes (2020)
Yes, God, Yes is a hysterical, humble indie of divine intervention. The film from Karen Maine is a teen raunch comedy that's totally unlike other teen raunch comedies, following a high school girl (Stranger Things' Natalia Dyer) as she wrestles with newfound sexual urges while on a repressive, conservative church retreat. Dyer is utterly charming in the role as a naive but defiant young woman turned off by her peers' holier than thou attitudes, and the film's setting in the early '00s featuring flip phones and scandalous AIM chat rooms makes it all the more laughable. It's a rare sex comedy that has as much to say about the embarrassments of coming-of-age as it does about self-righteousness, and for that it feels like a teen movie sent down from the heavens.