Ah, the teenage years, those glorious days when everyone is an immature, hormone-addled ball of energy trying to figure out how to be a person in the world, and also how to get to that party literally everyone will attend after homecoming. While many movies chronicling this period of human development are fun and lighthearted, even the bounciest offer a darkly comforting reminder: You survived.
Put on your varsity jacket, grab your Trapper Keeper, and stream these essential teen movies on Netflix. Remember, if you can't get enough of these teen dreams, check out the best teen TV shows on Netflix. 
Recommended Video
This Clock Tracks Your Loved Ones Like the Clock in 'Harry Potter'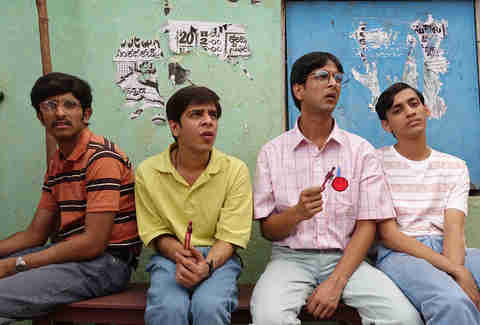 Brahman Naman (2016)
Truly, nothing can spice up a school quiz tournament like the quest to lose your virginity. This '80s-set Netflix original sends a Bangalore trio of high school horndogs to Calcutta to win on both counts.
The Breakfast Club (1985)
Of all the seminal John Hughes teen comedies, The Breakfast Club is the one that cemented him as America's unofficial chronicler of the special combination of angst, passion, hope, and hormones that comprise the teenage experience. Centered around a group of teens thrown together in weekend detention, the film birthed the Brat Pack, and gave us the infamous, oft-quoted, oft-parodied scene of escalating punishment. Most of all, though, it connected with audiences across generations, making it just as enjoyable and recognizable today, more than 30 years after it appeared in theaters. 
The Fundamentals of Caring (2016)
People love Paul Rudd! That belief alone probably motivated this paint-by-numbers mid-2000s indie ripoff, which stars Rudd as a retired writer (hah!) searching for his next chapter (get it?). After deciding to become a caregiver (yes, this plot is shaping up nicely), he gets a job from a woman whose teenage son, Trevor, has muscular dystrophy, but also a sarcastic sense of humor. When Rudd and the kid go on a road trip to see famous roadside attractions (it's one of Trevor's adorable character quirks that he's obsessed with roadside attractions), they learn plenty about each other, but -- spoiler -- just as much about themselves. Selena Gomez shows up as a love interest for good measure, so if you're in the mood for an undemanding, treacly teen road-trip flick, The Fundamentals of Caring is your Rudd-approved best bet.
Girl Asleep (2015)
Defining Girl Asleep, the 2015 adaptation of screenwriter Matthew Whittet's play, presents difficulties. Is it a comedy? A magical-realistic drama? Fantasy? Coming-of-age story? A period piece about 1970s Australia? The combination of all these elements creates a mesmerizing mishmash of a movie about Greta Driscoll, who gets transported to another world on the brink of her 15th birthday.
Girlhood (2014)
Race, gender, and social status come under the microscope in this vibrant coming-of-age tale about a 16-year-old African-French teenager surviving in a rough Parisian suburb. Few movies capture the need for friendship -- even connections that lead one down morally questionable paths -- quite like Girlhood, which also has one of the greatest Rihanna cues in movie history.
Heathers (1988)
Like Mean Girls but with murder, this dark '80s cult classic features Winona Ryder and Christian Slater at their peak cool as two young lovers who start bumping off the popular kids in their high school (including a group of pre-Plastics mean girls all named Heather). While the film flopped at the time, the movie seemed pre-destined to be a cult classic, packed as it was with iconic images and lines: Veronica's monocle, the red power scrunchie, the croquet-playing, "What's your damage, Heather!?," and of course, "Fuck me gently with a chainsaw." Years ahead of its time, Heathers was a sharp satire of sickly sweet '80s teen movies, a lethal dose of cinematic Drano that we still can't believe ever got green-lit (and that certainly wouldn't pass muster in today's post-Columbine world).
Moonrise Kingdom (2012)
This living storybook reworks Wes Anderson's subdued sense of humor for a YA crowd. When two teenagers go on the lam during a record-setting hurricane, the capricious adults spin in circles while romance blossoms. Anderson enhances this cheeky love story with his visual stamp, ensuring that even book covers and music cues inspire laughter.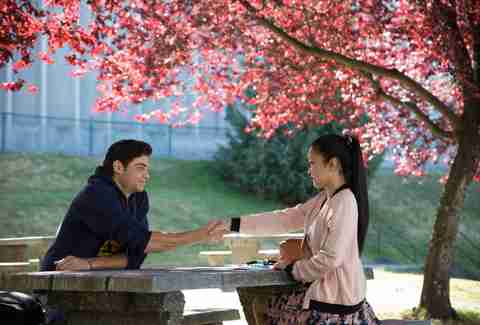 To All the Boys I've Loved Before (2018)
What if your private letters to your crushes weren't private, but wound up in the hands of aforementioned crushes? It's a teen's nightmare! But maybe -- just maybe! -- this story, which is based on Jenny Han's best-selling YA novel of the same name, will turn out to have a happy ending. With strong performances from young leads Lana Condor and Noah Centineo, To All the Boys I've Loved Before is the rare Netflix original movie with enough heart and sincerity to overcome its flaws.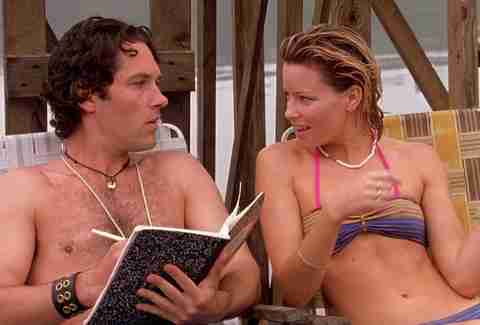 Wet Hot American Summer (2001)
With Netflix reviving The State's first foray into moviedom with First Day of Camp and 10 Years Later, it's easy to forget that Wet Hot American Summer wasn't always a beloved comedy classic. The movie initially flopped, making less than $1 million in theaters, and earned some brutally dismissive reviews. You know who saved this movie? Stoned nerds, mostly. How else can you explain the iconic status of a movie that features a scene where the dude from Law & Order: SVU talks to a can of vegetables voiced by H. Jon Benjamin? There's no other explanation.
Sign up here for our daily Thrillist email and subscribe here for our YouTube channel to get your fix of the best in food/drink/fun.