Ah, the teenaged years. Who can resist the allure of nostalgia for the days when wild hormonal fluctuations ruled every decision; when laughable, superficial beliefs could define personhood; when it felt like no one understood you despite the fact that you tried desperately to fit in and not say the wrong thing, for fear of mass reprisal that could end life as you knew it? 
Yes, those were heady times, far different from the life you now lead. Fortunately, Netflix has made it easy for you to reminisce about the halcyon days of youth without ever leaving your couch. These are the best teen TV shows on Netflix.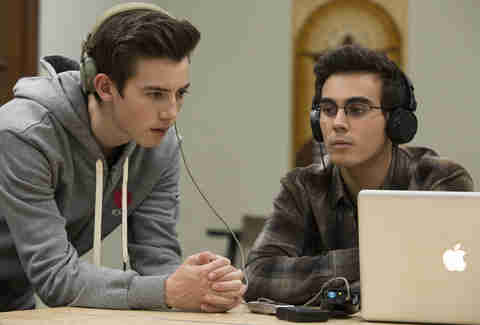 American Vandal (2017-2018)
American Vandal, about teen documentarians who investigate the conspirators behind the high school pranks of a dick-drawing vandal and somebody nicknamed "the turd burglar," is much more than two seasons of dick/poop jokes. After the first couple episodes of each season, the more immature material falls to the background, allowing the show to satirize high school, race and class, and today's criminal justice system in a surprisingly meaningful way. To pull it off, the co-creators studied the techniques that made them so invested in such true-crime titans as Serial, Making a Murderer, and The Jinx. It's parody, homage, addictive teen drama all wrapped in one -- an underrated win for the streaming service that's sadly been officially canceled going forward.
Anne With an "E" (2017-2019)
This Anne of Green Gables adaptation has one of the most ferocious fanbases on all of stan Twitter. If you've ever stumbled across it in your feed, it may be somewhat surprising, but the canceled-too-soon Netflix original from Moira Walley-Beckett (Breaking Bad) is worth all of the hype. Not only is it an impeccably shot 19th century period piece about author L. M. Montgomery's beloved orphan Anne growing up on Prince Edward Island, few teen series are so poised in the way they address contemporary issues, let alone adapting them thoughtfully for the past.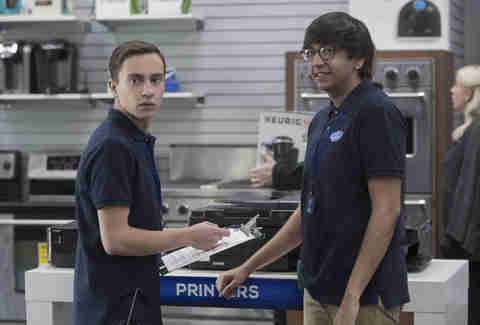 Atypical (2017- )
Robia Rashid's ambitious family dramedy centers on an 18-year-old on the autism spectrum named Sam (It Follows' Keir Gilchrist) who's seeking a girlfriend and independence. The writers carefully employ therapy sessions and asides to shed light on autism, moves that are always more enjoyable than didactic. The humor sprinkled throughout rarely comes at the expense of its protagonist (N.B. great fun facts about penguins and Antarctica). And the show touts a message of inclusion and compassion, no matter the circumstances, to which all viewers can relate. It's an emotional ride, one that might get off to a clunky start, but one that's ultimately worth the investment, especially considering the bite-size runtimes and the heft that sucker-punches you at the end.
Big Mouth (2017- )
In Big Mouth, comedian Nick Kroll and friends (including John Mulaney, Jessi Klein, and Jenny Slate, among others) essentially hop into an animated time machine to play young, more insecure, and hornier versions of themselves as adolescent tweens beginning to date and watch porn, coming to grips with their emotions and sexuality. With a no-holds-barred approach to the horrors of puberty and the freeing format of animation, the show tends to really go there (see: Hormone Monsters voiced by Kroll and Maya Rudolph, singing Michael Stipe tampons, scary sex fantasies), forcing you to relieve the unbearable awkwardness of those middle school years.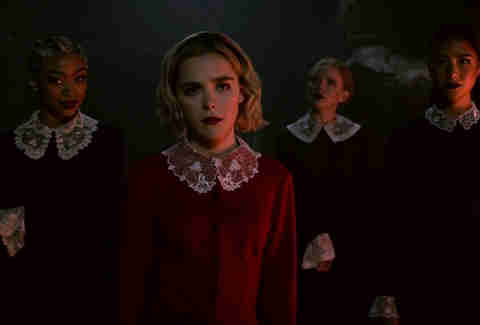 Chilling Adventures of Sabrina (2018- )
Sabrina Spellman is a typical teenage girl, aside from the fact that she's a half-witch and lives in a supernatural household with her two witchy aunts and her warlock cousin. The heroine, played by Mad Men's dynamic Kiernan Shipka, must find her footing in both the human world and her new world of witchcraft: once she turns 16, she must choose whether or not to sign her name in the Book of the Beast and over to the Dark Lord, who, unbeknownst to her, sees the increasingly powerful young witch as the perfect vessel for his most evil bidding. The series takes characters and inspiration from the Archie comics universe and even has Riverdale showrunner Roberto Aguirre-Sacasa at its helm, infusing it with the perfect amount of grotesque horror and sassy-sweet attitude, making it a must-watch teen drama.
Daybreak (2019)
High school, with its cliques, popularity contests, and bullies, is tough. But if those years were set in a post-apocalyptic world with zombies running amok, we'd probably rather embrace the petty stuff instead. In Netflix's Daybreak, zombies are the reality, making for a joyfully ridiculous premise for a series. An adaptation of the Brian Ralph comic, Daybreak follows a boy named Josh who's looking for his girlfriend with a crew of other weird, lost teenage souls in the fallout of a zombie apocalypse. It's all very pompous, imagining how the cheer squad, football team, and others might rally and respond to flesh-eating creatures, but that's part of the fun, upping the ante of a typical, crude high school setting. 
Degrassi: Next Class (2016- )
The most recent installment of the long-running Degrassi franchise documents the crazy lives of the students at Degrassi Community School. Just as dramatic as the Canadian series' earlier installments, though updated to include more contemporary social issues, Next Class explores how young people deal with mental illness, identity, and the challenges of the digital age. Where some young adult series romanticize its core issues, Next Class refuses to do so and is a more raw representation of teen-dom because of it.
Derry Girls (2018- )
Teen shows are often good for some laughs, but few are as goddamn hysterical as Derry Girls. The Channel 4/Netflix co-production about Catholic schoolgirls in the '90s living through the end of the Northern Ireland Troubles is all about their own, unfiltered teenaged troubles, and outright laugh-out-loud hilarious. The entire cast and their quirks are near perfect; after a quick binge, you'll find there's no other fictional crew you'd rather kick-back with. 
Elite (2018- )
This teen drama centered on a wealthy private high school from Spain was a surprise hit when it first dropped on Netflix in 2018, and it's easy to see why: a juicy murder mystery that runs through the entire season, obscene displays of wealth, and lots and lots of sex. On top of being a soapy whodunnit, Elite's issues-based side plots, dealing with topics like class inequality, xenophobia, and the stigma of HIV, are the running undercurrents that truly keep this show afloat. Even with subtitles, you'll have binged through this quick series before you know it.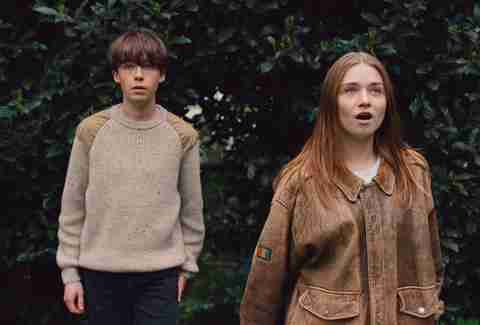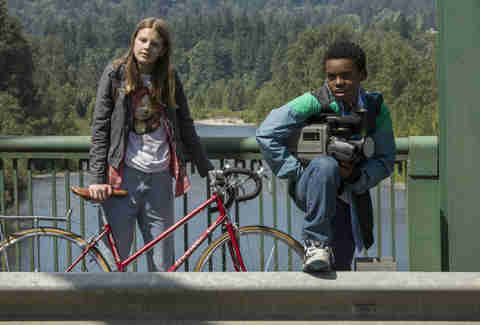 Everything Sucks! (2018)
Set in the '90s, this underrated show tells the coming-of-age stories of one Oregon high school's A/V and drama club members, embellishing the proceedings with plenty of pop culture references and slang from the era. The show is like if Freaks and Geeks was actually set in the '90s and a lot cheesier, although has just as much heart as the cult classic it's been compared to. There's an apt amount of nerds-versus-theater-kid rivalry as the series follows one student's attempt to shoot his first film, but at its core is a group of angsty, multifaceted adolescents dealing with trying to fit in, stand out, and come to terms with their sexuality. It's a short, binge-worthy single season in which you should expect in-your-face nostalgia and a whole lot of youthful positivity even in a show whose namesake suggests it revels in a cynical teenage attitude.
The Flash (2014- )
While The CW's Arrow teeters on the edge of self-parodying grimdark nonsense most of the time, the show's DC Comics companion, The Flash, is a lighting-speed breeze. Glee alum Grant Gustin stars as the breaker of sound barriers, who finds himself battling everyone from freeze-gun-wielding mad men to sentient gorillas in an effort to uncover his mother's equally speedy killer, and in later seasons, unpack the multi-dimensional logic enabled by other "speedsters." For all its teen-friendly drama, The Flash never shies away from the comic book nonsense (he said lovingly) or the splash-page action. Finally, our campy superhero TV shows can look and feel like the movies.
The Fosters (2013-2018)
Life at home can be just as difficult as anything else teens may be dealing with at school, and this family drama focuses on just how tumultuous and powerful parental relationships are for adolescents. The series focuses on the Fosters, a large family made up of a lesbian couple, their one biological son, four adopted children, and two foster children who all come together from a variety of backgrounds -- escaping abusive birth parents, criminal pasts... the whole works of dramatic teen TV -- and must learn to grow together. With its diverse cast and representation of LGBTQ stories, The Fosters received a great deal of praise over its five-season run. It's a sincere drama full of complex characters to get invested in.
Gilmore Girls & Gilmore Girls: A Year in the Life (2000-2007 & 2016)
In case you haven't heard, Netflix revived Gilmore Girls -- so you can catch up with this wisecracking mother-daughter duo before watching the four-episode follow-up. The show takes place in the quirky small town of Stars Hollow and features a dynamic supporting cast so fully fleshed, you'll feel like a local after your first hour. For extra credit, the Gilmore Guys podcast dissects the series episode by episode, providing a present-day watercooler for your thoughts on an almost 20-years-old show. 
Glee (2009-2015)
With shows like Nip/Tuck, American Horror Story, and The People v. O.J. to his name, TV maven Ryan Murphy earned his reputation for spilling blood. But with Glee, Murphy and co-creators Brad Falchuk and Ian Brennan (Scream Queens) spill their guts, setting observations on gender, sexuality, relationships, disability, family, and teenhood to song. Those who saw the show's 30-second ads during its six-season run know Lea Michele's bubbly Rachel, the comical rivalry between music teacher Will Schuester (Matthew Morrison) and cheerleading coach Sue Sylvester (Jane Lynch), and the non-stop re-engineering of classic songs into pop a capella hits. But there's more to Glee than jazz hands and major chords; when these kids belt "Don't Stop Believin'," they beam those notes through a social shitstorm of Murphy's creation, and the journey is typically sweet.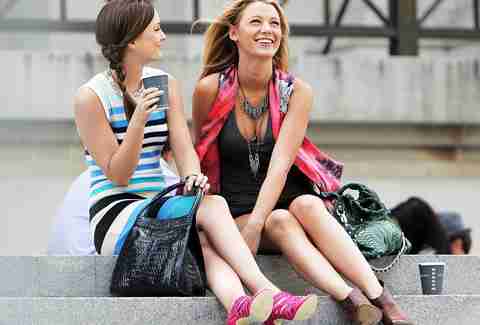 Gossip Girl (2007-2012)
While it's now known primarily as the show responsible for making Blake Lively and Leighton Meester famous, Gossip Girl's strength is delighting in the outsize amorality of elite high-schoolers on New York City's Upper East Side. This rarefied setting is a playground for the calculating, ambitious, backstabbing exploits of characters with surnames like "van der Woodsen," "Waldorf," and "Archibald." After plowing through your fifth episode in a row and experiencing a strange desire to get brunch and take a weekend shopping trip to Paris, you may hate yourself a little bit... but not enough to stop watching.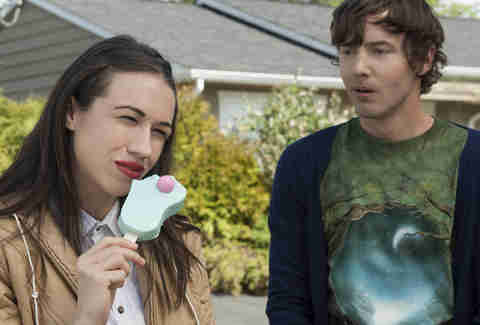 Haters Back Off (2016-2017)
Haters Back Off plays as an origin story for YouTube sensation Miranda Sings (Colleen Ballinger's internet persona), who has amassed millions of subscribers by caking on lipstick, dissing famous people, abusing the English language, and uploading tutorials on everything from dancing to making "TACO BELL POPCISCLES" [sic]. But Haters, co-created by Ballinger and her brother Christopher, focuses less on those vids and more on Miranda's offline pursuit of fame -- love, betrayal, and tragedy all making cameos along the way.
I Am Not Okay With This (2020- )
Don't be mistaken: This series may feature kids (Sophia Lillis, Wyatt Oleff) from the It movies and come from showrunners of both Stranger Things and The End of the F***ing World, but I Am Not Okay With This is actually none of those things. The dramedy is another adaptation of one of TEOTFW author Charles Forsman's graphic novels, though, about a teenaged girl named Syd who, on top of dealing with the recent loss of her father and struggling with her sexuality, somehow starts to experience superpowers. It borrows the nostalgic music cues and moodiness that made TEOTFW work, but on its own is a queer, tender story about how grief and anger can manifest in teenage girls. Telekinetically giving bullies bloody noses and destroying super markets aside, it's the kind of relatable angst that you could be very okay with. 
Jane the Virgin (2014-2019)
Yes, the title, the premise, the plotlines on this CW series are all ridiculous. But it's a telenovela -- it's supposed to be over the top. What's truly unbelievable about Jane is how many serious, controversial issues it makes palatable without moralizing (#ImmigrationReform). Somehow, a melodrama about an accidentally artificially inseminated virgin raising a baby while flitting back and forth between the vertices of a love triangle, which takes place in a world populated by drug lords, secret twins, evil professors, and a police department conspiracy, manages to strike the simplest emotional and comic beats week after week. Jane deserves praise for its bilingual storytelling, strong female relationships, and uncommon mastery of a narrator's chyrons... but ultimately, we watch it because it's just plain fun.
On My Block (2018- )
As childhood friends Jasmine, Monse, Ruby, and Jamal enter high school in South Central Los Angeles, these kids have more to deal with than solely typical teenage drama. This heartfelt series about growing up in an underprivileged neighborhood is funny, endearing, and honest, exploring the group's relationships and ups-and-downs of freshman year, while keeping their friends out of harms way and away from getting involved in gang activity. Bringing diverse perspectives to the screen, On My Block is a great young adult series about a community seldom represented.
The Order (2019- )
Magic schools have been in vogue since even before Harry Potter took the whole world by storm, and the fantasy subgenre isn't about to die out anytime soon. If you've already re-read and rewatched J.K. Rowling's series too many times to count and are looking for something new, you might want to give Netflix's The Order a shot. The show follows freshman college student Jack Morton while he navigates a world full of frightful creatures and hot-tempered bullies in his quest to join Belgrave University's secret society, unearthing dark powers and even darker family secrets along the way. Oh, and also werewolves. Lots of werewolves.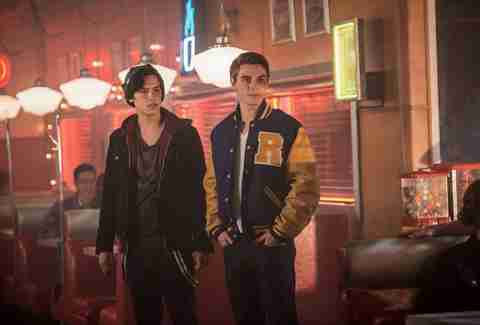 Riverdale (2017- )
A modern CW take on the yuk-yuk teen comic Archie may sound like a shot of arsenic to prestige TV binge-watchers, but with a murder-mystery undercurrent, soap drama worthy of The O.C., and a sheen that looks like Twin Peaks by way of 300, Riverdale rises above everything you think you should be watching. Each young actor on the show is a discovery (OK, maybe not Arch himself, but this is why the comics always emphasized "& Friends") and the fully packed episodes earn all the twists and turns. Watch Riverdale and you'll be sifting through grocery store comic shelves in a week.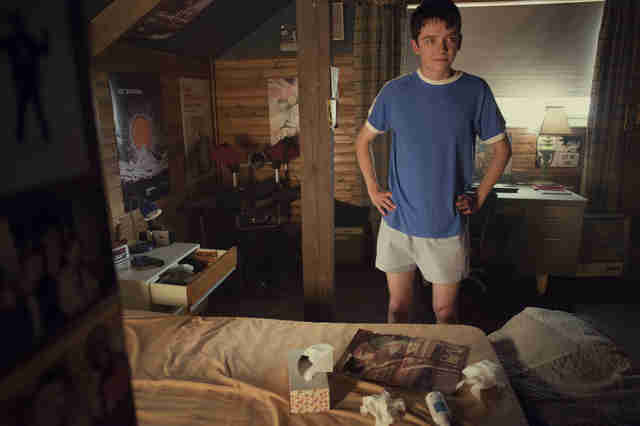 Sex Education (2019- )
Yes, the hard sell is right there in the title (sex!), but don't let the red herring boobs in the first 15 seconds of this British series fool you: Sex Education primarily deals with the complex emotions that accompany physical desire. Helping to parse through those feelings are the mother and son duo, one a licensed sex and relationships therapist (Gillian Anderson's Jean Milburn) and the other a gifted savant (Asa Butterfield's Otis Milburn) who can coach his peers through their issues even though he himself has bedroom problems. Peering into the intimate lives of the ensemble cast of high schoolers, there's something relatable, hilarious, and melancholy about each character without ever making them into a flattened type. And with the original score written by Ezra Furman, Laurie Nunn gave us a gem: This is easily one of our favorite Netflix originals.
Skins (2007-2013)
Hormonal teens. Lots of bad decisions. Zero fucks. Upon first viewing, Skins might feel like the British version of Project X or Veep's vulgar little sibling. But there's much more to the rampant sex and social one-upmanship that riddles Roundview College. Each cleverly scripted installment -- told from a different character's point of view -- meshes foul-mouthed humor with the gritty personal details of subjects like mental illness, family dysfunction, and race. The combo makes for some potent concoctions, ones that manage to pulse with an electrifying rhythm, even though many of Roundview's students (played in early episodes by the big-name likes of young Nicholas Hoult, Dev Patel, and Daniel Kaluuya) are mired in the mind-numbing ennui between childhood and adulthood. After a couple episodes, you'll find yourself obsessing over these deftly drawn kids, what their futures look like, and whether their anarchic exploits will make them or ruin them.
The Society (2019- )
Netflix's summer 2019 sensation blends the anxious social politics into the modern day, introducing us to a group of high school students who suddenly and inexplicably find themselves without parents, siblings, or anyone else at all populating their small town. When a bus full of kids is whisked off to a woodsy retreat only to be brought back home a few hours later due to bad weather, the bus' cargo soon find out that no one's coming to pick them up. Everyone except them seems to have been erased from the world, and their town has been neatly cut off from outside society. It's up to a bunch of high school students to form a pseudo-government, make sure no one starts killing anyone else, and, hopefully, figure out what the hell is going on.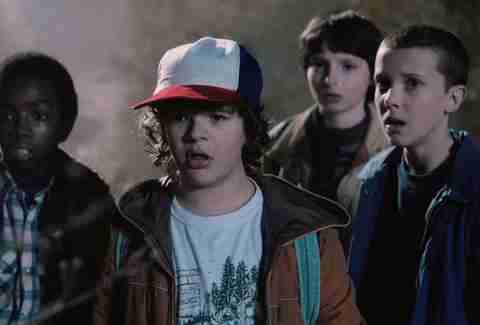 Stranger Things (2016- )
If you haven't binged Netflix's '80s paranormal throwback... what gives? It's all your friends can talk about every time a new season drops, and the recent Season 3 just as much of an adolescent exploration of hormonal, teenaged feelings as it is another go facing off with monsters from another dimension. You'll come for the supernatural-meets-government-conspiracy plot and charming sci-fi references, but you'll stay for the charismatic tweenage cast.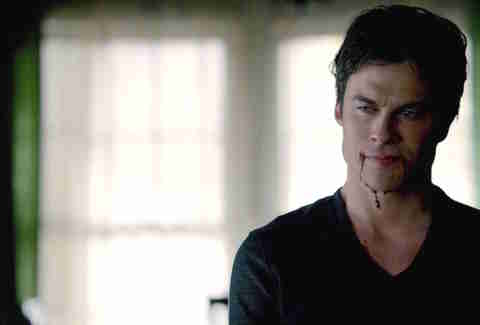 The Vampire Diaries (2009-2017)
Here's the pitch: not one, but two hot vampire brothers. While it premiered back in 2009 at the sparkly peak of Twilight mania, this supernatural teen soap has more in common with co-creator Kevin Williamson's witty '90s work -- Dawson's Creek and Scream -- than it does with Stephenie Meyer's po-faced novels. Based on a series of books by YA writer L. J. Smith, the show brings you into the inner life of a newly orphaned high-schooler named Elena (Nina Dobrev) who gets pursued by sultry, good vamp Stefan (Paul Wesley) and his equally sultry, evil bro Damon (Lost's Ian Somerhalder). There's love triangles, complicated mythology, crazy plot twists, and countless scenes where yokels get bit in the neck by pale guys with great hair. But its the wry, almost Buffy-like comic tone that keeps you coming back.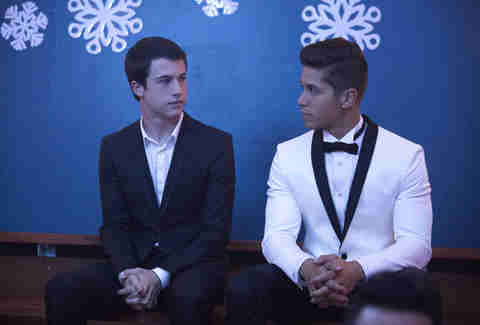 13 Reasons Why (2017- )
Whether you've read the source material or not, Netflix's most divisive drama will ensnare you. Brian Yorkey's adaptation follows Clay (Dylan Minnette), a Liberty High student who receives seven cassettes defogging his crush's mysterious rationale for suicide, followed by a second season that uses a series of Polaroids to expose the school's secrets. Dramatic by nature but effective in execution, 13 Reasons Why unspools an addictive story while touching upon heavy issues like depression, driving under the influence, and sexual consent. It might seem over the top at times, but that's the way high school was and is. The heartbreak is real.
The 100 (2014- )
How many post-apocalyptic shows starring attractive young people do we really need? Apparently, one more! The 100, which was adapted from a YA series by writer Kass Morgan, is about a team of teens sent down to bombed-out Earth from a colony floating in space. Inevitably, things go wrong: Warring factions emerge, hearts get broken, and, as is required by TV law, beloved characters are killed. Don't let the show's soapy veneer fool you; this is dark, thoughtful material in a slick, teen-friendly package.
Need help finding something to watch? Sign up here for our weekly Streamail newsletter to get streaming recommendations delivered straight to your inbox.