The Best Thanksgiving Movies to Watch Right Now
What to watch while you wait for the bird to finish cooking.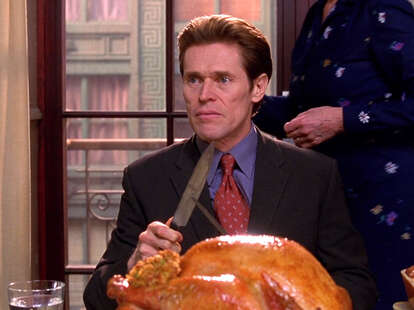 What are the best Thanksgiving movies? Don't expect Hollywood to provide answers. Each year, the studios bank on Thanksgiving weekend for a major box-office boost. There's something about stuffing bread into a chicken's bum, stuffing family under one roof to engage in political discourse, and condensing the holiday cheer associated with December holidays into the final beats of November that sends the masses running to the nearest multiplex. Go figure.
While TV has Turkey Day more than covered, what doesn't get a boom each year is the output of Thanksgiving-themed movies. As if a few days of wailing grandmothers and spiked apple ciders don't translate to laid-back entertainment—c'mon, suits, give the people what they want! Thankfully, a few daring directors have risen to the occasion of America's gluttonous holiday and delivered piping-hot feature films for you to take in. Here are the best Thanksgiving movies ever made, which basically just means most of the only Thanksgiving movies ever made (sorry, Dutch, you're not good).
Addams Family Values (1993)
The 1991 remake of the '60s TV series is a spooky classic, but this sequel is the real pinnacle of the Family franchise. To keep Wednesday and Pugsley in line, Morticia and Gomez hire a nanny (Joan Cusack at her most withering), who has a scheme of her own, and ships them off to terrorize other teens at a summer camp. While it's not officially Turkey Day, the death-obsessed kids get the chance to school their privileged, sleep-away camp peers on the real history of Thanksgiving when they're forced to put on a play about the holiday. Very few Thanksgiving movies or holiday specials are as earnest about the atrocities committed against the indigenous people in our country, but leave it to Christina Ricci to address them head-on in this offbeat family film. The Wednesday deadpan will crack you up at every line.
Free Birds (2013)
If you're surrounded by children this Thanksgiving, throw on Free Birds, the story of two turkeys who time-travel back to the 1600s to save their heads from the chopping block. Everyone will enjoy the B-grade Chicken Run antics. Then you'll spend the rest of the night debating time-travel logic with your nerdy-ass cousin. No need to get lives and gain self-respect—it's Thanksgiving!
Funny People (2009)
After the commercial success of The 40-Year-Old Virgin and Knocked Up writer-director Judd Apatow teamed up with his old friend the Sand-man for a slightly meta, James L. Brooks-ian examination of comedy, disease, and death. And, for many scenes, this movie feels like nothing else you've ever seen, and Sandler feels caustic, biting, and alive in ways that he's never been on screen before, playing a famous comedian who's diagnosed with a terminal illness. As he hires a struggling comic (Seth Rogen) to be his assistant and reconnects with old friends, it's a somber but warm movie about friendship—fit with its own Friendsgiving scene—that feels like coming home. It's exciting to think that Sandler, a risk-averse comedian who seems to use most of his movies as vacation packages for his friends and family, decided to star in a movie this odd, messy, and personal.
Hannah and Her Sisters (1986)
Mia Farrow, Barbara Hershey, and Dianne Wiest star as sisters in this drama about their relationships with each other and the romances in their lives in the time span of three Thanksgivings. While the holiday is really just a marking point for the cast's relationships in the film, it's no less a classic to view post-meal, as the film remains one of cinema's most beloved screenplays for its dense material, which it won Best Screenplay for in 1987.
Home for the Holidays (1995)
Jodie Foster directed this quaint, quirky Thanksgiving movie comedy about a family that gathers to feast, only to fight through every course. Politics, social norms, and who's-dating-whom sparks every type of argument at Foster's dinner table. Holly Hunter and Robert Downey Jr. make this one worth flying in for.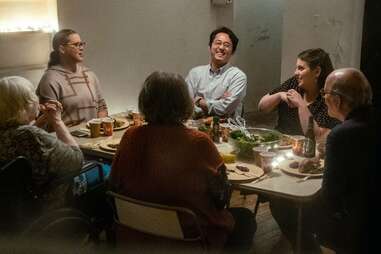 The Humans (2021)
Originally a Tony-winning play from Stephen Karam, the writer-director adapts his own simple story about a young couple hosting Thanksgiving in their new, decrepit NYC apartment in this film. While it might sound like a quirky family comedy, The Humans is quite the opposite: an unnerving, horror-adjacent portrayal of a family gathering where broken dreams and fractured relationships are all that come together at the dinner table. It's filled out with a great cast featuring the likes of Beanie Feldstein, Steven Yeun, Amy Schumer, Richard Jenkins, Jayne Houdyshell reprising her stage role, and June Squibb—plus the apartment itself, which creaks and cracks like it's haunted. It's the feel-bad movie that Thanksgiving deserves.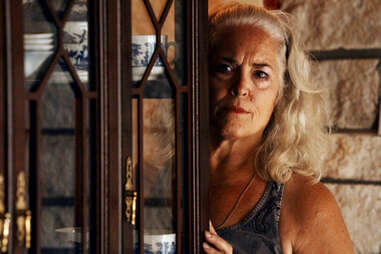 Krisha (2016)
Like Home for the Holidays, Krisha is a Thanksgiving movie about what happens when a sprawling family assembles around a single table. Unlike Home for the Holidays, Krisha is a Thanksgiving movie about what Thanksgiving really is: a methodical, existential nightmare. The movie floats around a suburban Texas home like it's Terrence Malick filming the beaches of Peru. The title character, an alcoholic who hasn't seen her son or her sister who took him in years, returns sober, delicate, and ready to get her life in order. But since when has anyone recovered at Thanksgiving dinner?
The Last Waltz (1978)
On November 25th, 1976, The Band took the stage at Winterland Ballroom in San Francisco and made musical history. Bob Dylan, Neil Young, Emmylou Harris, Ringo Starr, Van Morrison, Neil Diamond, Muddy Waters, and Eric Clapton were all on hand for the epic concert event. Thankfully, celebrated director Martin Scorsese was too. When folk-obsessed old-timers call this one of the greatest concert films of all time, they are not wasted—tipsy, because that red wine works, man—but not wasted. It's legendary.
Miracle on 34th Street (1947)
Subliminal pro-Macy's marketing be damned, George Seaton's fanciful story of Kris Kringle, and the trial to prove he's the real deal, is an ode to the transformative power of believing in something positive. For all the star power in this movie (including a young Natalie Wood as Susan, the girl who needs to believe), it's Edmund Gwenn as Kris who remains so pure and positive, you really might believe he is Santa by the end. Miracle on 34th Street hovers under To Kill a Mockingbird and 12 Angry Men as one of the great courtroom dramas (even if the legal proceedings don't make a lick of sense), but you'll be too lost in the twinkle of this movie to ever think of it as such.
Pieces of April (2003)
Novelist Peter Hedges' indie Thanksgiving movie might have been lost to the ages if it weren't for the ties to the holiday. Katie Holmes stars as the rebellious daughter of a well-off suburban family who tries to prepare the big holiday meal in her Lower East Side tenement apartment. As her family struggles to actually get to her place—their road trip is thrown off course by everything from Krispy Kreme donuts to roadkill accidents—April has her own meltdown over cooking turkey. We swear there are happy notes in here.
Planes, Trains and Automobiles (1987)
Steve Martin and John Candy's road movie, a pinnacle of Thanksgiving movie comedy, is so damn good we spent 4,000 words explaining why—about as many miles as their bickering duo winds up traveling on their way home for the holidays.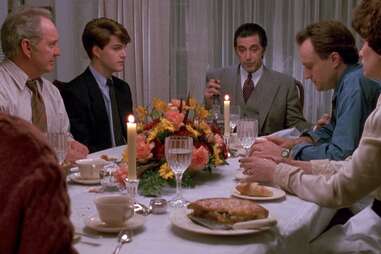 Scent of a Woman (1992)
Interestingly enough, Al Pacino won an Oscar for a Thanksgiving weekend film. In the 1992 drama directed by Martin Brest, Pacino plays an irritable, blind former army officer named Frank paying a prep school student (Chris O'Donnell) on a scholarship to look after him over the holiday. Frank's got a plan of his own, though, arranging for the two of them to travel to New York City for what he's planning as a final hurrah before he plans to kill himself. It may be quite the holiday drama, but it's laced with all the luxury you deserve over break and follows a heartwarming unlikely pair.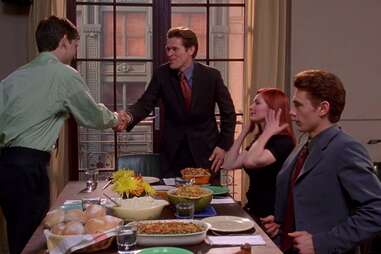 Spider-Man (2002)
Right after the Goblin and Spider-Man fight for the second time in Sam Raimi's comic-book movie, their alter egos Norman Osborn and Peter Parker retreat to Aunt May's house for Thanksgiving dinner. Therefore, Spider-Man is officially a Thanksgiving movie.
Thanksgiving (2007)
Plopped into the center of Quentin Tarantino and Robert Rodriguez's Grindhouse, the turducken of horror movies, this fake trailer by Eli Roth is the closest Turkey Day will come to getting its own Black Christmas. Watch it over and over as you displace any rage incurred from the a-hole who stole your drumstick.
Tower Heist (2011)
Brett Ratner's Thanksgiving caper movie, about a high-rise residence staff who plot a heist after learning their Trump-like boss duped them all in a Ponzi scheme, takes place in the days leading up to the Macy's Thanksgiving Day Parade—i.e., the most practical time to scale a 50-story gold building and remove a priceless car from inside the penthouse. Ben Stiller, Eddie Murphy, Matthew Broderick, Gabourey Sidibe, and more make this much funnier than you'd expect.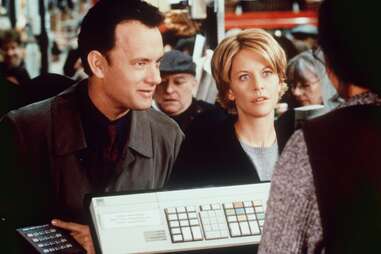 You've Got Mail (1998)
This classic Nora Ephron film not only gives us that trademark bittersweet ache of "but will they work out?!" that only a really great rom-com can deliver, it's also the ultimate autumnal film. Remade from Ernst Lubitsch's zippy 1940 rom-com The Shop Around the Corner (itself based on a 1937 Hungarian play), Ephron's script gives Tom Hanks and Meg Ryan a chance to banter like they're clicking out their words on a keyboard, their charm at full force, while the leaves in NYC start to change and the snow starts to fall around them. While it's not a Thanksgiving movie, per se, there is a scene when Hanks intervenes for Ryan's Kathlee, in the Zabar's Thanksgiving cash-only checkout line, ending with the clerk's iconic deadpan "Happy Thanksgiving back." While the chatroom jokes may be outdated, few movies encapsulate the essence of hygge that you crave around the holidays like this one.