Some people like to drink green tea and meditate to wind down after a long week. Other people like to rock climb and skydive to blow off some steam. Then there's a third group of people -- presumably including you -- who like the adrenaline rush of a good scare, but don't want to leave the couch to get it. That's why we're giving you what you want: the best nail-biting thrillers you can find on Amazon Prime. So check your windows and doors to make sure they're locked, turn on all the lights, and sit on the edge of your seat, because you're in for a wild ride.
Don't forget to check out the full list of the best movies on Amazon Prime. You can't stop streaming!
Recommended Video
Here's Your First Look at Disney's Star Wars Land
Basic Instinct (1992)
Has any movie ever done more for ice-based weapons? Nineties bad-boy director Paul Verhoeven gave us this lurid tale of a damaged cop, played with real scumbag glee by Michael Douglas, investigating an icepick-wielding serial killer, but Sharon Stone is the real star of this show. Unlike the late-night premium-cable schlock that attempted to steal its sleazy style, this pulp classic has a sense of humor and a Hitchcockian playfulness to go along with all the nudity, violence, and cheesy one-liners.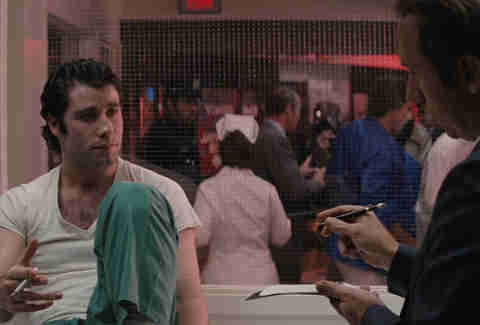 Blow Out (1981)
A frenzied commentary on post-Watergate paranoia and a careful examination of how narratives gets constructed, this Brian De Palma thriller will change the way you listen to audio. John Travolta stars as a gifted movie sound effects artist who accidentally records a murder involving a presidential candidate -- or does he? To solve the mystery he keeps going back to the tape, driving himself to the brink of madness in the search for the truth. You'll return to this movie with the same intensity.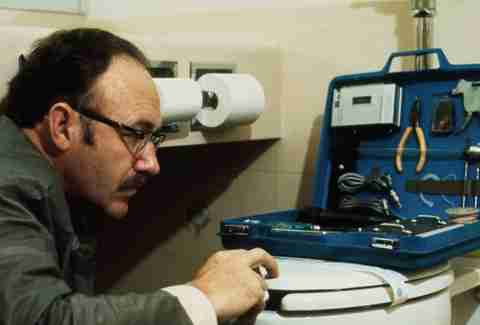 The Conversation (1974)
If you think domestic surveillance is spooky, imagine how it feels for the guy on the other end of the microphone. Starring Gene Hackman in his prime, Francis Ford Coppola's subdued thriller builds paranoia out of an overheard conversation and the lengths to which one private investigator goes to uncover its meaning. Hackman's Harry Caul can only get so close to his subjects, and Coppola plays by similar rules, making sound as essential to the viewing experience as picture. Wildly influential, this one will have you looking over your shoulder for days.
Cruel Intentions (1999)
In adapting the classic French novel Les Liaisons Dangereuses for the WB generation, writer-director Roger Kumble doesn't pull back on any of the book's nasty back-stabbing and emotional manipulation. Instead, the movie revels in the melodramatic tawdriness of it all and features truly inspired lead performances from Sarah Michelle Gellar (using all the tricks that made her so likable on Buffy the Vampire Slayer) as conniving mean girl Kathryn Merteuil, Ryan Phillippe as her charmingly vacant step-brother Sebastian Valmont, and Reese Witherspoon as the virginal Annette Hargrove. Plus, you know "Bittersweet Symphony" has never sounded sweeter.
The Game (1997)
Michael Douglas gives great thriller face. With his slicked-back hair, wrinkled brow, and penetrating eyes, the actor excels at playing rich, entitled white guys who are either losing their cool or getting their comeuppance. In The Game, director David Fincher's fiendishly clever mouse-trap of a movie about an investment banker thrust into a possibly dangerous ARG, Douglas must react to a Kafkaesque scenario where every element of existence might be part of a vast conspiracy. Luckily, the Oscar-winner is up to the task, grounding the occasional ludicrous twists with subtle emotional responses and a brittle sense of humor. Functioning as both a satirical take on '90s corporate America and a Hitchcockian roller coaster ride, the film is a masterful showcase for Douglas's oily charms.
A Ghost and the Darkness (1996)
Most thrillers feature some kind of person-vs.-person (or person-like entity) conflict, but person-vs.-nature can be just as riveting. You obviously know lions can be deadly, but, generally speaking, they're not cooking up plots to eat you... except the time they actually were. A Ghost and the Darkness is based on real-life events that took place in 1898 in Africa, where two lions, dubbed the Tsavo Man-Eaters, attacked and killed anywhere from 28 to 135 victims -- the details are a bit sketchy -- dragging railway workers from their tents and devouring them on a near-nightly basis. The film follows thriller king Michael Douglas and Val Kilmer as they fight to protect the men in the camp, hunt the lions, and keep the railway construction underway. It's a haunting and terrifying story, and one that becomes that much more real when you find out you can (spoiler alert) actually visit the Tsavo Man-Eaters' stuffed bodies at the Chicago Field Museum.
Good Time (2017)
In this greasy, cruel thriller from up-and-comers the Safdie brothers, Robert Pattinson stars as Connie, a bank robber who races through Queens to find enough money to bail out his mentally disabled brother, who's locked up for their last botched job. Each suffocating second of Good Time, blistered by the neon backgrounds of Queens, New York, and propelled by warped heartbeat of Oneothrix Point Never's synth score, finds Connie evading authorities by tripping into an even stickier situation.
It Comes at Night (2017)
In this a post-apocalyptic nightmare-and-a-half, the horrors of humanity, the strain of chaotic emotions pent up in the name of survival, bleed out through wary eyes and weathered hands. The setup is blockbuster-sized -- reverts mankind to the days of the American Frontier, every sole survivor fights to protect their families and themselves -- but the drama is mano-a-mano. Barricaded in a haunted-house-worthy cabin in the woods, Paul (Joel Edgerton) takes in Will (Christopher Abbott) and his family, knowing full well they could threaten his family's existence. All the while, Paul's son, Trevor, battles bloody visions of (or induced by?) the contagion. Trey Edward Shults directs the hell out of every slow-push frame of this psychological thriller, and the less we know, the more confusion feels like a noose around our necks, the scarier his observations become.
Memories of Murder (2003)
Before he wowed American audiences with the dystopian train thriller Snowpiercer and the animal-rights fable Okja, South Korean director Bong Joon-ho kept things a bit more grounded with Memories of Murder, his ripped-from-the-headlines crime drama about the hunt for one of the first serial killers in Korean history. The film follows two detectives with very different temperaments and methods as they attempt to make sense of murders across months and years. Like David Fincher's Zodiac, this is a procedural that focuses on the granular aspects of police work while still examining profound questions about truth, memory, and the search for meaning.
Primal Fear (1996)
Based on the 1993 William Diehl novel of the same name, this classic thriller has it all: murder, a possibly innocent man on trial, sexual abuse at the hands of a Catholic bishop, multiple personalities, and a driven defense attorney (Richard Gere) who's fighting for justice for his client. Aaron Stampler, a stuttering and shy former altar boy played by Edward Norton, is the character at the heart of the film -- did he or didn't he kill the Archbishop who sexually abused him as a teenager? The twists, turns, and evil that come to light stand up to the test of time, and the performances always merit a rewatch.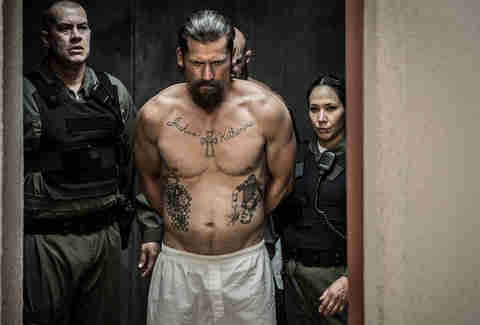 Shot Caller (2017)
Sometimes the consequences of a split-second mistake unfold into a series of events that change your life forever. That's exactly what happens to Jacob Harlon, played by Nikolaj Coster-Waldau (Jaime Lannister from Game of Thrones!), after he unintentionally runs a red light, killing a friend who was riding in the car with him. After taking a plea deal for manslaughter, Harlon finds himself caught up in kill-or-be-killed prison gang violence, ultimately getting sucked into the Aryan Brotherhood, where this former family man must make decisions he never would have considered possible in his previous life.
Zodiac (2007)
David Fincher's movie is for obsessives. In telling the story of the Zodiac Killer, a serial murderer who captured the public imagination by sending letters and puzzles to the Bay Area press, the famously meticulous director zeroes in on the cops, journalists, and amateur code-breakers who made identifying the criminal their life's work. With Jake Gyllenhaal's cartoonist-turned-gumshoe Robert Graysmith at the center, and Robert Downey Jr.'s barfly reporter Paul Avery stumbling around the margins, the film stretches across time and space, becoming a rich study of how people search for meaning in life. Zodiac is a procedural thriller that makes digging through old manilla folders feel like a cosmic quest.