The Best Thrillers on Amazon Prime
For when you're in need of an adrenaline rush.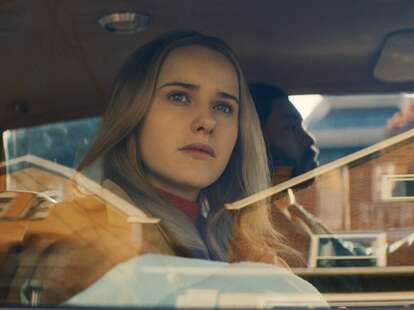 Some people like to drink green tea and meditate to wind down after a long week. Other people like to rock climb and skydive to blow off some steam. Then there's a third group of people—presumably including you—who like the adrenaline rush of a good scare, but don't want to leave the couch to get it. That's why we're giving you what you want: the best nail-biting thrillers you can find on Amazon Prime. So check your windows and doors to make sure they're locked, turn on all the lights, and sit on the edge of your seat, because you're in for a wild ride.
ALSO READ: The best movies on Amazon Prime and the best mystery series on Amazon Prime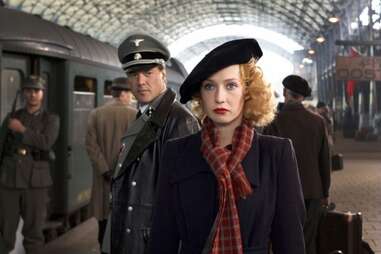 Black Book (2006)
It's no surprise that Paul Verhoeven, the wildly talented filmmaker behind twist-filled '90s genre hits likeBasic Instinct andTotal Recall, would have a knack for the subversive spy film. For his first Dutch project since leaving for Hollywood in the '80s, the director delivered this taut, sly nail-biter that follows a young Jewish woman (Carice van Houten) as she infiltrates the Nazis as part of the Dutch Resistance. Drawing on Hitchcock's espionage classic Notorious and his memories of growing up during the violent chaos of World War II, Verhoeven skillfully mixes old school suspense and a keen understanding of moral complexity for a thriller that offers shocks and pleasure in equal measure.
Blow the Man Down (2020)
This indie is a sharp, pleasantly nasty tale about women and murder in a tiny Maine town. The movie, by Bridget Savage Cole and Danielle Krudy, opens with a chorus of burly fishermen singing the sea shanty that gives the film its title, but it quickly grows disinterested in any of the dudes. Sophie Lowe and Morgan Saylor, the latter of whom is best known as Dana Brody on Homeland, play the Connelly sisters. The day of their mother's funeral, Saylor's Mary Beth acts out, absconds to a bar, and takes up with a shady character who she ends up accidentally killing. That incident leads the siblings to discover a whole new seedy facet of their community. Blow the Man Down is constantly tense, and features wonderfully prickly performances from the likes of Margo Martindale, who plays the brothel owner next door.
Déjà Vu (2006)
Can you ever have enough Denzel Washington? Director Tony Scott and Washington made five films together over the course of 15 years, but only one of those movies was about time travel. Déjà Vu, a ludicrous thriller that's elevated by Scott's blitzkrieg filmmaking style, trades the claustrophobia of Crimson Tide for a freewheeling approach that transcends time and space. As Washington's ATF agent races through recent history to prevent a ferry bombing, the camera never stops moving and neither does the plot. It doesn't exactly make sense, but, if you like wild-eyed sci-fi capers, this one will leave you reeling.
Enemy of the State (1998)
Rarely called upon to play an in-over-his-head everyman, Will Smith shows a surprising gift for selling the anxieties of Robert Clayton Dean, a family man and labor lawyer who finds himself trapped in a massive government conspiracy. Tony Scott's delightfully frenzied direction captures the terror and paranoia of digital surveillance, predicting future NSA exploits and transgressions with surprising acuity, and Gene Hackman steps perfectly into the role of an aging whistleblower, clearly modeled after his iconic performance as Harry Caul in The Conversation. But Smith, with his intelligence and wit, holds the movie together, making it one of the sharper action thrillers of the late '90s.
Fargo (1996)
The Coen brothers' 1996 classic has stood the test of time (and inspired the anthology TV show of the same name) for a reason. Stacked with a star-studded cast and infused with a dark sense of humor, this homespun murder story, about Jerry Lundegaard's (William H. Macy) clumsy crime goof, won't disappoint. It more than deserved the Oscars it received for best screenplay and best actress in a lead role—Frances McDormand, don'tcha know? If you've never seen it, ya gotta.
The Gift (2000)
Working from a script co-written by Billy Bob Thornton, who based Cate Blanchett's main character on his own psychic mother, director Sam Raimi gets to do a little bit of everything in this refreshingly odd supernatural drama. Blanchett plays Annie Wilson, a fortune-teller who gets wrapped up in a mystery surrounding the disappearance of a young woman (Katie Holmes) and the possible involvement of a whole town's worth of sleazy, mercurial men. Part court-room thriller, part psychological potboiler, and part sweaty Southern melodrama, the movie bounces between genres and provides its ludicrously stellar cast (Keanu Reeves, Giovanni Ribisi, J.K. Simmons, Hilary Swank, Greg Kinnear, Kim Dickens) with plenty of scenery to chew.
The Handmaiden (2016)
Some movies splash across the screen, others turn scenes into bold brushstrokes. The Handmaiden, an erotic thriller with twists and turns and thrusts aplenty, is Park Chan-wook's drip painting. Set in 1930s Korea, the movie follows Sook-hee, a pickpocket, who slips undercover into the staff of a sheltered heiress, with hopes of luring the deep-pocketed woman into the romantic grasp of her con-man partner in crime. The problem: Sook-hee falls madly, lustfully in love with her target. In The Handmaiden, single, sensual drops—a prolonged glance, the zipping up of a dress, whispered white lies—fan out through the entire two-and-a-half-hour narrative into the unexpected.
I'm Your Woman (2020)
This film from director Julia Hart (Fast Color) is a '70s gangster story that defies all of the tropes of what you expect when you read "'70s gangster story." The Marvelous Mrs. Maisel's Rachel Brosnahan plays Jean, a new mother and wife of a mobster. When she's told that her husband in in trouble and she needs to disappear in the middle of the night, Jean is forced into a life of isolation that forces her to reckon with her own ignorance. There's a deliberate slowness to the narrative—an almost carefulness, like someone tiptoeing around a room so as not to be heard—even as it is punctuated by bursts of action.
Marathon Man (1976)
The same way composer Hans Zimmer converted unnerving paranoia into The Joker's screeching theme for The Dark Knight, John Schlesinger's spy thriller sustains the same note at a pitch that reverberates through the gut. The story of a PhD candidate (Dustin Hoffman) caught in a plot to transport stolen diamonds to fugitive Nazis, Marathon Man stages fight scenes and glorious villain moments -- "Is it safe?" asks Laurence Olivier's Nazi doctor after torturing Hoffman with a dental pick -- while keeping the story on a human level.
The Neon Demon (2016)
Nicholas Winding Refn is crazy for this one, a psychological horror movie set in the literally cutthroat fashion world of LA, focusing on a young up and coming model whose intense beauty and youth make everyone around her seethe with jealousy. Its violent delights and opaque storyline ultimately polarized audiences, but if you're down to watch something truly wild that looks absolutely amazing, you can't get much weirder than this.
Pain & Gain (2013)
In this delightful GQ oral history of director Michael Bay's career, many of his collaborators speak of him as a pretty funny, self-aware dude. While his films often feature inspired comic performances—he had the foresight to cast Owen Wilson in Armageddon soon after Bottle Rocket—Pain & Gain is his only all-out comedy, a satirical riff on American exceptionalism based on a dark true-crime story. With brilliant turns from The Rock, Anthony Mackie, and a very game Mark Wahlberg, the movie has a dangerous, wicked energy to it. You're never sure just how far Bay is gonna push his mischievous gross-out aesthetic. Because he's still Michael Bay, the movie OD's on its own cynicism in the final 20 minutes, but in brief, glorious stretches this is the Bay-hem-filled Billy Wilder movie you never knew you needed.
The Report (2019)
When Zero Dark Thirty came out in 2012, controversy erupted whether or not it was accurate in claiming that American torture practices played a role in the hunt for Osama Bin Laden. Seven years later, The Report called bullshit on that aspect of Kathryn Bigelow's film. But the value of The Report is not just cinematic in-fighting. Director Scott Z. Burns has made an enthralling film about Daniel Jones (Adam Driver), who authored the Senate Intelligence Committee report on the inhumanity and inefficiency of the CIA's torture tactics in the wake of 9/11, offering an exacting play-by-play of his work, from its inception to the attempted suppression of the information he uncovered. Though it sometimes slides into book report territory, the level of talent on screen keeps it fascinating. Driver lends Jones sober-minded compassion for his task, while Annette Bening is a dead ringer for Senator Dianne Feinstein. It's a smart, fair indictment of US policies that spares no one.
The Sixth Sense (1999)
"I see dead people," is one of the most iconic lines in film, hailing from the eerie M. Night Shyamalan supernatural masterpiece The Sixth Sense with a twist at the end that shook the '90s. In it, a boy (Haley Joel Osment) is gifted/plagued with the ability to see and talk to the dead. To work through his terror, he's sent to work with a child psychologist (Bruce Willis) dealing with his own torment. While there may not be many jump scares here, the acting is superb and you'll feel a chill up your spine as if you can sense a presence from another realm, too.
Taken (2009)
Taken was supposed to be forgettable. Half a year went by between its French and US release because executives couldn't decide if director Pierre Morel and producer Luc Besson's geri-action movie even deserved a theatrical release. Eventually, it landed on our shores -- and with high impact. Liam Neeson's grizzled charisma, peerless karate-chopping skills, and one of the most iconic mission statements in recent memory ("I have a very particular set of skills...") turned the daddy-rescue pic into an instant cult classic, providing a career rebirth for the longtime character actor and legions of lesser knockoffs (many starring Neeson himself).
Three Days of the Condor (1975)
One of the funnier aspects of Three Days of the Condor is that dashing Robert Redford is cast as a bookish, unnoticeable CIA analyst when he obviously looks like '70s Robert Redford. Luckily, as the plot springs into action and the paranoia kicks in, sending Redford's Joseph Turner on a mad dash through New York with Faye Dunaway's Kathy, the actor gets more than a few chances to fall into super-spy hero mode. Sydney Pollack's direction is slicker than some of the other Watergate-era thrillers like The Conversation or The Parallax View, but the movie skillfully evokes the unease and terror of being caught up in a conspiracy you can't quite fully grasp or understand.
​​Train to Busan (2016)
When a young father boards a high speed bullet train from Seoul to Busan, he's wholly unprepared to deal with an outbreak of a fast-acting zombie disease that quickly takes hold of the train's passengers. Fast-paced and utterly terrifying, Train to Busan is a Korean horror classic and a gory good time, revitalizing the zombie movie genre and cementing its place in the annals of great midnight horror movies.
The Usual Suspects (1995)
When it comes to mystery movies, this '90s classic is among the, well, usual suspects. Bryan Singer's intricately plotted heist movie is too clever by half, as rewatching the Keyser Söze thriller will certainly remind you. The killer cast including Gabriel Byrne, Benicio del Toro, Kevin Pollak, Chazz Palminteri, and a pre-Bio-Dome Stephen Baldwin shines as they trade tough-guy banter and ornate putdowns from Christopher McQuarrie's script.
A Vigilante (2018)
With a title like A Vigilante, you might expect this film to be some sort of gun-totting, relentless revenge movie. The indie thriller is much more somber and realist than that, held down by its phenomenal performance from Olivia Wilde as a domestic abuse survivor who takes it upon herself to help others escape unsafe households. An unflinching look at the trauma people endure and the lengths they must go to leave tough situations, the film is not an easy watch, but it's more raw and rewarding than most of the vigilante tales you've seen before it.
We Need to Talk About Kevin (2011)
Horror at its most primal. Director Lynne Ramsay teams up with the incredible Tilda Swinton for a stylized, psychologically rich portrait of a mother sent into crisis after her son commits an unforgivable crime. Featuring winning turns from John C. Reilly and Ezra Miller, the movie explores visceral, ugly truths without blinking. It's the type of movie that will get you talking—unless you're left in stunned silence.
Without Remorse (2021)
Michael B. Jordan knows how to throw a punch, and he sure does throw a lot of them in this tense and brutal revenge thriller based on a Tom Clancy novel. The brooding military shoot-em-up follows Jordan's Navy SEAL John Kelly as he goes on the warpath to avenge the death of his pregnant wife, Pam (Lauren London), following an operation in Syria that leads to Russian assassins sneaking into Kelly's home in the middle of the night. While the movie is full of tropes that were already tired clichés when Clancy was publishing his action novels in the '80s and '90s, the entertainment here is the way that director Sergio Sollima carefully stages each sequence and the way Jordan leans into each cold-blooded act of retaliation. Working together, they make each punch land.
Wrath of Man (2021)
This Guy Ritchie crime movie has a dark soul, a foreboding tone, and an escalating sense of menace. Working in a similar self-consciously brooding register as the L.A. caper Den of Thieves, Wrath of Man strips Jason Statham of the audience-pleasing, wise-cracking charm that made him a bright-spot in the recent Fast and Furious movies. Instead, the frequent Ritchie collaborator plays a grieving mob boss who goes undercover as part of an armored truck security team in an effort to find the men who killed his son during a truck heist gone wrong. The revenge set-up is simple enough, giving a subdued Statham plenty of opportunities to look cool and swat away attackers (including, at one point, rapper Post Malone), and Ritchie hits all the familiar beats with a degree of hard-nosed style.
You Were Never Really Here (2018)
You've seen hitman movies, but you've never seen Lynne Ramsay's hitman movie. The Scottish director, who many first discovered with 2002's elliptical nightlife odyssey Morvern Callar, can take a John Wick-ian premise and invest it with new meaning by reframing it from an askew angle. This crime story, adapted from a novella by Bored to Death writer Jonathan Ames, is about an ex-soldier named Joe (Phoenix) who finds himself tasked with recovering a kidnapped girl amidst a sinister political conspiracy involving human trafficking. What makes it so special? Between Phoenix's muted performance, Jonny Greenwood's string-drenched score, and Ramsay's expressive jump-cuts, every image crackles with energy, style, and possibility. It's a death-obsessed movie vibrating with life.