The Best Thriller TV Shows on Netflix
These shows will get your blood pumping.
'Lupin'

| Netflix
'Lupin'

| Netflix
If there's one genre we're more than qualified to recommend, it's thrillers: What's more pleasurable than the feeling of edge-of-your-seat tension interspersed with action sequences and high-stakes romance? All the better if it comes in bingeable form right on Netflix.
So, the next time you desire titillating thrills that won't stop just because one episode has ended, gobble up these heart-pounding thrillers on Netflix. Or, if you'd prefer a movie, we have thoughts on those too.
Behind Her Eyes (2021)
If you've heard anything about Behind Her Eyes, the Netflix miniseries adapted from Sarah Pinborough's novel, you've probably heard about its wild final episode. As it turns out, the show has approximately a thousand twists—and even though it isn't good, per se, the payoff is rather fun. Our batshit story begins when single mother Louise (Simona Brown) shows up to new job in a psychiatrist's office, only to find the man (Tom Bateman) she hooked up with the night before is her new boss. It's one trashy twist that gets the ball rolling, as they end up in a heated affair, and she befriends his needy wife (Eve Hewson). If it seems to you like the setup for a salacious but otherwise pretty straightforward drama, you'd be forgiven, because that is exactly what it seems like, but you'd also be wrong. It's shocking and weird—and don't you want to see for yourself what it's really all about?
Better Call Saul (2015— )
When it first debuted, it wasn't unreasonable to think Better Call Saul would have trouble walking in Breaking Bad's bloody footsteps. For one thing, the Saul character, a crooked lawyer played by Mr. Show veteran Bob Odenkirk, was always more of a comic foil to Walter White's chemistry teacher turned drug kingpin. Would he really have enough depth and nuance to sustain a whole spin-off? Looking back now, doubting creator Vince Gilligan and his team of writers was foolish: This team knows how to construct tense, funny, stylish TV like no one else. If you've been hesitant about digging into the show — even its biggest fans will often admit it can get a little slow (or "methodical") at times — now is the time to give Saul a ring.
Bodyguard (2018)
As one might expect, the Royalty and Specialist Protection Branch of London's police service handles a number of dangerous missions. Following officer David Budd, portrayed by Richard Madden of Games of Thrones fame, Bodyguard documents this high-risk job, specifically in the protection of the UK's Home Secretary (Keeley Hawes). In the Netflix original, although Budd must devote himself to the politician's protection, he is still reeling from PTSD after serving in Afghanistan, and feels conflicted working for a major proponent of the war. A political thriller at its finest, Bodyguard illustrates the various costs at play in Budd's role, from his personal views to potential attacks and developing attraction for a woman whose policies he cannot stand—never failing to leave out the drama.
Breaking Bad (2008–2013)
Despite originally airing on AMC, Breaking Bad is the ultimate Netflix show. Filled with moments of shocking violence and wry humor, the rise and fall of Walter White (Bryan Cranston)—and his co-conspirators Jesse, Skyler, Gus, and Mike—is probably best experienced in wild, indulgent weekend binges. That's what many fans did throughout the show's five-season run, catching up on old episodes on Netflix to prepare for the must-see moments that occurred during its final stretch. You don't just watch this show; it consumes you.
Dare Me (2019–2020)
Dare Me, a 10-part teen series that aired on USA, is about high school cheerleaders who become entangled in a series of dark secrets after a new coach, who used to be a hot-shot cheer star, comes in to take over their squad. On paper it might sound a little PG, but don't let this simple plot fool you: Dare Me is bonafide bonkers. This is no Bring It On-style "Big Red stole the Clovers' routine" type of scandal; there's sadistic bullying, infidelity, obsession, even murder. Sometimes the show veers a little too far into dramatic territory, but it's because it's that kind of soapy teen show that's so outrageous that it's worth bingeing. Trust us: You'll be rooting for this one.
Dirty John (2018–2020)
Based on the 2017 longform article by The Los Angeles Times and its subsequent podcast, Dirty John tells the sordid tale of a serial grifter (Eric Bana) and an extremely trusting woman he targets (Connie Britton). It fairly faithfully follows the podcast's arc, which despite sticking to the truth becomes increasingly unbelievable which each twist, and Bana and Britton bring a nuanced human touch to every maddening detail. Netflix also now has the second season, which tells an entirely different story, focussing on the crimes of Betty Broderick. That season, titled Dirty John: The Betty Broderick Story, stars Amanda Peet and Christian Slater.
Fauda (2015– )
Fauda, an action thriller about an elite team of undercover Israeli commandos working in Palestine, is perhaps one of the best of Netflix's foreign-language shows, a frantically paced and politically charged melodrama filled with sequences of white-knuckle suspense straight out of Homeland or 24. But unlike those spy dramas, Fauda spends nearly as much time on the private lives of Palestinians as it does on its gun-toting heroes. It's got a moral complexity that its more simplistic American counterparts often lack.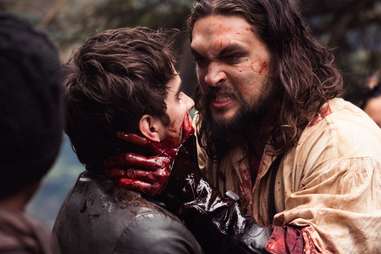 Frontier (2016–2018)
A showcase for the charismatic brutality only Jason Momoa can muster, Frontier is a rollicking Netflix and Discovery Channel Canada co-production about the (literally) cutthroat 18th-century North American fur trade. The adventure series has more in common with breezy syndicated fare like Hercules: The Legendary Journeys than it does with Momoa's star-making Game of Thrones, but if you squint hard enough at the right moment you'll swear that it's Khal Drogo himself cutting off that poor sap's ear.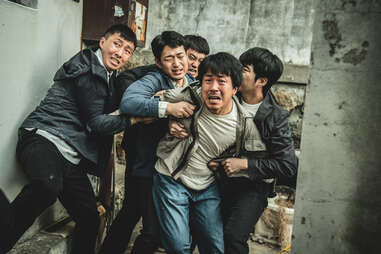 Hellbound (2021)
This South Korean supernatural drama from Train to Busan director Yeon Sang-ho has an exhilarating opening sequence where gorilla-like creatures emerge from nowhere and clobber an unsuspecting individual in a crowded cafe. Then, these mystical beasts, bathed in a strange gray smoke, disappear into a portal, leaving a charred corpse in their wake. From there, the story blends elements of a True Detective-like police procedural with a Leftovers-style meditation on faith, bouncing between scenes of shocking violence, arch satire, and character-driven melodrama. The narrative, adapted from a webtoon by writer Choi Gyu-seok, presents a tonal challenge, but it's one that Yeon is prepared to tackle with all the restraint of a rampaging ape crashing through a wall of concrete.
With a title like that, you know this one's bound to be juicy. Created by Peter Nowalk under the Shondaland umbrella, the show about criminal defense attorney and law professor Annalise Keating (Viola Davis) and her inner circle of law students who become entwined in a murder is a legal thriller with a kick. Over its long, multi-Emmy-nominated run, the show yielded a steady stream of convoluted mysteries, incredible performances, and unpredictable twists as Annalise and everyone around her worked to evade the law, shed light on government conspiracies, and made peace with their inner demons along the way. Meaning, this network show couldn't be more binge-worthy.
Each episode of Netflix's new hit Lupin, a nimble caper series starring Omar Sy (The Intouchables) as gentleman thief Assane Diop, builds to the type of rug-pulling flashback that you might find at the end of an Ocean's movie. Disguises are ripped off; diamonds get pocketed; the dashing hero slips away, again. It's a classic heist-movie device that could get repetitive or predictable but, through the mercifully fast-paced 10 episodes first season, Lupin and its endlessly charming leading man execute each reveal with a high degree of finesse. With a show like this, getting fooled is half the fun.
Manhunt: Unabomber (2017)
It plays loose with the facts of the FBI Unabomber investigation and it won't teach you how to remember to spell Ted Kaczynski. But sometimes you just can't stop yourself from bingeing a nicely paced true-crime dramatization with unlikely actors in the crucial roles, like we have here with Avatar's Sam Worthington (as a dogged FBI agent who uses linguistics to track down the Unabomber), Avengers: Age of Ultron's Paul Bettany (as the hermetic, manifesto-writing mad bomber), and Party Down's Jane Lynch (as Janet Reno!).
Marcella (2016– )
Do you like British mystery shows that wrap up over the course of eight tightly wound, 45-minute episodes? This one is for you. Starring Anna Friel (Pushing Daisies) as a London detective bouncing back from a nasty split and a turbulent entry into single motherhood, the hard-nosed series pairs serial killer investigation with familial struggle, which only intensifies when the main mystery connects to Marcella's husband's current employers.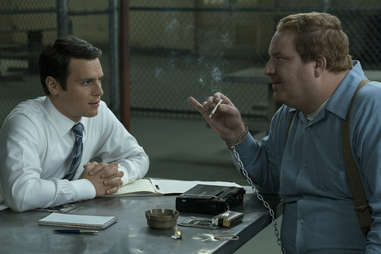 Mindhunter (2017–2019)
David Fincher loves serial killers. The director of Seven, Zodiac, and The Girl With the Dragon Tattoo launched Netflix into the world of original television when he applied his dark, brooding aesthetic to a different kind of sociopath: obscenely ambitious politician Francis Underwood, focal point of House of Cards. In Mindhunter, Fincher (who directed a handful of episodes) follows a young, self-assured FBI agent, Holden Ford (Jonathan Groff); his mentor, Bill Tench (Holt McCallany); and psychologist-turned-consultant Dr. Wendy Carr (Anna Torv) as they establish a division of the Bureau tasked with solving a "new kind of crime" that lacks what most law enforcers think of as rational motives. While the best moments of the show are more meditative, introspective looks at the vast range of the human psyche, there's enough crime-chasing to get your blood pumping.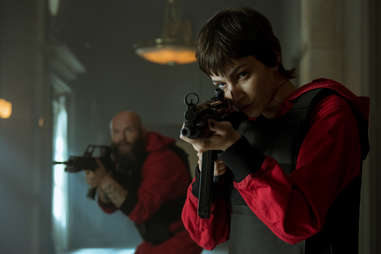 Money Heist (2017– )
This Spanish import isn't just one of the most popular non-English series on Netflix, it's become a worldwide phenomenon with so much hype that it prompted Netflix to make a documentary about it. About a group of robbers who plan an elaborate heist, the show has inspired fans to dress in the cast's signature ensemble to carry out various pranks, and even try to emulate their plans in real life. Few shows have that kind of pull. Money Heist is one of the best heist thrillers running today, though, documenting in real-time a plan to take hostages in the Royal Mint of Spain in order to print and steal money. Every moment is exhilarating as the heist unfolds, and the characters behind their masks, each with their own emotional turmoil, make the series as intelligent as it is heart-pounding. Let the Money Heist obsession inspire you to maybe not rob a bank, but take over.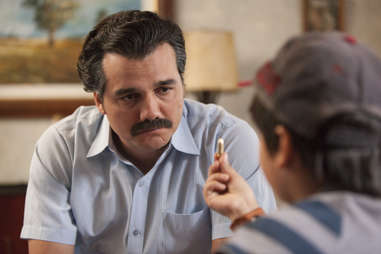 Narcos (2015–2017)
This thriller details the horrifying, drug-laden history of Colombia during the reign of legendary kingpin Pablo Escobar. As Escobar, Wagner Moura is both terrifying and captivating, and his opposition, two DEA agents fighting their way through a convoluted mystery, give a scarily real sense of the American efforts to end the war on drugs. Narcos' mix of archival footage and contemporary fictionalization keeps you engaged, and reminds you that a literal genocide had to happen just so yuppies could blow coke in the Hamptons during the '80s (only kind of kidding).
Narcos: Mexico (2018– )
Binged all of Narcos? May Netflix interest you in the similar—but different!—Narcos: Mexico? As the name suggests, the action centers around Mexican cartels, as opposed to the Colombians in the original, and features more star power in Diego Luna and Michael Peña. Tracking the rise of the Guadalajara Cartel, Narcos: Mexico is in many ways the same show as its predecessor, so it will come as a welcome spinoff for fans of the original.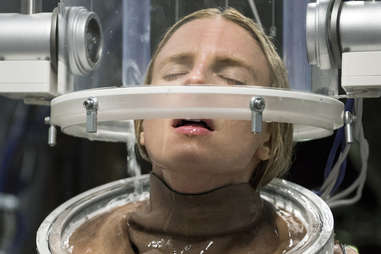 The OA (2016–2019)
If Stranger Things was a little too basic for you, give this wonky sci-fi series from co-creators Brit Marling and Zal Batmanglij a shot. The otherworldly Marling stars as Prairie, a blind woman who returns to society after years in captivity and quickly starts a youth group with some troubled teens. It gets crazier from there. Yes, there's interpretive dance. Yes, there are weird flashbacks to Russia. Yes, it will leave you scratching your head and searching the internet for clues. But sometimes the crazy shows are the ones you love the most.
Ozark (2017– 2022)
It's easy to see why early critics compared Ozark to Breaking Bad: Drug money and morally gray characters abound in both. But as Marty Byrde—a brilliant Chicago-based financial advisor who moves his family to Missouri's Ozarks on a life-or-death deadline to wash truck loads of cash for Mexico's second biggest drug cartel—Jason Bateman never goes full Heisenberg, even as he creeps closer and closer to that line in later seasons. His character's main motivation for doing anything is to protect his family, as he's more someone who's been stuck in this underworld for decades than someone who's trying to take it over. Laura Linney (Marty's wife), Jason Butler Harner (an undercover fed), and Julia Garner (one sketchy family's substitute don) also deliver particularly memorable turns to help make this slow-burn work wonders over its tense and dark (like, literally—it looks so dark) runtime. The Byrde saga might not yet be as good as its spiritual forefather, but it's better than a lot of its cousins (even Bloodline!). It'd be a mistake to not give it a shot.
Peaky Blinders (2013– )
Cillian Murphy stars in this early-20th-century period drama as Thomas Shelby, a World War I vet-turned-patriarchal crime boss who wants to up his family's social and financial status in England. The Shelbys' story plays out as historical fiction, loosely inspired by the exploits of real-life gangs based in Birmingham around the late 1800s and early 1900s. Rivaling bands of thugs clash for underworld influence here in a way that is not unlike on Game of Thrones, just on a less fantastical scale: high-stakes political power plays, shady back-room dealings, and gritty tussles abound, with enough blood to rival the Red Wedding. (The show's name comes from the razor blades stitched in the Shelbys' flat caps, after all.)
Riverdale (2017– )
A modern CW take on the yuk-yuk teen comic Archie may sound like a shot of arsenic to prestige TV binge-watchers, but with a murder mystery undercurrent, soap drama worthy of The O.C., and a sheen that looks like Twin Peaks by way of 300, Riverdale rises above everything you think you should be watching. Each young actor on the show is a discovery (OK, maybe not Arch himself, but this is why the comics always emphasized "& Friends") and the fully packed episodes earn all the twists and turns. Watch Riverdale and you'll be sifting through grocery store comic shelves in a week.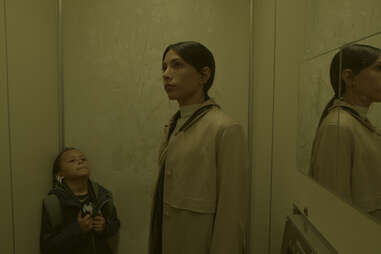 Snabba Cash (2021– )
Snabba Cash, a Swedish series inspired by the 2010 Swedish crime drama Easy Money starring Joel Kinnaman, follows single-mother Leya (Evin Ahmad) as she navigates the treacherous world of start-ups, where a predatory loan can tank your chances at becoming the next "unicorn," while attempting to extricate herself from the the equally dangerous world of drug trafficking, where rival gangs and the police pose a number of deadly threats. It's an often intense mix of Billions-like intrigue and Ozark-esque suspense. If you like either of those shows, this one might be worth making an investment in.
The Sinner (2017– )
In the first episode of The Sinner, Jessica Biel's character Cora Tannetti stabs a man to death in broad daylight with her family sitting nearby. Why she erupted in such a violent act is just the first mystery in this Golden Globe-nominated series about what drives average people to commit heinous crimes. As Cora awaits arraignment in court, a detective feels compelled to understand what fueled her rage, revealing an immensely troubled past. The way the series unfolds will keep you on your toes, as you're led by an unreliable narrator into a history of events that constantly evolves from fact to fiction, while constantly remaining horrific as the truth begins to surface. After the first installment, only Bill Pullman's detective Harry Ambrose carries over from season to season, as it turns into an anthology but continues to focus on cases that drive ordinary people to commit heinous acts.
Squid Game (2021)
The reigning hit of Netflix in 2021, Squid Game shirks the modern streaming pitfall of being widely watched and extremely mediocre. Viewed by a staggering 142 million households, the record-breaking series from South Korea is a gripping capitalist commentary as a destitute ensemble endures deadly rounds of schoolyard games for a chance at ₩45.6 billion, created as a betting arena for the mega-rich. Its obsessive memeification is both a testament to the size of the hallyu wave in the United States and the richness of its dense (yet admittedly unsubtle) text. The trail of crumbs left along the way becomes all the more surprising and clever once you arrive at its twisty, inconclusive end.
Unbelievable (2019)
Toni Collette and Merritt Weaver lead a talented cast in this miniseries that adapts a Pulitzer Prize-winning story about the hunt for a serial rapist and the infuriating police lapses that could have reduced the scale of the crimes. Booksmart breakout Kaitlyn Dever plays Marie Adler, a rape victim who winds up pleading guilty to filing a false police report after authorities doubt what happened to her, allowing her attacker to continue operating in a different state. Throughout its eight episodes, Unbelievable takes an unsentimental approach to the failures of the justice system and the struggle many survivors go through just to get taken seriously; it's one of the more harrowing viewing experiences you'll have on Netlix.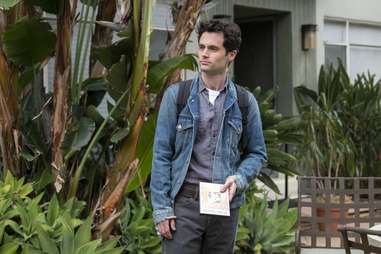 You (2018– )
You feels like the Lifetime-iest of Lifetime shows because it was once a Lifetime show, and only founds its audience after the network sold the streaming rights to Netflix, making it a binge-ready hit. Maybe most importantly to the show's addictiveness, You understands exactly how to make any good-bad TV show, from its character names (ie. Peach Salinger—yes, like J.D.) and cringey freshman English lit major bookishness to the seriousness with which the cast engages with its ridiculous. yet juicy serial killer story. Book store employee Joe (Penn Badgley), the serial killer with a Dark Past in question, slithers his way into the life of a hapless girl and her bizarre friends, pretty much murdering all of them before shipping off to LA to avoid being caught, where he, yes, kills again. Arguably the best episode involves a giant country house, an almost-threeesome, a fake suicide, and a character just leaving a jar of pee on a shelf. That's one episode.