The Best Thriller TV Shows on Netflix
These shows will get your blood pumping.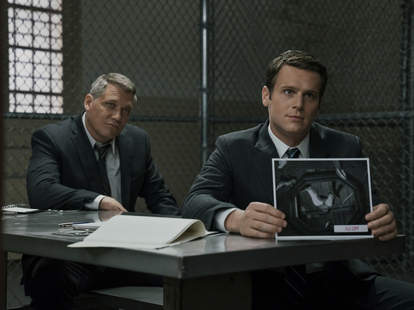 If there's one genre we're more than qualified to recommend, it's thrillers: What's more pleasurable than the feeling of edge-of-your-seat tension interspersed with action sequences and high-stakes romance? All the better if it comes in bingeable form right on Netflix.
So, the next time you desire titillating thrills that won't stop just because one episode has ended, gobble up these heart-pounding thrillers on Netflix.
FX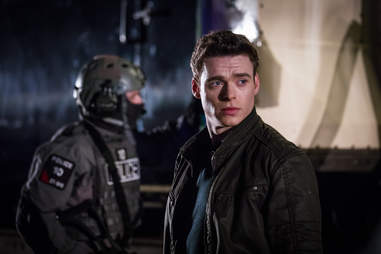 Sophie Mutevelian/World Productions/Netflix
Bodyguard (2018- )
As one might expect, the Royalty and Specialist Protection Branch of London's police service handles a number of dangerous missions. Following officer David Budd, portrayed by Richard Madden of Games of Thrones fame, Bodyguard documents this high-risk job, specifically in the protection of the UK's Home Secretary (Keeley Hawes). In the Netflix original, although Budd must devote himself to the politician's protection, he is still reeling from PTSD after serving in Afghanistan, and feels conflicted working for a major proponent of the war. A political thriller at its finest, Bodyguard illustrates the various costs at play in Budd's role, from his personal views to potential attacks and developing attraction for a woman whose policies he cannot stand -- never failing to leave out the drama.
AMC
Breaking Bad (2008-2013)
Despite originally airing on AMC, Breaking Bad is the ultimate Netflix show. Filled with moments of shocking violence and wry humor, the rise and fall of Walter White (Bryan Cranston) -- and his co-conspirators Jesse, Skyler, Gus, and Mike -- is probably best experienced in wild, indulgent weekend binges. That's what many fans did throughout the show's five-season run, catching up on old episodes on Netflix to prepare for the must-see moments that occurred during its final stretch. You don't just watch this show; it consumes you.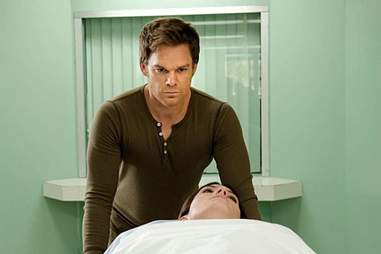 Showtime
Dexter (2006-2013)
Dexter Morgan is a blood-spatter analyst in the Miami Police Department by day and moonlights as a serial killer who kills other serial killers and heinous criminals who've slipped through the justice system. With a standout first season, in Dexter's hunt for the Ice Truck Killer that ends in a devastating twist, Dexter's later seasons fell prey to mismanaged obsolescence -- how long could he keep up the bit around his coworkers, including his homocide detective sister? Still, if you're blood thirsty, Dexter is likely the murderous thriller to satisfy all your cravings for procedural investigations, mystery, and deadly action sequences to amp up this Showtime classic. 
Bravo
Dirty John (2018)
Based on the 2017 longform article by The Los Angeles Times and its subsequent podcast, Dirty John tells the sordid tale of a serial grifter (Eric Bana) and an extremely trusting woman he targets (Connie Britton). It fairly faithfully follows the podcast's arc, which despite sticking to the truth becomes increasingly unbelievable which each twist, and Bana and Britton bring a nuanced human touch to every maddening detail. 
Netflix
Fauda (2015- )
Fauda, an action thriller about an elite team of undercover Israeli commandos working in Palestine, is perhaps the best of Netflix's recent foreign-language shows, a frantically paced and politically charged melodrama filled with sequences of white-knuckle suspense straight out of Homeland or 24. But unlike those spy dramas, Fauda spends nearly as much time on the private lives of Palestinians as it does on its gun-toting heroes. It's got a moral complexity that its more simplistic American counterparts often lack.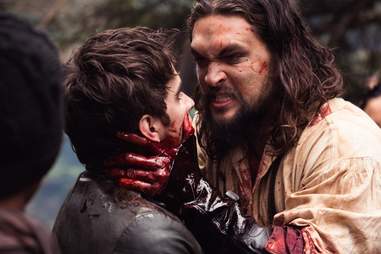 Netflix
Frontier (2016-2018)
A showcase for the charismatic brutality only Jason Momoa can muster, Frontier is a rollicking Netflix and Discovery Channel Canada co-production about the (literally) cutthroat 18th-century North American fur trade. The adventure series has more in common with breezy syndicated fare like Hercules: The Legendary Journeys than it does with Momoa's star-making Game of Thrones, but if you squint hard enough at the right moment you'll swear that it's Khal Drogo himself cutting off that poor sap's ear.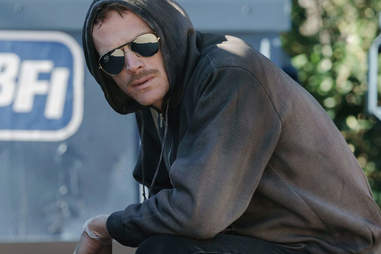 Discovery
Manhunt: Unabomber (2017)
It plays loose with the facts of the FBI Unabomber investigation and it won't teach you how to remember to spell Ted Kaczynski. But sometimes you just can't stop yourself from bingeing a nicely paced true-crime dramatization with unlikely actors in the crucial roles, like we have here with Avatar's Sam Worthington (as a dogged FBI agent who uses linguistics to track down the Unabomber), Avengers: Age of Ultron's Paul Bettany (as the hermetic, manifesto-writing mad bomber), and Party Down's Jane Lynch (as Janet Reno!).
Netflix
Mindhunter (2017- )
David Fincher loves serial killers. The director of Seven, Zodiac, and The Girl With the Dragon Tattoo launched Netflix into the world of original television when he applied his dark, brooding aesthetic to a different kind of sociopath: obscenely ambitious politician Francis Underwood, focal point of House of Cards. In Mindhunter, Fincher (who directed the first two and final two episodes) follows a young, self-assured FBI agent, Holden Ford (Jonathan Groff); his mentor, Bill Tench (Holt McCallany); and psychologist-turned-consultant Dr. Wendy Carr (Anna Torv) as they establish a division of the Bureau tasked with solving a "new kind of crime" that lacks what most law enforcers think of as rational motives. While the best moments of the show are more meditative, introspective looks at the vast range of the human psyche, there's enough crime-chasing to get your blood pumping.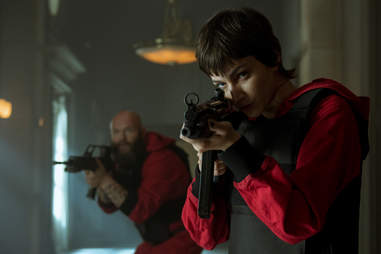 Tamara Arranz Ramos/Netflix
Money Heist (2017- )
This Spanish import isn't just one of the most popular non-English series on Netflix, it's become a worldwide phenomenon. About a group of robbers who plan an elaborate heist, the show has inspired fans to dress in the cast's signature ensemble to carry out various pranks, and even try to emulate their plans in real life. Few shows have that kind of pull. Money Heist is one of the best heist thrillers running today, though, documenting in real-time a plan to take hostages in the Royal Mint of Spain in order to print and steal money. Every moment is exhilarating as the heist unfolds, and the characters behind their masks, each with their own emotional turmoil, make the series as intelligent as it is heart-pounding. Let the Money Heist obsession inspire you to maybe not rob a bank, but take over.
Netflix
Narcos (2015-2017)
Killing off your show's lead character is a daunting prospect -- even more so if viewers know it's coming. When Eric Newman and José Padilha took over Narcos' reins for Season 2, they managed to orchestrate the demise of Pablo Escobar (Wagner Moura) with suspense and a sense of inevitability. It sure helped that the show cut down on Agent Murphy's incessant narrating from Season 1, and the contrast between splashy cartel schemes and small-scale depictions of those they affected served to ground an illicit drama in humanity.
Netflix
Narcos: Mexico (2018- )
Binged all of Narcos? May Netflix interest you in the similar -- but different! -- Narcos: Mexico? As the name suggests, the action centers around Mexican cartels, as opposed to the Colombians in the original, and features more star power in Diego Luna and Michael Peña. Tracking the rise of the Guadalajara Cartel, Narcos: Mexico is in many ways the same show as its predecessor, so it will come as a welcome spinoff for fans of the original.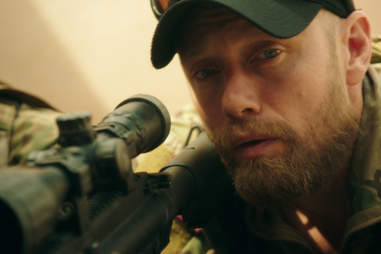 Netflix
Nobel (2016- )
Amid the Homelands and Zero Dark Thirtys of the world, it's easy to forget that the United States decades-long global war on terror is just that: global. The coalition of nations that fought with America in Afghanistan included Norway, and it's in a foreign camp that the show begins, complete with a tense military operation to take out a suspected suicide bomber. Make no mistake, though: This is not a war series, but a political one, focusing on the treacherous ripples terrorism sets off through national politics. In this case, the political implications are told through the lives Erling Riiser (Aksel Hennie), who served in Afghanistan, and his wife, Johanne (Tuva Novotny), a government worker who must navigate the business interests related to Norway's involvement in the region.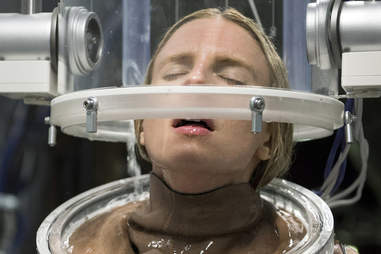 Netflix
The OA (2016-2019)
If Stranger Things was a little too basic for you, give this wonky sci-fi series from co-creators Brit Marling and Zal Batmanglij a shot. The otherworldly Marling stars as Prairie, a blind woman who returns to society after years in captivity and quickly starts a youth group with some troubled teens. It gets crazier from there. Yes, there's interpretive dance. Yes, there are weird flashbacks to Russia. Yes, it will leave you scratching your head and searching the internet for clues. But sometimes the crazy shows are the ones you love the most.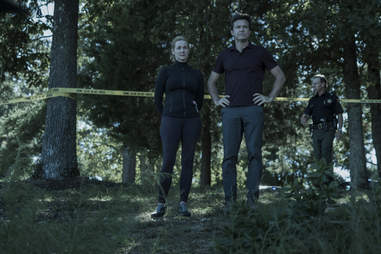 Netflix
Ozark (2017- )
It's easy to see why early critics compared Ozark to Breaking Bad: Drug money and morally gray characters abound in both. But as Marty Byrde -- a brilliant Chicago-based financial advisor who moves his family to Missouri's Ozarks on a life-or-death deadline to wash truck loads of cash for Mexico's second biggest drug cartel -- Jason Bateman never goes full Heisenberg, even as he creeps closer and closer to that line in Season 2. His character's main motivation for doing anything is to protect his family, as he's more someone who's been stuck in this underworld for decades than someone who's trying to take it over. Laura Linney (Marty's wife), Jason Butler Harner (an undercover fed), and Julia Garner (one sketchy family's substitute don) also deliver particularly memorable turns to help make this slow-burn work wonders over its tense and dark (like, literally -- it looks so dark) runtime. The Byrde saga might not yet be as good as its spiritual forefather, but it's better than a lot of its cousins (even Bloodline!). It'd be a mistake to not give it a shot.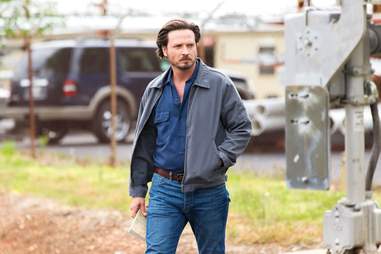 AMC
Rectify (2013-2016)
This SundanceTV series explores what happens when a technicality frees a death-row inmate (Aden Young) from prison after 20 years. While some in his small Georgia town remain on his side, others believe he really did rape and kill a young woman, and the tension plays out in a slow burn that doesn't overindulge in blistering action sequences or plot twists. The show's greatest strength, at least in its first two seasons, is that it isn't entirely concerned with its main character's guilt; it's content instead to track how he (and everyone around him) copes with his new life.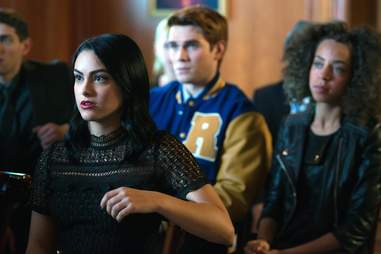 The CW
Riverdale (2017- )
A modern CW take on the yuk-yuk teen comic Archie may sound like a shot of arsenic to prestige TV binge-watchers, but with a murder mystery undercurrent, soap drama worthy of The O.C., and a sheen that looks like Twin Peaks by way of 300, Riverdale rises above everything you think you should be watching. Each young actor on the show is a discovery (OK, maybe not Arch himself, but this is why the comics always emphasized "& Friends") and the fully packed episodes earn all the twists and turns. Watch Riverdale and you'll be sifting through grocery store comic shelves in a week.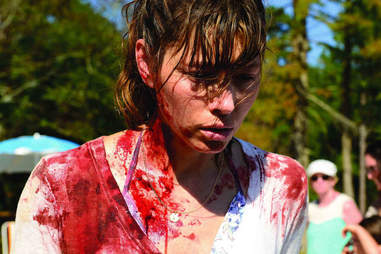 USA
The Sinner (2017- )
In the first episode of The Sinner, Jessica Biel's character Cora Tannetti stabs a man to death in broad daylight with her family sitting nearby. Why she erupted in such a violent act is just the first mystery in this Golden Globe-nominated series about what drives average people to commit heinous crimes. As Cora awaits arraignment in court, a detective feels compelled to understand what fueled her rage, revealing an immensely troubled past. The way the series unfolds will keep you on your toes, as you're led by an unreliable narrator into a history of events that constantly evolves from fact to fiction, while constantly remaining horrific as the truth begins to surface.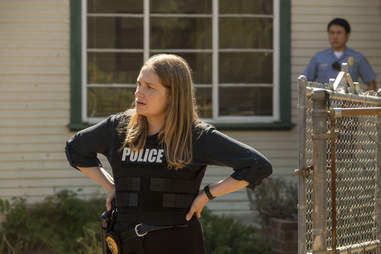 Beth Dubber/Netflix
Unbelievable (2019)
Toni Collette and Merritt Weaver lead a talented cast in this miniseries that adapts a Pulitzer Prize-winning story about the hunt for a serial rapist and the infuriating police lapses that could have reduced the scale of the crimes. Booksmart breakout Kaitlyn Dever plays Marie Adler, a rape victim who winds up pleading guilty to filing a false police report after authorities doubt what happened to her, allowing her attacker to continue operating in a different state. Throughout its eight episodes, Unbelievable takes an unsentimental approach to the failures of the justice system and the struggle many survivors go through just to get taken seriously; it's one of the more harrowing viewing experiences you'll have on Netlix. 
Paramount Network
Waco (2018)
Cult leaders often have a brainwashing command over their followers, and while those with an outside perspective might not fall victim to their charisma in the same way, trying to understand the psychology behind it sure is intriguing. This miniseries makes real-life Branch Davidians leader David Koresh and the tragic 1993 FBI and ATF seizure and stand-off at their Waco, Texas compound a fascinating topic for an obsessive, biting six episodes. Originally a Paramount Network series before landing on Netflix two years later, Waco dissects what happened on all sides that led up to the religious group's grim end, and it's lifted up by the leading performances of Taylor Kitsch, of Friday Night Lights fame, as the notorious leader -- a surprising casting choice that absolutely pays off -- and Michael Shannon as a levelheaded FBI negotiator (both of whom executively produced the series). 
Need help finding something to watch? Sign up here for our weekly Streamail newsletter to get streaming recommendations delivered straight to your inbox.
Follow the Thrillist Entertainment editors on Twitter: @ThrillistEnt.