In 1992, MTV's The Real World started a slow-moving revolution that turned into an all-out blitz when Survivor premiered eight years later: Look at all these regular people starting drama! They are not polite at all! Watching unscripted lives unfold may have felt dirty early on, but no one could stop watching. As cable channels multiplied, the allure of producing cheaper shows that could air on endless loops meant that you didn't have to channel surf long before stumbling on one of them.
Most of these shows are actual trash, leaving you feeling empty and listless on your couch. But a rare few have mastered the art of trashy reality TV, which is no easy feat. "Trashy," in this case, is a term of endearment, a qualifier for shows that capture the raw human emotion that makes compelling viewing, without demanding all your brainpower to decipher plot, motivation, or fan theories. These shows, all of which are currently airing, have elevated trash to an art, and will satisfy you in the best-worst way possible. 
Recommended Video
'Last Week Tonight' Writer Josh Gondelman Takes Shots, Talks About Working For John Oliver
The Bachelor/The Bachelorette (ABC)
There are a few different ways to watch ABC's The Bachelor/Bachelorette, the reality dating and relationship show that's been inflicting itself on us for more than 16 years. Now that The Bachelor, the male-fronted half of the duo, is in its 23rd season, it's hit its stride, expertly engineering dramas, betrayals, and shocking moments that look really exciting in the weekly commercials and then end up being pretty mundane when you see them in the actual episode. For some deranged individuals, The Bach' is a show about finding love and risking it all and opening up and lots of other vague things the writers found inside a plateful of fortune cookies. For the rest of us, it's a brilliantly designed character study, every episode cajoled and needled and edited into narratives that run the gamut from villain origin stories (usually followed by riveting downfalls) to resurfaced beauty pageant feuds to dramatic backstory reveals to marriage proposals that end up in dismal failure. ABC also knows that the one thing we really want is the crying.
Do you embrace excuses, or do you embrace solutions? It's one of the many binary questions/screamed accusations host and Official Bar Rescuer Jon Taffer asks of flailing bar and restaurant owners, who are invariably the kinds of people who EMBRACE EXCUSES, but over the course of a week learn how to embrace solutions. Taffer is the sort of person whose success is measurable as a series of sales and consumer data points; his renovations basically turn disgusting health hazards into a TGI Fridays-like "homage" to some actual history, like remaking a Louisiana bar based on a "Second Line concept" which symbolizes "fun." 
So what makes Bar Rescue such an enjoyable watch? Like all great reality television, it's a fascinating window into the soul of mainstream America. It's the purified id of American consumer capitalism, existing in a world where a seat at the bar is quantifiable as a dollar amount per year, and attracting "desirable" customers (i.e. not poor people) is the ultimate goal. The opening credits remind viewers that Taffer bases his decisions on "bar science," which usually involves scientifically demanding an owner fire an employee and putting a hapless staff through a "stress test" when the bar is overrun with people until Taffer screams another of his catchphrases above the havoc: "SHUT IT DOWN!" Don't worry. Most of the bars find their way out of the muck, but the people are forever changed. It's why Taffer has sincerely said, "It almost could be called People Rescue, you know?"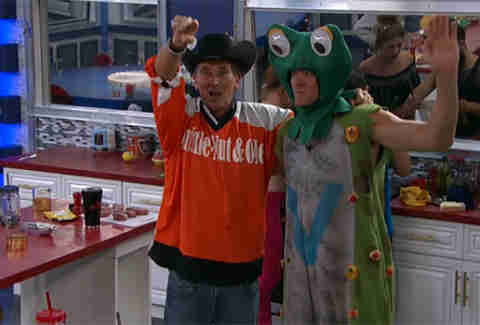 Usually by the time celebrities show up on a reality franchise, the ratings have dipped and the premise is doomed. Just look at The Apprentice, Marriage Boot Camp, or the entire run of I'm a Celebrity Get Me Out of Here. That may be why expectations for the first season of Celebrity Big Brother were about as low as the status of the "celebrities" picked to occupy a house for three weeks and vote each other out. However, what we got in the first season of the show was a gem that not only managed to entertain but, with the inclusion of recent White House evictee Omarosa Manigault-Newman, break actual news. The result was one of the best seasons of the show ever, featuring fast-and-furious game play, some deep political discussions, an avoidance of the "showmances" that poison the regular game, and a group of people who know how to deliver a sound bite to camera. Adding celebrities didn't doom the formula: It elevated it to a brand-new level. Unfortunately, the latest version of the show already seems to be wearing thin, especially with a guy who had a coffee at the Trump White House before regurgitating it all over the media during his 10-day run as Director of Communications already out of the house. The Mooch is dead; long live The Mooch.
Cable is littered with reality shows where fearless hosts travel to haunted locations, lock themselves inside, and use suspect-looking equipment to scare the crap out of you. Even in the formulaic world of television, these shows rarely deviate from a set pattern: front-load the episode with some exposition and historical background, spend time walking around the area, and then wait for night to fall and freak out about anything that happens. The best of these shows is Ghost Adventures, which has aired for a decade on the Travel Channel, and the reason it's so good can be summed up in two words: Zak Bagans. The hair-gel-loving host is like a cross between Pauly D from Jersey Shore and Fox Mulder from The X-Files. His ability to sell the creepiness of every abandoned hospital, closed hotel, and long-shuttered prison while wearing garish Ed Hardy-esque shirts cannot be undersold. He's like the Guy Fieri of the paranormal.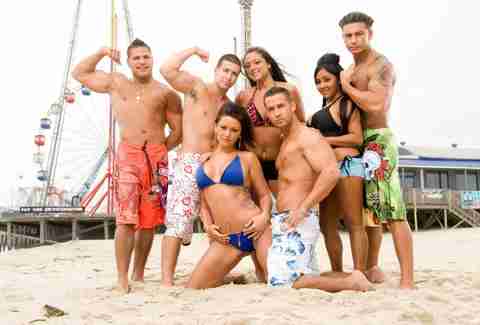 Jersey Shore was the most important sociological experiment of our time. We got an insiders view to a cage (the shore house) filled with a bunch of animals (the "guidos") and got to dissect all of their odd habits and traditions as they drank, hooked up, and fist-pumped their way from obscurity into superstardom. The show was a way for all of us to vicariously relive the follies of our youth -- messing around with your friends, cheating on a boyfriend, wearing some very ill-advised corsets in the name of fashion -- without any of the hangovers. MTV relaunched the show as Jersey Shore Family Vacation on April 5 and, instead of focusing on youth, it became a treatise on growing up and what it means to be "family." Snooki is now a mother. The Situation has faced financial ruin. Sammi and Ronnie have officially, for the final time, broken up. Instead of This Is Our Youth, the reboot is more The Big Chill, but with at least one person shouting, "Cabs are here!" 
After 15 seasons and more than 200 episodes, Keeping Up With the Kardashians -- KUWTK for short -- shows no signs of slowing down. Where other series from the celebrity-based reality boom have faded or taken new forms, this chronicle of the wealthy Calabasas family has continued to be an American obsession. The endless array of spinoffs and knock-offs have only strengthened the original, which began when producer Ryan Seacrest was attempting to come up with his own version of MTV's hit The Osbournes. (Remember that?) Over the last decade, KUWTK has actually gotten more compelling and, yes, deeper with the passage of time as Kourtney, Kim, Khloé, Kris, Kendall, Kylie, Rob, Kris, Caitlyn, and even Scott Disick have faced milestones, successes, and tragedies together. As its many defenders have pointed out, the show's appeal isn't only rooted in the ridiculous lifestyle porn; it's also a funny, occasionally moving study in sibling dynamics and parental gamesmanship. Even if you drift away from the show, it's comforting to know that it's still out there for you to keep up with.
The Masked Singer (Fox)
Concept: A bunch of people with the ability to sing who are various states of famous compete in an over-the-top competition where the judges have no idea who they are -- because their entire bodies are encased in elaborate costumes complete with what look like the heaviest masks ever worn on TV. That's the premise of Fox's new reality singing competition, which is based on South Korea's similarly formatted King of Mask Singer, which has been ongoing since 2015. Here in the States, the very first season has just started, and it's insanely addictive. Is it the weird costumes? The performances? The song choices? The mystery of it all? Every week, pairs of the 10 contestants face off, and the loser of each, based on the judges' choice, is up for elimination. After they're booted from the show, the contestants take off their masks and reveal their identity -- but the judges and the audience are also given small clues to guess who they are throughout each episode. If guessing who a bunch of people running around looking like Power Rangers villains is your bag, The Masked Singer might just be the costumed singing reality competition show for you.
The name is almost too trashy, so straightforward that it risks repelling viewers. Don't let it dissuade you, though it is accurate: A nude man and woman, strangers to each other, must survive in an unforgiving environment for 21 days, armed only with a firestarter and one pre-selected tool each. The brilliance of Naked and Afraid is that it somehow manages to achieve, in most episodes, an arc from misogyny to feminism. It starts with the Primitive Survival Rating, or PSR, which is given to each naked, scared person ahead of their journey. The criteria for this rating is opaque and based on nothing resembling fact, but it's on a scale of 10, and in earlier seasons was broken down into three categories, including "mental," with adjectives like "ingenious" factoring into PSRs that might be, say, 6.3. The men usually receive higher initial PSRs, but they're almost always the the first to crack physically and mentally, while the women are forced to find food, keep the fire going, and provide emotional support... which they do, saving the team from bowing out early. Naked and Afraid has moved away from this model a bit in more recent seasons, which in the big picture is for the best, but it's still one of the most consistently entertaining shows you can binge episode after episode for hours on end.
(Discovery Communications is an investor in Group Nine Media, Thrillist's parent company)
Think about a scripted television show about a group of women in their 50s and 60s. The only one that you can come up with is The Golden Girls, because no other show exists. Instead, we need to look to the Real Housewives franchise, which, for better or worse, is the only place on television we can see successful, articulate, and complicated middle-aged women interacting. Sure, sometimes that interaction is a woman throwing her prosthetic leg across a restaurant, but so be it. The best of the franchise is Real Housewives of New York, in which the women have long-standing and organic friendships, and most of them are single. Watching these women try to negotiate relationships with children, exes, businesses, dating, and their own fleeting fame is a complicated dance that sometimes leads to rehab or faulty marriages (we're looking at you, Countess), but also always leads to brilliance. And no matter what happens, when they get together, they seem like they enjoy each other's company. Can we please get Matt Weiner to make a prestige drama sort of like this?  
We'll let Bill Hader handle this one. As he explained on The Ellen DeGeneres Show, "It's about women who kill. There's always a moment in every show where they go, 'And that's when she snapped.'" he said. "There's a 911 call with a guy who's like... 'My wife, she took a shot at me, but I got the gun away from her, and we're OK, we're OK.' They're like, 'Well, sir, do you have any other guns in the house?' And he goes, 'Hmm, no, I don't think we have any other guns in the house. Oh! Yeah, we do.' And he's dead. It's not funny. But the show, I can't stop watching it! The Super Bowl will be on, and my friends will be like, 'Hey man, you watching this?' And I'm like, 'I know! This guy's marrying an insane woman!' Every time they say, 'And that's when she snapped,' I'm alone in my place going, 'YEAHHHHHHHHHHHHHHHH!'"
Essentially, this Japanese reality show is a more polite version of MTV's Real World; six strangers -- usually three men and three women -- live together, but the twist is that panel of another six people watches them and provides commentary. It's kind of like Netflix Xanax, but that's not to say there's no drama. It's just that it's usually more muted, philosophical, and existential than the senseless screaming you see elsewhere. In fact, many episodes, thanks to the panel, offer a sort of moral or sense of inspiration. (Like the episode in Season 1 in which two of the guys confront a college baseball player about his lack of dedication.) Confused about where to start? Try beginning with Boys & Girls in the City, skipping Aloha State, then going to the latest edition, Opening New Doors.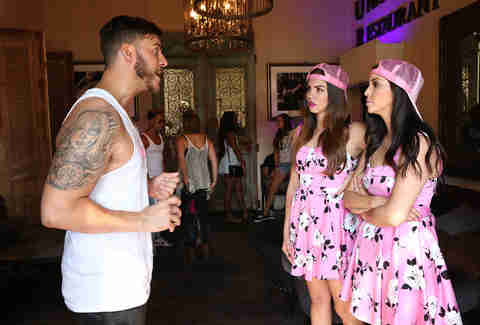 Decades from now, scientists are going to look back at the reality television era and discover that, like the bliss point junk food creators discovered could get consumers hooked on their products, Vanderpump Rules achieved a similar feat. Just try walking out of the house when Jax is losing his temper or when Kristen decides to stir up some shit, and you'll find you're powerless, rooted to the spot. Seven seasons in, the #PumpRules crew has figured out how to integrate fresh blood without losing sight of the show's core -- which is basically attractive restaurant workers getting blasted and starting drama/having sex with each other -- a quality required for longevity in the reality TV world. Unlike the over-the-top stereotypes of, say, The Jersey Shore, there is a comforting aspect to watching the SUR staff, a feeling that Naomi Fry described in The New York Times as akin to a "low-grade, consequence-free orgasm." These are not merely outsize personalities hungry for fame; they're struggling to find a place for themselves in the world and must suffer all the petty humiliations that quest brings with it. In that sense, they truly are just like us.