If you watch a TV show long enough, you begin to feel like the characters are your friends. And while you're clearly suffering from delusions and should pay an immediate visit to OUR close and very real friend Dr. Gregory House, you also know exactly where you'd want to hang out with them all. And so now, we present the top 15 hangouts, in ascending order, as determined by the highly scientific factor known as hangoutabilityness.
15. Schrute Farms (The Office)
Let's just start off by saying that Schrute Farms is more than a beet farm. It's a bed and breakfast that is now fully wireless (because nobody knows where Mose hid all the wires), and it's where people of various backgrounds gather for weddings, funerals, and character-building tilling.
14. Moe's (The Simpsons)
Moe's has the finest beer on tap: Duff, Duff Beer with an umlaut, and occasionally Red Tick Beer. Moe's is where Springfield's rat population lives, and where smuggled killer whales lay low for a while. Aside from that one brief Flaming Moe's moment, Moe's sucks. Perhaps Moe said it best: "Moe, Moe, Moe! Why don't you like me? Nobody likes me."
13. Los Pollos Hermanos (Breaking Bad)
Sometimes you just want a good bucket of chicken. Sometimes you want the best meth ever produced in the Southwest! Sometimes you want both, and realize that it's very difficult to eat chicken when you're on meth, no matter how delicious it is. Pollos Hermanos is there for all those times and more.
12. The Cafeteria (Community)
Greendale Community College may not be run by the finest dean, it may not be home to the brightest students, and the classes they offer may be mostly fictional (Ice Cream 101!), but they've got a killer cafeteria. Literally. People have died over their chicken strips.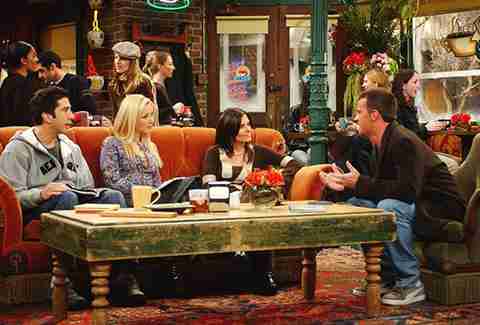 11. Central Perk (Friends)
This was the trendy coffee house when trendy coffee houses were just trendy coffee lean-tos. Extra points for a solid pun, although it would've been nice to see the gang have a nice dinner at the Empire Steak Building every once in awhile. And like, drink booze somewhere.
10. And Jeremy Piven (Arrested Development)
And Jeremy Piven is host to California's most bright and shiny. Baby-faced singer Mark Cherry, aspiring exterminator Steve Holt, a beautiful woman with lupus, Ron Howard's daughter, Rebel, and $4000-suit-owner GOB Bluth... c'mon!! A night at And Jeremy Piven will provide you with laughs, tricks, illusions, Michael, and people yelling "Fire!". Nicest place.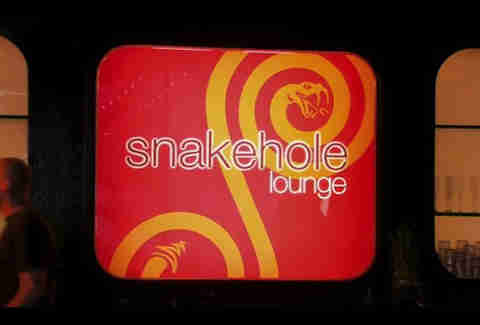 9. Snakehole Lounge (Parks and Recreation)
Imagine a bar where Ron Swanson himself walks up to your table and tells you about the wonders of Snake Juice. Imagine a bar where ladies get a free drink for looking fly. Now imagine a bar owned by that famous guy behind Entertainment 720. That's the Snakehole Lounge, "Pawnee's Sickest Nightclub". Just try to avoid the place on Sundays and Mondays, because the club is rented out for children's birthday parties and substance abuse meetings.
8. The Bait Shop (The O.C.)
The only problem with The Bait Shop is that Josh Schwartz, the OC creator, actually really wanted it to be the coolest place, basing it on "the Troubador" and "CBGB" and, you know, "the Peach Pit". And yes, it did feature hep bands from the 2006 indie-music scene, like Death Cab and Rooney and The Walkmen and that other band I can't think of that sings the song about Corey Haim. And yes, it was managed by Alex, aka Olivia Wilde, aka the chick who made out with both Seth and Marissa, while Marissa was feeling very vulnerable following a dinner with Julie Cooper. And yes, there was the occasional club shooting, and some run-of-the-mill drug running. But there was just this one other issue: ALL OF THE PEOPLE BOTH RUNNING THE CLUB AND ATTENDING ITS SHOWS WERE, LIKE, 16 TOPS. It was like a club as started by the kids on the island in Lord of the Flies, with Piggy as Oliver, the coke head.
7. MacLaren's (How I Met Your Mother)
Since the invention of alcohol, repeal of Prohibition, and some other notable thing that drinking too much has led people to forget, we as a people have been on a continuous hunt to find the perfect place to drink with your friends every night. MacLaren's is a place where cool people can chill and drink -- FLASHBACK TO SOMETHING CRAZY AND SEMI-RELATED THAT ALSO HAPPENED IN THIS BAR!! -- while your friend tells you about all the women he's done things to.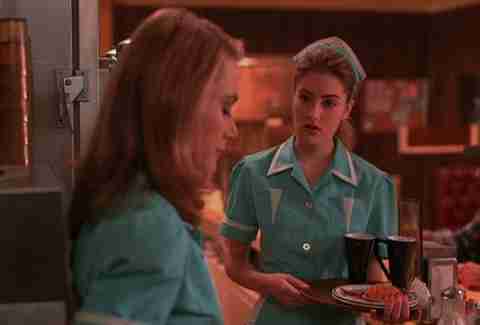 6. The Double R (Twin Peaks)
Damn fine coffee. Damn fine pie. Diane, if there's one place -- one place you need to go for quality food and drinks -- it has to be The Double R. Looming murder case aside, it's a place where you can treat yourself to life's simplest pleasures. As Dale Cooper so eloquently puts it: "Every day, once a day, give yourself a present. Don't plan it. Don't wait for it. Just let it happen. It could be a new shirt at the men's store, a catnap in your office chair, or two cups of good, hot black coffee." Plus, the chick who owns it is a total babe. Right, Ed?
5. Paddy's Pub (It's Always Sunny In Philadelphia)
A good bar has cheap drinks, a good selection, and an amiable staff. Paddy's Pub has none of those things. As Dennis Reynolds puts it: "Our bar is in South Philly in a scary alley... might as well call it "Rape Bar". Sure, people have died in the booths, illegal Russian Roulette games have been run in the basement, and their stance on underage drinking might not exist. But they do have wine in cans.
4. Cheers (um, Cheers) It's a place where everyone knows your name, assuming your name is Sam, Diane, Coach, Carla, Norm, Cliff, Woody, or Kelsey Grammer. So why, you surely ask, all incredulously, is one of the most iconic places to hang out in the history of television only at 5? It probably has something to do with the fact that the show is mad old, and I only really remember that one episode from the final season where Kirstie Alley finds herself attracted to a handsome plumber, and Sam joins a sex addicts group. But that's a good episode, you should check it out.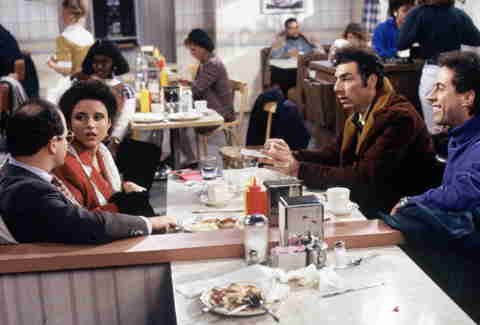 3. Monk's Cafe (Seinfeld)
It's got a Big Salad. It's got Clams Casino (Chef recommends! But yeah, don't get that). It occasionally goes on streaks where it only hires large-breasted waitresses. But Monk's is less about the food and the boobs than it is about there always being a table for you to gather with friends and sometimes Bania. It's more home than home, especially when you switched homes with Kramer because of Kenny Rogers.
2. The Max (Saved By The Bell)
You can't argue with an establishment where the proprietor was both a congenial host and also did rudimentary magic tricks that both amazed and confounded Screech. The Max had dance contests, telethons, beach parties, and the Max Burger. Have you tried the Max Burger? No? That's fine, as it was just a totally normal burger with nothing special about it at all. The same can't be said for its namesake. Also, Max was recently spotted sawing ladyfingers in half at a Ralph's near Valley. So sad.
1. The Peach Pit (90210)
Even though they were all super-rich except Brandon and Brenda, who were just normal-rich, the 9-0-crew-1-0 basically never went to another restaurant, and you can see why: the Peach Pit is all things to all people. The Mega Burger is the best burger in town. The staff has the best hair in Beverly Hills other than Dylan and Steve Sanders, if you're into that look. Nat works you hard but occasionally teaches you things too, occasionally. Plus, Valerie has a ton of coke up in the After Dark office.