The 21 Best TV Shows of 2015
We've celebrated the 21 best films of the year, and now we're ready to festoon our favorite 2015 shows with glittery praise. Arguing out this list was difficult, to say the least, as outstanding also-rans include The Knick, Inside Amy Schumer, Last Week Tonight, Archer, Empire, Rick and Morty, Jessica Jones, Difficult People, South Park, You're the Worst, and Game of Thrones. We dig all of those, too -- just not quite as much, ultimately, as we loved the following 21 shows over the past year.
21. Catastrophe
Pour one out for the "Oh no, we're having a kid!" trope -- Twitter champion Rob Delaney and British actress Sharon Horgan have delivered the last word on that overused premise. Sweet, crude, and with little artificial plot-thickener, Catastrophe drops a parenting bomb on an otherwise-perfect cross-Atlantic one-week stand, just to see what happens. The answer: very little. The six episodes in the UK series' first season, which Amazon Prime picked up exclusively, take baby steps towards a dramatic conclusion, and the duo's shared, caustic wit makes the half-hour show beyond binge-able. When someone tries to backseat-parent "Sharon" and "Rob" in episode two, Catastrophe becomes the frank, child-rearing show the world needs after 8 billion Facebook baby photos. Do not fuck with wise-ass mothers- and fathers-to-be. -- Matt Patches
20. Nathan for You
It's almost impossible to describe the surreal charms of any given Nathan for You episode. Whether Nathan Fielder is giving overweight customers a chance to ride horses by attaching balloons to their backs, designing a moving company that also functions as a workout plan for paying participants, or staging a low-concept play in a bar in an effort to get around smoking regulations, the Comedy Central show continues to find bizarre ways to stretch and occasionally transcend its "Da Ali G Show meets Shark Tank" premise. In his own odd way, Nathan has become one of modern TV's most poignant antiheroes, a crafty pitchman who wants to help others, but who can't save himself. -- Dan Jackson
19. Black-ish
Throughout 2015, Kenya Barris' family sitcom shed any timidness or awkwardness that may have existed in its very strong first few episodes, and took its ideal form. In hilarious, Norman Lear-esque episodes like "The Word" and "Rock, Paper, Scissors, Gun," the ABC series picked apart complex issues like the n-word and gun ownership with style, wit, and grace. And, thanks to A-game Anthony Anderson, the remarkable comic force of Tracee Ellis Ross, and the most charming cast of child actors assembled in years, the show pulled off non-controversial family shit perfectly, too. Halloween, Christmas, weddings, vacations, going to church -- no topic is too simple or too provocative for this surprisingly nourishing feast masquerading as comfort food. -- Dan Jackson
18. BoJack Horseman
The second season of Netflix's animated series doubled down on the depression, failure, and slovenly behavior we enjoyed in its first. BoJack climbs higher than ever, as he lands both the lead role in a Secretariat biopic and the girlfriend of his dreams, but life's cruel hand caps him at the knees. He retreats to an old flame and hooks up with her daughter, and the entire spirit journey is tinged with serious, suicidal thoughts. In between the morose moments, BoJack Horseman asks us to laugh -- and we do, because we can't imagine this beleaguered equine's life getting any worse, which invariably it does. -- Matt Patches
17. The Jinx
Has there ever been a more dramatic bathroom scene before? As streaming services threaten the very concept of "watercooler TV," HBO's six-episode true-crime series about possibly murderous real-estate scion Robert Durst re-asserted the thrill that only live television can deliver with its mind-blowing finale, in which the shifty subject seemingly incriminates himself in sotto voce while taking a leak. Were some of the show's editing choices and reporting techniques a bit suspect? Yes. Should Andrew Jarecki shave his goatee? Probably. But would we watch it all again? In a heartbeat. -- Dan Jackson
16. Crazy Ex-Girlfriend
Fans of Hairspray and The Umbrellas of Cherbourg should take note of comedian Rachel Bloom's eccentric, episodic musical. Should we root for panicky Rebecca Bunch when she ditches her high-profile lawyer job, relocates across the country, and tries everything to reclaim her high school boyfriend? Or is she really as wacko as the title of the CW series suggests? Sitcomy relationships and Bunch's imagined dance numbers (which range from Broadway showstoppers to fire-blazing music videos a la Rihanna) complicate the answers. What's clear is how fun it all is: Crazy Ex-Girlfriend is a rom-com circus and Bloom is its ringmaster, a Lucille Ball for the YouTube set. -- Matt Patches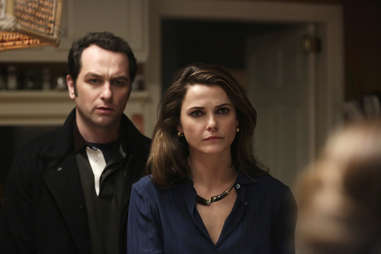 15. The Americans
FX's family spy drama has rewarded viewers with its suspenseful, contemplative storytelling for three seasons now, and perhaps that slow-burn style explains why it has struggled to find the wider audience it deserves. But make no mistake: The Americans, which follows undercover Soviet spies Philip (Matthew Rhys) and Elizabeth (Keri Russell) as they navigate parenthood and loyalty to their homeland in the Reagan-era United States, is one of TV's smartest shows -- an expert exploration of how we construct personal identity and don various masks (and wigs) in order to survive. The action this year focused on the fallout from daughter Paige's discovery of her parents' treasonous vocation, and delivered a weekly jolt whenever the Americanized teen confronted the sneak-about Russian agents she now knows them to be. -- Anna Silman
14. Master of None
Netflix's Master of None is the the perfect comedy for the "too much TV" era. Like a sampling platter at one of the hip restaurants Aziz Ansari's Dev likes to frequent, the show presented a series of familiar tropes -- showbiz satire, friends hanging out, family squabbles, a budding relationship -- without ever fully committing to one genre. Instead, Ansari and co-writer Alan Yang let their carefully honed comedic sensibility hold all of these disparate ideas together, moving elegantly between delightful absurdity (hello, PARO!) and melancholy self-reflection (goodbye, long-term relationships!) with ease. -- Dan Jackson
13. Ash vs Evil Dead
At last, with this worthy episodic continuation of Sam Raimi's bodacious Evil Dead movie franchise, previously uninitiated Starz subscribers are saying what horror-comedy connoisseurs have been uttering for decades: that -- say it with me -- Bruce Campbell is the best-known Detroit-born actor to have achieved cult fame by playing a character who severs and replaces his own hand with a chain saw. The B-movie poobah's chin-tastic charms are still perfectly showcased with Ash Williams, the smart-aleck "Deadite"-killer that launched Campbell's career and countless convention appearances, and longtime fans are thanking their Starz that Raimi and pals have updated the aging, boomstick-wielding stockboy's unlikely story with a fitting amount of gore, guts, and, yes, girdles. -- John Sellers
12. Broad City
While plenty of shows revolve around 20-something BFFs living in New York City, Abbi Jacobson and Ilana Glazer's madcap buddy comedy is the freshest and funniest take on city life we've seen in aeons. If the friendship between these two lovable, sex-positive, stoner Jewesses is the heart of the show, NYC is the third bedfellow in their platonic love triangle -- with Bed Bath & Beyond standing in as their heaven and Penn Station as their purgatory. Season two of the Comedy Central series could have been 100 episodes and it wouldn't have been enough. "More Abbi and Ilana, please!" is what we're saying. -- Anna Silman
11. Show Me a Hero
A six-episode miniseries about the late-'80s Yonkers housing crisis sounds like Civ 101 punishment. In David Simon's hands, however, it's a gripping parable for partisan paralysis, executive do-gooding, and institutional racism. With director Paul Haggis (Crash) at the wheel, The Wire creator tracks the seven-year war for affordable housing from the perspective of Nick Wasicsko (played by Star Wars: The Force Awakens' Oscar Isaac), who was only 28 when he became the mayor of Yonkers. We see him campaign on big promises and encounter Trump-like insurgency -- as well as plenty of pitchforks and torches. Meanwhile, residents of the town's cramped low-income housing, stifled by class, pray for the local government to come through. Simon's nose for thorough, character-driven journalism runs through the veins of Show Me a Hero, a vital HBO docudrama without a trace of textbook stuffiness. -- Matt Patches
10. Fargo
The first season of Noah Hawley's bold adaptation of the perfect 1996 movie sometimes tried too hard to shoehorn in allusions to the source material and other Coen brothers films, but a crackerjack premise and an inspired performance by Billy Bob Thornton elevated it well above mere facsimile. Season two, which centers on two small-town boneheads (played with absurd obliviousness by Jesse Plemons and Kirsten Dunst) who inadvertently get caught up in a war between rival crime syndicates in 1979, carves out even more original ground. The impressive casting -- Ted Danson, Patrick Wilson, Nick Offerman, Bokeem Woodbine, and Jean Smart are also great here, and Bruce Campbell steals the season with his hilarious cameo as a campaigning Ronald Reagan -- holds the convoluted plot together so well that you'll quickly forgive Hawley for choosing to hinge a major moment on the sudden arrival of an alien spacecraft. -- John Sellers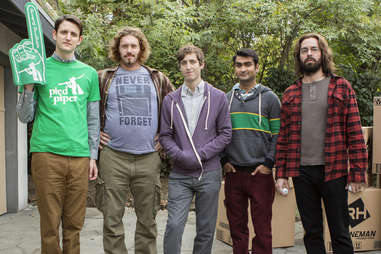 9. Silicon Valley
In its sophomore season, Mike Judge's tech-minded comedy combined the rigor of The Social Network with the buddy-comedy banter of Judd Apatow's best work. Big personalities -- Erlich goes toe to toe with Russ Hanneman, aka the man who put Internet on the radio, who behaves like Michael Scott's billionaire cousin -- are met with actual stakes. Pied Piper's legal fracas with Hooli, upgraded with programmer jargon, is as thrilling as any primetime drama. Judge's cast compresses it all at into another strain of corporate mundanity. There's satire on the surface of this HBO gem, and real, dopey, lovable people at its heart. -- Matt Patches
8. Transparent
Jill Soloway's critically beloved Amazon original about a transgender parent coming out to her grown children deals with a lot of stuff we've never seen on series television before. In season two, Maura Pfefferman (Jeffrey Tambor) continues to struggle with coming out as trans, a narrative the show explores with unparalleled sensitivity and nuance. This season's episodes also turn the lens from gender identity to sexual identity, as Maura's kids (played by Amy Landecker, Gaby Hoffmann, and Jay Duplass) come to terms with their complex kinks, fluidities, and dysfunctions in the bedroom. The show also delves deeper into the characters' Jewishness, interweaving flashbacks from Nazi Germany with the present day. Yet even if you don't tick any of these boxes, you'll find something to love in Transparent, which depicts some of the most humane, mesmerizing examinations of family life on screen today. -- Anna Silman
7. Wolf Hall
Adapted from two Hilary Mantel novels that tell the tale, across 1,000 pages, of Thomas Cromwell's rise through Henry VIII's court, Wolf Hall is the historical fiction answer to Game of Thrones. Anchored by British thespian Mark Rylance (Bridge of Spies), who gives Cromwell a rugged, fatherly disposition, the series engages the violence and greed that propelled Tudor dynasty without any "BBC production" stuffiness. All the English wheeling and dealing is as mesmerizing as the lavish costumes and classic sets, thanks to Rylance and his high-caliber castmates, who parse the dense material for relatable, fiery human behavior. A show to watch with the lights down and the phones off. -- Matt Patches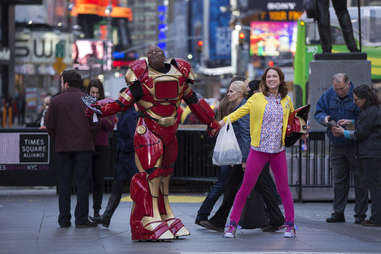 6. Unbreakable Kimmy Schmidt
At first, it was a little disappointing to hear that writers Tina Fey and Robert Carlock would be returning to New York City with their new show after conjuring such a hilarious, deranged, and frighteningly specific media-saturated vision with 30 Rock. But, by positioning their protagonist Kimmy Schmidt (Ellie Kemper) as the ultimate outsider, they discovered invigorating ways to parody, eviscerate, and pay tribute to the city they both seem to love and hate in equal measure. Plus, the show gave us the "Pinot Noir" song -- that should be enough to earn a spot on this list. -- Dan Jackson

5. Better Call Saul
Making a spinoff of one of the most beloved TV shows of all time is the TV equivalent of replicating a vat of Walter White's pure blue meth: no easy feat. Thankfully, even without Walt and Jesse, Better Call Saul had a team that was more than up to the challenge: creators Vince Gilligan and Peter Gould, who demonstrate the same commitment to meticulous character-building and slow-burn narrative tension as they did on Breaking Bad (while still creating a show that stands on its own) and star Bob Odenkirk, whose flawed, well-meaning hero Jimmy McGill quickly transcended his sleazy Breaking Bad alter-ego Saul Goodman. That might be the most impressive part: we tuned in looking for Saul (and crossing our fingers for a Heisenberg cameo), but it's because of Jimmy that we stuck around. -- Anna Silman
4. Making a Murderer
What begins like a standard-issue Dateline episode about Steve Avery, a rural Wisconsin ne'er-do-well wrongfully convicted of rape, turns, over the course of its 10 episodes, into a sharp, twin rebuke of unchecked law enforcement and the entire criminal justice system. There's a reason the prosecutor behind the all-but-certain railroading of Avery after being arrested anew, this time on murder charges, not long after he'd been freed from prison by DNA testing and he'd filed a multimillion-dollar lawsuit against the county officials who'd erroneously (and seemingly intentionally) put him away for nearly 20 years, has been getting those scathing Yelp reviews. As the documentary team behind this essential Netflix binge, which rivals The Staircase and Serial season one in its capacity to inspire righteous anger and rabbit-hole quests for the truth, details without exceeding skill, justice for Avery and his dimwitted nephew, tragically swept up in the deplorable affair, has most definitely not been served. -- John Sellers
3. Mr. Robot
Oh, it's spelled Mr. Robot, without a third "o" -- so this has nothing to do with Styx? OK -- but whoa, who is this mysterious Mr. Robot dude then? Did that bonkers thing really just happen? What in the actual hell is going on here? This airs on USA Network!? These are among the many valid questions that will almost certainly be prompted by a binge-watch of this uncommonly provocative and legitimately bananas 10-episode thriller about a paranoid, drug-addled cyber-vigilante who's recruited by an anarchic hacker collective looking to bring down a gigantic corporation. While the series doesn't stick every landing or close every plot hole, Mr. Robot's outlandish twists and turns will regularly cause you to make that purposefully theatrical "mind = blown" gesture. -- John Sellers
2. Mad Men
Matthew Weiner knew where it was all going -- and the AMC show's creator even warned us in the third-season premiere, via a Don Draper line to Roger Sterling: "I keep going to a lot of places and ending up somewhere I've already been." The 1960s changed the people around Don, and the second half of the final season, set in 1970, was momentous. Betty, who grew up and broke free, confronted her own mortality. Peggy discovered that true independence could still involve professing your love to a man. Pete broke his life in two so that he could put it back together again. And then there was Don Draper: well-meaning, self-destructive, creative genius Don Draper, who dreamed big and fell hard over and over and over again. Mad Men asserted itself as the Great American Television Show by being hyper-specific -- designed down to the desk stapler -- and universally opaque. We'll never stop talking about the ending, the beginning, and everything in between. -- Matt Patches
1. The Leftovers
Going into this HBO drama's sophomore season, we'd never have predicted that we'd be naming it our favorite show of the year. The first season gave off sparks of brilliance, yet the proceedings often felt too bleak and the plot -- the world reels after 2% of the population vanishes in a rapture-like event -- was simultaneously overwrought and under-explained. But showrunner Damon Lindelof (of Lost fame), along with The Leftovers novelist and co-producer Tom Perrotta, took a detour in season two by relocating its main characters to a "miracle town" in Texas, introducing the fascinating Murphy family (with a tough-as-nails matriarch played expertly by Regina King), and ratcheting up the crazy via a new batch of psychological, emotional, and physical responses to the brave new world. In doing so, it soared.
The show operates, as co-star Amy Brenneman once put it, on "dream-logic," eliding clear explanation, so watching The Leftovers can be something of a primal experience. And yet its elliptical narrative, vivid imagery, and mythic elements work together to create something we, as viewers, intuitively understand, echoing the traumas and longings within us. The struggles portrayed by the show's top-notch ensemble -- Justin Theroux, Carrie Coon, Liv Tyler, Ann Dowd, et al. -- feel both real and allegorical, as their characters grapple with questions of faith, fate, religion, terrorism, selfhood, mortality, and -- that old Lindelof stomping ground -- purgatory. In the third-to-last episode, our protagonist Kevin (Theroux) finds himself trapped in some sort of limbo realm, and what unfolds there is unlike anything else you'll see on TV this year -- a blend of Black Mirror, Twin Peaks, and the best parts of Lost, only without that show's inclination towards convoluted twists and flashy reveals.
The acting, music, direction, and script are all individually deserving of praise, but most compelling of all is the vivid counter-world that Lindelof and company have constructed. As this season showed, there's so much more to explore here, and we still can't believe how inventive and affecting it all was. -- Anna Silman
Sign up here for our daily Thrillist email, and get your fix of the best in food/drink/fun.
Follow the Thrillist Entertainment editors on Twitter: @ThrillistEnt.