The Funniest TV Shows to Watch on Hulu Right Now
From classic sitcoms to the newest series.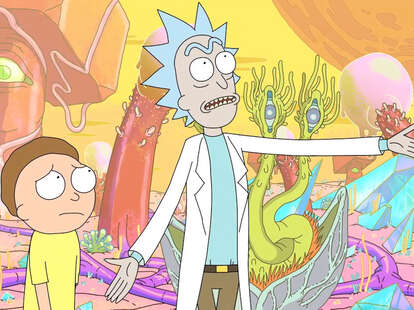 Sometimes you just need a laugh, and often there's no better way to do so than putting on a funny show. Hulu has carved out a nice chunk of the comedy TV market with its own originals, as well as licensed series, which include recent gems and a handful of classic sitcoms. To get started, here are some underrated and beloved titles to add to your binge list, whether you're in a comedy series rut or want to know where to stream old favorites.
ALSO READ: The best TV shows on Hulu right now and the best movies streaming on Hulu
Abbott Elementary (2021– )
If you thought the need for mockumentary-style workplace comedies ended with Parks and Recreation, you would be very wrong. Quinta Brunson, a comedian who developed a popular following in the 2010s with her web series, infused the genre with a whole new, delightful energy with her show Abbott Elementary. Set in a Philadelphia public school where teachers are known to only last a couple years, it follows the dedicated few who are committed to sticking it out and shaping the lives of youngsters. You'll be pleasantly surprised by how funny it is and the way it tackles class and race, and absolutely welcome the latest sitcom to grace network TV.
Archer (2009– )
Sterling Malory Archer (H. Jon Benjamin), a booze-, sex-, and turtleneck sweater-loving international spy with indelible narcissism, lands himself in many-a caper he has to crawl his way out of to avoid the wrath of his spy agency, headed by his mother Malory (voiced by the ineffable Jessica Walter) and staffed by a bunch of foul-mouthed CIA rejects. Plenty of Arrested Development alums round out the voice cast of FX's debauched Emmy-winning James Bond parody with a license to cross the line, but the VIP is Aisha Tyler as the no-bullshit agent Lana Kane. A must-watch for anyone who wishes Daniel Craig would smile once in a while.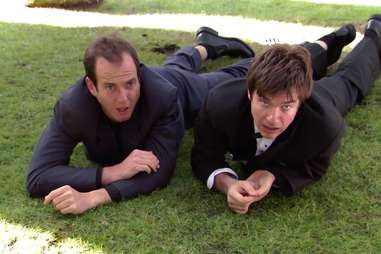 Arrested Development (2003–2006)
There's always money in the banana stand, and there are always laughs to be found in Arrested Development, Mitchell Hurwitz's sly, self-aware family sitcom. Though you'll have to jump to Netflix for the most recent seasons, the show's original run still satisfies. Arrested Development established a freewheeling comic sensibility that many of your favorite sitcoms—Parks and Recreation, 30 Rock, Community, Archer, Kroll Show, etc.—were influenced by. Don't hold the show's obnoxious fans against it. After watching a few episodes, you'll be quoting Tobias Fünke, too.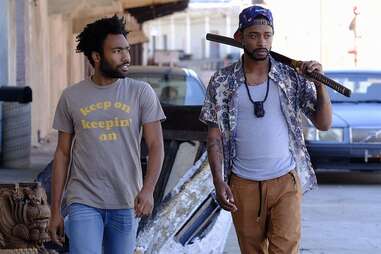 Atlanta (2016– )
Atlanta is a TV rarity: a deeply funny show offering pointed social commentary, probing Georgia's racial climate in between chuckles. Whether it's casting a black actor as Justin Bieber, lambasting social media obsessives, or just making a freaking great rap song, creator and star Donald Glover's massive endeavor manages to feel effortless and capture a specific experience with wit and precision.
The Bernie Mac Show (2001–2006)
Bernie Mac's FOX sitcom was founded on the concept that parenting is war. It's an idea that the late Chicago-born comedian explored in his hilarious stand-up performances—particularly his movie-stealing routines in Spike Lee's hit concert film The Kings of Comedy—and one that the show, which was created by future Nightly Show host Larry Wilmore, found new ways to twist over five seasons. The Bernie Mac Show was a sneaky experimental joy, ditching the laugh track for fourth wall-breaking scenes, gags with on-screen graphics, and emotionally real humor. It was the rare family sitcom that didn't pull any punches.
Better Things (2016–2022)
You've seen the kids are brats and parents are exhausted dynamic on TV many times before, but you haven't seen it as tender and impactful as it is in Pamela Adlon's Better Things. The series co-created by and starring the comedian follows her character Sam's goal of trying to survive as a middle aged actress raising three daughters and taking care of her mother on her own. As it turns out, that is no small feat—especially as a single mother—and this brutally funny, bittersweet series shows that though its close observations of family dynamics. It also provides powerful commentary on culture, feminism and the strange sexuality of plunging toilets, which makes it worth watching.
Bob's Burgers (2011– )
What a treat. The earliest episodes of Loren Bouchard's pun-, song-, and fart-filled family sitcom toon are aging like a fine wine, and the new ones rarely disappoint. Though the title would have you believe this show is all about the ever-schlubby Bob (deadpanned by H. Jon Benjamin), it's become way bigger than that. As the show's writers have learned what makes their world tick, it's been increasingly populated with quirky, relatable side characters, relationships, and problems. Watching this show, no matter the episode, is always a fun experience.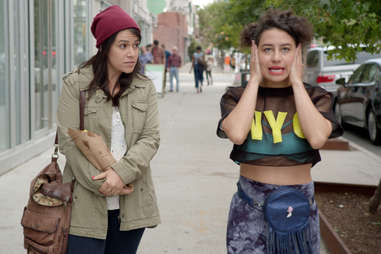 Broad City (2014–2019)
While plenty of shows revolve around 20-something BFFs living in New York City, Abbi Jacobson and Ilana Glazer's madcap buddy comedy is one of the freshest and funniest takes on city life. If the friendship between these two lovable, sex-positive, stoner Jewesses is the heart of the show, NYC is the third bedfellow in their platonic love triangle—with Bed Bath & Beyond standing in as their heaven and Penn Station as their purgatory.
The Carmichael Show (2015–2017)
Comedian Jerrod Carmichael used the traditional multi-cam sitcom format to tackle topics that go unexplored on most shows: the Black Lives Matter movement, transgender issues, and more. The NBC comedy leans on its deeply funny characters to take aim at even more societal ills, but instead of feeling like an unwanted Facebook post from your crazy uncle, it's like a real conversation.
Cheers (1982–1993)
For the days when you want to hang out where everyone knows your name without changing out of pajamas. Cheers had a marathon run (273 episodes!) over the course of a decade, quickly and handily becoming one of the most beloved sitcoms of all time. Led by Ted Danson's sleazeball with a heart of gold Sam Malone, an ex-Red Soxxer and reformed alcoholic slinging drinks, Cheers is all about its rotating cast of barflies, including barback Coach (Nicholas Colasanto) and his replacement Woody (Woody Harrelson), mailman Cliff Clavin (John Ratzenberger), Norm! (George Wendt), Boston psychiatrist to Seattle radio personality Frasier Crane (Kelsey Grammer), and bloviating intellectual Diane Chambers (Shelley Long) and her on-and-off again romance with Sam. Pull up a barstool and crack open a cold one—you'll be a regular in no time.
Community (2009–2015)
There's a reason Dan Harmon's community college ensemble comedy amassed a devoted cult following for its six-season run, despite it nearly always being on the brink of cancelation. The series focuses on a lovable study group of misfits played by both comedy veterans and those then just on the brink of breaking out—including consummate cool guy Jeff Winger (Joel McHale), lovable ditz Britta Perry (Gillian Jacobs), TV-obsessed Abed Nadir (Danny Pudi), anxious genius Annie Edison (Alison Brie), tough-but-firm mother Shirley Bennett (Yvette Nicole Brown), high school jock Troy Barnes (Donald Glover), and the baffling, bored, former CEO Pierce Hawthorne (Chevy Chase)—as they navigate their way through Greendale Community College. It's a sitcom that's goofy and delirious, but forever a lesson in how to become a better person.
The Detour (2016–2019)
If you can imagine, TBS' The Detour is like National Lampoon's Family Vacation on drugs. The show, which begins following an average American family of four on a cross country road trip, later flips the vacation story trope as dirt from the parents' (Jason Jones, Natalie Zea) wild pasts are dug up and they're forced to run from the FBI. For a family hiding from a life of crime, they're all incredibly awkward (especially their tween-age kids) and find themselves in a fair amount of shitty situations, making for a hysterical, raunchy sitcom.
Difficult People (2015–2017)
In this Hulu original, Billy Eichner and Julie Klausner are mean-spirited and petty New Yorkers who live by the "no hugging, no learning" Seinfeld-ian code, which makes them our favorite kind of platonic power couple. But with every exploitative adventure anchored by their best friendship, the jokes they make at the expense of others (interns, New Jerseyans, Method Man) seem downright sympathetic.
The Eric Andre Show (2012– )
Comedian Eric Andre has nothing but contempt for late-night talk-show conventions. While Jimmy Fallon and James Corden have turned network TV's late-night landscape into a glad-handing frat-party singalong, Andre has carved out his own punk nightmare gabfest on Adult Swim. Whether he's making Lauren Conrad squirm, dressing up as a cop for absurd man-on-the-street bits, or trading one-liners with co-host and fellow comedian Hannibal Buress, Andre filters everything through his own surreal vision. You'll never look at a talk-show desk the same way again.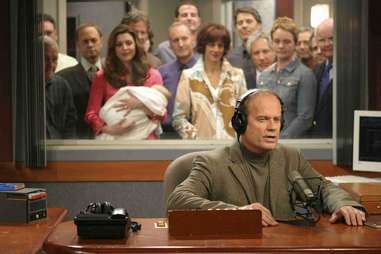 Frasier (1993–2004)
Finished Cheers? Okay, now go watch the equally good, if not consistently better, Cheers spinoff: Frasier. While Frasier Crane began as a barfly on the Boston-set sitcom, he truly flourished when he moved back to Seattle, started a radio show, and shacked up with his dad and his dad's Jack Russell Terrier, Eddie. (Remember when Eddie was on the cover of Entertainment Weekly? Yeah, Frasier was a big deal.) It's also one of the most wonderfully acted sitcoms there ever was, with the likes of John Mahoney and David Hyde Pierce. Let the persnickety pretension of Frasier and Niles lull you into a sense of calm.
Freaks and Geeks (1999–2000)
Is there any other show that was a greater incubator of talent than Freaks and Geeks? Half of the fun of watching the series, created by Paul Feig and executive produced by Judd Apatow, is seeing where it all began for the likes of Seth Rogen, Martin Starr, Jams Franco, Linda Cardellini, Busy Philipps, Jason Segel, Mike White, and many other then-unknowns in its supporting cast and on its writing staff. Freaks and Geeks earned extremely passionate fans immediately due to its unflinchingly funny portrait of high-school cliques in early 1980s Michigan as experienced primarily by the Weir siblings: the army-jacket-wearing "mathlete" Lindsay (Cardellini), who decides to hang out with the "cool" burnouts who congregate under the bleachers and on the loading dock, and her little brother, Sam (John Francis Daley), who enters high school and finds that he and his cadre of geek friends are targets. Wondrously specific in its nostalgia, Freaks and Geeks is essential for modern comedy fans and anyone who has ever felt isolated.
Golden Girls (1985–1992)
Fun fact: Mitchell Hurwitz—you know, the dude who created Arrested Development?—did a lot of his early work on here. Other fun fact: This sitcom, about four previously married women (including Betty White!) living together in Miami, is legitimately one of the best and funniest in TV history. Embrace this opportunity to watch every single episode, and, whatever you do, do not write these gals off.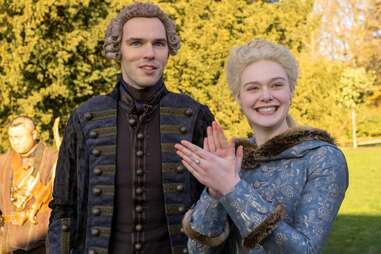 The Great (2020– )
Russian empress Catherine the Great is one of the most fascinating characters in history. Meaning, she's perfect for The Favourite screenwriter Tony McNamara to make the subject of a salacious, satirical, period piece comedy. Elle Fanning takes on the role of the Austrian royal who was married off to Peter III (played by a hilarious Nicholas Hoult), and organized a coup to take power over Russia as she ended up falling in love with her new nation more than her husband. Forget the stuffy biopics and series on the ruler that came before this; The Great is witty, playful, and impeccably designed, and it all goes down like it's been spiked with a little bit of vodka.
Happy Endings (2011–2013)
In a perfect world, this joke-a-second ABC sitcom about six neurotic best friends living in Chicago would have blossomed into a generation-defining, Friends-like hit. Instead, it was cancelled after three seasons. Was it too weird? Too manic? Now is your chance to find out.
How I Met Your Mother (2005–2014)
Like Friends, but with a low-level mystery running throughout the series. Architect Ted Mosby (Josh Radnor) has a tight group of friends, a cool job, and a dream NYC apartment (they always do), but he spends most of his time agonizing over finding his soulmate—and narrates the series from the future, hindsight and all. That finale sure was a doozy, but even if you've already seen some episodes, with plenty of in-jokes and Neil Patrick Harris' show-stealing run as Barney Stinson, this one stands up to repeat viewings. Running for nine seasons of 22-minute episodes, this is perfect for a long-running binge.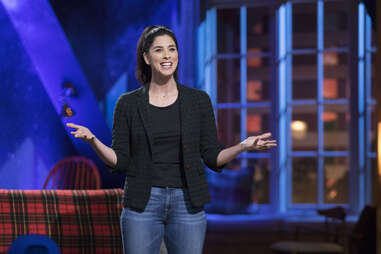 I Love You, America with Sarah Silverman (2017–2018)
Instead of taking another stab at political news or parading the celebrity-of-the-week through a new wacky skit, Sarah Silverman launched a comedic treatise on Who We Are. Skewing traditional formats (the show almost always starts with an earnest monologue before being interrupted with rude bodily functions you could only have on a streaming site then recoiling into the warm embrace of Mather, the Boring, White Guy Late-Night Host) and exploring pockets of America often overlooked by the coastal comedy scenes, Silverman reconciles and grills people on every side of the line to better understand the world we've made for ourselves. While it can get deadly serious—Silverman's interview with a former member of the Westboro Baptist Church is heavy—she interludes with her hilarious pals (a West Virginian auctioneer takes on Tig Notaro as an apprentice; Gil Ozeri hangs out in a Doomsday bunker) make all that pondering a blast.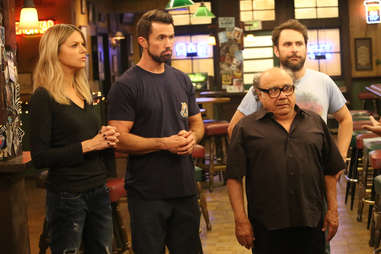 It's Always Sunny in Philadelphia (2005– )
Few shows make us consistently laugh-cry like It's Always Sunny in Philadelphia, a dark cringe-comedy about a group of depraved jerks (comedy heavyweights Charlie Day, Glenn Howerton, Rob McElhenney, Kaitlin Olson, and Danny DeVito) doing horrible things to each other and the people around them. Even with 14 seasons (and counting), don't worry about binge-watching from the start—It's Always Sunny is the perfect show to drop in and out of. Even decade-old episodes keep the lovable dirtbags of Paddy's Pub up to recognizable, juvenile antics.
Key and Peele (2012–2015)
Over the course of five seasons, Keegan-Michael Key and Jordan Peele created some of the funniest, smartest, and most visually striking sketch comedy of the new millennium. It's why you'll see clips from the series being memed over and over, even years after it's finished.
King of the Hill (1997–2010)
Mike Judge's (Beavis and Butt-Head, Silicon Valley) long-running FOX series is one of the best sitcoms of all time, animated and otherwise, its brilliant satirization of small-town, Bush-era Texas one of the best examples of the form that rarely missed. Everyone has their favorite character, whether it's propane salesman Hank Hill himself, his independent wife Peggy, his disappointing son Bobby, or one of his strange neighbors, and the vast amount of episodes of reliable situational bits, stuffed with quick moments that you might have missed the first time around, makes this show endlessly rewatchable.
Letterkenny (2016– )
"There are 5,000 people in Letterkenny. These are their problems," so begins every episode of this comedy. Co-created by Jared Keeso, who stars as the small town's resident tough guy Wayne, this web series-turned-Canadian comedy/Hulu original focuses on best friends shooting the shit about whatever's going on in their hometown. While both a lot and nothing at all happens in this sitcom, the series has developed its own language over the course of its eight seasons and is known for its speedy exchanges and relentlessly recurring in-jokes. The attention to detail and expertly crafted dialogue makes Letterkenny a must-watch sitcom, which isn't something you might expect from a show set deep within the grassy farmlands of Ontario.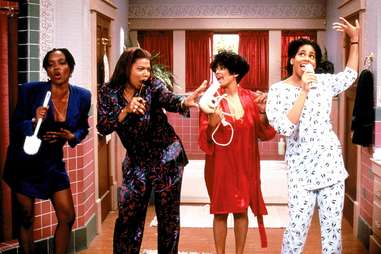 Living Single (1993–1998)
If you've burnt through Friends reruns more times than you can count, kindly turn your attention to Living Single, a gem of the sit-around-and-banter sitcom genre. The show, about four career women (Queen Latifah, Kim Coles, Kim Fields, Erika Alexander) and their two dude neighbors (T.C. Carson and John Henton) making it as singles in Brooklyn, ditches the family angle of The Cosby Show or Full House, lacks the snark of Seinfeld, and holds back on the mania of Will & Grace, striving to mirror the ups and downs of everyday life and the comfort of close friends. Latifah is the heart of the show, dropping wisdom and sass as a hustling reporter might, though the stories serve the entire group. Few sitcoms could tackle topics like breast reduction and depression-level self-worth and still keep the audience laughing.
The Mindy Project (2012–2017)
When Mindy Kaling's rom-sitcom hits, it hits hard. Her Indian-American Dr. Bridget Jones will have you in stitches, which makes sticking around for the misses—see: Mindy's dubious pregnancy—worth your time. The titular character is continuously navigating kooky fertility clinic coworkers and new romances, no matter how much chemistry she has with her curmudgeony co-worker Danny Castellano (Chris Messina), and learning to grow up, even as she becomes a mother herself. Hulu saved The Mindy Project from cancellation doom at Fox, exclusively producing and airing the final three seasons. Thanks, Hulu!
Nathan For You (2013–2017)
Is "the thinking man's Punk'd" a reality show? A clever Shark Tank parody? A dark, existential narrative about an ambitious anti-hero who will do anything to get rich and find love? It's all of the above and more. Most episodes are about host Nathan Fielder meeting a small-business owner around LA who is struggling to get by. He makes them a pitch: Follow my proposed plan and I'll improve your business. He's here to make dreams come true. The only problem? The proposals are often overly elaborate and borderline insane. Cringe and learn, people.
The Office (2001–2002)
Fans of Dunder Mifflin have Ricky Gervais's David Brent to thank for the genesis of Michael Scott. Tim (Martin Freeman) and Dawn (Lucy Davis) are the first Jim and Pam. This show's the OG, in other words. Though it only ran for two seasons, Gervais' British The Office paved the way for a new wave of awkward comedy, turned banal jobs into fertile ground for producing side-splitting workplace laughs, and inspired the US The Office's Greg Daniels and Michael Schur to be their best.
Only Murders in the Building (2021– )
Steve Martin, Martin Short, and Selena Gomez play an intentionally odd throuple in this comedy-mystery, and the show is delightful for it. At its start, the three have nothing in common, aside from the fact that they all live in the same Upper West Side apartment building and are true crime podcast obsessives. It's that shared interest that brings them together when another one of their neighbors is killed under strange circumstances, and they're determined to put their sleuthing skills to work. With a handful of guest stars coming through the complex's revolving door, a picturesque backdrop just off the westside of Central Park, and caper twists galore, the series couldn't be more charming. Who knew a satire of contemporary media could be so damn adorable?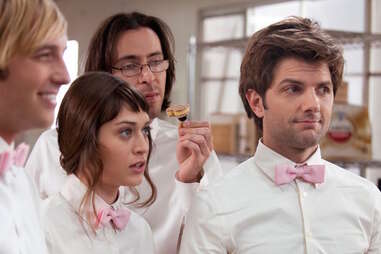 Party Down (2009–2010)
Party Down may just be one of the most savage (and accurate) satires of the entertainment industry ever to exist. The brutal comedy follows a bunch of cater waiters, almost all of whom have or had bigger dreams. Adam Scott plays Henry Pollard, who returns to the gig a broken human after failing to succeed as an actor. He's recognizable from one credit and one credit only: The guy in a beer commercial who says the catchphrase, "Are we having fun yet?" His coworkers are equally sad: There's desperate comedian Casey (Lizzy Caplan), smarmy screenwriter Roman (Martin Starr), and hot idiot Kyle (Ryan Hansen). The parties they work are often lavish and their misery is palpable, but it's all ridiculously hilarious.
PEN15 (2019–2021)
Middle school sucks. But in retrospect, it's so cringeworthy and melodramatic that it makes for one giant playground of great comedic material. From comedians Maya Erskine and Anna Konkle comes this Hulu original series in which the adult women go back to the junior high halls that haunts every one of us, playing 13-year-old versions of themselves in the early aughts, surrounded by actual preteens. The show, which counts The Lonely Island among its executive producers, hits on many of the topics you'd expect of a coming-of-age comedy: masturbation, young love, AIM, and cigarettes, to name a few. But it's the awkward delivery, the attention paid to the feelings and hormones coursing through the veins of the characters, that inspire some of the funniest moments. It's uncomfortable and funny and painful and wistful, probably like your memories of middle school.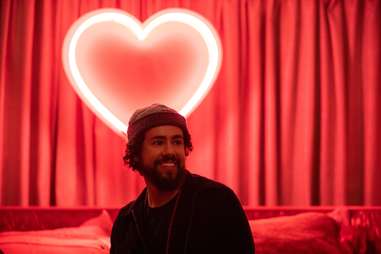 Ramy (2019– )
Created by and starring rising comic Ramy Youssef, Ramy is a glimpse into life as a practicing millennial Muslim. The show focuses on Youssef's effort to commit to his faith, and what that means for him as a young man in New Jersey who doesn't drink or do drugs, but definitely has premarital sex and isn't looking to settle down any time soon. Ramy also works to depict the varied experience of everyone in his family, and each episode provides glimpses into the kinds of microaggressions, fetishization, and stereotyping each of them endure. At the end of the day, it is a comedy about the laughable tests God gives us daily, and it's a refreshing take on the age-old struggle of finding meaning in a world controlled by forces you don't always understand.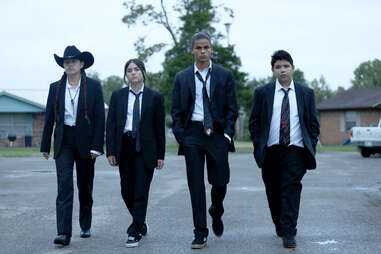 Reservation Dogs (2021– )
The FX on Hulu comedy about four friends living on a Native American reservation in Oklahoma—and trying every way they can to make enough money to leave—mixes irreverence and melancholy in a wonderful, revolutionary way. Created by Sterlin Harjo and Taika Waititi and centering Indigenous people, the series has been hailed as one of the best of 2021. Get on board now.
Rick and Morty (2013– )
Don't hold the horrible Rick and Morty fans out there against the series: The Justin Roiland and Dan Harmon-created Adult Swim show is genuinely funny, and has turned a whole burping, stuttering, improv-y syntax into mainstream comedy. Following genius scientist and asshole human Rick (Roiland) and his adventures with his sorta dopey grandson Morty (also Roiland) on their multiverse-spanning spanning adventures, sometimes dragging in the rest of the Sanchez family, the series brings reliable laughs to its ridiculous sci-fi plot while also managing emotionally affecting beats about mortality, family, and the pain of existing. There's only one thing left to say: I'm Pickle Rick.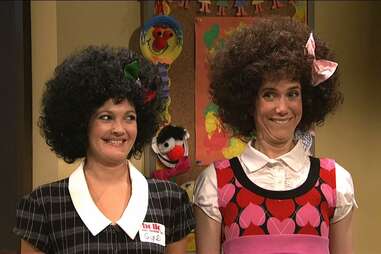 Saturday Night Live (1975– )
There are 23 seasons of Saturday night sketch comedy available on Hulu. Are all of SNL's eras good? Not really, but there's some gems featuring beloved sketches (See Season 31 for the earliest Lonely Island sketches, Stefan makes his debut in Season 34, and recent favorite David S. Pumpkins pops up in Season 42). It's also a mostly fine choice to put on if you need something to half-watch while you're cleaning your apartment!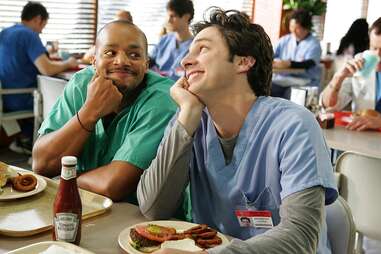 If you ever have to check into Sacred Heart Hospital, at least you know you'll get a laugh out of the experience. Whether in the form of its slapstick humor, one of J.D.'s goofy daydreams, or his ridiculous antics with Turk, the comedy about a class of medical interns led by Zach Braff and Donald Faison refuses to let up on the zaniness. Don't be fooled: It's way more outrageous and watchable than a comedic E.R.
Single Drunk Female (2022– )
After her stint on the underrated comedy The Mick, Sofia Black-D'Elia gets a deserving showcase in Single Drunk Female. She plays Samantha, a 28-year-old alcoholic who gets fired from her soul-sucking media job and moves in with her widowed mother (Ally Sheedy) who doesn't understand the nature of her addiction. Few shows have tangled with young women's sobriety as honestly as Single Drunk Female, with its potent blend of dark humor, deep self-reflection, and emotional breakthroughs as Sam works through Alcoholics Anonymous' 12 steps. Created by Simone Finch based on her real-life experiences and produced by the likes of Leslye Headland (Russian Doll), Jenni Konner (Girls), and Daisy Gardner (30 Rock), the series often feels painfully real as Sam weathers the ups and downs on her road to recovery.
Sister, Sister (1994–1999)
For many non-twins of the world, the idea of having a built-in best friend who was just like you was the ultimate fantasy. For '90s kids everywhere, the comedy Sister, Sister made that wishful thinking that much more reasonable, about a pair of identical twins played by Tia and Tamera Mowry who were separated at birth and coincidentally reunited as teenagers. As family comedies go, this one, anchored by the lovable performances by the Mowry sisters, their parents, played by Tim Reid and Jackée Harry, and even their pesky neighbor Roger (Marques Houston) ("Go home, Roger!"), is funny as it is wholesome, seeing two families come together to make one. One rewatch of an episode for nostalgia's sake and you'll be smiling ear to ear (and with the theme song stuck in your head).
Superstore (2015–2021)
Wondering what show took the baton from workplace reality spoofs like The Office, Parks and Rec, and Community? It's Superstore, the NBC comedy set in a big-box chain. You'll get the full range of classic jokes about anti-racism corporate videos, self-important managers, and awkward relationships delivered by a solid cast that includes America Ferrera (The Sisterhood of the Traveling Pants) and Ben Feldman (Mad Men).
30 Rock (2006–2013)
Tina Fey's workplace sitcom was so good for so long that it's easy to take it for granted. Since it went off the air in 2013, comedies have gotten stranger, more dramatic, and more formally ambitious. But have they gotten any funnier? We'd argue no. Between Jack Donaghy's Bush-era conservative zingers, Tracy Jordan's endlessly absurd one-liners, Kenneth's disturbing hillbilly antics, and Jenna Maroney's deranged celebrity narcissism, the show delivered perfect jokes at an exhilarating pace. What's more innovative than that?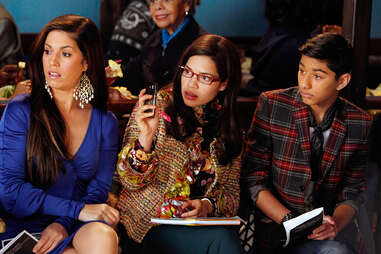 Ugly Betty (2006–2010)
America Ferrera broke out as the eponymous fashion-loving and braces-wearing Betty in this beloved sitcom. It's a coming-of-age, fish-out-of-water story as Betty, who lives in a loving, humble home with her family in Queens, gets a job at a glossy fashion magazine and starts changing its snobby cutthroat culture from the inside. It's incisive in its class consciousness and cutting down the unrealistic standards in the fashion and beauty industry, championing body positivity and self-love.
United States of Tara (2009–2011)
A comedy about a woman living with dissociative identity disorder might sound like it's making a punchline out of mental illness, but this show from Diablo Cody (Juno, Jennifer's Body) is one of the most normalizing and authentic depictions of it on TV. Toni Collette stars as the titular Tara and each one of her very distinct alters, which start to resurface after she makes the decision to go off her medication when the side effects become overwhelming. Collette flawlessly transitions into each of her characters from scene to scene in a performance that's more than a sum of its parts and well-deserving of its Emmy, and rightfully steals the show as Tara, as she processes her childhood trauma. It's an untraditional family drama for sure, but touching in its handling of the dysfunction.
What We Do in the Shadows (2019– )
In 2014, New Zealanders Jemaine Clement of Flight of the Concords fame and funny man director Taika Waititi (Thor: Ragnarok, Jojo Rabbit) created a mockumentary about a flat full centuries old vampire roommates, and just a few years later America got the bite to make a stateside, series adaptation of the very funny cult comedy. While the original stars don't appear, Clement and Waititi produced this FX series, found a hysterical lead cast in Matt Berry, Kayvan Novak, and Nastasia Demetriou, and gave it an update, settling the blood-suckers in an apartment in modern day Staten Island. They may be undead, but this vampire gimmick show is seriously full of life and laugh-out-loud silly.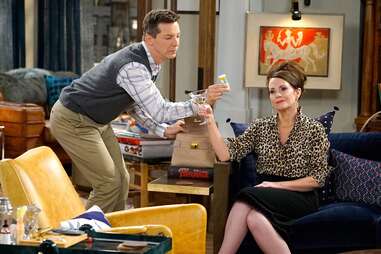 Will & Grace (1998–2006; 2017–2020)
If you were a sitcom fan at the turn of the millennium, Will & Grace is likely up there as one of your favorites. In its original eight-season run, the series dominated the ratings, earned 83 Emmy Awards, and ushered in a style of hyperactive three-camera sitcom comedy while normalizing gay lifestyles for millions of Americans. Whether viewers knew it or not, Will & Grace was making them laugh and making them think. The cast of Eric McCormack, Debra Messing, Megan Mullally, Sean Hayes is one you can't help but love—which people did so much so the series was brought back for a brief reboot just a few years ago.
Workaholics (2011–2017)
This Comedy Central workplace sitcom is like all of workplace sitcoms you know and love, and at the same time, not like them at all. The show from and starring friends and frequent collaborators Blake Anderson, Adam Devine, and Anders Holm is much more of the irreverent, stoner variety about three slacker roommates who work together as telemarketers. But don't shy away from their outlandish brand of humor: It's not as bro-y as you'd think. In fact, just about everybody would find their misadventures through young adulthood are funny as hell.
Younger (2015–2021)
Introduced to mainstream viewers on Gilmore Girls creator Amy Sherman-Palladino's short-lived Bunheads (also streaming on Hulu, also a must-watch), Broadway veteran Sutton Foster solidifies herself as the heir to Mary Tyler Moore's gleefully stressed throne in this sitcom about a divorced, 40-year-old mother who reinvigorates her old career in publishing by posing as a millennial. The big secret premise isn't as ridiculous as Bosom Bodies, but it's close, giving Foster's classic leading lady persona, and her costar Hilary Duff, actual 20-something, the chance for slapstick, romance, and the occasional earnest reflection on age. It's a warm hug of a series.