The Funniest TV Shows to Watch on Hulu Right Now
From classic sitcoms to the very latest series.
With all the hype surrounding Netflix and Disney+, the current kings of streaming, each with a library stocked with reliably humorous TV shows, it's easy to forget that other services have carved out a nice chunk of the sitcom market. Case in point: Hulu, which still offers a ton of options when you're in a funny show rut. To get you started, here are some classic sitcoms and underrated comedies you can and should put on your binge list.
20th Television
Arrested Development (2003-2006)
There's always money in the banana stand, and there are always laughs to be found in Arrested Development, Mitchell Hurwitz's sly, self-aware family sitcom. Though you'll have to jump to Netflix for the most recent seasons, the show's original run still satisfies. Arrested Development established a freewheeling comic sensibility that many of your favorite sitcoms -- Parks and Recreation, 30 Rock, Community, Archer, Kroll Show, etc. -- were influenced by. Don't hold the show's obnoxious fans against it. After watching a few episodes, you'll be quoting Tobias Fünke, too.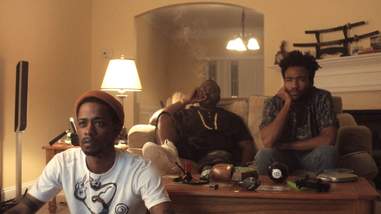 FX
Atlanta (2016- )
Atlanta is a TV rarity: a deeply funny show offering pointed social commentary, probing Georgia's racial climate in between chuckles. Whether it's casting a black actor as Justin Bieber, lambasting social media obsessives, or just making a freaking great rap song, creator and star Donald Glover's massive endeavor manages to feel effortless and capture a specific experience with wit and precision.
20th Television
The Bernie Mac Show (2001-2006)
Bernie Mac's FOX sitcom was founded on the concept that parenting is war. It's an idea that the late Chicago-born comedian explored in his hilarious stand-up performances -- particularly his movie-stealing routines in Spike Lee's hit concert film The Kings of Comedy -- and one that the show, which was created by future Nightly Show host Larry Wilmore, found new ways to twist over five seasons. The Bernie Mac Show was a sneaky experimental joy, ditching the laugh track for fourth wall-breaking scenes, gags with on-screen graphics, and emotionally real humor. It was the rare family sitcom that didn't pull any punches.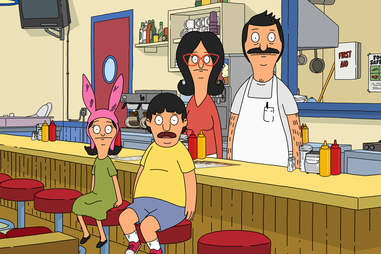 20th Television
Bob's Burgers (2011- )
What a treat. The earliest episodes of Loren Bouchard's pun-, song-, and fart-filled family sitcom toon are aging like a fine wine, and the new ones rarely disappoint. Though the title would have you believe this show is all about the ever-schlubby Bob (deadpanned by H. Jon Benjamin), it's become way bigger than that. As the show's writers have learned what makes their world tick, it's been increasingly populated with quirky, relatable side characters, relationships, and problems. Watching this show, no matter the episode, is always a fun experience.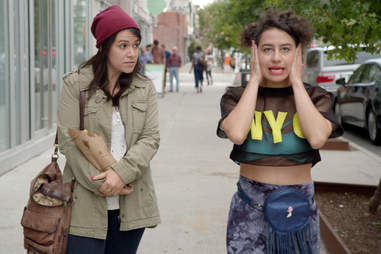 Comedy Central
Broad City (2014-2019)
While plenty of shows revolve around 20-something BFFs living in New York City, Abbi Jacobson and Ilana Glazer's madcap buddy comedy is the freshest and funniest take on city life we've seen in eons. If the friendship between these two lovable, sex-positive, stoner Jewesses is the heart of the show, NYC is the third bedfellow in their platonic love triangle -- with Bed Bath & Beyond standing in as their heaven and Penn Station as their purgatory. 
NBC
Brooklyn Nine-Nine (2013- )
This sitcom, created by Dan Goor and Mike Schur, is a goofy, big-hearted affair starring Andy Samberg as Jake Peralta, a NYPD detective with Die Hard fantasies. But it's not just the Samberg show, even though he is great. The ensemble is amazing: From Andre Braugher's fastidious Captain Holt to Stephanie Beatriz's deadpan Rosa Diaz. The show is so beloved that despite getting canceled by its original network FOX, NBC picked it back up because fans just can't get enough of the Nine-Nine. You'll get why as soon as you start your binge. 
NBC
The Carmichael Show (2015-2017)
For this NBC show's first two seasons, comedian Jerrod Carmichael has used the traditional multi-cam sitcom format to tackle topics that go unexplored on most shows: the Black Lives Matter movement, transgender issues, and more. The NBC comedy leans on its deeply funny characters to take aim at even more societal ills, but instead of feeling like an unwanted Facebook post from your crazy uncle, it's like a real conversation.
CBS Television Distribution
Cheers (1982-1993)
For the days when you want to hang out at the bar without changing out of pajamas. Starring Ted Danson as the ex-Red Soxxer and reformed alcoholic slinging drinks, Cheers had a long run -- 273 episodes! -- so you'll invest a ton of time if you're a completist, but luckily, you'll feel like a regular in no time.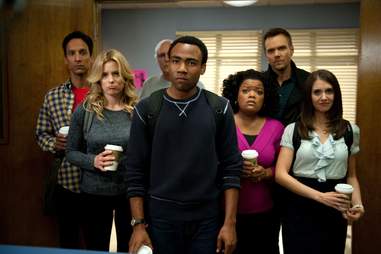 Sony Pictures Television
Community (2009-2015)
There's a reason Dan Harmon's community college ensemble comedy amassed a devoted cult following for its six-season run, despite it nearly always being on the brink of cancelation. The series focuses on a lovable study group of misfits played by both comedy veterans and those then just on the brink of breaking out -- including consummate cool guy Jeff Winger (Joel McHale), lovable ditz Britta Perry (Gillian Jacobs), TV-obsessed Abed Nadir (Danny Pudi), anxious genius Annie Edison (Alison Brie), tough-but-firm mother Shirley Bennett (Yvette Nicole Brown), high school jock Troy Barnes (Donald Glover), and the baffling, bored, former CEO Pierce Hawthorne (Chevy Chase) -- as they navigate their way through Greendale Community College. It's a sitcom that's goofy and delirious, but forever a lesson in how to become a better person.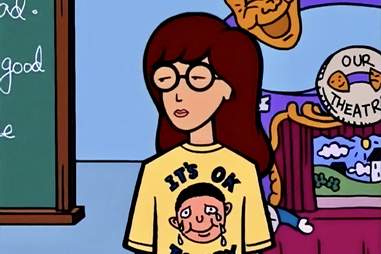 MTV Networks
Daria (1997-2001)
America's most apathetic teen brought sarcasm into fashion in the late '90s. Daria's acerbic commentary will strike a chord with anyone who's had to endure high school. (That's you.)
TBS
The Detour (2016-2019)
If you can imagine, TBS' The Detour is like National Lampoon's Family Vacation on drugs. The show, which begins following an average American family of four on a cross country road trip, later flips the vacation story trope as dirt from the parents' (Jason Jones, Natalie Zea) wild pasts are dug up and they're forced to run from the FBI. For a family hiding from a life of crime, they're all incredibly awkward (especially their tween-age kids) and find themselves in a fair amount of shitty situations, making for a hysterical, raunchy sitcom. 
Hulu
Difficult People (2015-2017)
In this Hulu original, Billy Eichner and Julie Klausner are mean-spirited and petty New Yorkers who live by the "no hugging, no learning" Seinfeld-ian code, which makes them our favorite kind of platonic power couple. But with every exploitative adventure anchored by their best friendship, the jokes they make at the expense of others (interns, New Jerseyans, Method Man) seem downright sympathetic.
Adult Swim
The Eric Andre Show (2012- )
Comedian Eric Andre has nothing but contempt for late-night talk-show conventions. While Jimmy Fallon and James Corden have turned network TV's late-night landscape into a glad-handing frat-party singalong, Andre has carved out his own punk nightmare gabfest on Adult Swim. Whether he's making Lauren Conrad squirm, dressing up as a cop for absurd man-on-the-street bits, or trading one-liners with co-host and fellow comedian Hannibal Buress, Andre filters everything through his own surreal vision. You'll never look at a talk-show desk the same way again.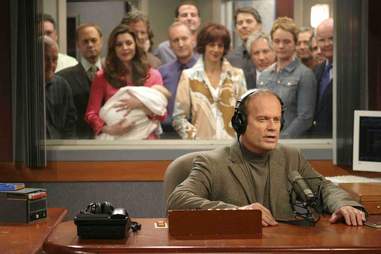 CBS Television Distribution
Frasier (1993-2004)
Finished Cheers? Okay, now go watch the equally good, if not consistently better, Cheers spinoff: Frasier. While Frasier Crane began as a barfly on the Boston-set sitcom, he truly flourished when he moved back to Seattle, started a radio show, and shacked up with his dad and his dad's Jack Russell Terrier, Eddie. (Remember when Eddie was on the cover of Entertainment Weekly? Yeah, Frasier was a big deal.) It's also one of the most wonderfully acted sitcoms there ever was, with the likes of John Mahoney and David Hyde Pierce. Let the persnickety pretension of Frasier and Niles lull you into a sense of calm.
Disney-ABC Domestic Television
Golden Girls (1985-1992)
Fun fact: Mitchell Hurwitz -- you know, the dude who created Arrested Development? -- did a lot of his early work on here. Other fun fact: This sitcom, about four previously married women (including Betty White!) living together in Miami, is legitimately one of the best and funniest in TV history. Embrace this opportunity to watch every single episode, and, whatever you do, do not write these gals off.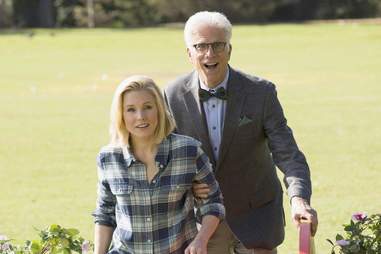 NBC
The Good Place (2016-2020)
Mike Schur (Parks and Recreation) set his sights on the afterlife for this cheeky sitcom, which sends Kristen Bell's Eleanor to the titular heavenly community by mistake after she dies. To avoid getting sent where she belongs -- the bad place -- Eleanor enlists Chidi (William Jackson Harper) to teach her how to be decent, tricking neighborhood architect Michael (Ted Danson) and a kooky cast of neighbors into letting her stay. Half the fun is exploring the world Michael has created, and watching Eleanor fake her way to kindness is a real treat. After a huge Season 1 twist, the second season delved further into philosophical (but funny!) scenarios, character relationships, and mysterious questions about what's really going on in the great beyond. If you've pined for a successor to Lost, you'll find it in The Good Place.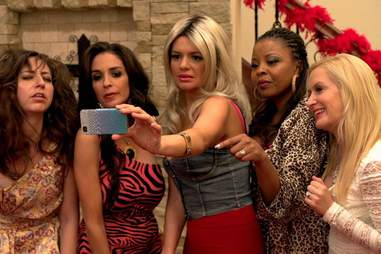 Hulu
The Hotwives of Orlando/Las Vegas (2014-2015)
Bravo's Real Housewives franchise lends itself well to parody, so Hulu jumped on board with its Hotwives series. You know all the archetypes, and they're taken to their gaudiest possible limits against the backdrop of America's two gaudiest cities.  
20th Television
How I Met Your Mother (2005-2014)
Like Friends, but with a low-level mystery running throughout the series. Architect Ted Mosby (Josh Radnor) has a tight group of friends, a cool job, and a dream NYC apartment (they always do), but he spends most of his time agonizing over finding his soulmate -- and narrates the series from the future, hindsight and all. That finale sure was a doozy, but even if you've already seen some episodes, with plenty of in-jokes and Neil Patrick Harris' show-stealing run as Barney Stinson, this one stands up to repeat viewings. Running for nine seasons of 22-minute episodes, this is perfect for a long-running binge.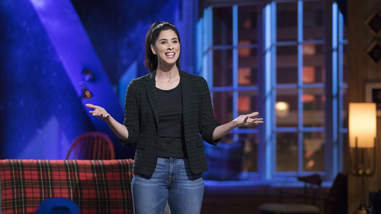 Hulu
I Love You, America with Sarah Silverman (2017-2018)
Instead of taking another stab at political news or parading the celebrity-of-the-week through a new wacky skit, Sarah Silverman launched a comedic treatise on Who We Are. With the widest ideological chasms in political history, and Donald Trump, in the oval office, Silverman decided to take a step back and do the right thing: dissect the country and tell a few masturbation jokes. Skewing traditional formats (the show almost always starts with an earnest monologue before being interrupted with rude bodily functions you could only have on a streaming site then recoiling into the warm embrace of Mather, the Boring, White Guy Late-Night Host) and exploring pockets of America often overlooked by the coastal comedy scenes, Silverman reconciles and grills people on every side of the line to better understand the wacky world we've made for ourselves. And while it can get deadly serious -- Silverman's interview with a former member of the Westboro Baptist Church is heavy -- interludes with her hilarious pals (a West Virginian auctioneer takes on Tig Notaro as an apprentice; Gil Ozeri hangs out in a Doomsday bunker) make all that pondering a blast.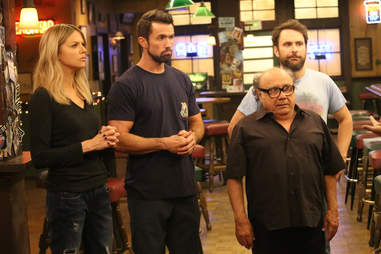 FX
It's Always Sunny in Philadelphia (2005- )
Few shows make us consistently laugh-cry like It's Always Sunny in Philadelphia, a dark cringe-comedy about a group of depraved jerks (comedy heavyweights Charlie Day, Glenn Howerton, Rob McElhenney, Kaitlin Olson, and Danny DeVito) doing horrible things to each other and the people around them. Even with 14 seasons (and counting), don't worry about binge-watching from the start -- It's Always Sunny is the perfect show to drop in and out of. Even decade-old episodes keep the lovable dirtbags of Paddy's Pub up to recognizable, juvenile antics.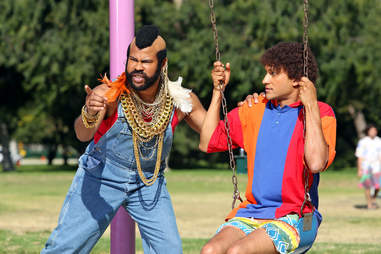 Comedy Central
Key and Peele (2012-2015)
Over the course of five seasons, Keegan-Michael Key and Jordan Peele created some of the funniest, smartest, and most visually striking sketch comedy of the new millennium. It's why you'll see clips from the series being memed over and over, even years after it's finished.
Hulu
Letterkenny (2016- )
"There are 5,000 people in Letterkenny. These are their problems," so begins every episode of this comedy. Co-created by Jared Keeso, who stars as the small town's resident tough guy Wayne, this web series-turned-Canadian comedy/Hulu original focuses on best friends shooting the shit about whatever's going on in their hometown. While both a lot and nothing at all happens in this sitcom, the series has developed its own language over the course of its eight seasons and is known for its speedy exchanges and relentlessly recurring in-jokes. The attention to detail and expertly crafted dialogue makes Letterkenny a must-watch sitcom, which isn't something you might expect from a show set deep within the grassy farmlands of Ontario.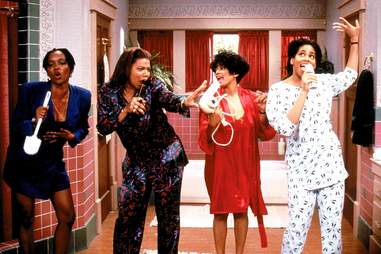 Warner Bros. Television Distribution
Living Single (1993-1998)
If you've burnt through Friends reruns more times than you can count, kindly turn your attention to Living Single, a gem of the sit-around-and-banter sitcom genre. The show, about four career women (Queen Latifah, Kim Coles, Kim Fields, Erika Alexander) and their two dude neighbors (T.C. Carson and John Henton) making it as singles in Brooklyn, ditches the family angle of The Cosby Show or Full House, lacks the snark of Seinfeld, and holds back on the mania of Will & Grace, striving to mirror the ups and downs of everyday life and the comfort of close friends. Latifah is the heart of the show, dropping wisdom and sass as a hustling reporter might, though the stories serve the entire group. Few sitcoms could tackle topics like breast reduction and depression-level self-worth and still keep the audience laughing.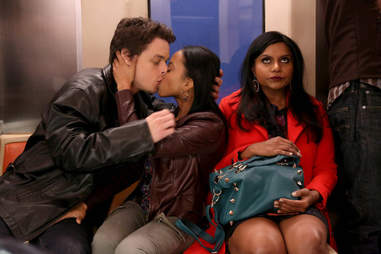 Hulu
The Mindy Project (2012-2017)
When Mindy Kaling's rom-sitcom hits, it hits hard. Her Indian-American Dr. Bridget Jones will have you in stitches, which makes sticking around for the misses -- see: Mindy's dubious pregnancy -- worth your time. The titular character is continuously navigating kooky fertility clinic coworkers and new romances, no matter how much chemistry she has with her curmudgeony co-worker Danny Castellano (Chris Messina), and learning to grow up, even as she becomes a mother herself. Hulu saved The Mindy Project from cancellation doom at Fox, exclusively producing and airing the final three seasons. Thanks, Hulu!
Comedy Central
Nathan For You (2013-2017)
Is "the thinking man's Punk'd" a reality show? A clever Shark Tank parody? A dark, existential narrative about an ambitious anti-hero who will do anything to get rich and find love? It's all of the above and more, with the most recent season finale even revered by goddamn Errol Morris. Most episodes are about host Nathan Fielder meeting a small-business owner around Los Angeles who is struggling to get by. He makes them a pitch: Follow my proposed plan and I'll improve your business. He's here to make dreams come true. The only problem? The proposals are often overly elaborate and borderline insane. Cringe and learn, people.
BBC Worldwide
The Office (U.K.) (2001-2002)
Fans of Dunder Mifflin have Ricky Gervais's David Brent to thank for the genesis of Michael Scott. Tim (Martin Freeman) and Dawn (Lucy Davis) are the first Jim and Pam. This show's the OG, in other words. Though it only ran for two seasons, Gervais' British The Office paved the way for a new wave of awkward comedy, turned banal jobs into fertile ground for producing side-splitting workplace laughs, and inspired the US The Office's Greg Daniels and Michael Schur to be their best.
NBC
Parks and Recreation (2009-2015)
In the vein of workplace "reality" comedies like The Office, creator Michael Schur's take on a local parks and rec department finds humor in the mundane -- like bosses who take themselves way too seriously. Watching this show now is like being treated to a buffet of comedic royalty; there's Amy Poehler! Adam Scott! Nick Offerman! Aubrey Plaza! Aziz Ansari! And more! Their performances cemented Parks and Rec's place in network comedy lore.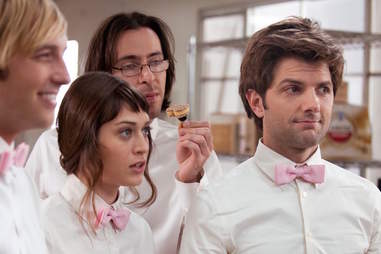 Starz
Party Down (2009-2010)
Before becoming Amy Poehler's main squeeze on Parks and Recreation, Adam Scott was a down-on-his-luck actor stuck working as a caterer in this beloved cult comedy. Luckily, he was joined by a killer supporting cast -- Ken Marino, Lizzy Caplan, Martin Starr, and more -- that made this show way more fun than any actual food-service job. 
Hulu
PEN15 (2019- )
Middle school sucks. But in retrospect, it's so cringeworthy and melodramatic that it makes for one giant playground of great comedic material. From comedians Maya Erskine and Anna Konkle comes this Hulu original series in which the adult women go back to the junior high halls that haunts every one of us, playing 13-year-old versions of themselves in the early aughts, surrounded by actual preteens. The show, which counts The Lonely Island among its executive producers, hits on many of the topics you'd expect of a coming-of-age comedy: masturbation, young love, AIM, and cigarettes, to name a few. But it's the awkward delivery, the attention paid to the feelings and hormones coursing through the veins of the characters, that inspire some of the funniest moments. It's uncomfortable and funny and painful and wistful, probably like your memories of middle school. 
Hulu
Ramy (2019- )
Created by and starring rising comic Ramy Youssef, Ramy is a glimpse into life as a practicing millennial Muslim. The show focuses on Youssef's effort to commit to his faith, and what that means for him as a young man in New Jersey who doesn't drink or do drugs, but definitely has premarital sex and isn't looking to settle down any time soon. Ramy also works to depict the varied experience of everyone in his family, and each episode provides glimpses into the kinds of microaggressions, fetishization, and stereotyping each of them endure. At the end of the day, it is a comedy about the laughable tests God gives us daily, and it's a refreshing take on the age-old struggle of finding meaning in a world controlled by forces you don't always understand.
NBC
Saturday Night Live (1975- )
There are 21 seasons of Saturday night sketch comedy available on Hulu. Are all of SNL's eras good? Not really, but there's some gems featuring beloved sketches (See Season 31 for the earliest Lonely Island sketches, Stefan makes his debut in Season 34, and recent favorite David S. Pumpkins pops up in Season 42). It's also a mostly fine choice to put on if you need something to half-watch while you're cleaning your apartment!
Columbia Pictures Television
Seinfeld (1989-1998)
The genre-defining "show about nothing" is worth the Hulu subscription fee alone. Whether you're new to the sitcom that put writer Larry David on the map, or watching Kramer burst through that door for the thousandth time, we advise you watch all nine seasons and become master of situation comedy's domain.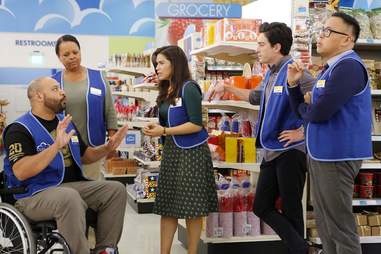 NBC
Superstore (2015- )
Wondering what show took the baton from workplace reality spoofs like The Office, Parks and Rec, and Community? It's Superstore, the NBC comedy set in a big-box chain. You'll get the full range of classic jokes about anti-racism corporate videos, self-important managers, and awkward relationships delivered by a solid cast that includes America Ferrera (The Sisterhood of the Traveling Pants) and Ben Feldman (Mad Men).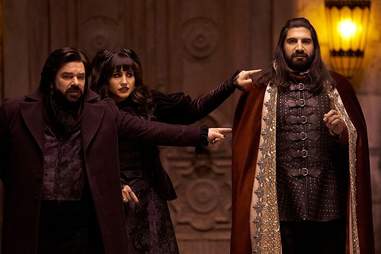 FX
What We Do in the Shadows (2019- )
In 2014, New Zealanders Jemaine Clement of Flight of the Concords fame and funny man director Taika Waititi (Thor: Ragnarok, Jojo Rabbit) created a mockumentary about a flat full centuries old vampire roommates, and just a few years later America got the bite to make a stateside, series adaptation of the very funny cult comedy. While the original stars don't appear, Clement and Waititi produced this FX series, found a hysterical lead cast in Matt Berry, Kayvan Novak, and Nastasia Demetriou, and gave it an update, settling the blood-suckers in an apartment in modern day Staten Island. They may be undead, but this vampire gimmick show is seriously full of life and laugh-out-loud silly. 
Comedy Central
Workaholics (2011-2017)
This Comedy Central workplace sitcom is like all of workplace sitcoms you know and love, and at the same time, not like them at all. The show from and starring friends and frequent collaborators Blake Anderson, Adam Devine, and Anders Holm is much more of the irreverent, stoner variety about three slacker roommates who work together as telemarketers. But don't shy away from their outlandish brand of humor: It's not as bro-y as you'd think. In fact, just about everybody would find their misadventures through young adulthood are funny as hell.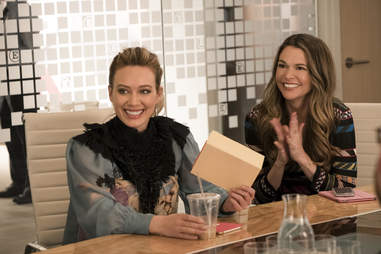 TV Land
Younger (2015- )
Introduced to mainstream viewers on Gilmore Girls creator Amy Sherman-Palladino's short-lived Bunheads (also streaming on Hulu, also a must-watch), Broadway veteran Sutton Foster solidifies herself as the heir to Mary Tyler Moore's gleefully stressed throne in this sitcom about a divorced, 40-year-old mother who reinvigorates her old career in publishing by posing as a millennial. The big secret premise isn't as ridiculous as Bosom Bodies, but it's close, giving Foster's classic leading lady persona, and her costar Hilary Duff, actual 20-something, the chance for slapstick, romance, and the occasional earnest reflection on age. It's a warm hug of a series.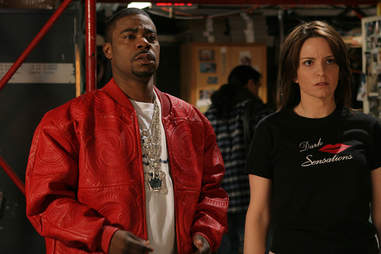 NBC
30 Rock (2006-2013)
Tina Fey's workplace sitcom was so good for so long that it's easy to take it for granted. Since it went off the air in 2013, comedies have gotten stranger, more dramatic, and more formally ambitious. But have they gotten any funnier? We'd argue no. Between Jack Donaghy's Bush-era conservative zingers, Tracy Jordan's endlessly absurd one-liners, Kenneth's disturbing hillbilly antics, and Jenna Maroney's deranged celebrity narcissism, the show delivered perfect jokes at an exhilarating pace. What's more innovative than that?
Need help finding something to watch? Sign up here for our weekly Streamail newsletter to get streaming recommendations delivered straight to your inbox.
Follow the Thrillist Entertainment staff on Twitter @ThrillistEnt.