With all the hype surrounding Netflix and Disney+, the current kings of streaming, each with a library stocked with reliably humorous TV shows, it's easy to forget that other services have carved out a nice chunk of the sitcom market. Case in point: Hulu, which still offers a ton of options when you're in a funny show rut. To get you started, here are some underrated comedies you can and should put on your binge list.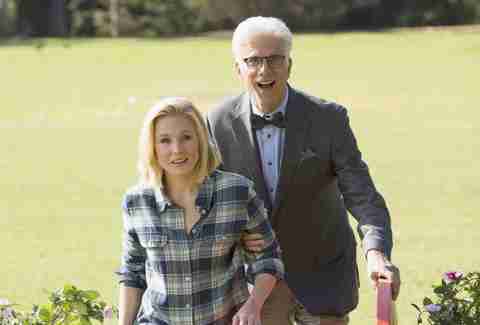 The Good Place (2016- )
Mike Schur (Parks and Recreation) set his sights on the afterlife for this cheeky sitcom, which sends Kristen Bell's Eleanor to the titular heavenly community by mistake after she dies. To avoid getting sent where she belongs -- the bad place -- Eleanor enlists Chidi (William Jackson Harper) to teach her how to be decent, tricking neighborhood architect Michael (Ted Danson) and a kooky cast of neighbors into letting her stay. Half the fun is exploring the world Michael has created, and watching Eleanor fake her way to kindness is a real treat. After a huge Season 1 twist, the second season delved further into philosophical (but funny!) scenarios, character relationships, and mysterious questions about what's really going on in the great beyond. If you've pined for a successor to Lost, you'll find it in The Good Place. Find old seasons on Netflix. 
Watch the trailer 
The Mindy Project (2012-2017)
When Mindy Kaling's rom-sitcom hits, it hits hard. Her Indian-American Dr. Bridget Jones will have you in stitches, which makes sticking around for the misses -- see: Mindy's dubious pregnancy -- worth your time. The titular character is continuously navigating kooky fertility clinic coworkers and new romances, no matter how much chemistry she has with her curmudgeony co-worker Danny Castellano (Chris Messina), and learning to grow up, even as she becomes a mother herself. Hulu saved The Mindy Project from cancellation doom at Fox, exclusively producing and airing the final three seasons. Thanks, Hulu!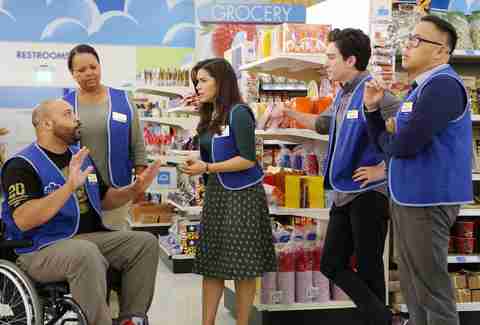 Superstore (2015- )
Wondering what show took the baton from workplace reality spoofs like The Office, Parks and Rec, and Community? It's Superstore, the NBC comedy set in a big-box chain. You'll get the full range of classic jokes about anti-racism corporate videos, self-important managers, and awkward relationships delivered by a solid cast that includes America Ferrera (The Sisterhood of the Traveling Pants) and Ben Feldman (Mad Men). 
Watch the trailer
Atlanta (2016- )
Atlanta is that rare TV species: a deeply funny show offering pointed social commentary, probing Georgia's racial climate in between chuckles. Whether it's casting a black actor as Justin Bieber, lambasting social media obsessives, or just making a freaking great rap song, creator and star Donald Glover's massive endeavor manages to feel effortless and capture a specific experience with wit and precision.
Watch the trailer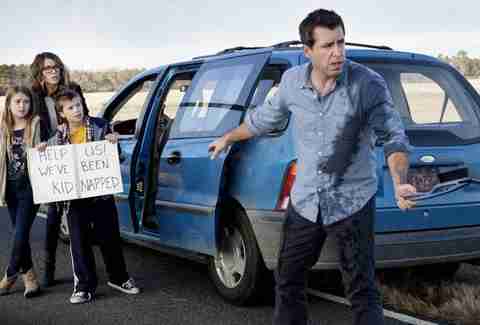 The Detour (2016-2019)
If you can imagine, TBS' The Detour is like National Lampoon's Family Vacation on drugs. The show, which begins following an average American family of four on a cross country road trip, later flips the vacation story trope as dirt from the parents' (Jason Jones, Natalie Zea) wild pasts are dug up and they're forced to run from the FBI. For a family hiding from a life of crime, they're all incredibly awkward (especially their tween-age kids) and find themselves in a fair amount of shitty situations, making for a hysterical, raunchy sitcom.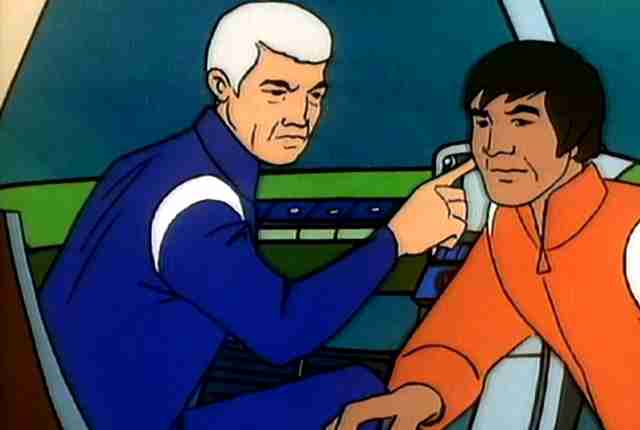 Sealab 2021 (2000-2005)
Before Archer and Frisky Dingo, there was Sealab 2021, Adam Reed's twisted and satirical remix of the short-lived Sealab 2020 toon from the '70s. Reed co-created the Adult Swim show with fellow evil genius Matt Thompson, and if you take a dive, it's not hard to spot the same types of kooky seedlings that would evolve and come to represent trademarks of the duo's later hits. Like Archer, Sealab 2021 is another workplace comedy, where the people love-hate each other; nonsequiturs, gross-out gags, and mostly vile behavior reign supreme; and running jokes abound. Thanks to the underwater sci-fi setting, it's all the more surreal. The best part is the show often uses animation from the original, just with updated dialogue, making for a bastardized time capsule that's endlessly fun to watch. It also helps that the plots are mostly nonsense and have little relationship to continuity (characters, along with the lab, are frequently blown to bits and treated like beautiful phoenixes). In other words, you don't even really have to watch this thing in order. You just need to be prepared to laugh and say, What the fuck?
Watch the trailer
 
Younger (2015- )
Introduced to mainstream viewers on Gilmore Girls creator Amy Sherman-Palladino's short-lived Bunheads (also streaming on Hulu, also a must-watch), Broadway veteran Sutton Foster solidifies herself as the heir to Mary Tyler Moore's gleefully stressed throne in this sitcom about a divorced, 40-year-old mother who reinvigorates her old career in publishing by posing as a millennial. The big secret premise isn't as ridiculous as Bosom Bodies, but it's close, giving Foster's classic leading lady persona, and her costar Hilary Duff, actual 20-something, the chance for slapstick, romance, and the occasional earnest reflection on age. It's a warm hug of a series.
Watch the trailer
Living Single (1993-1998)
If you've burnt through Friends reruns more times than you can count, kindly turn your attention to Living Single, a gem of the sit-around-and-banter sitcom genre. The show, about four career women (Queen Latifah, Kim Coles, Kim Fields, Erika Alexander) and their two dude neighbors (T.C. Carson and John Henton) making it as singles in Brooklyn, ditches the family angle of The Cosby Show or Full House, lacks the snark of Seinfeld, and holds back on the mania of Will & Grace, striving to mirror the ups and downs of everyday life and the comfort of close friends. Latifah is the heart of the show, dropping wisdom and sass as a hustling reporter might, though the stories serve the entire group. Few sitcoms could tackle topics like breast reduction and depression-level self-worth and still keep the audience laughing.
Watch a clip
Son of Zorn (2016-2017)
Phil Lord and Chris Miller (The LEGO Movie, The Last Man on Earth) turn their collaborative efforts toward the tricky live-action-animated hybrid. Their pal Jason Sudeikis voices Zorn, an otherworldly He-Man-like cartoon character who returns to Earth to reconnect with his ex-wife (Cheryl Hines) and their teenage son. With Zorn navigating our world from an outsider's perspective, look out for oddball observational comedy and silly sight-gags. The show only lasted one season on Fox, but we say dive in and enjoy what we got.
Watch the trailer
I Love You, America (2017-2018)
Instead of taking another stab at political news or parading the celebrity-of-the-week through a new wacky skit, Sarah Silverman launched a comedic treatise on Who We Are. With the widest ideological chasms in political history, and Donald Trump, in the oval office, Silverman decided to take a step back and do the right thing: dissect the country and tell a few masturbation jokes. Skewing traditional formats (the show almost always starts with an earnest monologue before being interrupted with rude bodily functions you could only have on a streaming site then recoiling into the warm embrace of Mather, the Boring, White Guy Late-Night Host) and exploring pockets of America often overlooked by the coastal comedy scenes, Silverman reconciles and grills people on every side of the line to better understand the wacky world we've made for ourselves. And while it can get deadly serious -- Silverman's interview with a former member of the Westboro Baptist Church is heavy -- interludes with her hilarious pals (a West Virginian auctioneer takes on Tig Notaro as an apprentice; Gil Ozeri hangs out in a Doomsday bunker) make all that pondering a blast.
Watch the trailer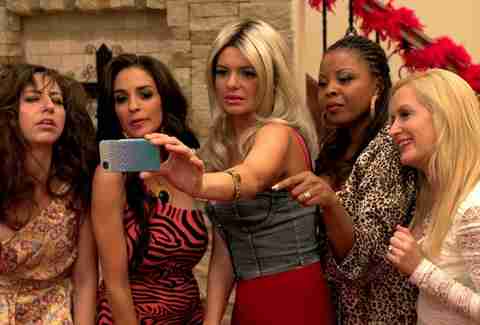 The Hotwives of Orlando/Las Vegas (2014-2015)
Bravo's Real Housewives franchise lends itself well to parody, so Hulu jumped on board with its Hotwives series. You know all the archetypes, and they're taken to their gaudiest possible limits against the backdrop of America's two gaudiest cities.  
Watch the trailer.
The Carmichael Show (2015-2017)
For this NBC show's first two seasons, comedian Jerrod Carmichael has used the traditional multi-cam sitcom format to tackle topics that go unexplored on most shows: the Black Lives Matter movement, transgender issues, and more. The NBC comedy leans on its deeply funny characters to take aim at even more societal ills, but instead of feeling like an unwanted Facebook post from your crazy uncle, it's like a real conversation.
Watch the trailer
Sign up here for our daily Thrillist email and subscribe here for our YouTube channel to get your fix of the best in food/drink/fun.