Recommended Video
Three Reasons Why We Love to Hate Meryl Streep on 'Big Little Lies'
This list leaves out gems like The Wire and Game of Thrones, which are only available if you pony up for the HBO add-on, as well as series only available through other add-on subscriptions. Below, you'll find everything you need for prime (sorry) viewing.
A Very English Scandal (2018)
This miniseries dramatizes a notorious event in British political history that's likely obscure to Yanks. Hugh Grant plays Jeremy Thorpe, a Member of Parliament whose affair with a young man named Norman Scott (Ben Whishaw) in the early 1960s spirals into acrimony when Norman refuses to keep quiet about their relationship after they break up. Increasingly feeling that his career might be threatened by Norman's persistence, Jeremy eventually considers murder. It's a scenario that would seem outlandish if it hadn't actually taken place, but Grant's and Whishaw's performances make this three-episode drama must-see viewing. Grant, especially, seems to have hit a new level -- the natural charm that allowed him to coast through so many rom-coms has curdled into something sinister.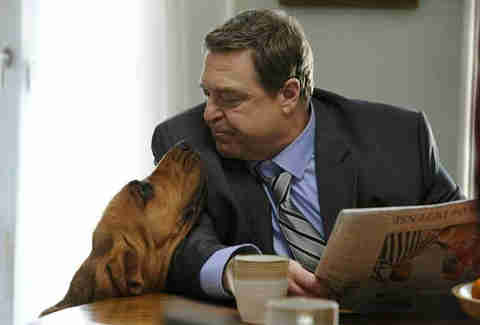 Alpha House (2013-2014)
This two-season political satire series from Doonesbury creator Garry Trudeau adds yuk-yuk sitcominess to the 47-year-old comic strip's policy wonk humor. Think Veep for the Cheers crowd. The show follows four Republican Senators (played by John Goodman, Clark Johnson, Matt Malloy, and Mark Consuelos) who spend their days on Capitol Hill, their nights in a row house they rent together, and most waking moments trying to do as little work as possible. This proves difficult. If Sarah Palin isn't ripping them for being left of the Tea Party, LGBTQ activists are decrying their social indifference. With cameos from Hollywood veterans (Bob Balaban, Cynthia Nixon) and politicians (Elizabeth Warren, John McCain) alike, Alpha House is low-key lampooning that reminds us there was a time when TV could feel crazier than real life.
American Horror Story (2011- )
Why do people love Ryan Murphy shows so much? Because they're infused with equal parts camp, drama, suspense, and humor -- even this ostensibly scary one. Whether you're watching the Murder House, Freak Show, Hotel, or Roanoke installment, you're in for unforgettable characters, stomach-curdling gore, jaw-dropping plot twists, and brutal finales.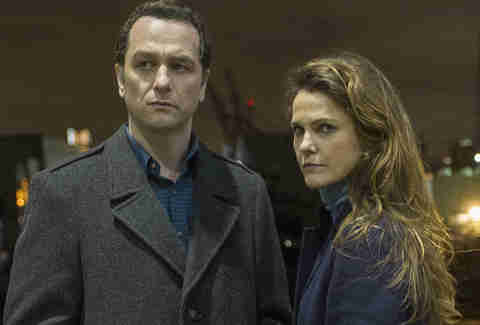 The Americans (2013-2018)
By jumping ahead four years to September 1987, a few months ahead of the looming Washington Summit meeting between Ronald Reagan and Mikhail Gorbachev, The Americans set itself up for a killer conclusion. The final season finds Paige grappling with her new double-life as a Russian agent, Philip out of action and focused on making the travel agency work, and Elizabeth being, well, Elizabeth. But you can catch up on every season thanks to Amazon Prime.
Battlestar Galactica (2004-2009)
When Star Trek: The Next Generation writer Ronald D. Moore first took over this beloved sci-fi property, fans worried that his politically subversive approach would dampen the original's hokey legacy. Now, even with a shaky finale and a nonessential spinoff, the remake stands as the perfect example of how to to do genre stuff right: smart writing, great action, and compelling characters. No space opera has soared this high since -- and few likely will. 
Bosch (2014- )
Bosch hits on all of the conventions of police detective dramas, and hits them hard (including having a handful of The Wire alums in its rotation), so you kind of want to dislike it. Yet the plot is good and quick, and makes you want to watch the next episode. It's essentially a summer beach-read TV show, for better or worse.
Catastrophe (2015-2019)
Co-writers and co-stars Rob Delaney (Rob) and Sharon Horgan (Sharon) are an unlikely couple who stick together after a one-night stand. Despite their pettiness and gross-out banter, throughout the half-hour sitcom we realize that these people have a relationship rooted in genuine, deep affection, making their crassness feel inspirational.
Cheers (1982-1993)
For the days when you want to hang out at the bar without changing out of pajamas. Starring Ted Danson as the ex-Red Soxxer and reformed alcoholic slinging drinks, Cheers had a long run -- 273 episodes! -- so you'll invest a ton of time if you're a completist, but luckily, you'll feel like a regular in no time.
Downton Abbey (2010-2015)
Inside the Downton Abbey estate, a high-society British family jostles against the hired help, but this early-20th-century period piece is no ordinary history lesson. Between arranged betrothals, sabotage among the support staff, an influenza epidemic, cancer scares, risky pregnancies, love triangles in perpetual motion, and even murder, the series is a soapy blast dressed up in 1900s finery. 
The Expanse (2015- )
On the surface, SyFy's The Expanse has an un-mystery-like hook: It's Battlestar Galactica meets Game of Thrones. The ambitious series combines the tense, close-quarters naval space opera of the former with the sprawling, based-on-a-book-series storytelling approach of the latter. Easy enough. But then you see Thomas Jane playing a weary detective who won't quit, wearing a fedora over a stringy Macklemore haircut, and you realize this is actually an intergalactic neo-noir. Think Raymond Chandler with a pinch of Isaac Asimov. The special effects will draw you in, but the gumshoe-with-anti-gravity-boots narrative keeps you coming back for more. Unfortunately, only the first two seasons are included with Prime, but if you get hooked, you can always rent more.
Fleabag (2016-2019)
Phoebe Waller-Bridge's one-woman-play-turned-six-part-comedy follows the titular character as she wrestles with intimacy and recovers from a tragedy. The Brit import comes packed with dark surprises, Francis Underwood-esque asides, and side-splitting laughs. It's kind of like watching an Annie Hall character trying to survive in London, and its recent critically acclaimed second season builds on what made the initial run great while also finding new notes to hit. Like the Hot Priest, for example.
Forever (2018- )
When the first promo for Amazon's Forever came out, something was missing. That something, namely, was any semblance of a plot. All the series seemed to be about was that Fred Armisen and Maya Rudolph were playing a married couple who had reached a familiar stagnation. And when it finally debuted, the series was, in a way, just that -- but it was also so much more. Forever turns into an exploration of the afterlife and what paradise looks like for different people. For Oscar (Armisen), it's living in exactly the same way with his wife June (Rudolph) by his side. For June, there's a longing for something more. The first season, which sets some of the universe's ground rules, feels like just an appetizer for what's to come, but it's intriguing nonetheless.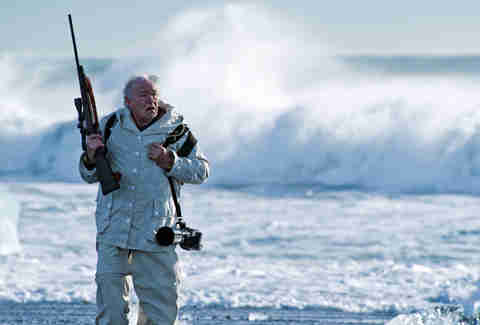 Fortitude (2015-2018)
If you always wanted Twin Peaks, Lost, Fargo, and Let the Right One In to create an orgiastic love child starring Stanley Tucci, Fortitude is the show for you. Its most influential spiritual parent is Twin Peaks: A murder rocks a small, quiet town at the moment its business leaders are trying to sell investors on its future as a tourist destination. Add in mammoth-sized dashes of gruesome violence, infidelity, nudity, and alcohol-induced debauchery (plus an actual mammoth), and you'll find episodes of Fortitude go down as easy as a tumbler of vodka on a Norwegian night.
Friday Night Lights (2006-2011)
Sure, the television adaptation of the movie adaptation of the book veers frequently into sentimentality, outright conservatism, and cheap melodrama, but it's these qualities that make it an essential piece of American television. High school football serves as the perfect medium to explore the 21st-century American experience, and the qualities above are part of the deal. With knockout performances from Kyle Chandler and Connie Britton, it's almost too easy to get sucked into the Dillon Panthers' football life.
Good Omens (2019)
Most of the time, adaptations take too many liberties or switch up too many characters or generally just don't get what it was that made the source material great in the first place, so when one really works, it feels like a miracle. The Good Omens miniseries, adapted from Neil Gaiman and Terry Pratchett's cult classic 1990 apocalyptic farce, is one of the good ones, its best moments, naturally, centering around its two leads: slimy-cool demon Crowley, played by David Tennant, and his friend/frenemy/partner-in-crime the angel Aziraphale, played by Michael Sheen.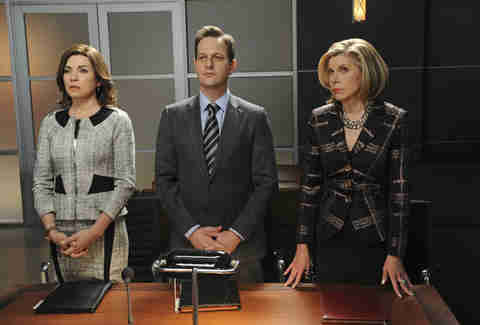 The Good Wife (2009-2016)
For those of us who have yet to spring for CBS All Access, Prime is a great place to catch up with Alicia Florrick's soapy exploits. Julianna Margulies stars as the titular spouse managing her high-powered career as a defense attorney while her family faces the fallout of her husband's very public political scandal.
Hanna (2019- )
Based on the 2011 Joe Wright action film of the same name starring Saoirse Ronan, this Prime Original follows a young girl who was raised in the wilderness and trained to be an assassin by her father. Once she and her father are discovered and separated by a CIA operative, she sets out on a journey alone across Europe to be reunited with her family, officially putting her skills to the test and coming to terms with who she is on her own. It's a riveting and rough thriller as much as it is a compelling story of one girl's journey through adolescence and family, and newcomer Esme Creed-Miles as the titular Hanna opposite Joel Kinnaman literally kills in the role.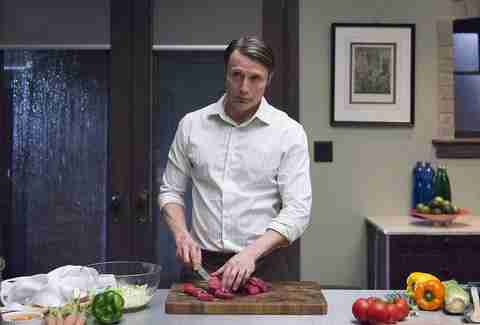 Hannibal (2013-2015)
Sure, you've seen Silence of the Lambs -- but you've never seen Bryan Fuller's version of the titular Thomas Harris novel character, played to creepy perfection here by Mads Mikkelsen. Delve into the psychology of cannibalism with help from Dr. Bedelia Du Maurier (Gillian Anderson), and be warned: Gore levels are severe, though that's balanced out with the most gorgeous cinematography you've seen on the small screen.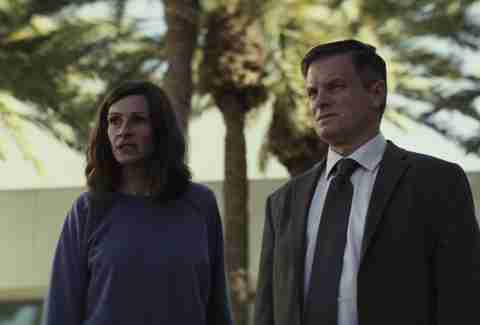 Homecoming (2018- )
Adapted from the popular podcast of the same name, Homecoming tracks Heidi Bergman (Julia Roberts) as she tries to piece together her work as a therapist at a treatment center for veterans with PTSD. Over 10 fast-paced episodes (each one clocks in at around half an hour), the mystery of what a government contractor actually intends to do with the veterans unfolds in lockstep with Bergman's own investigation into the missing memories of her previous job. It's the rare streaming show that doesn't feel bloated, and leaves plenty of room for new storylines to develop in season 2. 
I Love Dick (2016-2017)
Transparent creator Jill Soloway's second Amazon series is like screen-printed Warhol take on the fire emoji: syncopated, artful, and satisfyingly vicious. Based on Chris Kraus's 1997 art-world-dominating memoir of the same name, the show stars Kathryn Hahn (Bad Moms) as Chris, a failing New York City filmmaker who follows her writer husband, Sylvère (Griffin Dunne), to Marfa, Texas, where he's earned a research fellowship academic sensation Dick (Kevin Bacon). His aura turns the community into a hotbed of intelligentsia and psycho-sexuality, which cracks Chris's world in half. The crass and poetic collide as she pieces it back together, giving Soloway, along with playwright Sarah Gubbins, the opportunity to throw convention out the window. From Louise Bourgeois references to episodes devoted to fourth-wall-breaking flashbacks, I Love Dick does everything it can to pierce the esoteric-yet-essential idea of art and its inseparable companion: sex.
Justified (2010-2015)
Justified is an underrated crime series centered on the uncanny chemistry between the wise-cracking marshal Raylan Givens (Timothy Olyphant) and his childhood pal-turned-career criminal Boyd Crowder (Walton Goggins) as they match wits in rural Kentucky. With a compelling cast of side characters willing to scheme, cheat, and kill at the drop of a Stetson, it's immersive in ways you'll never see coming.
Law and Order: Special Victims Unit, Seasons 1, 5-19 (1999-present)
If you have yet to binge Law and Order: SVU during one of its many weekend-long marathons on USA, now's your chance to watch most of the series about New York City detectives on special victims cases. Led by Olivia Benson (Mariska Hargitay), the devoted unit covers sex- and family-welfare-based crimes tirelessly, telling heartbreaking and riveting dramatic stories each episode. Though plot lines may seem repetitive after almost two decades of similar stories, there's always a handful of (usually unpredictable) twists and turns, and this crop of seasons features some of the best with Bensons' original partner, Detective Stabler (Christopher Meloni). Amazon's collection is missing seasons 2 through 4, but with anywhere from 19 to 25 episodes for each of its other seasons, SVU should have no trouble keeping you entertained for hours on end.
The Man in the High Castle (2015- )
Amazon's adaptation of Philip K. Dick's alternate-history dystopia -- what if the Axis powers had won World War II? -- has picked up a solid critical reception for portraying a world where political events didn't turn out as expected, to disastrous effects. At times the pacing and plot drag, but there's enough mystery baked in to make bingeing exceedingly easy.
The Marvelous Mrs. Maisel (2017- )
After putting her acclaimed revival of Gilmore Girls to rest, writer-director Amy Sherman-Palladino turned her attention to the story of a dumped 1950s housewife with a sailor's mouth and a stage, Greenwich Village's The Gaslight Cafe, on which to vent. Like a young Joan Rivers, "Midge" Maisel (Rachel Brosnahan) is on fire when she's performing stand-up for bohemian crowds, toasting her own wedding, or sparring with her father at synagogue. Sherman-Palladino once again provides her lead with a motormouth, but it's Broshahan's conflicted performance -- carried by comedy, reined in by the paranoia of body image and female expectations -- that makes it as compelling as it is riotous. With Mad Men behind us, it's time for the mad women of Mrs. Maisel to seize the period-drama spotlight.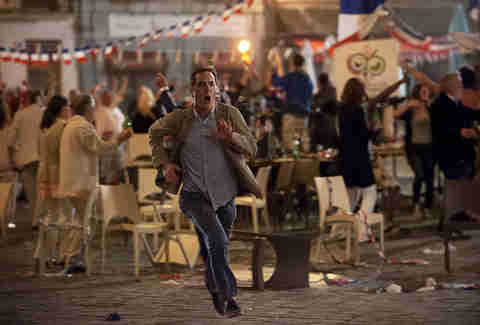 The Missing (2014-2017)
The horror of losing a child gets cranked up to 11 in this pan-European anthology series, with both seasons using dual timelines to unspool the mysteries surrounding British parents who lost children abroad. In Season 1, the questions pile up on top of each other when an unexpected clue reopens a missing boy's case after eight years; in Season 2, the missing child is reportedly found more than a decade after her disappearance. The panic and human folly inevitable in times of crisis pack each episode with tension, and you won't be able to resist hitting "Play Next Episode."
Mozart in the Jungle (2014-2018)
Inspired by a memoir subtitled Sex, Drugs, and Classical Music, this Golden Globe-winning show tracks the debaucherous antics of orchestra musicians when they step outside the pit. Thanks to Gael García Bernal's eccentric, hotheaded conductor Rodrigo De Souza, what could have been a one-note show about good-looking 20-somethings offers a fresh look inside a well-developed industry that's somehow gotten very little screen time.
Mr. Robot (2015- )
If you weren't already terrified about the state of modern cybersecurity, drug-addled, mentally unstable hacker Elliot Alderson -- Oscar winner Rami Malek -- will have you taping over your webcam in no time. Elliot is pretty much the least reliable narrator you've ever seen on screen, which makes watching Mr. Robot an exercise in scrutiny and perpetual surprises. You'll have to bust open your wallet for the third season, but two full Prime-included seasons should give you enough time to decide if it's worth it. 
The Night Manager (2016- )
If you've always wondered what it would be like to see Dr. House transplanted into a John le Carré novel, The Night Manager scratches your bizarrely specific itch. Hugh Laurie stars as a wealthy businessman and "philanthropist," while Tom Hiddleston plays a -- yep -- night manager at an upscale British hotel in Cairo. Hiddleston's character somewhat unwittingly gets caught up in the back-room espionage of the Arab Spring, and, like in most of le Carré's work, the tension arises from the personal and bureaucratic mundanities of the international spy game. It's less 007 and more Mad Men, in other words, and in six one-hour episodes, you'll be finished with it in less than a workday.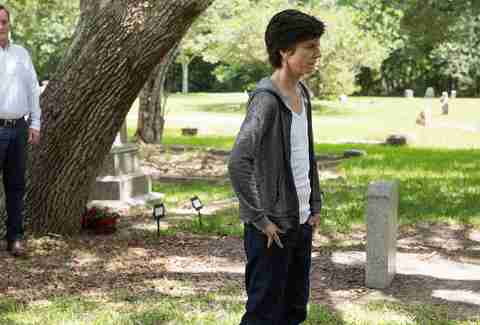 One Mississippi (2015-2017)
There are a lot of big names attached to One Mississippi, Tig Notaro's semi-autobiographical dark comedy. "Dark" probably doesn't do it justice: The opening episode features Notaro -- who's undergoing chemotherapy AND has a gastrointestinal disease -- returning home to take her mother off life support. Enter at your own risk, but the humor extracted from dire circumstances rewards viewers who stick with it.
Patriot (2015- )
If your favorite things are (in any order) espionage, folk music, soliloquies on human fragility, and offbeat humor, you will LOVE this show. Patriot tracks the increasingly unstable emotional state of John Tavner, aka John Lakeman, who's tasked with posing as a piping engineer so he can travel to Europe to prevent Iran from obtaining full nuclear capabilities. Also, he's a folk singer with a penchant for inserting classified information into his lyrics, and John Locke from Lost (Terry O'Quinn) is both John's dad and his boss. Patriot possesses an ironic sensibility and is just plain weird tonally, so if you're looking for something different, give it a shot. 
Red Oaks (2015-2017)
The '80s teen sex comedy of your dreams. Director David Gordon Green takes us to the country club where one college student spends his summer as a tennis instructor. Think of it as John Hughes meets Richard Linklater.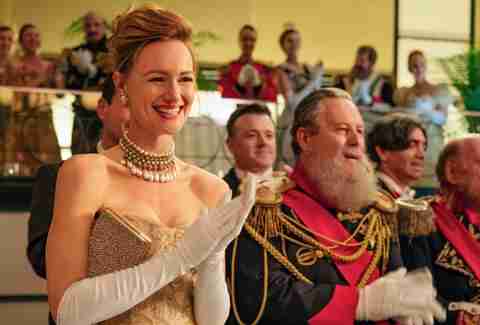 The Romanoffs (2018- )
Matthew Weiner's much anticipated follow-up to his near-perfect Mad Men wasn't the frothy, fun exploration into why so many royal pretenders are running around that we expected. It's partly that, but it's more a darkly mean study of the worst kind of people, the kind who lie and manipulate in their desperation to give their dull existences some impressive, esoteric meaning. The anthology series, with episodes rolling out weekly, rather than all at once like most streaming shows, isn't for everyone, and it's made more than a few missteps in attempting to tackle timely issues (e.g., one episode revolving around false harassment accusations left more than a few viewers with a sour taste in their mouths), but if you're ever in the mood to watch some stylish, horrible rich people make utter fools of themselves on jury duty, on the sets of bad TV shows, and onboard a ridiculously ostentatious Russian Empire-themed cruise, this one's for you.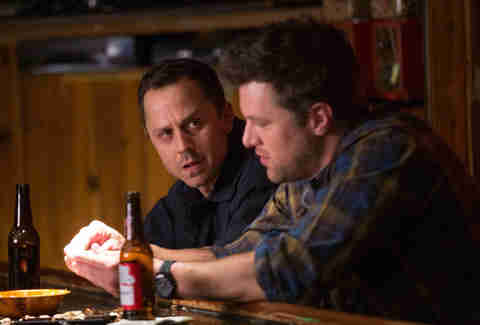 Sneaky Pete (2015- )
Perhaps the name turned you off. Maybe it was the idea of spending hours watching "that guy" actor Giovanni Ribisi play the titular conman. We get that. But Sneaky Pete's subtle charms materialize if you view it as a companion piece to Justified (Graham Yost serves as showrunner and Margo Martindale plays the wise matriarch of a rural bail-bonds business) and Breaking Bad (Bryan Cranston serves as executive producer and recurs as a Heisenberg-y gangster).
The Tick (2016-2019)
When fans heard Ben Edlund's satirical big blue bug of justice was getting the Amazon treatment, many wondered: would anyone really be able to adequately replace original live-action star Patrick Warburton? Would this reboot be able to cut through all the other streaming superhero bullshit? The good news: yes. Peter Serafinowicz nails the bold airheadedness of the The Tick, helping Arthur (Griffin Newman) -- the real star, a poor, broken, obsessive man -- to tap into his potential and uncover a villainous conspiracy. Their story, more importantly, comes packed with legit emotion, action, and tons of weird fun. ("When destiny speaks, she speaks to me. She says, "Hi," by the way!") Watching this thing is like rediscovering your love of an old toy -- one that yells, SPOOOOOOOOON!!!! with an exhilarating sense of reckless abandon.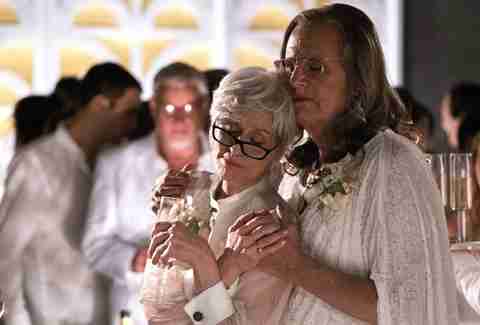 Transparent (2014- )
When Maura Pfefferman (Jeffrey Tambor) comes out as trans to her family, it sets off an intense reaction among her ex-wife and their self-centered children. Creator Jill Soloway has a trans parent of her own, so it's no surprise that the series does a masterful job of balancing the tense family dynamics and nuanced identity politics with some much-needed comic relief.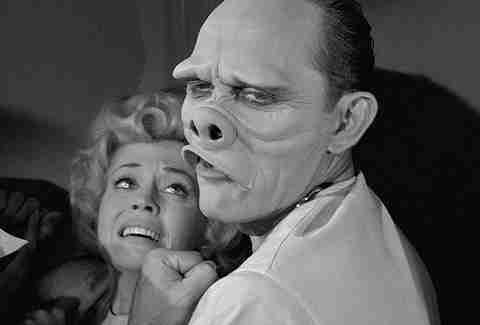 The Twilight Zone (1959-1964)
Every lauded sci-fi movie or television show owes Rod Serling residuals. Over 156 episodes, Serling speculated and dreamed, refracting his present day through the trippiest scenarios to ever beam through mild-mannered American homes. The Twilight Zone's visual prose took us to jungles, to space, to 20,000 feet, and to the sunny block from every person's childhood, where the worst existential revelations tended to lurk. The Twilight Zone still speaks volumes. Buckle up and fly into a dimension not only of sight and sound, but of mind.
Twin Peaks (1990-1991)
David Lynch and Mark Frost's detective series is often credited with instilling television with artful potential. Without Twin Peaks, there'd likely be no Mad Men or Breaking Bad (and both shows nodded to the ABC series). And yet, the show's dreamy, saturated look is really a cherry on top. Twin Peaks is a steady stream of oddball characters and fantastical twists, encountered by FBI Special Agent Dale Cooper (Kyle MacLachlan) as he hunts for the murder of a small-town teenager. Your weird friends love this show. You should too. It's finally time to understand those Log Lady Halloween costumes.
The X-Files (1993-2002)
The original 201-episode run of Fox's paranormal investigation drama is available for your bingeing pleasure on Amazon. So, get ready to catch up on Mulder's paranoia, Scully's sleuthing, and the burning chemistry that launched a thousand GeoCities sites. If nine and a half seasons is too much to binge, cherry-pick the classics. We made it easy by ranking the entire series. While the reboot seasons from 2016-2017 aren't available on Prime, you can still rent or purchase them if you just can't stop searching for the truth.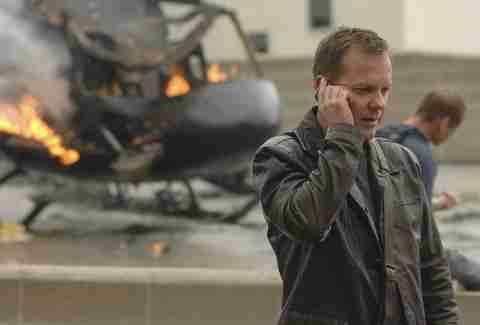 24 (2001-2010)
In the early 2000s, 24 was the concept drama that proved it was possible to innovate the format of TV storytelling, and to do it on network television. The Kiefer Sutherland-starring series moves hour-by-hour through the most harrowing days of agent Jack Bauer's career, upping the race-against-the-clock stakes by arriving during the height of post-9/11 terrorism fear-mongering. Good thing Bauer had enough rough days at the office to keep the show going for nearly a decade. Beginning with an assignment to keep a presidential candidate safe from an assassination plot, to preventing bombs from detonating and bioterrorism attacks, the popular political thriller hooks you from minute one, and hopes you'll stick around for the next 1,440.