The Best TV Shows to Watch on Disney+ Right Now
Rewatch all of your Disney Channel favorites, check out Marvel hits, and so much more.
'Daredevil'

| Netflix
'Daredevil'

| Netflix
Andi Mack (2017–2019)
Lizzie McGuire creator Terri Minsky was behind this Disney Channel hit, and the showrunner's influence is clear. Like what Lizzie was for audiences in the '00s, Andi Mack was one of the network's most thoughtful series in tackling earnest adolescent issues—from puberty to learning disabilities and the channel's first-ever coming out story—in the 2010s. About the titular Andi Mack (Peyton Elizabeth Lee), who finds out on her 13th birthday that her cool older sister who raised her is actually her mother, the show follows her and her best friends' heartwarming journeys toward self-discovery as they endure middle school together.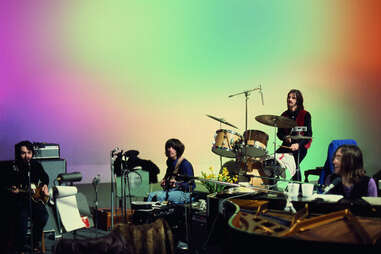 The Beatles: Get Back (2021)
Peter Jackson's groundbreaking docuseries took 60 hours of footage taken during the iconic band's making of their 1970 album Let It Be and boiled it down to three 90-minute episodes, full of insight into the band's composing process (the clip of Paul McCartney coming up with their hit single "Get Back" out of thin air went viral), as well as behind-the-scenes details about their strained relationship and eventual breakup. The result is a beautiful tribute to one of the most influential bands of all time and a riveting showcase of Ringo Starr's taste in patterned shirts.
Black-ish (2014–2022)
Creator Kenya Barris' critically acclaimed sitcom follows the Johnson family, led by Dre (Anthony Anderson) and Rainbow (Tracee Ellis Ross), and the rest of their family as they navigate modern life as an upper-class Black family. The show garnered rave reviews and a huge fanbase for its honest and measured portrayal of Black American life, no issue too complex or controversial. The series has one spin-off, Grown-ish, following the Johnsons' young adult daughter Zoey (Yara Shahidi), episodes of which are also available on Disney+, as well as upcoming spin-off Mixed-ish.
The Book of Boba Fett (2022– )
The galaxy's famed bounty hunter Boba Fett's appearance at the end of The Mandalorian Season 2 prompted his own spinoff series, and in its first season we see Fett (Temuera Morrison) and his second-in-command Fennec Shand (Ming-Na Wen) attempt to solidify their place in control of Tatooine's metropolis Mos Espa. But being a crime lord is harder than it seems, and the corrupt leaders of the city have their own plans to deal with the two upstarts.
Boy Meets World (1993–2000)
If you've yet to marathon this classic sitcom or need a nostalgic re-watch, then get ready because class is in session and Cory Matthew's teacher next-door Mr. Feeny has more than a few life lessons to share. The long-running '90s show follows an awkward, loud-mouthed boy named Cory (Ben Savage), his best friend from a broken home Shawn (Rider Strong), and his forever-crush Topanga (Danielle Fishel) from middle school to college, documenting their coming-of-age. Originally airing on ABC, this sitcom is less filtered than most Disney Channel favorites, exploring topics like poverty, absent fathers, and (gasp!) sex to make for a holistic, honest series about adolescence.
Daredevil (2015–2018)
The first of the shows Netflix produced under its mid-2010s deal with Marvel brought the devil to Hell's Kitchen—Daredevil, that is. Brilliant but struggling lawyer Matt Murdock (Charlie Cox), blinded in his childhood by a tragic accident but blessed (sorta) with ultra-heightened senses, moonlights as a masked crimefighting hero, using his mysterious martial arts training to save his grimy NYC neighborhood from the gangsters and crime lords that want to take it over. Daredevil and the rest of the Defenders series (more on those below) have now moved from Netflix to Disney+, as Disney consolidates even more of its property under its own banner. (If you've gotten a notification to change your app's maturity ratings settings, these shows—way bloodier than any Disney+ superhero series—are why.)
The Defenders (2017)
This eight-episode team-up limited series brought together the Marvel Heroes from the Netflix's stable. After Iron Fist introduced Danny Rand to the Netflix/Marvel Universe in the franchise's weakest installment, The Defenders doubled down on the guy from K'un-Lun and his immortal enemies The Hand. The Defenders slams Jessica Jones, Matt Murdock (Daredevil), and Luke Cage into the mix and lets the leads play around with side characters from the Daredevil series, like Elektra and Stick, as well as one-off villain Sigourney Weaver, who brings as much drama to the leadership of The Hand as possible. The crossover is mostly for the hardcore fans, but it's not without its charms.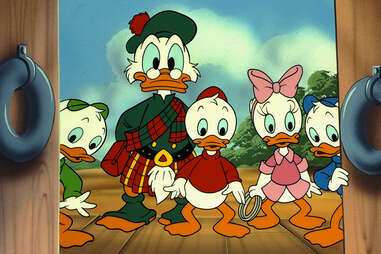 DuckTales (1987–1990)
Though it was recently rebooted by Disney XD with comedians like Ben Schwartz, Danny Pudi, and Bobby Moynihan providing the voices, the original DuckTales is still worth divining into like Uncle Scrooge leaping into that giant mountain of gold coins. One of the first successful Disney animated shows, the adventures of Huey, Dewey, and Louie were popular enough with kids to help launch similar whiz-bang Disney animated shows you can find on Disney+ like Chip 'n Dale: Rescue Rangers and Darkwing Duck. Plus, the insidious theme song is probably already stuck in your head.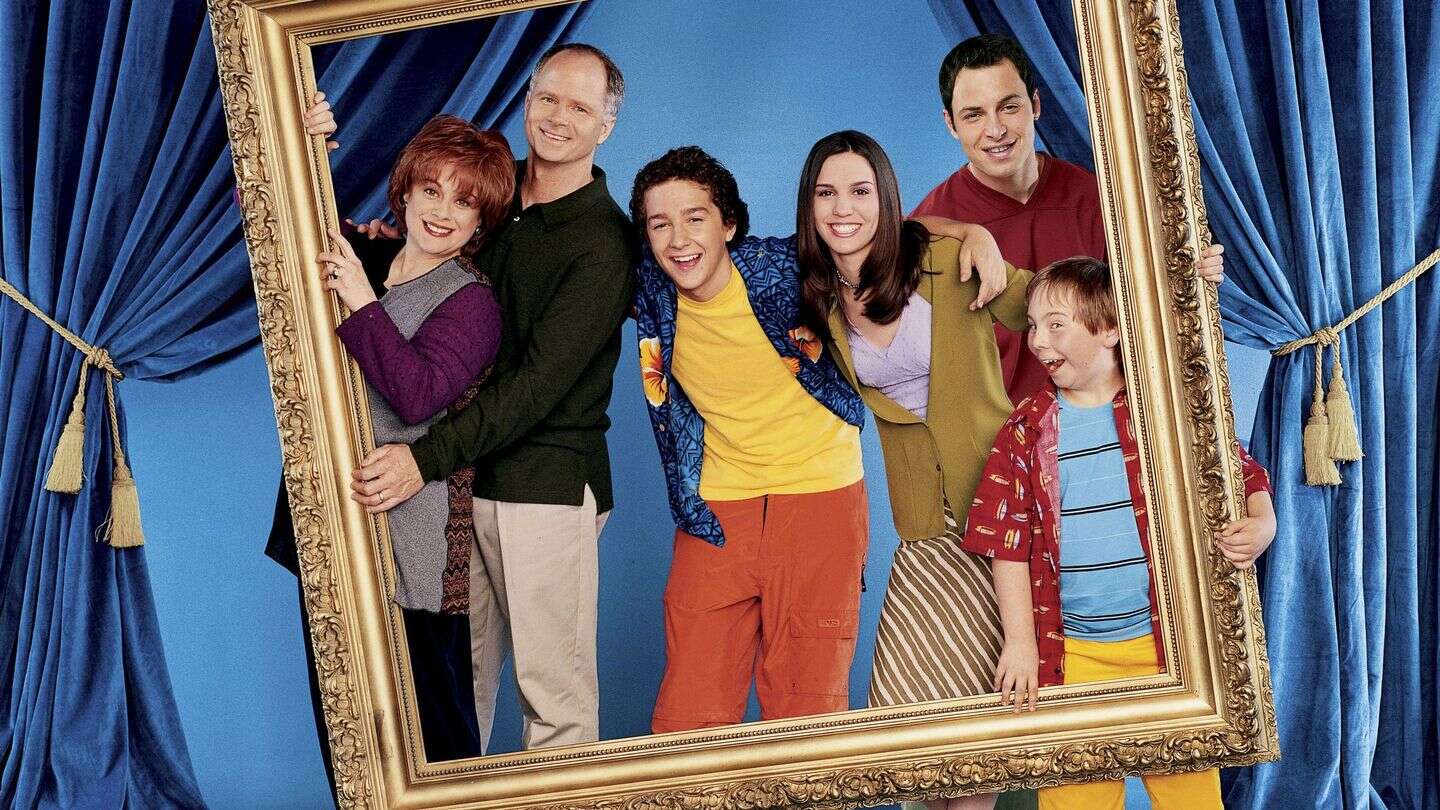 Even Stevens (2000–2003)
Even Stevens was part of a run of clever, quirky Disney Channel original shows from the early '00s that helped the kid-friendly cable network figure out exactly what it wanted to be. It's an endearing mix of surreal goofball style and family sitcom schtick, which made it a reliable afternoon post-school viewing. Even Stevens existed at an odd middle ground between the more rebellious Malcolm in the Middle and slightly more hokey sitcoms on ABC's T.G.I.F. line-up.
Girl Meets World (2014–2017)
Finished watching Boy Meets World? Great: Now you can tune into the 2010s reboot. The fandom around the '90s series—from OG viewers who watched it on air and went on to have their own Disney-Channel-viewing-aged kids to those who watched reruns—was so strong that Disney cranked out one of its first reboots of nostalgia properties with this series about Cory and Topanga's pre-teen daughter, Riley (Rowan Blanchard), with just about the entire original cast returning. GMW isn't afraid to go there with tough teenage issues, so you can tell the love is as real with this one as it was in the original.
Gravity Falls (2012–2016)
Created by Alex Hirsch, Gravity Falls is a whole lot of supernatural weirdness wrapped up in a perfect two season package. Set in the fictional Gravity Falls, Oregon, the series follows twins Mabel and Dipper Pines as they spend the summer at their Grunkle—Great Uncle—Stan's supernatural tourist trap museum. Along the way, they make friends, pine over crushes, and uh, stop the apocalypse.
Hannah Montana (2006–2011)
Miley Cyrus was always poised to become a mega-star, playing a regular teenager named Miley Stewart who wanted "the best of both worlds" by keeping her identity as pop star Hannah Montana a secret. Watching young Cyrus navigate tweenage concerns and family problems, even acting opposite her own IRL dad Billy Rae Cyrus, is very heartwarming—but the Disney-fied peer into pop-stardom is what makes the show essential viewing for the non-triple-threats of the world. And, sweet niblets, the bubble gum songs the musical-comedy produced remain bops to this day.
Hawkeye (2021)
Arguably the most zippy fun of any of the Marvel series so far, Hawkeye is a Christmastime romp that finds Jeremy Renner's grumpy Clint Barton teaming up with another bow and arrow prodigy, Kate Bishop, played with zazz by Hailee Steinfeld. Steinfeld is one of the best things to happen to the MCU in recent years, and Renner adds new depth to a character that often felt like he got the short shrift in the movies.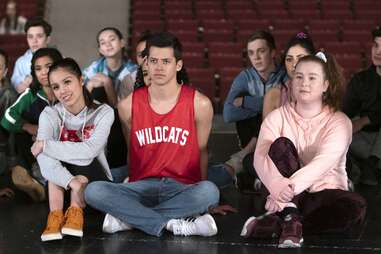 High School Musical: The Musical: The Series (2019– )
The title really covers any and all bases, but, no, actually, this is not a show adaptation of one of the most popular Disney Channel Original Movies of all time. It's a mockumentary-style series set at the high school the original film was shot in where the current students decide to hold the stage musical of High School Musical. Because this Disney+ exclusive is its own show and doesn't try to step on the toes of the beloved movie, it allows you to cheer for a new class of Wildcats, and is surprisingly enjoyable. Any former theater kid will give this one a standing ovation.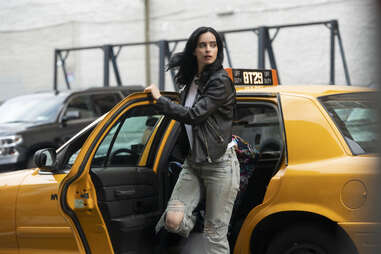 Jessica Jones (2015–2019)
Like Veronica Mars and many standout British crime series, Jessica Jones follows a private investigator searching for the answer to her own mystery. The difference is that Jessica Jones (Krysten Ritter) has superhuman strength... and crippling PTSD from a run-in with Kilgrave (David Tennant), a troubled man with mind-control powers who forces the heroine to commit heinous acts against her will. As Jessica slowly unravels the past, the frightful conceit, all-too-real social parallels, and Ritter's roaring performance made this the high-water mark for Marvel's Netflix projects.
Kim Possible (2002–2007)
Until the school bell rings, Kim Possible is a normal high school cheerleader. But once she gets a call on her flip phone after class—answering with "What's the sitch?"—she takes on the identity as a crime-fighting teen who's after a mad scientist plotting to take over the world. Joined by her best friend, Ron Stoppable (and, for whatever reason, his naked mole-rat Rufus), the animated action-series plays like a quirky Y2K comic book, bringing traditional Bond-inspired spy tropes into the then-new digital age and giving it a helping of tween girl power.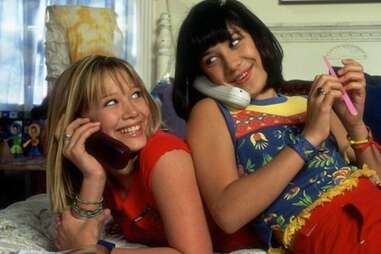 Lizzie McGuire (2001–2004)
It's always worth re-familiarizing yourself with the trials and tribulations of Lizzie McGuire (Hillary Duff), a middle-school outcast with a wild sense of style, a strong moral code, and a very annoying younger brother. Combining brief animated interludes with live-action sitcom shenanigans that could feel cartoon-like at times, Lizzie McGuire didn't rely on a braying laugh-track to keep your attention. Instead, it zeroed in on the stressful challenges of early teenage years, doling out life lessons and silly gags with a zany, earnest touch.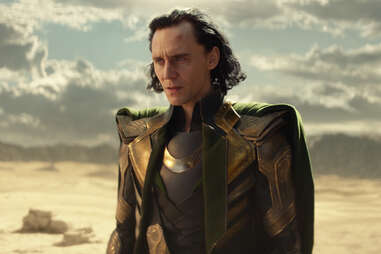 Loki (2021– )
Loki begins with the scene from Avengers: Endgame that finds the Avengers tacking a trip back in time to steal back the Infinity Stones. A briefcase holding the Tesseract ends up at Loki's feet and he uses it to bloop himself out of New York—and apparently off his timeline. He's quickly apprehended by enforcers from the Time Variance Authority, who plan to delete him from existence now that he's unwittingly escaped his predestined path, but he's saved just in time by Mobius M. Mobius, an energy drink-guzzling TVA agent at the head of a case that, without revealing too much, he believes only Loki can solve.
Luke Cage (2016–2018)
Taking inspiration from classic Blaxploitation crime films and '90s hip hop music, Luke Cage immediately stands out from the crowd of Marvel's TV series, mixing genre-based fun and superhero mythology with the grounded, gritty tones of inner-city drama. Luke Cage (Mike Colter), possessing super-strength and bulletproof skin, uses his gifts to protect his Harlem neighborhood from power-hungry criminals like nightclub owner "Cottonmouth" Stokes (Mahershala Ali), all while working to clear his name from a crime he didn't commit.
The Mandalorian (2019– )
One of the greatest draws to Disney+ when it launched was the promise of new, original Star Wars properties—and it proved to come through with its first of its kind, The Mandalorian. The series follows a helmet-shrouded bounty hunter (Pedro Pascal) who only wants to ply his trade but is forced by his honor code to protect a Yoda-esque toddler who is wanted by ex-Imperial baddies a few years after the events of The Return of the Jedi. It may be loaded with Star Wars universe references, but the series has also carved out its own place in the four-decade-old franchise by not trying to do too much, but utilizing Warner Herzog as the mysterious Client who wants that Baby Yoda to his best potential. Ultimately, it's a solid tale about a compelling character who lives by a code who is thrust into the unlikely role of guardian to the galaxy's cutest individual.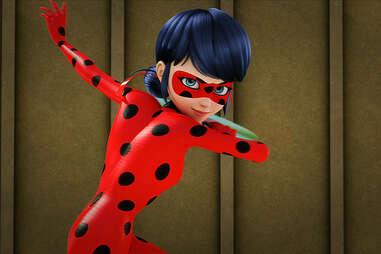 Miraculous: Tales of Ladybug and Cat Noir (2015– )
This French import already has a rabid fanbase amongst American viewers, and an ability to reach an even wider audience now that it's available on Disney+. Marinette Dupain-Cheng and her friend Adrien Agreste live as regular teenagers in modern-day Paris, and by night they use magical crystals to transform into their superhero alter-egos Ladybug and Cat Noir to fight criminals trying to turn the citizens of Paris into villains. Both harbor feelings for each other but neither is aware of each other's secret identity.
The Muppet Show (1976–1981)
It's time to raise the curtain on The Muppet Show—now that the beloved series is streaming on Disney+! This classic from Jim Henson made the variety show format genuinely great, bringing all your favorite Muppets like Kermit the Frog, Miss Piggy, Fozzie Bear, Gonzo, and others to the forefront to crack the jokes, lead the skits, and perform their little song and dances. It's still seriously funny, and a 20th century time capsule with its massive slate of celebrity guests.
The Owl House (2020– )
When Dominican American teen Luz stumbles through a portal into the fantastical realm, she finds herself on the Boiling Isles, an archipelago formed from the remains of a giant Titan, and becomes apprentice to a rebellious teen witch, despite having no magic powers of her own. Not for nothing, the show is also Disney Channel's first property to feature a same-sex couple in leading roles, especially notable in an animated fantasy show geared towards young children.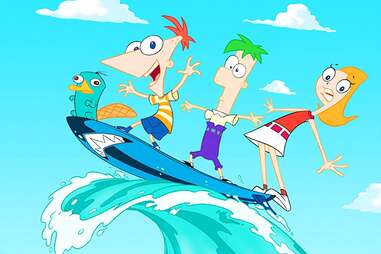 Phineas & Ferb (2007–2015)
Between its catchy Bowling for Soup theme song and wacky sense of imagination, Phineas & Ferb was easily one of Disney Channel's best cartoon series of the 2000s. Taking massive liberties with its relatively simple premise, the series has impossible rollercoasters, iconic rivalries, and plenty of genuine heart. Disney+ also released an all new, full-length Phineas & Ferb movie in 2020, Candace Against the Universe, so that's as good excuse as any to revisit the animated comedy.
The Proud Family (2001–2005)
This undisputed Disney Channel classic follows Penny Proud (Kyla Pratt) and her wild family and hilarious group of friends as they make their way through teen life, navigating the ins and outs of school, crushes, friends, enemies, frenemies, and everything in between. Made iconic by its exaggerated animation style and for being by and for a demographic that had little representation on television during its time, it's a show that can be endlessly enjoyed by fans and new viewers alike.
The Punisher (2017–2019)
By far the bloodiest and most morally complex of Netflix's Marvel shows, The Punisher is not for the faint of heart. For former Marine Frank Castle (Jon Bernthal) violence is the answer, as he works to uncover the vast conspiracy behind the murders of his family and becomes known throughout NYC as "the Punisher," a moniker he tries to reject. In less nuanced hands, a show like this would treat its thorny moral philosophy with heavier hands, but the combination of Bernthal and co-star Deborah Ann Woll (reprising her Daredevil role Karen Page), as well as a slew of truly terrifying villains (Ben Barnes, hello) make The Punisher work.
Recess (1997–2001)
Originally released as part of ABC's "One Saturday Morning" block of programming, Recess immediately stood out for its willingness to play with genre and subvert viewer expectations. Characters like T.J. Detweiler, Vince LaSalle, Ashley Spinelli, Gretchen Grundler, Mikey Blumberg, and Gus Griswald might present themselves as slightly one dimensional elementary school stereotypes—a star athlete, a gawky nerd, or a rough-housing tomboy—but the series often revealed surprising depth to each of them over the course of a single episode. By imagining playtime as a high-stakes, hyper-stylized world of competing rivals, Recess managed to slip some heavy truths about childhood in between the manic set-pieces.
The Simpsons (1989– )
Ever heard of The Simpsons? If not, here's your chance to catch up on Springfield's most famous family, who have been brought into the Disney fold after the acquisition of 21st Century Fox in early 2019. From a brand perspective, it's a slightly odd fit—The Simpsons was often framed as the rude, whip-smart alternative to more squeaky-clean Disney fare in the '90s—but the availability of the series makes Disney+ a must-have for anyone who owns any Duff Beer paraphernalia or a wrinkled Bartman T-shirt.
Spider-Man (1994–1998)
There are a handful of Spider-Man series available on Disney +, including the '80s Spider-Man and His Amazing Friends and the more recent version that premiered in 2017 on Disney XD. But don't sleep on this take on the web-slinger that aired as part of the FOX Kids lineup in the '90s. Along with the more widely acclaimed Batman: The Animated Series, this heavily serialized Spider-Man series introduced a relatively sophisticated mode of comic-book storytelling to a young audience, spinning complicated narrative arcs over the course of whole seasons.
Star Wars: The Bad Batch (2021– )
If you watched Star Wars: The Clone Wars, the animated series that takes place between Episode II: Attack of the Clones and Episode III: Revenge of the Sith (and then catches up with the end of Sith in its later seasons), you've met the titular Bad Batch, Clone Force 99, who have appeared as a unit a few times over the course of the series. Hunter, Tech, Crosshair, Wrecker, and Echo are clones who have been extensively genetically modified, giving them strength and smarts that makes them different from your average trooper. The Bad Batch was conceived from an idea that George Lucas had of making a Dirty Dozen story in the Star Wars universe, but featuring clones instead of regular humans.
Star Wars: Visions (2021– )
If you know your Star Wars, then you know that the film saga has deep connections to classic Japanese cinema, which inspired George Lucas to create what is essentially a samurai story set in the wilds of outer space. With Visions, Disney teams up with some of the greatest anime studios of today to again knit the Star Wars universe together with another widely known Japanese art form, each short film using a range of animation styles to tell distinct stories set in that galaxy far, far away.
The Suite Life of Zack & Cody (2005–2008)
If you watched Disney Channel in the aughts, chances are you wished 1. You were best friends with the Sprouse twins and 2. Lived in the (fictional) Tipton Hotel. In Suite Life, the now indie actor and Riverdale star, Dylan and Cole Sprouse, play middle-school-aged troublemakers living with their lounge singer single mother in a ritzy Boston hotel. With constant shenanigans from the boys, it's extremely goofy, but the entire cast of great characters (like Brenda Song as Paris Hilton rip-off London Tipton) makes it all extremely enjoyable.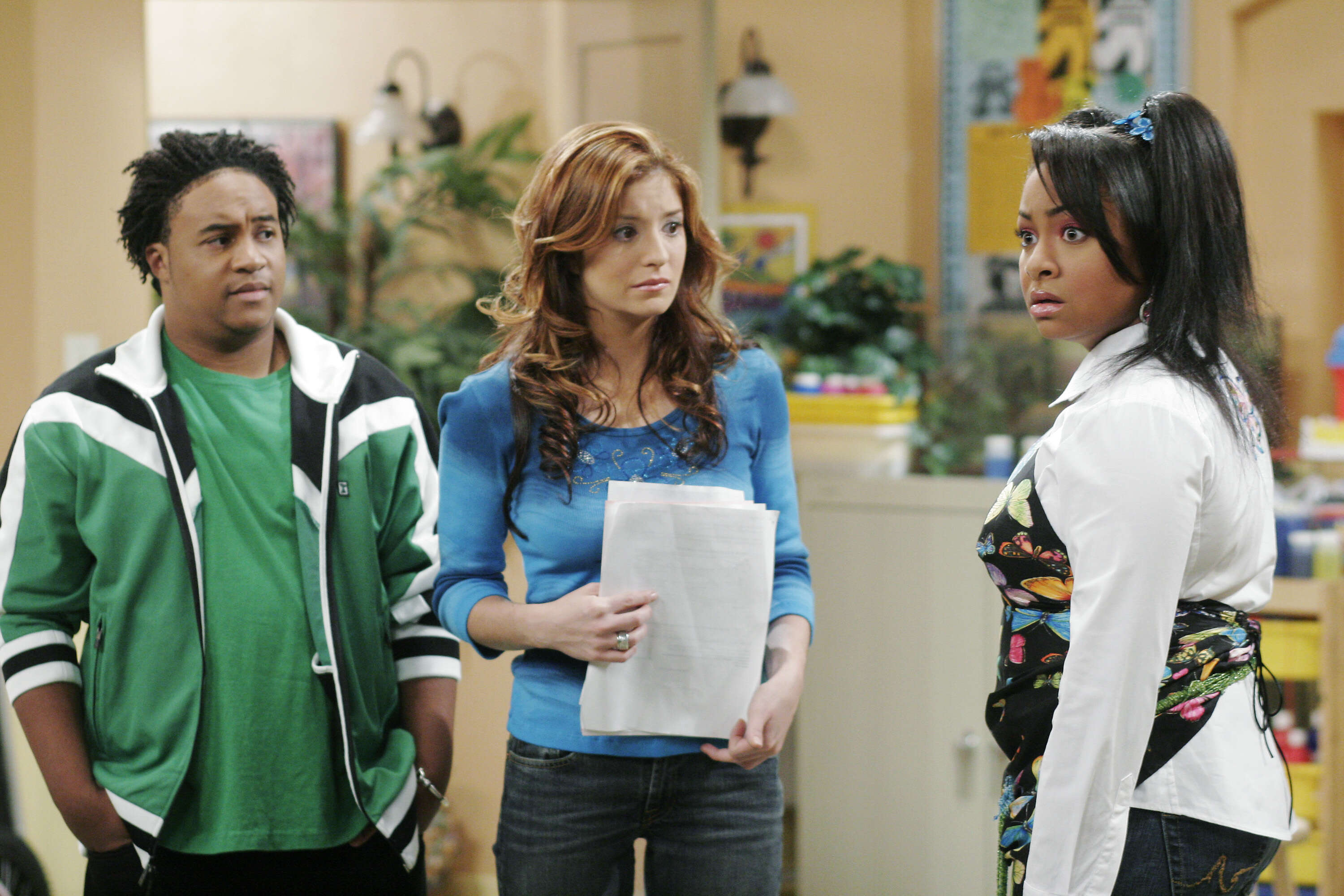 That's So Raven (2003–2007)
While she was an '80s and '90s child star on The Cosby Show, Raven-Symoné's star-making moment was on Disney Channel playing a psychic teenager. Sure, nearly every episode of That's So Raven follows the same formula of Raven having a psychic vision and trying to prevent said vision, which makes (what she misinterpreted all along) go as planned—she's also always forced into the truly wackiest scenarios, and the teen star's got great comic timing. Disney Channel loves "crazy, meddling kids," but the added supernatural element here makes this sitcom stand out from the rest.
WandaVision (2021)
Like Disney+'s shiny promise of new Star Wars shows, its plans for Marvel limited series were just as highly anticipated (if not even more so). And turns out, the first of the series to launch, WandaVision, proved just how high MCU properties could go when given the creative and length format of TV. Set shortly after the events of Avengers: Endgame, the show finds Wanda Maximoff/Scarlet Witch and Vision (the excellent Elizabeth Olsen and Paul Bettany) hiding out in the picture-perfect suburb of Westview. Obviously, things are not all that they seem. The reality of the show may be slow to unfold, but the references to famous sitcoms make the show extremely watchable, as does Kathryn Hahn's role as "nosy neighbor" Agatha Harkness. It would be a crime to ruin the reality of this gem, but let's just say it's one of the most ambitious, tender works in all of the MCU thus far.
Wizards of Waverly Place (2007–2012)
Wizards of Waverly Place has a very quirky, very Disney Channel premise: three kids who live above their family's sandwich shop in Manhattan must train as wizards so that they can one day fight and determine who gets to keep their powers into adulthood. Although the last bit sounds kind of grim, the setup provides for plenty of magical shenanigans as the Russo children—Justin, Alex, and Max—both attempt to master their magical abilities and live average teenage lives. One of the most beloved Disney Channel series of the mid-aughts, Wizards of Waverly Place still holds up.
X-Men: The Animated Series (1992–1997)
The opening theme music to this show is powerful enough to send superhero fans of a certain age into a laser-blasting, claw-shooting, wall-smashing frenzy. Across five seasons, the mutant-centered series mined the pages of the original Marvel comic books to refashion beloved storylines like the Dark Phoenix saga and "Days of Future Past" into spectacle-packed, pathos-filled multi-episode narrative arcs. While Hollywood adaptations would eventually mangle many of these tales, the animated show did an effective job of capturing the cosmic scope and beating heart of this team of misfits. And, again, that theme song is incredible.