Sometimes you just want to watch 10 hours of TV, whether it's an edge-of-your-seat mystery or a feel-good romantic comedy, and we've got you covered with this round-up of the streaming service's most bingeable series.
From the classics you really should have seen by now to your friends' current favorites, get some snacks ready and prepare for a marathon.
3% (2016-present)
If you relish the dystopian drama of The 100, The Hunger Games, or other narratives about attractive people living under unattractive regimes, then this Brazilian Netflix original is for you. The hook of 3% is simple: The world is divided between a world of wealth called the Offshore and a world of poverty called the Inland. (Sounds familiar, right?) The Elysium-like premise is explored with real emotional depth, and director César Charlone, the cinematographer responsible for City of God's stunning visuals, shoots everything with a gritty glow.
30 Rock (2006-2013)
Tina Fey's workplace sitcom was so good for so long that it's easy to take it for granted. Since it went off the air in 2013, comedies have gotten stranger, more dramatic, and more formally ambitious. But have they gotten any funnier? We'd argue no. Between Jack Donaghy's Bush-era conservative zingers, Tracy Jordan's endlessly absurd one-liners, Kenneth's disturbing hillbilly antics, and Jenna Maroney's deranged celebrity narcissism, the show delivered perfect jokes at an exhilarating pace. What's more innovative than that?
The 4400 (2004-2007)
Produced by The Godfather director Francis Ford Coppola, this underrated sci-fi series imagines what would happen if 4,400 people suddenly vanished from the face of the planet in the early 20th century... then flashed back into reality decades later. The mystery unfolds through the eyes of some superlative performances, including newly minted Oscar-winner Mahershala Ali as a US Air Force pilot who disappeared but somehow has a daughter in the present.
American Crime (2015-present)
Like its completely unaffiliated basic-cable contemporary American Crime Story, this ABC anthology series uses a repertory-style cast to tell a different story each season. But rather than focusing on a celebrity-driven or headline-making case each time, like The People v. O.J. Simpson, writer and director John Ridley (12 Years a Slave) trots out an original story. If you prefer your social consciousness fictionalized, this is the heart-wrenching, family-oriented show to check out next.
JoBlo TV Show Trailers/YouTube
American Horror Story (2011-present)
Why do people love Ryan Murphy shows so much? Because they're infused with equal parts camp, drama, suspense, and humor -- even this ostensibly scary one. Whether you're watching the Murder House, Freak Show, Hotel, or recent Roanoke installment, you're in for unforgettable characters, stomach-curdling gore, jaw-dropping plot twists, and brutal finales. Binge in time for Season 7, set to loosely take on the 2016 election season.
Anthony Bourdain: Parts Unknown (2013-present)
By now, so many outlets have extolled Bourdain's merits (guilty!) that any new praise risks getting filed under "redundant." Sometimes, though, millions of people are right: The latest iteration of the itinerant chef and food lover's show continues to push boundaries, both literal and metaphorical, producing television unlike anything else you can stream. Recent highlights -- a conversation with former president Barack Obama in Vietnam, or a tense episode in post-Arab Spring Libya -- show a man not content to rest on his laurels (or Emmys). The rest of us can sit back and enjoy it.
Archer (2009-present)
Sterling Malory Archer is a terrible spy. But he loves booze, sex, and turtleneck sweaters -- which makes his global adventures pure bliss. FX's debauched James Bond parody has a license to cross the line and, in its later seasons, reinvent the format in ways only animation could. A must-watch for anyone who wishes Daniel Craig would smile once in a while.
Netflix US & Canada/YouTube
Arrested Development (2003-present)
There's always money in the banana stand, and there are always laughs to be found in Arrested Development, Mitchell Hurwitz's sly, self-aware family sitcom. While the most recent Netflix-produced season occasionally devolved into discursive, indulgent meta-humor, the show's original three seasons established a freewheeling comic sensibility that many of your favorite sitcoms -- Parks and Recreation, 30 Rock, Community, Archer, Kroll Show -- were influenced by. Don't hold the show's obnoxious fans against it. After watching a few episodes, you'll be quoting Tobias Fünke, too.
Being Mary Jane (2013-present)
Mara Brock Akil's rom-dram stars the ageless Gabrielle Union as a single 30-something TV news anchor trying to juggle her intense professional ambitions with her needy family and a steamy sex life. Mary Jane embraces its contradictions: it's soapy as all get-out, with nonsensical plotlines involving the acquisition of an ex-lover's sperm, while still confronting race and gender issues head-on.
Better Off Ted (2009-2010)
Fans of Santa Clarita Diet should carve out time for writer Victor Fresco's previous series, a wacky, short-lived look at corporate America. Jay Harrington stars as Ted, a single father and VP of research development at Veridian Dynamics, an all-around evil company. Between producing killer robots and experimenting on office drones, Ted and his staff attempt to be stand-up citizens of the world, all the more difficult in the comically wicked halls of Veridian. This is satire to the extreme, and even riper in our current climate.
Netflix US & Canada/YouTube
BoJack Horseman (2014-present)
The second season of Netflix's animated series doubles down on the depression, failure, and slovenly behavior we enjoyed in its first, with plenty of sight gags to lighten the mood. BoJack climbs higher than ever, as he lands his dream acting gig and a dream girlfriend, but life's cruel hand caps him at the knees over and over again. In between the morose moments, BoJack Horseman asks us to laugh -- and we do, because we can't imagine this beleaguered equine's life getting any worse, which, invariably, it does.
Breaking Bad (2008-2013)
Despite originally airing on AMC, Breaking Bad is the ultimate Netflix show. Filled with moments of shocking violence and wry humor, the rise and fall of Walter White (Bryan Cranston) -- and his co-conspirators Jesse, Skyler, Gus, and Mike -- is probably best experienced in wild, indulgent weekend binges. That's what many fans did throughout the show's five-season run, catching up on old episodes on Netflix to prepare for the must-see moments that occurred during its final stretch. With the acclaimed spinoff Better Call Saul now inspiring similar conversations, there's never been a better time to take the dive. You don't just watch this show; it consumes you.
Buffy the Vampire Slayer (1997-2003)
A sacred text of geek culture debuted on March 10, 1997, almost two years before The Sopranos kicked off the much-lionized "difficult men" period of Golden Age television. But if you were clued in to Joss Whedon's wickedly subversive WB (and later, UPN) action-drama from the start, you knew the revolution of modern television was already under way long before Tony and his ducks. Anchored by Sarah Michelle Gellar's star turn, the show got deeper and darker as it went, turning a comedic riff on horror movie tropes into a soulful meditation on the nature of bravery. Plus, it's got werewolves and stuff.
Cheers (1982-1993)
For the days when you want to hang out at the bar without changing out of pajamas. Starring Ted Danson as the ex-Red Soxxer and reformed alcoholic slinging drinks, Cheers, too, had a very long run -- 271 episodes! -- so you'll invest a ton of time if you're a completist, but luckily, you'll feel like a regular in no time.
Chef's Table (2015-present)
With an explosion of food television comes elevated standards; Netflix's Chef's Table forages for those standards, brings them to the restaurant for dinner service, treats them with respect, turns them into a whimsical play on a dish remembered from childhood, and earns a couple Michelin stars and the admiration of its peers in the process. The point is that Chef's Table, from creator David Gelb (Jiro Dreams of Sushi), is an exceptional food show that manages to make humans the centerpiece.
Comedy Bang! Bang! (2012-2016)
A few years after his podcast started airing, Scott Aukerman's popular talk show got the TV treatment. TV treatment here doesn't really mean adaptation, though; it means a platform to be fucking insane and hilariously surreal. Your favorite comedians (think Andy Daly, Sarah Silverman) hit Aukerman's couch with special guests (who range from Tony Hawk to Kevin Bacon to publicist extraordinaire Rodney Waber) to improv some magic, participate in off-the-wall bits, and make you ask, What the hell am I watching? -- in the best way.
National Geographic Australia/YouTube
Cosmos: A Spacetime Odyssey (2014)
Neil deGrasse Tyson updated Carl Sagan's intergalactic classic with new science, new predictions, and new attitude, packaging physics for the Star Wars crowd. As Tyson guides us through the stars, historical locations, and the CG-enabled cosmic calendar, his lessons crescendo into a call to arms. Scientific discovery is a fight. Cosmos makes a case for Team Progress.
Crazy Ex-Girlfriend (2015-present)
Many armchair critics tried to dismiss former YouTube sensation Rachel Bloom's CW series for what they presumed to be a sexist title -- a notion she bites back at from the opening credits on. In fact, the series is quietly revolutionary, offering sharp yet subtle commentary about the way women treat each other and themselves, and casually featuring one of the most diverse casts on TV. CXG draws its rom-com antics from heroine Rebecca's compulsive behavior and past traumas, all while satirizing the conventions of musicals with song-and-dance numbers worthy of Sondheim. It's a downward spiral, for sure, but psychosis has never been this entertaining.
Documentary Now! (2015-present)
IFC's Documentary Now! pokes fun at the precious self-seriousness of documentary filmmaking, thanks to SNL vets Bill Hader and Fred Armisen (and a regal Helen Mirren introduction). Docs in the show's crosshairs include everything from Nanook Revisited ("Kanuk Uncovered") to History of the Eagles ("Gentle & Soft: The Story of the Blue Jeans Committee"), the latter a parody of an Eagles documentary that's pretty funny in its own right. Which is why the true brilliance of Documentary Now! comes less from imitation and more from the same sauce that makes any doc memorable: Human existence is fascinatingly absurd.
Fauda (2015-present)
Fauda, an action thriller about an elite team of undercover Israeli commandos working in Palestine, is perhaps the best of Netflix's recent foreign-language shows, a frantically paced and politically charged melodrama filled with sequences of white-knuckle suspense straight out of Homeland or 24. But unlike those spy dramas, Fauda spends nearly as much time on the private lives of Palestinians as it does on its gun-toting heroes. It's got a moral complexity that its more simplistic American counterparts often lack.
Freaks and Geeks (1999-2000)
Like its awkwardly dressed and perpetually yearning protagonists, Paul Feig and Judd Apatow's ode to the pain of adolescence was destined to be an outcast from the start. Its presciently selected cast -- including Seth Rogen, Jason Segel, James Franco, John Francis Daley, and Martin Starr -- anchored a show that was perhaps too prickly and personal to catch on with NBC's mainstream audience, but it lives forever on Netflix. So, like Starr's achingly joyful Bill Haverchuck watching Garry Shandling after school, make yourself a grilled cheese, grab a glass of milk, and get ready to find some pockets of transcendence amidst the misery.
Friday Night Lights (2006-2011)
Sure, the television adaptation of the movie adaptation of the book veers frequently into sentimentality, outright conservatism, and cheap melodrama, but it's these qualities that make it an essential piece of American television. High school football serves as the perfect medium to explore the 21st-century American experience, and the qualities above are part of the deal. With knockout performances from Kyle Chandler and Connie Britton, it's almost too easy to get sucked into the Dillon Panthers' football life.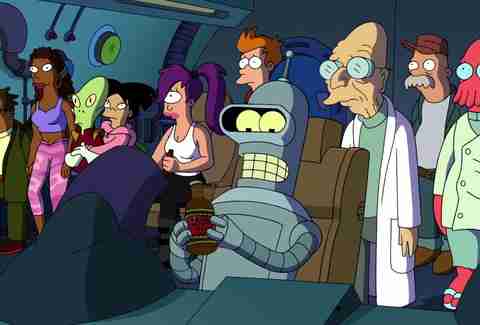 Futurama (1999-2003; 2008-2013)
Understandably, Futurama looks and feels like a little sibling to Matt Groening's Simpsons. The sci-fi toon imitates its big bro with a similar penchant for wordplay, pop-culture parody, political satire, and visual gags. But after a seven-season run, the story of Fry, a New York City pizza guy who becomes an interplanetary delivery worker after he's transported from 1999 to 2999, has come to boast an immersive, outrageously fun universe all its own.
Gilmore Girls (2000-2007)
In case you haven't heard, Netflix revived Gilmore Girls -- so you can catch up with this wisecracking mother-daughter duo before watching the four-episode follow-up. The show takes place in the quirky small town of Stars Hollow and features a dynamic supporting cast so fully fleshed, you'll feel like a local after your first hour. For extra credit, the Gilmore Guys podcast dissects the series episode by episode, providing a present-day watercooler for your thoughts on a 17-year-old show.
Halt and Catch Fire (2014-present)
Man, if you like how pseudo-psychotic, bold, and impossibly ahead-of-the-game Tom Hardy is on Taboo, you'll love Lee Pace on Halt and Catch Fire. Christopher Cantwell and Christopher C. Rogers' period saga sends the actor to Texas in the '80s, where he plays a tech visionary hell-bent on disrupting the computer revolution. Along with a top engineer (Scoot McNairy), a prodigy (Mackenzie Davis), and his new employer -- Cardiff Electric -- Pace & Co. race to clone and tweak IBM's processor to make more efficient, portable PCs. Loosely inspired by Compaq's real-life IBM rivalry, Halt and Catch Fire delivers with complex character relationships and top-notch acting (shout-out to the always-underrated Toby Huss). Also, great music.
Hap and Leonard (2016-present)
Writer-director Jim Mickle adapted Joe Lansdale's pulpy noir novel Cold in July before diving all in on adapting the author's rootin'-tootin' crime franchise. Hap Collins (James Purefoy) is an ex-con trying to make enough cash to stay afloat. Leonard Pine (Michael Kenneth Williams) is a gay black Vietnam vet with a short temper. Together they solve crimes -- and it never goes smoothly.
It's Always Sunny in Philadelphia (2005-present)
Few shows make us consistently laugh-cry like It's Always Sunny in Philadelphia, a dark cringe-comedy about a group of depraved jerks (comedy heavyweights Charlie Day, Glenn Howerton, Rob McElhenney, Kaitlin Olson, and Danny DeVito) doing horrible things to each other and the people around them. There are 10 seasons available on Netflix, but don't worry about binge-watching -- It's Always Sunny is the perfect show to drop in and out of. Even decade-old episodes keep the lovable dirtbags of Paddy's Pub up to recognizable, juvenile antics. It's a show about physical harm, drinking until puking, and wantonly setting things on fire.
Lady Dynamite (2016-present)
Maria Bamford's semi-autobiographical, surreal spin on mental illness in Hollywood was a summer sleeper hit for Netflix. The comedian's self-aware hijinks share obvious DNA with Arrested Development: Mitch Hurwitz and Pam Brady are executive producers; there are sight gags, wordplay, and mockery of Los Angeles idiocy galore; and it features countless comedy-world cameos, extended fantasy sequences, and genuine self-introspection. It'll take you a few episodes to get invested, or even to wrap your head around WTF you're watching. But once you're hooked, you're hooked.
Law & Order: SVU (1999-present)
Law and Order: SVU was designed for bingeing YEARS before on-demand streaming was invented, and while the original Law & Order was canceled in 2010, Special Victims Unit perfected the form and chugs along into its 18th season. Now that streaming is standard, you don't have to surf cable for a late-night insomnia salve or a hungover Sunday time-killer. You can drop in on Detectives Elliot Stabler and Olivia Benson whenever you desire the simple satisfaction of fighting for justice in an unjust world.
Lost (2004-2010)
Long before Damon Lindelof's The Leftovers bludgeoned viewers with its bracing emotional intensity, or J.J. Abrams became the crown prince of Wookieepedia, there was a show called Lost. While it has become increasingly hip to condemn the show's later seasons for any number of faults ranging from mawkish sentimentality to an over-dependence on wonky sci-fi tropes to gooey Touched by an Angel spirituality, the show itself retains all its brilliant power when viewed in a Netflix hatch, free of recaps, fan theories, and backlash. If you've never seen it, there's no better time to get wrapped up in its mysteries. And if you have -- well, as Jack would say, we have to go back!
Luther (2010-2016)
Idris Elba looks really good in a suit. There are plenty of reasons to watch Luther, but The Wire actor's calming sartorial presence has to be what draws most fans into this psychologically rich British detective drama. The Affair's Ruth Wilson also impresses as Alice Morgan, a manipulative murderer who becomes an obsession for Elba's weary cop John Luther. It's a cat-and-mouse game worthy of Hannibal Lecter and Clarice Starling. Plus, the whole Idris Elba-in-suits thing.
Mad Men (2007-2015)
Matthew Weiner knew where it was all going from the start -- and the AMC show's creator even warned us in the third-season premiere, via a Don Draper line to Roger Sterling: "I keep going to a lot of places and ending up somewhere I've already been."
The series spans many eras as we travel throughout time: the 1960s change the people around Don, and the second half of the final season, set in 1970, is momentous. Betty confronts her own mortality. Peggy discovers that true independence isn't as clean-cut as she thinks. Pete breaks his life in two so that he can put it back together again.
And then there's Don Draper: well-meaning, self-destructive, creative genius Don Draper, who dreams big and falls hard over and over and over again. Mad Men asserted itself as the Great American Television Show by being hyper-specific -- designed down to the desk stapler -- and universally opaque. We'll never stop talking about the ending, the beginning, and everything in between, so you'd better hurry up and get on our level if you're not already.
Making a Murderer (2015)
What begins like a standard-issue Dateline episode about Steven Avery, a rural Wisconsin ne'er-do-well wrongfully convicted of rape, turns, over the course of its 10 episodes, into a sharp, twin rebuke of unchecked law enforcement and the entire criminal justice system.
As the documentary team behind this essential Netflix binge, which rivals The Staircase and Serial season one in its capacity to inspire righteous anger and rabbit-hole quests for the truth, details without exceeding skill, justice for Avery and his nephew, tragically swept up in the deplorable affair, has most definitely not been served. This one is the bleakest on the list, so we advise you spread out your binge as much as possible.
Master of None (2015-present)
Netflix original Master of None is the perfect comedy for the "too much TV" era. Like a sampling platter at one of the hip restaurants Aziz Ansari's Dev likes to frequent, the show presents a series of familiar tropes -- showbiz satire, friends hanging out, family squabbles, a budding relationship -- without ever fully committing to one genre. Instead, Ansari and co-writer Alan Yang let their carefully honed comedic sensibility hold all of these disparate ideas together, moving elegantly between delightful absurdity (hello, PARO!) and melancholy self-reflection (goodbye, long-term relationships!) with ease.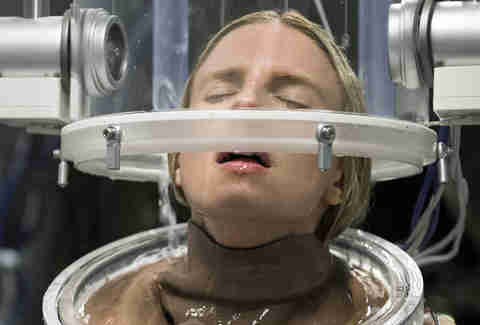 The OA (2016-present)
If Stranger Things was a little too basic for you, give this wonky sci-fi series from co-creators Brit Marling and Zal Batmanglij a shot. The otherworldly Marling stars as Prairie, a blind woman who returns to society after years in captivity and quickly starts a youth group with some troubled teens. It gets crazier from there. Yes, there's interpretive dance. Yes, there are weird flashbacks to Russia. Yes, it will leave you scratching your head and searching the internet for clues. But sometimes the crazy shows are the ones you love the most.
The Office (2001-2002)
Fans of Dunder Mifflin have Ricky Gervais to thank for the genesis of Michael Scott. This show's the OG, in other words. Though it only ran for two seasons, Gervais' British Office paved the way for a new wave of awkward comedy, turned banal jobs into fertile ground for producing side-splitting workplace laughs, and inspired Greg Daniels and Michael Schur to be their best. It's worth noting that Gervais' original character lives on in Netflix's Life on the Road -- the kind of catch-up project we'd love to see for a certain Agent Michael Scarn.
Netflix US & Canada/YouTube
Orange Is the New Black (2013-present)
The scripted original that put Netflix on the map (sorry, Kevin Spacey!), Orange is a comedy that will make you cry or a drama that will make your sides split, depending on how you want to categorize it. Featuring one of TV's best ensembles made up largely of unknown actresses, Jenji Kohan's show about life in a women's prison is full of fascinating, nuanced characters from all walks of life, who elicit empathy even as they make difficult -- sometimes morally reprehensible -- choices in order to get by.
Scandal (2012-present)
More often than not, Shonda Rhimes' political crisis management show plays like a stick of dynamite with an abnormally long fuse. Simply put: If you haven't heard Kerry Washington deliver one of Olivia Pope's blistering speeches, you haven't lived.
Sons of Anarchy (2008-2014)
Hogs. Guns. Booze. Led by actor Charlie Hunnam, Sons of Anarchy follows members of the eponymous motorcycle club as they wage war in NorCal's underground, one brimming with rival gangs, but devoid of speed limits and order. This is the kind of show where outlaws say shit like, "It isn't easy being king," while wearing lots of leather and sporting tattoos that look like the covers of Avenged Sevenfold albums. It's not all douche central, though, as creator Kurt Sutter makes sure to mix the action with compelling personal tragedies and conflict -- don't sell crank to someone's pregnant ex-wife, for example. You might be surprised how addicted you get to this show, which is well worth the ride.
Star Trek: The Next Generation (1987-1994)
After a string of The Original Series-inspired movies and miscalculations on how to revive the sci-fi franchise for television, Gene Roddenberry's Star Trek boldly went where no concept had gone before with The Next Generation, a shinier, headier, all-around better (yeah, we said it) saga in the United Federation of Planets' history. Led by Patrick Stewart and helped by an iconic supporting cast, The Next Generation followed the TOS mission to speculate about and empathize with social issues of the day, filtered through a lens of A-grade sci-fi writing that stands the test of time.
Netflix US & Canada/YouTube
Stranger Things (2016-present)
If you haven't binged Netflix's '80s paranormal throwback... what gives? It's all your friends talked about last summer, and the second season, due in October, looks bonkers. If you've already done your time in the Upside Down, bide your time with the time-jumping Travelers, the alien-invasion saga Colony, the goofy fantasy series Shannara, and the one-season mind-bender Awake.
Terriers (2010)
After he created The Shield -- one of the best dramas that's not available on Netflix -- TV veteran Shawn Ryan teamed up with screenwriter Ted Griffin (Ocean's Eleven) for this laid-back, sneakily poignant comedy starring Donal Logue and Michael Raymond-James as amateur detectives. It only lasted one season, but that was enough time to create a whole world of lowlives, ex-wives, and crooked real estate developers. Think of it as Inherent Vice meets Justified. It was exactly the type of smart, offbeat show that would run for years on a streaming site or obscure cable channel now, but, at the time, ended up a casualty of low ratings.
Top of the Lake (2013-present)
This enthralling seven-episode 2013 series, co-created, -written, and -directed by Jane Campion, follows a Sydney-based detective (Mad Men's Elisabeth Moss) as she tries to unravel a conspiracy in her small New Zealand hometown involving a missing 12-year-old girl, some dangerous locals, and a mysterious spiritual leader (Holly Hunter). You'll come for the great acting and careful plotting, but stay for the evocative misty-mountain visuals. It's the type of expertly made crime show that calms and unnerves in equal measure -- watch it before Season 2, starring Nicole Kidman, arrives on SundanceTV in 2017.
The Twilight Zone (1959-1964)
Every lauded sci-fi movie or television show owes Rod Serling residuals. Over 156 episodes, Serling speculated and dreamed, refracting his present day through the trippiest scenarios to ever beam through mild-mannered American homes. The Twilight Zone's visual prose took us to jungles, to space, to 20,000ft, and to the sunny block from every person's childhood, where the worst existential revelations tended to lurk. The Twilight Zone still speaks volumes. Buckle up and fly into a dimension not only of sight and sound, but of mind.
Twin Peaks (1990-1991)
David Lynch and Mark Frost's detective series is often credited with instilling television with artful potential. Without Twin Peaks, there'd likely be no Mad Men or Breaking Bad, (and both shows nodded to the ABC series). And yet, the show's dreamy, saturated look is really a cherry on top. Twin Peaks is a steady stream of oddball characters and fantastical twists, encountered by FBI Special Agent Dale Cooper (Kyle MacLachlan) as he hunts for the murder of a small town teenager. Your weird friends love this show. You should, too. It's finally time to understand those Log Lady Halloween costumes.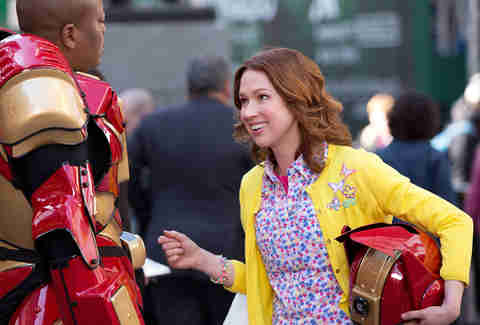 Unbreakable Kimmy Schmidt (2015-present)
Tina Fey and 30 Rock producer Robert Carlock's comedy tracks the adventures of an Indiana naïf after she is freed from being held captive by a doomsday cult leader for 15 years -- what a premise! Ellie Kemper plays the freed kidnapping victim, who heads to the Big Apple without a clue on how to exist in the modern world. Luckily, Titus, a penny-pinching, Broadway-belting man in desperate need of a roommate, takes her in and trains her in the art of living. Kimmy Schmidt clings to 30 Rock's goofy sense of humor and drops the cynicism. Beware: it'll take three binges just to catch all the jokes.
The West Wing (1999-2006)
Don't hold The Newsroom against him: Aaron Sorkin's political fable is smarter, funnier, and less bombastic than some of the Oscar-winning screenwriter's later television work. In telling the story of President Jed Bartlet (Martin Sheen) and his workaholic senior staff, Sorkin found the perfect subject matter for his farcical, monologue-heavy, walk-and-talk style. Though the show lost some of its charm when Sorkin left after the fourth season, the later episodes -- complete with an Obama-like presidential candidate played by Jimmy Smits -- work as a liberal wish-fulfillment fantasy in these very, uh, un-Bartlet-ey times.
Wilfred (2011-2014)
Describing the American version of Wilfred is a surefire way to deter someone from watching it, but here goes: Elijah Wood plays a deeply depressed, probably psychotic man who sees his love interest's dog as an Australian man in a dog costume, and the two develop a deep, if fraught, friendship. It sounds terrible, right? But it's one of the funniest, most nuanced portraits of mental illness on television, and it rewards dedicated viewers with a man-vs.-self mystery-thriller vibe balanced by "this guy is talking to a literal dog" levity. Certainly not for everyone, but once you're in, you'll be hooked.
The Wonder Years (1988-1993)
ABC's everyday-life dramedy series was so accurate in its re-creation of 1960s suburbia that many mistake the nostalgia play for the real thing. Much of the success is about tone; Kevin Arnold's rambling life isn't overloaded with sitcom hijinks or saccharine woe-of-the-week hijinks. He's watching the real world -- highs and lows, intimate moments encased in Vietnam protests, all happening at once. It's the ultimate family show, and thanks to the shifting tides of TV today, it'll likely stand with that honor forever.
Sign up here for our daily Thrillist email, and get your fix of the best in food/drink/fun.
Other Stuff You'll Like In Stream On