All the Romantic Shows and Movies to Watch on Netflix This Valentine's Day
Roses are red, give us a soufflé because, uh, holy crap, it's freaking Valentine's Day. Yeah, that day where it's either the best (if you're a romantic), or the worst (if you're not) is finally here. Regardless of which one you are, we've got some eclectic Netflix recs readily available to stream and make this day either better or... better. Enjoy.
Columbia Pictures
13 Going on 30
What if Big, the Tom Hanks classic about a little boy upgraded to an adult body, got gender-swapped? Jennifer Garner showed us what that would look like in this feel-good rom-com, which transports her 13-year-old Jenna from her 1987 birthday party to adulthood 17 years later. Wouldn't you know, wish fulfillment isn't all it's cracked up to be -- but Mark Ruffalo makes it bearable as Jenna's charming love interest.
Netflix
Atypical
Robia Rashid's ambitious family dramedy centers on an autistic 18-year-old named Sam (It Follows' Keir Gilchrist) who's seeking a girlfriend and independence. The writers carefully employ therapy sessions and asides to shed light on autism, moves that are always more enjoyable than didactic. The humor sprinkled throughout rarely comes at the expense of its protagonist (N.B. great fun facts about penguins and Antarctica). And the show touts a message of inclusion and compassion, no matter the circumstances, to which all viewers can relate. It's an emotional eight-episode ride, one that might get off to a clunky start, but one that's ultimately worth the investment, especially considering the bite-size runtimes and the heft that sucker-punches you at the end.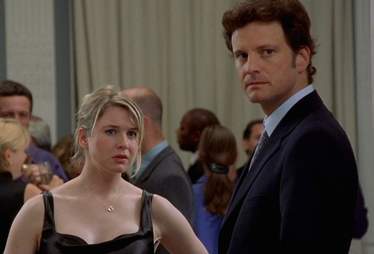 Miramax
Bridget Jones's Diary
One of the quintessential early-aughts rom-coms, and possibly the seminal modern romance based around a notebook (sorry, The Notebook!), Bridget Jones is a wickedly funny Pride and Prejudice remake that forces Renee Zellweger's discombobulated anti-heroine to choose between two equally dashing Brits-with-Jane-Austen-acting-credits: Colin Firth's prissy Mark Darcy and Hugh Grant's womanizing Daniel Cleaver. The ultimate rom-com Sophie's Choice. (Fans will also be happy to know that Bridget Jones's Baby is also streaming.)
Buena Vista Pictures
Can't Buy Me Love
Want a good excuse to see McDreamy before he was McDreamy? Steve Rash's quirky '80s teen comedy will transport you and Patrick Dempsey back to high school, where his nerdy character (a "social leper") pays the most popular girl there (the late Amanda Peterson) $1,000 to be his girlfriend. Along the way, the couple teaches each other important social lessons, experiences great hairdos, and, oh yeah, takes part in this insane and real dance scene. Queue it up.
Magnolia Pictures
Drinking Buddies
This understated gem from mumblecore master Joe Swanberg centers on the intimate relationship between hard-drinking brewery colleagues Jake Johnson and Olivia Wilde, who both also happen to be dating other people (Anna Kendrick and Ron Livingston, respectively). The two relationships get progressively entangled over the course of the film. Although Drinking Buddies starts out looking like a traditional rom-com, Swanberg quickly subverts viewer expectations, resulting in a film that is romantic but surprisingly devoid of sap, funny without falling back on cheap gags. This is a movie that moves along in small moments: a lingering glance, an awkward silence, a stolen kiss. A crisp, refreshing little film.
Netflix
Easy
Joe Swanberg's bingeable anthology tackles the trials of love, sex, and art in Chicago. Sitting down to watch this series is like ripping through a string of short films, or like having a more romantic High Maintenance marathon. The good news? These episodes are all 10 times better than what you probably think of when you see the words "short" and "film" together.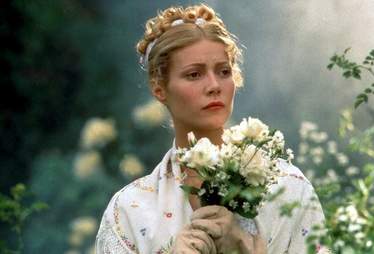 Netflix
Emma
The movie that made pre-GOOP Gwyneth Paltrow a bona fide movie star is an adaptation of the Jane Austen-penned classic, with all the biting sarcasm undergirding the seemingly traditional romantic setup. Paltrow is at her best as a semi-self-aware target of ridicule -- a matchmaker who doesn't realize she's a bad matchmaker -- and if you're a fan of Austen in particular or Romantic-era, um, romances more generally, Emma faithfully executes a straightforward adaptation.
Netflix
The End of the F***ing World
As we've noted, The End of the F***ing World isn't your average teen drama. The show, adapted from the popular Charles Forsman graphic novel of the same name, follows a 17-year-old named James as he tries to become the psychopath he thinks he is. Though it sounds a little bit like Dexter Jr., it's really more of a fucked-up love story sans the cliché six-packs and twee romances -- something somewhere between Juno and Twin Peaks. In this series' twisted world, to murder means to mature. It's dark and creepy, but it also offers enough humor and tenderness to make what turns into a chaotic road trip endearing. Or, as showrunner Jonathan Entwistle told us, "It's an angsty teen story, but with an adult execution" -- the word "execution," in this case, carrying particular weight. Binge it.
Netflix
Friends From College
This show, from husband and wife duo Nicholas Stoller and Francesca Delbanco, looks like an ensemble comedy, but it's much more of a fucked-up love story. When you hit play, you'll meet two cheaters and their friends from Harvard, all of whom make some reaaaaaally bad decisions. If you think the characters are unlikable, that's the point. This is kind of like the 30-minute dramedy version of the anti-hero story Hollywood has been obsessed with for years, just with an entire group of morally gray characters. The tone can be confusing at times -- you'll see a few genuinely goofy scenes and then buckets of cringeworthy moments -- but the stacked cast and the thought-provoking storylines ultimately deliver.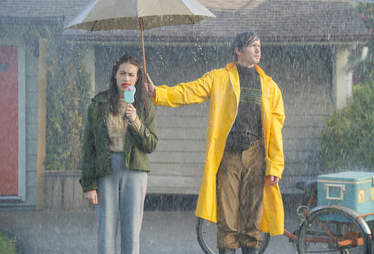 Netflix
Haters Back Off!
Not bingeworthy, but definitely a must-watch, Haters Back Off! gives web celebrity Miranda Sings the show she's wanted and deserved for years. You'll laugh, cringe, and maybe cry, as Colleen Ballinger's viral YouTube character strives for fame at all costs. Also, underpinning much of the series' action is a mostly hopeless love story that will frustrate you in Season 1 and thrill you, as it turns into a true emotional roller coaster, in Season 2.
Netflix
Love
If you're tired of high-concept romantic comedies, Love is a slow-motion dissection of a relationship that's thoroughly unremarkable. That's part of the appeal: The two protagonists Gus (Paul Rust) and Mickey (Gillian Jacobs) are flawed, complex individuals who likely have the same quirks as your friends. Jacobs, a stand-out on NBC's Community, brings a raw emotional vulnerability to her role as an addict, and she's never been better than during her grueling trip to the Magic Castle in Season 1. Occasionally, episodes can feel like deleted scenes from producer Judd Apatow's Knocked Up or Funny People stretched into overstuffed short films. But, like many long-term love affairs, it's worth putting in the work.
Focus Features
Moonrise Kingdom
This living storybook reworks Wes Anderson's subdued sense of humor for a YA crowd. When two teenagers go on the lam during a record-setting hurricane, the capricious adults spin in circles while romance blossoms. Anderson enhances this cheeky love story with his visual stamp, ensuring that even book covers and music cues inspire laughter.
IFC Films
Y Tu Mamá También
Before taking us to space with Gravity, director Alfonso Cuarón steamed up screens with this provocative, comedic drama about two teenage boys (Diego Luna and Gael García Bernal) road-trippin' it with an older woman. Like a sunbaked Jules and Jim, the movie makes nimble use of its central love triangle, setting up conflicts between the characters as they move through the complicated political and social realities of Mexican life. It's a confident, relaxed film that's got an equal amount of brains and sex appeal. Watch this one with a friend -- or two.
Sign up here for our daily Thrillist email and subscribe here for our YouTube channel to get your fix of the best in food/drink/fun.

Follow the Thrillist Entertainment editors on Twitter @ThrillistEnt.