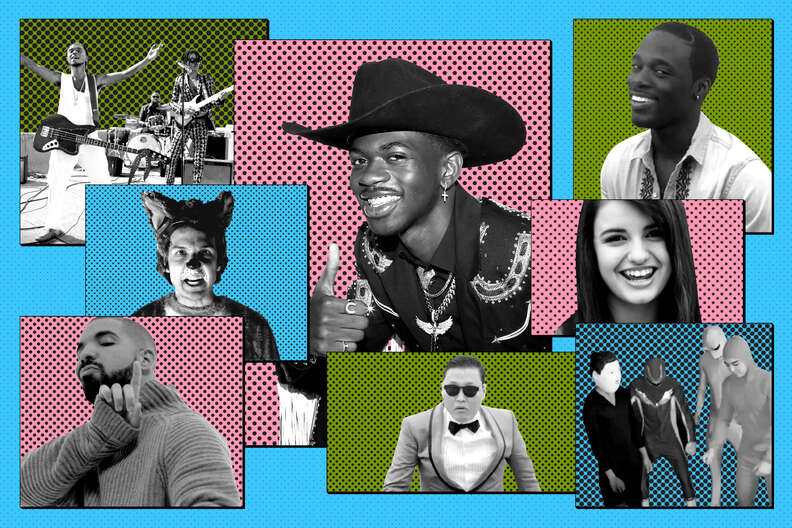 The Decade of Viral Songs That Paved the Way for Lil Nas X's 'Old Town Road'
In August of 2013, I peeked behind the curtain of an institution I previously only knew as a fan. As a newly hired music editor at a hip-hop magazine, I went into pitch meetings with detailed notes -- biographical anecdotes, radio chart performance, and the ephemeral "industry buzz" -- and made passionate arguments for different rappers to the editor-in-chief, who would choose rising stars to be featured in the print issues using a criteria that combined risk-management, trend-forecasting, and tastemaking. The process was mysterious, like choosing a pope if the pope was the Holy Trinity of Migos.
Even then, it was obvious the traditional methods used to measure popularity were under siege. This was a turbulent time in hip-hop -- drill music in Chicago; Odd Future in California; Future in Atlanta; Kendrick Lamar's verse on "Control" on the radio; Drake blasting constantly no matter where you went -- and yet, the most popular rap song of the year was the unapologetically cheesy "Thrift Shop," a novelty track with an R. Kelly piss joke and Macklemore wearing a Batman onesie in the video.
In February of that year, Billboardbegan incorporating YouTube play counts into its Hot 100 formula, allowing Baauer's viral-dance-inspiring "Harlem Shake" to temporarily unseat "Thrift Shop" from the number one spot for five weeks. At the time, Slate critic Chris Molanphy wrote, "YouTube is how pop hits are made in the 2010s." This shift was palpable during the pitch meetings when I worked at the magazine. Could you trust the constant memes and shaky metrics of the platforms, which attempted to provide a snapshot of what mattered in hip-hop? Or was the internet not telling the real story?
It never got easier. Eventually I was fired (cost cutting, restructuring, etc.), but since then, I've remained fixated on the relatively organic and stealthily manufactured ways new musicians bubbled to the surface, occasionally writing about them for this website. As the tools of virality became even more important to music fans, media members, industry professionals, and many of the artists themselves in the passing years, the stress of my brief time at the magazine resurfaced like an old song popping up on a playlist. Typically, I'd press skip.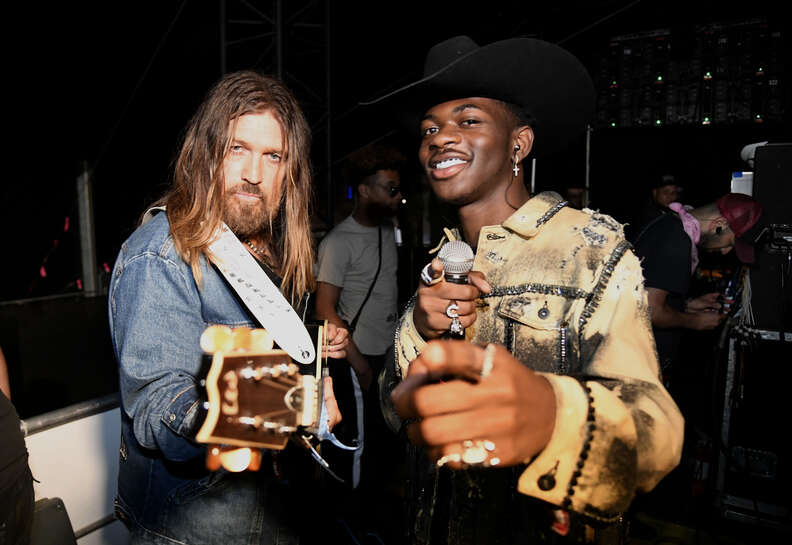 Then, Lil Nas X broke big and those memories came flooding back: With his hit "Old Town Road," a country-rap hybrid engineered for maximum online impact, the 19-year-old spent a record-breaking 19 weeks atop the Billboard Hot 100 Chart. Powered by a potent combination of "yee-yee jucie" videos on TikTok, genre classification controversy, zeitgeist-capturing remixes, and a cameo-filled video, the song made him the biggest music story of the year. In the New York Times, music critic Jon Caramanica described Lil Nas X as "a modern celebrity in the sense that the ballast of his success isn't any particular artistic expertise, but rather a capacity for reaction." Depending on your vantage point, he's the logical endpoint of a transformative decade or a symbol of what the future might hold. He's virality incarnate.
Crucially, "Old Town Road" is a novelty song where the listener never feels bad about laughing along with the track. The inherent comedy, a gleeful and arch tweaking of cowpoke clichés, is a part of the package. As writer Alphonse Pierre noted in his largely negative Pitchfork review of Lil Nas X's first EP, which arrived months after the song's rise up the charts, the track broke out partially because "everyone was in on the joke, and if you tried to criticize the joke, you were now the joke who was trying to ruin everyone's fun."
The same could not be said for the most significant viral video of 2011. In 2010, Nigerian music producer Patrice Wilson and Australian songwriter Clarence Jey founded ARK Music Factory, a biblically named music production company that offered its clients a shot at fame. At the beginning, Wilson would charge $800 to write a song, create a video, and promote the single. "The key to it becoming popular is to keep it very simple and have repetitive words," Wilson told The Believer in an interview from 2014, providing the template for most viral hits.
When Georgina Marquez Kelly bought ARK's services for her daughter, she paid $4,000. The song that resulted from those sessions, Rebecca Black's insidious earworm "Friday," would go on to become a cringe-inducing sensation, the type of song people sent to each other with incredulous messages like "Worst. Song. Ever." Given the possibly nostalgic feelings many now have for the song and the video, which was eventually parodied in Katy Perry's "Last Friday Night (T.G.I.F)" video from 2011, it's easy to forget the cruel streak that drove the song's early success. The track received an early signal boost from Tosh.0, the Comedy Central late night series that relished in mocking the internet's latest creations.
Black was hardly the first object of ridicule of pop's internet era -- early American Idol thrived on the dismissal of "bad" singers and the sixth season saw the rise of Howard Stern favorite Sanjaya Malakar -- but she was indicative of a subtle change taking place. While the '90s and the '00s were dominated by former Disney and Nickelodeon child stars, the '10s promised an era of increased democratization.
"Teen stars are leaking out of their usual spaces," said NPR's Ann Powers in an interview at the time. "We're seeing them on television competitions and then YouTube is allowing kids to gain these huge followings in ways that never was possible when they were working through the conventional music industry."
New social platforms minted new stars, many of whom were not absorbed into the music industry with the same goldrush intensity that later greeted Lil Nas X. In 2015, the short-video app Vine, which became a site of experimentation for mostly black teenagers uncompensated for their labor, hosted a six-second clip of college student Nicholas Fraser's transcendent "Why You Always Lying," an absurd flip of Next's '90s R&B song "Too Close." Complex dubbed it potentially the "Song of the Summer" and The Guardian opined that it "exposes a fundamental truth of our time."
Fraser's video currently has 78.5 million loops on Vine and 27 million views on YouTube, but those numbers don't really capture its nimble versatility as a meme. Though it shares a joyful sense of humor with "Old Town Road," "Why You Always Lying" was more of an outright parody and Fraser never crossed over into the world of the Billboard charts, unlike other Vine-affiliated breakout stars Shawn Mendes, Sage the Gemini, and Bobby Shmurda.
Less dependent on newer forms of social media, Psy's 2012 wedding staple "Gangnam Style" and Ylvis's 2013 electronic dance gibberish "The Fox (What Does the Fox Say?)," two quirky hits from international artists, proved more capable of earning mainstream recognition. Of the two, "Gangnam Style," with its stylish singer and outlandish, expensive-looking video, ended up reaching greater heights and helped establish K-pop on a global scale. While "The Fox" peaked at six on the Hot 100, "Gangnam Style" hit number two, and would have likely held onto the number one spot for a few weeks if YouTube streams were counted in the chart formula a year earlier, in 2012.
The question of what specific data get tabulated hangs over the conversation about virality. In 2016, the young Mississippi hip-hop duo Rae Sremmurd, who first broke through with singles like "No Flex Zone" and "No Type," scored a number one chart hit with "Black Beatles," a track that served as the background music for many "mannequin challenge" videos. (It exploded around the same time as dance-based mid '10s viral hits like "Juju On That Beat (TZ Anthem)" by Zay Hilfigerrr and Zayion McCall and "Watch Me (Whip/Nae Nae)" by Silentó.) As the song played in the background, the camera would glide around goofy tableaus of groups frozen in motion. Like with "Old Town Road," the approval, endorsement, and participation of other celebrities aided the song's longevity, with artists like Taylor Swift and Paul McCartney staging their own "Black Beatles" scored versions of the challenge.
Rae Sremmurd were an already established act in 2016, but "Black Beatles" pushed the pair into a new stratosphere. Over the course of the decade, riding the wave of a meme became an often required, potentially awkward part of a release roll-out for many major label artists. Think of the pre-packaged viral fodder of Drake's 2015 "Hotline Bling" video or the "one taught me love" meme format that accompanied Ariana Grande's "thank u next" in 2018. For powerful artists, virality is another tactic to be weaponized; for newcomers, it can be more perilous. As writer David Turner recently described in his essential Penny Fractions newsletter, "sudden, unplanned, viral success is a danger to one's career and is framed to be a once-in-a-lifetime experience."
In 2019, describing a popular song as "viral" is a little redundant. If a track from a previously unknown or obscure artist reaches a certain level of ubiquity, it was likely launched into the public consciousness through the ever-evolving technological means of a viral hit. (Earlier this year, Lizzo's "Truth Hurts" exploded after soundtracking a dance scene in the Netflix romantic comedy Someone Great and subsequently inspiring the "#DNA Test Challenge" on TikTok.) The Lil Nas X phenomenon is unique for the way his narrative blended together so many elements of the previous viral decade: the gradual breakthrough, the ensuing debate, and the corporate coronation, played out across social media and award show stages, all took on a super-charged, self-consciously hypernormal quality.
Entering the 2020s, the utopian optimism of the viral hit, which presents tech companies as the financial savior of the music industry, will hopefully fade, allowing individual artists to play a more significant role in determining their futures. At the same time, the viral hits that do occur will likely become even more world-swallowing, signs of a pop music landscape caught in a state of unceasing war with itself. The digital attention economy -- one run on views, clicks, likes, and engagement -- will not simply collapse under its own weight one day. What does that leave the listener?
Music discovery doesn't have to be driven by a streaming algorithm, an Instagram post, a stray tweet, the recommendation of a website, or the pages of a magazine. In the 2016 book Uproot: Travels in 21st Century Music and Digital Culture, artist Jace Clayton, who creates music under the name DJ /rupture, writes at length about the search for new sounds. After stating that the music business has always been nonsense, an arena where bestsellers "subsidize the operations of everybody else," he writes that those conditions give the curious listener a "license to keep listening further afield, to chase the sound around the corner, to understand that the spotlight follows the money but our ears are free to go elsewhere." That freedom to go elsewhere is perhaps one path forward, an old road out of a new town that grows harder to escape by the day.
Editor: Leanne Butkovic
Writer: Dan Jackson
Editorial Assistant: Sadie Bell
Graphic Designer: Megan Chong