War is hell -- but war movies can be pretty damn entertaining. Some of the military films below make you laugh, some make you cry, and others will just plop you right in the middle of the action. But they have one thing in common: They're all available to stream on Netflix. So strap in, soldier, and get bingeing.
Recommended Video
This Clock Tracks Your Loved Ones Like the Clock in 'Harry Potter'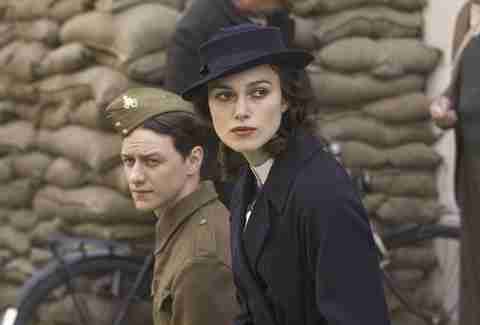 Atonement (2007)
This sweeping romantic epic, based on the Ian McEwan novel of the same name (which is worth a read, though we're afraid you won't find the book on Netflix), sends Robbie (James McAvoy) off to fight in World War II, and he finds himself in the middle of Britain's retreat from the Germans on the shores of Dunkirk Beach. Director Joe Wright pulled off a tragically beautiful five-and-a-half-minute tracking shot of the whole ordeal that'll break your heart if Robbie's separation from his love Cecilia (Keira Knightley) didn't already.
The Battle of Midway (1942)
One of the best American propaganda films of all time, John Ford's Oscar-winning documentary covers the titular World War II battle. Ford was right there, dangerously filming as the action took place, and at one point you really get the sense of the threat as the camera appears to jump out of the way. Also featuring a lighter sequence with voice-over from Henry Fonda and Jane Darwell, this is an important work and a great mix of exposition and experience.
Beasts of No Nation (2015)
True Detective Season 1 director Cary Fukunaga's wartime drama is not a movie you put on in the background. Adapted from Uzodinma Iweala's novel of the same name, this visceral character study tracks a preadolescent Agu (Abraham Attah) after he's recruited to be a child soldier in an African civil war (its specifics are left purposely ambiguous). Lorded over by a gruff commander (Idris Elba), the movie is loud, tender, and violent -- a coming-of-age story in which the characters may not live to come of age. 
First They Killed My Father (2017)
Angelina Jolie is a full-on humanitarian filmmaker these days. Not her first foray in directing a war movie, First They Killed My Father is maybe the most intense; it's based off a memoir of the same name written by Loung Ung, a friend of Jolie's who lived through the Khmer Rouge's brutal rule of Cambodia from 1975 until her escape from the country in 1980. It's a sad, empathetic story of the atrocities following the Cambodian Civil War that hardly gets enough attention in the West.
Full Metal Jacket (1987)
Stanley Kubrick's vicious critique of the American military and masculinity is almost two movies in one; the first part, about a group of ragtag marines trying to survive the relentless discipline of their sergeant, is best remembered for brutality and R. Lee Ermey's screaming. The second half, which follows Matthew Modine's "Joker" Davis into war, isn't as poignant, but in Kubrick's hands, is absolutely potent.
The Hurt Locker (2008)
Before director Katheryn Bigelow and writer Mark Boal made the CIA-torture propaganda movie Zero Dark Thirty, they each won Academy Awards for their depiction of Explosive Ordnance Disposal units in Iraq. It exaggerates the day-to-day realities of the Iraq War, but the thesis -- war is a drug -- implies that it's possible to get hooked, turning a nation and its soldiers into addicts. Not quite as rah-rah American as the duo's follow-up.
The Imitation Game (2014)
Alan Turing, inventor of the Turing Test which evaluates an AI's ability to destroy us all, is up there on the list of most important computer scientists of all time. Before delving into his AI research, he was a subversive essential part of World War II as a British code breaker of the German's transmissions. Benedict Cumberbatch brings Turing's story to life in this historical drama also starring Keira Knightly as a young cryptographer.
Inglourious Basterds (2009)
While this World War II saga isn't quite as cohesive as other Tarantino works, it might be his most entertaining, with scenes of high-tension verbal sparring and scalp-smashing mayhem, all erupting when Tarantino's band of vigilantes (led by Brad Pitt's drawl-heavy Lieutenant Aldo Raine) gun down their German rivals in a blaze of glory. Basterds is also notable for introducing America to Christoph Waltz, who won the Oscar for his performance as silver-tongued sociopath Colonel Landa, one of the most compelling film villains in forever. The movie's opening scene -- a 15-minute-long, dread-soaked verbal chess match where Landa linguistically and physically encircles his prey -- is a high-water mark in Tarantino's filmography.
The Look of Silence (2015)
Joshua Oppenheimer is responsible for two of the most essential documentaries of the decade, each grappling with the consequences of Indonesian genocide still rippling 50 years after the fact. The Look of Silence is the follow-up to The Act of Killing, where Oppenheimer gave the men who formerly ran death squads resources to produce a Hollywood-style dramatization of their crimes. The Look of Silence is from the perspective of the aching victims: a man confronts the people responsible for murdering his brother and thousands of others. Though chronological viewing of the two films isn't required, it does make The Look of Silence an enhanced version of an already powerful experience.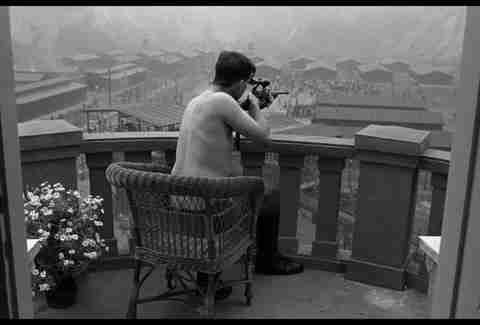 Schindler's List (1993)
It's time to get around to the insanely classic WWII movie you know you're supposed to have seen but haven't watched yet. Liam Neeson's friendly-with-Nazis Oskar Schindler takes in Polish Jews fleeing Nazi capture to keep his enamel factory afloat, but when he witnesses the genocidal massacre in the Krakow Ghetto, he finds his empathy, ditches his business interests, and dedicates his time to saving as many people as he can. Steven Spielberg directs and John Williams scores this depressing black-and-white Best Picture Academy Award winner.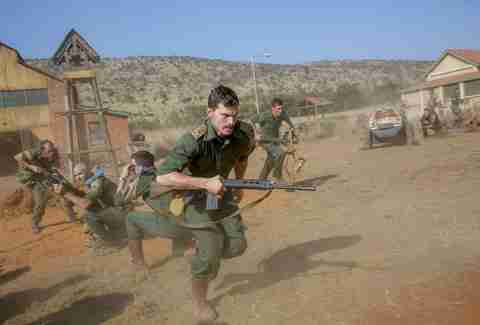 The Siege of Jadotville (2016)
Do not look to this Netflix original movie for a compelling examination of the Irish military's 1961 efforts to hold strong against an incursion from the recently seceded State of Katanga. The Congolese war conflict is well-documented in historical tomes. But do look to The Siege of Jadotville for visceral action cut from the classic man-on-a-mission cloth. Fifty Shades of Grey and The Fall star Jamie Dornan is a regular Gary Cooper as the leader of this unprepared crew, and his work in the heat of battle is astonishing.
Troy (2004)
Troy is a movie of bold haircuts -- long-haired Brad Pitt! shaggy haired Eric Bana! mulleted Sean Bean! Orlando Bloom with ringlets! -- but also one of amazing costumes having been nominated for an Oscar in 2004. Not just an action film of frivolity, it tells the story of the mythical war between Sparta and Troy from The Iliad adapted by David Benioff -- a fitting early script for the future Game of Thrones co-creator. It's the most mid-aughts version of the Greek epic; in other words, it's the best one.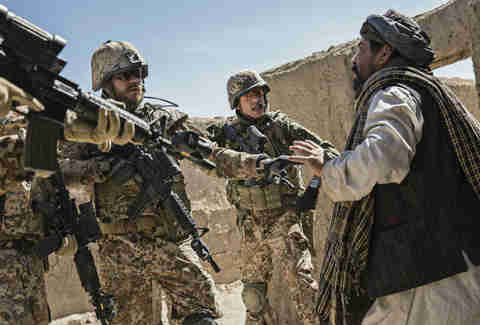 A War (2015)
Game of Thrones actor Pilou Asbæk stars as the commander of a Danish military company touring Afghanistan who comes under fire after calling for an air raid without following protocol. His moral decisions are dubious and his legal strife devolves into shady business. Tobias Lindholm's film depicts the ripple effect of war on both the psyche and macro-actions of troops in the trenches. This movie easily nabbed a nomination for Best Foreign Language Film back in 2016.
Sign up here for our daily Thrillist email and subscribe here for our YouTube channel to get your fix of the best in food/drink/fun.