The Best War Movies on Netflix
Some of these titles are action-packed, and some bring on the tears.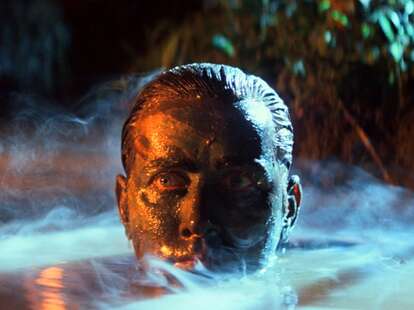 War is hell—but war movies can be pretty damn entertaining. Some of the military films below make you reflect, some make you cry, and others will just plop you right in the middle of the action. But they have one thing in common: They're all available to stream on Netflix. So strap in, soldier, and get bingeing.
Apocalypse Now Redux (2001)
Reimagining Joseph Conrad's Heart of Darkness as a Vietnam war story brilliantly and brutally connects the dots between the height of the colonial era to its post-colonial fallout. Director Francis Ford Coppola's famous opening scene sets the stage for Captain Willard's (Martin Sheen) cursed mission to terminate Colonel Kurtz (Marlon Brando), who's gone rogue on the wrong side of the Cambodian border. This 2001 rerelease of the 1979 classic was reedited and remastered with 49 minutes of extra footage.
Beasts of No Nation (2015)
Cary Fukunaga's (True Detective) wartime drama is not a movie you put on in the background. Adapted from Uzodinma Iweala's novel of the same name, this visceral character study tracks a preadolescent Agu (Abraham Attah) after he's recruited to be a child soldier in an African civil war (its specifics are left purposely ambiguous). Lorded over by a gruff commander (Idris Elba), the movie is loud, tender, and violent—a coming-of-age story in which the characters may not live to come of age.
Braveheart (1995)
Mel Gibson wrote, directed, and starred in this Oscar-winning biopic of 13th-century badass William Wallace, who led his fellow Scots to kilt-wearing victory against King Edward I of England. True to the style of Passion of the Christ and Hacksaw Ridge, Braveheart is sweeping and fittingly gruesome in the heat of battle. Backed by both Gibson's inspirational speeches and James Horner's classic score, it's an epic worthy of the Best Picture Oscar.
Da 5 Bloods (2020)
Exploding with historical references, directorial flourishes, and flashes of combat action, Spike Lee's winningly spry war epic Da 5 Bloods is a movie that embraces the inherent messiness of its subject matter. At first, the story sounds simple enough: four elderly Black veterans, each with their own personal trials and tribulations, return to Vietnam to recover the remains of their beloved squad leader Norman (Chadwick Boseman) and search for a shipment of gold they buried in the jungle decades ago. But Lee, pushing the movie in sharply funny and emotionally fraught directions depending on the demands of the scenes, refuses to approach the Treasure of the Sierra Madre-like set-up in a straight-forward manner. Instead, the movie pings between the MAGA-hat speckled present and the bullet-ridden past, using his older actors in the flashbacks as their younger selves to underline the inherent strangeness of time's passage. While some of the detours might test your patience, particularly once the men discover the gold and start arguing over what to do with it, the powerful ending, which becomes a moving showcase for the great Delroy Lindo, makes this a long journey worth embarking on.
Extraction (2020)
Tossing aside Thor's massive hammer and trimming his gnarly Avengers: Endgame beard, Chris Hemsworth picks up an assault rifle and gets to work in Extraction, a Netflix shoot-em-up that re-teams the Australian actor with his former Marvel filmmaking buddies Joe and Anthony Russo, who produced the project. (Joe wrote the bullet-ridden screenplay, which is based on the 2014 graphic novel Ciudad.) While Hemsworth's gun-toting commando protagonist Tyler Rake—yes, that's his name—lacks comic-book superpowers and Norse god strength, he can take a beating and keep fighting, a quality that serves him well as he rescues and protects the child of an Indian drug kingpin in this slick, propulsive thriller.
First They Killed My Father (2017)
Few Hollywood movies have detailed the horrors of Pol Pot and the Khmer Rouge's rise to power in Cambodia in 1975—the genocidal revolutionary movement isn't exactly the backdrop for the next Titanic. But Angelina Jolie, who developed a close connection to the country when she first visited during the shoot for Tomb Raider, brings the gloss of big-budget movies to this horrifying-but-tender adaptation of Loung Ung's memoir of the same name. Like Spielberg's Empire of the Sun, First They Killed My Father tracks the Cambodian diaspora from city living to makeshift, military-run farm communes, all from the perspective of 7-year-old Loung. Jolie rarely wavers, witnessing violence from down low and leaving reality behind in moments of escapism. First They Killed My Father is a little too picture-perfect, considering the grime of life under Pol Pot, but Jolie pours her heart into telling the story, and it shows.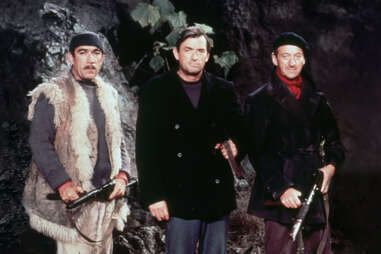 The Guns of Navarone (1961)
Among the big epic World War II movies made towards the end of the '50s and the beginning of the '60s, J. Lee Thompson's The Guns of Navarone doesn't quite have the same name recognition as The Bridge on the River Kwai or The Great Escape. But this two-hour-plus adventure, which Quentin Tarantino drew on when he made his own bullet-ridden Nazi-fighting film with Inglourious Basterds, is certainly worth suiting up for. Based on a novel by When Eagles Dare author Alistair MacLean, The Guns of Navarone follows Gregory Peck's Captain Keith Mallory as he leads a team of men on a dangerous mission to take out a German command center. As you'd guess, plenty of fighting ensues.
Les Misérables (2012)
Tom Hooper's adaptation of Les Misérables is a glorious spectacle in bringing stage to screen—one that's earnestly flooded with emotion. Set against the anti-monarchist June Rebellion of 1832, the epic follows the redemption story of Jean Valjean (Hugh Jackman) who was imprisoned for stealing bread and, once freed, volunteers to look after the daughter of a factory worker (Anne Hathaway) as he continues to run from the ruthless officer Javert (Russell Crowe) after breaking parole. Even those who roll their eyes at musical, particularly sung-through ones, will be impressed by this explosive period piece and each member of its scene-stealing ensemble. It's a blockbuster through and through.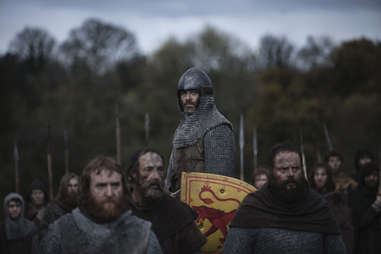 Outlaw King (2018)
Chris Pine portrays Robert the Bruce, a famous Scottish rebel in this gritty period piece. Robert—who showed up as a character in another gritty period piece about a Scottish rebel, Braveheart—does as most rebels do and defies the King of England, igniting a battle over the ultimate fate of Scottish FREEEEEEEEEEDOOOOOOOMMMMMM. The movie sparked a bit of buzz when it premiered at Toronto Film Festival, mostly because it features full-frontal nudity from Pine (don't get too excited, it's brief), but also because critics found it so boring that Netflix decided to cut 20 minutes from the film before its release. The result meanders less, and it's by no means an action-packed saga, but if you're into medieval history and a gritty Pine, you may as well charge towards the Scottish highlands when there's nothing else to watch.
The Patriot (2000)
God bless America! Roland Emmerich's Revolutionary War film may not be the most historically accurate, but he manages to turn the moment that's taught in every history classroom year after year into a blockbuster that's melodramatic and red-blooded. The film stars Mel Gibson as a colonist who joins the war after his son (Heath Ledger) ends up caught in the fighting. If you're looking for Hollywood's grandest take on the dawn of the country, this is it.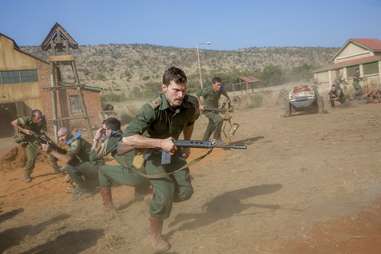 The Siege of Jadotville (2016)
Do not look to this Netflix original movie for a compelling examination of the Irish military's 1961 efforts to hold strong against an incursion from the recently seceded State of Katanga. The Congolese war conflict is well-documented in historical documents. Do look to The Siege of Jadotville for visceral action cut from the classic man-on-a-mission cloth. Fifty Shades of Grey and The Fall star Jamie Dornan is a regular Gary Cooper as the leader of this unprepared crew, and his work in the heat of battle makes this movie part throwback, part direct-to-DVD-style spectacle.
J.C. Chandor, the filmmaker behind the tense finance drama Margin Call and the '80s crime saga A Most Violent Year, directs an outstanding ensemble cast in this action-thriller. The burly squad of ex-military commandos pulled together by Oscar Isaac's Santiago Garcia, a private contractor overseeing deadly drug enforcement operations in Colombia, is a ragtag team of action movie archetypes: There's the sad, real-estate-selling divorced dad who looks like he'd rather be vaping (Ben Affleck); the noble, buff warrior stuck giving rote speeches about his past glories (Charlie Hunnam); the taciturn, hat-wearing helicopter pilot the filmmakers didn't bother outfitting with a backstory (Pedro Pascal); and the other dude (Garrett Hedlund) who does amateur MMA fights. Together, they decide to rob a drug kingpin hiding out in the South American jungle, but obviously things don't always go according to plan.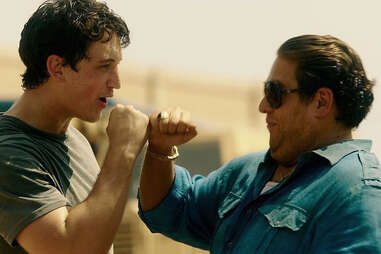 Jonah Hill and Miles Teller revolutionize the arms business in Todd Phillips' wild wartime dramedy. As real-life dealers David Packouz and Efraim Diveroli, the big-screen duo wins a $300 million Pentagon contract that changes their lives forever. Sounds great on the surface, sure. But if ever there were a movie that embodies the cliché "more money, more problems" story, it's this one.
War Machine (2017)
Not every war film has to be a depressing tale. War Machine, for one, is a satirical look at power-hungry personalities in the military and politics. In the Netflix original, Brad Pitt stars as overly proud general Glen McMahon tasked with "cleaning up" the situation in Afghanistan—despite working with a team of uninterested, exhausted soldiers and politicians who just want to get the hell out of there. As unfunny the endless war in Afghanistan is, War Machine does a snarky job of illustrating the ridiculousness of the eight-year-long war in a country from which the United States has yet to fully withdraw to this day.