War is hell -- but war movies can be pretty damn entertaining. Some of the military films below make you laugh, some make you cry, and others will just plop you right in the middle of the action. But they have one thing in common: They're all available to stream on Netflix. So strap in, soldier, and get bingeing.
Recommended Video
This Pizza Dip Lets You Throw a New Kind of Pizza Party
The African Queen (1951)
One of the most classic war films of all time, The African Queen sees Humphrey Bogart and Katharine Hepburn as a pair escaping German-occupied East Africa amidst the breakout of World War I. When missionary Rose Sayer's (Hepburn) brother is murdered, she seeks escape and revenge the only way she can: by convincing a river boat captain (Bogart) to take her aboard his small but mighty African Queen and head into battle. If you can believe it, Bogart won his only Oscar for this film, and it's deemed an important historical cinematic piece, so you may as well watch it now if you have yet to.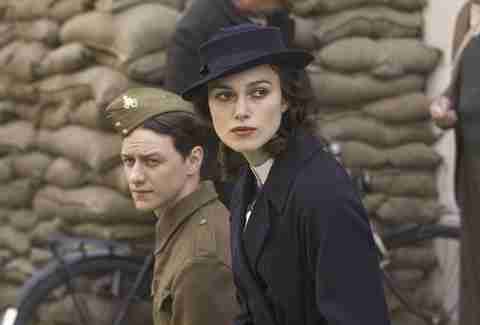 Atonement (2007)
This sweeping romantic epic, based on the Ian McEwan novel of the same name (which is worth a read, though we're afraid you won't find the book on Netflix), sends Robbie (James McAvoy) off to fight in World War II, and he finds himself in the middle of Britain's retreat from the Germans on the shores of Dunkirk Beach. Director Joe Wright pulled off a tragically beautiful five-and-a-half-minute tracking shot of the whole ordeal that'll break your heart if Robbie's separation from his love Cecilia (Keira Knightley) didn't already.
Beasts of No Nation (2015)
True Detective Season 1 director Cary Fukunaga's wartime drama is not a movie you put on in the background. Adapted from Uzodinma Iweala's novel of the same name, this visceral character study tracks a preadolescent Agu (Abraham Attah) after he's recruited to be a child soldier in an African civil war (its specifics are left purposely ambiguous). Lorded over by a gruff commander (Idris Elba), the movie is loud, tender, and violent -- a coming-of-age story in which the characters may not live to come of age. 
Cold Mountain (2003)
In Anthony Minghella's adaptation of Charles Frazier's Civil War-era novel, Jude Law plays Inman, a wounded soldier determined to return home to Cold Mountain, North Carolina, to his sweetheart (Nicole Kidman) as the war comes to an end. The film is never shy to illustrate the horrors of war and poignantly looks at not only the pain of being sent to battle, but the distance of being away from loved ones for so long. It's a grand hero's journey home, and a very romantic one at that. 
Defiance (2008)
Though most war films are inspired by historical events -- positioning itself at a certain point in time or focusing on a specific battle -- the stories based on real individuals can feel all the more dramatic. Frequent war film director Edward Zwick's Defiance brings to life the Bielski brothers, a group of Belarusian Jews who led thousands of Jewish refugees through the German-occupied Naliboki Forest to safety from Nazi persecution. Like most World War II survival stories, the film is extremely grave in its brutal depiction of living off the land in a war zone, though their unwavering determination will leave you breathless.
First They Killed My Father (2017)
Angelina Jolie is a full-on humanitarian filmmaker these days. Not her first foray in directing a war movie, First They Killed My Father is maybe the most intense; it's based off a memoir of the same name written by Loung Ung, a friend of Jolie's who lived through the Khmer Rouge's brutal rule of Cambodia from 1975 until her escape from the country in 1980. It's a sad, empathetic story of the atrocities following the Cambodian Civil War that hardly gets enough attention in the West.
The Look of Silence (2015)
Joshua Oppenheimer is responsible for two of the most essential documentaries of the decade, each grappling with the consequences of Indonesian genocide still rippling 50 years after the fact. The Look of Silence is the follow-up to The Act of Killing, where Oppenheimer gave the men who formerly ran death squads resources to produce a Hollywood-style dramatization of their crimes. The Look of Silence is from the perspective of the aching victims: a man confronts the people responsible for murdering his brother and thousands of others. Though chronological viewing of the two films isn't required, it does make The Look of Silence an enhanced version of an already powerful experience.
Pearl Harbor (2001)
The Japanese attack on Pearl Harbor that wrangled the U.S. into World War II is an epic, though devastating setting for Michael Bay's 2001 period piece. The film follows a love triangle between two lifelong friends and soldiers, played by Ben Affleck and Josh Hartnett, and then-newcomer Kate Beckinsale as the men are sent to battle, and eventually endure the surprise attacks. The film has been called an homage to classic war films in part because of its dramatic, impending battle sequences as Japanese fighter pilots interrupt a quiet morning in Hawaii, and also because it's more of a love story than a historical account.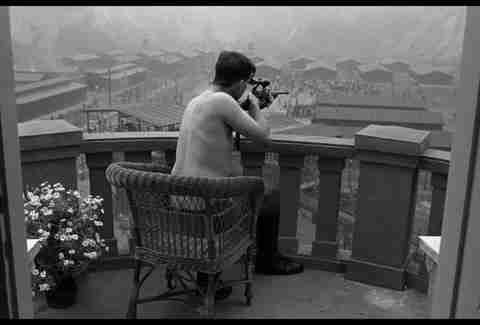 Schindler's List (1993)
It's time to get around to the insanely classic WWII movie you know you're supposed to have seen but haven't watched yet. Liam Neeson's friendly-with-Nazis Oskar Schindler takes in Polish Jews fleeing Nazi capture to keep his enamel factory afloat, but when he witnesses the genocidal massacre in the Krakow Ghetto, he finds his empathy, ditches his business interests, and dedicates his time to saving as many people as he can. Steven Spielberg directs and John Williams scores this depressing black-and-white Best Picture Academy Award winner.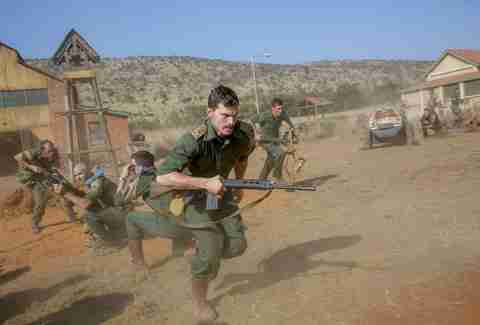 The Siege of Jadotville (2016)
Do not look to this Netflix original movie for a compelling examination of the Irish military's 1961 efforts to hold strong against an incursion from the recently seceded State of Katanga. The Congolese war conflict is well-documented in historical tomes. But do look to The Siege of Jadotville for visceral action cut from the classic man-on-a-mission cloth. Fifty Shades of Grey and The Fall star Jamie Dornan is a regular Gary Cooper as the leader of this unprepared crew, and his work in the heat of battle is astonishing.
Tinker Tailor Soldier Spy (2011)
If a season of 24 took place in the smoky, well-tailored underground of British intelligence circa 1973, it might look a little like this precision-made John le Carré adaptation from Let the Right One In director Tomas Alfredson. Even if you can't follow terse and tightly-woven mystery, the search for Soviet mole led by retired operative George Smiley (Gary Oldman), the ice-cold frames and stellar cast will suck you into the intrigue. It's very possible Oldman, Colin Firth, Tom Hardy, John Hurt, Toby Jones, Mark Strong, and Benedict Cumberbatch are reading pages of the British phone book, but egad, it's absorbing. A movie that rewards your full concentration.
Troy (2004)
Troy is a movie of bold haircuts -- long-haired Brad Pitt! shaggy haired Eric Bana! mulleted Sean Bean! Orlando Bloom with ringlets! -- but also one of amazing costumes having been nominated for an Oscar in 2004. Not just an action film of frivolity, it tells the story of the mythical war between Sparta and Troy from The Iliad adapted by David Benioff -- a fitting early script for the future Game of Thrones co-creator. It's the most mid-aughts version of the Greek epic; in other words, it's the best one.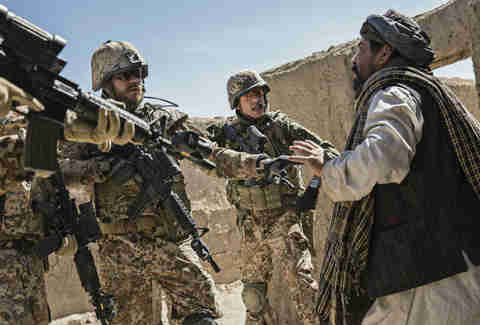 A War (2015)
Game of Thrones actor Pilou Asbæk stars as the commander of a Danish military company touring Afghanistan who comes under fire after calling for an air raid without following protocol. His moral decisions are dubious and his legal strife devolves into shady business. Tobias Lindholm's film depicts the ripple effect of war on both the psyche and macro-actions of troops in the trenches. This movie easily nabbed a nomination for Best Foreign Language Film back in 2016.
War Machine (2017)
Not every war film has to be a depressing tale. War Machine, for one, is a satirical look at power-hungry personalities in the military and politics. In the Netflix original, Brad Pitt stars as overly proud general Glen McMahon tasked with "cleaning up" the situation in Afghanistan -- despite working with a team of uninterested, exhausted soldiers and politicians who just want to get the hell out of there. As unfunny the endless war in Afghanistan is, coming from the producers of The Big Short, War Machine does a snarky job of illustrating the ridiculousness of the eight-year-long war.
Sign up here for our daily Thrillist email and subscribe here for our YouTube channel to get your fix of the best in food/drink/fun.