The 20 Best Will Smith Movies, Ranked
Now with three Best Actor Oscar nominations to his name, we're looking back on the Fresh Prince's expansive career.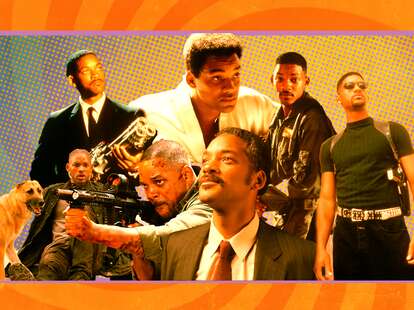 Image by Chineme Elobuike for Thrillist
Image by Chineme Elobuike for Thrillist
When Independence Day was released in 1996, Will Smith undeniably raised his status in Hollywood from adorable rapper and lovable sitcom personality to bankable movie star. Smith's filmography has highs and lows, but one thing has remained constant: Even in his most somber work when he's tasked with turning down that million-dollar charm, the actor remains one of the most enthusiastic, personable performers out there. No matter what movie he's in, he's at his most relatable.
Even still today, Smith continues to play Hollywood's game and define modern stardom—rejecting appearances in sequels of properties that he once led like Independence Day, taking up opportunities in the DCEU, and still raking in critical acclaim and Oscar nominations. With that in mind, we take a look at the actor's career with a ranking of his 20 best roles. Welcome to Earth, as owned by Will Smith.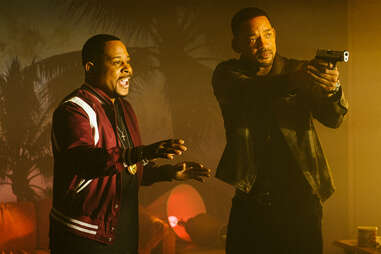 20. Bad Boys For Life (2020)
On a scene-to-scene basis, Bad Boys for Life is really more of a showcase for Martin Lawrence's rapid-fire humor than Smith's movie star charisma. Less bombastic than the excessively vulgar Bad Boys 2, Bad Boys For Life is a legacy sequel that finds itself settling into sitcom rhythms in between the action set-pieces that let Lawrence really shine. Still, it speaks to Smith's abilities as an actor that at this stage in his career he's able to cede ground to his co-star, particularly in a big-budget action thriller like this with its increasingly convoluted plot and set of new Fast and Furious-like supporting characters. Luckily, the rapport between Lawrence and Smith keeps this from feeling like an empty exercise in nostalgia. —Dan Jackson
19. Concussion (2015)
Concussion is one of Smith's many attempts at Oscar gold that ended up going unnoticed. While he was nominated for a Golden Globe for his performance, the Academy ended up snubbing him for his role as the real-life, Nigerian forensic pathologist who discovered that football players can die from having one-too-many concussions on the field. It's the prime example of a kind of role Smith takes on frequently and does well—playing the only noble character in a movie surrounded by awful people who suffocate the dramatic investigation at hand. —Craig D. Lindsey
18. Men in Black 3 (2012)
Smith once again returns to his role of Agent J, going back in time to pair up with a younger version of Tommy Lee Jones's Agent K (played here by an uncanny Josh Brolin) to defeat renegade aliens and all that. While nothing will compare to the original, it's far better than its predecessor and ended up exceeding fan expectation upon its release. —CL
17. Hancock (2008)
Released in 2008, just two months after the MCU kicked off with Iron Man, Hancock emerged as an original superhero movie that now feels like it was ahead of its time. In it, Smith plays a surly Skid Row antihero named John Hancock who's despised by the citizens of his LA hometown. Much like the heroes from the MCU and DCEU, Hancock, too, has a problem with wreaking havoc every time he's called to action—and, surprisingly, the consequences of those actions are seemingly the film's focus. After saving the life of a hot shot PR image consultant (Jason Bateman), he's offered the opportunity to undergo a makeover and become the model superhero. At first, Hancock seems to slap the typical genre tropes aside to instead explore what would happen if a superhero was held accountable for always fucking shit up—but every superhero has their Kryptonite. What starts out as a promising premise ultimately makes an awkward tonal shift and segues into an origin story—and a rather underwhelming one, too. While Hancock features a "meh" second half, Smith stands out as the compelling title character, evolving from a flawed and snarky curmudgeon (a character schtick the actor always pulls off well) who doesn't really give a damn about humanity, to becoming a somewhat likable do-gooder. It's a shame that story is sidelined and bogged down by a mediocre third-act origin story. —Gil Macias
16. I, Robot (2004)
Named after Isaac Asimov's famous collection of robot stories, Alex Proyas' I, Robot doesn't have much in common with classic sci-fi, but it is a hardboiled detective movie zipped up in a sci-fi movie's suit. It's the near future, and the world's mundane jobs have been automated, thanks to the use of humanoid robots with rudimentary artificial intelligence programmed to abide by three rules. Will Smith plays Del Spooner, a detective investigating the suspicious death of the scientist who co-founded the company that runs the nation's robotics systems. There are only two problems: The prime suspect is a robot the brilliant scientist created, and Spooner harbors a deep hatred for all robots. —Emma Stefansky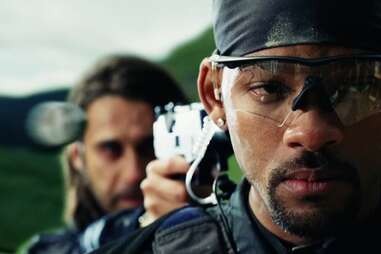 15. Bad Boys 2 (2003)
As much fun as it was seeing Smith and Martin Lawrence back together again as bickering partners, just making up stuff as they go along (including this scene of them hassling a young man, which is comic gold), their infectious camaraderie gets side-tracked when Michael Bay amps up the violence and the bloodshed. While it looks like they're enjoying themselves, you can't help but feel a bit disgusted watching this sequel. —CL
14. Where the Day Takes You (1992)
Smith's big-screen debut cast him alongside a who's-who of '90s Hollywood up-and-comers (Dermot Mulroney! Lara Flynn Boyle! Sean Astin!), all playing houseless youth navigating the streets of LA. Smith plays a disabled man who uses a wheelchair. Although he's one of many in a large ensemble cast, he shines with the material that he was given and you can tell he was always one to watch, even early on in his career. —CL
13. Made in America (1993)
Smith's second movie found him providing straight-up comic relief, playing the friend-zoned pal of a curious youth played by Nia Long (who later played his fiancée on The Fresh Prince of Bel-Air). Long's character is on the hunt for her biological father, who she thinks is a car salesman (Ted Danson). This movie is really infamous for being the movie where Danson had a high-profile romance with co-star Whoopi Goldberg (playing Long's mom), but Smith stands out by delivering solid zingers, too. —CL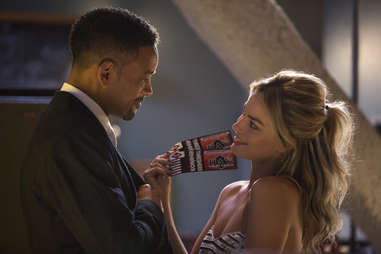 12. Focus (2015)
If the studio marketed this crime comedy as the totally bonkers escapade it is (the final act has more twists than a bag of Twizzlers), perhaps audiences would've discovered it. Will Smith and his Suicide Squad co-star Margot Robbie play con artists who make money. (That is, when they're not making love.) Their undeniable chemistry will certainly make you wish you were watching a romantic comedy, and that this movie had the blockbuster release that it deserved. —CL
10. Hitch (2005)
This rom-com gave Smith the chance to be a romantic lead, starring as a man who hooks up male clients with the women of their dreams. The closest he's since come to reliving the Fresh Prince days, Hitch piles on one ridiculous situation after another as Smith tries to coach Kevin James on dating and attempting to woo his own love interest played Eva Mendes. One question remains: Why the hell doesn't Will Smith get called on to do romantic comedies more often? —CL
9. Six Degrees of Separation (1993)
This is the movie that proved the Fresh Prince could handle dramatic material—and didn't have problems tackling controversial roles. At the time, playing a gay drifter working his way into the upper crust of Manhattan was a risky move for someone making it in Hollywood. After all of these years, it remains one of his most riveting turns as an actor. —CL
8. Enemy of the State (1998)
Rarely called upon to play an in-over-his-head everyman, Smith shows a surprising gift for selling the anxieties of Robert Clayton Dean, a family man and labor lawyer who finds himself trapped in a massive government conspiracy. Tony Scott's delightfully frenzied direction captures the terror and paranoia of digital surveillance, predicting future NSA exploits and transgressions with surprising acuity, and Gene Hackman steps perfectly into the role of an aging whistleblower, clearly modeled after his iconic performance as Harry Caul in The Conversation. But Smith, with his intelligence and wit, holds the movie together, making it one of the sharper action thrillers of the late '90s. —DJ
7. The Pursuit of Happyness (2006)
In his second Oscar-nominated role, Smith portrays real-life entrepreneur Chris Gardner, who spends nights on the street and in houseless shelters as he attempts to get a job. Happyness is a strong-willed, sentimental father-son story, riding entirely on Smith's relationship with his on-screen son, played by his actual son Jaden Smith. It's a heartfelt performance, and the two have the power to bring on the waterworks. —CL
6. King Richard (2021)
Smith will likely win the 2022 Oscar for his performance as Richard Williams, the eccentric, driven father of Venus and Serena Williams. Is it his best work? In some ways it might be his most work. Smith does the kind of physical transformation that Oscar voters love in the movie directed by Reinaldo Marcus Green, hunching his back and affecting Williams' distinctive dialect. But both Smith and the movie itself can't quite figure out what to make of Williams. Is he a genius and the reason his daughters are the superstars they are? Or is his borderline abusive with his intensity and methods? Eventually, all those questions dissipate when King Richard turns into an inspiring sports drama—which, nonetheless, is very fun to watch. —Esther Zuckerman
5. I Am Legend (2007)
Timed perfectly to the height of 2000s pop culture's zombie fever, I Am Legend adapts Richard Matheson's 1954 novel to a modern vision of a post-apocalypse movie. Will Smith treads the ruins of NYC as former virologist Robert Neville, the last surviving human in the city after a purported cure for cancer turns into a virus that wipes out nearly everyone, turning the survivors into undead violent mutants. Immune to the virus, Neville tries to use his blood to make a cure while defending himself from the nightstalking mutants. Haunting and hopeful, I Am Legend remixes multiple genres to create something all its own, and Smith's performance as a man fighting the oblivion of grief and death is one of his best ever. —ES
4. Bad Boys (1995)
When he published his new memoir, Smith made amends with director Michael Bay by sending him a copy of the book with a note inscribed, "OK, Michael. You were right. I was wrong." He was referring to a disagreement between the two about whether not Smith should wear a shirt during a chase scene. (Smith wanted to keep his shirt on; Bay disagreed.) If you've seen the movie, you know the two worked out a compromise: Smith runs around with his shirt unbuttoned, looking very cool in the process, and the rest is action movie history. The argument is indicative of the broader appeal of Bad Boys, an over-the-top buddy cop movie where Smith and Martin Lawrence bicker and solve crimes together. The movie understands Smith's appeal as a movie star on a fundamental level, letting him be charming, vulnerable, and badass all at once. —DJ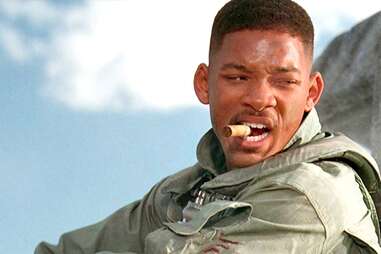 3. Independence Day (1996)
Black movie-goers already knew Smith as a suave badass from Bad Boys, but everyone knew it after he starred in this catastrophic summer blockbuster. As a fighter pilot who's so ready to kick E.T.'s ass, he knocks an alien out and drags it across the desert—Smith was a funny, fearless, heroic delight. People were ready to see him defeat all those killer aliens! It's a shame he wasn't in the 2016 sequel. —CL
2. Ali (2001)
This is the role Will Smith was born to play. Who else could play the charismatic, athletic, controversial boxing icon but him—a man who could be a charmer one minute and a bruiser the next? 2001 was such a confusing, disastrous blur that a lot of people have forgotten how good this movie is, and how triumphant Smith was in it. Denzel may have won the Oscar the following year for Training Day, but maybe if that performance wasn't around, Smith, who received his first-ever Best Actor nomination for Ali, would've been the next in line to take it. —CL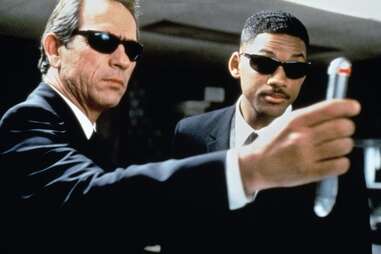 1. Men in Black (1997)
This sounds like hyperbole but it's not: There's a magic to Men in Black that seems like it would be easy to replicate, but it's absolutely impossible, as the two sequels demonstrate. So much of that special brew has to do with Will Smith, at the height of his powers, refining the cocky know-it-all confidence from Independence Day and bouncing it off of an impenetrable Tommy Lee Jones. Mash that up with Barry Sonnenfeld's ingenious direction, and you've got something that after all of these years feels truly special. Smith plays the NYC cop who will eventually don the last suit he will ever wear to become Jay. Working with Ed Solomon's immensely clever script, it's Smith's incredulity that both grounds the action and provides its biggest laughs. He uses all the tools at his disposal: The comedic chops that made him a sitcom star, the charm that made him a rom-com lead, and the physicality that made him an action hero. Plus, Men in Black is just a near flawless movie—as much about New York as it is about outer space; as heartfelt as it is goofy. It's a vehicle that would only work with Will Smith, but also one that matches his charisma in every way. —EZ