Every Will Smith Movie, Ranked
Twenty years ago this month, Will Smith kicked a bunch of aliens' asses in Independence Day, raising his status from adorable rapper and lovable sitcom personality to bankable movie star. Smith's filmography has highs and lows, but one thing has remained constant: even in his most somber work, where he's usually asked to turn down that million-watt/million-dollar charm, the actor remains one of the most enthusiastic, personable performers out there. No matter what movie he's in, he's at his most relatable. At 47, Smith continues to play Hollywood's game and define modern stardom. For instance, he's not in the Independence Day sequel next month, but will appear later this summer as the DC Comics character Deadshot in Suicide Squad. With that in mind, we take a look at the actor's complete career with a full rank of every movie he's starred in. Welcome to Earth, as owned by Will Smith:
23. The Legend of Bagger Vance (2000)
Will Smith's most embarrassing performance is the model definition of a "Magic Negro." In the sports movie, he plays the Hindu text Bhagavad Gita, wrapped in the body of a cornpone black caddy, dispensing down-home knowledge to Matt Damon's washed-up, shell-shocked golf legend. Sure, he's charming as always, but... he's playing a Magic Negro.
22. Men in Black 3 (2012)
Smith once again returns to his role of Agent J, going back in time to pair up with a younger version of Tommy Lee Jones's Agent K (played here by an uncanny Josh Brolin) to defeat renegade aliens and all that. If there is any role in Will Smith's filmography that screams "I'm doing it for the money!" it's this one.
21. After Earth (2013)
This futuristic whatzit stars Smith as the fearless, emotionless General Cypher Raige (his actual name!), stuck on a humanity-free Earth, guiding his son (played by his real son Jaden, who really needs some acting lessons) in making sure they get off this godforsaken place. The actor has himself to blame for this one; while directed by M. Night Shyamalan, Smith is credited for the story.
20. Shark Tale (2004)
In Dreamworks' animated comedy, Smith is all up in the water, voicing a slick-ass fish who starts a hustle with a vegetarian white shark (voiced by Jack Black) so he can become the biggest, baddest fish of the sea. This cartoon malarkey boasts an all-star cast (Angelina Jolie, Robert De Niro, even Martin Scorsese!), but unless you're a kid, you might as well leave this one sleeping with the fishes.
19. Wild Wild West (1999)
As much of a trainwreck this based-on-an-old-TV-show movie notoriously is -- let's move past the giant, mechanical spider -- it's not entirely Smith's fault. If anything, he made the whole thing tolerable by playing badass army captain/government agent Jim West with a straight face. The whole movie may not be something he holds with the rest of his exemplary work, but at least he was good in it.
18. Seven Pounds (2008)
In his second collaboration with The Pursuit of Happyness director Gabriele Muccino, Smith is a tormented man who decides to kill himself and donate his vital organs to decent people (including Rosario Dawson, who becomes a love interest in the movie) to atone for an act of vehicular manslaughter. It would've been a nice drama if he didn't decide to kill himself by getting constantly stung by a jellyfish, which plays a little goofy.
17. Concussion (2015)
Smith's latest attempt at Oscar gold happened last winter, where he played the real-life, Nigerian forensic pathologist who discovered that football players can die from having one-too-many concussions on the field. Another instance where Smith plays the only noble character in a movie overflowing with douchebags who suffocate the dramatic investigation.
16. Men in Black II (2002)
Hey, the 1997 original was an across-the-board hit, so let's make a sequel! Men in Black II is less spirited than the original, with Smith and Jones going up against an evil alien that's embodied the body of a tight-clothes-wearing Lara Flynn Boyle, nor is it as imaginative. But I'm sure it's something you can watch one Saturday afternoon on cable, while you're doing housework.
15. I, Robot (2004)
Smith stars in this adaptation of Isaac Asimov's short-story collection, playing a futuristic detective (with a cyborg arm!) out to clear the name of a robot accused of murder. Out of all the titles on this list, this one is guilty for being a movie you know you saw, but have no recollection when or where you saw it.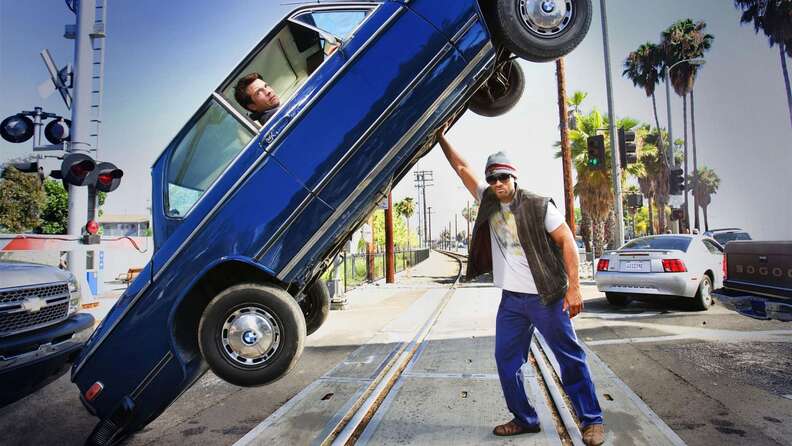 14. Hancock (2008)
This should've worked. Co-written by future Breaking Bad creator Vince Gilligan and directed by Peter Berg (Friday Night Lights), Smith played a cranky alcoholic with superhuman abilities who becomes a superhero with help from Jason Bateman's PR expert. Unfortunately, this clever premise turns to mush when Bateman's wife, played by Charlize Theron, turns out to be -- spoiler alert for an eight-year-old movie! -- a fellow superhuman who was also Smith's old squeeze. Jesus.
13. Bad Boys 2 (2003)
As much fun as it was seeing Smith and Martin Lawrence back together again, as bickering partners just making up stuff as they go along (this scene with them hassling a young dude is comic gold), their infectious camaraderie gets side-tracked when Michael Bay amps up the violence and the bloodshed. While it looks like they're enjoying themselves, you'll still feel a bit disgusted while watching this.
12. Where the Day Takes You (1992)
Smith's big-screen debut cast him alongside a who's-who of '90s Hollywood up-and-comers (Dermot Mulroney! Lara Flynn Boyle! Sean Astin!), all playing homeless youth on the streets of Los Angeles. Smith plays a dude who has no legs and is stuck in a wheelchair, and perhaps the most unnerving thing is how he doesn't look as different as he does now. The man does not age! (Which sounds like the premise for a Will Smith sci-fi movie.)
11. Made in America (1993)
Smith's second movie had him as straight-up comic relief, playing the friend-zoned pal of a curious youth (Nia Long, who later played his fiancée on The Fresh Prince of Bel-Air). Long's character is on the hunt for her biological father, who she thinks is a car salesman (Ted Danson). This movie is really infamous for being the movie where Danson had a high-profile romance with co-star Whoopi Goldberg (playing Long's mom), but Smith stands out, too.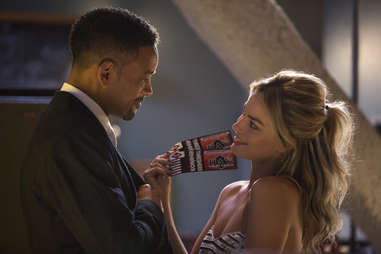 10. Focus (2015)
If the studio marketed this crime comedy as the batshit-crazy escapade it is (the final act has more twists than a bag of Twizzlers), perhaps audiences would've discovered it. Will Smith and his Suicide Squad co-star Margot Robbie play con artists who make money when they're not making love. Their undeniable chemistry together certainly made me wish I was watching them in a romantic comedy.
9. Enemy of the State (1998)
This paranoia thriller from the late director Tony Scott stars Smith as a lawyer who becomes a wanted man when he becomes wrapped up in a plot involving NSA agents conspiring to kill a U.S. Congressman. This distant cousin to Francis Ford Coppola's classic The Conversation even has Gene Hackman, that movie's star, as a knowledgeable mystery man showing up to help our boy out.
8. Hitch (2005)
This rom-com gave Smith the chance to be a romantic lead, starring as a man who hooks up male clients with the women of their dreams. The closest he's come to reliving the Fresh Prince days, Hitch piles on one ridiculous situation after another as Smith tries to coach Kevin James on dating and woo his own love interest, co-star Eva Mendes. One question remains: Why the hell doesn't Will Smith get called on to do romantic comedies more often?
7. The Pursuit of Happyness (2006)
In this Oscar-nominated role, Smith portrays real-life entrepreneur Chris Gardner, who spends nights on the street and in homeless shelters as he attempts to get a job. Happyness is a strong-willed, sentimental father-son story, riding entirely on Smith's relationship with his on-screen son, who just happens to be his real son, Jaden Smith.
6. I Am Legend (2007)
It's movie like this one (adapted from Richard Matheson's oft-adapted novel of the same name) that makes you wonder why doesn't Smith get nominated for his blockbuster work. After all, he spends most of his time in this movie all by himself, trying to survive in a post-apocalyptic world as the last man in New York City.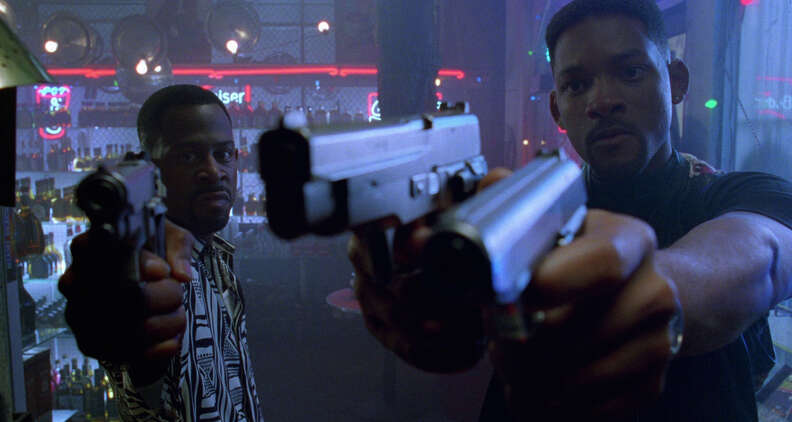 5. Bad Boys (1995)
If you go to any 'hood in the country and ask people their thoughts on the first Bad Boys, they'll likely call it one of their all-time favorite movies and have nothing but praise for the pairing of Smith and Lawrence, as a couple of police detectives cracking jokes and doing damage as they get to the bottom of some criminal activity happening in Miami. Hell, just talking about it makes me want to see it again.
4. Six Degrees of Separation (1993)
I hope whoever convinced Smith to appear in this movie still has a permanent place in his camp. After all, this movie proved that, not only could the Fresh Prince could handle dramatic writing, but he didn't have problems tackling controversial roles. At the time, playing a homosexual drifter working his way into the upper crust of Manhattan was a risky move for someone making it in Hollywood. It's still one of his most riveting turns.
3. Men in Black (1997)
I like to think that, while making this movie, Smith kept asking himself, "What would Eddie Murphy do?" (If this movie came out ten years earlier, Murphy would've been all over Smith's role.) That would explain why Smith had such a slick, smart-ass shine to him as he played the New York cop who becomes a super-secret agent, keeping aliens in check right here on Earth. As fun as you may think the movie is, you have to say a lot of that is because Smith was around, making everything look good.
2. Independence Day (1996)
Black people already knew Smith as a suave badass from Bad Boys, but everyone knew it after he starred in this catastrophic summer blockbuster. As a fighter pilot who's so ready to kick E.T.'s ass he knocks an alien out and drags it across the desert, Smith was a funny, fearless, heroic delight. People were so ready to see him defeat all those killer aliens. Needs to be said: it's a shame he won't be around for the upcoming sequel.
1. Ali (2001)
This is the role Will Smith was born to play. Who else could play the charismatic, athletic, controversial boxing icon but him, a man who could be a charmer one minute and a bruiser the next. 2001 was such a confusing, disastrous blur that a lot of people have forgotten how good this movie is, and how triumphant Smith was in it. Denzel may have won the Oscar the following year for Training Day, but I like to think that if that performance wasn't around, Smith, who was also nominated for Best Actor, would've been the next in line to take it.
Sign up here for our daily Thrillist email, and get your fix of the best in food/drink/fun.
Craig D. Lindsey is a freelancer whose work has been seen in
Vulture
, RogerEbert.com,
Nashville Scene
, and
The Raleigh News & Observer
. He wrote this list while
Wild Wild West
was playing on his flatscreen. (On mute, of course.) You can holler at him on Twitter @unclecrizzle.