Witches have long been regarded as feminist figures in popular culture, alluring us with their connection to the occult and feminine strength. Whether they're dressed under the veil of contemporary women or fitting into the archetype and flying through the night on broomsticks, witches are fascinating as the all-powerful woman who has harnessed her energy to do whatever the hell she wants. That is, if she's not hunted down and burned at the stake. (Damn the patriarchy!)
While witches may be portrayed as one-dimensional, flesh-eating villains in classic fairy tales, a handful of films have highlighted witches as the dynamic mystic beings they are: strong women coming into their power, in touch with themselves and the supernatural. They may be having a resurgence in film and television as of recent, but Thrillist decided to pull together some of the most spellbinding flicks from today and yesteryear -- ranging from spooky, family-friendly favorites to all-out art-horror -- featuring a sorceress at the forefront. So, gather your crystals, light some intention candles, and recite your centuries-old incantations as you watch the best of the best witchy films that exist within this realm.
Recommended Video
These Are the 7 Best Jim Pranks From 'The Office,' Ranked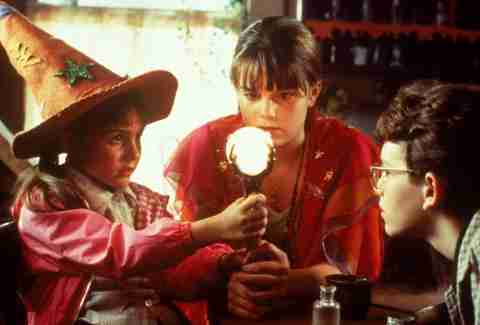 10. Halloweentown (1998)
The Disney Channel Original Movie Halloweentown has become a seasonal favorite, and rightfully so, as it's a fantastical imagining of a world where goblins and ghouls live like it's Halloween everyday. Though, in the family film, if it were not for the Cromwell witches and their matriarch Aggie (Debbie Reynolds), Halloweentown's peaceful existence could be threatened by something evil. As Aggie rallies her grandchildren and teaches her 13-year-old granddaughter Marnie (Kimberly J. Brown) about her potential, not only does Halloweentown offer a charming coming-of-age journey based in a supernatural realm, it illustrates a young girl embracing her identity. With its cast of creatures, elaborate set design, and heartwarming story, the DCOM is the House of Mouse's sweetest witchery.
9. Hocus Pocus (1993)
Of course, Salem, Massachusetts, is infamous for its witch-rich history -- even though the real witches were probably the smartest ones there and evacuated before they were sentenced to death (which is my Highly Plausible Theory). In Hocus Pocus, the three witch siblings making up the Sanderson sisters were definitely of this cunning line of thought, though, as prior to their death sentence in colonial Salem, the women cast a spell that would awaken them for one night in the future. When a teenage boy inadvertently brings the women back on Halloween in 1993, all hell breaks loose (kind of literally) when Bette Midler, Kathy Najimy, and Sarah Jessica Parker's beloved witches rise. The women may be painted as villains reigning chaos over contemporary Salem, but you can't help but love them and their spooky antics. In the only way a Disney film can, you'll feel the magic and then some.
8. Kiki's Delivery Service (1989)
The worlds that Hayao Miyazaki created in his animated films were fantastical more often than not, making it inevitable that the Japanese animator would tell the story of a young witch in one of his classics. Kiki's Delivery Service sees a teenage witch move into a bakery with her spirit guide -- appropriately a black cat -- where she turns her broomstick flying abilities into a capitalistic venture in which she delivers baked goods. Instead of donning a black hat and chanting curses, Kiki is just plain adorable and like a fairytale character brought to contemporary Japan. In meeting a variety of patrons, as well as falling into a depressive episode as she's too exhausted for her own good, Kiki's Delivery Service brings humanity to the witch (and hardworking women). When the little witch in her big red bow is shown flying through the sky, the anime is just simply magical and the answer to your girlhood yearnings for supernatural abilities. I, at least, can still remember standing in the breeze trying my hardest to be like Kiki.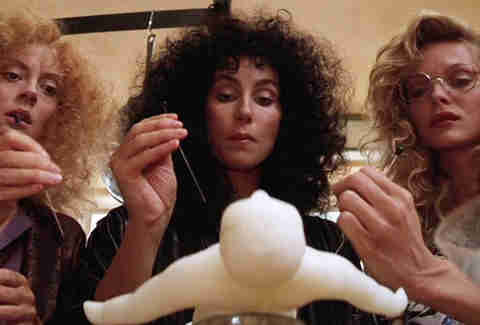 7. The Witches of Eastwick (1987)
The power of one witch is undeniable. But three witches, all outraged at a single man -- that's unstoppable. The unmatchable talents of Cher, Michelle Pfeiffer, and Susan Sarandon join forces in this spooky comedy about three friends lustful for a man to fill the void in their lives, and unbeknownst to each other form a coven, conjuring up the man of their dreams (Jack Nicholson) -- until he proves to embody mayhem and have a darker plan of his own. As campy as The Witches of Eastwick is, the three spearheading talents are a force to be reckoned with, especially when they accept that there's something supernatural about their friendship. As the women are working mercilessly over a voodoo doll or brewing up something scary in a cauldron, it's their bond that's the most mystical standout of the film. Who needs a man when you have each other (and super cool witchy capabilities)?
6. Practical Magic (1998)
Starring Sandra Bullock and Nicole Kidman in their free-spirited performance as the Owens sisters, Practical Magic follows two women in a family under an ancient curse stating any man who falls for them is destined to end up six feet under. In the '90s, audiences couldn't get behind a film about two witches covering up an accidental murder and eventual haunting by an ex -- but its camp horror elements, rom-com tone, and placement of independent women spearheading the plot have more than influenced mainstream media today. As the two women are forced to navigate their autonomy in a backwards town and a family unable to break from an age-old curse, they learn the breadth of their strength both alone and together. And as witches just want to find love like the rest of us, there's also a handful of genuine comedic moments. It's like Practical Magic had a premonition and was ahead of its time -- and it's all because of its unadulterated, witchy fun.
5. The Craft (1996)
For plenty of teenage girls, there's a period of time in high school when seances and Ouija boards sound like a really good idea at sleepovers and Stevie Nicks is the answer to just about everything. In the '90s cult classic The Craft, this teenage occultish obsession is paid homage as a group of Catholic schoolgirls dabble in witchcraft to conjure spells on bullies and boys in order to make their adolescent lives a little more bearable. The film features outcast young women -- or, as you may remember, the "We are the weirdos, Mister" girls -- at its helm, and doesn't trivialize their interest in something sacred that isn't taught in their Bible studies. With all its '90s charm, as the girls rule the halls in their distressed school uniforms or play Light as a Feather Stiff as a Board on their bedroom floor, The Craft is a pinnacle adaptation of a teen movie bringing witchcraft to the screen. As horrific the results of their hexes can be, it brings to life the excitement of first practicing -- making it an entertaining flick as it turns what 16-year-olds dancing to "Rhiannon" wish would happen on their Friday nights into reality.
4. Suspiria (1977)/"The Three Mothers" Trilogy
In 1977, it was as if Italian horror director Dario Argento brewed up something terrifying and sent the essence of death to cinemas everywhere when he released the now-classic Suspiria. When American Suzy Bannion (Jessica Harper) arrives as a newcomer at a prestigious ballet academy in Germany amidst a string of mysterious disappearances, she begins to investigate what lies behind the dance school's walls. Spoiler alert: it's a coven of witches, and ones that embody all that is vile here and hellish. Even with its dark plot, Suspiria is a jaw-dropping hellfest of bright colors, geometric imagery, and a beautifully twisted score by prog-rock band Goblin. Suspiria's gore, anxiety-inducing death sequences, and brilliant aesthetics went on to influence contemporary horror, but alone as a coven flick, few movies match its portrayal of the horrifying influence of the craft.
Though Suspiria is a work of art that can stand on its own, the film is the first in "The Three Mothers" trilogy, which as a whole is just as fierce. Though sequels Inferno and The Mother of Tears don't feature the same striking cinematography as Suspiria, they continue to tell the story of death personified on Earth in the form of witches. The scares are just as pervasive, and Argento's atmospheric filmmaking will have you convinced to never dare cross a witch.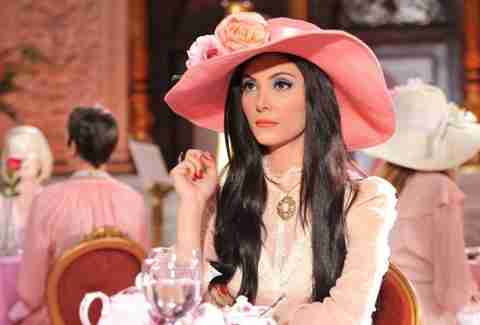 3. The Love Witch (2016)
If the neon coloring of Dario Argento's Suspiria wasn't enough of a fever dream for you, The Love Witch is like a whole elaborate universe in itself, set in the '70s and designed as if it was shot in Technicolor. The film hails from feminist filmmaker Anna Biller, telling the story about a young witch named Elaine determined to use her powers to make a man fall in love with her. But just when Elaine believes she's got the perfect lover under her spell, she finds that she's far too powerful and suddenly a slew of murders are on her hands. The set, props, and costumes are all insanely psychedelic and fitting for the period -- most of which were made by the director herself -- and its entire aesthetic will have you hypnotized, believing you're watching a 20th century horror show.
The indie flick is a satirical commentary on marriage and desire, though it also sees a full-fledged embrace of the witch's significance as not only a woman in touch with her sexuality, but one who acknowledges the fragility of men. In her powder blue eyeshadow and pink Victorian blouses, standing over a boiling cauldron, Elaine knows what she wants and how to get it. When she iconically says, "I take what I want from men, and not the other way around," you believe her. Elaine may have been trying to cast a love spell on potential suitors, but by the time The Love Witch is over, you'll find that Elaine and Anna Biller really cast a spell on you.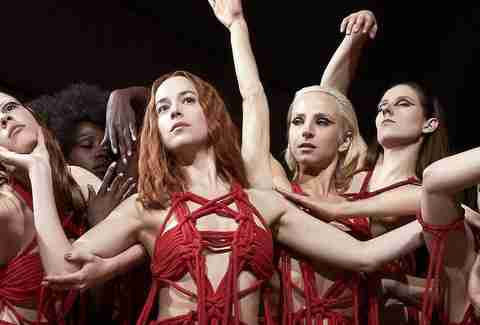 2. Suspiria (2018)
Luca Guadagnino recently reimagined Suspiria, taking from the coven-at-a-dance-school premise of Dario Argento's genre classic and giving it even greater depth. While Guadagnino strips away the original film's color palate and camp only to replace it with the bleakness of a developed Cold War backdrop, his Suspiria puts the viewer at the center of the coven's pentagram to make visible their atrocities and motives. Where Jessica Harper's ballerina felt like a shocked-faced vessel to uncover the mysteries of the Tanz Dance academy, Dakota Johnson's Susie may have something darker that fuels her motivations and movements in the studio.
Suspiria's body horror is not for the faint of heart, although it and the film's sequence of events as a whole have a lot to say about shame, femininity, and transmutation. The coven's paranormal activity drives disturbance forward in the plot in a way that will haunt you, and as midnight approaches on their devilish deal, you're left breathless at the insane final sequence of witchery. It's the ending fans of witchcraft may have hoped for in the original -- I, for one, yelled  "Yes, bitch!" during the penultimate finale scene. Even if your bones feel rattled or like someone's infected your dreams after watching Suspiria, no doubt you'll be praying to the dark goddess, Mother Suspiriorum, herself either out of sheer fear or utmost respect.
1. The Witch (2015)
The fear of dark magic may have been very real in colonial New England, but, for many women, so was the fear of persecution. Robert Eggers' 2015 folktale of a film illustrates these very nightmares as they permeate a single unit sent to live in isolation due to religious differences in the 1600s. First, the family's newborn disappears from the arms of their teenage daughter, and then their crops fail to harvest -- and these are just the beginnings of their worries. When it's made evident that something Satanic or the "Witch of the Woods" is the cause of their terror, the family of five begins to turn on one another -- and their teenage daughter (Anya Taylor-Joy) in particular.
The Witch is an absolutely terrifying horror film, transporting you to the eerie solitude of the 17th century and placing you in the wooden barn of one traumatized family amidst their unraveling. It illustrates coven and Satanic imagery to a hellish degree, leaving you nervous as to what hex might curse the Christian family next. And while The Witch is incredible on its own as a New England folk nightmare, its quintessential, albeit unnerving, depiction of a coven is that feeling you crave when looking for witchy cinema -- that energy lurking from the forest coming right off the screen and into you. Even as its witch hunt storyline depicts the craft as something to fear, the killer ending will leave you wowed, as (spoiler alert) our young woman seemingly running from the dark magic was truly on her way to embracing the divine feminine.
Sign up here for our daily Thrillist email and subscribe here for our YouTube channel to get your fix of the best in food/drink/fun.