The Best Witch Movies to Satisfy All of Your Occult Cravings
Witches have long been regarded as feminist figures in popular culture, alluring us with their connection to the occult and feminine strength. Whether they're dressed under the veil of contemporary women or fitting into the archetype and flying through the night on broomsticks, witches are fascinating as the all-powerful woman who has harnessed her energy to do whatever the hell she wants. That is, if she's not hunted down and burned at the stake. (Damn the patriarchy!)
While witches may be portrayed as one-dimensional, flesh-eating villains in classic fairy tales, a handful of films have highlighted witches as the dynamic mystic beings they are: strong women coming into their power, in touch with themselves and the supernatural. They may be having a resurgence in film and television as of recent, but Thrillist decided to pull together some of the most spellbinding flicks from today and yesteryear -- ranging from spooky, family-friendly favorites to all-out art-horror -- featuring a sorceress at the forefront. So, gather your crystals, light some intention candles, and recite your centuries-old incantations as you watch the best of the best witchy films that exist within this realm.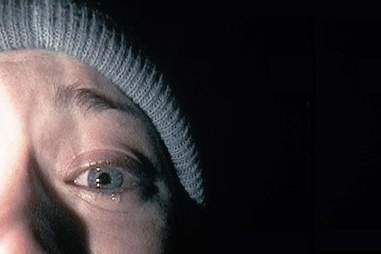 Artisan Entertainment
The Blair Witch Project (1999)
Just about every small town has a legend of its own about that terrifying force that haunts the woods on the edge of town -- and often, it's a wicked, old witch living as a recluse and making children's lives a nightmare if they dare explore her property. It's the sort of rumor that draws film students into the Maryland wilderness to look for and document the existence of the so-called Blair Witch who's committed murder and hexed men to carry out her bidding in
The Blair Witch Project
. While (spoiler alert) you never see the actual witch, her presence defines the movie and makes the fear exuded by the found footage style feel real. The movie may be known as a purveyor of the fake documentary style in horror, and made even scarier based on the "
is this a true story?
" marketing surrounding its release, but it plays on the fairy tale tropes of venturing into the unknown and coming into contact with storytelling's classic villain, feeding into your most elementary anxieties. You do never know what could be lurking in the woods, and this influential contemporary horror film makes you believe those stories could be true.
Where to watch it:
Starz, and available to rent on Amazon Prime, iTunes, and YouTube
Columbia Pictures
The Craft (1996)
For plenty of teenage girls, there's a period of time in high school when
seances
and
Ouija boards
sound like a really good idea at sleepovers and Stevie Nicks is the answer to just about everything. In the '90s cult classic
The Craft
, this teenage occultish obsession is paid homage as a group of Catholic schoolgirls dabble in witchcraft to conjure spells on bullies and boys in order to make their adolescent lives a little more bearable. The film features outcast young women -- or, as you may remember, the "We are the weirdos, Mister" girls -- at its helm, and doesn't trivialize their interest in something sacred that isn't taught in their Bible studies. With all its '90s charm, as the girls rule the halls in their distressed school uniforms or play Light as a Feather Stiff as a Board on their bedroom floor,
The Craft
is a pinnacle adaptation of a teen movie bringing witchcraft to the screen. As horrific the results of their hexes can be, it brings to life the excitement of first practicing -- making it an entertaining flick as it turns what 16-year-olds dancing to "Rhiannon" wish would happen on their Friday nights into reality.
Where to watch it:
Rent on Amazon Prime, iTunes, and YouTube
Disney Channel
Halloweentown (1998)
The Disney Channel Original Movie Halloweentown has become a seasonal favorite, and rightfully so, as it's a fantastical imagining of a world where goblins and ghouls live like it's Halloween everyday. Though, in the family film, if it were not for the Cromwell witches and their matriarch Aggie (Debbie Reynolds), Halloweentown's peaceful existence could be threatened by something evil. As Aggie rallies her grandchildren and teaches her 13-year-old granddaughter Marnie (Kimberly J. Brown) about her potential, not only does Halloweentown offer a charming coming-of-age journey based in a supernatural realm, it illustrates a young girl embracing her identity. With its cast of creatures, elaborate set design, and heartwarming story, the DCOM is the House of Mouse's sweetest witchery.
Where to watch it: DisneyNow, and available for rent on Amazon Prime, iTunes, and YouTube
A24
Hereditary (2018)
"My mother was a very secretive and private woman. She had private rituals, private friends, private anxieties." That's how Toni Collette's character Annie Graham eulogizes her mother in Ari Aster's directorial debut and horror masterpiece
Hereditary
. It's the first of many inklings that something supernatural is haunting Annie and her family throughout the film as they grieve their grandmother's passing. Without saying more than has already been said, it's as if
Hereditary
feeds you a poisonous brew, amping up your heartbeat with each disturbing jump scare. (Spoiler alert: The coven puppeteering the Grahams means business, and they'll spook you straight to the underworld). If not fully decapitating you,
Hereditary
will leave your head spinning at the very least.
Where to watch it:
Amazon Prime, and available to rent on YouTube
Walt Disney Pictures
Hocus Pocus (1993)
Of course, Salem, Massachusetts, is infamous for its witch-rich history -- even though the real witches were probably the smartest ones there and evacuated before they were sentenced to death (which is a Highly Plausible Theory). In Hocus Pocus, the three witch siblings making up the Sanderson sisters were definitely of this cunning line of thought, though, as prior to their death sentence in colonial Salem, the women cast a spell that would awaken them for one night in the future. When a teenage boy inadvertently brings the women back on Halloween in 1993, all hell breaks loose (kind of literally) when Bette Midler, Kathy Najimy, and Sarah Jessica Parker's beloved witches rise. The women may be painted as villains reigning chaos over contemporary Salem, but you can't help but love them and their spooky antics. In the only way a Disney film can, you'll feel the magic and then some.
Where to watch it: Rent on Amazon Prime, iTunes, and YouTube
Toei Company
Kiki's Delivery Service (1989)
The worlds that
Hayao Miyazaki
creates in his animated films are full of magic, so it makes sense that the Japanese animator would tell the story of a young witch in one of his classics.
Kiki's Delivery Service
sees a teenage witch move into a bakery with her spirit guide -- a black cat, of course -- where she turns her broomstick-flying abilities into a baked goods delivery service. Instead of donning a black hat and chanting curses, Kiki is benign, more like a fairytale character transported to modern Japan. In meeting a variety of patrons, as well as falling into a depressive episode when she's too exhausted for her own good,
Kiki's Delivery Service
brings humanity to the witch (and hardworking women everywhere).
Where to watch it:
Available for purchase on Amazon Prime
Oscilloscope Laboratories
The Love Witch (2016)
The Love Witch is a fever dream, set in the '70s and designed with a Technicolor aesthetic. The film from feminist filmmaker Anna Biller tells the story of a young witch named Elaine, who's determined to use her powers to make a man fall in love with her. But when Elaine believes she's got the perfect lover under her spell, she finds that she's too powerful and suddenly a slew of murders are on her hands. The set, props, and costumes -- most of which were made by the director herself -- are all delightfully psychedelic and will leave you powerless to resist this satirical commentary on marriage and desire. Elaine may have been trying to cast a love spell on potential suitors, but by the time The Love Witch is over, you'll find that Elaine and Anna Biller really cast a spell on you.
Where to watch it: Amazon Prime, and available for rent on iTunes and YouTube
Toho
Mary and the Witch's Flower (2017)
Exuding a similar sense of wonder as Kiki's Delivery Service -- it was animated by former Studio Ghibli illustrators -- Mary and the Witch's Flower sees a young, enchanting heroine at its helm as she embarks on her journey with magic. Largely drawing inspiration from the children's book The Little Broomstick, this Japanese feature focuses on Mary, who moves to the countryside and is whisked away to a school for witches when she comes into contact with a charmed flower. It's an adventure tale featuring all the usual witchy elements, like flying broomsticks, cauldrons, and cats, and the movie never fails to lose sight of its fantastical energy -- even if the spell Mary finds herself under only lasts one night. Mary and the Witch's Flower will make you believe not just in Mary's power, but the magical force of friendship.
Where to watch it: Netflix, and available for rent on Amazon Prime and YouTube
Warner Bros./Roadshow Entertainment
Practical Magic (1998)
Starring Sandra Bullock and Nicole Kidman as the Owens sisters, Practical Magic follows two women in a family under an ancient curse stating any man who falls for them is destined to end up six feet under. In the '90s, audiences couldn't get behind a film about two witches covering up an accidental murder and eventually haunting an ex -- but its campy elements, rom-com tone, and independent women spearheading the plot have had a strong influence on film in the 20-plus years since its release.
Where to watch it: Rent on Amazon Prime, iTunes, and YouTube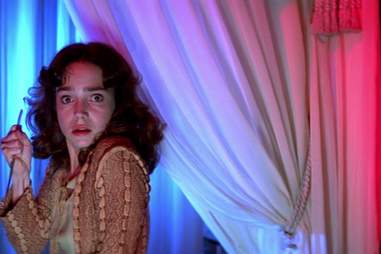 Produzioni Atlas Consorziate
Suspiria (1977)/"The Three Mothers" Trilogy
It was as though Italian horror director Dario Argento sent the essence of death to cinemas everywhere when he released the now-classic Suspiria in 1977. When American Suzy Bannion (Jessica Harper) arrives as a newcomer at a prestigious ballet academy in Germany amidst a string of mysterious disappearances, she begins to investigate what lies behind the dance school's walls. Spoiler alert: It's a coven of witches, and one that embody all that is vile. Even with its dark plot, Suspiria is a jaw-dropping hellfest of bright colors, geometric imagery, and a beautifully twisted score by prog-rock band Goblin. Suspiria's gore, anxiety-inducing death sequences, and brilliant aesthetics went on to influence contemporary horror, but alone as a coven flick, few movies match its portrayal of the horrifying influence of the craft. The film is also the first in "The Three Mothers" trilogy, which as a whole is just as fierce.
Where to watch it: Available for rent on iTunes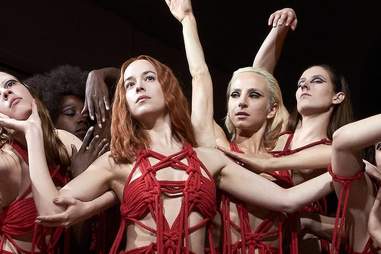 Amazon Studios
Suspiria (2018)
Luca Guadagnino
reimagined Suspiria
in 2018, taking from the coven-at-a-dance-school premise of Dario Argento's genre classic and giving it even greater depth. While Guadagnino strips away the original's color palate only to replace it with the bleakness of a Cold War backdrop, his
Suspiria
puts the viewer at the center of the coven's pentagram to reveal their atrocities and motives. Where Jessica Harper's ballerina felt like a shocked-faced vessel to uncover the mysteries of the Tanz Dance academy, Dakota Johnson's Susie may have something darker that fuels her motivations and movements in the studio.
Suspiria
's body horror is not for the faint of heart, although it and the film's sequence of events as a whole have a lot to say about shame, femininity, and transmutation.
Where to watch it:
Amazon Prime, and available for rent on YouTube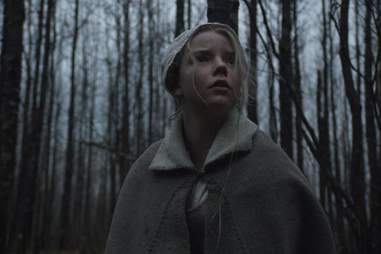 A24
The Witch (2015)
The fear of dark magic may have been very real in colonial New England, but, for many women, so was the fear of persecution. Robert Eggers' 2015 folktale of a film illustrates these very nightmares as they permeate a family sent to live in isolation due to religious differences in the 1600s. First, the family's newborn disappears from the arms of their teenage daughter, and then their crops fail -- and these are just the beginning of their worries. When it's made evident that something Satanic or the "Witch of the Woods" is the cause of their terror, the family of five turns on one another -- and their teenage daughter (Anya Taylor-Joy) in particular. The Witch works as a New England nightmare, but its unnerving, depiction of a coven is that feeling you crave when looking for witchy cinema; the energy lurking in the forest comes right off the screen and into you. Even as its witch hunt storyline depicts the craft as something to fear, the killer ending will leave you wowed, as (spoiler alert) our young woman seemingly running from the dark magic was truly on her way to embracing the divine feminine.
Where to watch it: Netflix, and available for rent on Amazon Prime, iTunes, and YouTube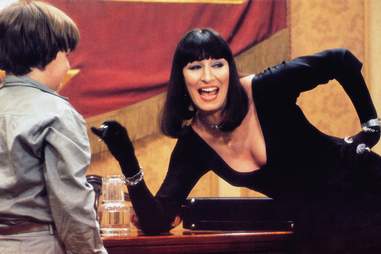 Warner Bros. Pictures
The Witches (1990)
If you grew up during the '90s, this adaptation of one of Roald Dahl's classic children's novels may conjure up a memory or two, as it's a '90s kid favorite that graced many VHS players back in the day. And for good reason: Morticia Addams herself, Angelica Huston, steps back into all black to play one of the leading witches. The film may take liberties from the Dahl source material, transporting the story of a young boy and his grandmother's crusade against a coven of children-eating witches to the 20th century, but it's just as exciting, and the contributions from Jim Henson Productions are that of nightmares.
Where to watch it: Rent on Amazon Prime, iTunes, and YouTube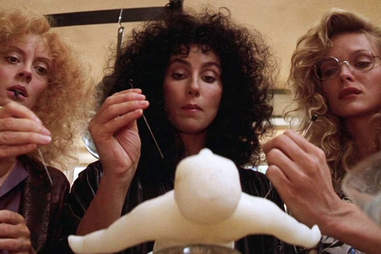 Warner Bros.
The Witches of Eastwick (1987)
The power of one witch is undeniable. But three witches, all outraged at a single man -- that's unstoppable. The unmatchable talents of Cher, Michelle Pfeiffer, and Susan Sarandon join forces in this spooky comedy about three friends lustful for a man to fill the void in their lives, and unbeknownst to each other form a coven, conjuring up the man of their dreams (Jack Nicholson) -- until he proves to embody mayhem and have a darker plan of his own. As campy as The Witches of Eastwick is, the three spearheading talents are a force to be reckoned with, especially when they accept that there's something supernatural about their friendship. As the women are working mercilessly over a voodoo doll or brewing up something scary in a cauldron, it's their bond that's the most mystical standout of the film. Who needs a man when you have each other?
Where to watch it: Rent on Amazon Prime, iTunes, and YouTube