'The New Edition Story' Has Sex, Betrayal, and a Killer Soundtrack
BET
BET
The one thing BET's three-part miniseries The New Edition Story gets right is the music. Whether it's the four kids doing Jackson 5 covers at talent shows around the Boston area, the group at the height of their fame singing "Candy Girl" at Roseland Ballroom, or band members Bobby Brown (Woody McClain) doing "My Prerogative" and Bel Biv DeVoe doing "Poison" during their ill-fated Home Again reunion tour in 1997, the production gets all of the details right. Right down to the goofy outfits they wore on the Candy Girl album cover to the silly southern plantation house that took up most of the stage of the Home Again tour, history is artfully and faithfully re-created.
The show has the most energy when New Edition, the prototype of the modern boy band, are performing, offering up what is essentially an alternate-universe music video. The miniseries often features an entire song with their signature synchronized choreography onstage. It's clear what made this band a gold record success before any of them had their voices lowered by puberty.
The rest of New Edition Story, however... well, it's a bit more slack. It's sort of like an illustrated Wikipedia page, going from one key moment to the next, featuring a noteworthy cast of excellent glasses, unbelievable period sweaters, a braided headband or two, and Ronnie DeVoe's mother wearing the most amazing pair of earrings that you can probably still get on eBay for about $30. Seriously, other than the singing and dancing, the best thing is those earrings.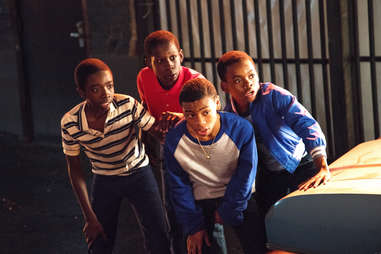 From pipsqueak beginnings...
We start off with the Home Again tour and one of Bobby Brown's entourage members firing a gun -- following a fight onstage where Bel Biv DeVoe sidelined Brown when his set went on way too long. Then we flash back to the founding of the band, "when we were pure." We see Ricky Bell and Mike Bivens, just little pipsqueaks, team up with future Whitney Houston ruiner Bobby Brown because he's too chicken to perform at a talent show by himself. Inside that tough guy we always knew was a scared little kid. They get their friend Ralph Tresvant to round out their crew.
We're introduced to each boy in an illustrative little scene as his name flashes across the screen, and all but one of them is given a nickname -- "Slick," "King of R&B," and "Rizz" -- but we never hear any of them called by their nicknames ever again. Did the band members (who all serve as co-producers on the project) get to pick themselves? If I get to pick one, can mine be "Devil Dog"?
Anyway, after Ralph uses his kung fu skills to impress a girl we never see again, the group meet their future manager Brooke Payne, who has the finest pair of glasses this side of Mars Blackman. He gives them a training montage that is something like Mr. Miyagi meets Step Up 2: The Streets, and suddenly they're about to sign a record deal with Maurice Starr, the man who will eventually bring us New Kids on the Block. (That makes him an accessory to the reign of terror Mark Wahlberg has had over Hollywood for the past three decades.)
... to record deals and puberty
Starr convinces them they need a fifth member, and DeVoe, who is Payne's nephew, joins up after getting schooled by his hilarious and unsupportive younger brother as he practices his dance moves in their bedroom. Little DeVoe only gets one scene, but that tyke is the best damn actor in this whole movie.
The five boys sign their first record deal, and they each get $500 and a Betamax player. They should have known right at that moment that Starr was going to scam them out of money and try to make them split a check for $1.89 for their first international tour. What kind of guy can't spring for a VHS machine?
After a few more unintentionally hilarious scenes -- the guys cruising on their new mopeds, Bivens' mom convincing him to stay in the band rather than become a basketball star, Kurtis Blow cussing them out because he doesn't want to open for a bunch of kids -- suddenly the band instantaneously goes through puberty while singing "Is This The End?" It's certainly the end… of their childhood. They go from looking like they're all 8 years old to looking like they're 22 faster than you can say "testosterone and underarm smells."
Then the real trouble starts
After being taken advantage of financially, everyone's moms fire Payne and hire a new manager, Gary Evans. Evans is played by Michael Rapaport, who is always either playing a bully, a racist, or a guy who should know better but does some really stupid shit anyway. That should give you a clue of what Evans is like. (He does not, however, seem like a racist or a bully.) He is also a man who is not ready to deal with five horny and somewhat famous teenagers.
The most shocking scene in the whole movie is when Evans returns to the LA pad he's rented for the band while they record their first album for MCA Records, and he walks in to discover them all half naked with a bunch of girls in the darkened living room. What is going on with this apartment? They don't have their own bedrooms? There aren't even a couple of bedrooms that they could go off to and score with their individual chicks? Instead they're acting like it's Plato's retreat on their stained sofa and all hooking up together? This does not sound like my kind of fun time.
But fractures in the group are already starting to form, and so is the bad behavior. This episode ends along with the band's purity. The second installment is going to be full of fights, more financial malfeasance, and Bobby Brown succumbing to hookers and blow and finally getting himself kicked out of the band. Yeah, it's about to get all sorts of Empire up in here.
But it's all true, down to every little detail. That's what's so great about this story: not only is it real and scandalous, it's also punctuated by some seriously great hits, ones that you will still be humming as you're cruising around eBay looking for those earrings.
Sign up here for our daily Thrillist email, and get your fix of the best in food/drink/fun.