The New Documentary 'Between Me and My Mind' Is a Gift for Trey Anastasio Fans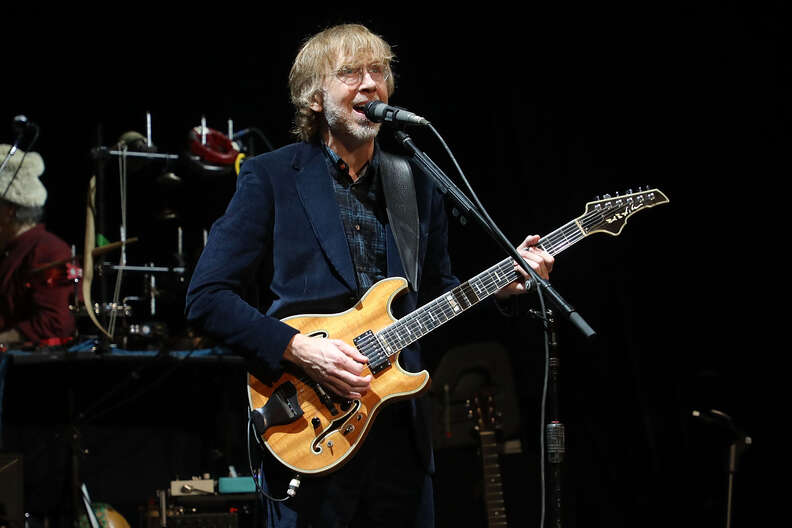 I can't imagine I'm alone in this: There's someone out there whose work you admire beyond all others -- an author, a basketball player, a painter. In my case, it's a musician. You don't want to creep people out, but the truth is there isn't a day that goes by where you don't spend time thinking about this person. You're doing more than just enjoying the work; you're really scrutinizing it, discussing it with fellow travelers and advocating for it to those who are unconvinced.
More than that, though it's embarrassing to admit, you've fantasized about just hanging out with your idol. No, you aren't going to dig up an address and start stalking, but you suspect that, if life somehow brought the two of you together, you'd have a lot to talk about. It's a dream (and I mean literal dream, in that you've had actual dreams about this) to get to hang out with this person, see their house, meet their family, and watch them create the stuff that they make that made you fall in love with them in the first place.
That fantasy come to life is exactly what Between Me and My Mind, which just debuted at the Tribeca Film Festival, is for me. Trey Anastasio, the Phish and Trey Anastasio Band frontman, whose music I am always listening to even if none is playing, is my guy. Steve Cantor's documentary is a fascinating and detailed look at Trey's process of creating new music, which ought to interest anyone even if they've never heard one note he's played. It's also a frank and touching look at one of rock stardom's dorkiest dads opening himself and his key relationships up for the camera. And that ought to interest anyone who is looking for inspiration. Trey is a shaman, a tzadik, a seeker, a wide-eyed imp and one of the few people out there who seems to be living right.
He's had some rough times. In 2006 he was busted for a DUI and drug possession. In 2009, his only sibling, his older sister, died of cancer. More recently his best friend succumbed to the disease. But Anastasio means "reborn" in Greek. His friend's passing inspired new song cycle (and tour) called Ghosts of the Forest, and watching this project form is the basic spine of the film. Running alongside this, and offering a window into the 54-year-old's past, is Trey's conceiving of Phish's 2017 Madison Square Garden New Year's Eve gig.
"Soul Planet" is not one of Anastasio's more complex, compositional songs. It is, as drummer Jon Fishman says in the film, "just a pocket." But it is peppy and earnest and will lend itself to a big Broadway-style spectacle at midnight as the ball drops when the MSG stage transforms into a pirate ship. It's the kind of ridiculous thing only Phish could get away with.
In Between Me and My Mind, we watch Trey teach the new song, first to drummer Jon Fishman, then to keyboardist Page McConnell, then to bassist Mike Gordon. For longtime fans, it'll be pure catnip watching how Trey interacts differently with each member of the band. When the old pals get together, they shoot the shit, laugh and reminisce, and show off some new piece of gear, but mostly they just play and get one another really jazzed with the exchange of musical ideas. (At Mike's place, even the dog gets into the act.)
I do not know how many times I have seen Trey Anastasio perform. It's been around 25 times since I published Your Friend's Phish Obsession, Explained in July 2016. So, to see under the hood at how the carnival comes together is fascinating to me. It's great to hear anecdotes about the band as kids -- Jon Fishman didn't even have a bed, he'd just collapse on a pile of laundry! The lyric "thank you, Mr. Miner" from "Harry Hood" comes from getting the neighbor's mail! Trey wrote "The Divided Sky" after watching the 1983 nuclear terror TV movie The Day After! -- but that's what you get in any rock doc. Between Me and My Mind differentiates itself by showing its subject in the here and now.
This is very much in keeping with the humble, sober philosophy of Trey himself. In recent interviews, he has talked about how, prior to shows, he will kneel before the toilet, because when he was a drunk that's the position he'd end up in. His path was aided by reading the work of Eckhart Tolle, a philosopher devoted to staying in the present. None of this is in the movie, though! The movie doesn't tell it, it shows it.
It shows it when Trey is wandering in the woods (and joking about "ghosts of the forest") and finding the house where he raised his daughters. He meets the family that lives there now. The kids have kinda-sorta heard of him, and the young girl is impressed that someone wrote famous songs in her bedroom. "You've got the room with the good vibes!" he jokes. (She then listens to "Billy Breathes" on her iPhone speaker.)
It shows it even more when Trey is in Manhattan and a fan in a Phish tour shirt comes up saying he's just eight days sober and freaking out, and he can't believe he ran into Trey. He says he just threw his needles away and starts to cry. Trey waves the cameras away to talk to him.
And it shows it when Trey hangs out with his parents. First his mom, very much a free spirit and clearly an influence on Trey's creative side. "You must have been born with too many notes in your head," she jokes. The two are sitting in a park, on a bench dedicated to Trey's late sister. They bring her up briefly, but it is still clearly hard to talk about.
Later, Trey goes out for ice cream with his dad. (Hardcore phans may enjoy knowing that their spot is but a five-minute drive to the Rhombus, the portal Colonel Forbin took to Gamehenge to rescue The Helping Friendly Book from the evil Wilson, King of Prussia, Duke of Lizards.) The 77 year-old Ernest Anastasio comes off at first as a bit of a tough character (e.g., he rolls his eyes when a fan comes up to his son; "this always happens," he sighs) but after a minute or two he's gushing. "I was proud of you before anyone knew who you were!" Pass the Kleenex, please!!
Other intimate moments come, with Trey's wife Sue (they've been a couple since the 1980s) and, individually, Trey's two daughters. The eldest hangs out it a rehearsal studio, and it seems like the first time she's really checked out his weirdo amps and pedals. He impresses her with a Leslie speaker and, off her look, Dad jokes, "And that's my job!" With his younger daughter he thinks back to her coming out on tour, with thousands of people screaming and dancing and freaking out in adoration, and she just pouting like a teen saying "I'm bored!" It's hilarious.
Trey's kids are the age he was when he first formed Phish, and this change of perspective very much fuels Ghosts of the Forest. When the band is in rehearsal or backstage, they are still goofballs (Fishman wears a T-shirt with Charlie Brown and Patty on it that says "I still miss Frank Zappa") but, man, these guys have mellowed. They don't seem to miss the action. The passion is now laser-focused on the music and the show, and therefore the fans. Between Me and My Mind might offer the best exhibition on "aging gracefully" that I've ever seen.
There's a line toward the end of the film where Trey comments on something from The Last Waltz. In Martin Scorsese's documentary about The Band, Robbie Robertson says 15 years on the road is way more than anyone could take. "Really? That's all?" Trey scoffs.
After the credits rolled at the Tribeca Film Festival screening, the Trey Anastasio Band played a 75-minute set (the highlight for me was "Money Love and Change") and, though I've seen Trey so many times, this definitely felt weird. I got the sense that seeing his life onscreen was a little overwhelming. We see him in his socks playing with his cat at 6:30 in the morning, we see him directly after a gig making a beeline for his tour bus (part of his sobriety ritual is to avoid all post-show back-patting) and quietly eating mashed potatoes from a plastic container. The bus looks plain and boring, and as he lays down he strums a bit on his guitar. This went beyond the level of intimacy I've dreamed about, to the point of almost being intrusive.
I think I really do know everything I need to know about my guy now. Maybe I'll just stick to listening to the music for a while. "We'll keep playing as long as they let us," he said to the Tribeca audience, referring to the stage managers of the Beacon Theater, where the event was held. Or maybe he was speaking to any "they" that may want to stop him.
Jordan Hoffman is a writer, critic and bon vivant, and a frequent contributor to Thrillist.