The Complete History of Crazy Beyoncé Conspiracy Theories
When you're one of the biggest pop stars in the world, not everybody is going to think you're ***Flawless. But while the likes of Katy, Taylor, Adele, and Miley all have their detractors, none of them is subjected to more conspiracy theories than Beyoncé.
Some theories are about Bey's public image, like the belief that she and Jay Z won't deny rumors of his infidelity as a marketing ploy to sell more units of her woman-scorned opus Lemonade. Others, however, are insanely outlandish, such as allegations that her Super Bowl performances and alter ego Sasha Fierce are evidence of demonic possession.
From rumors about shady business dealings to allegations of fake pregnancies and murder plots, here are the best conspiracy theories about Queen Bey ever created.
She's in the Illuminati
Many a crackpot has linked Beyoncé to the Illuminati, a malevolent secret society comprised of the world's most powerful people that allegedly aims to bring about a new world order. The evidence? For starters, there's her constant use of a triangle-shaped hand gesture. She says it symbolizes Jay Z's Roc-A-Fella Records, but others believe it's a pyramid that represents the power structure of the Illuminati's proposed society, similar to the Masonic-inspired pyramid and all-seeing eye you can find on a dollar bill. Seeking more proof, some claim that Beyoncé's daughter Blue Ivy's name is really an acronym for Born Living Under Evil, Illuminati's Very Youngest.
Bey finally addressed the rumors in the first line of 2016's "Formation," singing, "Y'all haters corny with that Illuminati mess." But, of course, that's exactly what a member of this creepy cabal would say.
She whitens her skin
Starting with a 2008 L'Oreal ad campaign, Beyoncé has faced repeated accusations that she lightens her skin to appear less black and therefore appeal to broader audiences. L'Oreal denied whitewashing the ad above, but the issue came up again in 2011, when Beyoncé released promo photos for her album 4 that showed her with blonde hair and a much whiter complexion. Of course, this could all be a result of the lighting conditions in the studio and digital alterations, but many still believe she used Michael Jackson-like measures -- or at least Photoshop -- to appear less black.
She was never really pregnant
After announcing her pregnancy at the MTV Video Music Awards, Bey initially said that she was four months along at the time of her performance... then later said she was actually five months along. A simple mistake? Maybe, maybe not!
When she sat down for an Australian television interview, which you can rewatch above, her baby bump appeared to fold in, leading some to say Beyoncé was just wearing an inflatable fat suit and definitely not with child. Adding fuel to rumors that she used a surrogate, she shared next to no pregnancy photos (four years later, in Lemonade, Beyoncé was sure to sneak in a quick clip of a pregnant selfie video) and "gave birth" on a fully private floor of a New York City hospital, with staffers sworn to secrecy.
Her publicist called all this talk "stupid, ridiculous, and false" -- but what if it wasn't? What if it was actually even crazier? Some hardcore theorists believe that Beyoncé's pregnancy was a ruse concocted for her to adopt a child Mathew Knowles fathered with another woman. If anything, Mathew's proven to be virile -- he's had two children with two other women in the last 10 years.
She's older than she says
According to Beyoncé and her team, Beyoncé is 34 years old. But, thanks to various quotes from associates and at least one (likely fake) birth certificate, some believe she is as old as 41, and her birthday is September 4th, 1974, not the same date in 1981.
In a 2008 interview that is no longer available (hmmm), actress Gabrielle Union said, "Beyoncé and I have been friends since we were teenagers," but Union was born in October 1972, making them a little less than nine years apart, thus eliminating any chance that they were ever teens at the same time. Maybe Union misspoke -- and so did Mathew Knowles, who in 2015 commented that Beyoncé is the "exact same age" as both Usher and Pink, who were born in October 1978 and September 1979, respectively, and that all these musicians were competitors when they were "14 or 15 years old." That'd make Bey 36, at least.
She's really Solange's mother
You'll have to accept the 1974 birthdate as correct to swallow this whopper. In 2011, a blogger reported that not only is Beyoncé much older than she claims, but according to a tip from an anonymous source, she actually got pregnant at age 12 or 13. To hush this up, Mathew and Tina Knowles claimed that Beyoncé's first daughter, Solange, was their child, and raised the two girls as sisters.
Even more amazingly, this rumor has somehow led others to believe that Tina Knowles is actually Beyoncé's older sister, and/or that Solange is the true mother of Blue Ivy, and, somehow, all of this mess led to that infamous elevator brawl between Solange and Jay. Makes perfect sense, doesn't it?
She had Joan Rivers killed
A few months after the 2014 elevator fight, comedian Joan Rivers joked about the incident on Twitter. That was August 27th. The next day, the comedian stopped breathing during a minor throat operation. A week later, after being placed in a medically induced coma, Rivers died -- on September 4th, Beyoncé's 33rd birthday. Naturally, the people of the internet decided the singer was behind it all, and even made the connection that Rivers, born in 1933, died at age 81on the same day Bey, born (allegedly) in 1981, turned 33. The real cherry on top of all this? It was exactly a week before the 13th anniversary of 9/11. Think about it!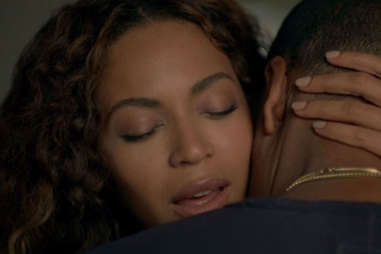 She and Jay Z already planned their divorce
Even before Lemonade, rumors of Jay Z's infidelity abounded. In February 2016, Radar reported that the couple agreed on a post-nuptial agreement to divide their assets. "They have a pre-nuptial agreement already in place, but so much has happened in terms of their empire that it's needed updating for some time," the gossip site's source said. Supposedly, Bey and Jay "negotiated 50-50 custody terms, plus trust funds for their daughter Ivy and any future children, along with who gets what property and possessions if they separate." Maybe they're just waiting until after Beyoncé finishes up her extremely successful Formation World Tour in October?
The Beyhive is full of Beyoncé-funded spam accounts
It's unwise to kick the nest of Beyoncé's army of loyal fans. Just ask fashion designer Rachel Roy, whose social media accounts were flooded with threats after people identified her as "Becky with the good hair," the woman name-checked in "Sorry" whom Jay Z supposedly cheated with. Or the Food Network's Rachael Ray, who got the same treatment thanks to a case of mistaken Beyhive identify.
No stranger to social media wars herself, rapper Azealia Banks shared some Instagram posts indicating that a huge number of Beyhive commenters likely come from paid-for spambots. Of course, one must consider the source – Banks was the target of a ton of Beyhive anger after criticizing Lemonade's racial and feminist messages, and was kicked off Twitter a few days later for another rant involving racist slurs and homophobia.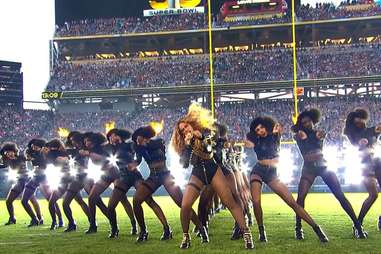 Lemonade was funded by the CIA to start a race war
Taking a break from claiming that the US government masterminded the 9/11 attacks and faked the NASA moon landings, leading conspiracy theorist and InfoWars.com founder Alex Jones claimed that, between Beyoncé's Super Bowl "Formation" performance and her "Hold Up" video, the singer was broadcasting messages to incite "urban terrorism," with backing from President Obama, the CIA, FOX, Viacom, the NFL, and more.
"She sits there with this rage, this you know, great actress. 'Police, you're the enemy of my people' and baseball bats and everything," he says in a video message. "So young people go out, act like maniacs, and try to start a race war in this country… the government at the top is funding a rebellion at the bottom to cause a civil war." That's just a small taste of his 20-minute doozy of a rant, which also includes his support for Donald Trump and plugs his finest InfoWars merch.
Further, Jones noted in a conversation with equally imaginative Harlem pastor James David Manning that President Obama might be using Beyoncé to cover up his nefarious plot to increase street-level crime. As he so eloquently put it, the "Viacom, CIA-run weapons system is activating the Beyoncés and all the rest of the folks to say, 'Go out and kill the pigs.'" Right, activating the Beyoncés.
We've seen what she can do on her own -- can you imagine what an army of Beys would be capable of?
A clone replaced Beyoncé after she died in 2000
Taking the "she lightens her skin" theory to its completely illogical and unnecessary next step, some people believe that Bey's "changes in appearance" over the years are evidence that the current version of the pop star is actually her clone. Depending on which totally sane theorist you believe, it's either because she died in the year 2000 and had to be replaced, or that she's really just a reptilian humanoid in a Beyoncé skin costume, which has something to do with Illuminati shapeshifting, which has something to do with ... eh, who cares? Though, to be fair, think about this -- have you ever seen two Beyoncés in the same place at the same time? Of course you haven't!
Sign up here for our daily Thrillist email, and get your fix of the best in food/drink/fun.
Dan Reilly is a freelance writer living in Brooklyn, where Beyoncé, Jay Z, and Justin Timberlake once stopped by his favorite bar. He blames the Freemasons for not inviting him.