Breaking Down Beyoncé's Musical Epic 'Lemonade'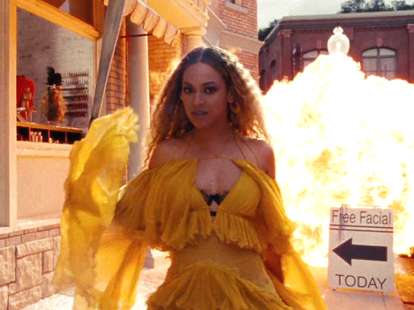 Prince's recent death, and the outpour of reverence, reminds us that pop culture is nothing without the contribution of black artists. And Beyoncé's hour-long magnum opus Lemonade, now available to stream on Tidal and purchase on iTunes, assures us that someone's still carrying the torch.
Lemonade is a beacon of stardom. Beyoncé isn't just the most fascinating pop star in the game, she's an icon, a successor to legends like Nina Simone, James Baldwin, and Josephine Baker. There's nothing Lemonade doesn't do; the music weaves together R&B, blues, country, and even rock sounds. Surprise collaborations -- with Kendrick Lamar, Jack White, Diplo, James Blake, and Father John Misty, to name a few -- are matched by samples, including snippets of a Malcolm X speech. Mark Romanek (Never Let Me Go), Kahlil Joseph (Arcade Fire's Reflektor Tapes), and longtime collaborator Melina Matsoukas carve out the visuals. For an artist as private as Beyoncé, Lemonade feels incredibly personal.
Still, viewing it through gossip or buzz doesn't do it justice. Lemonade deserves a close analysis -- so we gave it one: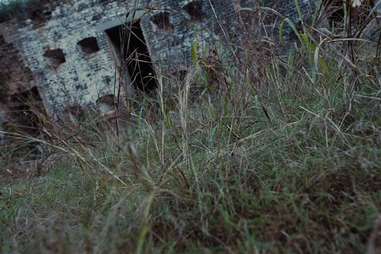 Seeing Fort Macomb, the pre-Civil War fort located just east of New Orleans, frames Lemonade as a look at the familial history we carry from one generation to the next, interpersonal battles, and nature. You've seen Fort Macomb before, as the setting for Carcosa in the Season 1 finale of True Detective.
The first image of Beyoncé is one of utter vulnerability. And on stage, where we know her best.
Lemonade's spoken word sections lift text from Somali-British poet Warsan Shire, and provide a perfect complement to the visuals. The line that struck me from the moment was, "I tried to make a home out of you."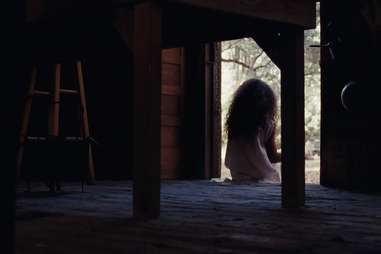 Proceed directly from Lemonade to your dusty art history textbooks. A number of early moments in the video evoke names like Caravaggio and Luis Ricardo Falero.
Staging Beyoncé's suicide is the definition of a bold choice. Lemonade doesn't shy away from the way love can turn toxic and break us. There's an arc to the music...
... neatly illustrating a woman reckoning with her husband's infidelity, experiences with her father, anger, and eventually coming to a place of forgiveness.
There's quite a bit of water in Lemonade, operating on a level of the visual representation of catharsis.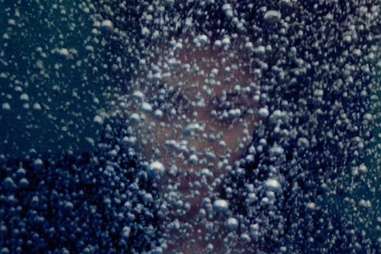 But here it feels less like healing and more like drowning. In her own way, Beyoncé has reworked Ophelia, from Shakespeare's Hamlet. Instead of drowning, she chooses the harder road of evolving and crafting her own narrative.
While all of Shire's poetry strikes a nerve. I find "For Women Who Are Difficult to Love" the one that speaks to Lemonade the most. The poem deserves to be read in its entirety, but here are the lines that hit me the most personally: "I tried to change / closed my mouth more / tried to be softer, prettier, less awake."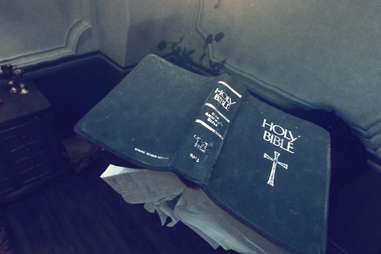 Placing the idea of a woman's menstrual cycle (mentioned in the Shire poem) next to the divine is odd in light of Beyonce's own religious upbringing. Is this commenting on how religion, like Christianity, often strangles a woman's ability for growth and self-worth? Let us know, Beyoncé.
This is both the image of a woman reborn and, let's be real, an incredible fashion moment.
Beyoncé isn't holding any punches. "Hold up, they don't love you like I love you. [...] What a wicked way to treat the girl that loves you."
"Hot sauce" alert. This is the perfect visual aside, recalling a key talking point from the "Formation" video release.
Beyoncé has a relationship to cameras and mirrors that she relays through Lemonade. Here, the musical number shifts from flirty to full of rage.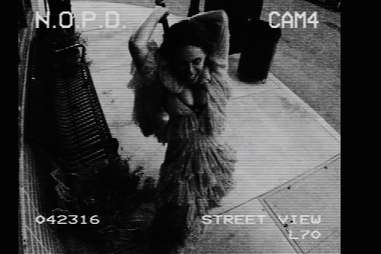 At other times, she reacts to the image of herself, either recorded or reflected back, with a sense of melancholy, dominance, power, and lust. For a woman as endlessly documented as Beyoncé, here she is confronting celebrity, wrestling her sense of identity from what outside observations, and dong so fearlessly.
Look, the Angry Black Woman is a stereotype with an unfortunately long shelf-life. It's also a stereotype that seeks to delegitimize how necessary and empowering the emotion can be for black women. Anger incited revolutions, reworked lives, created art, and is the undercurrent of womanism. One of the things I loved watching was how Beyoncé's anger is construed as an emboldening, even joyful experience. She's wrecking and burning down the world to create something new.
And then Beyoncé literally smacks the viewer with her bat. With a swift hit, a closely studied and photographed subject revolts against our expectations.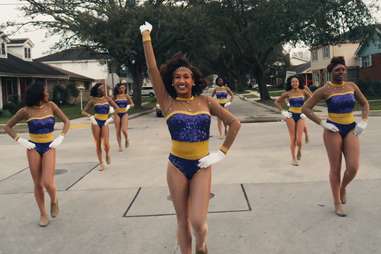 "If it's what you truly want, I can wear her skin over mine [...] We can pose for a photograph. All three of us. You and your perfect girl." Who is Beyonce inviting us to think about by evoking the idea of there being another "perfect girl" in her relationship? Is it a literal person, or is it meant to evoke the idea of the expectations she has to deal with and perhaps not live up to? If such a thing is possible.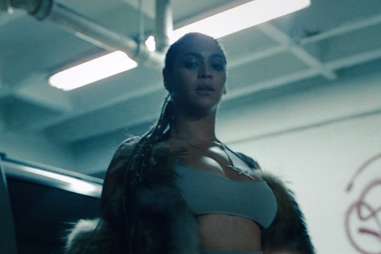 There are sequences in Lemonade that feel like a straight-up horror film. This at first seems incongruous to Beyoncé. But she's pushing herself in startlingly fresh directions; the violence and horror amplify the toxic relationship being put under a microscope.
After the confident fury of the line "motivate your ass like Malcolm X", Lemonade excerpts a May 22nd, 1962 speech from Malcolm X: "The most disrespected person in America is the black woman. The most unprotected person in America is the black woman. The most neglected person in America is the black woman."
Coupled with the imagery of normal black women, this scene is heartfelt and radical in its understanding of the burdens carried by black women. Here Beyoncé puts on display how unapologetically proud she is to be a black woman.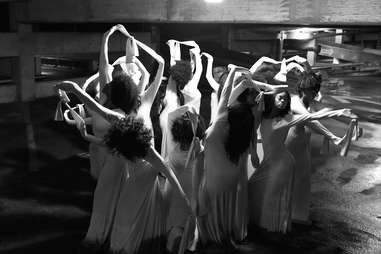 While romantic love creates pain for Beyoncé, the imagery of black sisterhood that runs throughout Lemonade is an image of comfort. There are shots that evoke the idea of an all-black woman coven healing each other and creating magic out of tragedy.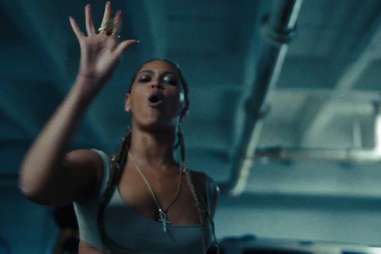 Throwing her ring at the camera is going to give people a lot to talk about. Dissecting this through the lens of her relationship with Jay Z isn't as compelling, or on point, as Beyoncé singing for all women on the burden of keeping it all together for someone you love who doesn't treat you with respect.
"Ashes to ashes, dust to side chicks." What a line. It's hard to comprehend just how much Beyoncé has evolved since her time in Destiny's Child. As a longtime fan, I never expected her to ever be this iconoclastic.
Serena Williams dancing and Beyoncé sitting on her rightful throne feels like a nod to Williams' recent Sports Illustrated cover, the visual embodiment of black girl magic. Seeing these two black women together, at the top of their game in their respective fields, is like a clarion call through the darkness that life often feels like as a black woman in America.
Let's take a moment to highlight how much Beyoncé celebrates black style in Lemonade. The film is overflowing with a beautiful array of skin tones, hairstyles, and fashion. It's hard to pick one look that is the best, but I really love the simplicity of this one.
"He better call Becky with the good hair" -- the lyric that will spawn a thousand think pieces. It's easy to get caught up with figuring out who Beyoncé may be calling out in her personal life. "Becky" is usually slang for a white woman. The use of the term "good hair" is something specific to the black community. People have speculated that this is fashion designer Rachel Roy, who made the grave mistake of putting an image up on her now-private Instagram after Lemonade aired, captioned, "good hair don't care [...] #nodramaqueens." Which, if you know her history with Jay Z, is more than petty. This is undoubtedly great gossip. It shouldn't flatten Beyoncé's work here.
Sexual politics between men and women take center stage when Lemonade quotes, "Grief sedated by orgasm. Orgasm heightened by grief." In her last album, Beyoncé was at her most sexually liberated. She dives even deeper into the topic in Lemonade, looking at it beyond simple lust and the ways a crumbling relationship can change the texture of sex with a partner. This is Beyoncé at her most grown-woman level, and isn't the kind of understanding of sexuality you'd expect from a pop star. But I think Beyoncé has outgrown that label.
"6 Inch" is the sexiest song on the album. The red visuals, beat, and lyrics make it feel outright aggressive, reflecting both lust and vengeance.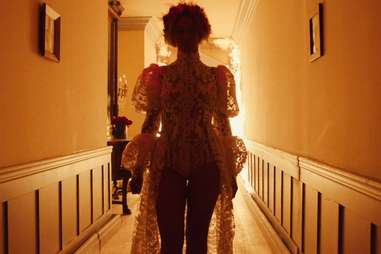 With the way this sequence closes out by literally burning the house down, there is the impression of Beyoncé reworking her own identity. She is Phoenix, hear her roar.
Quvenzhané Wallis, best known as the lead of Beasts of the Southern Wild, was a delight to see here. What I'm most drawn to in this sequence is the idea of beauty politics and what young girls inherit from their mothers.
"Your mother is a woman. And women like her cannot be contained."
Much will be made about how Lemonade is reflecting our ideas of what goes on with Beyoncé and her family. The themes of fidelity and broken love are definitely important to the album...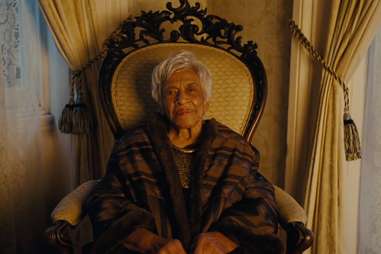 ...but what I think its legacy will be involves how it celebrates every stage of a black woman's life and what black women gain from each other.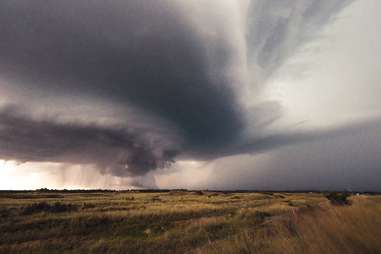 Beyoncé is a force of nature. Grab an umbrella.
"Am I talking about your husband or your father?" juxtaposed with the image of the young black girl is a level of emotional vulnerability I never expected from Beyoncé.
While not my favorite song on the album, the mix of blues and country on "Daddy Lessons" is one of its most heart-wrenching. I love how Beyoncé celebrates New Orleans in the imagery here and throughout the film.
There are a number of moments in Lemonade that juxtapose the failures of Beyoncé's father with those of her husband. Here we see him in a home video, speaking to how he influenced her, particularly in her romantic life, where she seems to have connected with a similar man.
Besides being a stunning image, Beyoncé laying across the Superdome takes us back to Katrina, when the arena was used as a "shelter of last resort" for those unable to evacuate New Orleans. There's also the idea of using the pain of our past as motivation to make a better future. Beyoncé urges us not to repeat the same mistakes.
More water, more witchy/occult imagery, more allusions to baptism, catharsis, death, and rebirth.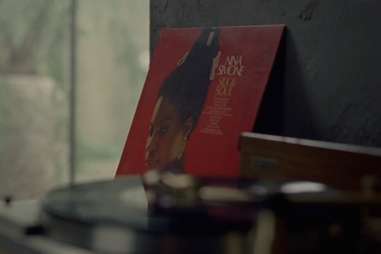 Nina Simone's voice is like an echo in the background, and we are even given this glimpse of her Silk & Soul record. Considering how a recent film starring Zoe Saldana was condemned for violating Simone's legacy, Beyoncé's evocation is refreshing. Simone earned fame for great music, and a place in history for the power of black pop culture figures speaking out about civil rights in this country. In a way, all of Lemonade nods to Simone's legacy.
Once Jay Z appeared, I started feeling disconnected from Lemonade. Forgiveness can be a good thing. It can help you move on from traumatic situations. But that doesn't mean people deserve to stay in your life after cheating and disrespecting you for years. Mind you, I'm not speaking about whatever happens between Jay Z and Beyoncé in particular, but the shape of the album as a whole. I think black women are expected to uphold our communities, personal and political, to such a degree that our self-care falls by the wayside. Lemonade would have been a more powerful album if forgiveness also came with letting go.
The private Beyoncé shatters her image with a new level of intimacy in Lemonade. This is like the end of The Sixth Sense.
We know how powerful Beyoncé is in the industry based on how many people she was able to pull into this project while keeping the details under wraps. Actress Amandla Stenberg's presence, and the picture being taken, is another example of Beyoncé celebrating various generations of black female artistry -- a powerful statement.
When Lemonade shows the mothers of Trayvon Martin, Eric Garner, and Michael Brown holding images of their slain sons, Beyoncé jumps headfirst into the political conversation, empowering the Black Lives Matter movement.
I don't think Beyoncé has ever emoted with her voice better than on Lemonade, especially the song "Freedom." What can I say, I cried.
Beyoncé takes a polarizing stance with the line "and my torturer became my remedy." There is something to be said about the way black women are expected to forgive and stay with men who are downright abusive against their best self-interest. The way the first half of Lemonade characterizes a toxic, painful relationship doesn't quite jell with the forgiveness that it closes with. Though for Beyoncé, it does.
In what is essentially an art film full of rich, challenging imagery, it's seeing black women in commune with one another that most sticks with me. Besides Beyoncé is Zendaya, Amandla Stenberg, Beyoncé's teenage protégés Chloe and Halle, and Ibeyi, the French-Cuban musical duo consisting of sisters Lisa-Kaindé Diaz and Naomi Diaz. More than anything else, with Lemonade, Beyoncé is celebrating the complexity of black womanhood and artistry, and the power of black sisterhood.
The song "All Night" caps off a story that began about being broken and in battle with forgiveness and love. The images of real-life couples of various races, ages, and orientations is quite moving, although it doesn't necessary change my belief that Lemonade would have been more revolutionary and powerful if it ended on a different emotional note.
In interweaving glimpses of her home life, like a cameo from Blue Ivy at the end, Beyonce brings the star-powered Lemonade down to ground level. This isn't an emotionally removed, too-perfect pop star, but an actual person.
Lemonade ends with the video for "Formation," Beyoncé's unabashed celebration of southern heritage, blackness, and New Orleans. Looking at "Formation" in light of Lemonade, it's fascinating to see how much that one video speaks to the visuals and interests of the album as a whole, especially the striking ritualistic occult imagery.
Ultimately, Lemonade cements Beyoncé as an essential voice -- not just an entertainer. The visual album's celebration and intimate conversation surrounding black womanhood gives it an emotional and artistic heft that Beyoncé has never demonstrated before. It's an evocative piece of art that deserves to be studied and revered. We'll be looping it for as long as our Tidal accounts hold out.
Sign up here for our daily Thrillist email, and get your fix of the best in food/drink/fun.
Angelica Jade Bastién is a freelance critic and essayist based in Chicago. She's written for Vulture, The New York Times, The Atlantic, Bright Wall/Dark Room, and RogerEbert.com. You can find her on Twitter @angelicabastien.