'Big Brother' Has Become One of the Best Reality Game Shows on TV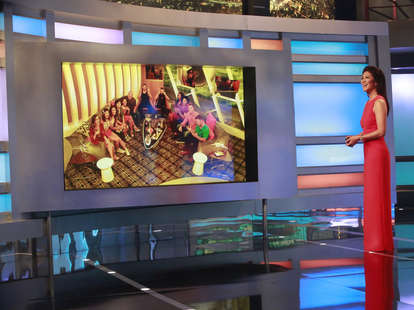 Bill Inoshita/CBS via Getty Images
The appeal of Big Brother is so simple that, ironically, it's very hard to explain. Unlike most other reality TV shows with unambiguous loglines, Big Brother doesn't demand anything terribly specific of its contestants. Sixteen men and women live together in isolation for three months under 24-hour surveillance. That's it. Sometimes the contestants compete in challenges, such as obstacle courses or bouts of trivia under the eye of Julie Chen, who's been hosting the show since Season 1. Once a week, someone's voted out.
At its heart, Big Brother is a show without a core concept, where "playing" means talking to other players, establishing trust, and scheming one's way to the top. The reason it's endured for almost 20 years -- and the reason fans across the United States are salivating for the show's 20th season, which started June 27 and airs three days a week -- is precisely this rare emphasis on social strategy. It is reality TV at its purest.
Big Brother premiered in America on CBS on July 5, 2000, barely one month after the enormously popular debut of Survivor at the beginning of what would soon become an international reality game show craze. Much like Survivor, Big Brother was based on a Scandinavian series that had aroused controversy for its somewhat dubious ethics -- its combination of round-the-clock observation and real people under televised scrutiny having not sat particularly well with Dutch audiences.
But the original idea proved widely mutable. There have been nearly 400 seasons across more than 50 iterations of Big Brother internationally since its inception, including India's Bigg Boss, Italy's Grande Fratello, and Portugal's Secret Story: Casa dos Segredos. In the UK, Big Brother is an indispensable part of the cultural fabric; what transpires week after week is reliable fodder for tabloids around the country, and stars of seasons past go on to remain pseudo-celebrities in Britain for ages. When it was adapted stateside, that Orwellian, rat-in-a-maze sensationalism helped make Big Brother US an instant and enduring hit. The show, including its celebrity spinoffs, has been on the air now, watched by millions and inexhaustibly beloved, for 18 years.
In its second season, in the summer of 2001, Big Brother US introduced a twist to the otherwise more or less universal format -- a minor change, but one with seismic consequences for the house guests. Instead of contestants being evicted from the house by audience vote, they would be evicted by each other, a process of weekly elimination involving tricky competitions for Survivor-like immunity and the power to nominate candidates to leave. As a result, success in this game would no longer be a matter of endearing the viewer or coasting by on screen-friendly charm. It would instead become a wildly complex contest of emotional intelligence and social manipulation -- a game in which the winners were the players with the best understanding of interpersonal relationships and how to jockey for power without seeming like a threat. The strategies that soon emerged were master classes in deception and subterfuge.
What you might get is a player who deliberately understates their familiarity with the series and acts like a dumbass for six weeks before revealing herself to be a tactical mastermind with the grace of an athlete and cunning psychological savviness. Or you might get a meathead who slavishly builds one-on-one alliances with half a dozen different people as persuasively as a Hollywood actor only to up and abandon them all for a more beneficial partnership with a former nemesis at a crucial juncture down the line. Romances blossom only to dissolve in a heartless instant when one lover cuts the other in a bid for supremacy. For a while, clever players tried to float to victory through inconspicuously. Then others caught on, and coasting became more dangerous than showing off.
There's an unexplainable delight in watching a dozen strangers enter a house and immediately begin working the room -- feeling out the competition, making acquaintances, and striking the delicate invisible balance of truth and deception that will give them the best chance of surviving one another's weekly votes. This gameplay operates on a level so much more sophisticated and complicated than you'd ever think possible of a mainstream reality show on network television: even describing the antics and exploits of a series like Big Brother in terms such as "sophisticated" seems bizarre. But it's precisely this level of covert seriousness that accounts for the show's longevity and makes it a standout American reality TV show.
Sign up here for our daily Thrillist email and subscribe here for our YouTube channel to get your fix of the best in food/drink/fun.
Calum Marsh is a freelance writer born in Great Britain and based in Toronto. His writings have appeared in The Guardian, The New Yorker, and Playboy.