Here's Why 'Big Little Lies' Season 2 Could Totally Happen
The finale of HBO's hit limited series Big Little Lies shocked and satisfied. After holding back the who, what, where, when, and why surrounding Monterey's biggest murder, all was revealed. But the ending also left us wondering: will there be a second season? The final beat of the series, a major change from author Liane Moriarty's original 2014 novel, suggests the possibility.
Showrunner David E. Kelley (Ally McBeal) has said many times that this is a one-time series just as the book is a stand-alone story. Director Jean-Marc Vallee insists there's no way Season 2 is going to happen. Still, the actresses who made Big Little Lies shine aren't shutting the idea down.
"There's certainly nothing [about Season 2] now, nothing that's solid or anything," Kidman toldTVLine in a post-finale interview. "There are so many moving parts to this series that would be impossible not to have again … I think if there was something compelling and extraordinary that they could come up with, then would we want to go and embody these women again? That would be a beautiful prospect."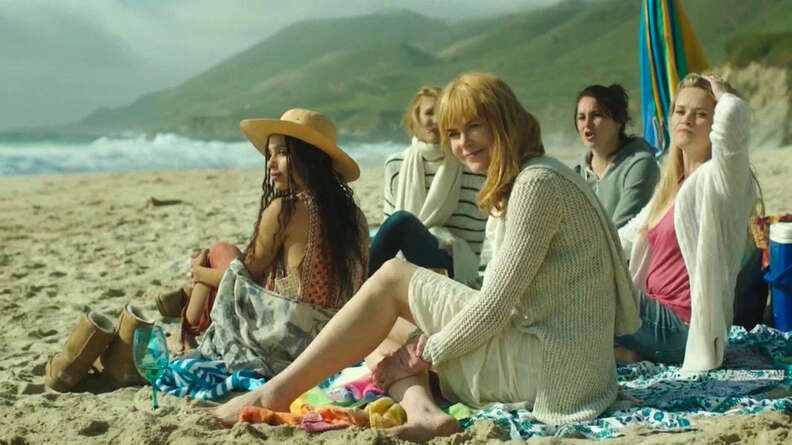 Scroll to the end of the article for the latest updates.
Beautifully mysterious, maybe. While Kidman says the series' future is uncertain, Big Little Lies Season 1 introduces a whole new theoretical plot into the mix that could be paid off.
The finale, titled "You Get What You Need," reveals that the abusive Perry (Alexander Skarsgård) was the victim -- no surprise there -- but that Bonnie (Zoe Kravitz) was the one who pushed him to his death after spotting the hot-headed husband attacking Celeste (Nicole Kidman), Madeline (Reese Witherspoon), Jane (Shailene Woodley) and Renata (Laura Dern). The five ladies decide to tell the police it was an accident.
This is a stark difference than how the book plays out. In Moriarty's original story, Bonnie actually confesses to the police and is sentenced to community service. The book very clearly closes any loose plotlines and gives all of the women satisfying endings. Not the case in television's Big Little Lies.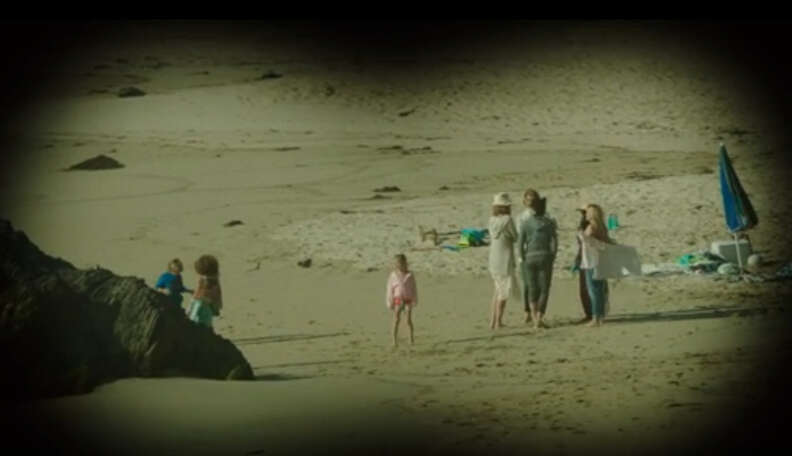 The last scene in "You Get What You Need" finds the show's five main characters playing with their kids on the beach. In one picturesque moment, the women stand aligned, bonded to protect Bonnie's secret, and fortified by actual friendship. But then, we see the women from afar through binocular lens, presumably from the detective who isn't buying the lies the women are telling the police. She sees them having a fun day in the sun. We see a Season 2 plot thread.
With the murder investigation still up in the air in the television series, there's material for another season to explore if the women's biggest lie would begin to unravel. And let's not forget that Ed (Adam Scott) never finds out that Madeline cheated on him, or how Chloe, Madeline's precocious daughter, grew to have such an ear for soul music. Really, we need Big Little Lies Season 2 if only to top Season 1's stellar soundtrack.
Luckily there's a committed player in the mix: Witherspoon, who spearheaded Big Little Lies by buying the rights and producing the TV adaptation.
"One of the main questions everyone keeps asking us is is there going to be a Season 2," Witherspoon toldInStyle. "We've been talking with the writer, and you guys should Facebook Liane Moriarty and tell her how much you want to see Big Little Lies 2. That would be good. She's thinking about ideas, and so we would love to hear ideas."
Update #1: And may those ideas are already in the works? Eagle-eyed fans recalled this week that, in August of last year, Witherspoon and Kidman together optioned Moriarty's Big Little Lies follow-up novel, Truly Madly Guilty. The novel, which features a whole new story and set of characters, boils the action down to a single weekend, where a neighborhood barbecue goes ... not quite as planned. As the synopsis reads: "Six responsible adults. Three cute kids. One small dog. It's just a normal weekend. What could possibly go wrong?"
If the acting duo doesn't adapt Truly Madly Guilty as a direct sequel to Big Little Lies, perhaps this is the start of their own True Detective, adapting book club favorites for the small screen in perpetuity? Whatever the case, Witherspoon's Instagram feed is a steady stream of "please make another one" dreams. She, Kidman, Shailene Woodley, Laura Dern, and Zoe Kravitz appeared to have had a blast.
Update #2: In a new interview, Liane Moriarty revealed that she is developing concepts for the second season of Big Little Lies after Reese Witherspoon urged fans of the show to send Moriarty messages on Facebook in support of the idea.
"I have started to think about ways this could continue," Moriarty told the Sydney Morning Herald. "The producers have asked me to see if I can come up with some ideas. I wouldn't write a new book but perhaps a new story and then we'll see what happens."
As we previously speculated, Moriarty confirmed that she would like to feature Bonnie's past and her father's abuse in the second season to give viewers more of an explanation of why she killed Perry. Additionally, Moriarty said she would like to explore how Celeste moves forward after her abusive husband's death.
"(Celeste's) grieving. She's still grieving for the end of a terrible relationship and I think that would be a really interesting thing to explore. So there's a whole lot of different storylines," Moriarty went on to tell the Herald.
Of course, any continuation of the show would still need the approval of HBO to become reality, but at least we know now Moriarty is ready and willing to help develop a second season should the opportunity arise.
Sign up here for our daily Thrillist email, and get your fix of the best in food/drink/fun.
Ciera Velarde is an editorial production assistant at Thrillist who has nothing to look forward to now that Big Little Lies is over. Follow her on Instagram.