Everything We Know About 'Big Little Lies' Season 2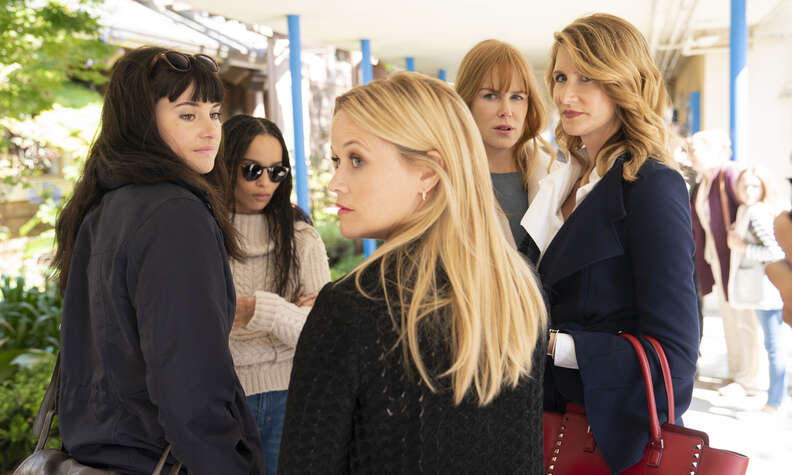 This post contains spoilers from Big Little Lies: Season 1.
Big Little Lies was supposed to stay dead. When the star-studded chronicle of wine-sipping, murder-plotting Monterey, California life was first released in February of 2017, it was billed as a limited series in the high-profile mold of previous HBO literary adaptations like Olive Kitteridge, Mildred Pierce, or Empire Falls. The cast of A-list movie stars Reese Witherspoon, Nicole Kidman, and Shailene Woodley would turn Liane Moriarty's best-seller, pick up a bunch of trophies at awards shows, and then they'd call it quits. No second book, no Season 2.
But after the finale, which ended with a hint of intrigue to follow, there was speculation -- or, more accurately, feverish demand! -- for a follow-up. Even with much of the plot wrapped up, it was clear that fans and critics could not get enough of not just these characters but the larger world of beachfront jogs and Avenue Q productions they inhabited. So, it wasn't shocking when a second season was announced in December 2017. What was shocking is that not only will the lies get bigger, but so would the Season 2 talent. Pour yourself a cabernet and uncover more secrets about the upcoming second season below.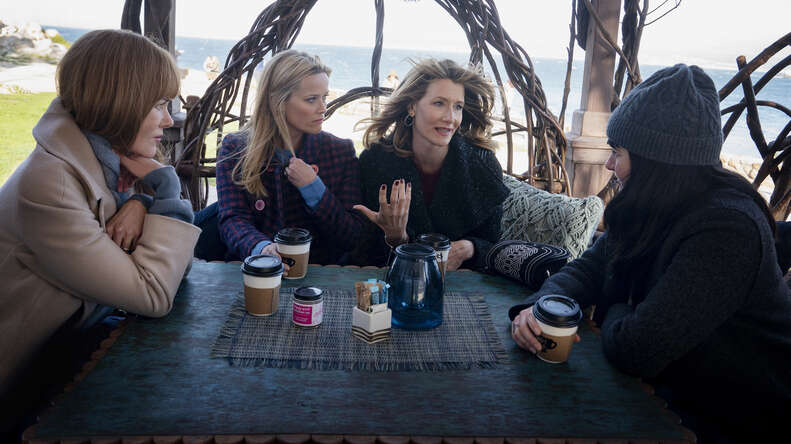 When is Big Little Lies Season 2 coming out?
Make like an organized Monterrey mom and be sure to mark your calendar for June. In mid-April, HBO officially announced Season 2 will premiere on Sunday, June 9.
The second installment may come over two years after its original February 2017 debut, but if you're a fan of any of HBO's other big name projects -- like Game of Thrones or Westworld -- then you're probably used to be waiting by now. Big Little Lies may not include fire-breathing dragons or killer robots, but it does have something just as challenging: a movie-star level cast with busy schedules that likely contributed to the lengthy production time. And, hey, judging from her Instagram feed, Reese Witherspoon is very busy! She's got a book club and a media empire to run. But don't worry: The women of Monterey finally have fans penciled in for early summer.
Is there a trailer?
Yes! Along with the news of the premiere date in April, HBO also dropped an official teaser with an enticing look at what to expect for the next season: even more panic-induced screaming, jogs by the sea, and secret sharing behind closed doors. While Madeline Martha Mackenzie may tend to her grudges dearly and have an unhealthy obsession with confrontation, it appears she and her Otter Bay crew have yet to deal with the drama that's coming for them following that-one-night. In the clip running just over a minute, the women who are apparently now deemed "the Monterey Five" -- which they learn as Woodley's Jane runs into a hot surfer who addresses her as such, because, of course -- must face the ramifications of Perry's death. As Bonnie says in the trailer, "the lie" is going to get to them.
How many episodes will there be?
Seven, the same number as Season 1.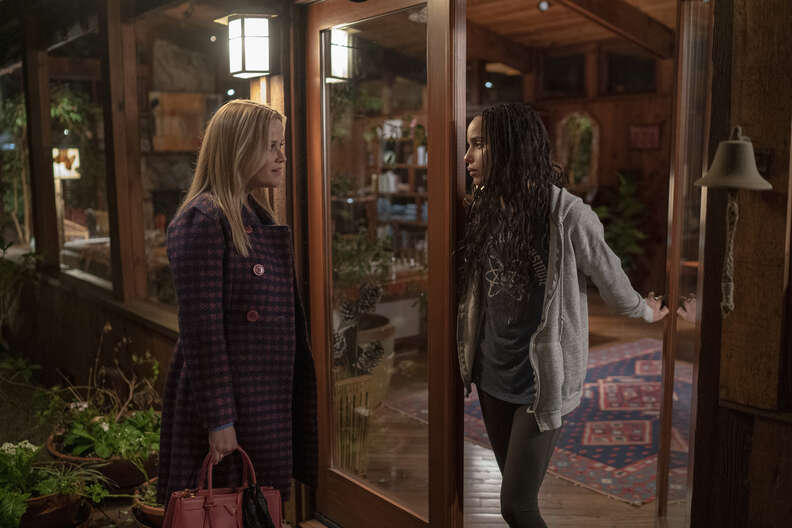 Will the big stars return for Big Little Lies Season 2?
The chemistry between the leads was such an important part of Big Little Lies' success that it's impossible to imagine the show coming back without its core cast intact. Unsurprisingly, producers/stars Reese Witherspoon and Nicole Kidman are both coming back to play Madeline and Celeste, Shailene is confirmed to return as Jane, Laura Dern as Renata, and Zoë Kravitz as Bonnie.
As for their always dependable/sometimes infuriating husbands, Adam Scott's Ed Mackenzie, James Tupper's Nathan Carlson, and Jeffrey Nordling's Gordon Klein will all be back. Will they again battle out their toxic masculinity in the form of Elvis covers? That has yet to be determined.
[Spoiler!] Could Alexander Skarsgård appear in Season 2?
It's a tricky question. You'd think the actor's Perry White, the abusive husband to Celeste, would be a hard "no" since he was killed in the show's finale. But recent news has suggested otherwise; TVLine reported that Skarsgård will officially return for Season 2, though it's yet to be confirmed whether he'll be playing the character in flashbacks, as a ghost, (or maybe an evil twin?), or some other means. Skarsgård himself through another wrinkle into the situation when he told People on the red carpet for the 2018 Golden Globes, "I don't even know if I'm really dead or not. I feel OK right now, but we'll see."
What about the kids?
Another less reported on piece of the puzzle: Will Ziggy be back? Young actor Iain Armitage played the precocious young son of Woodley's Jane Chapman, but since the show aired he's been starring as the titular Sheldon on CBS's hit sitcom Young Sheldon. Once you have that Young Sheldon money, do you still return to HBO? Will Ziggy suddenly have an even bigger role in Season 2 to accommodate Young Sheldon's rising star? A bigger trailer perhaps?
It turns out, that worrying was for nothing. Armitage's deal was announced in Februrary 2018, along with casting news about James Tupper and Jeffrey Nordling. The announcement came with some vague hints of what's to come for each character: Nathan Carlson will be dealing with "a complicated turn of events in his marriage and with his eldest daughter Abby," Klein will confront "the consequences of a big mistake," and Ziggy will "start second grade" and "continue to be the light of Jane's life." Not the most thrilling plot for young Ziggy, but we'll see!
The rest of the kids, who memorably danced their way through the opening title sequence, don't necessarily have their own sitcoms yet, but they're all pretty busy. Kathryn Newton, who played Madeline's eldest daughter, may have been busy with films like Blockers and Three Billboards Outside Ebbing, Missouri, but she'll be back to continue stirring the pot of teenage angst. The rest of the darling daughters will be back, too, including Ivy George's Amabella, Chloe Coleman's Skye, and Darby Camp's playlist enthusiast Chloe.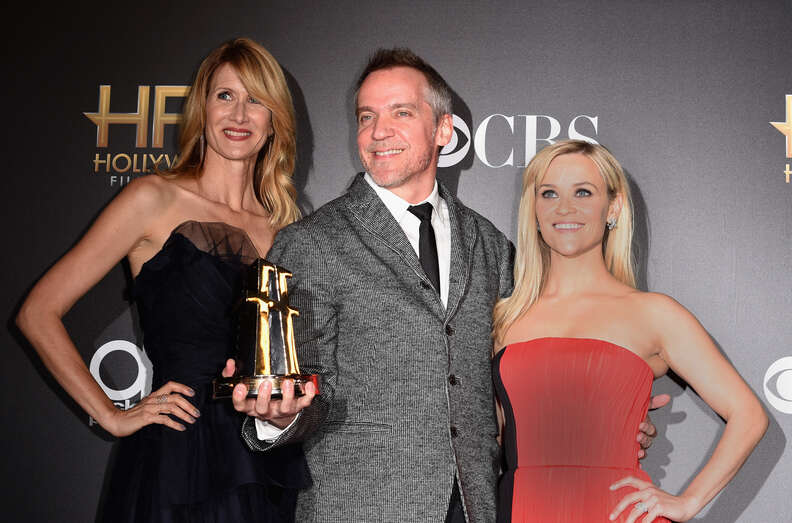 Will Jean-Marc Vallée return for Big Little Lies Season 2?
We do know there's one person who won't be coming back in the same capacity: Jean-Marc Vallée, who directed each episode of Season 1. This past year, the Oscar-nominated filmmaker had his hands full directing each episode of Sharp Objects. The Wild director will stay on as executive producer, though -- and Season 1 writer David E. Kelly will still serve as the showrunner -- but Season 2 will be directed by English filmmaker Andrea Arnold. In addition to directing episodes of Amazon's Transparent and I Love Dick, Arnold has also directed movies like 2016's road drama American Honey and 2009's acclaimed coming-of-age film Fish Tank. The show's look is in great hands.
Meryl Streep is going to be in Season 2
Sorry, we buried some major news: Meryl Streep is going to be in Big Little Lies Season 2. The three-time Oscar winner will join the cast to play Mary Louise Wright, the mother of Skarsgård's Perry Wright. According to the Deadline article that announced her casting, she'll arrive in Monterey seeking answers about her son's mysterious death and concerned about her two grandsons. Prepare for many icy stare-downs between Streep and Kidman.
But Kidman herself is actually the one who was essential in bringing Streep on board. According to Australia's Daily Telegraph, Moriarty had the idea of casting Streep and Kidman, who starred in The Hours with Streep and remains friends with her, simply fired off what must have been a pretty persuasive email to get her to join the show. Nicole Kidman: master of the favor email.
But Kidman isn't the only cast member excited about Streep's return. In an interview with Seth Meyers on Late Night, Reese Witherspoon told her own phone-dropping version of Meryl Streep agreeing to join the cast. After she got the good news, Witherspoon apparently called the show's writer David E. Kelley and demanded, "You better write me good scenes with Meryl Streep!"
And we've got our first couple shots of Meryl Streep in the show
In April 2018, Nicole Kidman shared this photo on Instagram and it's got us asking one important question: What's on that iPad? Guess we'll have to wait to find out.
And in late August, this masterpiece of a photo circulated featuring Witherspoon about to hurl an ice cream cone at what looks like full force to the back of Streep's head. The star tweeted that Madeline did in fact nail soon-to-be Mary Louise Wright with said cone, so expect some serious beef between these two characters that could call for such sweet revenge.
What will Big Little Lies Season 2 be about?
This is the trickiest part about prognosticating about Big Little Lies. Where Season 1 had the storytelling roadmap provided by Liane Moriarty's novel, which was set in Australia but had a similar narrative, Season 2 will be soaring into the unknown. There is currently no sequel to Moriarty's book. However, the writer will be providing the story for the show, which David E. Kelly will then adapt into what we see.
Although, based on the first official teaser image shared of Season 2, if not in a flashback, it appears the next season picks up right where the first left off: with the women called into questioning as suspects for Perry's murder. Even though things seemed sunny at the end of last season with the core cast banding together and galavanting on the beach -- it's possible now that they must reckon with what happened, finally face those pesky witnesses whose comments filed through Season 1, and face some sort of repercussions. And here is where Streep's character may enter: Will she want justice for her son? Based on that still of her and Reese, one can only infer tensions are bound to arise with Streep's outsider mother-in-law stepping in.
Besides what we can gather from photos that have surfaced and Streep's casting, there's not a ton of information out there about the scripts and official plot. Awhile back, Vulture did report on some casting breakdowns that were sent to talent agents for the show's second season and they have some tidbits that you might see. According to those, we'll be meeting the parents of Zoe Kravitz's Bonnie (played by Crystal Fox and Martin Donovan), and her mother will be revealed to be "controlling and abusive."
As for other characters, love may be in the air for Jane, as Deadline reported Douglas Smith of The Alienist is set to appear as her co-worker. And like Jane, his character is athletic, described as an "off-beat surfer" and aspiring marine biologist, which sounds like a perfect pair in the making!
The most intriguing bit of intel in the breakdowns? Deadline reports Mo McRae is cast as Michael Perkins, a new teacher at Otter Bay Elementary School who "wants to cultivate global and social consciousness in his young students." Unsurprisingly, Laura Dern's character Renata then gets mad about this because the lessons about global warming are giving her daughter a panic attack. Please let Renata be a flat-earth truther!
Shooting of Season 2 has wrapped
According to Nicole Kidman's Instagram, shooting wrapped on the show's second season in August 2018. (This was also confirmed by Reese Witherspoon and Laura Dern on Instagram as well.) Where do we get one of these shirts? That's a whole different mystery.
Wait -- what about Chloe's playlists? Will those be back?
In addition to Ziggy's return, the other most pressing question about Big Little Lies is whether Madeline's daughter Chloe will continue to spin those NPR-core playlists. The music supervision on Big Little Lies was often very smart and funny, so what tracks are they digging up for Season 2? Did Chloe suddenly get really into Lil Pump? Is she feeling the new Lorde album? Will she make her parents take her to Coachella? Honestly, these are the questions we need answered, right now.