How Will 'Big Little Lies' Shake Out in Season 2?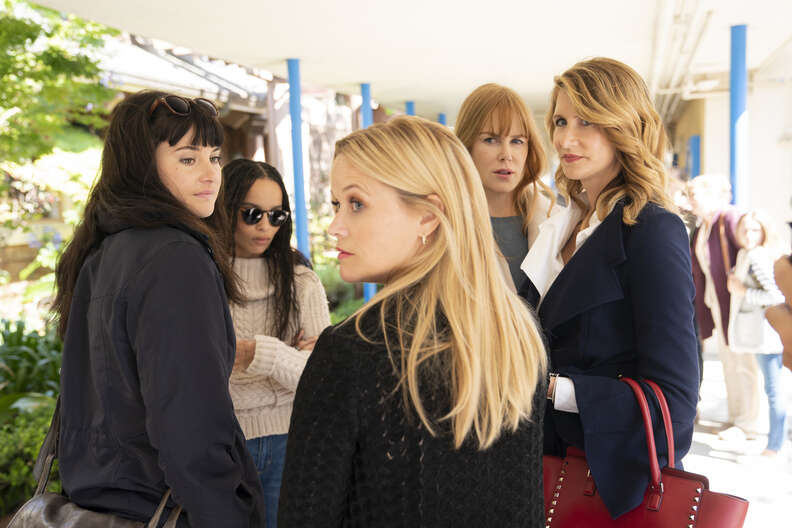 When the first season of Big Little Lies ended back in 2017, it successfully completed the story Liane Moriarty told in her novel the HBO series is based on. In its final moments, it offers up a tidy resolution, with only a hint of discomfiting suspicion. The five women at the center of the narrative have set aside their differences, and are now bound by their secret involving the death of Perry White (Alexander Skarsgård). But they are also free from the burden of this terrible man, lounging on the beach with their kids, idyllically.
It would have been perfectly fine if the story ended there, but fans loved these unhinged rich people, and HBO, along with producer-stars Reese Witherspoon and Nicole Kidman, conspired to bring it back. It would be a limited series no more. Critics issued their protests, arguing that there's value to stopping on a high note. But then the potential for a Season 2 got too enticing to continue protesting: Meryl Streep was joining the cast, and the brilliant director Andrea Arnold signed on to serve behind the camera, stepping in for Jean-Marc Vallée, who remains one of the editors.
When the second season debuts on June 9, you'll find that it's an absolute pleasure to return to Monterey. Writer David E. Kelley, who developed the story with Moriarty, keeps the action contained, mainly pausing to examine the effects of this traumatic experience on a group of people who were already repressing trauma with hefty doses of sunshine and gossip. That nothing much has changed is sort of the point: Madeline Martha Mackenzie and crew have been living in gilded ignorance. Now they just have to work harder to maintain that veneer.
Before the first episode drops Sunday, let's take stock of what lies ahead.
When does Season 2 take place?
The show began its run with the children of Monterey -- among them Ziggy, Amabella, and Chloe -- entering the first grade. The big "Trivia Night" event where Perry bites the dust is described as a "Fall Fundraiser," so the school year is still fresh when everything goes down. Season 2 jumps ahead to the beginning of second grade. Witherspoon's Madeline is still raising hell in the parking lot, but this time around, the five leads greet each other with hugs instead of barbs.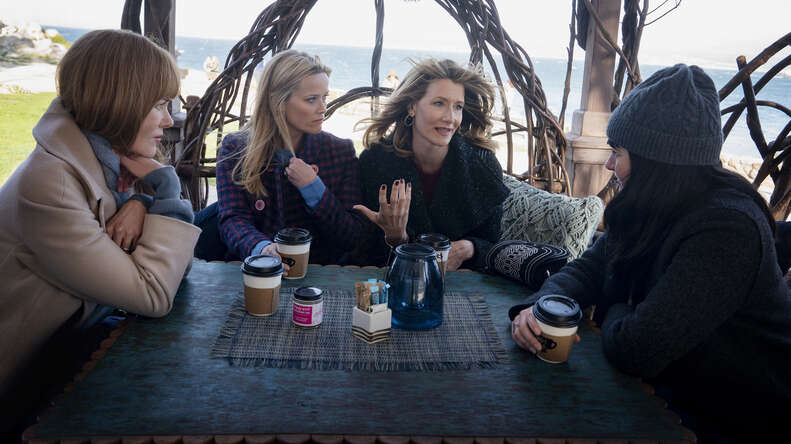 Who is back?
Basically everyone.
First up, there's Madeline Martha Mackenzie, played by Reese Witherspoon, married to limp noodle Ed (Adam Scott). Interests include: Her grudges, Avenue Q, and, as of Season 2, real estate. She has two children, Chloe (Darby Camp), who is preternaturally interested in Leon Bridges, and Abigail (Kathryn Newton), a teen who once tried to sell her virginity for charity on the Internet. Abigail is Madeline's daughter with her ex-husband Nathan (James Tupper), who is now married to…
Bonnie Carlson (Zoe Kravitz). Bonnie probably gets the least screen time of any of the women in Season 1, and is largely framed as an open-minded hippie, who does yoga and listens to Sade. She and Nathan have a daughter, Skye (Chloe Coleman). Of course, her biggest contribution to the narrative so far is delivering the blow that pushes Perry to his death. The new episodes spend more time with Bonnie, delving into her past. (In Moriarty's book, readers learn that she came from an abusive household, prompting her rage.)
Nicole Kidman is Celeste Wright, a former lawyer who retired to raise her twins (Cameron and Nicholas Crovetti) with Perry. Much of the first season finds Celeste, coming to understand the nature of her abusive relationship alongside her therapist (Robin Weigert).
Perry also links Celeste to Shailene Woodley's Jane, a new arrival to Monterey at the beginning of the first season and single mother to the precocious Ziggy (Iain Armitage) without the means of her peers. In the first seven episodes, she's haunted by the spectre of the rape that resulted in her pregnancy. When Perry approaches Celeste on Trivia Night, she realizes that he was the perpetrator.
Early on, Jane is at odds with Laura Dern's bombastic Renata Klein, who accuses Ziggy of hurting her daughter Amabella (Ivy George). Renata's a cutthroat tech honcho, who is ostentatiously wealthy and not afraid to let everyone know. She's married to a classic douchebag Gordon (Jeffrey Nordling).
That's the main bunch, but there are a couple of other people you might want to remember. Among them: Tori (Sarah Sokolovic), the wife of the local theater director Joseph (Santiago Cabrera), with whom Madeline had an affair. There's also P.J. Byrne as the exhausted Principal Nipple, and Merrin Dungey as Detective Adrienne Quinlan, who is not at all buying what the Monterey Five are selling when it comes to their tale about Perry's death.
Who is new in town?
Meryl Streep. Did I mention Meryl Streep has touched down on the California shore lob thinly veiled insults at our protagonists? Armed with some spectacular false teeth, she plays Mary Louise Wright, the mother of Perry, who is certain her boy was a perfect angel and not an actual monster. (Side note: Meryl's real name? Mary Louise.) She's frank to a disconcerting degree, telling Madeline, for instance, exactly what she thinks of her upon their very first meeting. It's unnerving; it's wonderful.
Mary Louise is not the only mother that comes to visit. Bonnie's mother, portrayed by Crystal Fox, also heads to town, and brings along her husband (Martin Donovan). There's clearly some tension between inscrutable mother and suffering daughter that will be explored.
Other new characters include: Corey Brockfield (Douglas Smith), Jane's adorable coworker at the aquarium, and Michael Perkins (Mo McRae), the kids' latest teacher who has a climate change curriculum that stirs the pot.
What makes Season 2 good?
The ostensible driving force of the first season of Big Little Lies was the mystery of who died and who killed said person. But that was never really the pleasure of watching it. Instead, it was watching a narrative deftly balance class satire and serious treatment of abuse, thanks to performances that belong in the pantheon of great TV work. It was an equally brutal and delightful watch. Every time you were tickled by one of Madeline's brilliantly nasty quips, Celeste's pain pulled out the rug from underneath you. The great news is that the show still relishes in the dirty politics of social life in Monterey, while slightly expanding its purview. It's still early to deliver a verdict on the way it handles Bonnie's expanded storyline or Mary Louise's arrival, but it's still innately compelling viewing.
Sign up here for our daily Thrillist email and subscribe here for our YouTube channel to get your fix of the best in food/drink/fun.